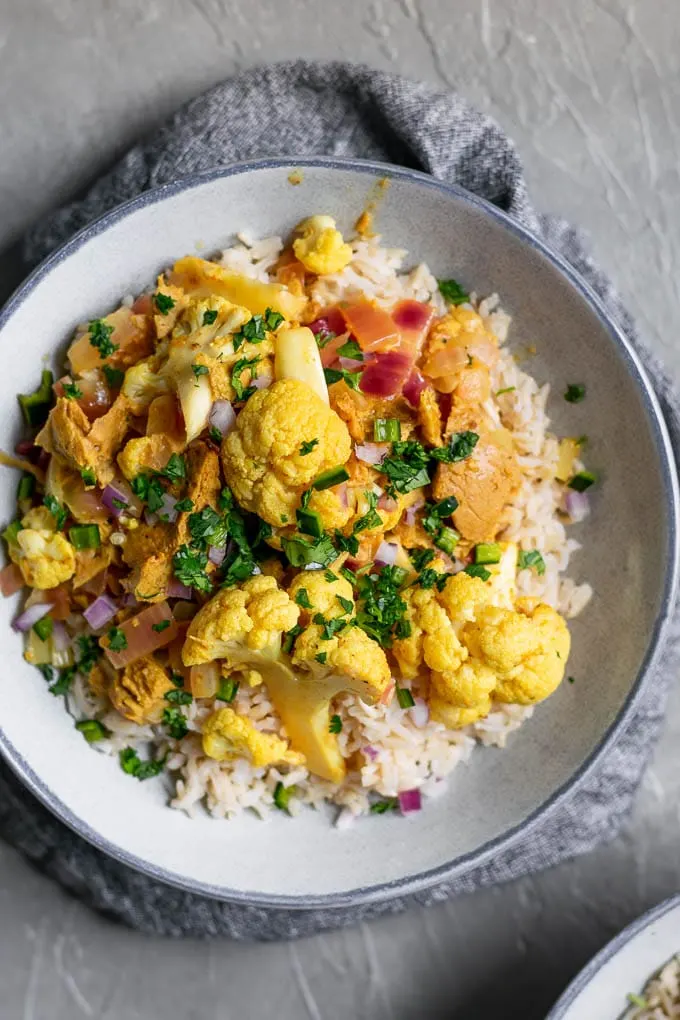 This tandoori cauliflower and seitan is hearty and flavorful Indian inspired dish. It's tangy and creamy, with perfectly balanced spices with just a little heat. And it's as easy as tossing cut veggies and seitan with tandoori sauce in a casserole dish and baking until tender.
I love tandoori curry. Which, while traditionally a meat and dairy heavy dish, is easy to make vegan with a few simple swaps. This pantry friendly recipe is easy to make and super hands off, as most of the work happens in the oven.
The term tandoori actually refers to the method of cooking, not the sauce. A tandoor is the traditional oven in Pakistan and India. It looks like a large cylindrical pot, once made of clay, though now you can procure metal versions of it as well.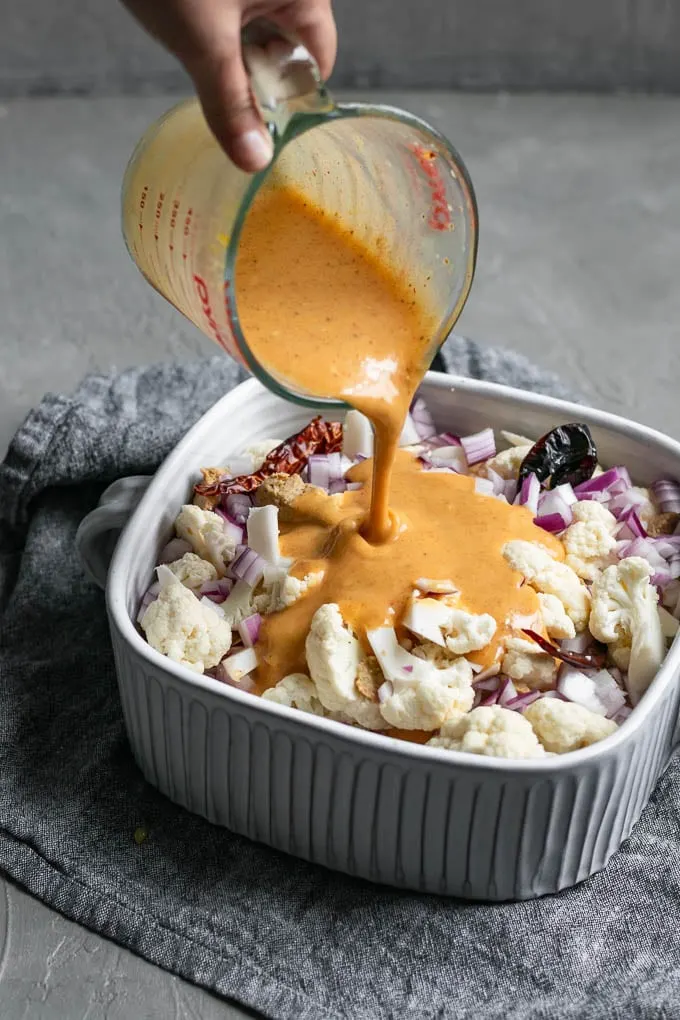 Hot coals line the bottom of the oven, and the inside can get upwards of 900 ºF! Breads such as naan and roti are cooked by slapping them against the side of the oven, where they stick and cook within a minute. Skewers (typically meat-based) are marinated then roasted inside the oven.
Something placed closer to the bottom of the oven will cook quickly, while items at the top where it's cooler will take longer to roast and get smokey as a result. Because of the particular shape of the tandoor, you don't see a lot of traditional tandoor vegetable dishes. This is not a problem of course in front-loading western style ovens, and we can adopt the tandoori flavors for our plant based ingredients!
This tandoori cauliflower and seitan is my kind of recipe. First of all, it's baked in the oven. Second of all, it's easy to throw together with pretty minimal prep, and while it's baking you can do most of the clean up. Meaning before you know it, your kitchen is clean and dinner is on the table.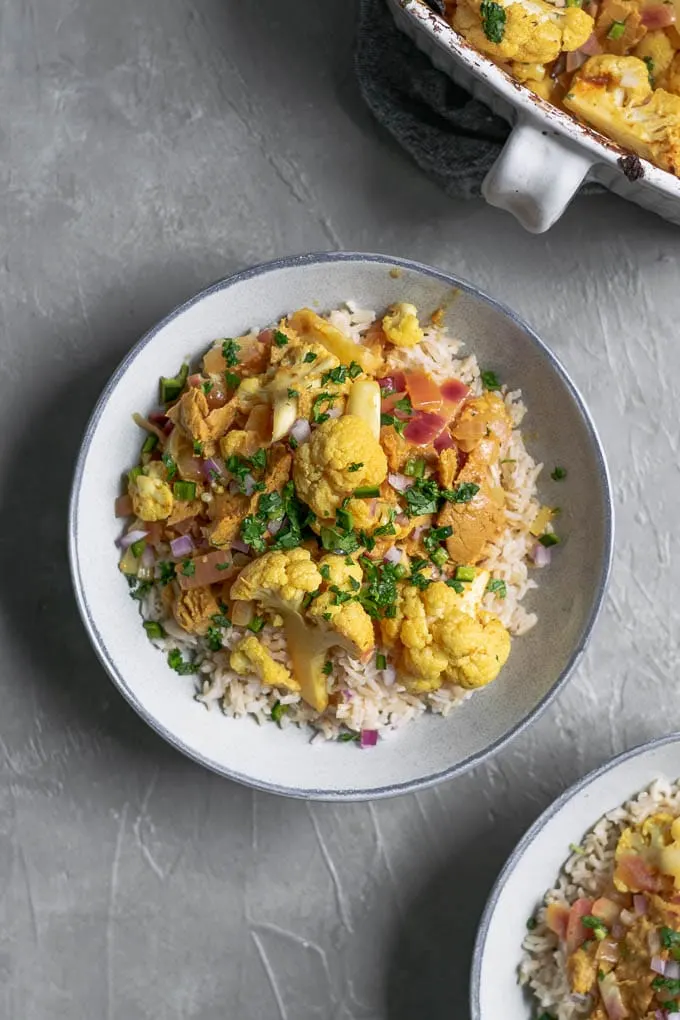 This recipe has everything you need in it: cauliflower is baked for a perfect tender and creamy texture while it retains a slight crunch (no mushy veggies here). Seitan is a great source of protein, and the chewy morsels soak up the sauce for the most flavorful bites.
When baked in sauce, red onion maintains most of it's crunchy texture while it's typical sharp bite is mellowed into something sweeter for the perfect contrasting flavor. Served with some basmati rice or Indian flat bread, this dish is one of my favorite meals.
To make a vegan tandoori curry sauce, I went ahead and made the obvious sub for non-dairy yogurt. After years of it being difficult to impossible to source plain, unsweetened non-dairy yogurt in the US, we now have multiple options to choose from (depending on where you live)!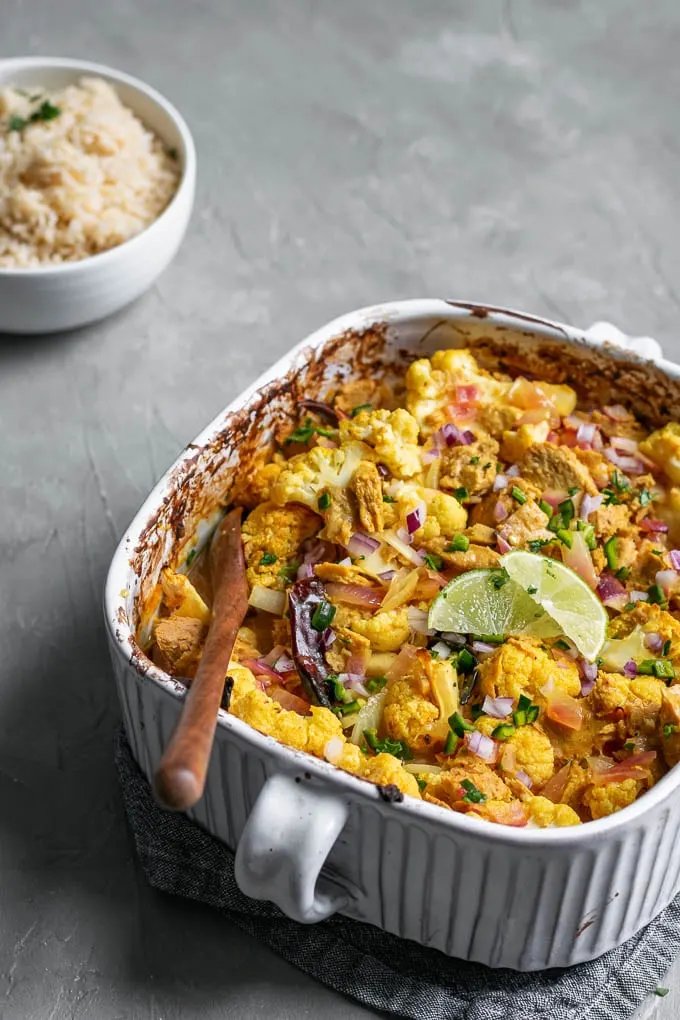 That being said, most of the vegan yogurts on the market are very mild and on the runnier side. And there are two things I remember very clearly about the cow's milk yogurt in India–it's super rich and creamy and it's rather tart (similar to greek yogurt in that respect).
If you can't find thick nondairy yogurt, you can make it creamier by substituting 1/2 cup of yogurt for vegan mayo. Mayonnaise is thick and nicely tangy, so can add some of that needed richness to the sauce.
Coriander, cumin, and fenugreek are toasted and ground for the freshest flavor. The warming flavor of cinnamon complements the sour yogurt sauce perfectly. Smoked paprika provides some of the typical red color, while also giving it some of the smokey flavor a traditional tandoor roasted dish would have.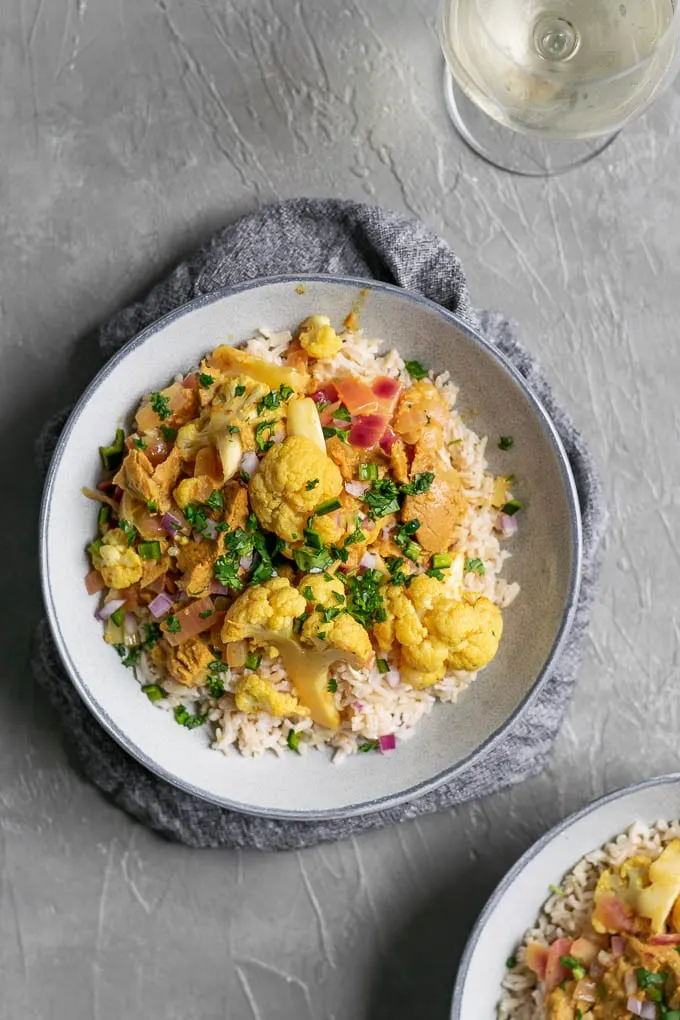 Turmeric turns everything bright yellow and provides some earthy, slightly pungent flavor characteristic of Indian cuisine. To increase the tartness of the tandoori sauce, I also use plenty of freshly squeezed lime juice. Citrus brightens the flavor of the sauce while bringing the needed extra sour.
This curry is one of my favorites, and one you should try if you like Indian food. Speaking of which, if you do, you should check out some of my other Indian inspired recipes! And definitely serve with some homemade restaurant style naan.
This recipe was updated from the original post, published June 6, 2017. And here's one of the photos from the original post! It's always nice (ahem, a bit cringe worthy) to see how far you've come 🙂 .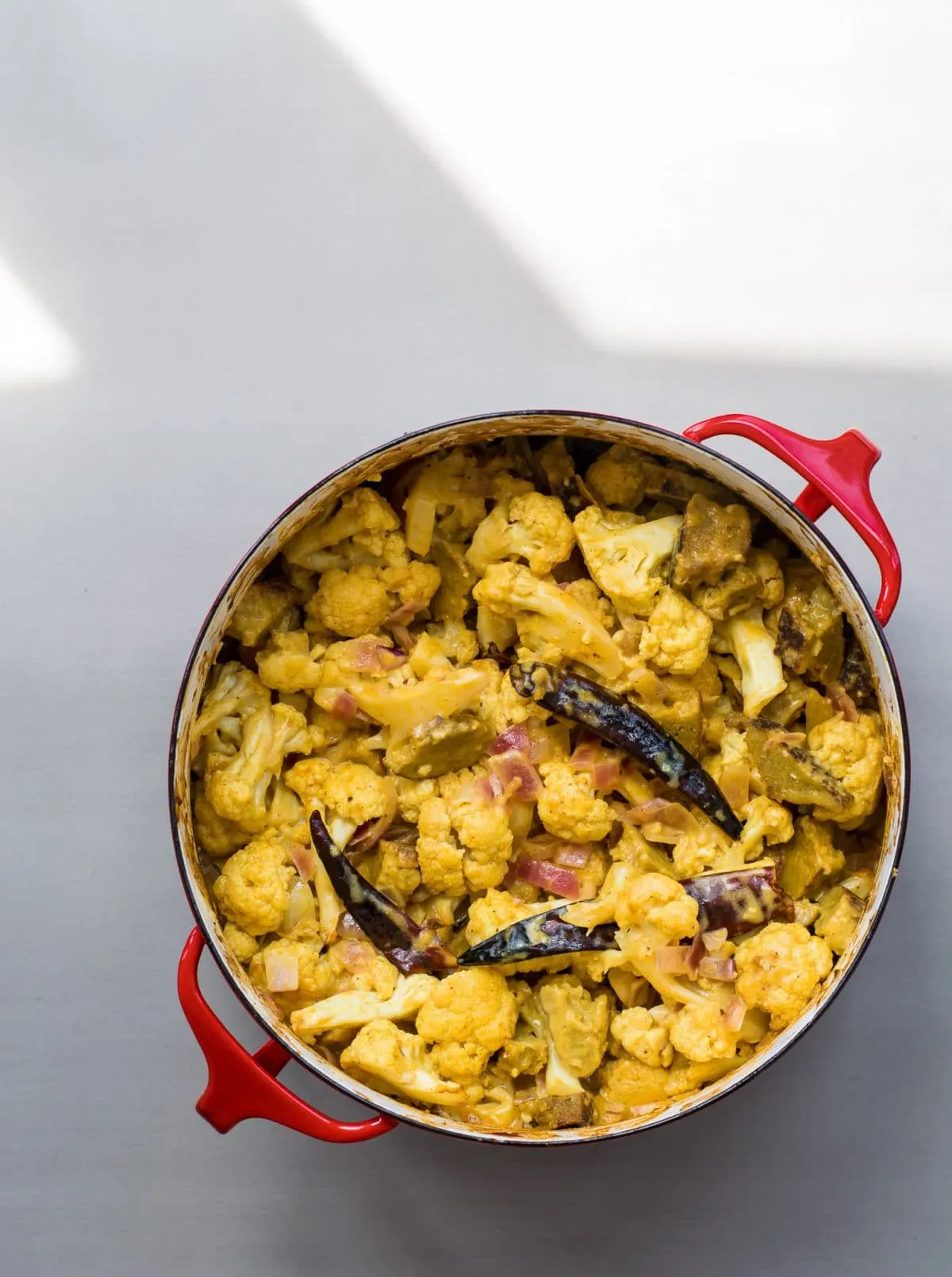 If you try this tandoori cauliflower and seitan bake, go ahead and give the recipe a rating on the recipe card below! Also don't forget to share your creations with me on Instagram, tag @thecuriouschickpea and #thecuriouschickpea, I absolutely love seeing your photos!
Notes:
To make the recipe gluten free, substitute soy curls for the seitan. Hydrate them in hot water, then squeeze excess water out and sauté before adding them straight to the casserole. Alternatively you could use baked tofu or beans.
If you can't find unsweetened plain vegan yogurt, you can use plain yogurt instead. In this case, substitute 1/2 cup of the yogurt for vegan mayonnaise (or blended silken tofu or sour cream or something more savory).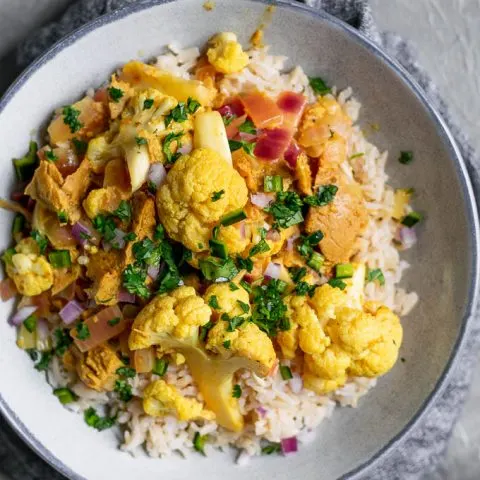 Tandoori Cauliflower and Seitan
Tandoori cauliflower and seitan is a plant based version of the popular Indian curry. Smothered in an ultra flavorful, mouth-watering spiced-tangy yogurt based sauce, this one pot meal is sure to join your regular dinner rotation.
Ingredients
1 large head cauliflower, cut into florets
1 red onion, diced
8 oz seitan, cut into bite sized pieces
cilantro, to garnish
Basmati rice or Indian flatbread to serve
Tandoori Curry Sauce
1 1/2 cup plain unsweetened nondairy yogurt
4 cloves garlic, pressed or minced
4 dried whole red chiles, or sub 1/2 tsp cayenne pepper (optional)
1 1/2 tsp whole coriander seed
1 tsp whole cumin seed
1/2 tsp fenugreek* (optional)
1 tsp ground turmeric
1 tsp smoked sweet paprika or regular paprika
1/2 tsp ground cinnamon
1 tsp salt
1/4 cup fresh lime juice (~juice from 2 limes)
2 tbsp neutral flavored vegetable oil
Instructions
Preheat the oven to 425 ºF.
Prepare the tandoori curry sauce:
Heat a small nonstick skillet over low heat. Add the whole chiles, and toast for a couple of minutes until fragrant. Remove the chiles from the heat and set aside.
Add the coriander seed, cumin seed, and fenugreek seed to the hot skillet and toast the spices for a couple of minutes until they are fragrant. Transfer to a spice grinder and pulse until finely ground. Alternatively, crush using a mortar and pestle.
In a mixing bowl, whisk together the yogurt, garlic, the ground coriander, cumin, fenugreek, turmeric, paprika, cinnamon, cayenne (if using), salt, lime juice, and oil. Set the sauce aside.
Prepare the casserole
Combine the cauliflower florets, cut seitan, diced onion, and roasted chiles in a large oven safe casserole dish or dutch oven (4 qt or larger).
Pour the sauce over the mixture and stir to coat. Cover the casserole dish and place in the 425 ºF preheated oven. Bake covered for 20 minutes, then stir the mixture, and bake uncovered an additional 20-25 minutes.
Top with cilantro, and serve with basmati rice and/or Indian flatbread.
Notes
*If you don't have/can't source fenugreek, leave it out, the sauce will still be very tasty.
*Choose a thick and rich vegan yogurt for best results.