Crispy seitan and flash fried broccoli are doused in a sticky, flavorful orange sauce. It's just like your favorite Chinese take out recipe, but with added veggies, healthier, and completely vegan! Gluten free adaptation included.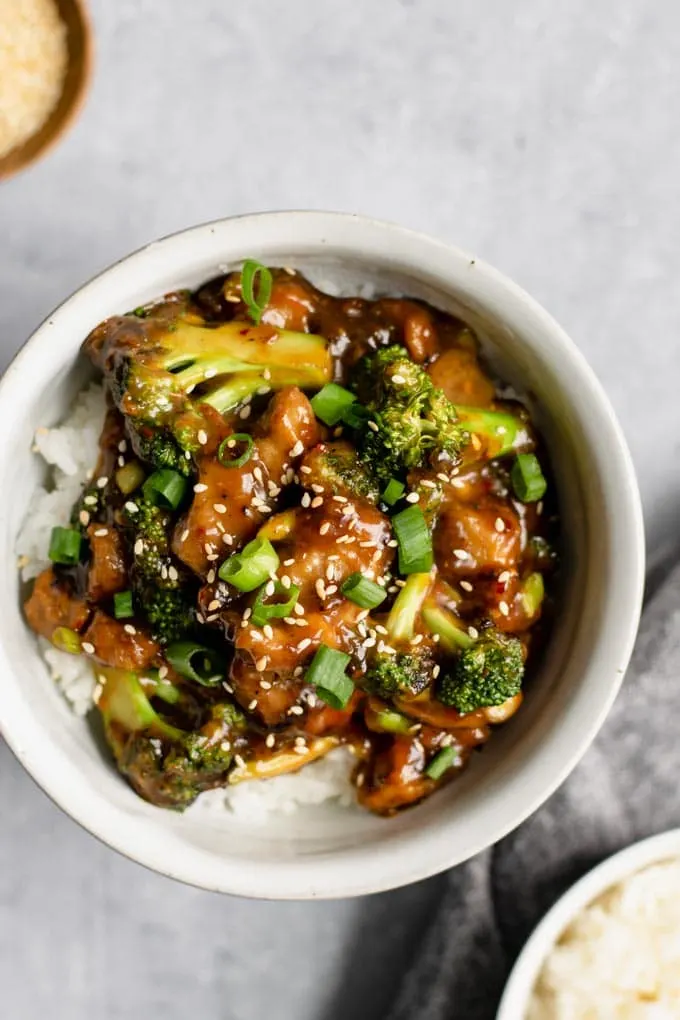 Freshly squeezed orange juice turns your Chinese-style–or at least American Chinese-style–orange seitan (a la vegan orange chicken) into something extra special. Add a bit of zest for concentrated orange flavor, and just enough sugar to enhance the juice without being cloying. It's a must make recipe this winter!
Things I love about this crispy orange seitan and broccoli:
It's really, seriously delicious.
It's super quick to make & clean up is easy.
It's seasonal (though delicious year round), with both broccoli and oranges in season over the winter!
As a meal, this stir fry has everything you want: protein, vegetables, carbs, and vitamin C! Well that last one is really just a bonus, as research suggests that it helps us absorb the iron in the broccoli.
But let's be honest, I make this dish because it's delicious and the rest is just icing on the cake (so to speak, this recipe is nothing like cake).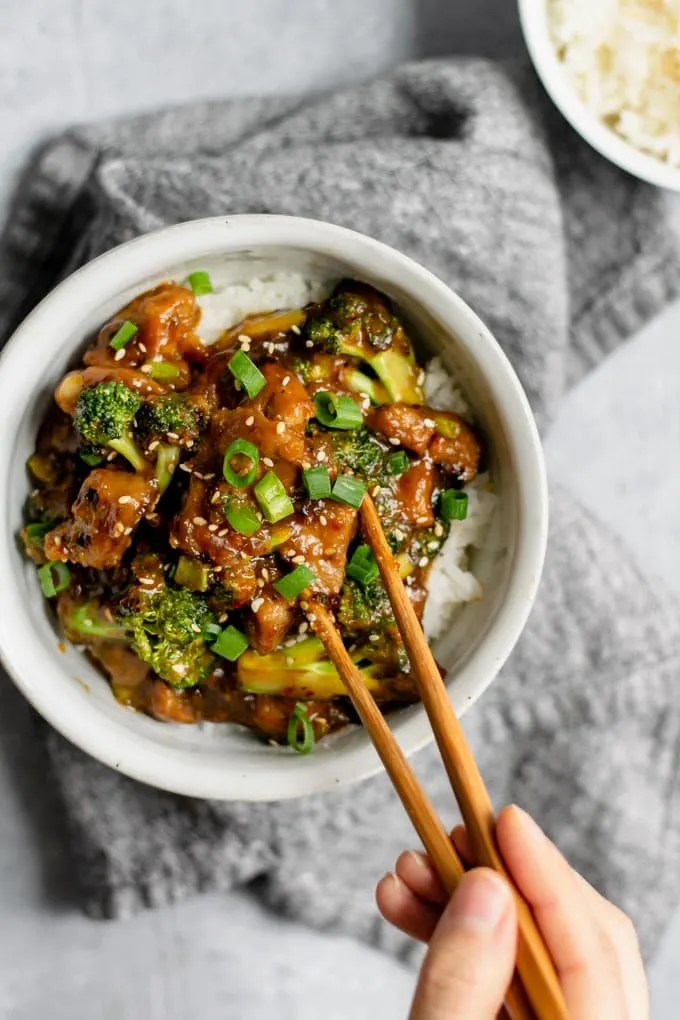 Making the stir fry:
Stir fries are fast, so fast that you'll want to make sure you've prepped everything before you turn the heat on your wok (or skillet). Make your sauce, complete all the chopping, and have everything ready to go in separate bowls. And, if you're serving it with rice, go ahead and get that started before you do anything else so that it's ready by the time your stir fry is done.
The orange sauce:
First make up the sauce. Zest an orange, then squeeze out the juice of that orange plus a couple more. Add soy sauce, rice vinegar, brown sugar, fresh ginger and garlic, a bit of red pepper flakes. Make a cornstarch and water slurry then add that to the rest of the sauce.
The rice vinegar gives the sour for the naturally sweet and sour flavor of the orange sauce. Brown sugar is there to enhance the sweetness of the orange juice, as we all know oranges can vary in sweetness a lot fruit to fruit.
I start with just a tablespoon of sugar and add more to taste (taste and adjust before adding the cornstarch slurry). As someone who appreciates savory more than sweet I'm suggesting just 1-2 tablespoons of sugar. If you look at other orange sauce recipes you'll find a lot more sugar being added, it's just not my preference! Or hopefully yours.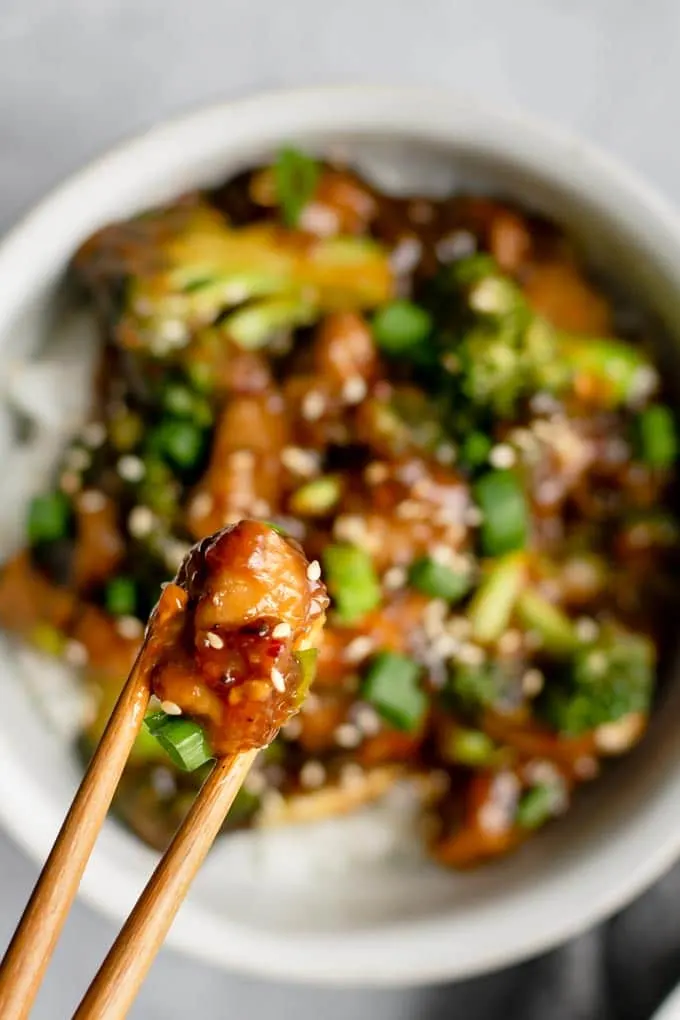 The seitan & broccoli:
For crispy seitan, we coat the wheat gluten nuggets in cornstarch as this creates a crispy crust when lightly wok fried. Most seitan comes packaged in a bit of a marinade/broth which leaves it damp enough when drained for the starch to stick. If for some reason you have a more dry packed seitan or are substituting a vegan meat you can add a bit of soy sauce to dampen it before adding starch.
Coating the broccoli in a light cornstarch batter might not be necessary, but it helps make some crispy bits on the veggie and encourages the sauce to cling to it as well. Toss the broccoli in soy sauce with a pinch of pepper then toss with corn starch and stir so that it mostly coats the broccoli.
Chop up a couple of scallions and separate the white and light green parts from the dark green. The light parts will be added to the broccoli to cook and the dark scallion greens are added as garnish at the end.

The stir fry:
Once everything is prepped and ready to go, fire up the heat under the wok–medium high to high heat. If you don't have a wok use a cast iron skillet or another skillet.
Once hot add a splash of oil and the corn starch covered seitan. Sauté for 2-4 minutes, stirring nearly constantly until the outsides of the seitan are crispy and cooked. Remove them from the wok or pan, place in a bowl and set aside.
Next, add a bit more oil to the wok and add the broccoli. Fry for another 2-4 minutes, or until the broccoli is bight green with some bits starting to char or darken. Add the white and light green part of the scallions and fry for another 30 seconds.
Then, add the seitan back to the wok and add the orange sauce, giving the sauce a quick whisk before adding as the starch will have separated. The sauce will quickly come to a simmer, bubbling away and thickening. Let it cook, stirring, until the orange sauce is thick and sticky, and coats the seitan and broccoli.
Serve hot off the skillet with jasmine rice, topped with the dark green scallion ends, and sprinkled with toasted sesame seeds. It's better than Chinese take out! And certainly healthier.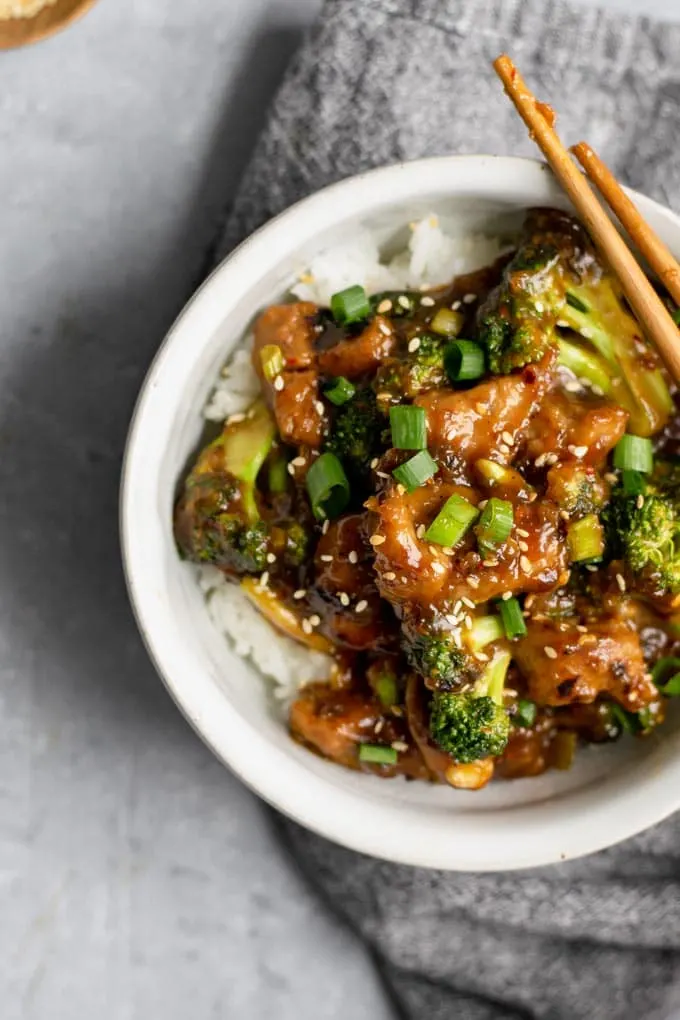 Stir fries might just get me through winter with their fresh flavors. It's one of my favorite way to cook vegetables and you can't beat the speed! Or the clean up really! So easy that maybe you'll want to make some Tibetan vegetable momos for an appetizer?
I hope you guys enjoy this sticky, crispy seitan and broccoli stir fry! If you make it, leave a comment below and rate the recipe on the recipe card. And please share your photos with me on Instagram, tag @thecuriouschickpea and #thecuriouschickpea, I love seeing your creations!
Notes:
Gluten free adaptation: substitute a non-wheat based vegan meat of your choice, such as Gardein. Alternatively you can substitute extra firm tofu. You may need to dip the vegan meat in a liquid, such as soy sauce or plant milk before adding the corn starch if it doesn't stick. Also make sure to use tamari for the soy sauce for gluten free.
Arrowroot starch or tapioca starch can be substituted for cornstarch if you wish.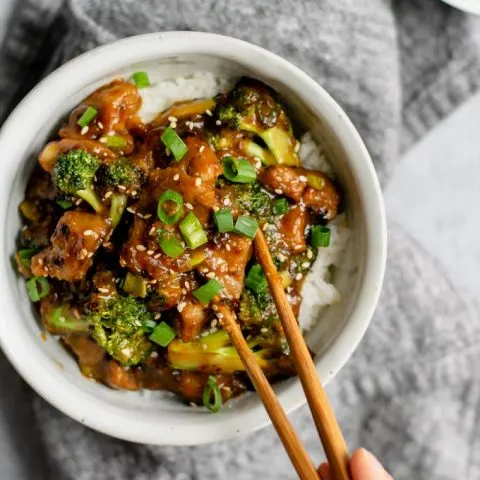 Crispy Orange Seitan and Broccoli
Crispy seitan and flash fried broccoli are doused in a sticky, flavorful orange sauce. It's just like your favorite Chinese take out recipe, but with added veggies, healthier, and completely vegan! See notes for gluten free option.
Ingredients
Orange Sauce
1/2-3/4 cup fresh squeezed orange juice* (~3 oranges)
1 tsp orange zest (~1 orange)
1/4 cup soy sauce
1/4 cup rice vinegar
1-2 tbsp brown sugar
1 tsp minced ginger
2 cloves garlic, minced
1/2 tsp red pepper flakes, or to taste
3 tbsp cornstarch
3 tbsp water
Seitan
8oz seitan or vegan meat of choice, cut into bite-sized pieces
1/4 tsp salt
1/4 tsp white pepper
1 tbsp cornstarch, more as needed
1/2 tbsp oil
Broccoli
1 crown broccoli cut into florets and stem chopped (~4 cups)
1 tbsp soy sauce
1/4 tsp white pepper
2 tbsp cornstarch
1/2 tbsp oil
2 scallions, sliced, light and dark green parts separated
sesame seeds, for garnish
jasmine rice, to serve
Instructions
Mix together all the sauce ingredients except the cornstarch and water, starting with 1 tablespoon of brown sugar. Taste and add more sugar if desired. Then whisk together the cornstarch and water in a separate bowl before adding to the sauce. Whisk to combine.
In a bowl toss together the setian with the salt and pepper, then toss with cornstarch to coat. In a second bowl toss the broccoli in soy sauce and pepper and then add the corn starch and stir until it's coating the broccoli (the broccoli will not be fully coated).
Heat a wok or skillet over medium high to high heat. Once hot, add a splash of oil (about 1/2 tablespoon) and the seitan. Cook 2-4 minutes or until crispy, stirring almost constantly. Remove from heat.
Add another bit of oil (about 1/2 tablespoon) and the broccoli. Fry for 2-4 minutes until the broccoli is bright green and starting to turn tender, then add the white and light green parts of the sliced scallions. Cook for 30 seconds.
Add the seitan back to the wok along with the sauce. Bring the sauce to a simmer and let cook and thicken about 1-2 minutes until it thickly coats the seitan and broccoli. Serve immediately with jasmine rice and garnish with scallion greens and sesame seeds.
Notes
*Juice 2-3 oranges (or more if needed) and use the amount of juice you get, the amount doesn't have to be exact, though you should use at least 1/2 cup fresh juice.
You can substitute black pepper for white if needed.
Recommended Products
As an Amazon Associate and member of other affiliate programs, I earn from qualifying purchases.
Nutrition Information:
Yield:

4
Serving Size:

1
Amount Per Serving:
Calories:

385
Total Fat:

11g
Saturated Fat:

2g
Trans Fat:

0g
Unsaturated Fat:

8g
Cholesterol:

26mg
Sodium:

1279mg
Carbohydrates:

44g
Fiber:

3g
Sugar:

12g
Protein:

27g