These Jamaican red beans and rice are so delicious. With buttery red kidney beans and creamy coconut rice it will always be a favorite in my household! Traditional preparations cook the beans from dry and prepare the coconut milk from scratch, but with a couple easy and pantry friendly substitutions you have a recipe that equally delights with very little effort.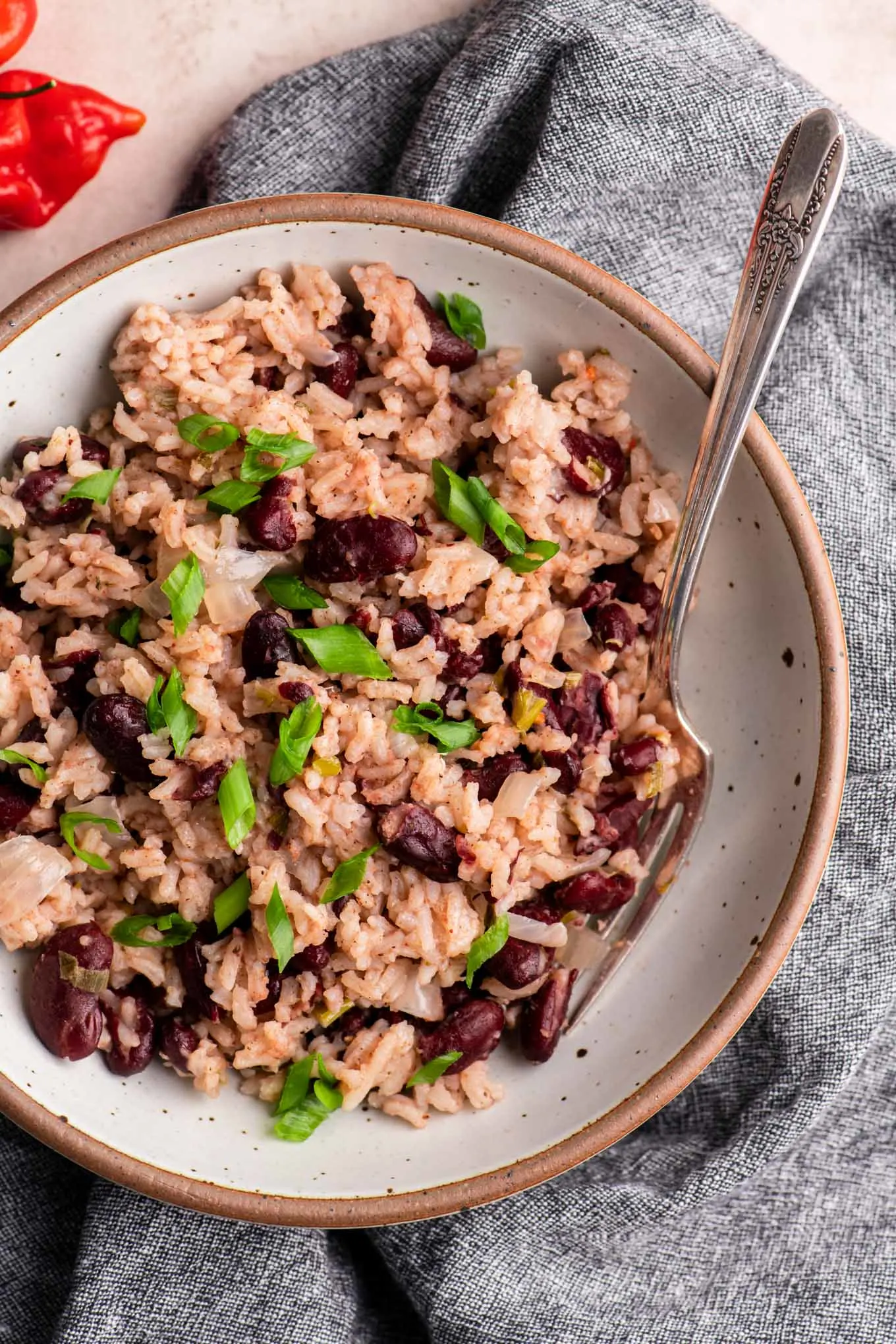 Red beans and rice is a wonderful one pot and hands off meal, cosy and comforting to the max. You can eat it as a meal on its own, but it's also a great side dish. At minimum I like to cook up some greens (like these smoky collard greens) or other veggie to go alongside it. It's also great served with some grilled tofu or Jamaican jerk tempeh.
There are many variations of beans and rice, and it's really hard to go wrong with this classic Caribbean combo!
I love this recipe because you literally throw a bunch of stuff in a pot, let it cook for a bit, then add rice and cook until the rice is tender. While it cooks I'm able to prepare a side dish and do all the dishes. Of which there are very few!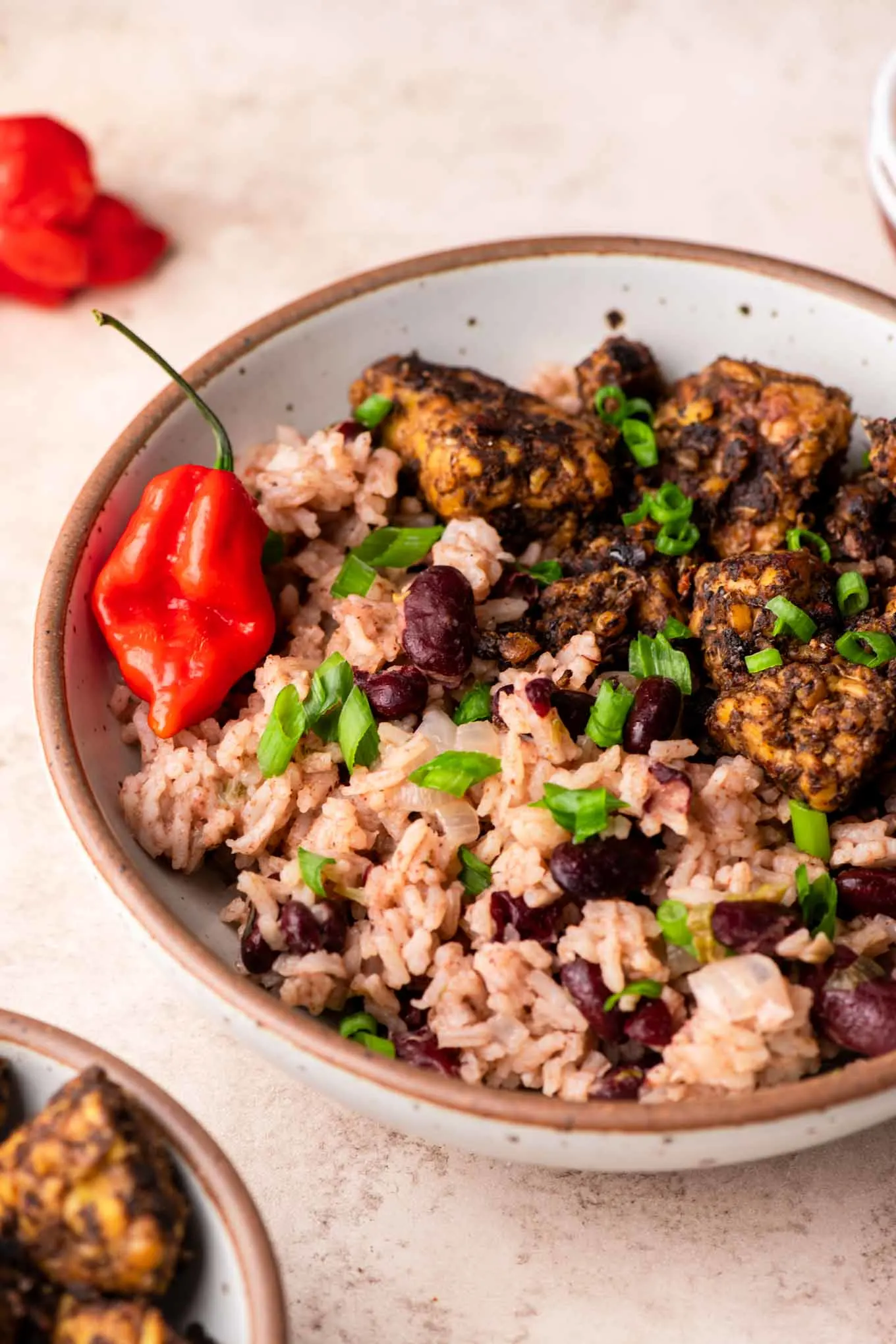 Ingredients for Jamaican red beans and rice:
Traditionally you use a variety of red beans that are smaller than kidney beans, however these can be harder to find at your average grocery store and usually sold dried.
Kidney beans are a bit different but still an excellent choice for this dish and very commonly used. I use canned kidney beans because it's super easy and I always have some cans on hand in the pantry (in part because this recipe for Afghan lubya).
You can also substitute pinto beans or even black beans in this recipe. However if you want that classic pink hue to the rice you'll want to use some kind of red colored beans!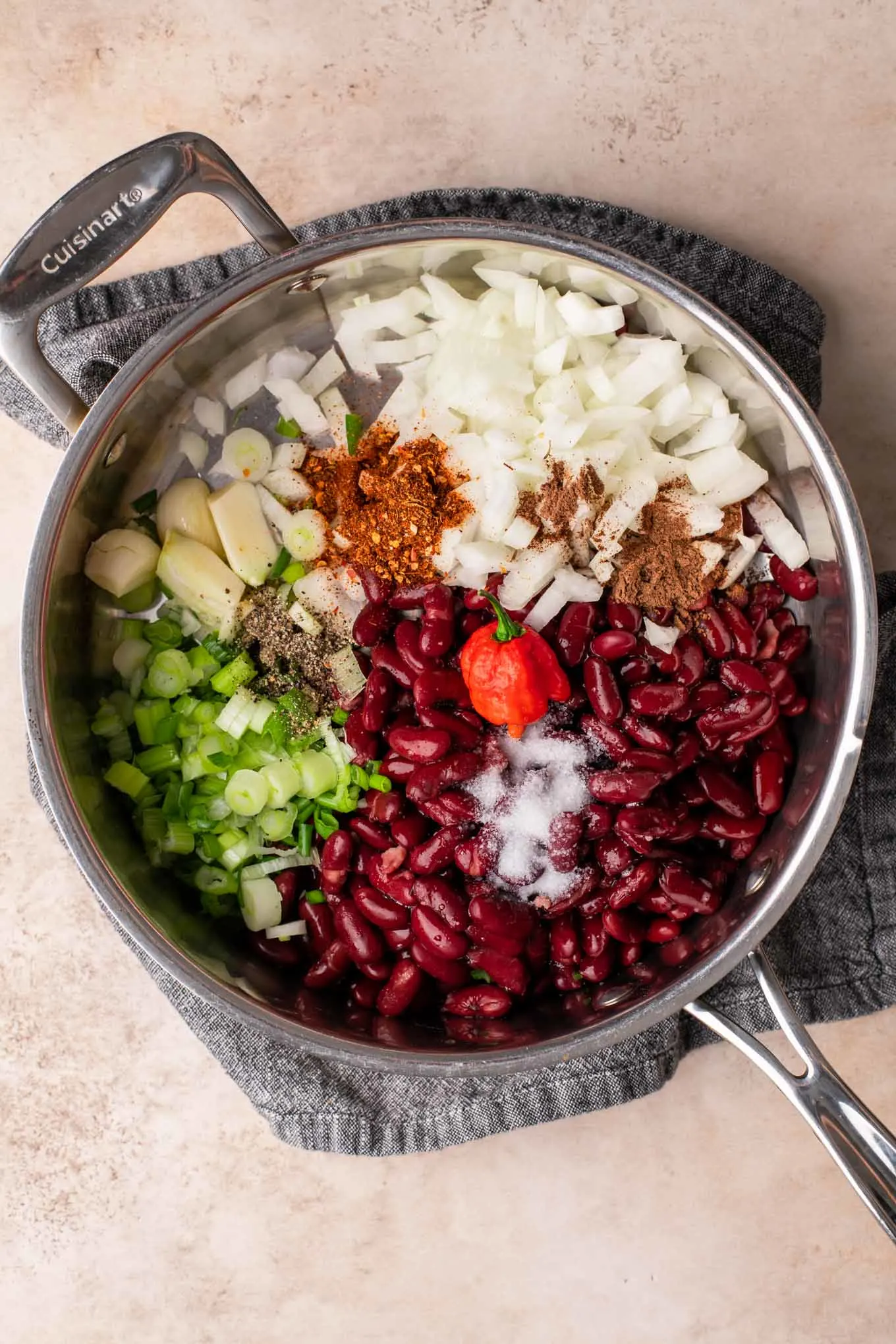 The beans get cooked with a whole lot of seasoning–onion, scallions, garlic, scotch bonnet pepper, thyme, allspice, jerk seasoning, and coconut milk. Oh and salt and pepper of course!
Sometimes, if I've made my Jamaican jerk sauce and have some extra in the fridge, I'll throw in a spoonful of that instead of the dried jerk seasoning.
Lastly, you of course need rice! I like long grain white rice or jasmine rice for this recipe. While you can make red beans and rice with brown rice, cooking times will be longer and beans might cook down and start to lose their shape as a result.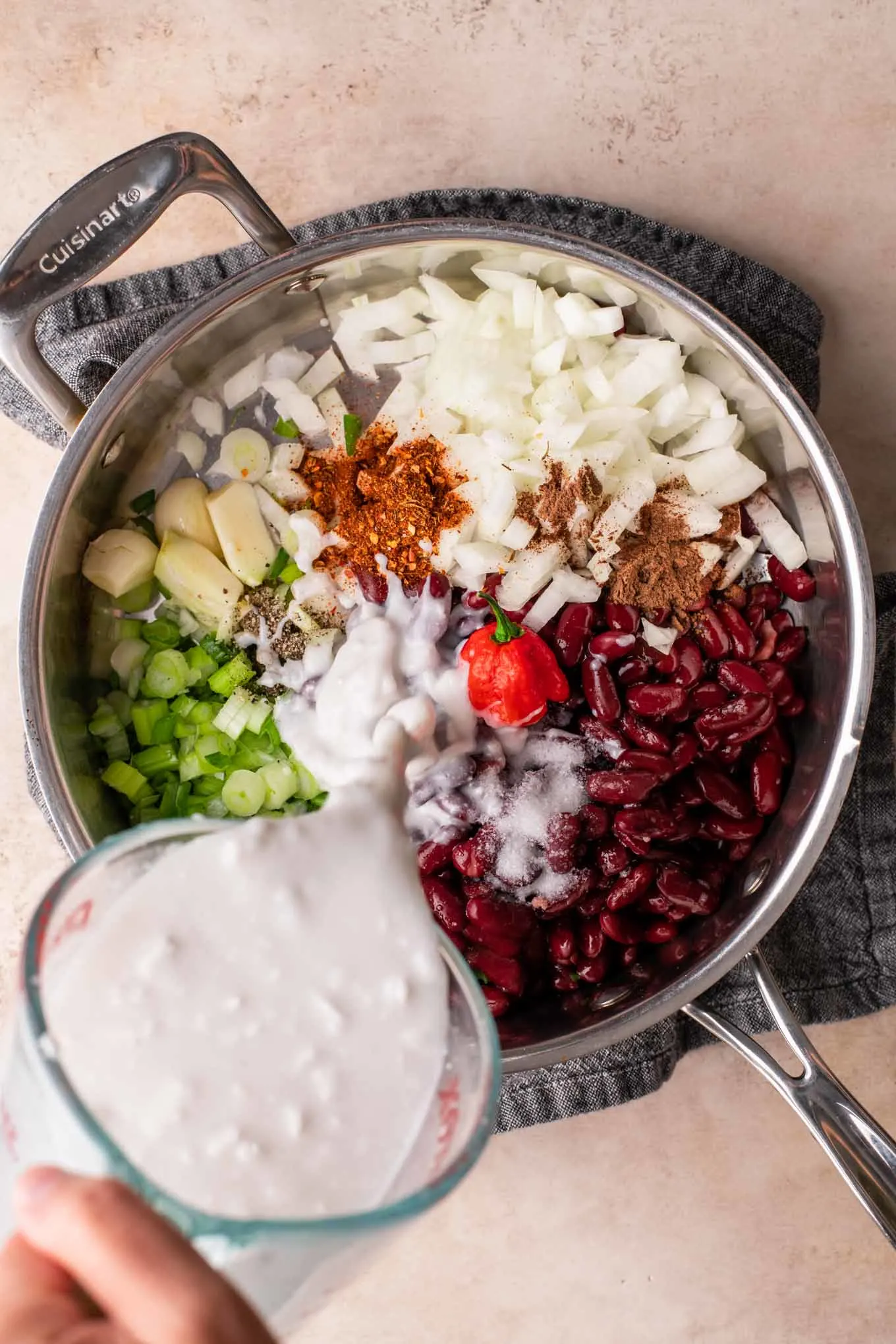 The scotch bonnet pepper, or controlling the spice level of this recipe:
The peppers are cooked whole in this dish, which allows them to lend their fruity flavor but very little of the heat. Cutting the peppers in half, or piercing holes in them with a knife will let more of the spice out.
The classic choice of chili for Jamaican red beans and rice is the scotch bonnet pepper. However, they can be tricky to source outside of the Caribbean or Caribbean grocery stores. Habaneros have a similar heat level and are good substitutes, I will regularly use them instead.
I used Trinidadian scorpion peppers this time around because I grew a bunch a plant in my garden this year! These are an order of magnitude spicier than scotch bonnet or habanero peppers, but since the peppers are cooked whole the dish remains fairly mild. By my standards anyway!
You can always decrease the heat by using a less spicy pepper like jalapeño or serrano chiles. Remember as they're left whole very little of the spice comes out!
That being said, if you can find them I really recommend you use a Caribbean pepper (e.g., scotch bonnet or scorpion) for this recipe! They have such delicious fruity flavors underneath their heat and really add something special to the dish.
If using a very spicy pepper, make sure to remove it before fluffing the rice and eating!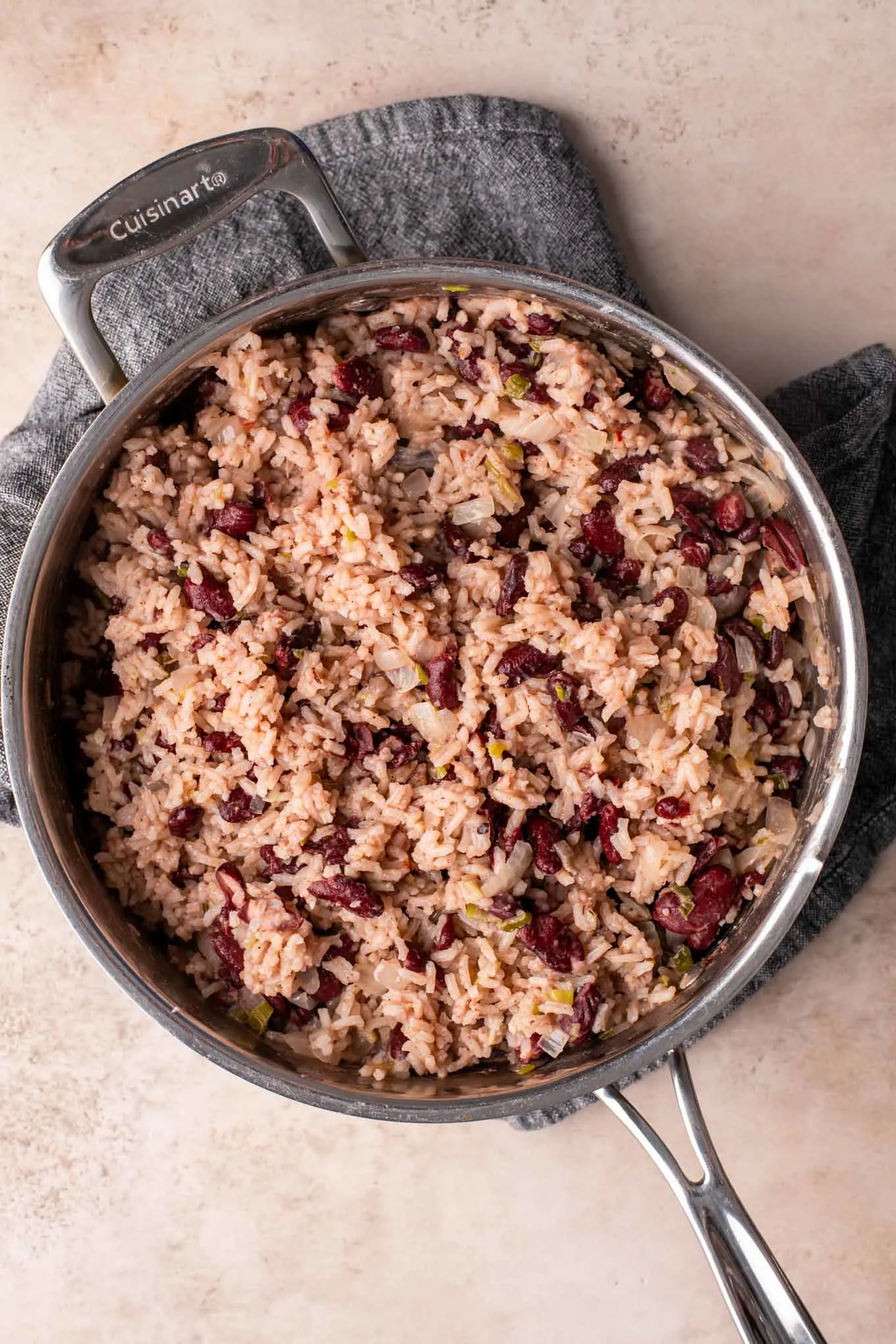 The preparation:
We've gone over the broad strokes of how to make this recipe and I promise it really is that simple!
First we cook the beans with the seasonings a bit. This step helps develop the flavors of the onion, garlic, and spices and gives extra time for the flavor to soak into the beans.
Then you add the rice, bring the mixture back to a low simmer (just the same as cooking rice normally!), and cover the pot. The white rice cooks in 15 minutes and then turn the heat off and let it steam untouched for 10 minutes. Then fluff up the rice, removing the whole pepper and sprigs of thyme. And enjoy! Super simple 🙂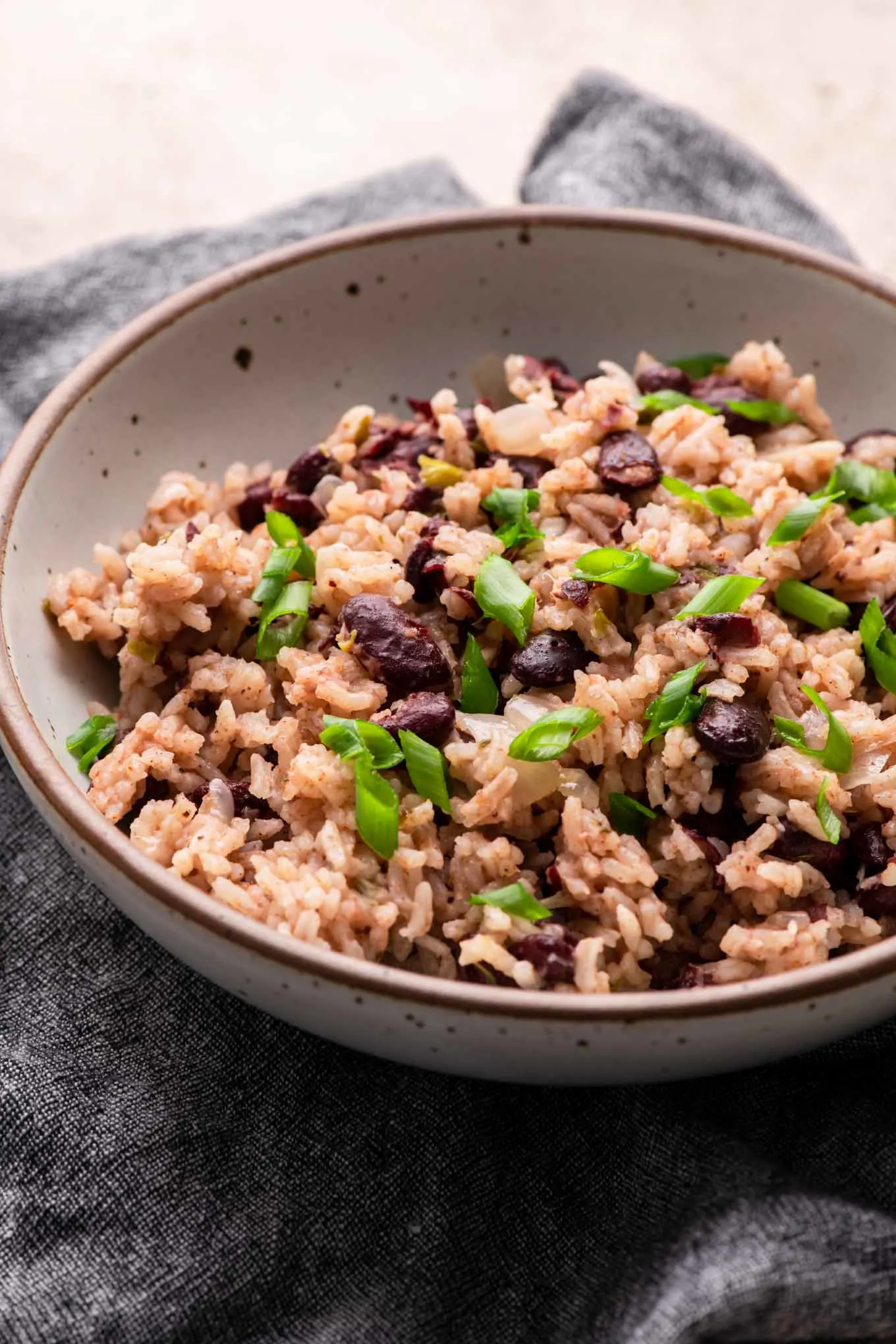 And in case that was too much writing about rice and beans for you ("why'd you write a story about your mom's cousin's best friend's husband's family's history, I just want the recipe!"), I just want to let you know my original plan for this post was to just write:

beansssss

beeeaaaaanssssss
I think that speaks for itself, don't you!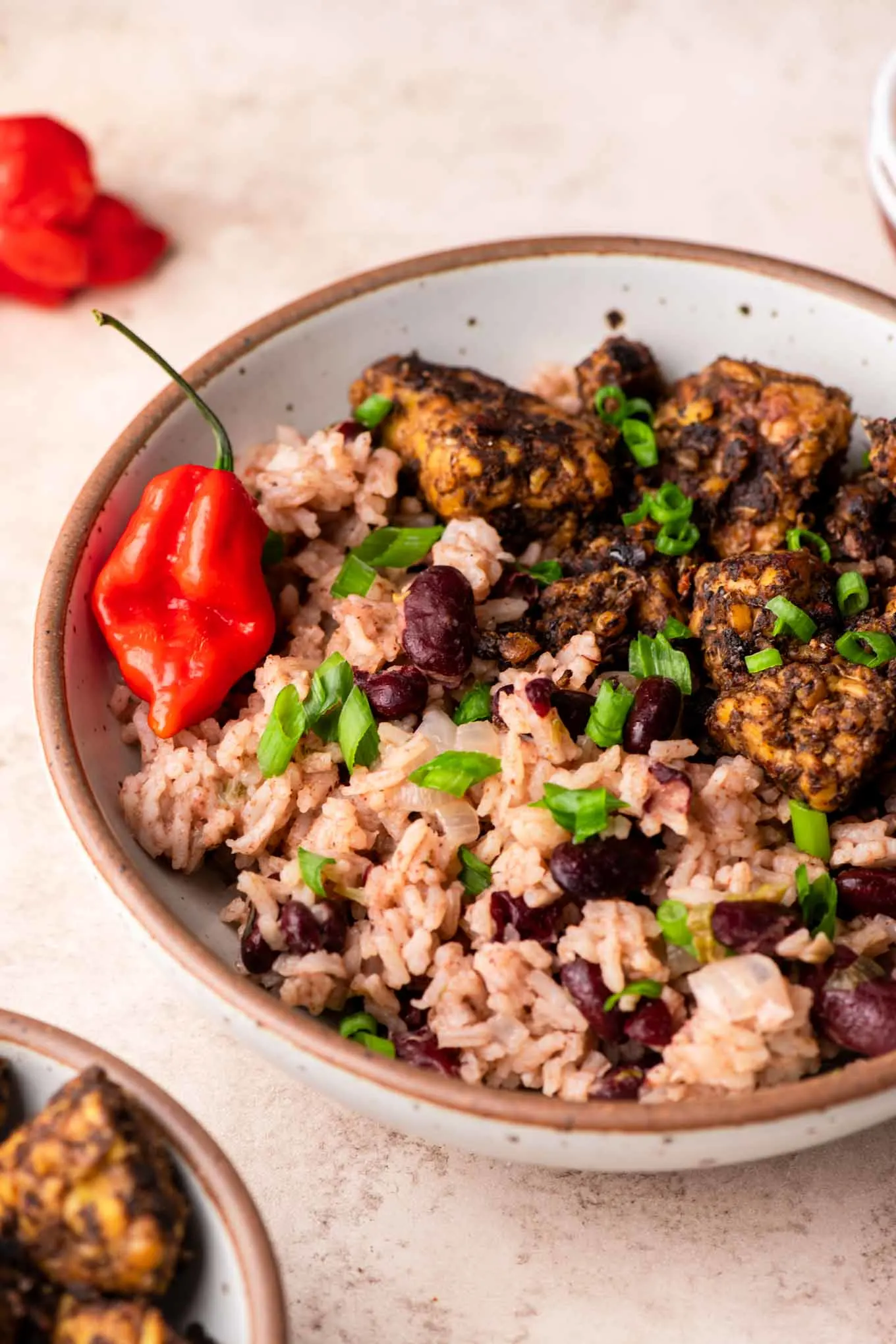 More bean recipes:
I'm just going to assume you love beans as much as I do, so here are some other delicious recipes to try!
If you make these homemade vegan biscuits, leave a comment below and rate the recipe on the recipe card. And please share your photos with me on Instagram, tag @thecuriouschickpea and #thecuriouschickpea. I love seeing your recreations!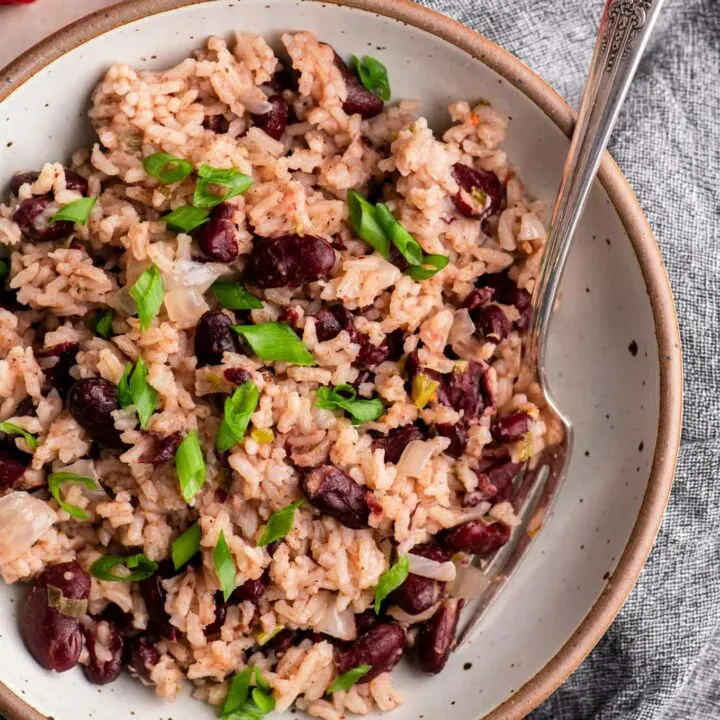 Jamaican Red Beans and Rice
Additional Time:
10 minutes
Jamaican red beans and rice makes a great main dish or side dish. It's naturally vegan and gluten free, and so easy to make! Any extra will freeze really nicely for future meals.
Ingredients
2 15oz cans kidney beans (3 cups cooked), drained and rinsed
1/2 yellow onion, finely diced
2 scallions, thinly sliced
2-4 cloves garlic, smashed and peeled
3-4 sprigs of thyme (or 1 tsp dried thyme)
1 scotch bonnet, habanero, Trinidadian scorpion, or other chili pepper, whole
1/2 tsp ground allspice
1 1/2 tsp Jamaican jerk seasoning (mild), or 1 tbsp jerk sauce
2 tsp salt
black pepper, to taste
15oz can full fat coconut milk
2 1/2 cups water
2 cups long grain rice, rinsed
Scallion greens, for garnish
Instructions
Add everything but the rice to a large heavy bottomed pot–kidney beans, onion, scallion, garlic, thyme, scotch bonnet or other pepper, allspice, jerk seasoning, salt, pepper, coconut milk and water.
Bring to a low boil over high heat, then turn the heat down to low and cover the pot. Let simmer for 15 minutes.
Add the rinsed and drained rice and stir into the beans. Turn the heat to medium and bring it back to a simmer. Turn the heat down to low and cover the pot. Let simmer on low for 15 minutes, then turn off the heat without lifting the lid!
Let steam with the heat off for 10 minutes, then open the pot, remove the whole pepper and thyme stems and fluff the rice with a fork.
Serve garnished with scallion greens and enjoy!
Recommended Products
As an Amazon Associate and member of other affiliate programs, I earn from qualifying purchases.
Nutrition Information:
Yield:

8
Serving Size:

1
Amount Per Serving:
Calories:

301
Total Fat:

12g
Saturated Fat:

10g
Trans Fat:

0g
Unsaturated Fat:

1g
Cholesterol:

0mg
Sodium:

607mg
Carbohydrates:

39g
Fiber:

7g
Sugar:

1g
Protein:

12g
Nutrition is calculated automatically so should be used as an estimate.