If you love spicy food and complex flavors then this Jamaican jerk sauce needs to be in your repertoire. It's super easy to make–you just gather a bunch of ingredients and blend them.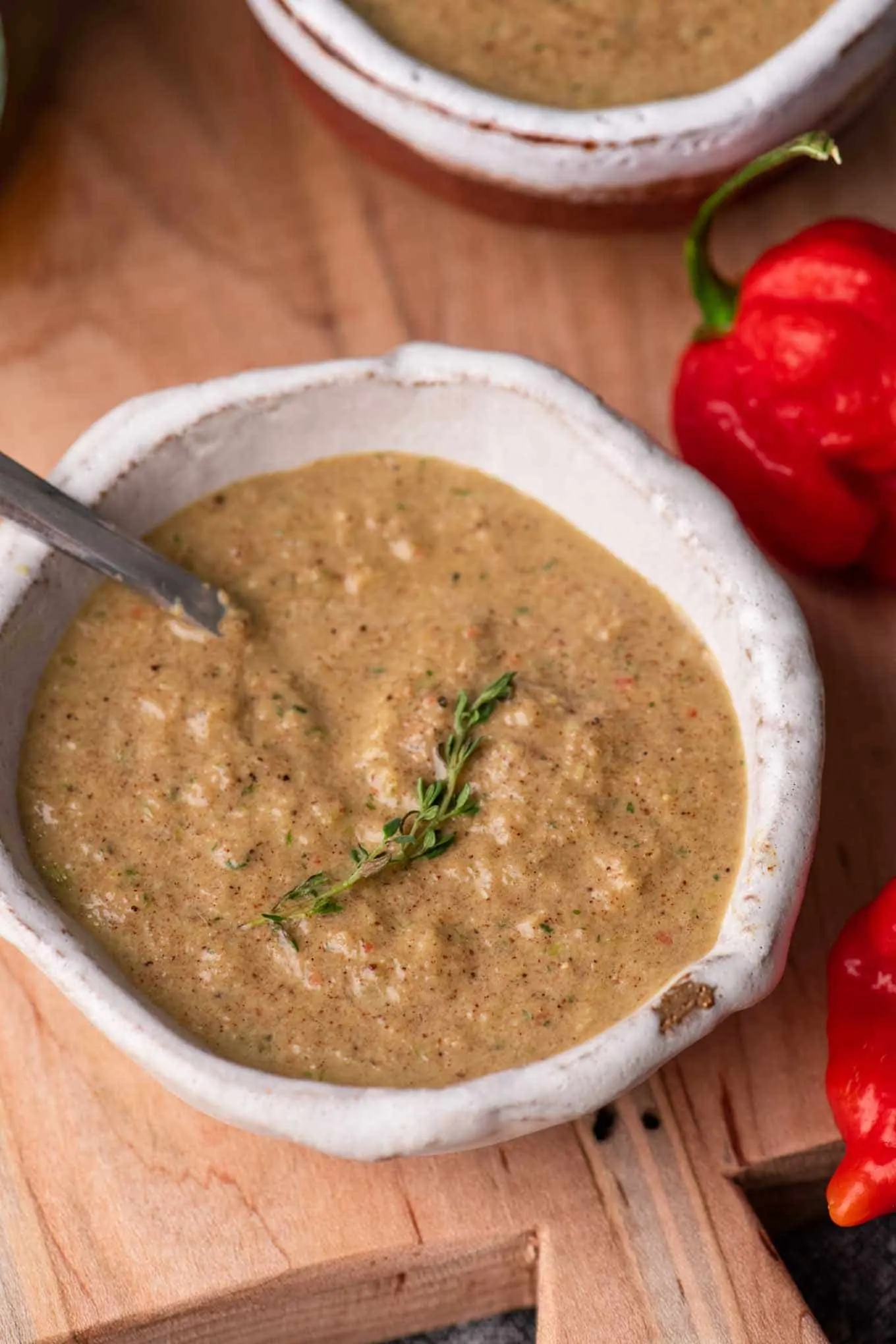 Jerk sauce can be made advance and kept in the fridge for a week or two, or frozen for longer term storage. This means delicious, flavorful meals are at your fingertips at all times!
All you need to do is marinate the protein of your choice (mine is tempeh, I loveeee Jamaican jerk tempeh) in the jerk sauce and then cook it up in a skillet or over the grill.
You can also add a spoonful of jerk sauce to flavor soups or stews, beans or bean & rice dishes. Wherever your imagination takes you, really!
What is jerk?
It's a style of cooking from Jamaica, which is why it's called Jamaican jerk. It's either a spice blend used as a dry rub or a sauce used as a marinade. It's a cooking style believed to originate from the indigenous Taíno people.
Key ingredients in Jamaican jerk are scotch bonnet peppers and all spice, with a whole lotta other spices and flavors thrown in.
So how do we make Jamaican jerk sauce?
Like all spice mixes and sauces you can tinker with the ingredients based on what you have on hand and your personal taste preferences, but at least the first time I recommend you make it exactly how written. Then if you want to cut back on the allspice or add more soy sauce, be my guest.
For homemade jerk you'll need:
Onion: yellow onion + scallions
Garlic
A spicy chili pepper: scotch bonnet is traditional
Fresh ginger
Thyme (ideally fresh, but died works too)
Lots of warming spices: allspice, clove, nutmeg, cinnamon
Black pepper + salt
Fresh squeezed citrus juice: lime or lemon
Soy sauce (tamari for gluten free)
Canola Oil or other neutral vegetable oil
A dash of white or apple cider vinegar
It's a pretty pantry friendly set of ingredients, which I think is super awesome!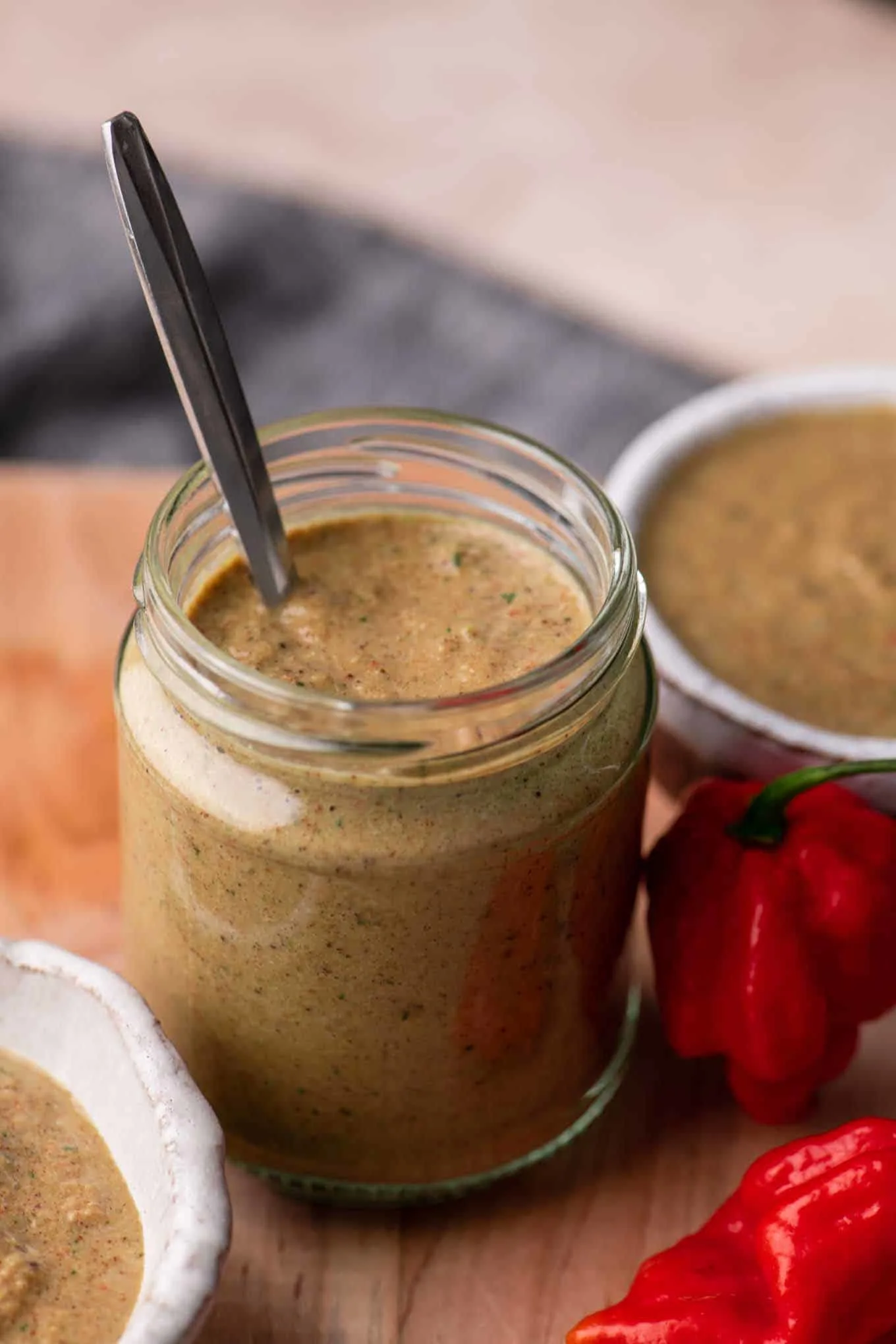 Controlling the spiciness of your jerk sauce:
Before I get into this, if handling these hot chilies make sure to wear food prep gloves! The oils these peppers will release as you cut them are extremely painful if you get them on your fingers then touch your face. At minimum they can even cause your fingers to feel like they are burning! Ok, onwards.
This year I grew Trinidadian Scorpion peppers, which are actually hotter than scotch bonnet peppers and come in at 2,000,000+ SHU (Scoville Heat Units)… not to mention hotter than ghost peppers. So, having plenty of these on hand I've been using them in jerk sauce, and they are absolutely delicious. Fruity, with a belly warming heat, we love them!
But if you do not love fiery food, you have options. Check out the handy dandy scoville scale (here's a link to one scoville scale graphic, but you can also google it) and see where your peppers lie. The lower down and smaller the number, the less spicy they'll be.
Scotch bonnets are great peppers, but can be trickier to find (check out Caribbean grocery stores if available to you). Habaneros have similar heat levels to scotch bonnet chilies and are pretty easy to find in the US so a great alternative choice.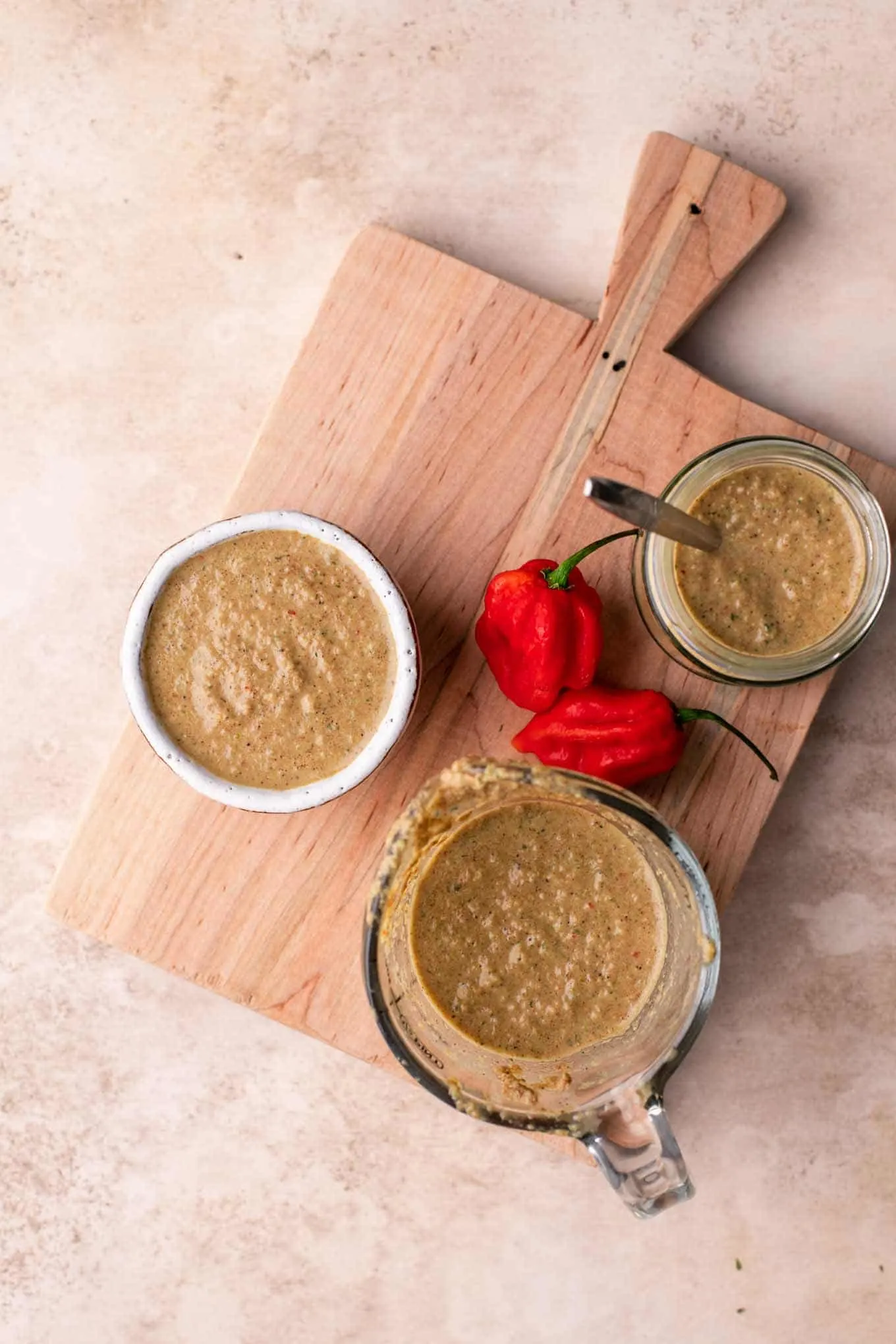 For hotter jerk sauce:
If you want your jerk sauce to be very spicy you can use hotter peppers, like my scorpion chilies, or use more peppers (2 chiles will make for a hotter dish than 1).
For milder jerk sauce:
If you want a milder jerk sauce, you can either remove the seeds of the spicier peppers (wear gloves!) and/or use less spicy peppers such as jalapeños or serrano peppers.
You need to know what your own spice tolerance is, and make the sauce to your personal taste.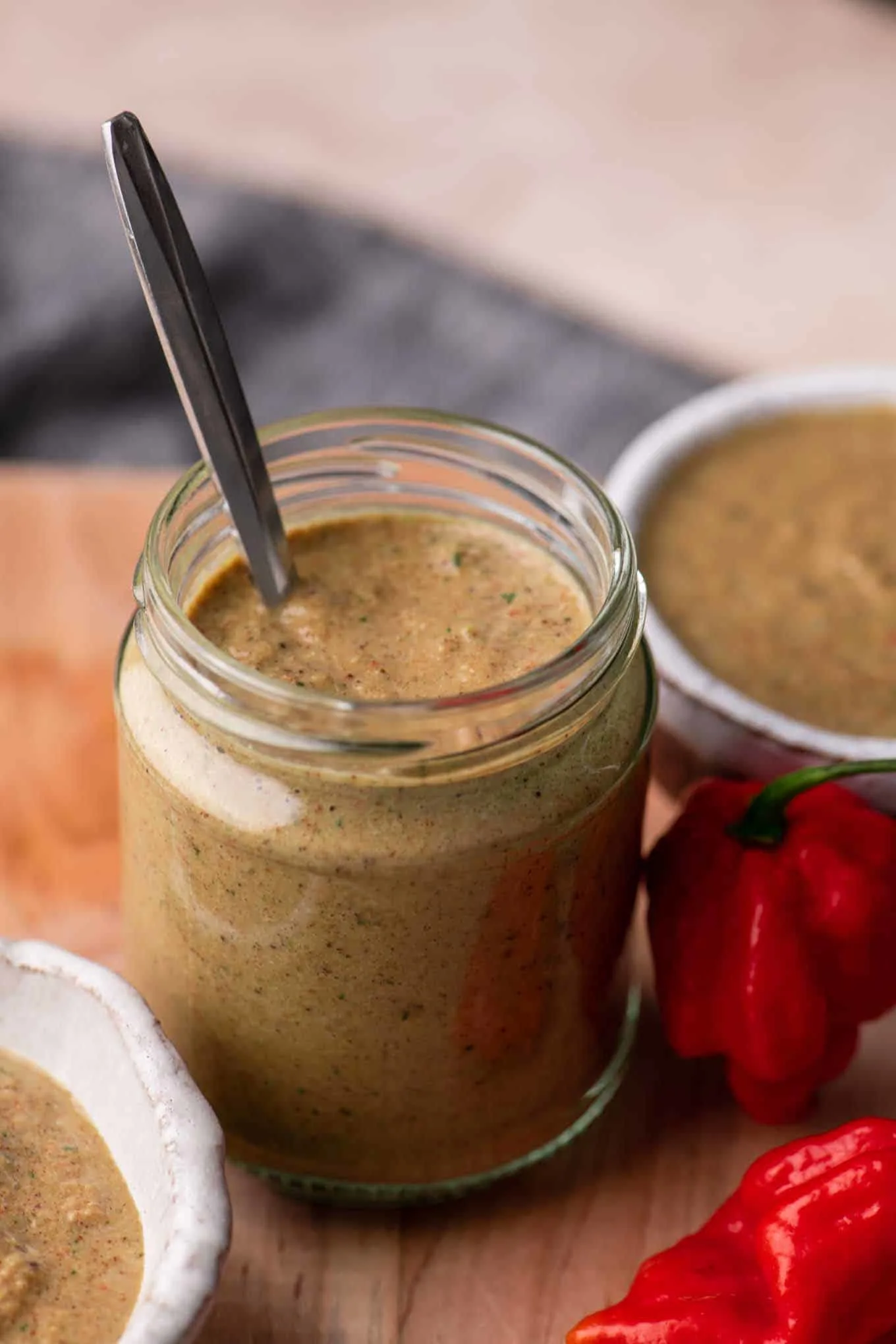 More Jamaican and Caribbean inspired recipes:
If you make this Jamaican jerk sauce, leave a comment below and rate the recipe on the recipe card. And please share your photos with me on Instagram, tag @thecuriouschickpea and #thecuriouschickpea. I love seeing your recreations!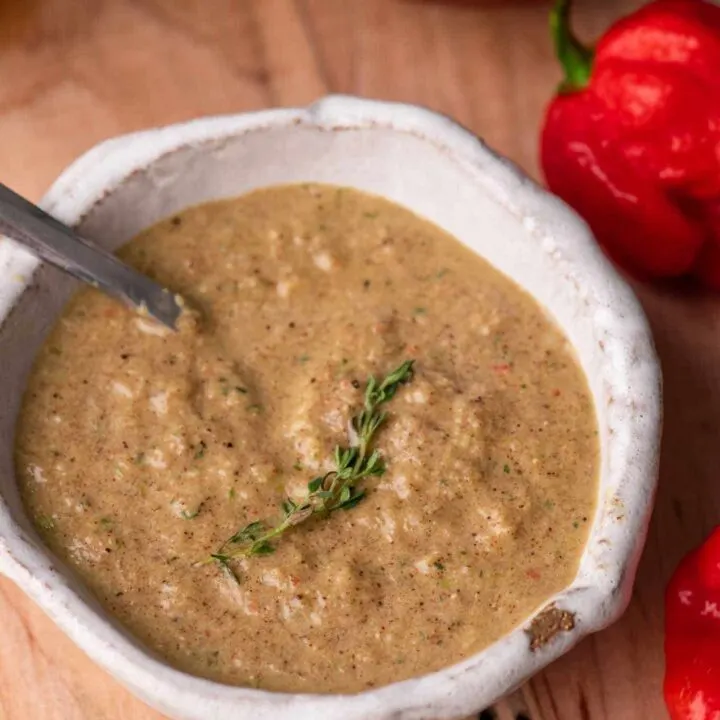 Jamaican Jerk Sauce
It's easy to make homemade Jamaican jerk sauce from scratch! It's pretty pantry friendly, and you can make it spicy or milder to your own tastes. This recipe makes a scant 2 cups sauce.
Ingredients
1/2 yellow onion, coarsely diced
4 scallions, sliced into 1-2 inch pieces
4 garlic cloves, peeled and coarsely chopped
1 scotch bonnet pepper, Trinidadian scorpion pepper, habanero, or milder chile, stem removed
1-inch piece fresh ginger, peeled and coarsely chopped
2 tbsp fresh thyme, de-stemmed (substitute 2 tsp dried)
1 tbsp ground allspice
1/2 tsp ground cinnamon
1/4 tsp ground clove
1/4 tsp ground nutmeg
1/2 tsp salt
black pepper, to taste
1/4 cup canola oil
1/4 cup fresh squeezed lemon or lime juice
2 tbsp soy sauce (use tamari for gluten free)
1 tbsp white vinegar or apple cider vinegar
Instructions
Combine all prepared ingredients into a food processor or blender and process until smooth.
Use immedaitely as a marinade or refrigerate for future use. Keeps for about 1-2 weeks in the refrigerator, freeze for longer storage.
Nutrition Information:
Yield:

16
Serving Size:

1
Amount Per Serving:
Calories:

39
Total Fat:

4g
Sodium:

201mg
Carbohydrates:

2g
Sugar:

1g
Protein:

1g
Nutrition is calculated automatically so should be used as an estimate.