This caramelized onion white bean dip is easy to make and a real crowdpleaser! White beans make for a creamy dip that just so happens to be good for you, and the recipe is vegan and gluten free!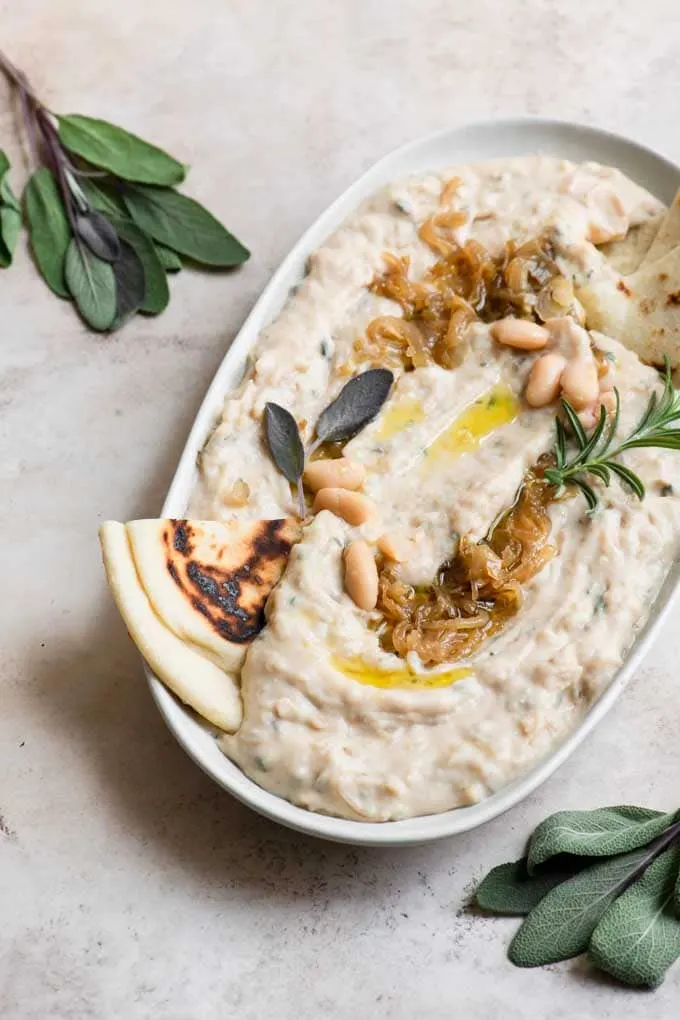 When caramelized onion dip meets a white bean dip, magic happens. And by magic, I mean a really yummy dish is made.
Swapping out the cream cheese and sour cream for white beans, and it's obviously not going to be the same. But that's ok, it's not the point!
White beans make a great creamy base for a dip. They're mild tasting, and have a lightly nutty flavor that pairs nicely with the sweet caramelized onions.
It's just an added bonus that they make the dip a bit more wholesome. Like ok, it's high in fiber and protein thanks to those beans, but if we're being honest, who really cares–it's dip and it tastes good!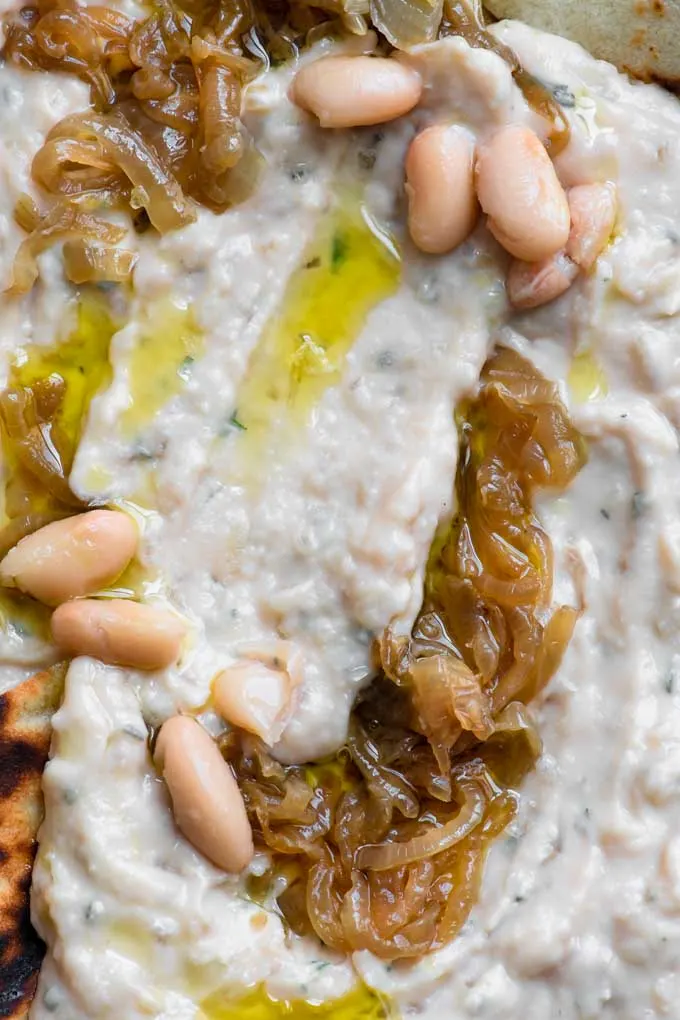 And when it comes to my caramelized onion white bean dip, sure you could serve it as an appetizer, party food, snack, game day eat, and the like… but when dip tastes as delicious as this, it can only be expected that you can't hold yourself back with a small plate portion!
It's creamy and light tasting and deliciously oniony. Perfect for scooping with chips, crudité, crusty bread, flatbread (I'm serving it with my homemade flatbread here), or even lick it off a spoon!
You can also use it as a spread for sandwiches or wraps. It would be awesome dolloped over a just baked pizza or hot flatbread as well!
Caramelizing the onions:
The number one thing when it comes to caramelized onion dip of any kind is of course caramelizing those onions!
You ideally will start with a sweet variety of onion. These contain more sugar in them and these sugars are what caramelize.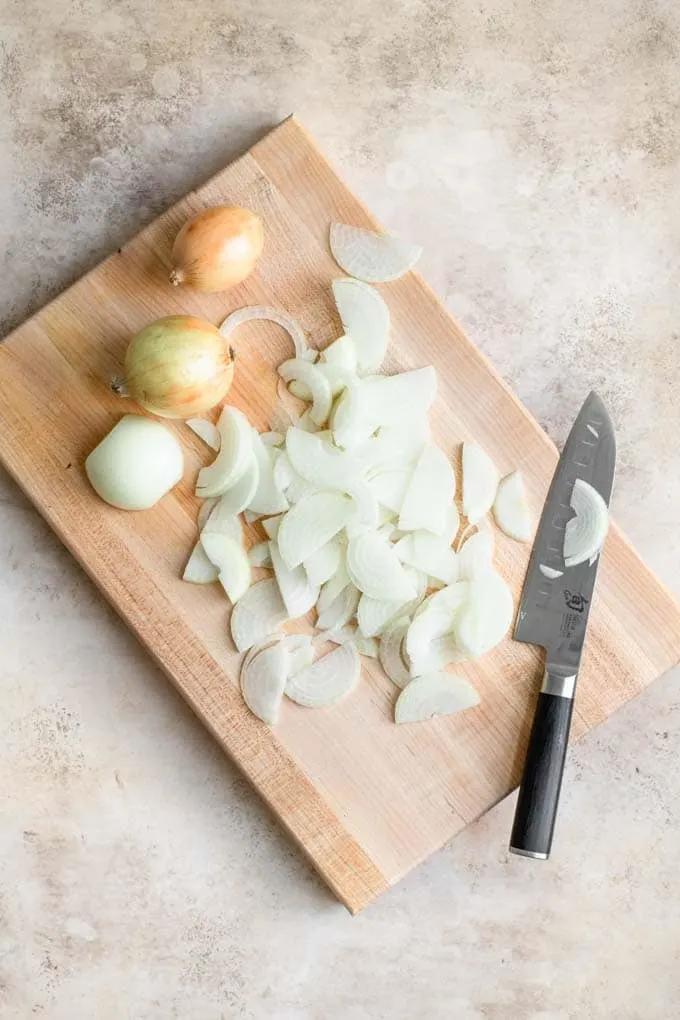 What is caramelization? It's when sugar cooks for an extended period of time and its molecular structure actually changes as it breaks down.
It's an oxidation process which produces multiple compounds which give the final brown color and rich flavors of caramelized sugar.
You can't have caramelization without sugar, which is why ideally you will choose a sweet onion.
All onions contain sugar, so strictly speaking you can caramelize a yellow onion or red onion as well. But for best results (and prettiest color) use sweet onions.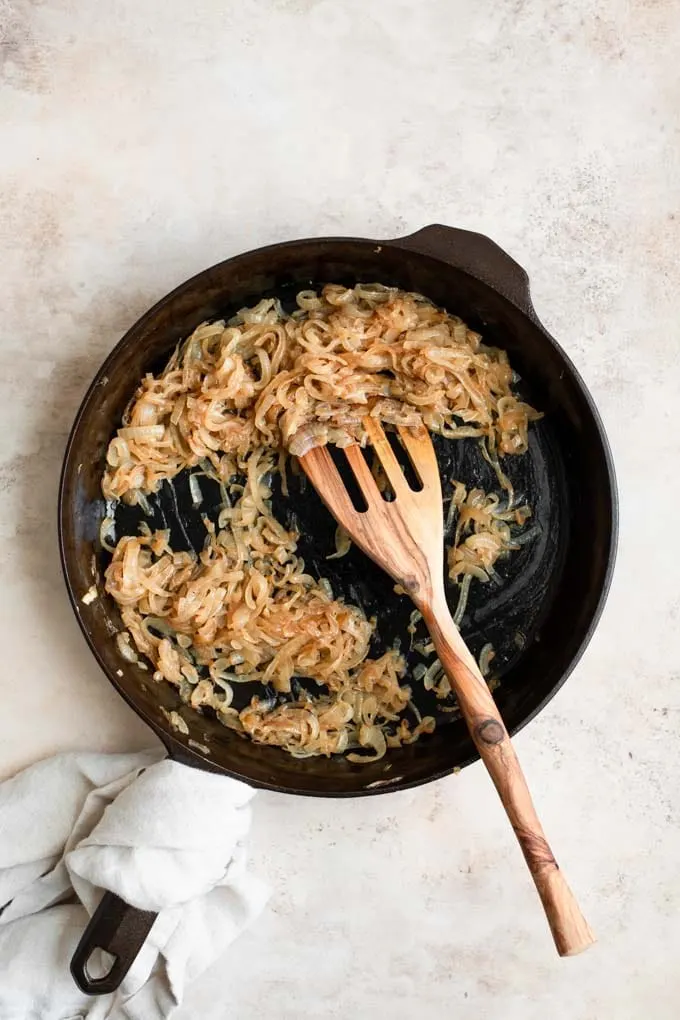 You may have noticed that some caramelized onion recipes call for added sugar. Personally, I don't do this. The onions will caramelize without sugar, and I don't want my onions to taste overly sweet. I just want to coax the most out of their natural flavors!
The trick to well caramelized onions is to go low and slow. This means fully caramelizing onions will take a half and hour or more!
Caramelized onion shortcut:
This isn't really a true short cut, but it can shave several minutes off cooking time.
You can start with the heat at medium or medium high, and let the onions sweat and lose volume before turning the heat down to cook low and slow. You will need to turn the heat down before the onions start browning from searing against the pan.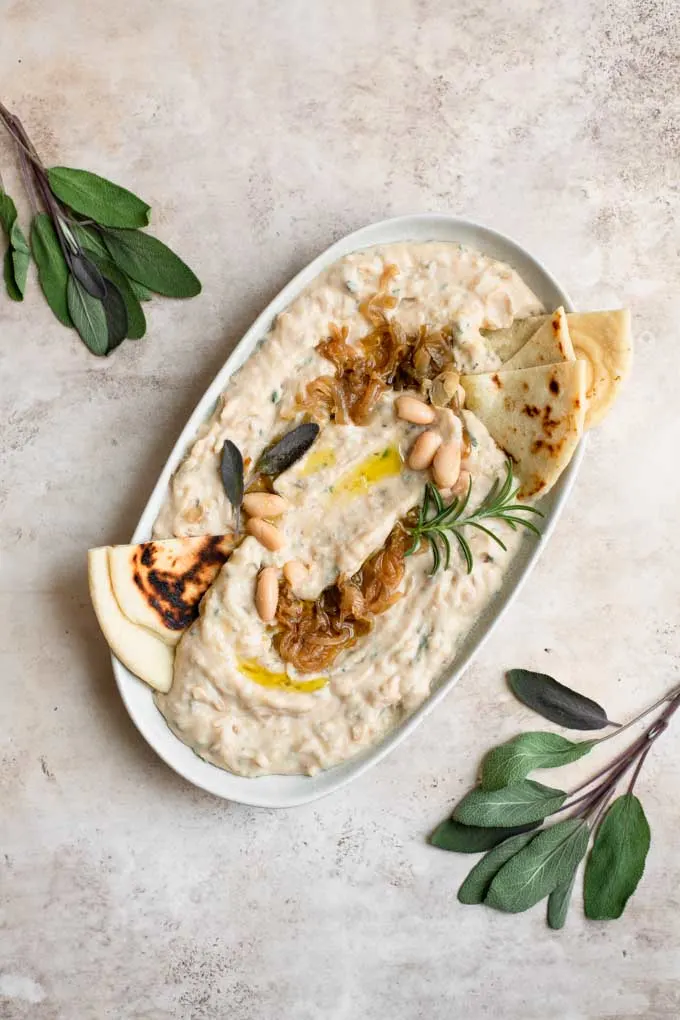 I often skip this "shortcut" because you have to babysit it a lot more closely during the higher heat portion. Usually I'm over working on another part of the recipe while my onions caramelize. And if not that then I'm sitting on the kitchen stool scrolling on my phone and certainly not paying full attention to my skillet!
But if you're short on time, it can help!
The white bean dip:
This is one of the easier dips to make. You just need a food processor, though a blender can work as well.
Use cooked cannellini or other white bean (e.g. navy, great northern) and process it smooth and fluffy with some olive oil, lemon juice, garlic powder, onion powder and salt.
What's that you say? Onion powder as well as caramelized onions go into this dip?
Yes. Duh. It's onion dip and needs to go big on the onion flavor! Having two kinds of onion flavoring this dip adds layers. And we all know that layers are good, right??
Now depending on final texture and thickness you want, you may thin the dip with a couple tablespoons (or up to 1/4 cup) of cold water or aquafaba (the liquid that's in the can of beans or that you cooked the beans in).
If you want added richness you could also add a bit more olive oil to thin.
Once the dip is smooth, you'll want to taste it and adjust the lemon and salt to your own liking, then add in some fresh herbs.
I used a combination of fresh rosemary and sage because if you've ever tried those herbs with caramelized onion… well, you know where I'm coming from!
Finally add in those caramelized onions and pulse the food processor to chop them up a bit.
Ta-da! Your dip is done! You can eat it right away, or stick it in the fridge to give the flavors a chance to meld. Mmmm
If you make this caramelized onion white bean dip, leave a comment below and rate the recipe on the recipe card. And please share your photos with me on Instagram, tag @thecuriouschickpea and #thecuriouschickpea. I love seeing your recreations!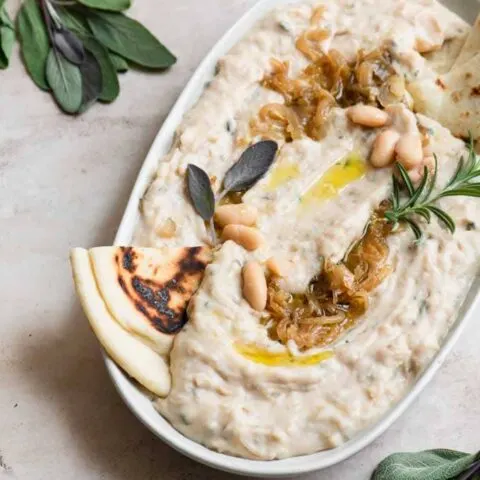 Caramelized Onion White Bean Dip
White beans give this dip such a flavorful and creamy base and fresh rosemary and sage pair with the caramelized onion to make it pop!
Serve with flatbread, chips, crudité, or crostini as a dip, or enjoy as a spread on sandwiches and wraps.
Ingredients
1 1/2 lbs sweet onion, thinly sliced quarter moons (if large) or half moons (if small)
3 tbsp extra virgin olive oil, divided
28oz can (3 cups cooked) cannellini beans or other white beans, drained and rinsed
1/4 cup fresh squeezed lemon juice
1 tsp onion powder
1/2 tsp garlic powder
1/2 tsp salt, more to taste
2-4 tbsp cold water or aquafaba (liquid from can of beans)
1 tbsp chopped fresh rosemary
1 tbsp chopped fresh sage (substitute 1 tsp dried)
Instructions
Warm a large skillet over medium-low. Add 1 tablespoon of oil and the onions along with a pinch of salt. Cook slowly stirring occasionally until the onions are dark golden and caramelized. The process will take 30-35 minutes.
In a food processor combine the beans, 2 tablespoons of olive oil, lemon juice, onion powder, garlic powder, and salt. Process until smooth, adding cold water, aquafaba, or more olive oil to thin if needed. Let it process for several minute, pausing to scrape down a few times. Taste and adjust salt and lemon juice if needed.
Add in the rosemary, sage, and caramelized onions, setting aside some to garnish if desired, and pulse to chop up and combine.
Enjoy immediately or refrigerate to allow flavors to meld. It will keep for about a week.
Notes
Aquafaba is the liquid that is in the can of beans, or if cooking beans from dried then the liquid that you use to cook the beans. It can improve the texture of the dip, but it's ok to substitute with cold water or add more olive oil if you'd prefer (or a combination of the two).
Nutrition Information:
Yield:

16
Serving Size:

1
Amount Per Serving:
Calories:

94
Total Fat:

3g
Unsaturated Fat:

2g
Sodium:

246mg
Carbohydrates:

14g
Fiber:

3g
Sugar:

2g
Protein:

4g
Nutrition is calculated automatically so should be used as an estimate.