Jamaican jerk tempeh is one of my favorite preparations of tempeh and a beloved vegan twist on jerk. It's delicious served as the main protein alongside other Caribbean dishes. Keep some jerk sauce in the freezer at all times and this is the perfect simple recipe to have on hand for last minute weeknight dinners.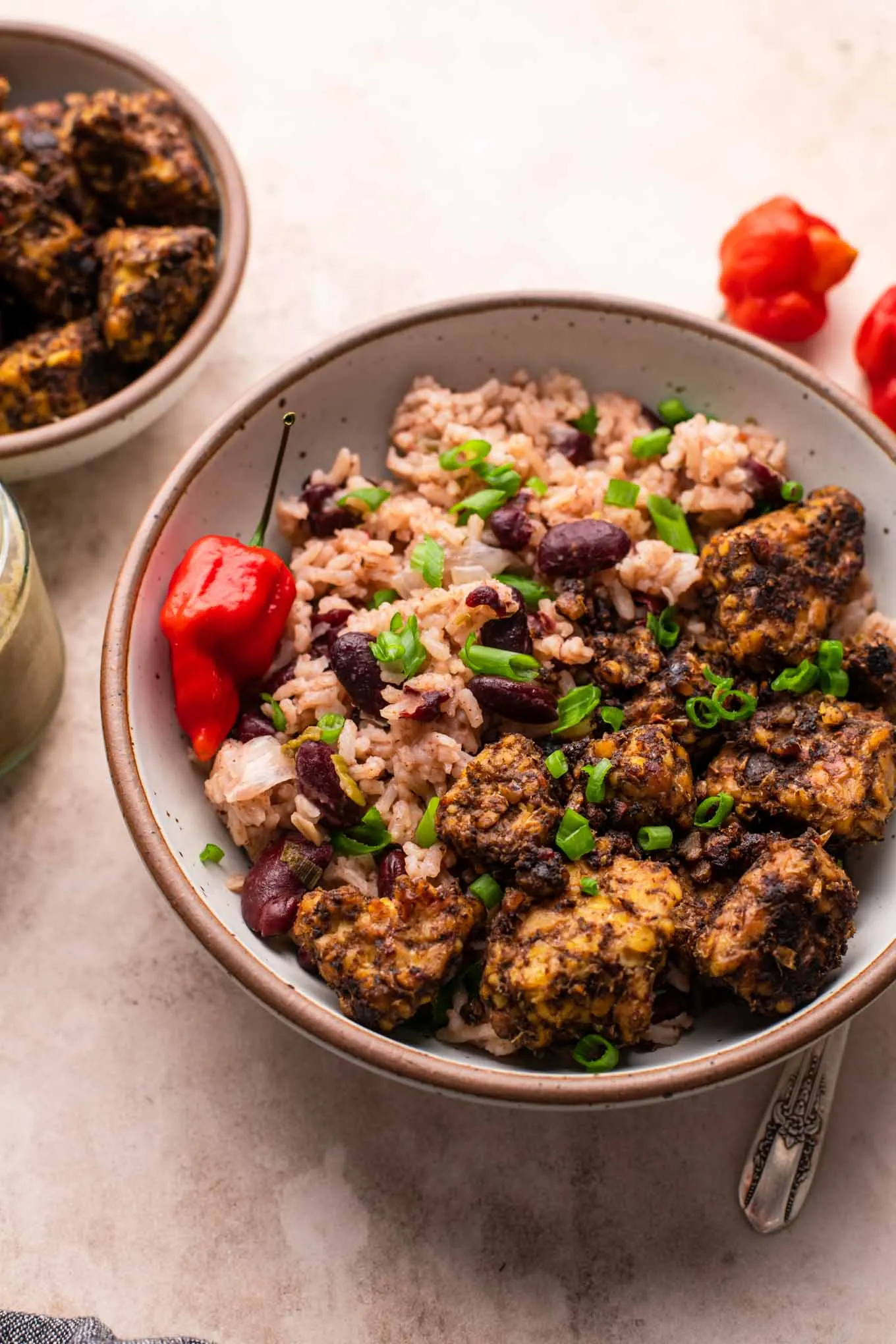 If you love complex, bold flavors and enjoy vegan twists on traditional foods you have to try this Jamaican jerk tempeh! It's super easy to make and delivers big on the yum.
Jerk is a popular preparation of meat in Jamaica, originating from the meeting of African Maroons and indigenous Taíno people. It involves using either a dry jerk spice rub or a wet jerk sauce marinade. The meat is then smoked and cooked in a pit or grilled. The term is thought to have originally referred to the method of cooking, but now typically refers the the spice mix itself.
Jerk seasoning is full of chilies and allspice, it usually packs a punch of heat and is simply mouthwatering. The sauce will typically have some form of onion, garlic, and fresh thyme as well.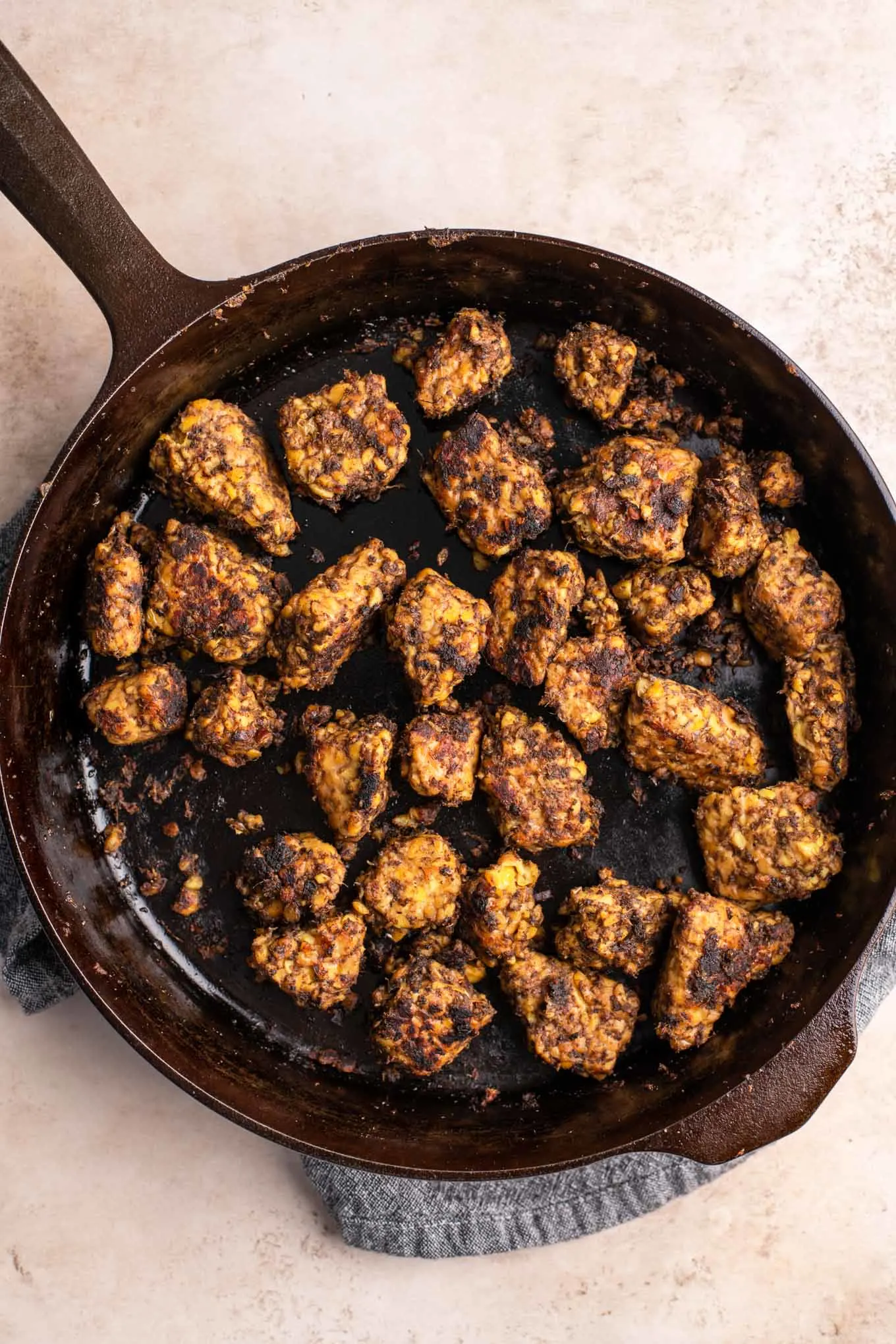 I use a homemade jerk sauce to marinate the tempeh. By using a homemade sauce you have full control over the flavor and spice level of the seasoning.
My homemade Jamaican jerk sauce is really easy to make. Gather up all the ingredients then process them in a blender or food processor to make a sauce. You can make it more or less spicy, find details on how to control the heat in that post. You can also find the jerk sauce recipe at the end of this post!
Why tempeh?
Tempeh is made from whole fermented soybeans, and is great for marinating. I find it can really absorb the flavors as it cooks. This effectively means you don't need a long marinating time to really get great flavor in the dish.
I love the chewy texture of tempeh, and find it pairs nicely with beans and rice, other Caribbean staples.
Tempeh is an Indonesian creation, but so great when used as the protein in other cuisines.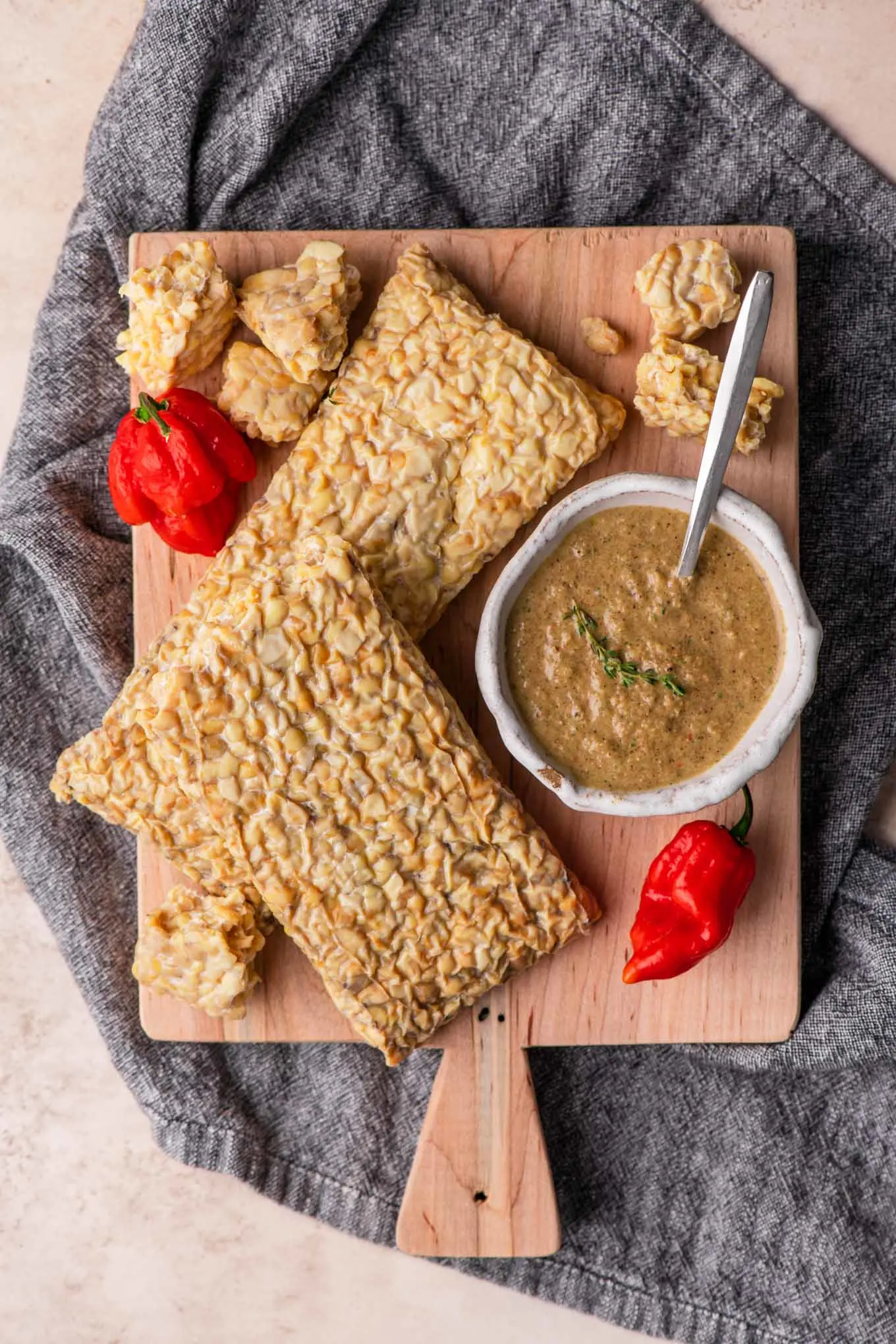 Some people find that tempeh can be a bit bitter, if you're concerned about this steam the tempeh before marinating. Add the crumbled tempeh to a small pot with a half cup of water. Bring to a simmer and let steam for about 10 minutes. You can use a steamer basket if you'd like, but you don't need to. If the water runs dry add a bit more. Drain any excess water when done steaming then proceed with recipe.
Marinating the tempeh in jerk sauce:
For this jamaican jerk tempeh, I crumble up a pound of tempeh. Depending on how you are going to use the jerk tempeh, you can tear the temeph into larger pieces, or crumble it into more of a coarse ground texture.
When eating it with Jamaican red beans and rice, as seen in some of these photos, I like to leave larger bite or two-bite sized pieces. Or you can crumble it smaller to put in a wrap, atop pizza, or to incorporate it into another dish.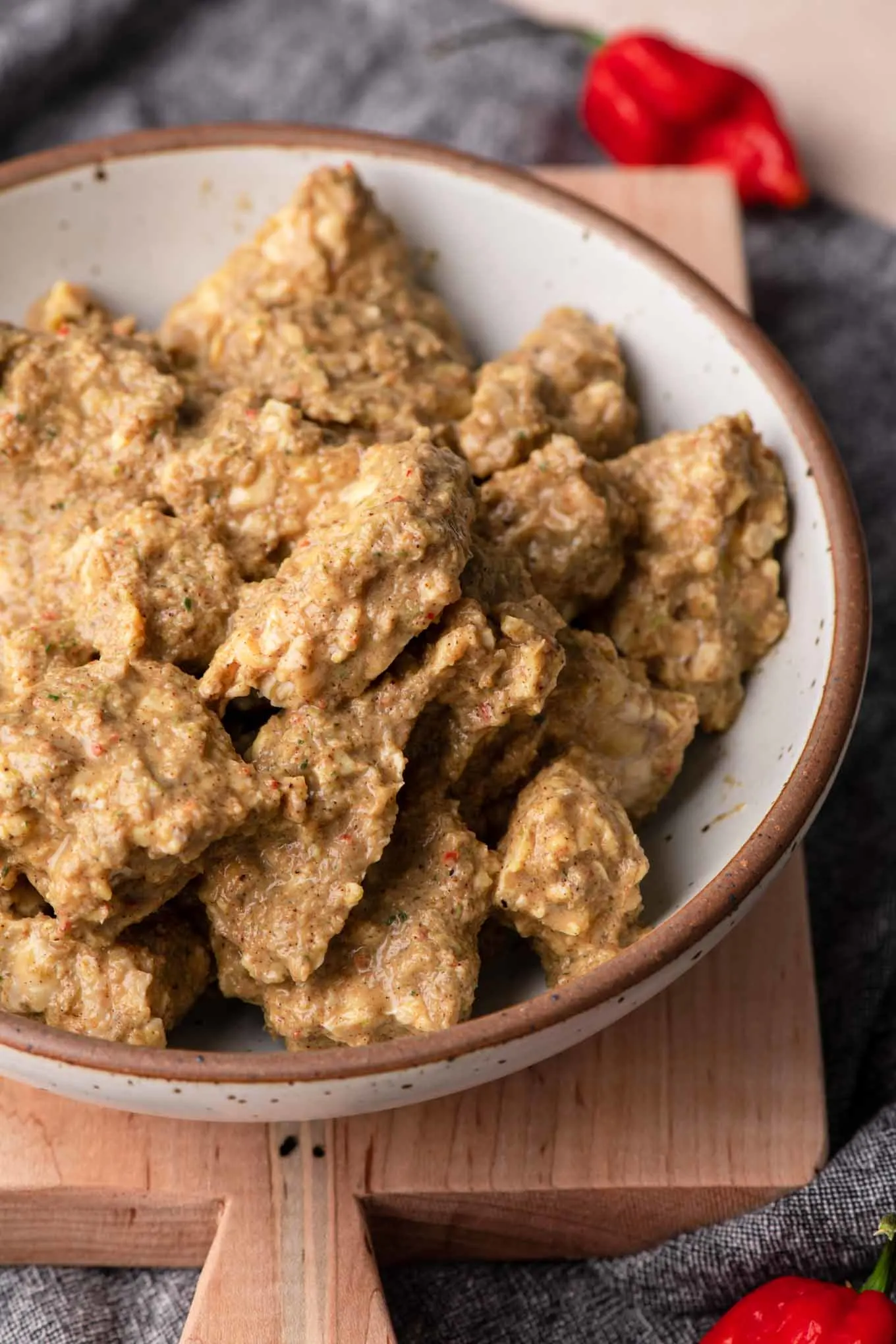 After making your Jamaican jerk sauce (or grabbing it from the fridge cause past you is awesome and already prepped it) and crumbling your tempeh, all you do is combine the two in a mixing bowl and let marinate!
You can marinate a minimum of 15-30 minutes while prepping other parts of your meal, or let it marinate for up to 24 hours in the fridge.
Cooking the jerk tempeh:
This is the part of the recipe that makes me feel guilty even calling it a recipe! It's so easy to make jerk tempeh, I could eat it all the time.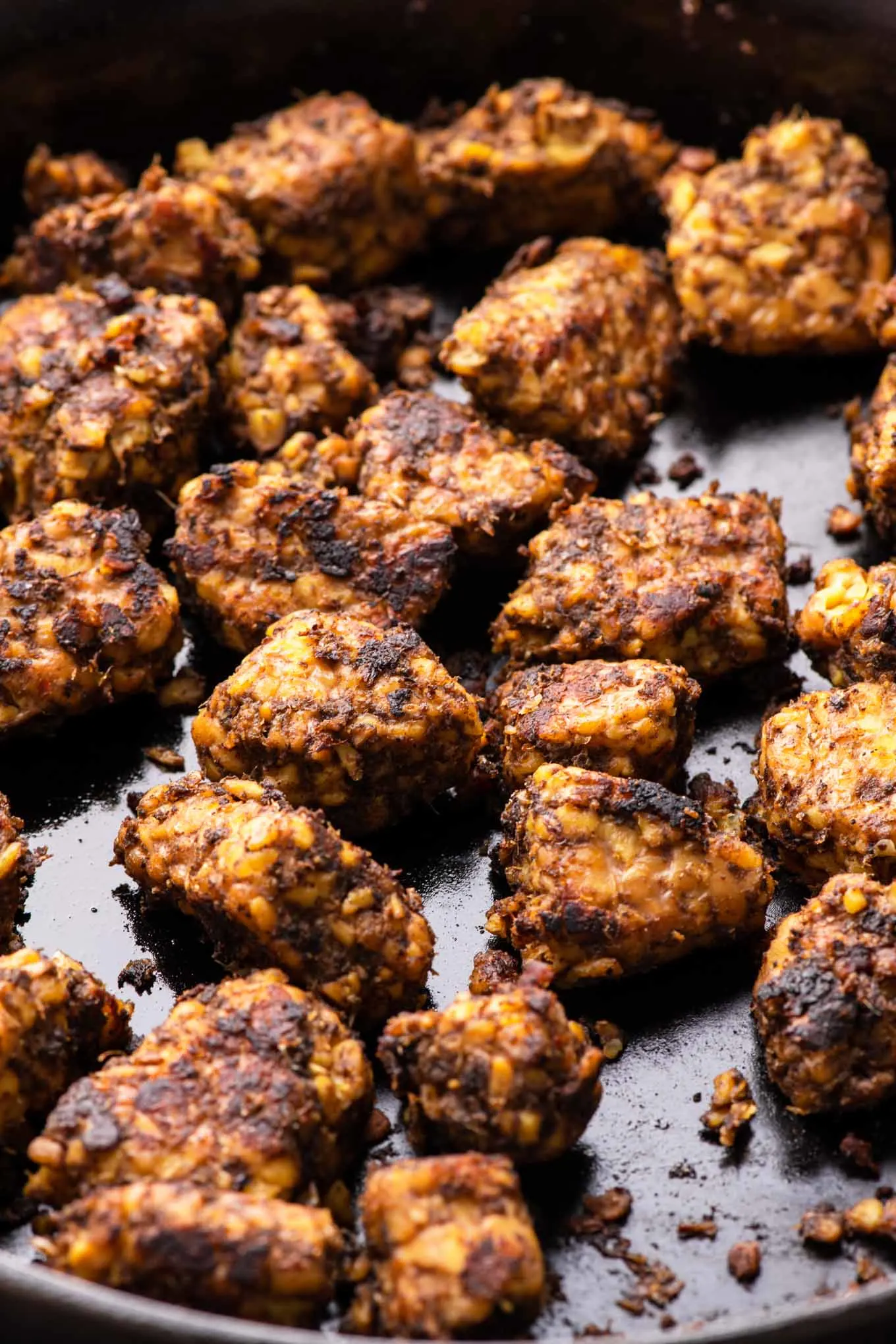 Jerk chicken may be grilled, but you can't cook crumbled up tempeh over grill slats. Instead cook the tempeh in a skillet in your kitchen. This makes it even easier, imo!
Pan fry over medium or medium low heat, letting it cook until the marinade has absorbed and crisped around the pieces of tempeh. This can take up to 10 minutes.
Add salt to taste as it cooks and that's the only other instruction!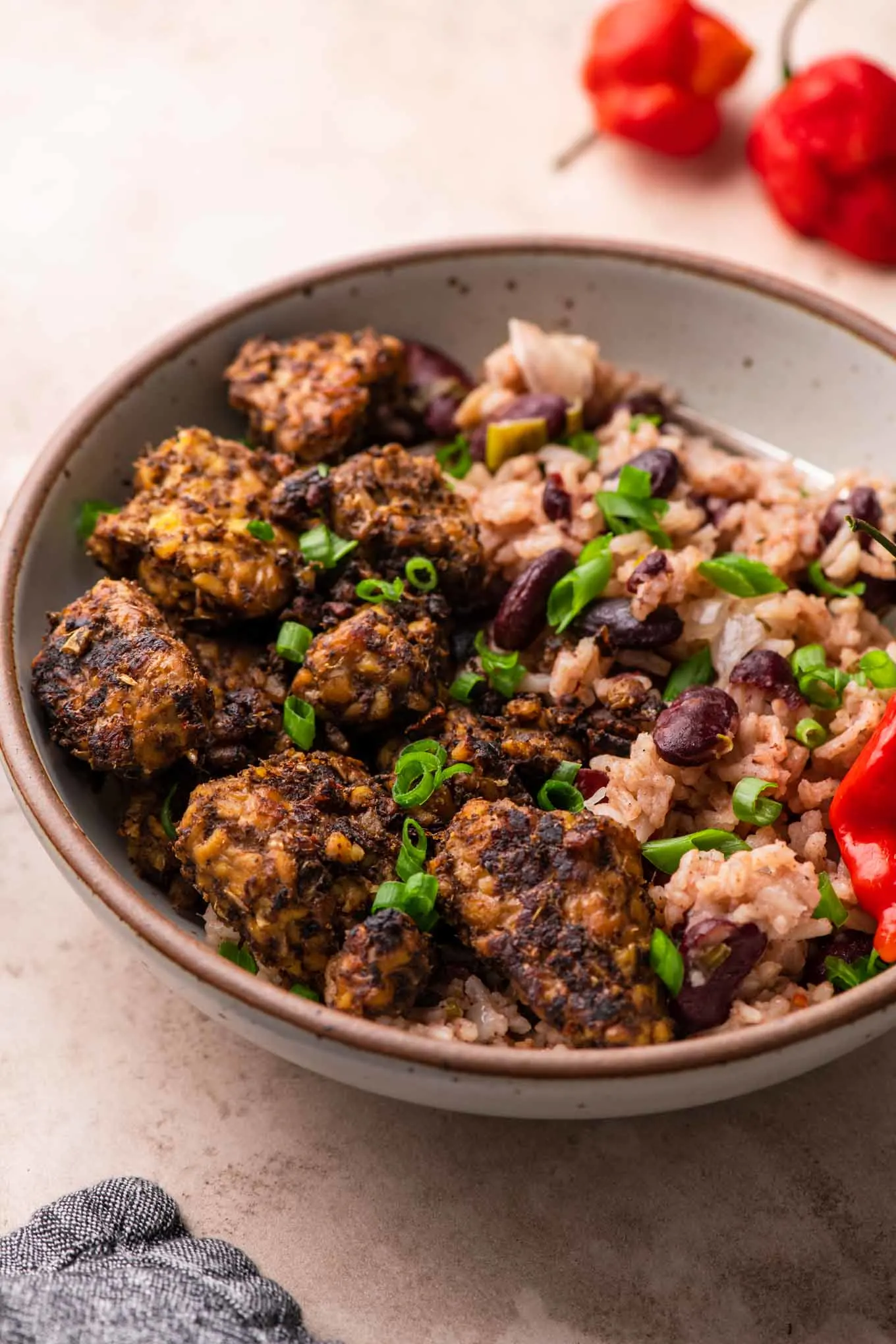 One important suggestion: turn the fan on high while cooking the Jamaican jerk tempeh! This is especially important if you've used hot hot chilies in your jerk sauce. Let the fan carry out those cough inducing pepper vapors.
How to serve Jamaican Jerk Tempeh:
I love making the jerk super spicy, so enjoy having jerk tempeh alongside some creamy coconutty Caribbean-inspired recipes. It's so perfect with Jamaican red beans and rice, which is mild enough to temper some of that heat.
You can also serve it with my Jamaican black-eyed pea curry and a side of plain long grain rice.
Or if you'd like to think outside of the box, enjoy it atop pizza along with grilled pineapple and garlic.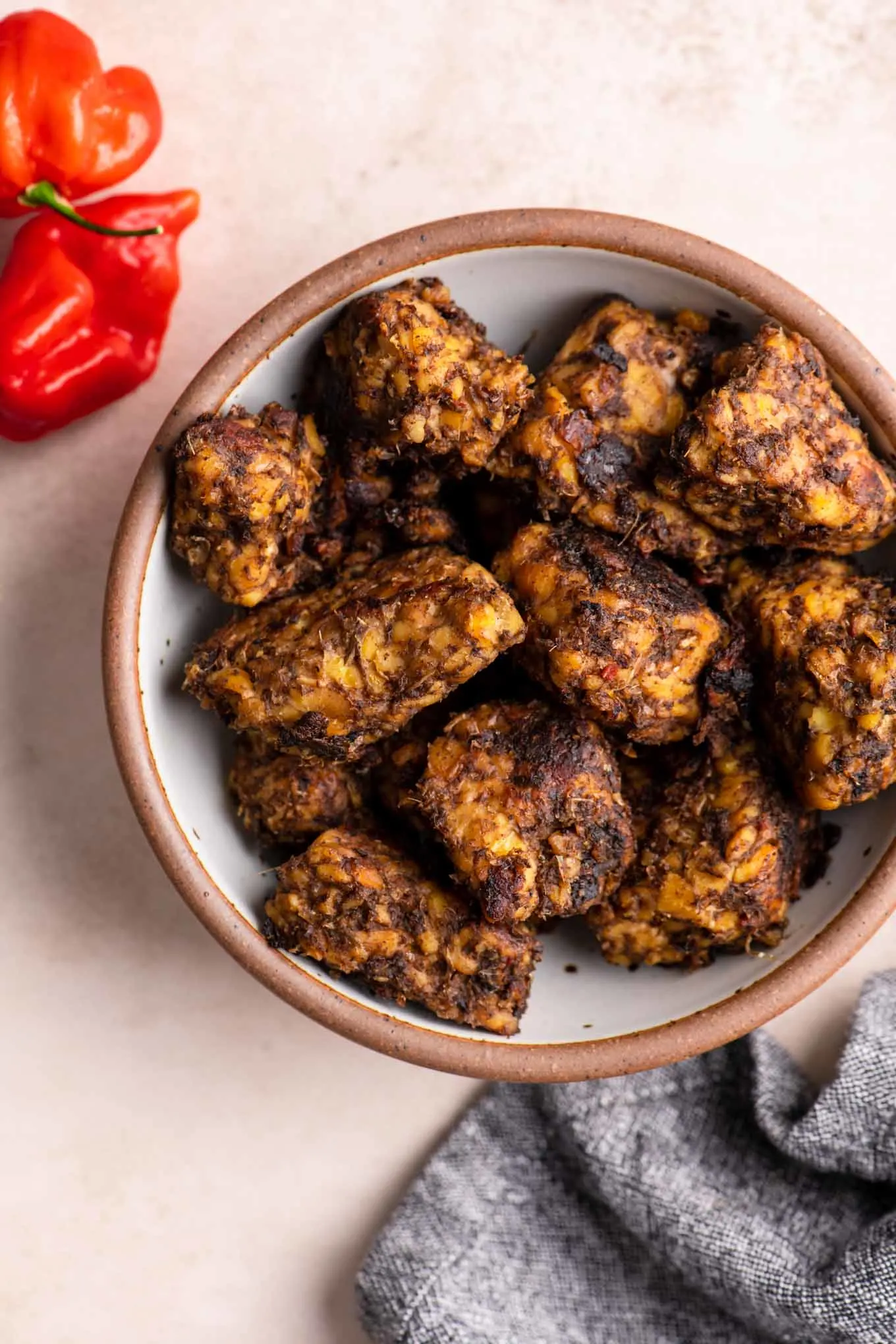 You can also use it in a wrap with some fried plantains or roasted sweet potato.
And I'd be remiss to not mention we always cook some greens to go with these dishes! I like collard greens and flat leaf kale the best. To prepare them, sauté until tender, then add in a glug of good quality aged balsamic vinegar right at the end and let that cook in for a minute.
Can I use other vegan proteins instead of tempeh?
Of course! You can slide or cube tofu and use that instead. If you want to cook on the grill, marinating slices of pressed extra firm tofu or super firm tofu (no need to press in this instance) works beautifully.
Seitan is also a great option! You can use a plain store-bought seitan, or use homemade chicken-style seitan.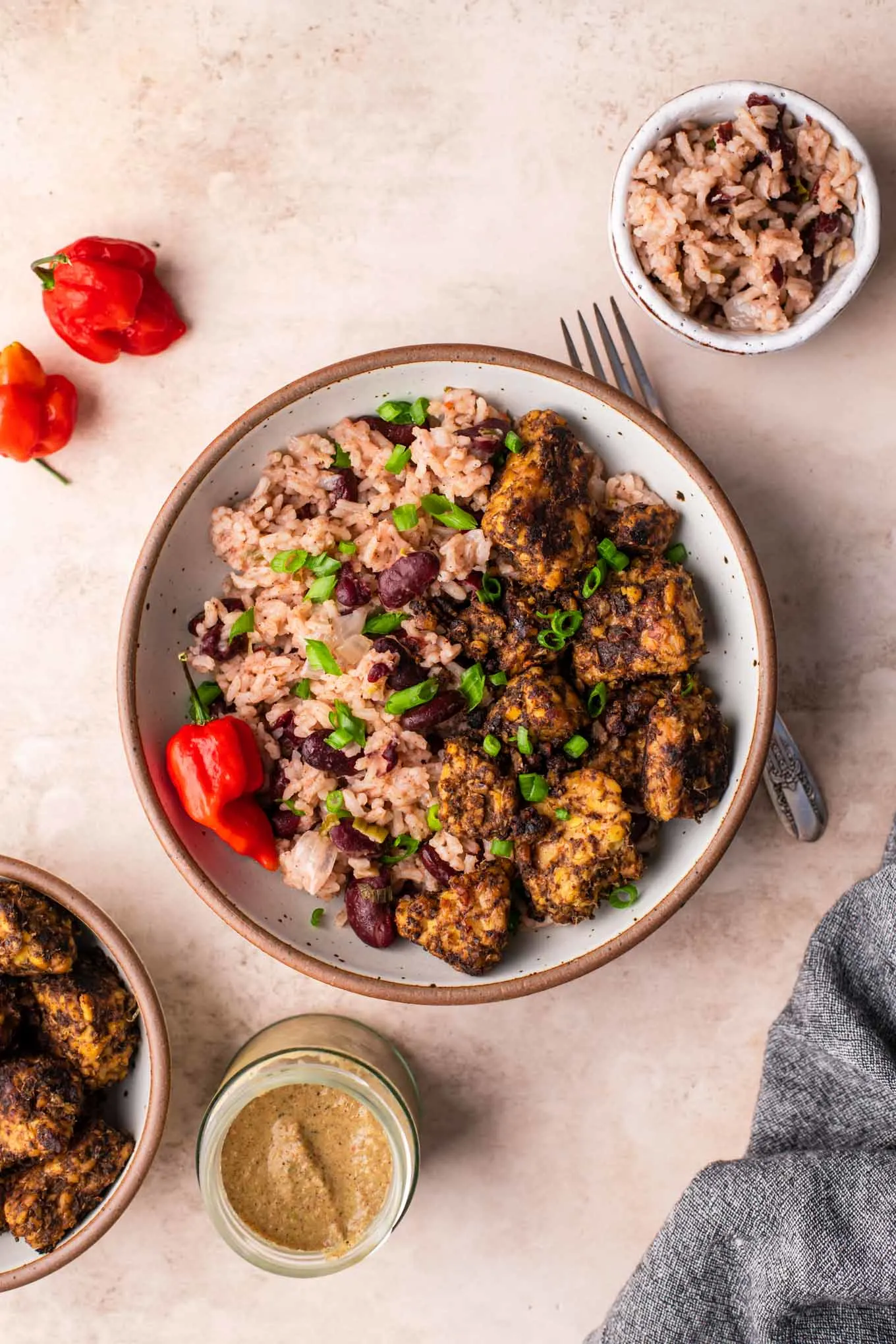 If you make this Jamaican jerk tempeh, leave a comment below and rate the recipe on the recipe card. And please share your photos with me on Instagram, tag @thecuriouschickpea and #thecuriouschickpea. I love seeing your recreations!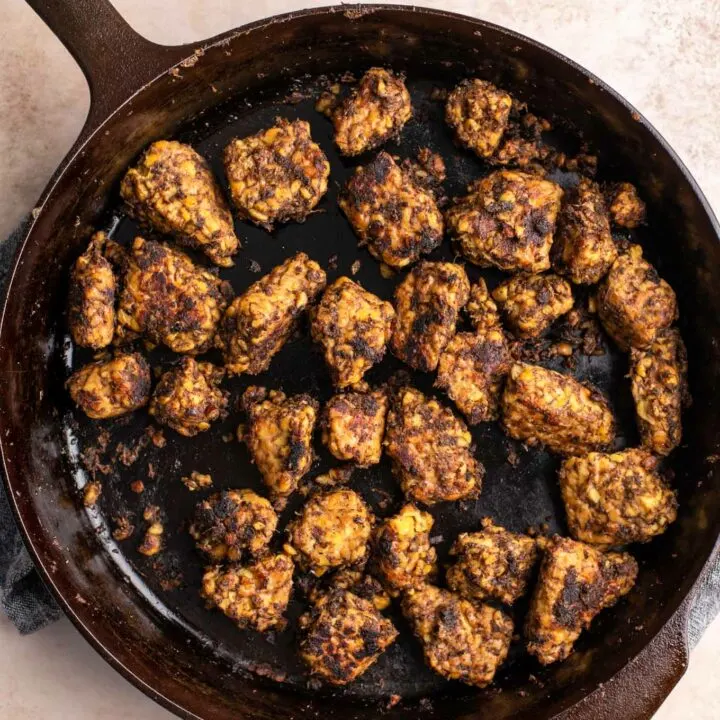 Jamaican Jerk Tempeh
Marinating Time:
30 minutes
This Jamaican jerk tempeh is flavorful and deliciously spicy. The recipe is very versatile. My favorite way to serve it is with red beans and rice, closely followed by on pizza!
Instructions
Crumble the tempeh into desired size pieces. Combine with the jerk sauce in a large mixing bowl and let marinate for 30 minutes at room temperature, or up to 24 hours in the fridge.
When ready to cook the tempeh, turn on the vent fan on high and heat a large skillet over medium heat. When hot add the oil, then add the marinated tempeh.
Sauté until the tempeh is golden and the jerk seasoning has crisped up, about 8-10 minutes. Turn down the heat if it is cooking too fast. Add salt to taste as it cooks.
Serve immediately and enjoy!
Nutrition Information:
Yield:

6
Serving Size:

1
Amount Per Serving:
Calories:

190
Total Fat:

12g
Saturated Fat:

3g
Trans Fat:

0g
Unsaturated Fat:

7g
Sodium:

397mg
Carbohydrates:

9g
Fiber:

1g
Sugar:

2g
Protein:

16g
Nutrition is calculated automatically so should be used as an estimate.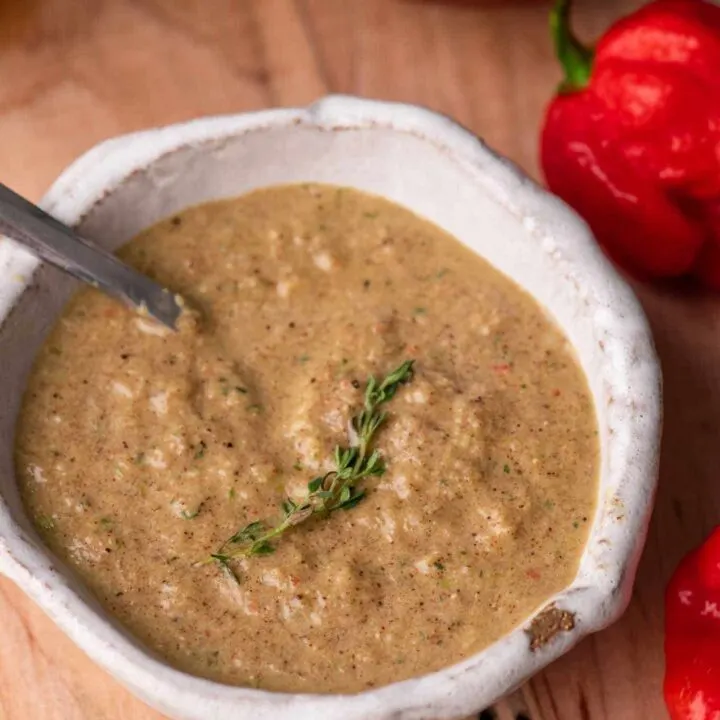 Jamaican Jerk Sauce
It's easy to make homemade Jamaican jerk sauce from scratch! It's pretty pantry friendly, and you can make it spicy or milder to your own tastes. This recipe makes a scant 2 cups sauce.
Ingredients
1/2 yellow onion, coarsely diced
4 scallions, sliced into 1-2 inch pieces
4 garlic cloves, peeled and coarsely chopped
1 scotch bonnet pepper, Trinidadian scorpion pepper, habanero, or milder chile, stem removed
1-inch piece fresh ginger, peeled and coarsely chopped
2 tbsp fresh thyme, de-stemmed (substitute 2 tsp dried)
1 tbsp ground allspice
1/2 tsp ground cinnamon
1/4 tsp ground clove
1/4 tsp ground nutmeg
1/2 tsp salt
black pepper, to taste
1/4 cup canola oil
1/4 cup fresh squeezed lemon or lime juice
2 tbsp soy sauce (use tamari for gluten free)
1 tbsp white vinegar or apple cider vinegar
Instructions
Combine all prepared ingredients into a food processor or blender and process until smooth.
Use immedaitely as a marinade or refrigerate for future use. Keeps for about 1-2 weeks in the refrigerator, freeze for longer storage.
Nutrition Information:
Yield:

16
Serving Size:

1
Amount Per Serving:
Calories:

39
Total Fat:

4g
Sodium:

201mg
Carbohydrates:

2g
Sugar:

1g
Protein:

1g
Nutrition is calculated automatically so should be used as an estimate.