Treat your dog with these yummy and wholesome homemade peanut butter pumpkin dog treats. It may be a bit extra to make your dog homemade biscuits, but they love fresh baked goods as much as the rest of us!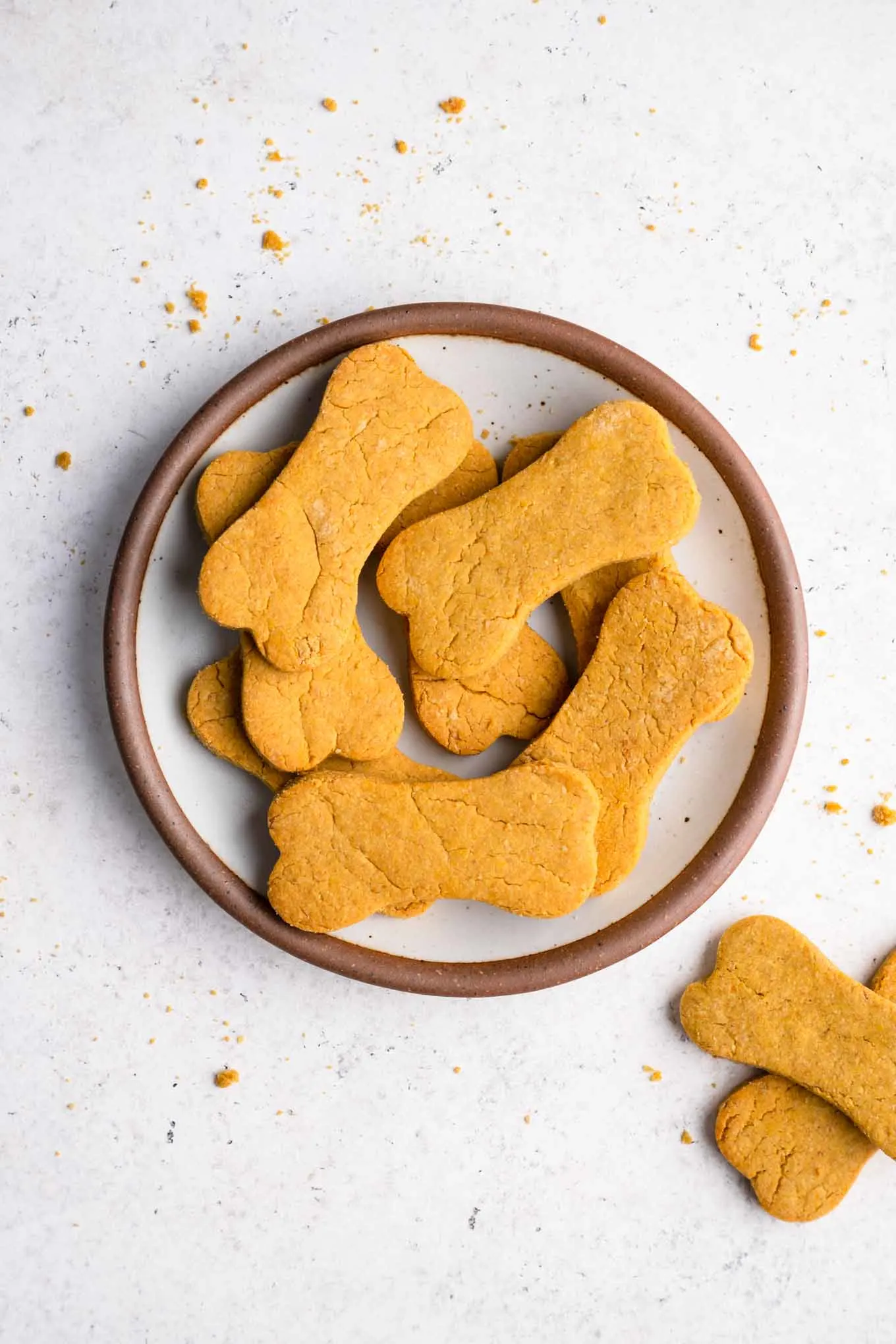 Maybe you want to celebrate your pup, or perhaps you just enjoy baking and need a little break from human treats. Either way you will make your dog so happy with these homemade dog treats!
I made this recipe for my dog Selkie's 10th birthday this month. She's a rescue, so we're not quite sure what her exact birthday is, but I adopted her 9 1/2 years ago when she was just 6 months old.
She's the sweetest, most perfect girl (like they all are!) and deserves all the peanut butter pumpkin dog treats for her birthday!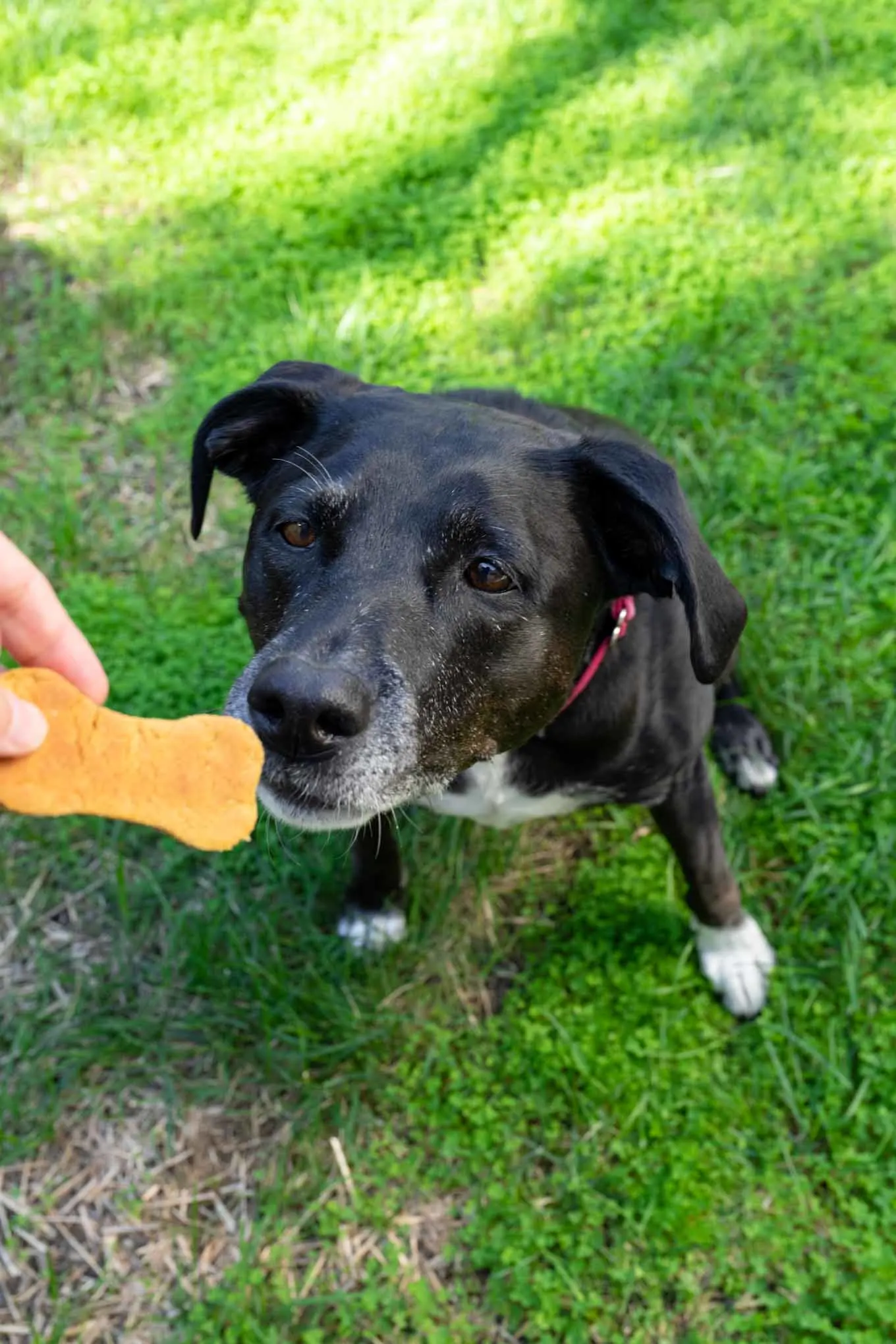 Peanut butter pumpkin dog treat ingredients:
Making dog biscuits is a lot like making human cookies. You need some sort of flour and some sort of fat or wet ingredients to hold them together. We stick with whole foods ingredients and stay away from sugar, as your pup doesn't need that stuff to enjoy a cookie!
Instead of using wheat flour, I use a combination of almond flour and oat flour, making these dog treats gluten free and good for more sensitive tummies.
You can make your own oat flour from rolled oats in either a food processor or blender. Simply run the machine (on high if using a blender) until it is finely ground into a flour.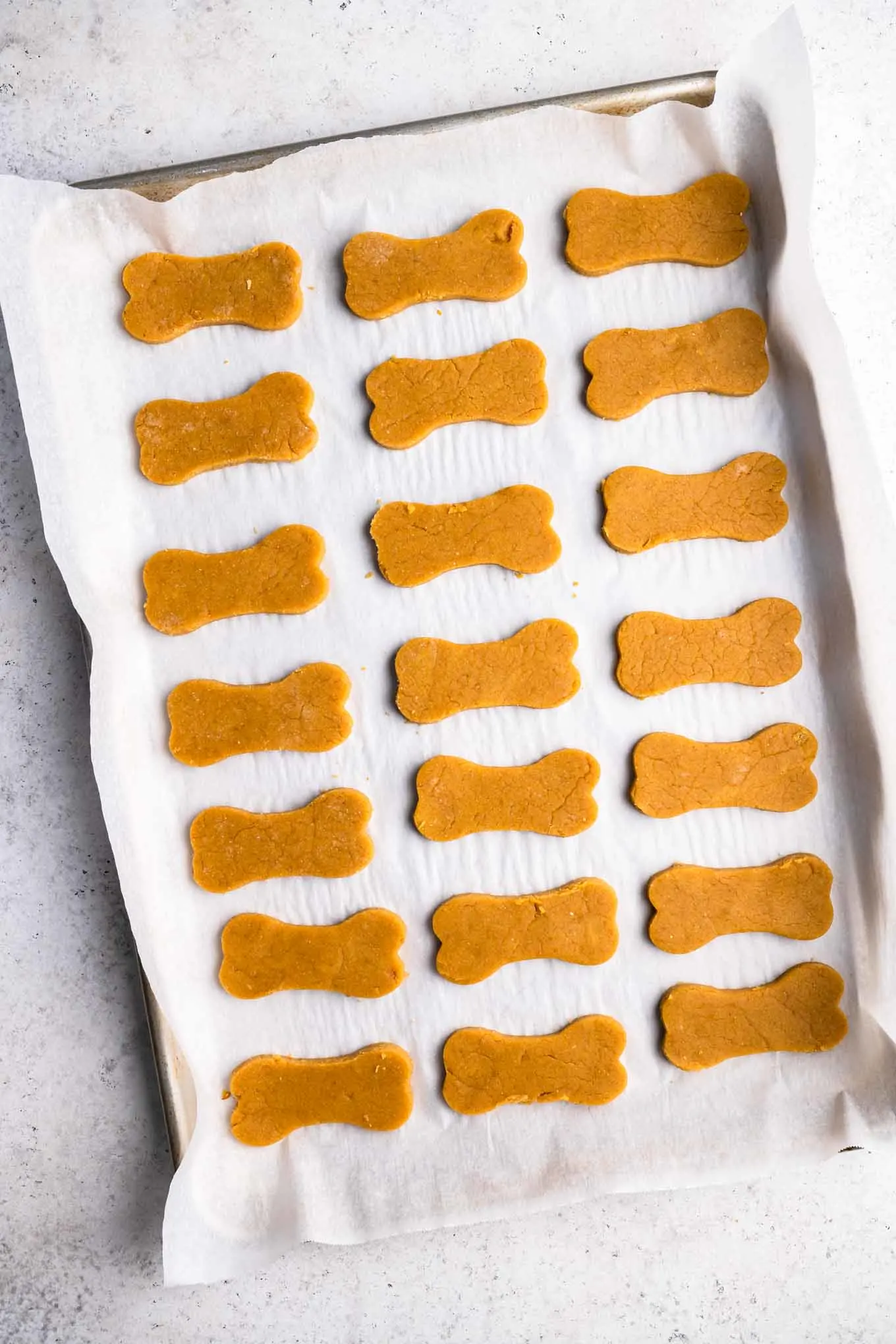 I added ground flax seed for healthy fats and its binding properties, and a sprinkle of cinnamon for flavor. A pinch of salt goes a long way to bring out the flavors, but is totally optional if you'd rather avoid.
The next two ingredients act to wet the dry ingredients to a dough, and provide every pups favorite flavors–peanut butter and pumpkin!
Since you're feeding this to your dog, I recommend using a peanut butter without added sugar. Smooth or crunchy is fine!
You can use canned pumpkin purée (make sure you don't accidentally grab pumpkin pie filling), sweet potato purée, or homemade cooked and mashed winter squash or sweet potato.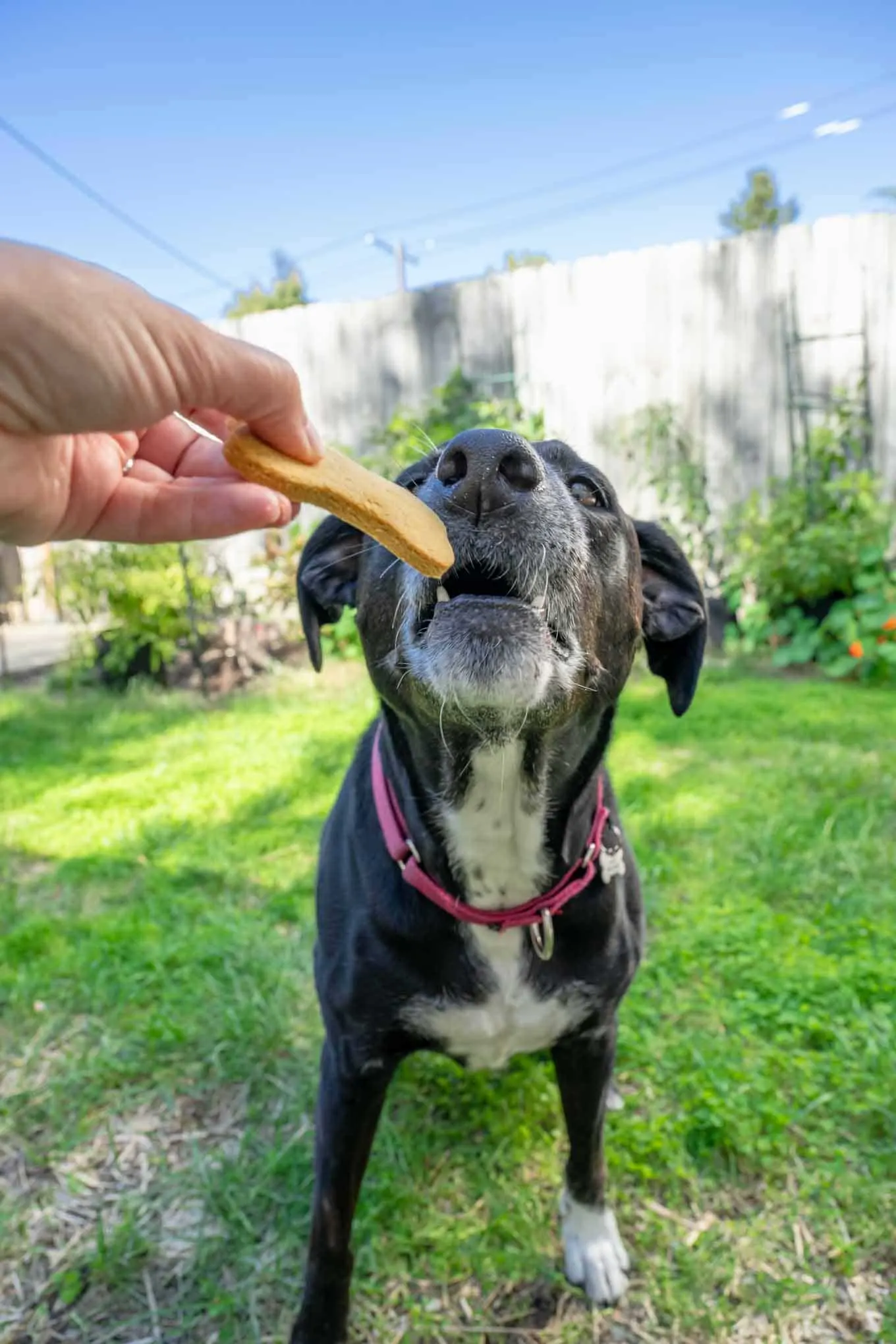 How to make these peanut butter pumpkin dog treats:
Mix together the almond flour, oat flour, ground flaxseed, cinnamon, and salt in a large mixing bowl. Almond flour can be a bit clumpy, so either sift the flour, or just go in with your hands and declump as best you can.
Since it's for dogs, they won't mind if there's a small bit of unincorporated almond flour, and you save yourself an extra dish!
Pretty much all the clumps will get worked out later when the wet ingredients are mixed in anyway.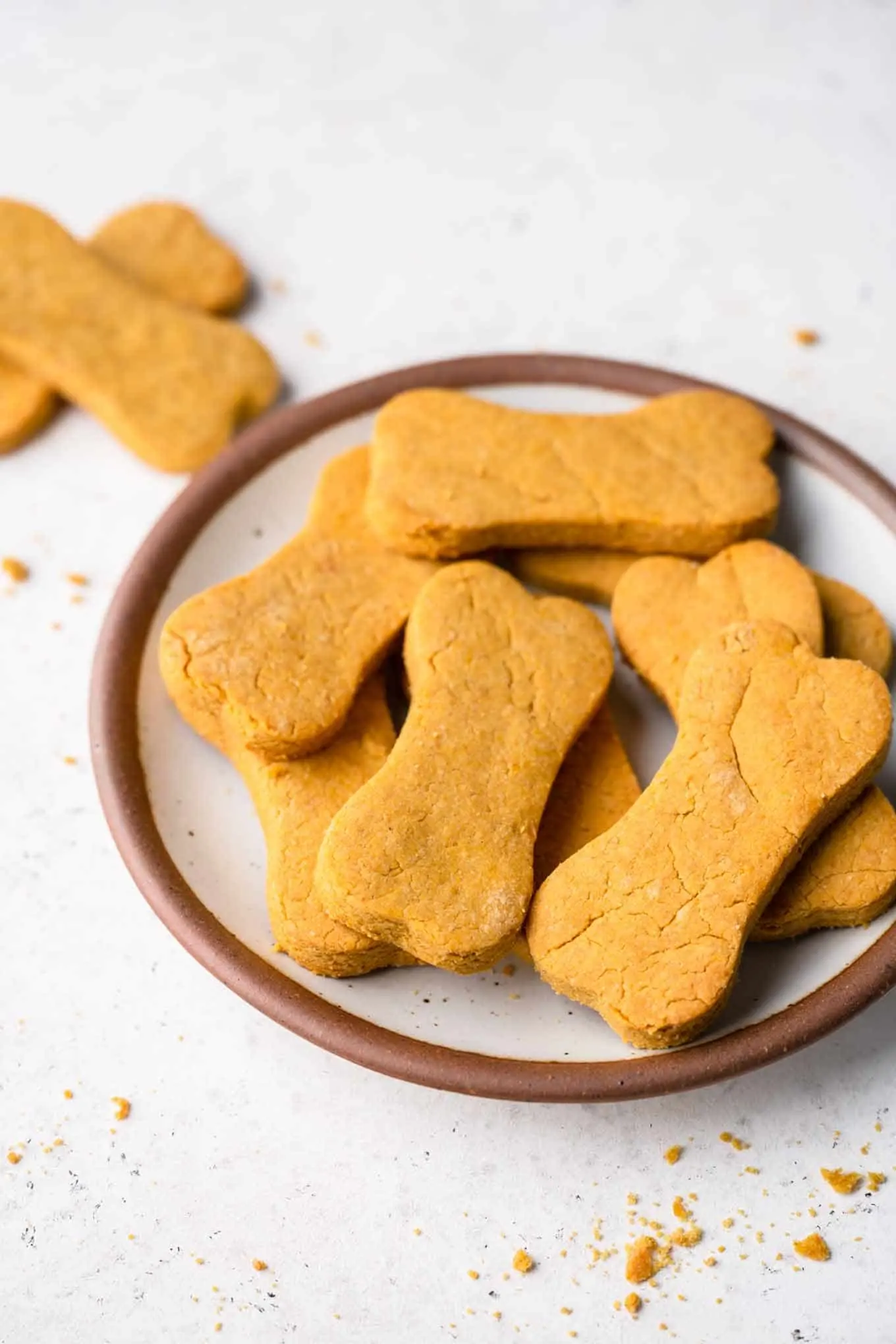 Add the peanut butter and pumpkin to the flour mixture, and use electric beaters on low speed to turn it into a soft dough. If it's too crumbly, mix in more canned pumpkin to the dough by the spoonful.
Roll out the dough until it's about 1/4-inch thick. It should be easy to roll out, with little cracking on the top. If it's very crumbly, the dough is too dry. If it's sticky or doesn't want to roll out, then flour the counter or work a bit more oat flour into the dough.
Bake the dog treats at 350 ºF for about 20 minutes or until the edges of the biscuits are pale golden. Let them cool down completely before treating your pup!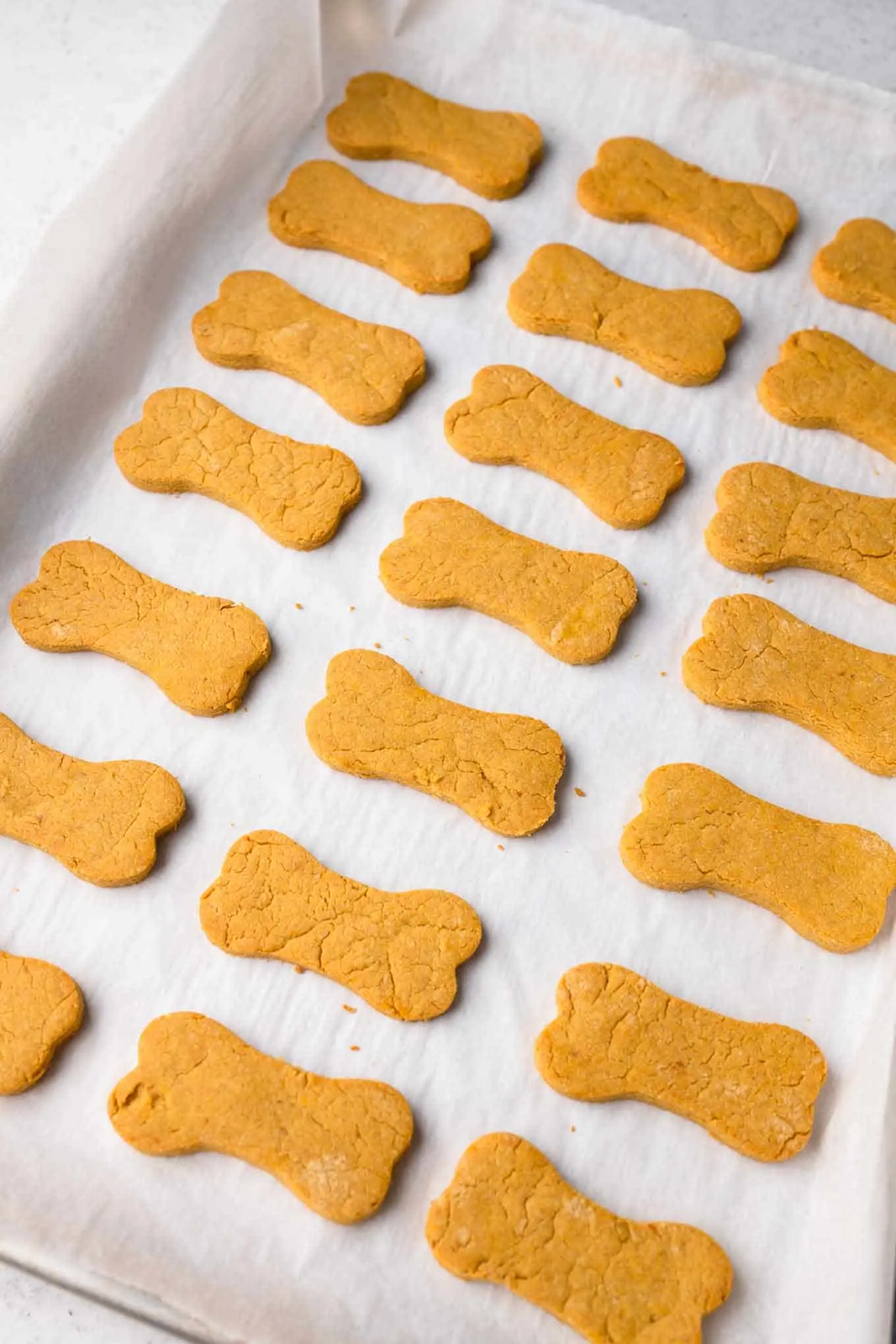 How to store leftover dog biscuits:
These cookies do not have the usual suspects (i.e. sugar) to keep them fresh at room temperature. You can leave them out for a day, but any longer and I recommend storing in the refrigerator.
Place the biscuits in a sealed container in the fridge for up to 2 weeks. For longer storage freeze them in a freezer safe bag and defrost as needed.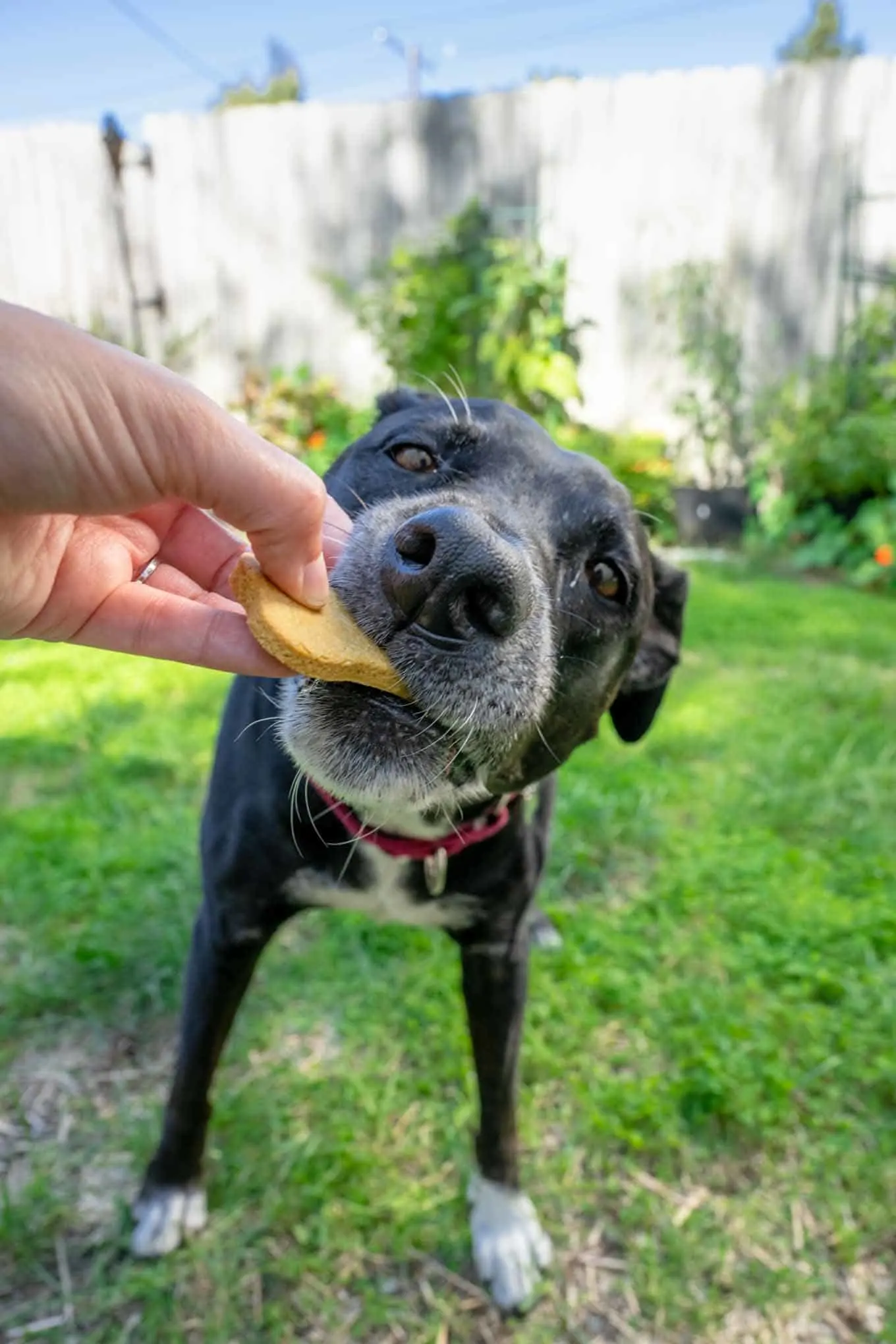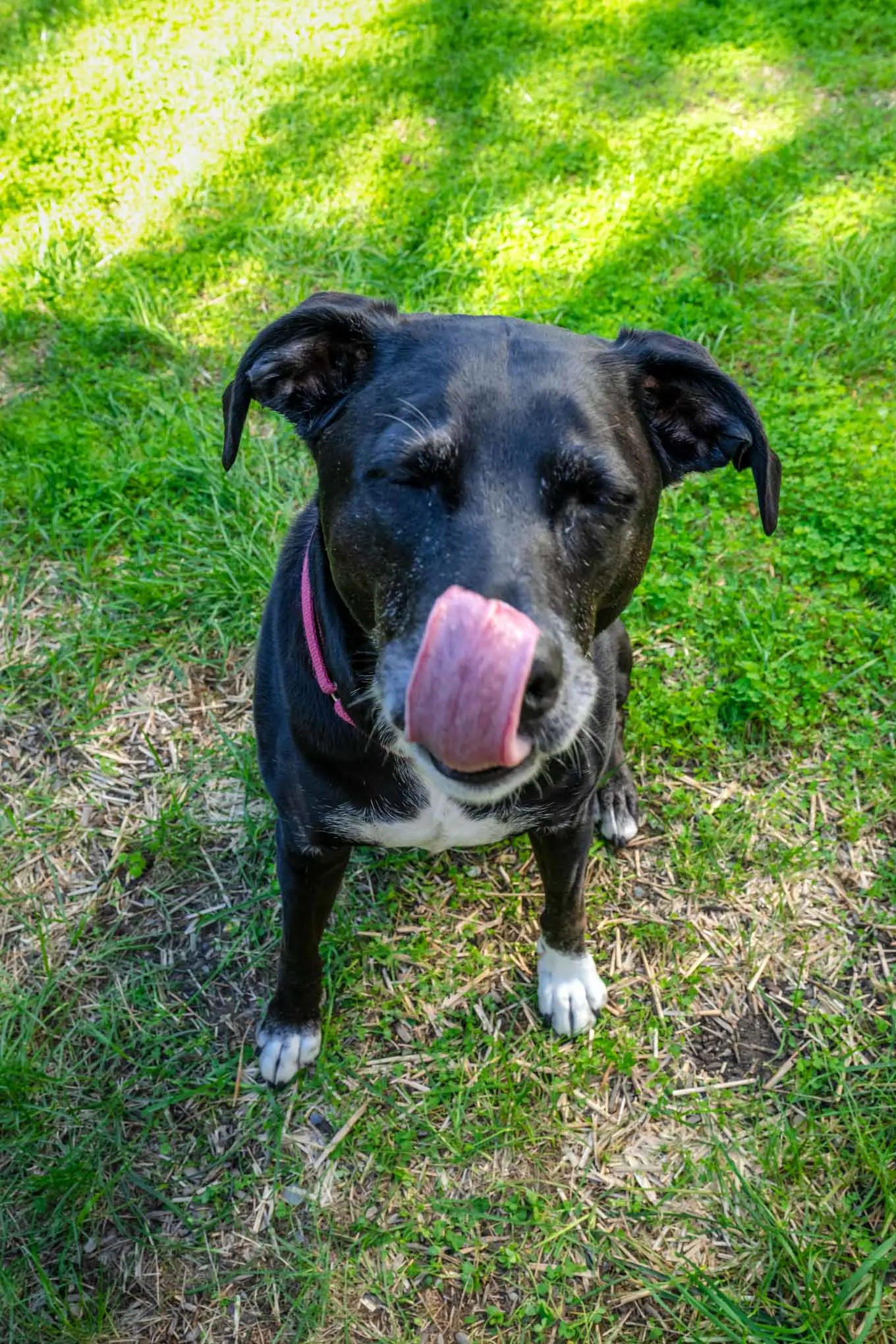 Substitutions:
If you or your dog have allergies, there are some ingredients you can swap out.
For the peanut butter you can substitute sun butter or almond butter.
For pumpkin you can use either sweet potato or substitute it for apple sauce or mashed banana.
Instead of oat flour you can use whole wheat flour. You can also use more oat flour for the almond flour.
You may need to adjust some of the amounts if you swap out ingredients, just make sure you have a nice rollable dough and you're good to go!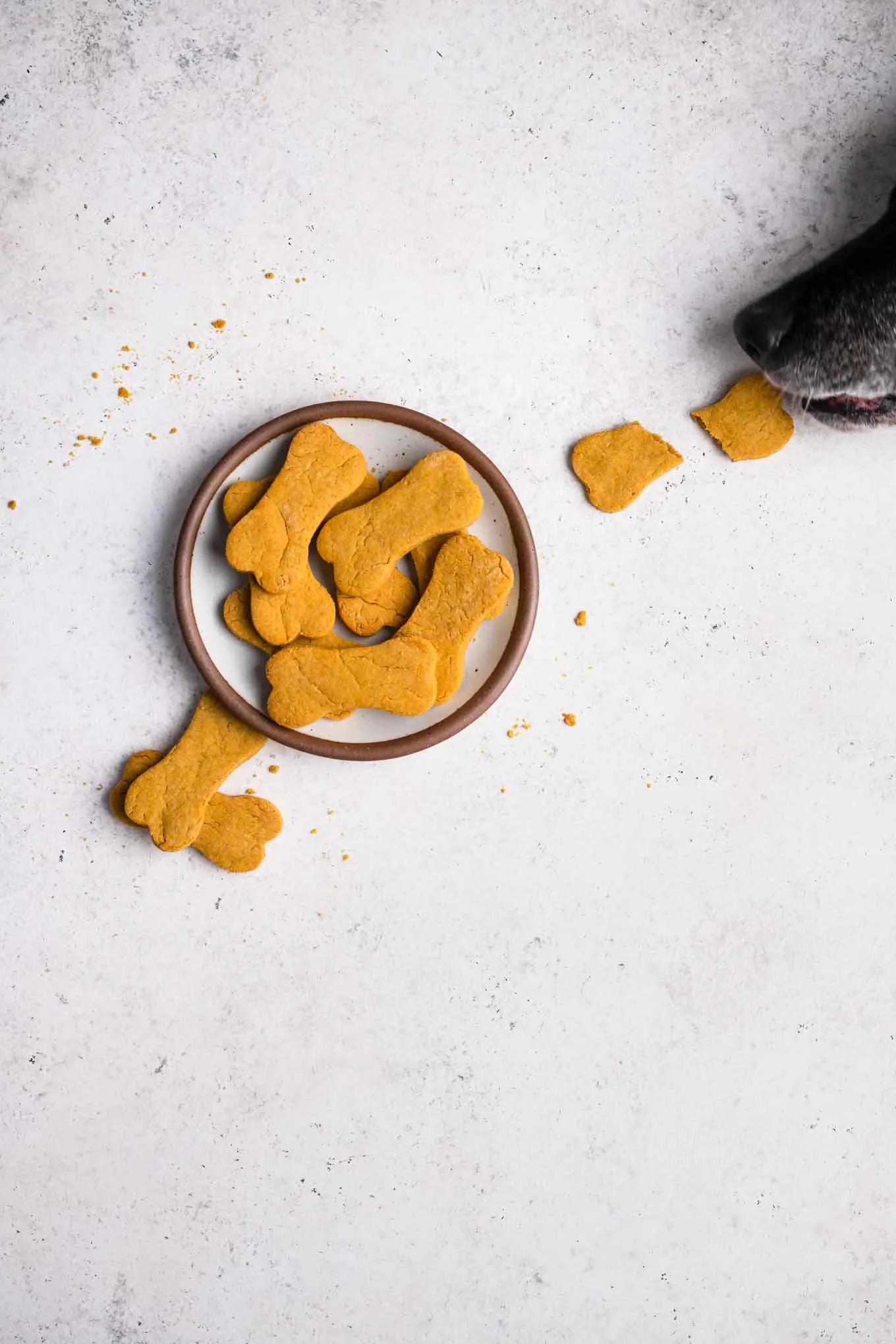 I hope your pup enjoys these homemade peanut butter pumpkin dog treats as much as Selkie does! If you make them, please leave a comment below and rate the recipe on the recipe card. And please share photos of your dog enjoying these cookies with me on Instagram, tag @thecuriouschickpea and #thecuriouschickpea. I want to see all the puppies!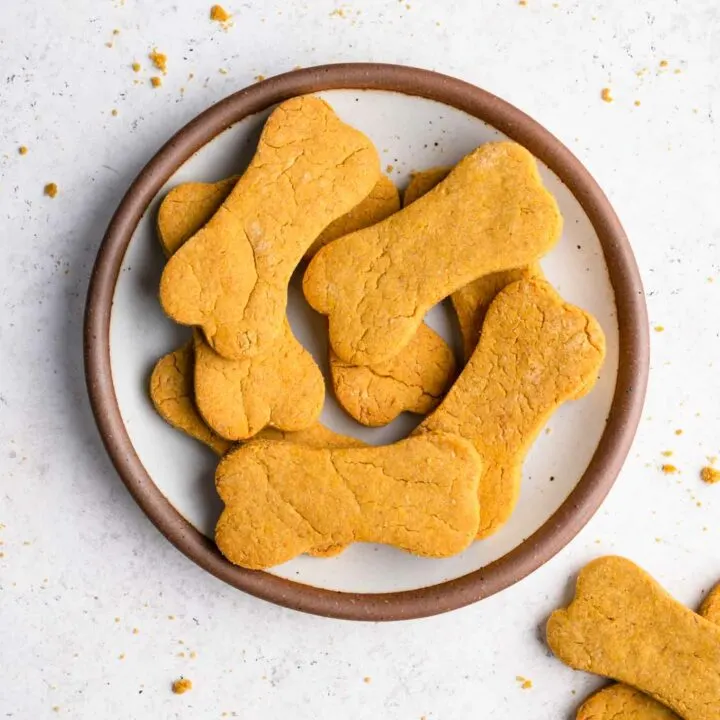 Peanut Butter Pumpkin Dog Treats
Your pup is sure to love these homemade dog treats! They're filled with wholesome ingredients that your dog will love.
Ingredients
1 1/2 cups (180g) oat flour
1 cup (112g) almond flour
1 tbsp ground flaxseed
1/2 tsp cinnamon
pinch of salt, optional
1/2 cup (128g) peanut butter
1/2 cup (130g) canned pumpkin purée
Instructions
Preheat the oven to 350 ºF with a rack set in the center.
In a large mixing bowl, combine the oat flour, almond flour, ground flax, cinnamon, and salt. Use your fingers to work out any clumps of almond flour.
Add the peanut butter and pumpkin to the mixture, and use electric beaters on low speed to combine. When the mixture is combined and crumbly, use your hands to bring it into a cohesive ball.
If the dough is too dry to roll out without faling apart, add more pumpkin puree for moisture. If it's too wet and sticky, add more oat or almond flour.
Roll out the dough on a clean, lightly floured surface (flour with wheat flour or oat flour) until it's about 1/4-inch thick.
Use a cookie cutter of your desired shape, I used a 2-inch long bone shaped cutter. Transfer cut dough onto a baking tray (parchment paper optional) leaving a space around each cookie. Gather any scraps of dough and re-roll and cut, repeating until all dough has been used.
Bake at 350 ºF for 18-20 minutes, or until the edges of the treats have turned golden. The time may vary depending on the size and shape of your biscuits, so keep an eye on them and adjust baking time accordingly.
Notes
Make your own oat flour: process rolled oats in a food process or on high speed in a blender until it has turned into a fine flour.
Recommended Products
As an Amazon Associate and member of other affiliate programs, I earn from qualifying purchases.
Nutrition Information:
Yield:

30
Serving Size:

1
Amount Per Serving:
Calories:

71
Total Fat:

5g
Saturated Fat:

1g
Trans Fat:

0g
Unsaturated Fat:

3g
Cholesterol:

0mg
Sodium:

31mg
Carbohydrates:

6g
Fiber:

1g
Sugar:

1g
Protein:

3g
Nutrition is calculated automatically so should be used as an estimate.