It's easy to eat your greens when they are this quick to make and this delicious! These smoky collard greens require just a handful of ingredients and come together in no time! It's the perfect side dish to any meal.
Look guys, I know kale is having it's moment, but it's been years and it's time to let others occasionally share that spotlight! Collard greens are certainly beautiful to look at, with their deep hued blueish green leaves and long stately stems.
[Don't ask me what makes a stem stately–I like alliterations ok??!]
Collard greens are a staple in Southern United States cooking, where they're cooked until they practically melt away into a flavorful broth (often not vegetarian nor vegan, unfortunately). While I'm inspired by the flavors of Southern collard greens, I prepare them quite differently at home.
I generally prefer my vegetables to retain their texture, cooking them to make the most of their intrinsic qualities. For collard greens, which can be enjoyed raw, I like to cook them until they are just tender.
This here is our go to method of preparing collard greens! It also works great with kale. While it can be used with more tender greens like mustard greens or swiss chard, it really shines for those tougher greens!

Before you get started, get all of your ingredients ready to go.
Wash the collard greens, then cut out the thick stalk in the middle of the leaf. A quick swipe down either side of the leaf with a knife does the trick. It's fine to leave a bit of the narrower part of the stem at the top of the leaf as these aren't so tough to eat.
Once you've removed the stems from the collard greens, stack some of the leaves then roll them up to make a long cigar shape. Slice the roll into strips, then repeat until you've cut all the greens.
If you've ever cut basil in a chiffonade, this is the same idea just on a much larger scale.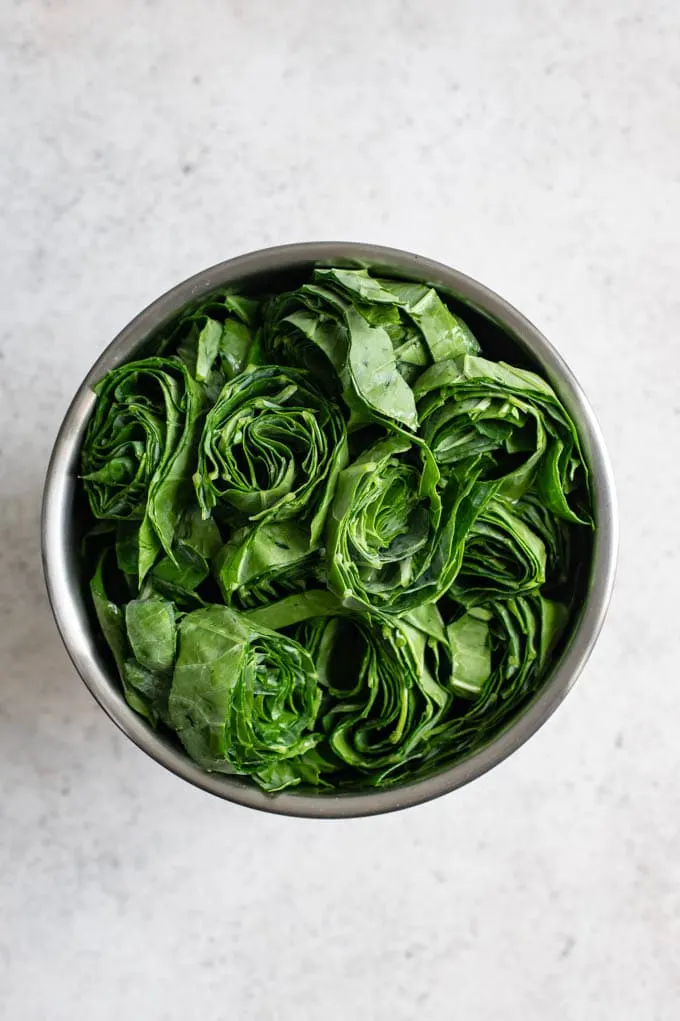 Next, slice up the garlic. For these smoky greens the garlic is sliced thinly, then shallow fried in a bit of oil to soften its bite.
Last, mix together the seasoning for the collard greens. This is based on a one-pound bunch of greens. If it's a bit larger that's fine and you don't need to make any changes, but if it's much less you'll want to decrease the sauce as it could be a bit salty otherwise.
First the soy sauce, I prefer to use low sodium tamari, if using regular sodium soy sauce you may want to decrease it a bit and then just add more to taste at the end.
Then, a drizzle of maple syrup for some sweetness to balance out the salty and smoky. A few jots of hot sauce (maybe a bit more if you're like me ?) for a little kick. And lastly some liquid smoke for that smoky flavor.
It's best to have everything prepared and ready to go, because once you get started these greens cook up quickly.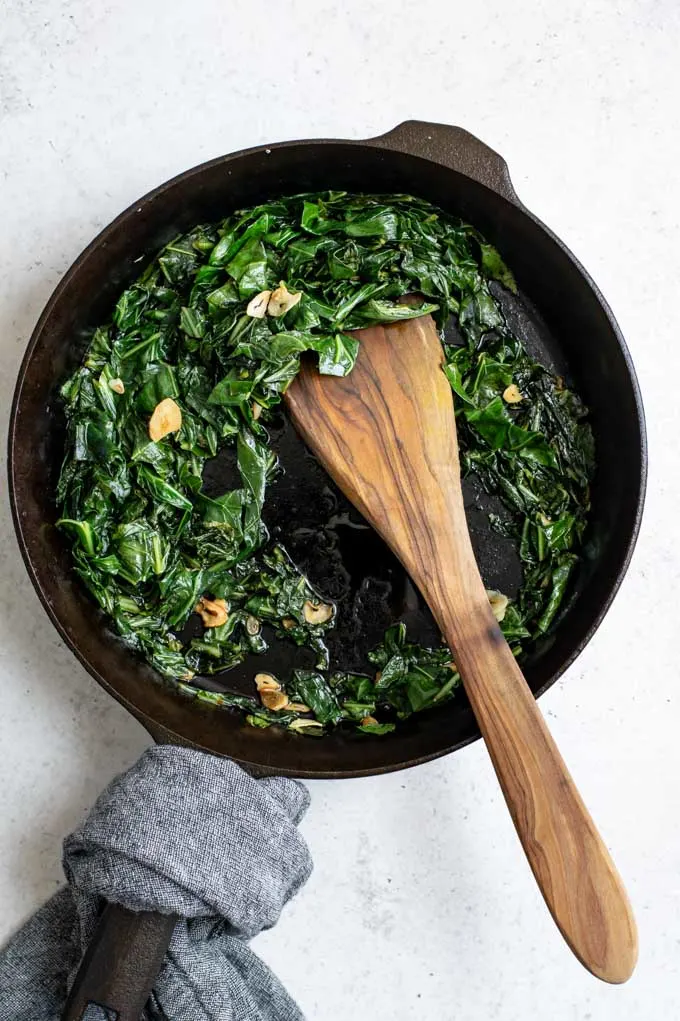 Once it's all prepared, heat up a large skillet.
I prefer to cook in my cast iron skillet, but a large non stick pan or even a shallow heavy bottomed pot would work as well.
Once the pan is hot, add a bit of oil, the collard greens, and a pinch of salt–which encourages the greens to release their water. Sauté those until the greens are wilted, you can always add in batches until all the greens fit in the pan (though they don't lose as much volume as say, spinach).
Once the greens have shrunken and are a dark but bright green, scooch them all over to one side of the pan, then add the rest of the oil in the empty part. Add the garlic, and let it sauté separately in the oil until it is a pale shade of golden, about 60 seconds or so.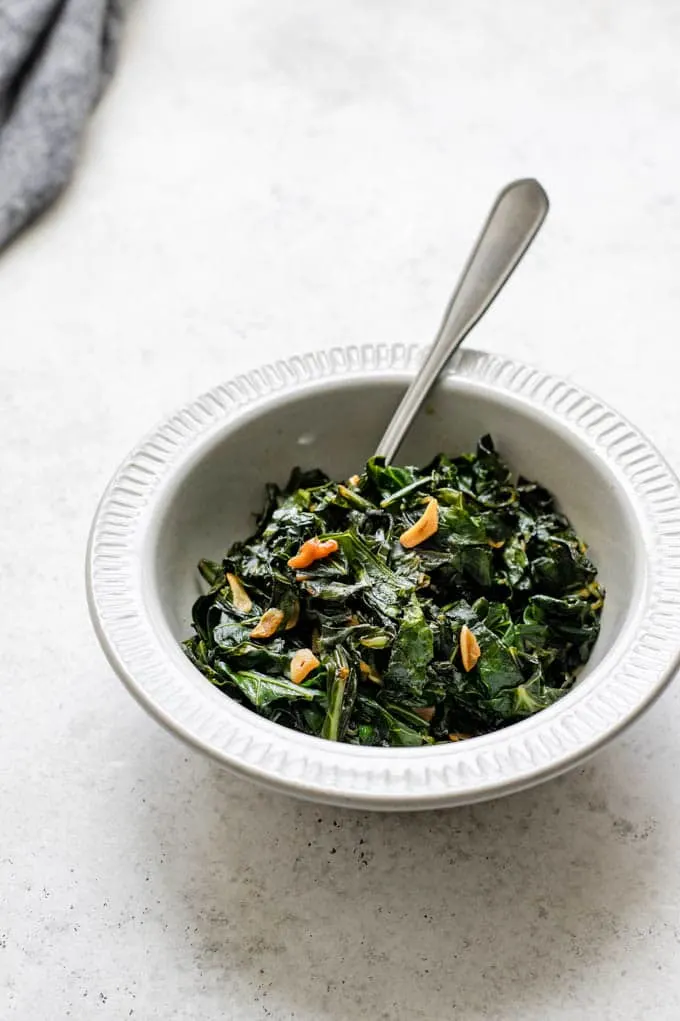 Then mix everything together and add that prepared sauce. Sauté it for about a minute with the sauce, most of it will be absorbed/evaporate. At this point taste it and adjust any seasonings as you like.
Enjoy these greens alongside pasta, pizza, rice, mashed or non-mashed potatoes. With baked beans or stewed beans, with barbecue tofu or seitan steaks.
The sweet, salty, smoky flavors of the collard greens pairs particularly well with southern style cooking. So bring on the barbecue, the mac and cheese, the potatoes–just don't forget your greens!!!
---
If you make these smoky collard greens, leave a comment below and rate the recipe on the recipe card. And please share your photos with me on Instagram, tag @thecuriouschickpea and #thecuriouschickpea. I love seeing your recreations!
---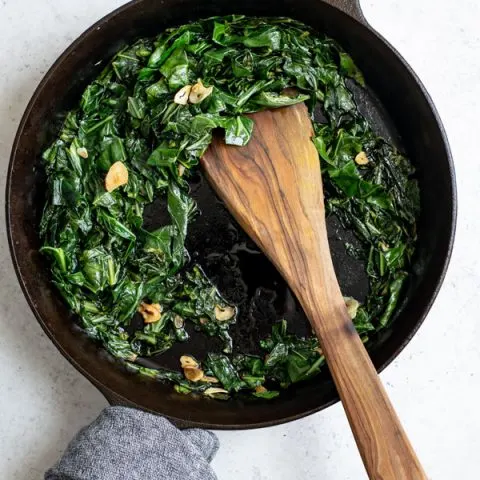 Smoky Collard Greens
This is an easy and delicious way to prepare collard greens, as well as other dark leafy greens! They're garlicky, smoky, and with a touch of sweet. Vegan and gluten free!
Ingredients
1 large bunch (~1 lb) collard greens
3 tsp oil, divided
pinch of salt, or more to taste
2 cloves garlic, thinly sliced
2 tbsp low sodium tamari soy sauce
2 tsp maple syrup
1 tsp tabasco or hot sauce
1/2 tsp liquid smoke
Instructions
Wash the collard greens thoroughly and cut away the tough stem. Taking several leaves at once, stack them and then roll the stack into a tight cigar shape. Slice the rolled collard greens into thin strips. Repeat until you've cut all the greens.
In a small bowl, mix together the soy sauce, maple syrup, hot sauce, and liquid smoke.
Heat a large skillet over medium heat. Add 1 tsp of oil, and then add the collard greens and a pinch of salt. Cook for 3-5 minutes, stirring occasionally, until the collard greens are wilted, tender, and bright green.
Move the collards over so they only cover about half the pan. In the empty space, add the remaining 2 tsp of oil and the sliced garlic. Cook the garlic in oil, stirring, for about 60 - 90 seconds or until it is lightly golden. Then stir everything together.
Add the soy sauce mixture to the greens and cook for another minute or so, until the sauce is thick and absorbed. Taste, and add salt if desired. Remove from heat.
Notes
If using regular soy sauce (not low sodium), start with 1 tablespoon of soy sauce and add more to taste to keep the greens from being too salty.
Recommended Products
As an Amazon Associate and member of other affiliate programs, I earn from qualifying purchases.
Nutrition Information:
Yield:

4
Serving Size:

1
Amount Per Serving:
Calories:

84
Total Fat:

4g
Sodium:

585mg
Carbohydrates:

10g
Fiber:

5g
Sugar:

3g
Protein:

4g
Nutrition is calculated automatically so should be used as an estimate.