This Jamaican black-eyed pea curry is so delicious. It's creamy, bursting with flavor, hearty, healthy and super easy to make. It's naturally gluten free and vegan. A must make recipe!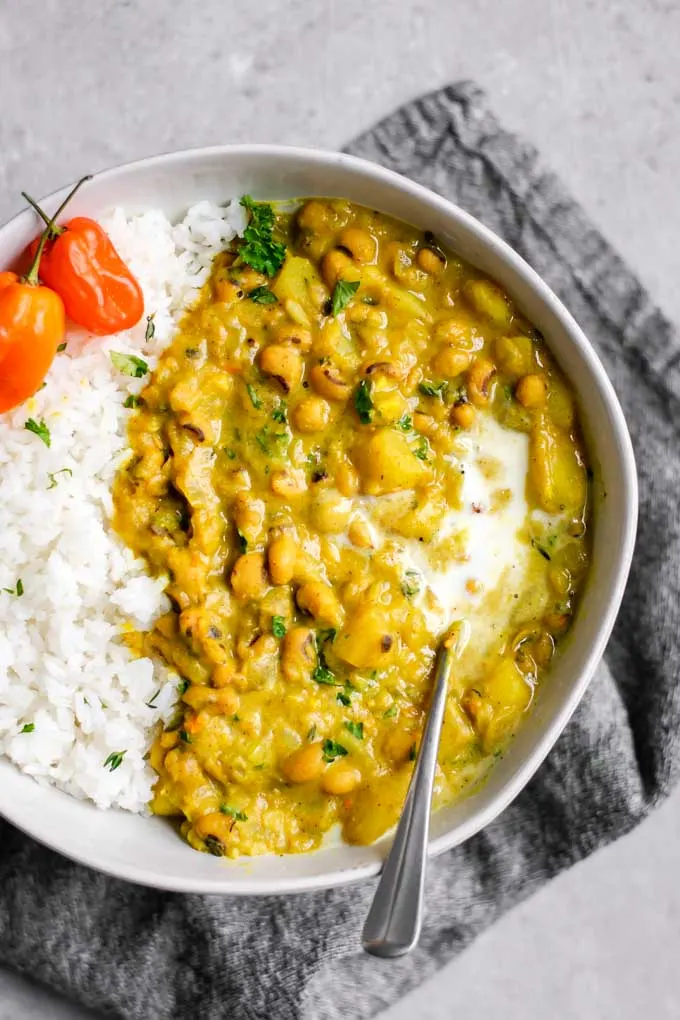 I'm lucky enough to live in walking distance to both a fully vegan Jamaican restaurant and a Caribbean with an elaborate vegan menu. Lucky because I love Jamaican food! It's spicy, has bold flavors, creamy curries, the most delicious puffy breads, lots of beans, and have you had a Jamaican patty yet?? The cuisine lends itself well to vegan cooking, possibly due to the multicultural influence and also the Rastafarian Ital cuisine.
It probably comes as no surprise to anyone that my first Jamaican blog recipe is a curry. After all my site is filled with curry recipes from around the globe. And while I thought about developing a doubles recipe, it's January and you guys aren't looking for deep fried bread stuffed with chickpea curry recipes at the moment (are you? I mean, please tell me you are).
Jamaican chicken curry recipes inspired this black-eyed pea curry. You can often find the Caribbean curry with a vegan chicken substitution at restaurants but black-eyed peas were calling my name when inspiration for this dish struck.
Thankfully it's pretty easy to veganize Jamaican curry, the flavor comes from all the herbs and spices after all. Swapping in beans lightens the dish, which is great because then you get to eat more! And as you're going to want seconds anyway, this is definitely a good thing.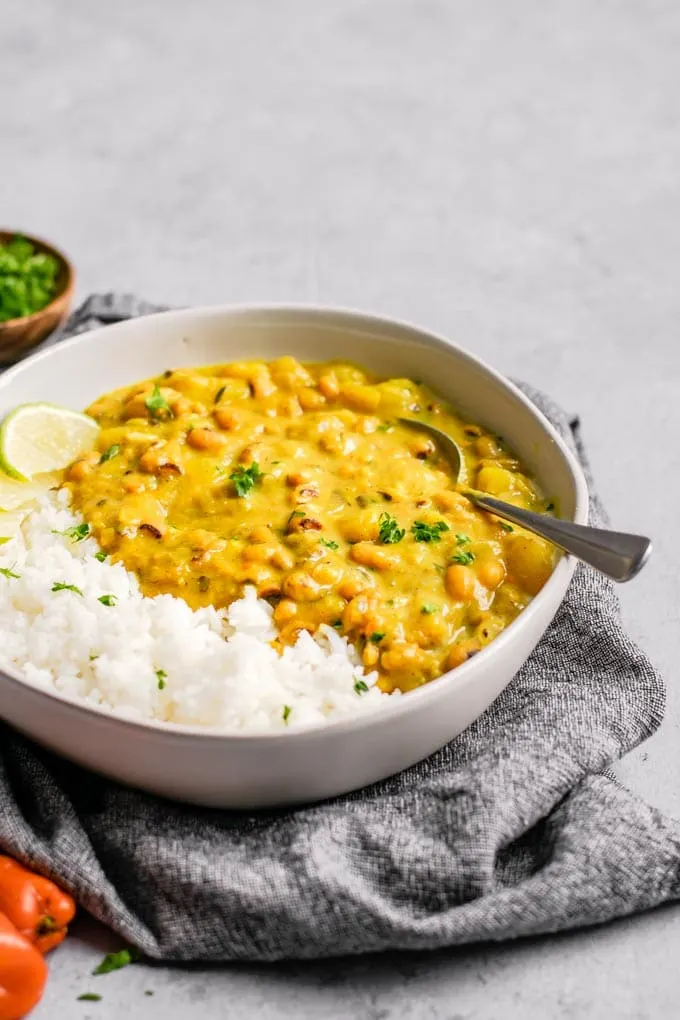 The Jamaican curry powder:
When it comes to making Jamaican curries, you're going to want to use a Jamaican curry powder blend. While it has a lot of similarities to Indian curry powders you might be more familiar with, it's a different combination of spices and they're added in different amounts so it does produce it's own unique, flavorful, delicious result.
I made my own Jamaican curry powder for this recipe. I have a particularly well stocked spice pantry, so was able to do so without any trips to the store. If your pantry is not as well stocked as mine, and you don't have much interest in changing that up, you might be better off just purchasing a pre-made Jamaican curry spice blend.
Otherwise grab out the 8 spices you need from your pantry, or pick up the 1 or 2 you might be missing, fire up a dry skillet and get to making your own curry powder! Honestly, freshly prepared curry powder is the absolute best–it elevates your recipes and brings a fuller deeper flavor.
As soon as they're ground, spices begin to lose flavor, which is why I try to use up ground spices in a timely manner and prepare my spice blends from whole spices when possible.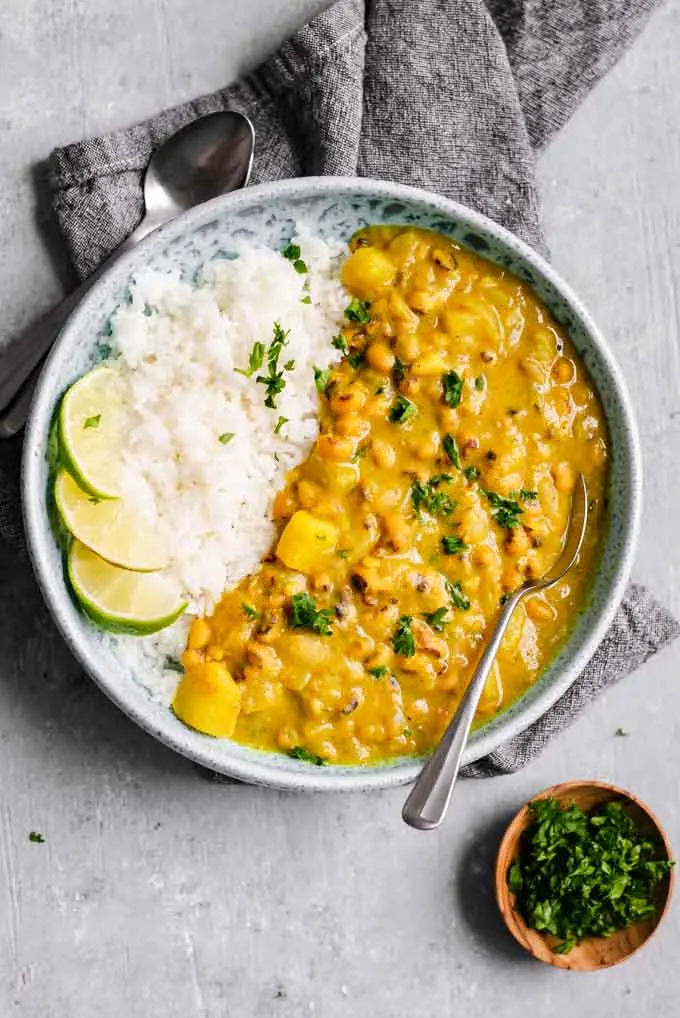 For this Jamaican curry powder we use cumin seed, mustard seed, coriander seed, fenugreek seed, and allspice berries. Toast the spices on a dry skillet until they turn fragrant and a shade darker, then grind them up using a spice grinder or mortar and pestle.
Next add the ground spices: ground ginger, white pepper (or black if that's what you have), and lots of turmeric.
I like to use whole spices but also try not to be too fussy about my spice blends. So, for example, I usually have ground allspice on hand for baking and instead of picking up the whole berries it would be fine to use ground. If substituting a ground spice for whole, add it with the other ground spices and it will burn quickly on a dry skillet and use about 1/2 the volume when measuring.
If you make your own curry powder it will make extra, so you have plenty to put this recipe on repeat! Or you can make curry roasted veggies, flavor soups, make a tofu rub, etc! Make it a little in advance or just before making the recipe, whatever you like.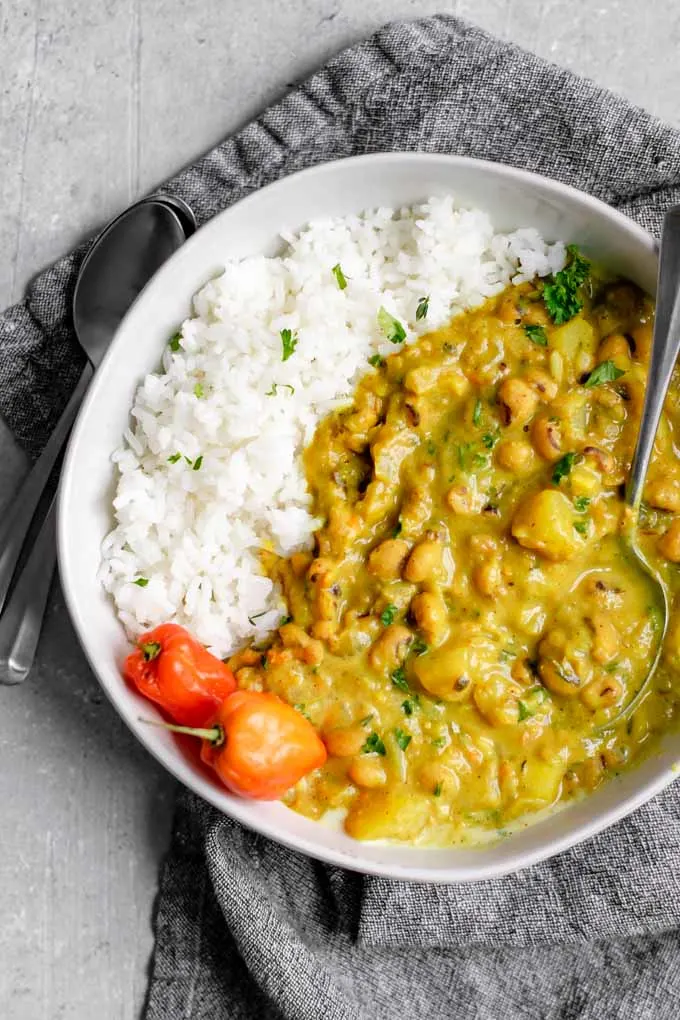 The black-eyed pea curry:
This curry couldn't be simpler to make! It's stuffed with potatoes and beans, spiced with curry powder, spicy chili peppers, onion, garlic, and fresh thyme. A somewhat brothy stew made creamy from a bit of coconut milk and simmered to reduce into a thick curry. The recipe needs a good amount of salt to bring out the spices and keep it from falling flat, then a generous addition of lime juice adds acidity to make the whole recipe sing.
Start by sautéing onion and garlic to soften, then add the hot peppers. Scotch bonnet peppers are traditional, but can be hard to find locally depending on where you live. I will substitute habanero for them. Like scotch bonnets, habanero's have a reputation of being very spicy, but like any pepper it can vary a lot pepper to pepper depending on growing conditions, etc.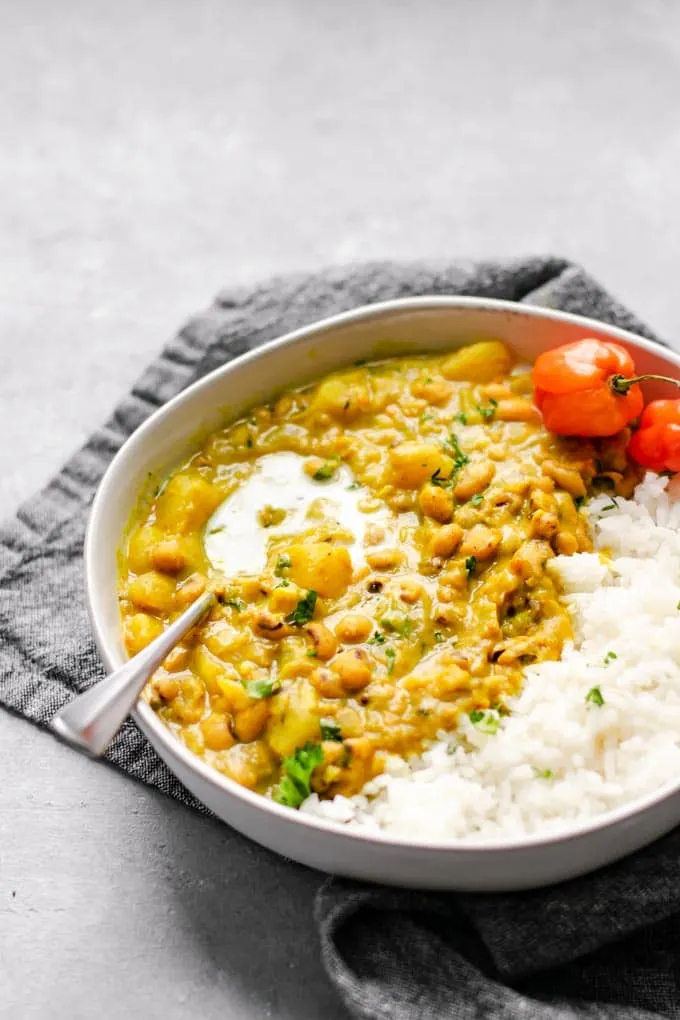 I started with adding 1 seeded habanero to this recipe, but ended up needing to add 2 unseeded habaneros to get a medium heat. Guess is that's what I get for buying peppers in the middle of winter. My recommendation to you is to start small (1 pepper, seeded) and add more to taste. Habanero heat tends to build slowly in your belly, so at first taste it might not seem as spicy as it is.
Along with the hot peppers add sprigs of fresh thyme, Jamaican curry powder, black pepper, and some salt (if using a store bought curry powder check the ingredients for salt, if the curry powder is salty you may need to cut back). Flash cook them for just 30 seconds, then add cubed potatoes and let them soak up the aromatics briefly before adding the black eyed peas and water.
Simmer the curry until the potatoes are just cooked, 10-15 minutes, then add the coconut milk and let the curry simmer another 15 minutes to reduce and thicken, for the potatoes to turn extra tender so they melt away in your mouth. At the end, add the freshly squeezed lime juice and taste and add more salt to taste.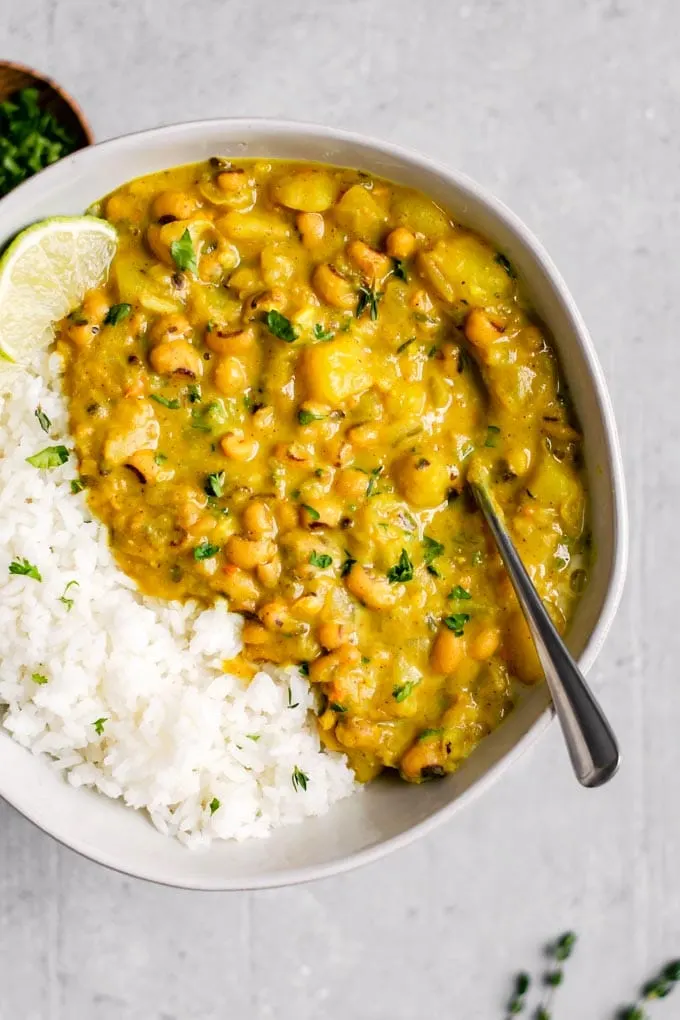 The curry is amazing hot off the stove, but the leftovers get even better as the flavors have had a chance to meld. Enjoy this curry with some rice and fresh parsley. We enjoyed smokey collard greens alongside of the curry.
I couldn't get enough of this Jamaican curry! The flavors, the textures, it was all just so incredible! I really hope you enjoy this recipe as much as we did.
If you make it, leave a comment below and rate the recipe on the recipe card. And please share your photos with me on Instagram, tag @thecuriouschickpea and #thecuriouschickpea, I love seeing your creations!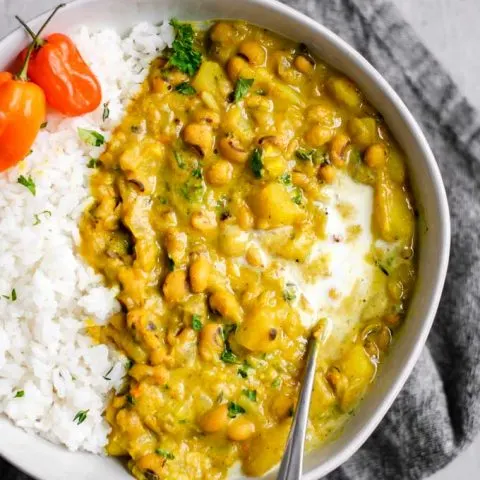 Jamaican Black-eyed Pea Curry
This Jamaican black-eyed pea curry is so delicious. It's creamy, bursting with flavor, hearty, healthy and super easy to make. It's naturally gluten free and vegan. A must make recipe!
Ingredients
1 tsp oil
1 yellow onion, diced
4 cloves garlic, minced
1-3 scotch bonnet or habanero peppers, seeded if desired and minced (use gloves to handle)
3 sprigs fresh thyme
2 1/2 tbsp Jamaican curry powder (homemade* or store bought)
1 - 1 1/2 tsp salt, to taste
1/2 tsp black pepper
1 lb (~4 small) yukon gold potatoes, peeled and diced to 1/2" cubes
3 cups (30oz can) black-eyed peas, drained and rinsed
2 cups water
1 cup coconut milk
1/4 cup lime juice (~2 limes)
Instructions
Heat a pot over medium heat, and add the oil, onion, and garlic. Sauté until the onion is soft, about 5-7 minutes.
Add the scotch bonnet or habanero peppers, thyme, curry powder, black pepper, and 1 teaspoon of salt. Stir to coat everything in curry powder and let cook about 30 seconds. Add the potatoes and sauté for 1 minute. Then add the black-eyed peas and water. Partially cover, bring to a simmer and let cook until the potatoes are just fork tender, about 12-15 minutes.
Add the coconut milk and continue to simmer with the lid off for 15 minutes to reduce and meld the flavors. Turn off the heat and add the lime juice. Taste and add salt to taste.
Notes
Jamaican curry powder: In a dry skillet toast over low heat 2 tablespoons each of cumin seed, whole mustard seed, and coriander seed along with 1 tablespoon each of fenugreek seed and allspice berries (or substitute 1 1/2 tsp ground allspice in next step) until fragrant, 3-5 minutes. Grind the toasted spices in a spice grinder or mortar and pestle. Then mix in 1 teaspoon each of ground ginger and white pepper (or black) along with 4 tablespoons of ground turmeric. Store in an airtight container until ready to use.
Recommended Products
As an Amazon Associate and member of other affiliate programs, I earn from qualifying purchases.
Nutrition Information:
Yield:

8
Serving Size:

1
Amount Per Serving:
Calories:

217
Total Fat:

7g
Saturated Fat:

6g
Trans Fat:

0g
Unsaturated Fat:

1g
Cholesterol:

0mg
Sodium:

618mg
Carbohydrates:

33g
Fiber:

7g
Sugar:

5g
Protein:

8g