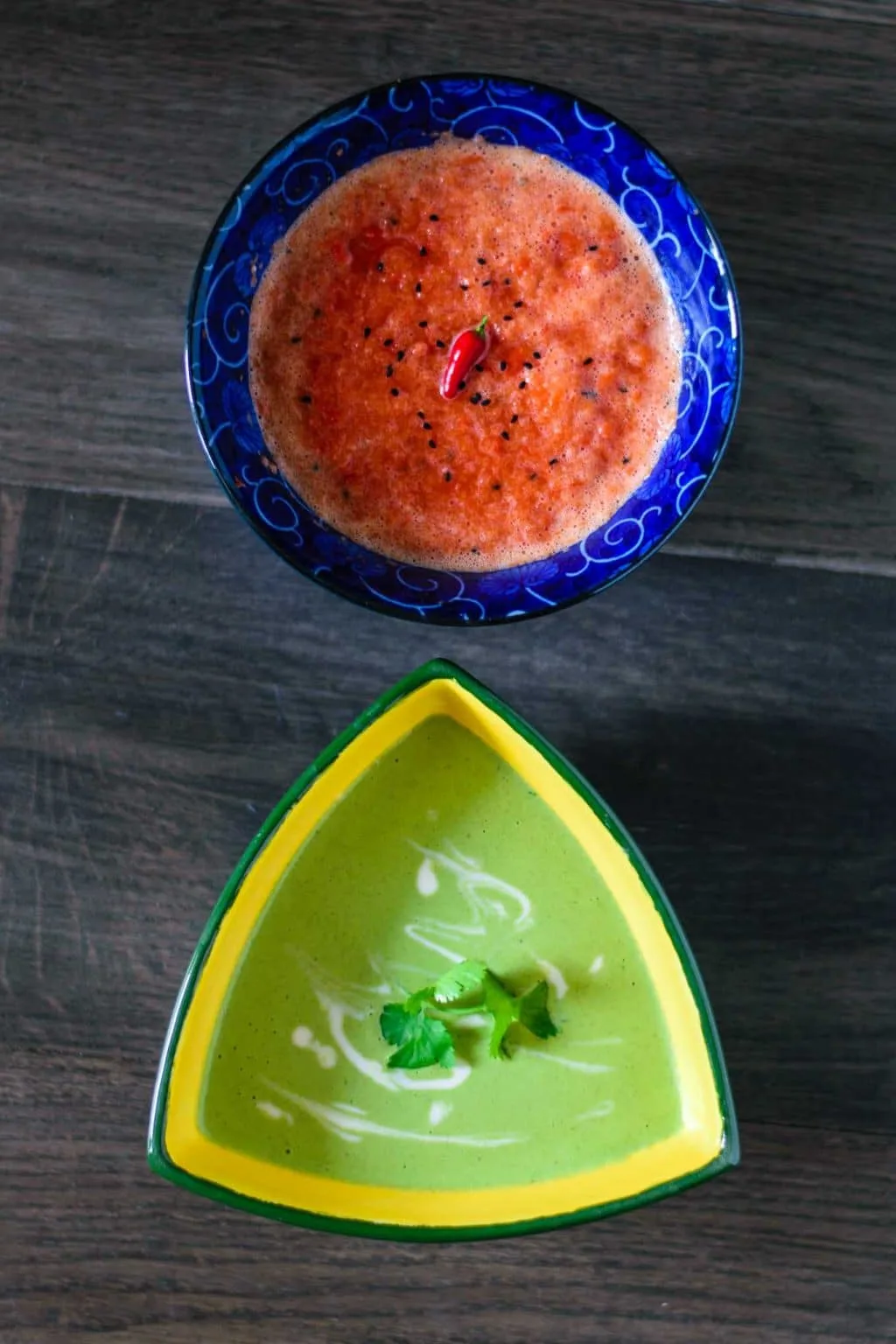 Every good cook needs an arsenal of sauce recipes to take their dishes to that next level in terms of flavor. Every culture has their own versions, from mole and salsa in Mexico, to Europe's mustard and America's ketchup. There's Korean gochujang and Chinese hoisin. Greek tzatziki, Japanese ponzu, and seemingly endless versions of hot sauce from around the world. Chutneys hail from the cuisines of the Indian subcontinent, and there are seemingly endless variations of them. They are super flavorful sauces that accompany everything from flat breads to stuffed savory pastries, snacks and appetizers to main dishes. Today I'm sharing two recipes for two different chutneys inspired by the Afghan cuisine: coriander chutney and red pepper chutney.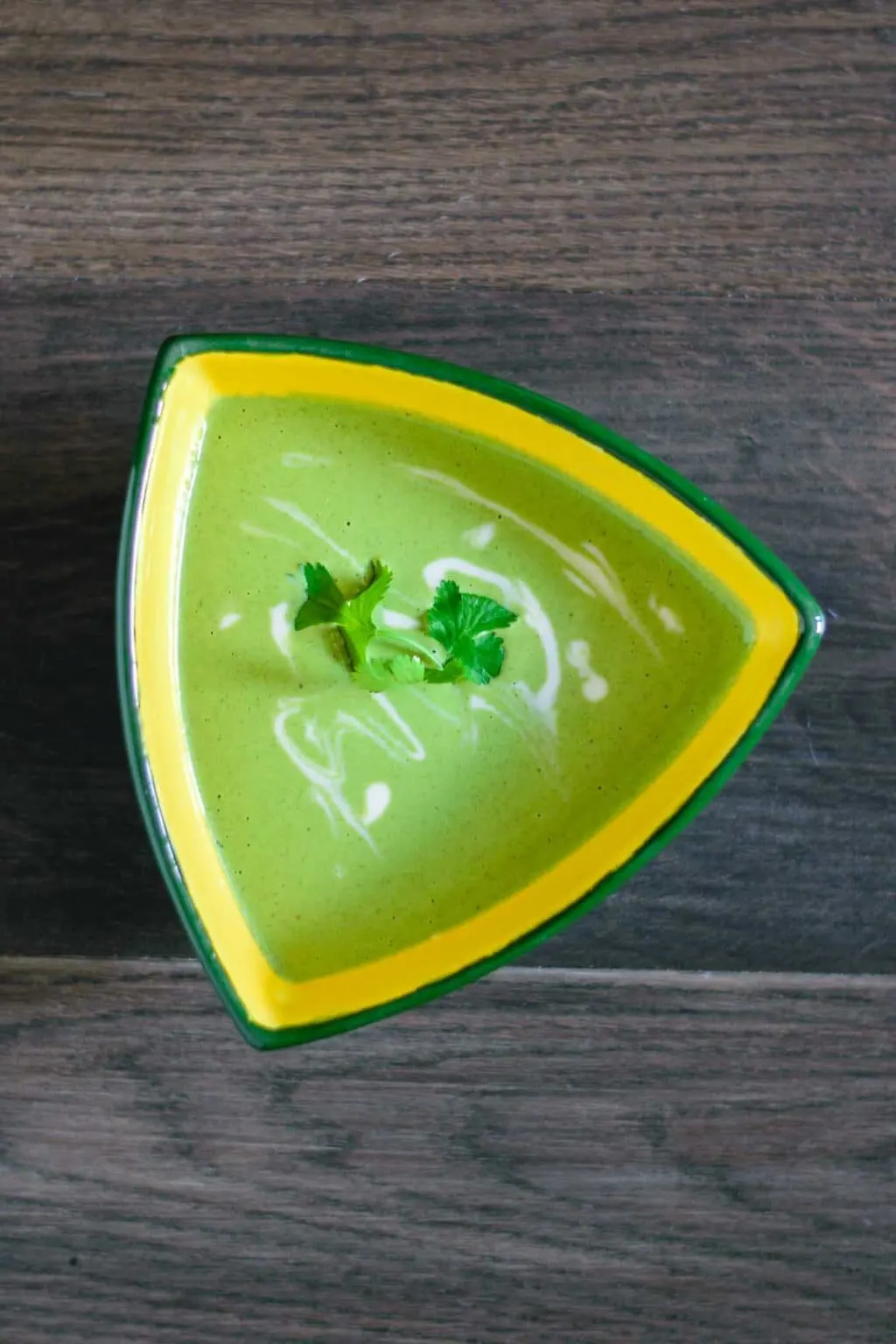 Both chutneys are incredibly easy to make, and pack a punch of flavor. Coriander chutney is brimming with the fresh, bright flavor of cilantro. Hot chiles provide a spicy kick and garlic a sharp bite, both of which are mellowed out by creamy, nutty walnuts and some tangy nondairy yogurt. Lemon juice increases the tangy sourness, and the whole thing is balanced out with sugar and salt. I've been a big fan of coriander chutney since childhood, but I think this version is my favorite. I love the depth of flavor that the nuts bring, and I also love the way the tart creamy yogurt balances the strong flavors of the chutney. I'm always bummed when restaurants add yogurt to a chutney, because then I can't order it, but I have to say it's really good that way so I'm glad there are vegan yogurts I can use at home!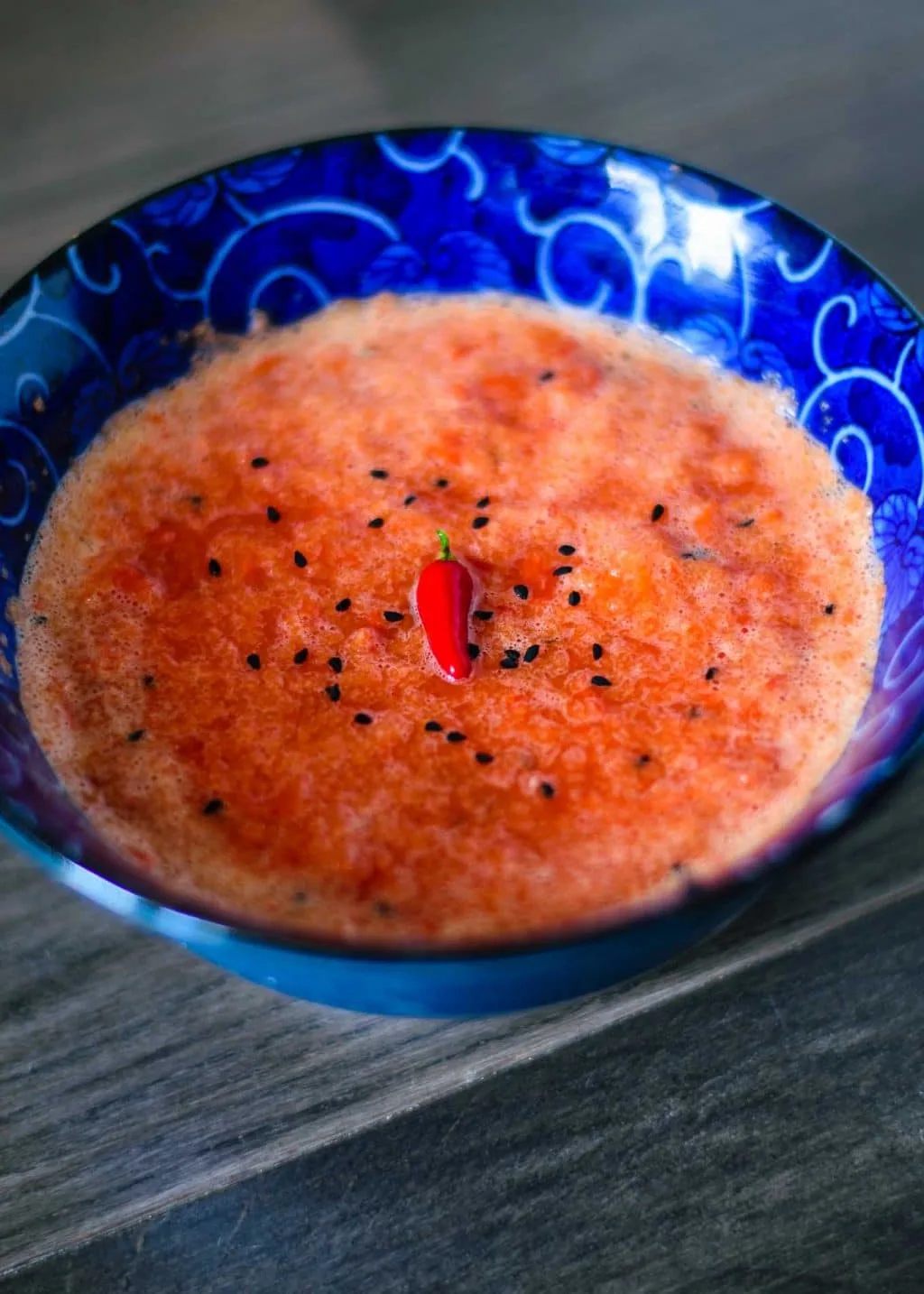 Red pepper chutney is new to me, and I am a huge fan. It's sweet and spicy, with some mellow oniony flavor and a sharp garlicky bite. Sweet and citrusy red bell peppers make up the base of this chutney. Spicy hot chiles are added for heat, but mellowed slightly by the added sugar and natural sweetness of the bell peppers. Apple cider vinegar increases the acidity of the chutney, and the tartness balances out the sweetness of the bell peppers, along with my favorite flavor enhancer, salt. I like garlicky chutneys, and the strong flavor works perfectly with the sweet peppers in this one. Nigella seeds provide some mild nutty and oniony flavor. This flavorful, ruby red chutney is so tasty.
We found ourselves putting these two delicious Afghan chutneys onto everything. They transcended borders. We dipped vegetable gyoza into them, drizzled them over tacos and homemade potato hash. Omar added chutney to his toast. I topped bowls full of singapore noodles with them. Both chutneys made everything they touched better.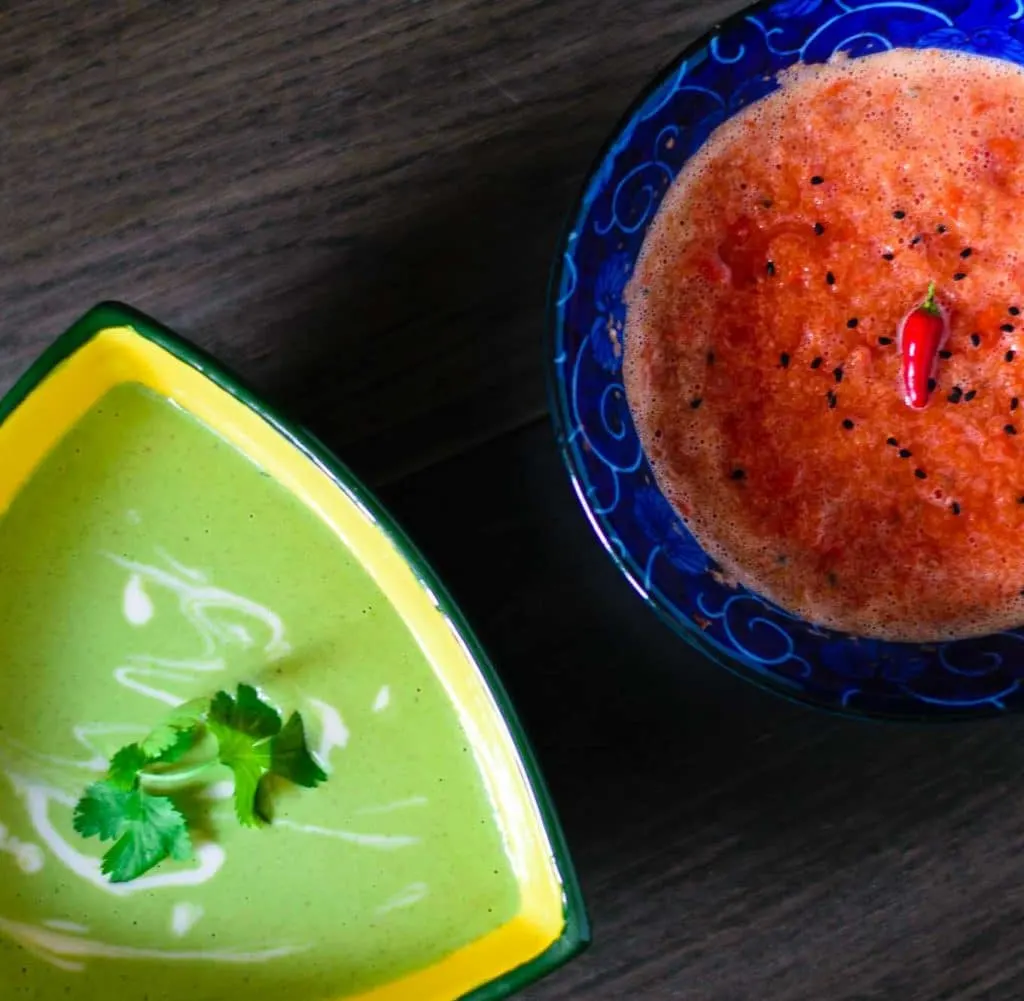 Now, I'd be hard pressed to pick a favorite, so you should probably just make both to decide for yourself. And if you do, let me know! Leave a comment and/or rate the recipe below, tag me on Instagram (or #thecuriouschickpea), or share with me on Facebook! I love hearing about it when you guys make my recipes!
Afghan recipes that would go great with this chutney:
Leek bolani: afghan stuffed flatbread
Afghan cauliflower and tofu tikka kebab skewers
Lubya: Afghan kidney bean curry
Notes:
Use any plain unsweetened nondairy yogurt you enjoy or substitute a nondairy sour cream.
Nigella seeds are optional in the red pepper chutney, but a nice addition. You can purchase them at your local Indian grocery store, or online. If you enjoy cooking Indian food, it's a good spice to have on hand.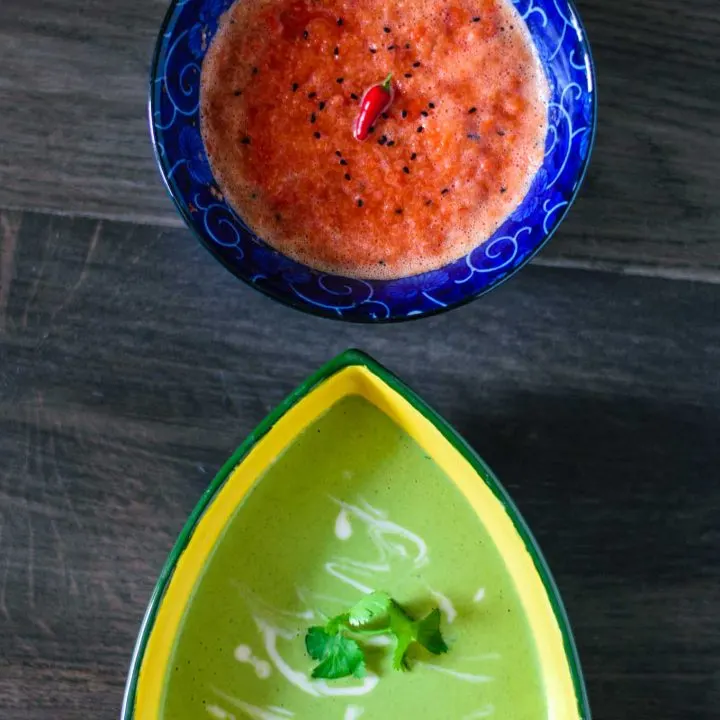 Coriander Chutney and Red Pepper Chutney
Yield:
coriander chutney makes ~1 cup; red pepper chutney makes ~2.5 cups
Two spicy Afghan chutneys. A creamy, garlicky coriander chutney and a sweet and spicy red pepper chutney.
Ingredients
Coriander Chutney
1 cup (40 g) lightly packed cilantro, leaves and stems, coarsely torn
1/4 cup (25 g) walnuts
2 cloves garlic, roughly chopped
1-2 hot green chiles, roughly chopped (more or less to taste, seed peppers for less heat)
1 tsp salt
1/2 tsp sugar
lots of freshly ground black pepper
1/2 cup (120 mL) plain unsweetened nondairy yogurt, or vegan sour cream
2 tbsp freshly squeezed lemon juice
Red Pepper Chutney
2 red bell peppers, seeds and white pith removed and roughly chopped
2-4 garlic cloves, roughly chopped
2 small red chiles, stems removed (more or less to taste, and seed peppers for less heat)
1 tsp sugar
1/2 tsp salt
2 tbsp apple cider vinegar
1/2 tsp nigella seeds
Instructions
To make the coriander chutney
Add everything to a blender or a small food processor. Blend until smooth, pausing to scrape the sides down as necessary. Taste and adjust seasoning if desired. Place in a sealed container and put in the fridge to chill until ready to use. Makes a little more than 1 cup chutney.
To make the red pepper chutney
Add the bell peppers, garlic, red chiles, sugar, salt, and apple cider vinegar into a blender. Blend until you have a thick paste texture. You don't want to overblend or it will get too watery, the pulp of the bell pepper is what thickens this chutney. Add the nigella seeds and pulse to combine. Taste and adjust seasoning if desired. Place in a sealed container in the fridge to chill until ready to eat. Makes about 2 1/2 cups of chutney.