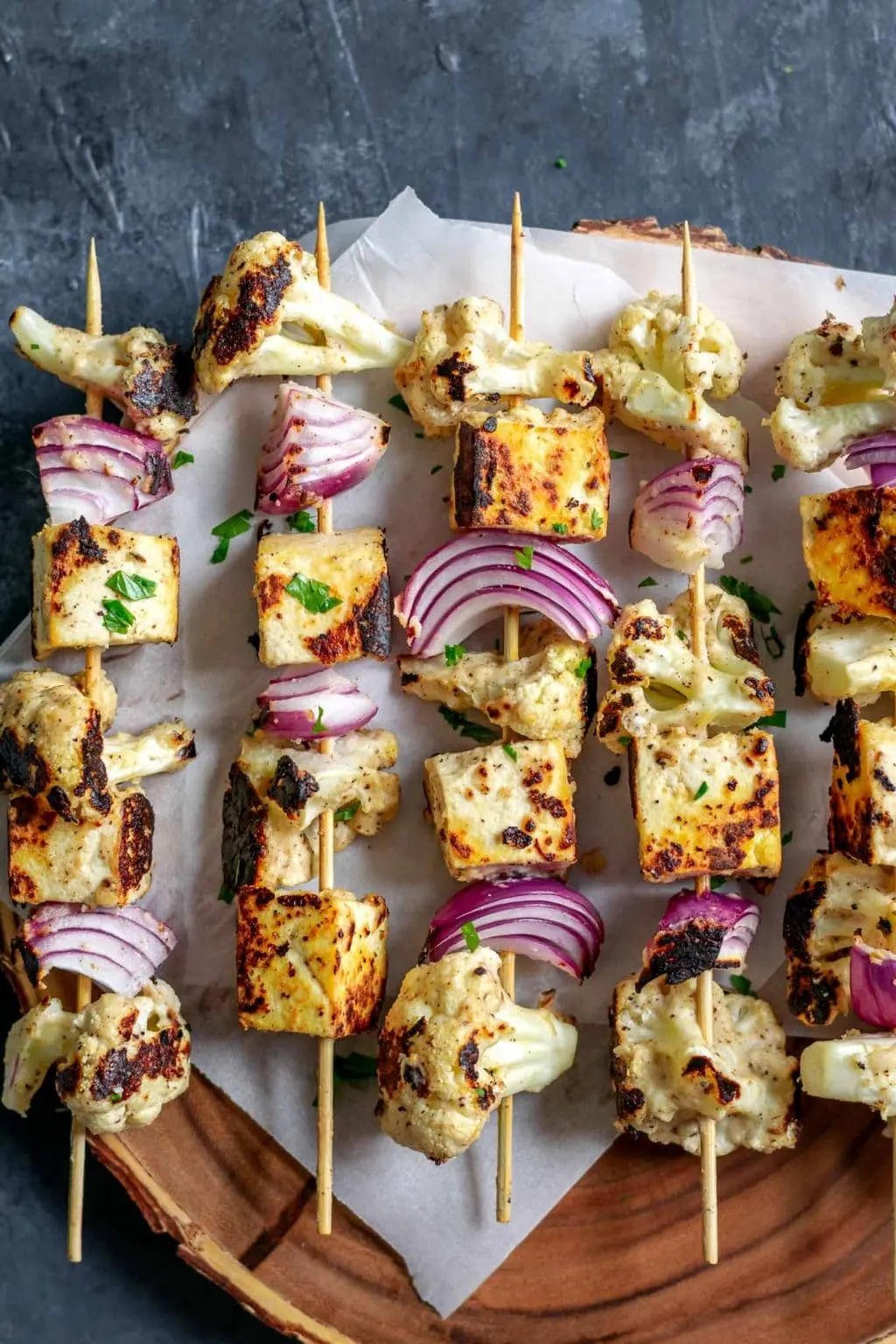 So, there's a good chance you've heard of tikka, and it's likely you know what a kebab is, but you should probably stop everything right now and make these Afghan cauliflower and tofu tikka kebab skewers!
You hear mostly about tikka in the context of Indian food, and kebab with Middle Eastern cuisine. Tikka means pieces, and typically refers to pieces of meat that have been marinated then baked or grilled, while kebab refers to meat dishes in general, which can be cooked on skewers or not. Clearly neither of these words were meant to mean vegetables or vegan ingredients, but I'm redefining the terms because I'm a trail blazer like that 😉 .
Tikka marinade is a creamy yogurt-based sauce, with the spices differing across cultures and individual recipes. There are some generalizations though, such as Afghan tikka being milder than Indian (commonly Punjabi) tikka. It's both less spicy and more lightly spiced.
Of course, this doesn't mean that it's bland. But, instead of a spice blend, this recipe highlights just two spices: cumin and cardamom. I use whole spices, which are toasted just before use, to bring out the best and deepest flavors of the cumin and cardamom.
Pre-ground spices quickly lose their flavor and become stale. Sometimes convenience wins and we go for the pre-ground, but when you're depending on just a couple of spices to pack a strong punch of flavor, you want to grab the whole seeds off your shelf.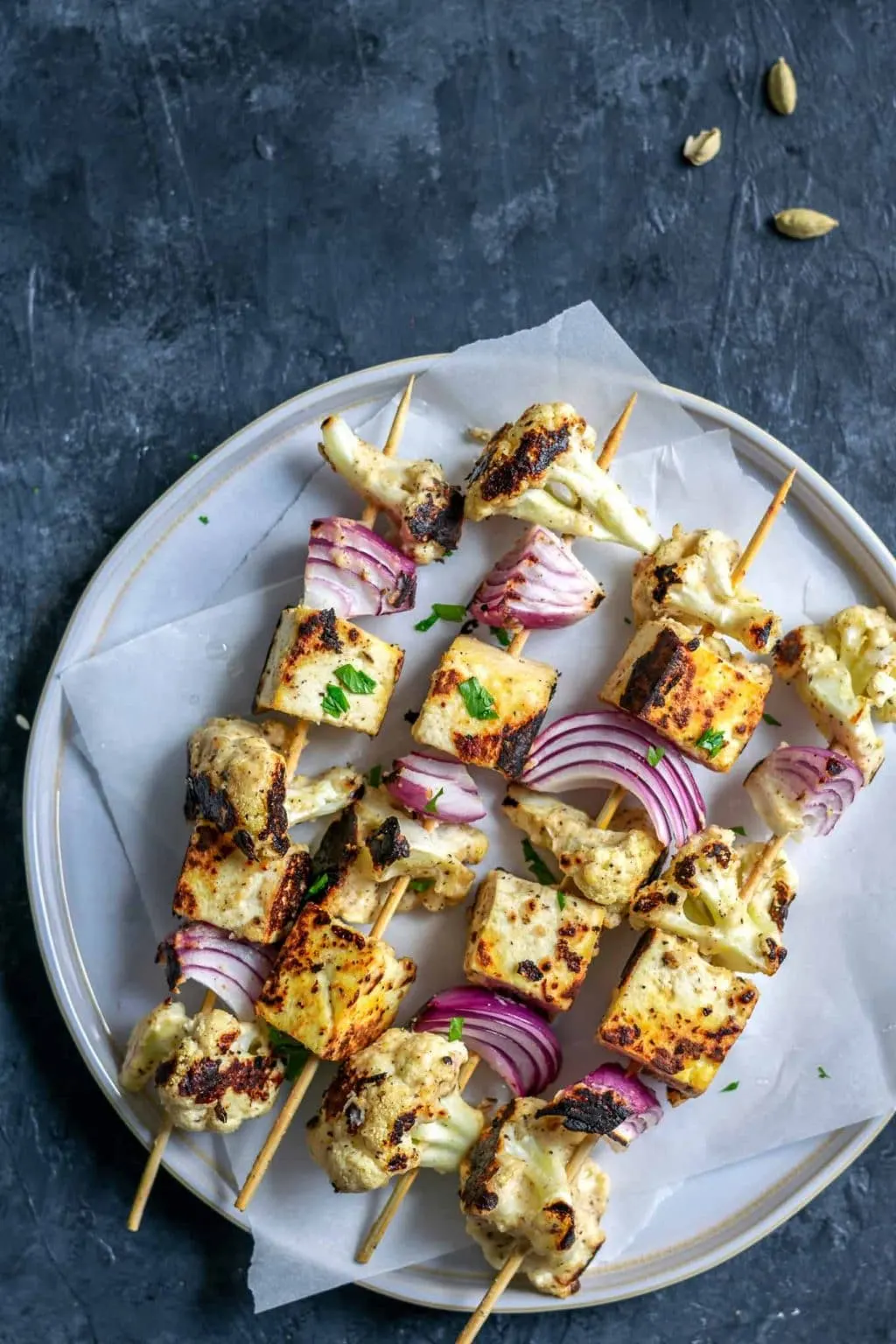 So we have a tangy, vegan yogurt (it's best to choose a thick one if you have options) mixed with freshly squeezed lemon juice to up that tang, pungent garlic, and fresh zesty ginger to form the base of our marinade.
Then, we toast the spices and grind them up into a powder along with whole black peppercorn (I know I said less spicy, but I didn't say less peppery!) and cashews. This essentially becomes a spiced nut meal, which thickens the yogurt and turns it into a clingy marinade while also adding some richness.
The ground nuts and spices are added to the yogurt mixture along with some salt and a drizzle of oil and the marinade is ready! So, break up your cauliflower into nice sized florets (you don't want them to fall apart on the skewers) and toss them into the marinade along with large cubes of tofu.
The cauliflower and tofu can marinade for awhile if you'd like, or you can use them right away. Marinating for a long time might tenderize the cauliflower, and infuse the tofu with a little extra flavor, but this isn't meat and it's not strictly necessary by any means.
Next we skewer! Find a pattern that makes you happy, I like about a 2:1 ratio of cauliflower to tofu on my skewers, with bits of red onion thrown on for color. You can always grill or fry the onion alongside the skewers, with some hot green chiles perhaps?
I cooked these skewers on my new Baking Steel griddle over my stove, but any griddle or large skillet will work, and you can of course cook these on an outdoor grill. The skewers cook over a medium-low to medium heat over a long period of time. Like, 25-30 minutes long!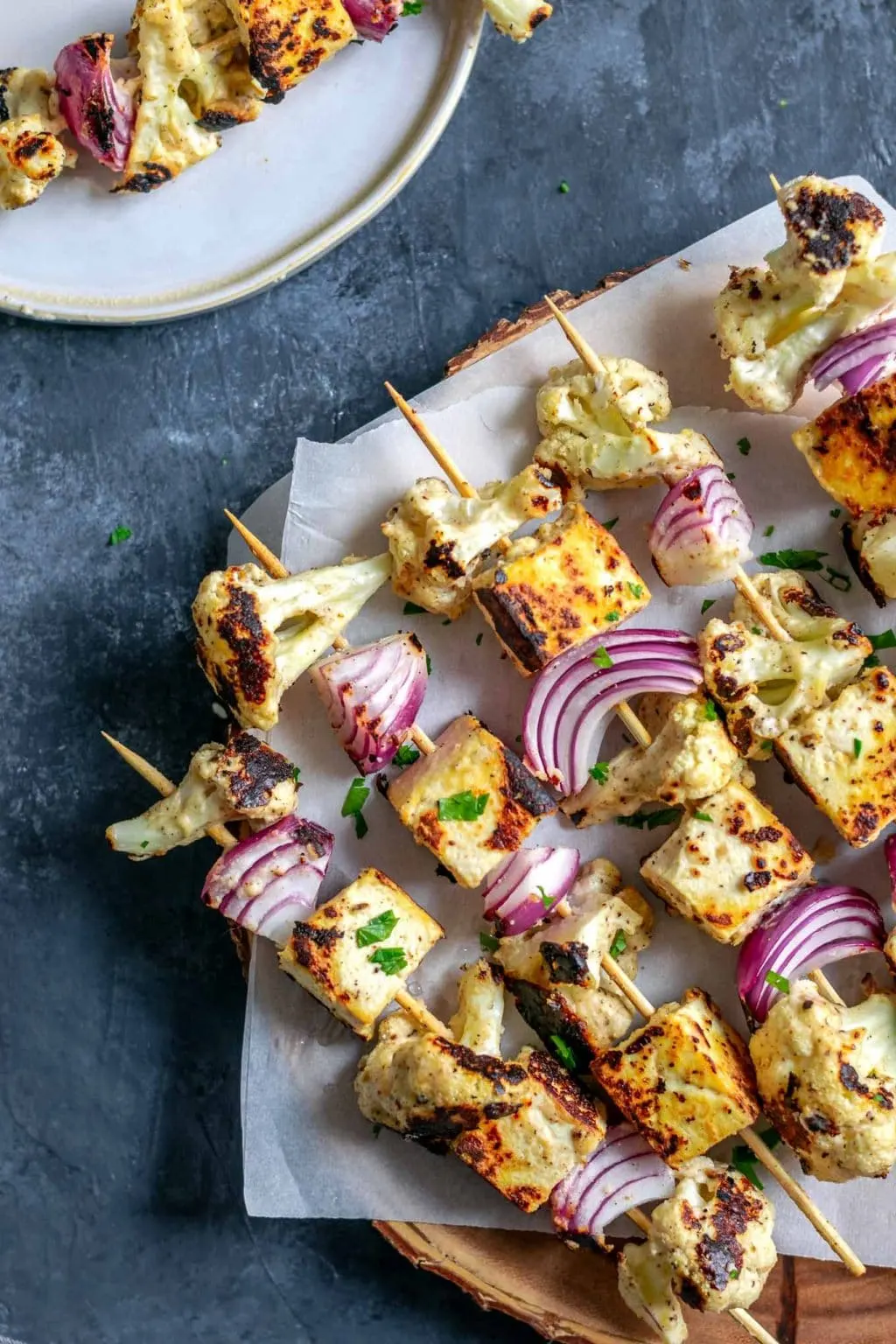 When first doing my research for this recipe, I thought the long cook-times were either a joke or maybe a meat thing, and was quite surprised to find my veggie and tofu skewers took as long to cook! Basically, we want the marinade to form a nice crust, absorbing into the tofu and cauliflower and drying on the outside. We also want to develop nice char marks, and the uneven shapes of the cauliflower mean that these don't sit nice and flat on a griddle so extra rotating is needed.
So a long (but relaxed) cook time it is! On my griddle I can cook all 6 skewers at once, and could squeeze at least 2 if not 4 more onto it if I had made a little extra. By the time the Afghan cauliflower and tofu tikka kebab skewers are done, the cauliflower is tender, the tofu is nice and chewy and the onion is soft and juicy. It's heavenly, I know.
To serve I like to squeeze a little extra lemon over top and can eat as is, hot and straight from the skewer! You can go the more traditional route and serve with some naan, or wrap it in lavash. It's also really delicious served overtop basmati rice (also gluten free this way)!
These Afghan tikka skewers are delicious when topped with your pick of Afghan chutney. Or whisk together a quick yogurt and tahini sauce (yogurt + tahini + garlic + lemon + salt), or even simply top with plain unsweetened yogurt. A garnish of sumac or za'atar is also fantastic.
Ok what are you waiting for?! Make yourself some Afghan cauliflower and tofu tikka! And preferably make a feast and also whip up some lubya aka Afghan kidney bean curry and leek bolani (stuffed flatbread)!
Notes:
If you can find them, sprinkle some sumac or za'atar on top of your finished skewers.
Choose a thick non-dairy yogurt, as you want the marinade to cling to the tofu and cauliflower. If all you can find is rather runny yogurt, you can always strain it through a nut milk bag or layers of cheesecloth (or follow these instructions, not vegan but it works the same way!).
You can substitute almonds for cashews in the marinade.
I used So Delicious Cultured Coconutmilk yogurt and really liked it in this recipe!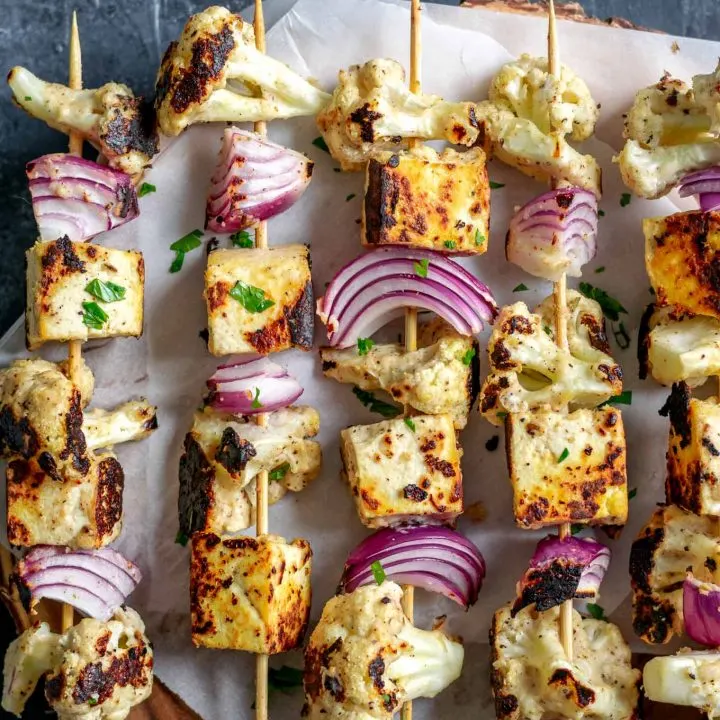 Afghan Cauliflower and Tofu Tikka Kebab Skewers
Cauliflower florets and tofu are marinated in a vegan spiced yogurt sauce then grilled until smokey and charred for a delicious easy meal, perfect for summertime barbecues! Eat as is, or serve on a bed of rice or in a lavash wrap with some extra vegan yogurt.
Ingredients
Marinade
1 cup plain unsweetened vegan yogurt*
2 cloves garlic, minced
1 tsp minced ginger
2 tbsp fresh lemon juice
1 tsp cumin seed
4-5 whole green cardamom pods
1 tsp whole black peppercorn
1/2 cup cashews
1/2-1 tsp salt, to taste
2 tsp oil
Skewers
1/2 lb tofu, cut into 1" cubes
1/2 head cauliflower cut into florets
1/2 red onion, cut into wedges
Lemon wedges, to serve
Minced cilantro or chives, for garnish
Instructions
Soak the wooden skewers in water 30 minutes before you are ready to cook.
Make the marinade: In a large mixing bowl, whisk together the yogurt, garlic, ginger, and lemon juice. Toast the cumin seed and cardamom pods on low heat until they are a shade darker and fragrant, then transfer them to a blender (or a spice grinder) and add the peppercorn and cashews. Pulverize until you have a powder, then add it to the yogurt mixture. Stir to combine.
Toss the cubed tofu and cauliflower florets in the marinade. You can let them marinade for 30 minutes, or up to overnight in the refrigerator, or cook them immediately.
Skewer cauliflower, tofu, and red onion onto soaked wooden skewers. Heat a griddle over medium heat and lightly oil it. Cook the skewers on the hot griddle for about 25-30 minutes, flipping every few minutes, until the marinade has dried, the cauliflower and tofu are charred in places, and the cauliflower is your desired level of tender. Turn the heat down as necessary if blackening too quickly. You can also cook them using a grill.
Enjoy the skewers with an extra squeeze of fresh lemon juice and some minced cilantro or chives to garnish.
Notes
*A thick vegan yogurt is ideal for this recipe, as we don't want a runny marinade.
Adapted from Foodaholic
Don't forget to tag your recreations @thecuriouschickpea and #thecuriouschickpea on Instagram! I love seeing your photos!
Like what you see? Follow along on Instagram, Facebook, and Pinterest!