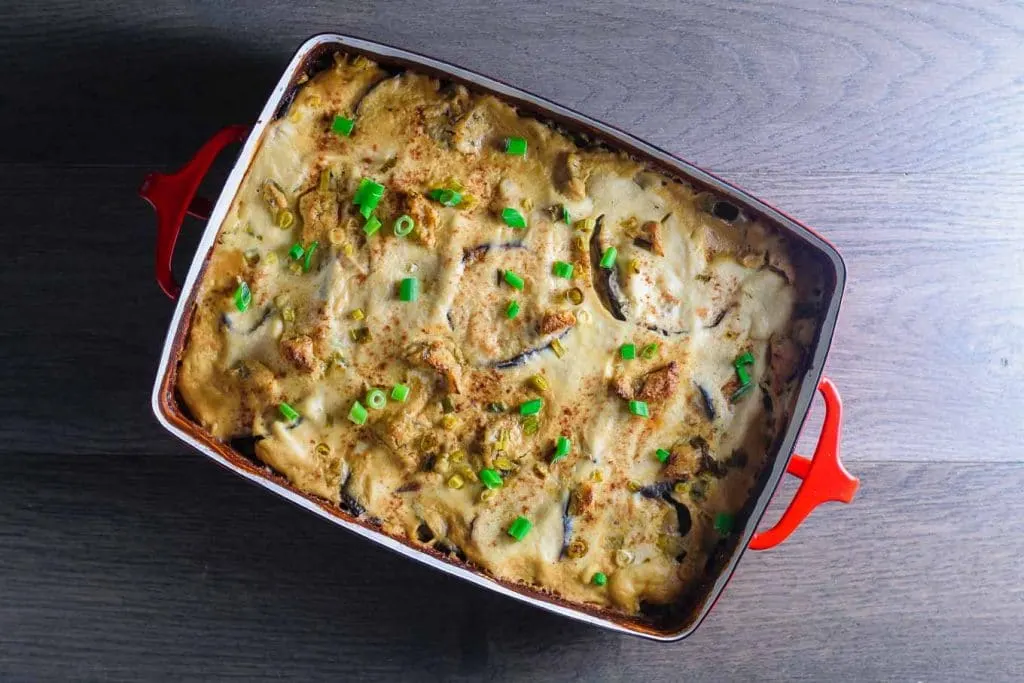 So, I know it's been crazy hot all over the US this past week, with the Midwest in particular experiencing record breaking heat waves, but theoretically the first day of fall was just a few days ago and we're supposed to be settling into our sweaters and steaming mugs of pumpkin spice lattes. Well, however hot the temperature, I can't be the only one craving creamy and comforting warm foods. And this vegan cheesy eggplant casserole is exactly what I want to be eating right now!
The eggplant is baked with two layers of creamy vegan sauces. A silky smooth sauce makes the base and coats the slices of roasted eggplant, while a luscious vegan béchamel covers the whole thing. Handfuls of scallions are sprinkled throughout the layers for an oniony bite, and as an added (and optional) indulgence crumbled cultured nut cheese is tucked into the casserole.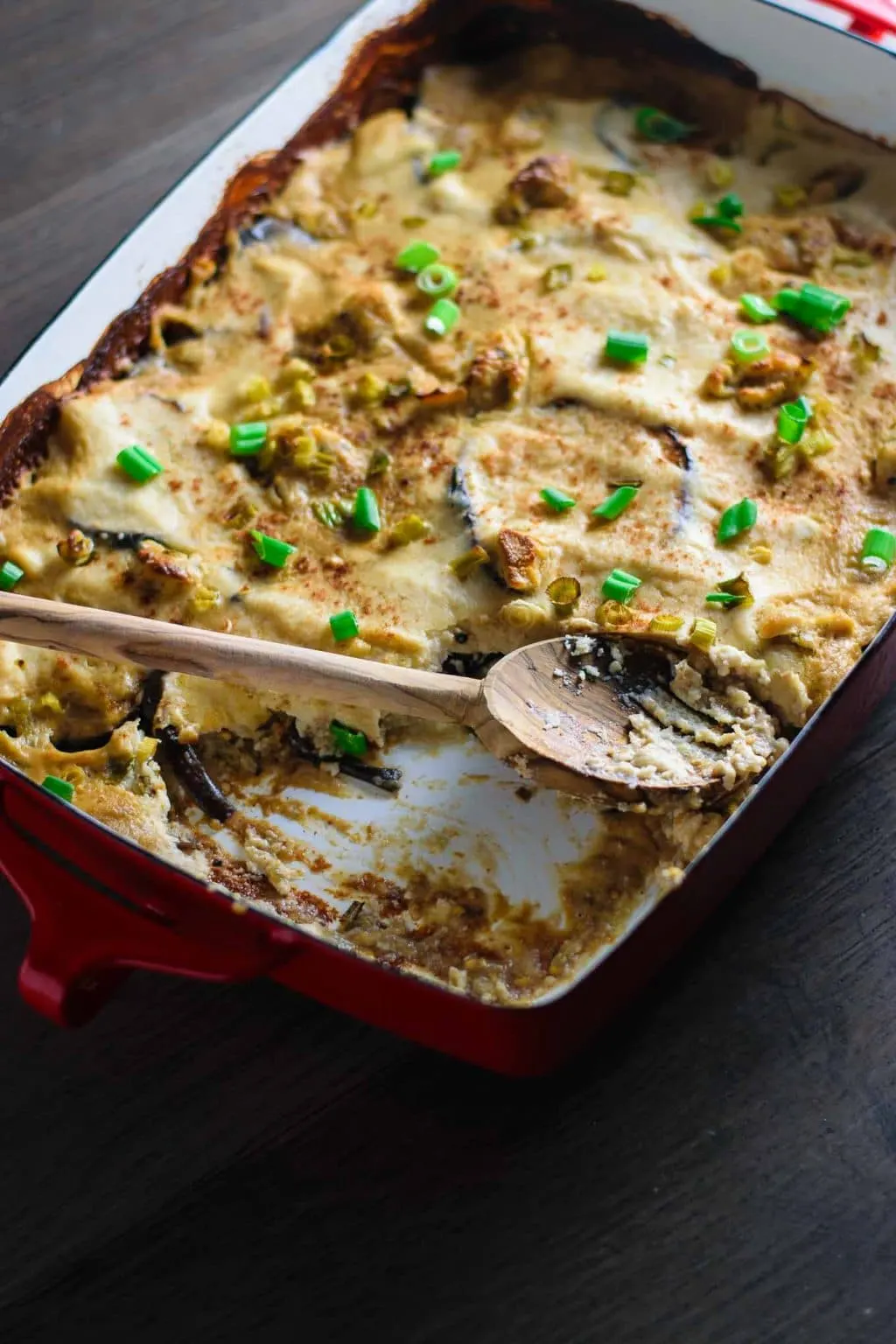 The creamy sauce is made of soy milk and vegetable broth, with freshly minced garlic providing the rich base and nutritional yeast for a nutty and cheesy flavor. Nutritional yeast also acts alongside tapioca starch to thicken the liquid, though not until it's heated in the oven. Whisked together with some salt, the creamy sauce remains thin when poured over the slices of eggplant. But somehow, like magic (or just the thickening power of starches activating when exposed to heat), it comes out thick and creamy.
The béchamel requires only a little more effort, with silken tofu and cashews blending together to form the base of the velvety, silky cream. Some tapioca starch helps it thicken into an almost custardy texture in the oven, and dehydrated, granulated garlic provides concentrated garlicky flavor. Lemon juice is added to brighten the flavor and add some contrasting acidity.
The sliced eggplant is roasted separately first, sprinkled with salt and freshly ground pepper and baked until the slices are just cooked through. Then the sliced eggplant is layered in a baking dish along with the creamy sauce, plenty of scallions, and dotted with nut cheese. Thick, creamy béchamel is slathered on top, a sprinkle of paprika adds a bit of color and sweet pepper flavor and finished with even more scallions. The dish is covered with some aluminum foil and baked until the starches in the creamy sauce and béchamel have activated and thickened. Once hot and bubbling away, the foil is removed for the béchamel to lightly crust and turn a golden brown. A few sliced scallion greens can be tossed on top to bring some green color back into the dish (if you want) and like most casseroles, it's most delicious served hot.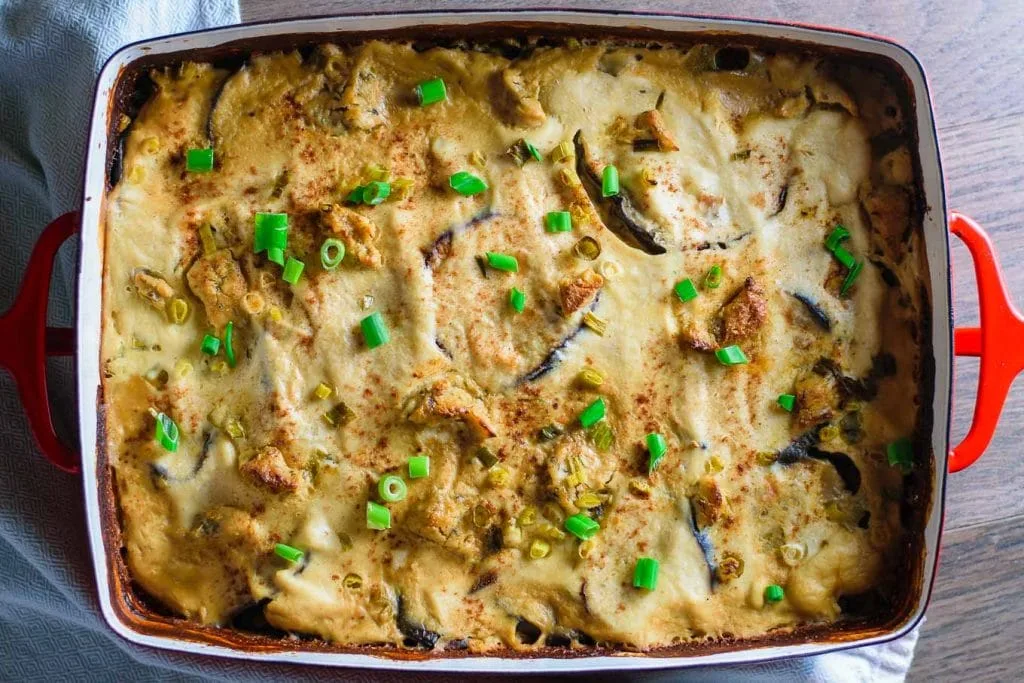 Each bite of the cheesy casserole is a creamy and rich-tasting delight. But don't let your tongue fool you, this vegan version that is made with healthy ingredients. Non-dairy milk and tofu don't quite pack the calories that a pound of dairy cheese would. And the way the creamy sauce cooks into the eggplant while it bakes, mmm—you can barely tell where the cheesy cream ends and the eggplant begins. This casserole is just begging to grace your table at dinner this fall.
Let me know if you make this vegan cheesy eggplant casserole! Leave a comment and/or rate the recipe below, tag me on Instagram (or #thecuriouschickpea), or share with me on Facebook! Happy eating everyone!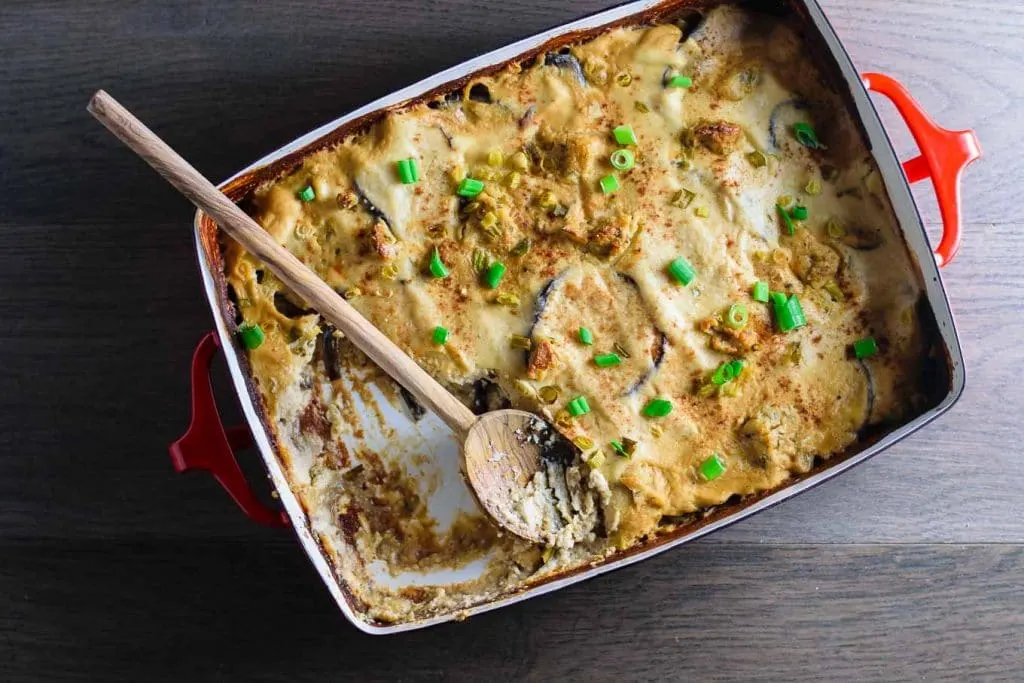 Notes:
Add some vegan sausage for a complete meal. Just fry it up and sprinkle some in between each layer of eggplant.
A cultured nut cheese is a wonderful addition to this recipe (though it's delicious without it too), I used about half a wheel of Miyoko's Kitchen Classic Double Cream Chive, but you can use whatever you have access to that you enjoy eating. Or you could try adding dollops of my creamy vegan almond cheese. Adding some nut cheese takes this recipe to the next level!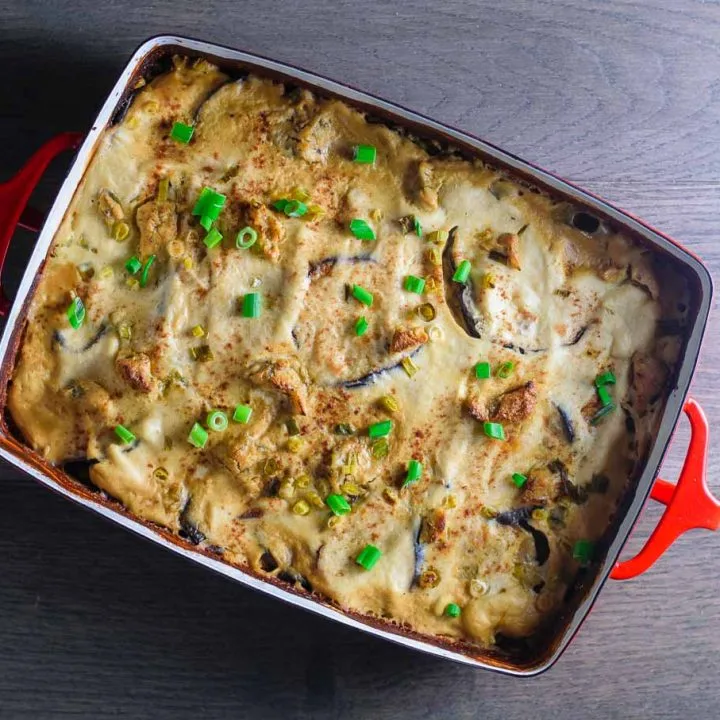 Vegan Cheesy Eggplant Casserole
Total Time:
1 hour
15 minutes
A creamy and cheesy vegan eggplant casserole. The perfect accompaniment for a cozy meal on a chilly day.
Ingredients
1 large (~1 1/2 lbs) eggplant, thinly sliced into 1/4" rounds
2 tbsp olive oil, or as needed
salt
freshly ground black pepper
3-4 scallions, thinly sliced
~3 oz nut-based cheese, broken into large crumbles (optional, see notes before recipe)
1 tsp paprika (optional)
Creamy Sauce
3/4 cups vegetable broth
1/2 cup unsweetened or plain nondairy milk
2 cloves garlic, minced or pressed
1/4 cup nutritional yeast
1 tbsp tapioca starch
1/2 tsp salt
Béchamel
12 oz firm silken tofu
1 cup cashews, soaked for 2+ hours if not using a high powered blender
1 tbsp tapioca starch
1 tsp garlic powder
1 tsp salt
2 tbsp fresh lemon juice
Instructions
Preheat your oven to 400 ºF with a rack positioned in the center.
Lay slices of eggplant in a single layer on a baking sheet. On both sides of each slice, brush with oil and sprinkle with a bit of salt and pepper. Bake 12-15 minutes until eggplant is tender and easily pierced with a fork (no need to flip). You aren't trying to brown the eggplant, just cook it. Leave the oven on when the eggplant is done.
While the eggplant is cooking, make the creamy sauce. In a mixing bowl or large liquid measuring cup whisk together all of the ingredients: broth, nondairy milk, garlic, nutritional yeast, tapioca starch, and salt. It will be very thin, but the starch and nutritional yeast will cause the mixture to thicken substantially when heated.
Next, prepare the béchamel. In a blender or food processor, combine the tofu, cashews, tapioca starch, garlic powder, and salt. Blend or process until smooth. Add the lemon juice and blitz to combine.
Prepare the casserole. In a 8 x 11" or 9 x 13" baking dish, pour about 1/2 cup of creamy sauce into the bottom. Add one layer of eggplant, not overlapping, it's ok if there are gaps, they'll fill in with subsequent layers. Pour another ~ 1/2 cup of creamy sauce overtop and sprinkle on about 1/3 of the sliced scallions, and 1/3 of the nut cheese, if using.
Add a second layer of eggplant and pour over some more of the cheesy sauce to cover, add another 1/3 of the scallions and 1/3 of the nut cheese, if using. If you have enough eggplant for a 3rd or partial 3rd layer go ahead and add that and pour over the remaining cheesy sauce. Dollop the final bits of nut cheese on, if using. Then pour the béchamel over the top of the casserole, to cover. use the back of a spoon or spatula to smooth it out over top. Sprinkle the last of the scallions over top and a bit of paprika for color.
Cover the baking dish with foil and bake in the 400 ºF oven for 30 minutes. Then, remove the foil and bake an additional 10-15 minutes until the béchamel is golden in spots. Let rest a few minutes, then serve while still warm. Enjoy!
Notes
loosely adapted from the NYT