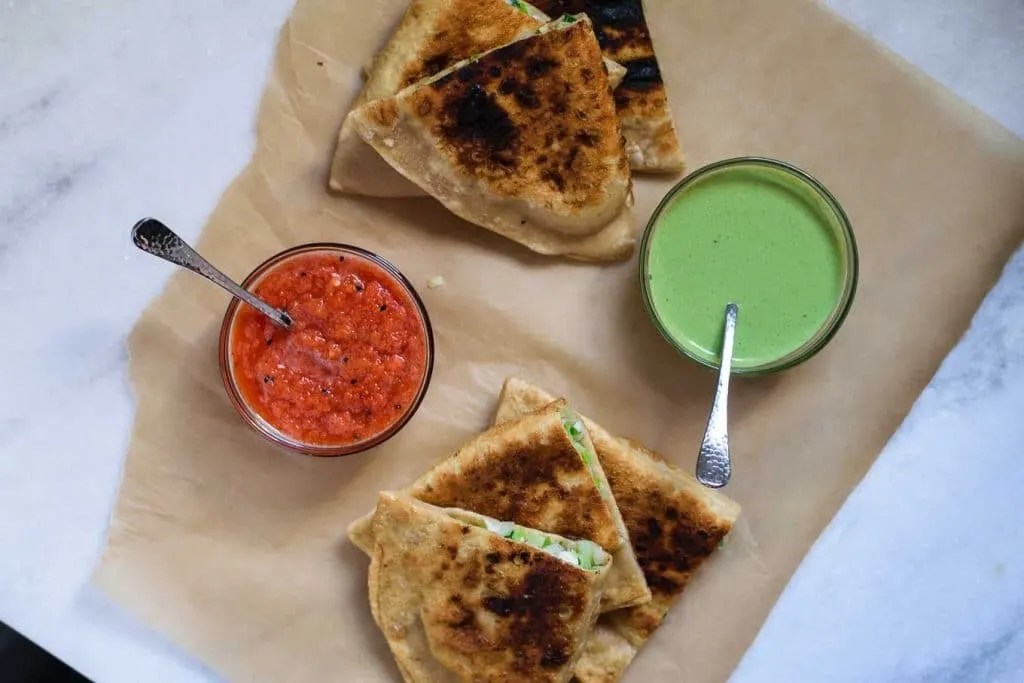 I'm sharing another Afghan recipe today, for delicious stuffed bread. Bolani is an Afghan stuffed flatbread, not too different from the Indian stuffed parathas I grew up with. Except that parathas have layers of fat worked into the dough, and while you can stuff the breads whatever veggie or lentil filling you desire, the most popular fillings vary between the two cuisines. The two most popular bolani fillings I've encountered are a mashed, spiced sweet potato filling and a peppery, oniony leek filling. While both are delicious, I especially love the bold flavor of the leek. Honestly, I would be happy to eat leek bolani as a meal on its own, well, alongside some chutney of course!
Bolani are the perfect appetizer to an Afghan meal (or frankly, any meal), but they also make a wonderful snack. They're easy to make with a quick, unleavened dough and a simple uncooked filling. To assemble you just roll out the dough into a large round, heap the leek filling onto half of it, fold the dough over the filling and press around the edges to seal. Pan fry each side until golden. Dip the hot bread into chutney and devour. See? So simple!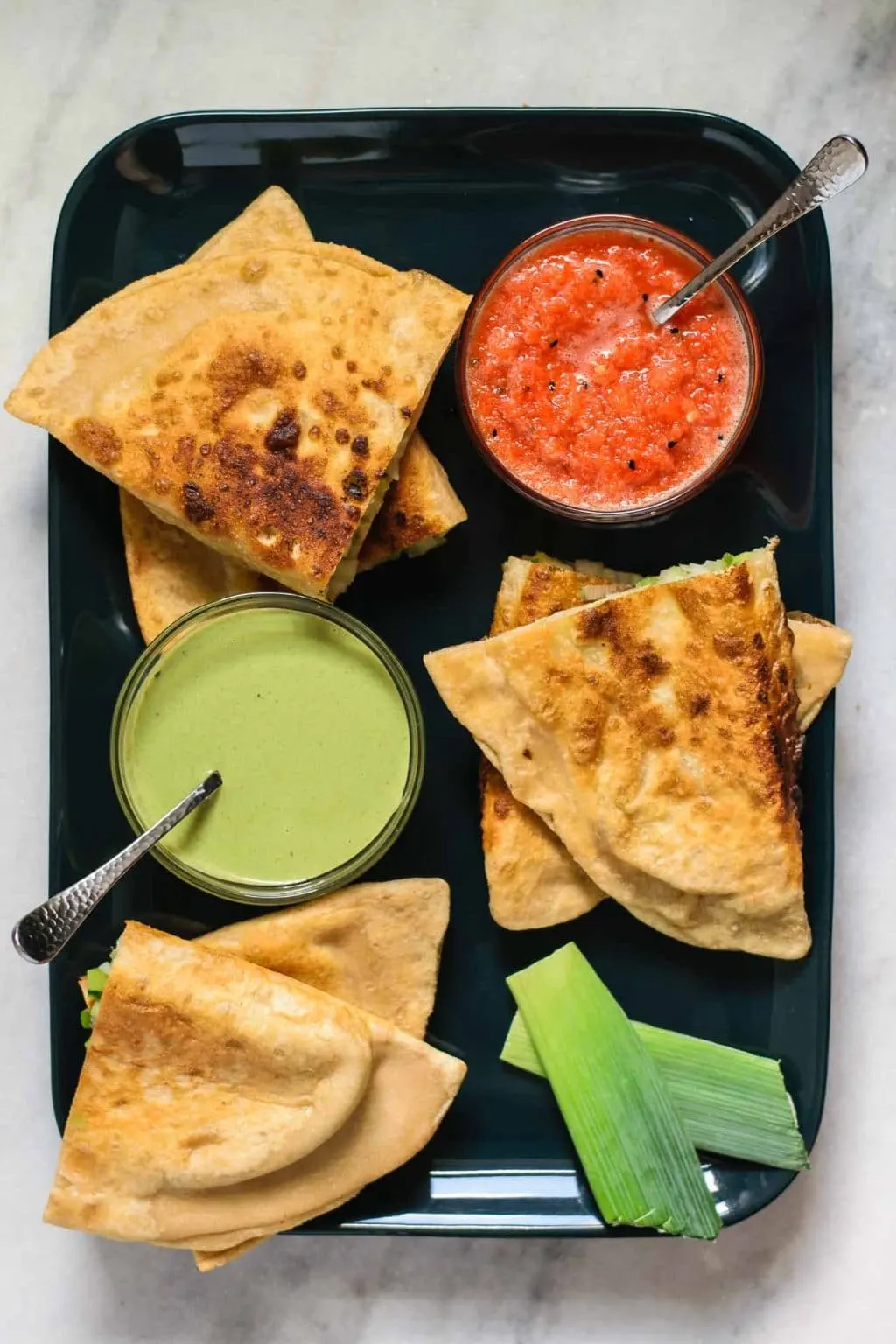 Let's talk about the dough. My favorite way to make it is with durum atta, which is an Indian variety of wheat flour with a high gluten content, perfect for thinly rolled breads. If you've ever had an Indian chapati, this is the flour that is used. However, I realize that not everyone has access to an Indian grocery store, nor wants to order flour online. In that case, you can definitely make this bread with more commonly available white and wheat flours. Western style whole wheat flour is coarser ground than the Indian durum atta, as well as having a higher starch content (meaning more water absorption) so it doesn't work well to substitute 1:1. [If you'd like to read more about the difference between Indian and Western flours, check out this post by Kannamma Cooks.]
For a texture most similar to durum atta, I like to use white whole wheat flour, which is a lighter and finer variety of whole wheat flour. I've had good success finding white whole wheat at natural foods grocery stores. For optimal texture, I like a mixture of white whole wheat and bread flour, though you can use all white whole wheat flour for a fully whole grain bread. If you're substituting regular whole wheat flour, I would recommend that you mix it with bread flour or all purpose, using the ratios listed in the recipe. You can also use all bread flour or all purpose, but that might just be giving too many options! Switching out the flour in the recipe might require using more or less water, simply adjust as you knead by adding more flour or working in water as necessary, until you have a dough that is smooth but not sticky or tacky to the touch. The bottom line, is you can use whatever flour you'd like (or perhaps have in your pantry already–I'm all about instant gratification), but understand that the end result will differ.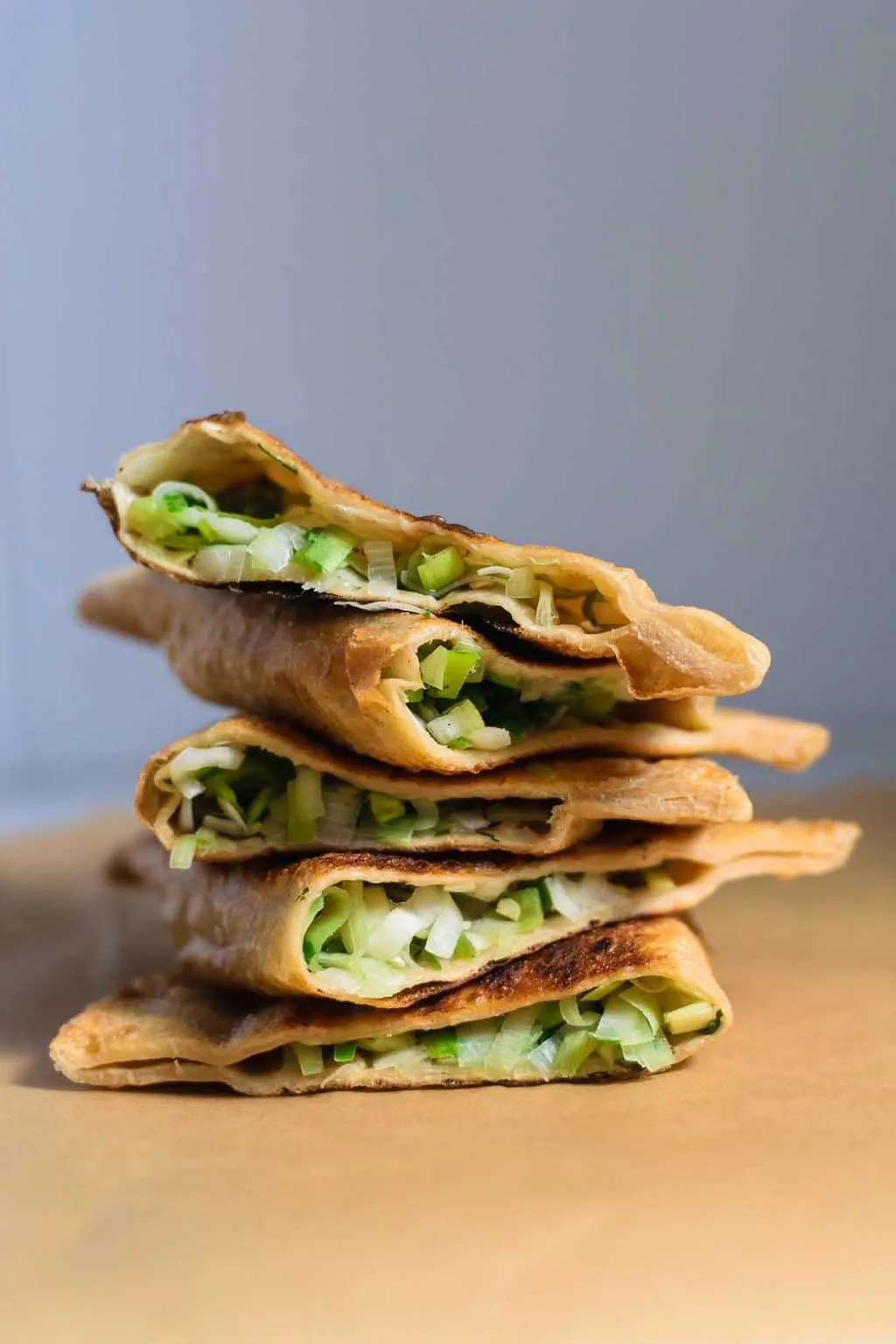 So, if I haven't confused you too much with all my talk of flour (don't let it intimidate you!), let's move on to the filling. The leek filling is about as easy as it gets. Thinly sliced leek is tossed with some hot chiles (though that's optional if you don't want it spicy), a big handful of cilantro, a healthy dose of salt, and lots and lots of black pepper. See? So simple. It takes longer to properly clean out your leeks than it does to make the filling (seriously, make sure you pull back each layer and really get in there to remove all the sandy dirt that gets stuck between the layers).
Stuffed bread is delicious and fun to eat! These leek bolani are no different. They are bursting with delicious oniony leeks, which are brightened up with fresh and citrusy cilantro. Spicy green chiles are a must for me, though I don't let the heat overpower the bread. Though when it comes to the freshly ground black pepper, I add enough so that it plays across my tongue and warms my mouth as I eat the bolani. I'm seriously in love with these Afghan leek stuffed flatbread!
I hope you guys try them! They're perfect alongside my recipe for Lubya (Afghan Kidney Bean Curry). In fact, that's how we enjoyed them just last week! Served with plenty of coriander and red pepper chutney on the side, of course. Let me know if you make them! Leave a comment and/or rate the recipe below, tag me on Instagram (#thecuriouschickpea), or share with me on Facebook! Happy eating!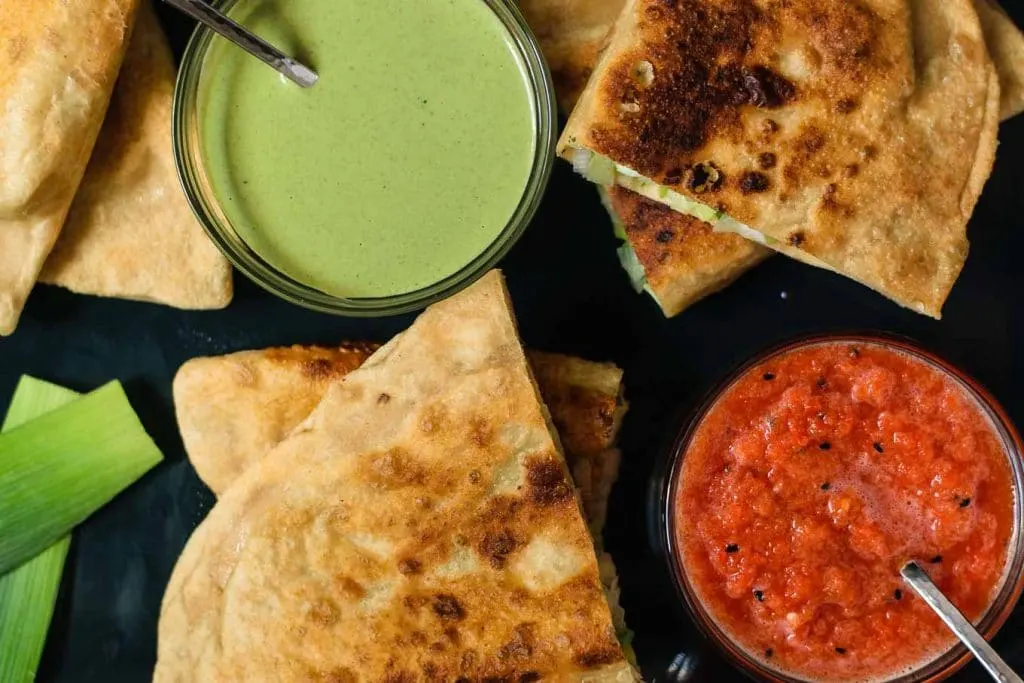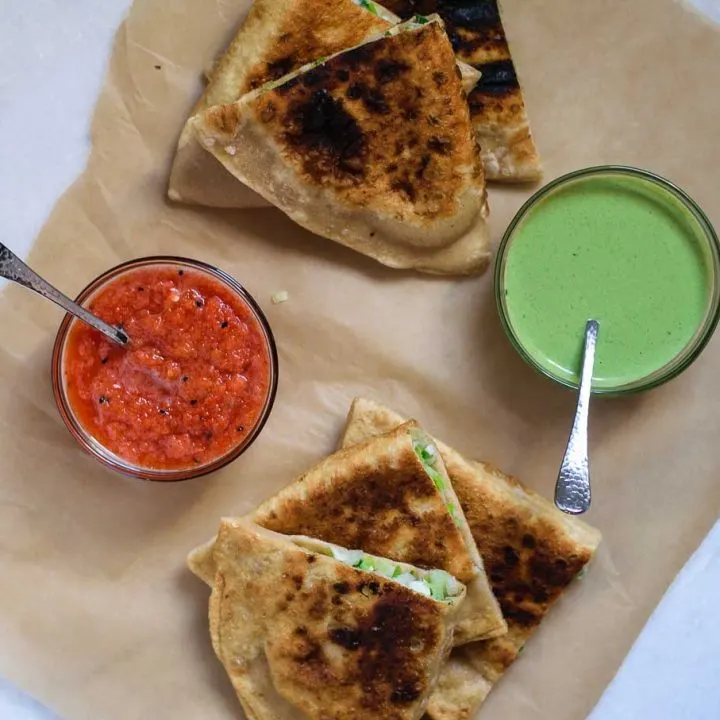 Leek Bolani
Leek bolani are a delicious oniony and peppery stuffed flatbread, hailing from Afghanistan. They are perfect served as a snack or appetizer, alongside a chutney for dipping.
Ingredients
Dough
1 1/2 cups (205 g) bread flour (or substitute all purpose)
1 tsp (5 g) salt
3/4 cups (175 mL) water, more if needed
1 tbsp (15 mL) vegetable oil
Filling
2 leeks* (~3/4 lbs), cut in half if leeks are skinny or quarters for thicker leeks, and thinly sliced, white and light green parts only (heaping 4 cups sliced)
1-2 hot green chiles, minced, more or less to taste*
1/4 cup cilantro, chopped
1 tsp salt
lots of freshly ground black pepper
Instructions
Make the dough
Whisk the flour and salt together in a large mixing bowl. Make a well in the center and add the water and vegetable oil. Mix with a wooden spoon to form a shaggy dough, then turn out onto a clean work surface.
Knead the dough for 5-10 minutes until you have a smooth dough. It shouldn't be sticky or tacky. If needed add additional water to the dough while kneading by wetting your hands then kneading that water into the dough until it's no longer sticky on the outside. Less likely is that you'll need to add more flour. Do so by adding a dusting of flour to the counter. Alternatively you can knead in a stand mixer on low speed.
Place the dough back in the mixing bowl and cover. Set aside to rest the dough for at least 30 minutes, the flour will finish hydrating and the gluten will relax during this period. If resting for longer than 1 hour, stick the dough in the fridge.
Prepare the filling
When you're about ready to roll and fill your dough, add the sliced leeks, hot green chiles, and cilantro in a large mixing bowl and toss to combine. Mix in the salt and lots of freshly ground black pepper.
To shape and fry the bolani
Divide the dough into 6 equal pieces. Leaving the dough in the covered bowl and working with one piece at a time, roll out on a clean surface until the dough is 7-8" in diameter. You shouldn't need to flour your surface as your dough is not sticky or tacky, but if it is sticking, add a very thin layer of flour.
Place about 1/2 cup of leek filling into half of the round of dough, leaving a 1/2" empty space around the edge. Fold the empty top half of the dough over the filling and press down to squeeze out air. Press the edges together to seal, pulling or stretching parts of the dough as necessary to create an even half moon shape. Place on parchment if making in advance, or a light dusting of flour on the counter. You want to avoid using too much flour as it will burn and smoke in the hot oil while the bolani cook. Repeat the process to prepare all the shaped bolani.
Heat a large heavy bottomed skillet (such as cast iron) over medium-low heat, adding enough oil to cover the bottom. When the oil is hot, add 1 to 2 bolani, depending on how many fit, into the pan. Fry about 2 minutes on each side, until golden brown. When done, place on a paper towel lined plate to drain while the others fry.
Serve hot with chutney or nondairy yogurt.
Notes
*If you have durum atta or chapatti flour, use that for the full amount of flour (total 2 1/2 cups).
*You could replace the bread or all purpose flour with additional whole wheat white flour if you'd like a completely whole grain bread.
*Wash your leeks thoroughly. Slice them in half lengthwise, and then really rinse the layers out well, peeling back each layer as needed, until completely clean. Leeks tend to be very dirty, and a lot of sandy dirt gets stuck in the layers.
*For the hot chiles, substitute a ground chili such as cayenne (start with 1/4 tsp for a mildly spicy filling) or crushed red pepper (start with 1/2 tsp for a mildly spicy filling), if desired.