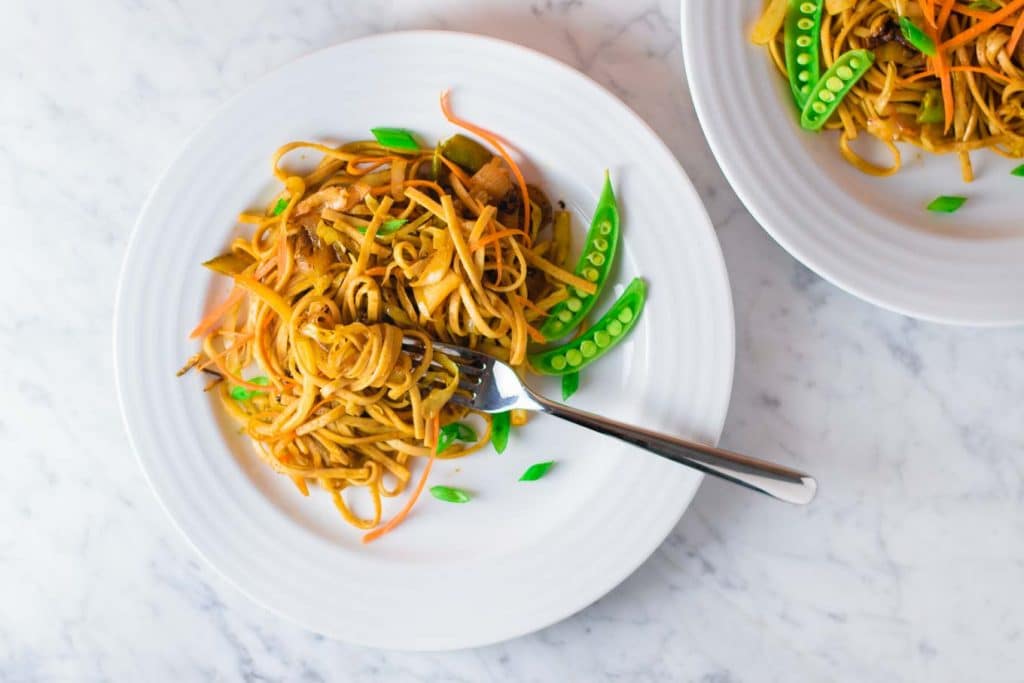 Have you ever had Singapore noodles? Contrary to the name, they are not from Singapore at all, but actually a popular dish served at Chinese restaurants! It's traditionally made with BBQ pork and shrimp, and has fish sauce in it, so it's not the most veggie-friendly dish to order out. But, an easy one to make at home! For me, the dish is all about the sauce–it's essentially a curry flavored Chinese noodle stir fry. Two of my favorite cuisines (I probably say that of all the cuisines), Indian and Chinese, in one flavor packed dish! 
So I can't say I make the most traditional version of this dish, since I don't bother substituting the meat or the fish sauce. The dish is also traditionally made with rice vermicelli noodles, which I may or may not use, depending on what I have in my pantry! This is a super versatile stir fry, and our go-to dish when we're running low on produce and pantry items and are feeling super busy or lazy. It's ready within 30 minutes AT MOST, is easily scaled up to feed more if you need (though I'd probably fry in batches in that case). We use whatever produce we have, or maybe just onion if we're out of everything else. For protein you could throw in fried tofu or seitan, chickpeas or soy curls. It doesn't seem to matter what you put in the recipe, as long as you have some kind of noodles and that sauce it comes out amazing!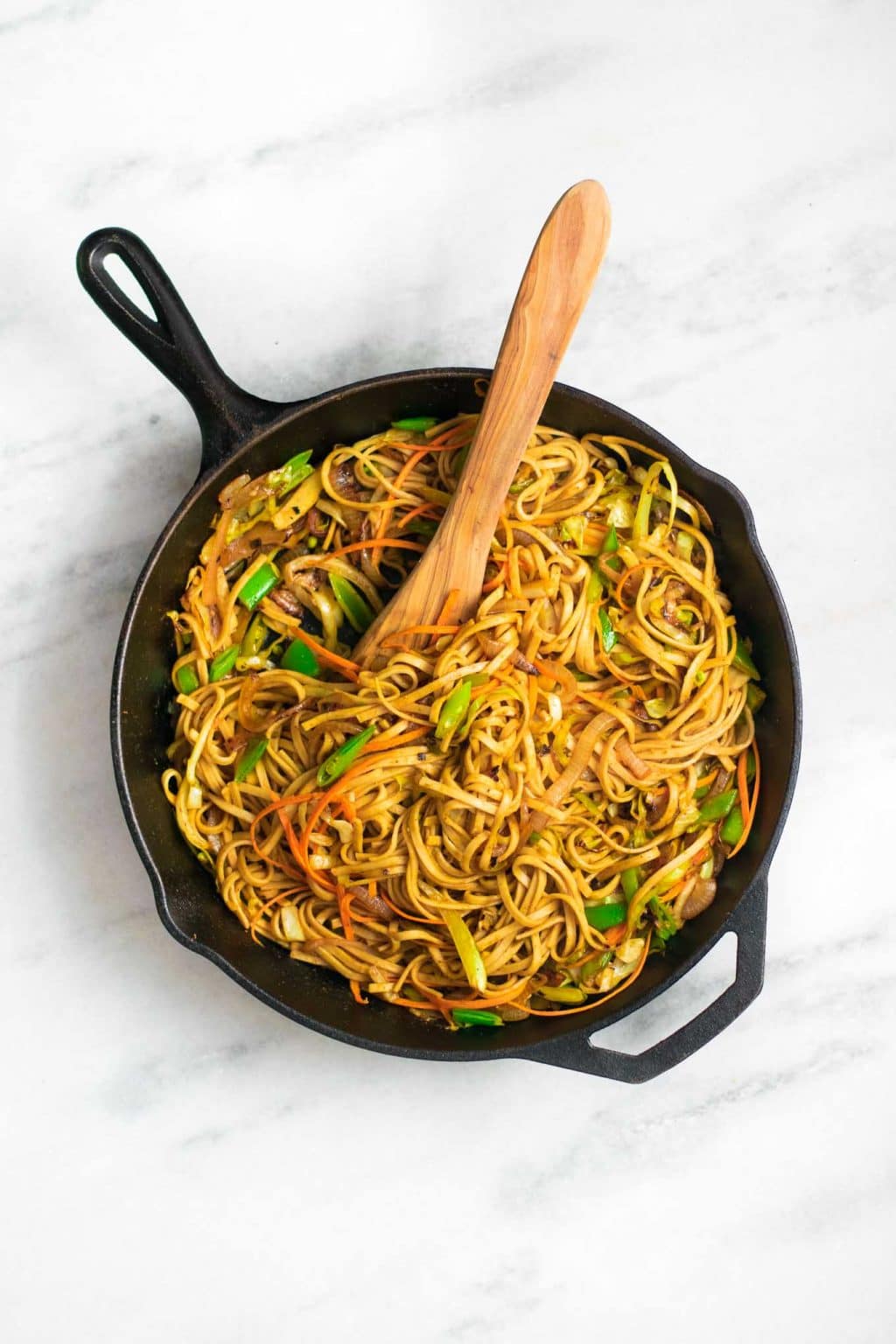 The sauce is a simple 6 ingredients. Soy sauce (use tamari if gluten free), shaoxing chinese cooking wine (you can substitute sherry wine or sherry vinegar), agave nectar (or maple syrup or just a bit of sugar), toasted sesame oil, an Indian curry powder, and white pepper. All of those ingredients can be found at your regular supermarket, with the exception of the Chinese wine, which would require a specialty asian grocery store. However, you can, and I have, substitute sherry for a delicious dish. But, if you do go out of your way to find shaoxing wine it's well worth it, plus you can use it in so many recipes, including my broccoli and tofu stir fry with black bean sauce! The sauce ingredients combine to form a super flavorful stir fry, best when combined with onion and a healthy dose of both garlic and chilies.
The final dish is super spicy (seed your chiles and/or use less if you don't like your food to be spicy–or add more chilies if you want it to be burn your mouth hot), super flavorful. Super quick to make, super adaptable to whatever you have in your pantry and fridge, basically all around super!
I hope you try making your own Singapore noodles and that the recipe becomes as much of a staple dish in your home as it is in ours! If you do make it, let me know and tell me what veggies you used! Leave a comment and/or rate the recipe below, tag me on Instagram (or #thecuriouschickpea), or share with me on Facebook! Happy eating!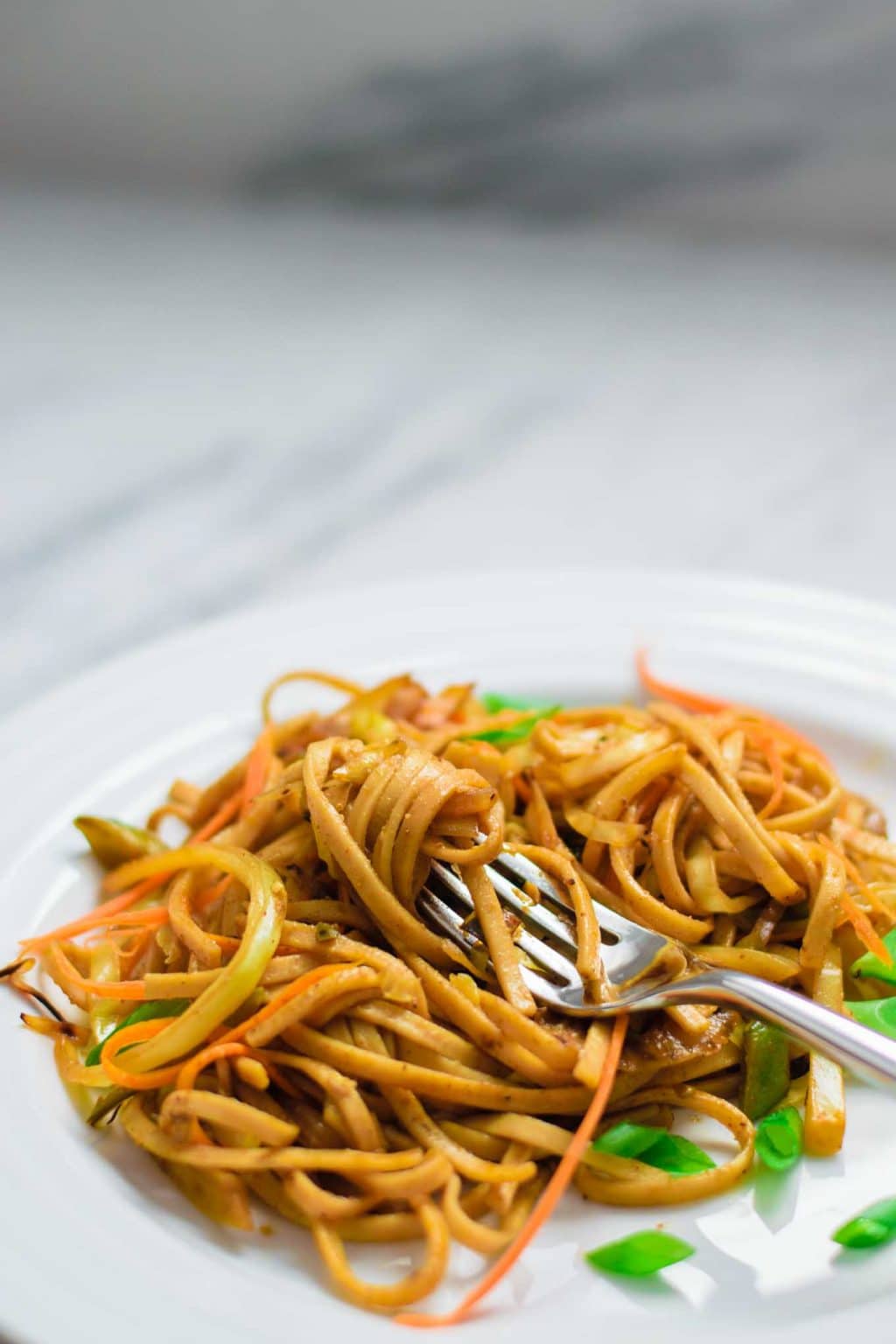 Notes:
Make the dish gluten free by using rice noodles and tamari for the soy sauce
Use whatever vegetables you have, we've made the dish with baby corn, broccoli, collard greens, cauliflower, green beans, kale, bok choy, zucchini, well, you get the picture. Just make sure to add veggies you want to cook a little more when you'd put in the cabbage and veggies you want barely cooked in at the time of the sugar snap peas.
Add some protein to this dish if you'd like. Stir fry some shredded tofu, add some seitan or beans. Crumble in some tempeh. It's really up to you!
Vegan Singapore Noodles
A vegan take on the popular Chinese stir fried noodle dish spiced with curry powder.
Ingredients
1 8-10 oz package udon noodles*
2 tbsp soy sauce
1 tbsp shaoxing chinese cooking wine, or sherry
2 tsp toasted sesame oil
1 tsp agave nectar
2 tsp curry powder
¼ tsp white pepper
1 tbsp oil
1 medium onion, thinly sliced half moons
3-4 cloves garlic, minced
2 green chiles, seeded if desired, minced
3 cups green cabbage, thinly sliced (~1/4 large head)
pinch of salt, or more to taste
1 cup sugar snap peas, sliced
1 carrot, julienne cut
scallions, for garnish, optional
lime wedges, to serve
Directions
Cook pasta according to package directions. Drain and set aside.
In a small bowl or a liquid measuring cup, mix together the soy sauce, chinese wine, toasted sesame oil, agave nectar, curry powder, and white pepper. Set aside.
Heat a large cast iron skillet or a wok over medium-high heat. Add the oil and onion when hot and fry 4-5 minutes, stirring frequently, until the onion is softened and lightly charred. Add the garlic and chili and fry for 30 seconds, stirring constantly.
Add the cabbage and a pinch of salt and fry for 3-4 minutes, stirring frequently, until the cabbage is wilted and a bit softened. Add the sugar snap peas and carrots and cook for about 2 minutes.
Add the noodles and the sauce, and fry for 1-2 minutes, stirring to distribute and coat everything evenly with sauce. Taste and adjust seasoning if necessary.
Squeeze fresh lime juice to serve and garnish with sliced scallions.
Notes
*any asian noodle is delicious in this stir fry. I've used udon, ramen, soba, and rice noodles on various occasions. It would be tasty with a whole wheat linguini as well!