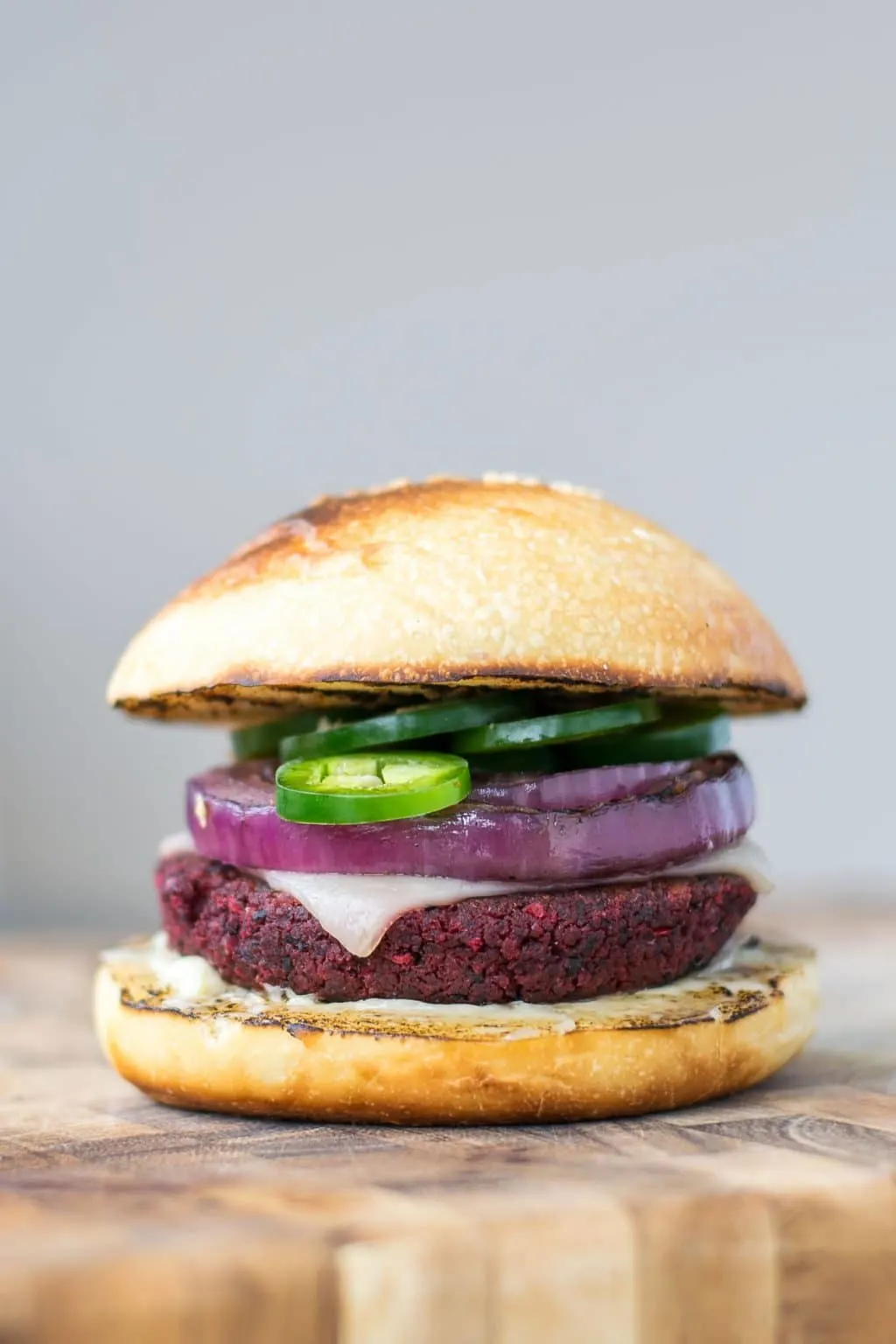 I would hazard a guess that every vegan and vegetarian and most non-veggie eaters have had a black bean burger before (at least in the US). They are certainly one of the most common veggie burgers offered at restaurants and in stores. And for good reason! They're delicious, and a vegetarian classic. There might a million and one black bean burger recipes, but this one is 110% worth making. They are healthy and super delicious and indulgent tasting. These black bean burgers are made with roasted beets, southwestern spices, and have a roasted hot (sorta) pepper kick.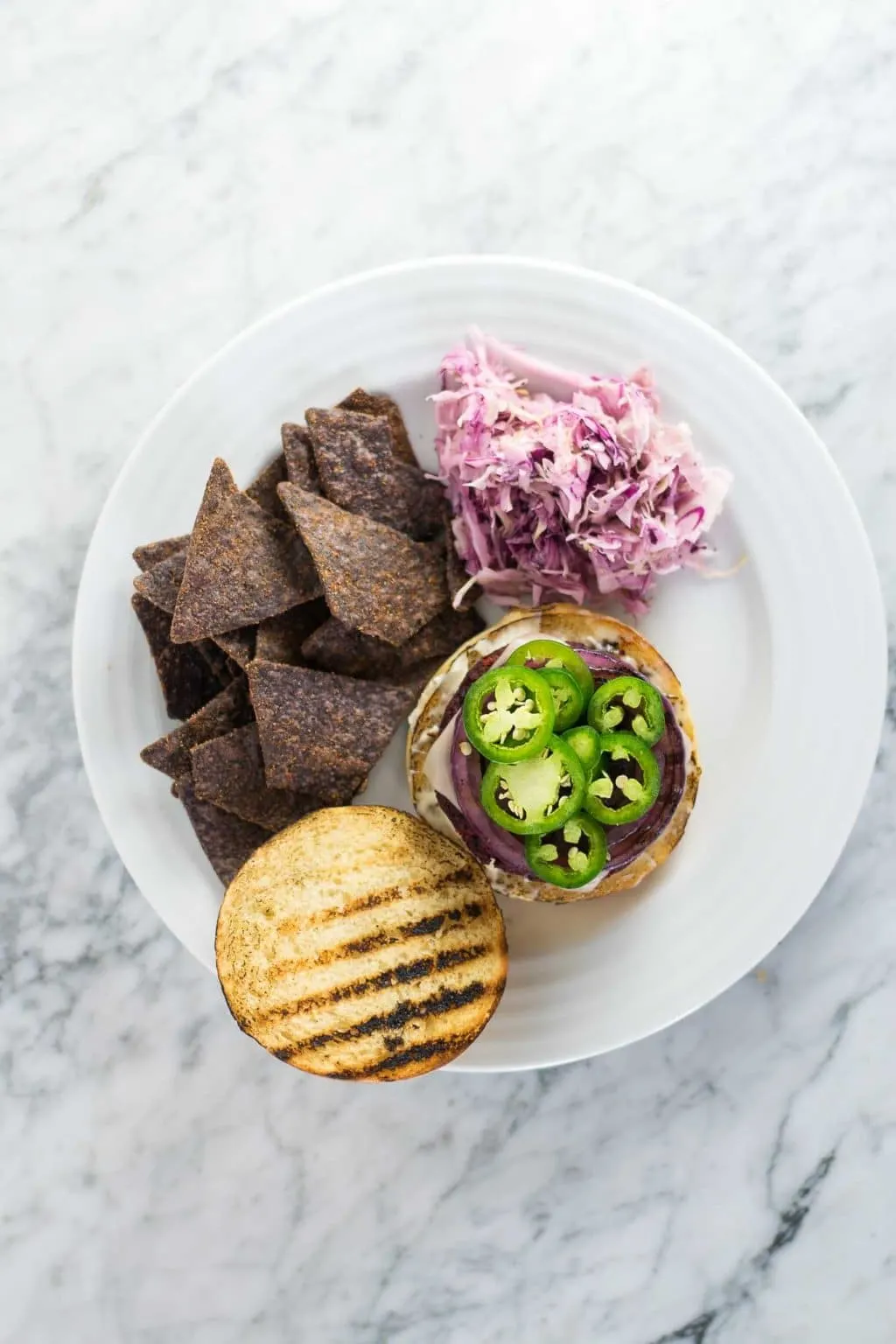 Stuffed with black beans (duh), beets, and brown rice, these burgers are a powerhouse of good nutrition. Beets are chock full of nutrients, and are particularly good sources of folate, which stimulates the metabolism and is a super important nutrient for pregnant women, and manganese, which is an essential nutrient in many bodily processes. Beets are also good sources of dietary nitrate, which improves hearth health and blood pressure, and is believed to lower the risk of some forms of cancer. There are even more potential health benefits to beets, but I'll let you follow this link for more information. Black beans are also super healthy. Like most beans, they contain a ton of fiber which helps reduce constipation and promote regularity, as well as encourage the growth of healthy gut bacteria. Black beans contain so many important vitamins and minerals–for bone health, lowering blood pressure, assisting in weight loss, lowering the risk of heart disease, and more. Similarly, brown rice is also a great source of dietary fiber and essential nutrients, and it's believed to lower the risk of diabetes.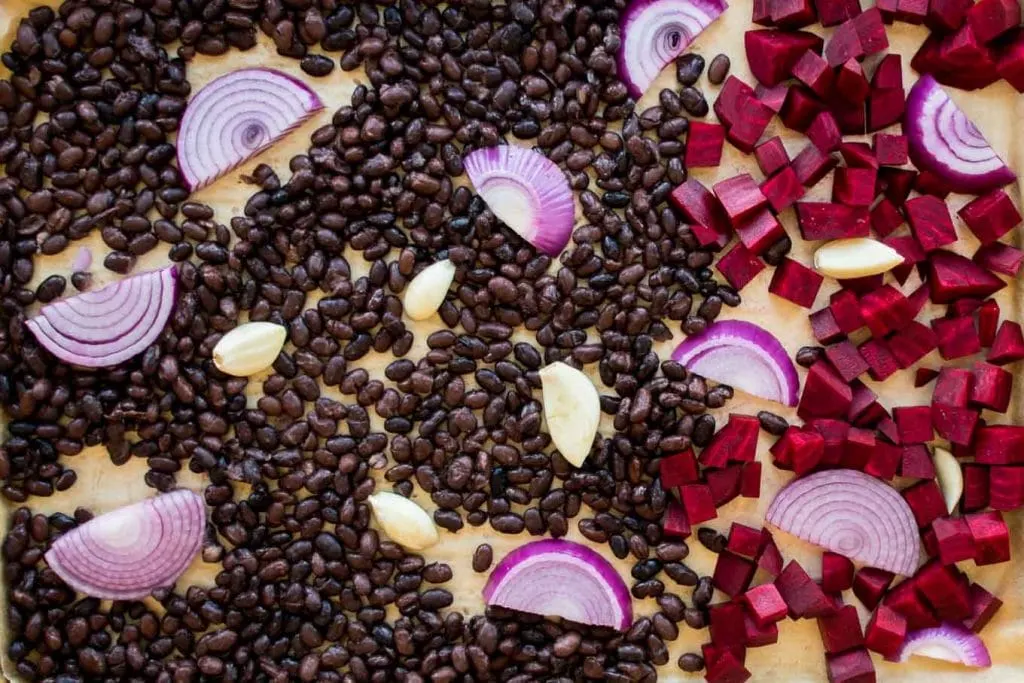 I don't want to bore you with more information, just believe me when I say, these burgers are powerhouses of nutrition. That being said, they could be terrible for you and I'd still eat them because they are so. freaking. good (and I have no willpower). They don't taste like a health food in the slightest! Beans and beets are roasted alongside garlic and red onion for the deepest and richest flavors. Poblanos (or jalapeños) are roasted as well for a milder heat and mildly smokey flavor. The natural flavors of the vegetables and beans barely need any seasoning, but a little ancho chili powder (or regular chili powder if that's all you have) and cumin enhances and adds to the southwest flavor. Brown rice works with bread crumbs to hold everything together, along with a little vegan mayonnaise as an added binder.
Can we take a moment to appreciate the fact that these burgers only need TWELVE ingredients? Honestly, I'm not sure how something so flavorful can come out of such a short ingredient list. The burgers are easy to make. Most of the ingredients get roasted before mixing, then you just have to whip them together in a food processor and let sit for 30 minutes to allow the bread crumbs or flour to hydrate before shaping. Once shaped the burgers can be pan fried right away, or placed in the fridge, with squares of waxed or parchment paper layered between them, for several days. They're best cooked slowly over a lower heat, which means that the vegan cheese (if using) will have plenty of time to melt when you flip them over.
If you need a burger bun recipe for these burgers, try my homemade pretzel buns, which are a cross with a milk bun for a softer bun, perfect for veggie burgers. Looking to host a burger party? My stuffed mediterranean veggie burgers make a great 2nd option. I know from experience.
I really hope you guys try this recipe. And if you do, let me know how you like it! Leave a comment and/or rate the recipe below, tag me on Instagram (or #thecuriouschickpea), or share with me on Facebook!


Notes:
For gluten free option: you can use gluten free breadcrumbs, or a gluten free flour. I did test them using chickpea flour (besan) for the bread crumbs, and baked the patties at 375 ºF for 15 minutes on one side, then flipped for an additional 10 minutes. At this point that patties are cooked but can be reheated on a pan or grill. The chickpea flour version works very well to hold the patties together, but you do end up with a slightly different texture and taste.
You can substitute another grain for the brown rice. I have made these with quinoa and they worked nicely, though I do like the sticky quality of rice as it is processed.
I have not tested these burgers on an outdoor grill as I don't have one. I believe they would work, but I would precook them on a skillet before grilling to be safe. Or I would put down some aluminum foil before grilling them. If you try grilling them please report back!
To save a step you can use fresh jalapeños without roasting or use jarred jalapeños and dice them right into the mixture.
I used Parmela Creamery pepper jack style slices on the burgers in these photos. We really enjoyed this vegan cheese.
Vegan Southwestern Black Bean Burgers
The flavor is amped up in this mouthwatering spicy black bean and beet burger
Ingredients
1 large poblano or 2 jalapeños*
2 tbsp olive oil
2 1/2 cups (25 oz can) black beans, rinsed*
1 small red onion (1/2 lb) cut into 1/2" half moons
4-6 cloves garlic, smashed and peeled
1 1/2 cups (1/2 lb) beets, peeled and cut into 1/2" dice
1 tsp ancho chili powder
1/2 tsp ground cumin
1 tsp salt, or to taste
2 tbsp vegan mayo
1 1/2 cups (5.5 oz) cooked brown rice
1 1/2 cups (5 oz) bread crumbs, panko style, gluten free if desired
Instructions
Turn your oven on to a high broil.
With the oven rack placed ~8" from the top burner, broil your poblano or jalapeño peppers until the skin is charred, turning every few minutes (usually takes ~8 minutes). Remove the pepper from the oven when the blackened and put in a covered bowl or a paper or plastic bag to steam, setting aside to cool. Once cool, peel off the blacked skin, cut the tops off and deseed, then roughly chop.
Turn your oven to 350 ºF.
Place your black beans, onion, garlic, and beets onto a parchment lined, large, rimmed baking sheet. Drizzle the oil over top along with the ancho chili, cumin, and teaspoon of salt. Toss to coat and spread into a single layer (some overlap ok). Bake for 30 minutes, stirring once halfway through.
When cooked the beets and onion will be soft, and the black beans will have dried out slightly, splitting their skins. Set aside to cool.
Once cool enough to handle, reserve ~1/2 cup of the black beans (don't stress if you grab a few beets along with them).
In a food processor combine the cooked rice, the roasted beans and beet mixture (except reserved portion), chopped roasted pepper, and mayo. Pulse the mixture to combine until it begins to will clump. Test by trying to form a patty, it should hold together easily and be quite moist and probably a bit sticky. There should still be some texture left in the mixture, but you won't see large chunks of anything. At this point, taste for salt and seasoning and adjust if necessary. Then, add the bread crumbs and the reserved black bean mixture. Pulse just until equally distributed but barely chopped up.
Let the mixture hydrate the bread crumbs for at least 30 minutes before using.
Once the breadcrumbs have hydrated (they will have turned pink from the beets), form your patties. Use a 1/3 cup measure and form 3 - 3 1/2" diameter burgers. Use a cookie cutter or ring mold if you have one for clean edges. If forming the patties in advance, keep them separated with parchment or wax paper when stacking.
To cook the burgers, heat a skillet or grill pan over medium-low heat. Cook for 4-5 minutes on each side, adding vegan cheese on the second side if desired (cover the pan to steam and melt).
Serve with hamburger buns, and possible toppings include (but are not limited to): grilled or caramelized onions, avocado, sliced fresh or jarred jalapeño, vegan mayo, and hot sauce. Enjoy!
Notes
*use poblanos for a milder burger, jalapeños for a spicier burger.
*28 or 30oz can of black beans should work just fine as well