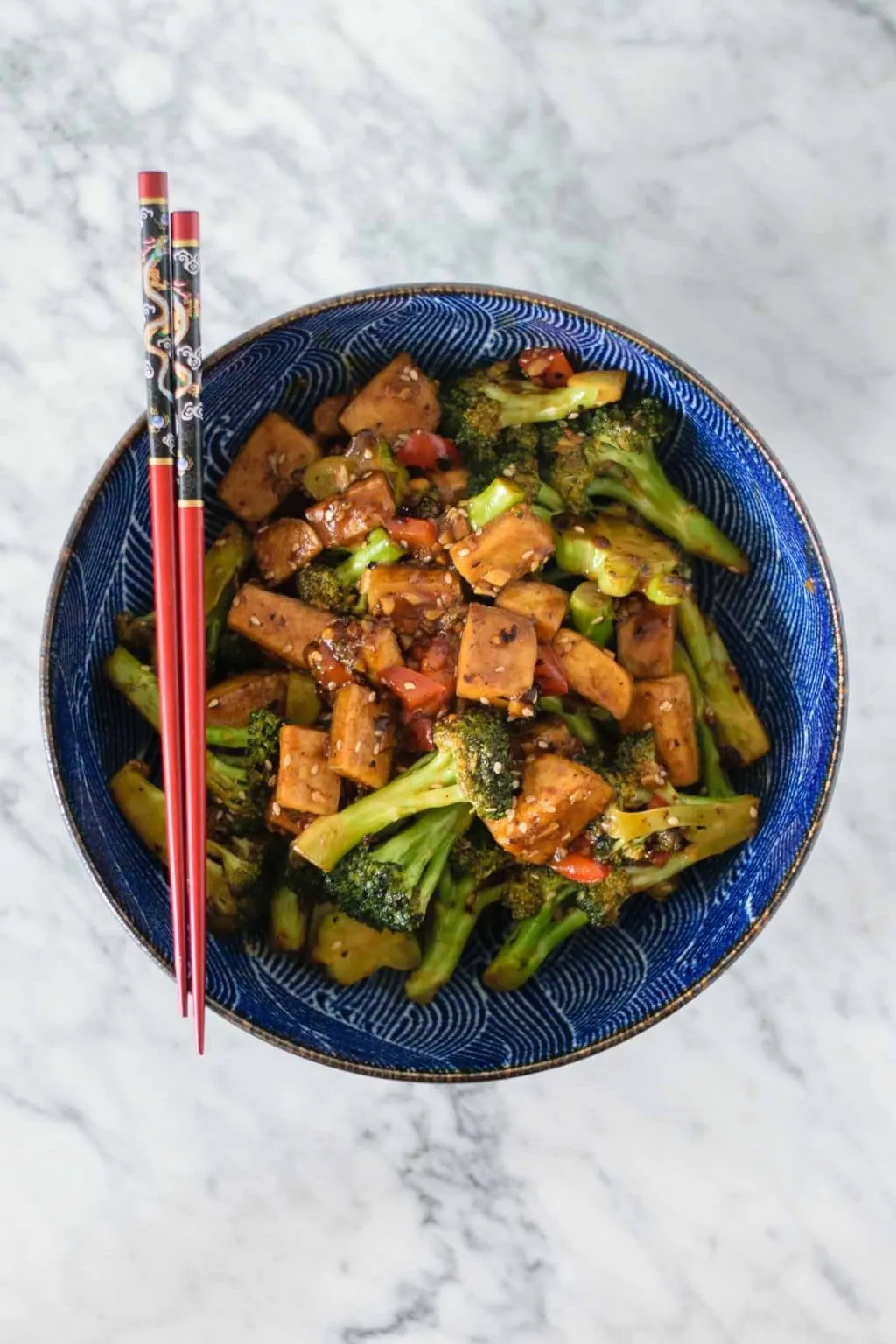 What's your favorite dish to order at a Chinese restaurant? I'm really bad at picking favorites, but any dish that includes a black bean sauce is definitely up at the top of my list. I love that it's a bit spicy, and I love the depth of flavor you get from the fermented black bean paste. My biggest problem with restaurant versions is that they tend to be rather heavy for every-day sort of eating.
This recipe for making broccoli and tofu with black bean sauce at home has all the flavor of Chinese take out and none of the guilt. The tofu is baked for a chewy texture, instead of deep fried. There's very little oil in the sauce and used to stir fry, so no pooling of oil will happen here! Broccoli and the tofu soak up the sauce and diced red bell pepper provides a complementing sweet, juicy, and crunchy flavor and texture.
The sauce is super easy to make simply stir all the ingredients together with a fork, and only requires two specialty items: black bean paste, which can be found at most well stocked international sections in grocery stores, and Chinese cooking wine. Chinese cooking wine is available at Asian grocery stores, or some international sections of regular supermarkets. You could probably track the ingredient down on amazon as well. In a pinch you could substitute sherry, or if you would like you could try substituting mirin (Japanese rice cooking wine), which is found more easily at grocery stores in my experience than its Chinese counterpart.
The sauce is so delicious! It's super flavorful, with lots of umami from the black bean paste, soy sauce, and cooking wine. Aromatic toasted sesame oil adds another layer of flavor and ties in perfectly with the sesame seeds tossed in at the end of the stir fry. Hot chile paste can be used to taste to get the level of spiciness you prefer. For this dish, I like it rather spicy! A bit of brown or coconut sugar helps balance this heat and the saltiness of the sauce while some freshly squeezed citrus helps brighten the flavors and ties them together. At the same time, vegetable broth and corn starch combine with the other ingredients to create a thick sauce that clings perfectly to the veggies and tofu. It certainly makes for a delightful sauce!
If you like Asian stir fries and flavors check out my recipes for tamarind glazed tempeh stir fry and miso-hoisin glazed tofu and baby bok choy or maybe tofu and udon noodle almond butter stir fry.
And if you try this recipe for broccoli and tofu with black bean sauce, let me know! I love seeing & hearing about it when you guys make my recipes! Leave a comment and/or rate the recipe below, tag me on Instagram (or #thecuriouschickpea), share with me on Facebook!

Notes:
Store bought black bean sauces can vary a lot in how spicy they are. Because of this you should taste your sauce before adding any chile paste so you can make it to your personal spice-level liking (keeping in mind it is very concentrated in flavor before adding it the stir fry)
For a quicker and gluten-full version, use 8oz of seitan instead of tofu, and just cut into bite sized pieces and stir fry in 1 tsp of oil for 3-5 minutes before removing it to cook the vegetables. Then add it in again when the tofu is added in the recipe. It's very good this way (and saves a good chunk of time)!
You can substitute other vegetables in this recipe, it certainly is versatile! Just keep in mind different vegetables may have different water content and you'll want to decrease the vegetable broth, increase the cornstarch, or just have a slightly less thick sauce.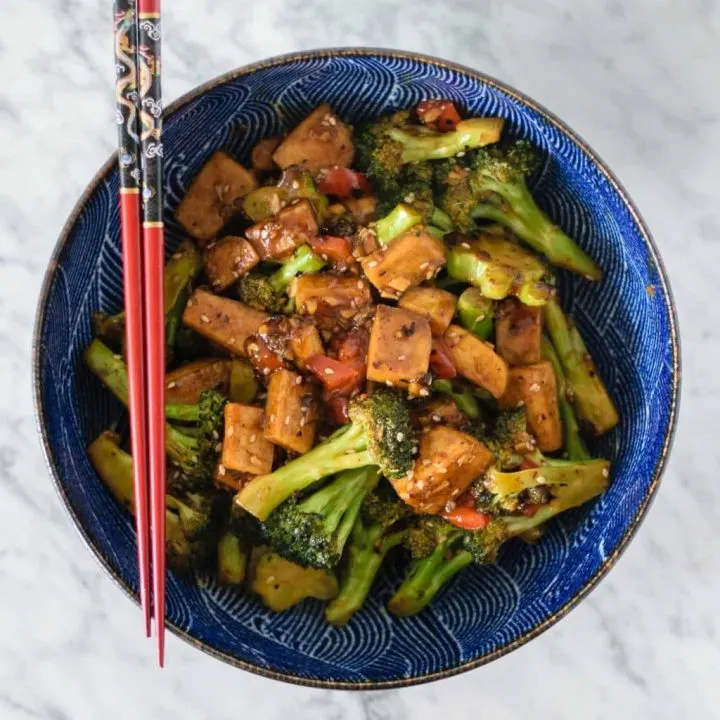 Broccoli and Tofu with Black Bean Sauce
Broccoli and Tofu are stir fried with a delicious Chinese black bean sauce.
Ingredients
Black Bean Sauce
1/4 cup vegetable broth
2 tbsp Chinese cooking wine
2 tbsp lime juice (~juice from 1 lime)
1 1/2 tbsp black bean sauce
1 tbsp soy sauce
2 tsp toasted sesame oil
1/2 - 1 tsp chile paste, to taste
2 tsp brown sugar or coconut sugar
2 tsp corn starch
Stir Fry
1 lb tofu, cut into bite sized rectangles
1/4 cup corn starch
1/2 tsp salt
1 tbsp peanut or high heat oil, divided
6 cups (~1 lb) broccoli, cut into florets and stems sliced
1/2 cup (~1/2) red bell pepper, diced
3 cloves garlic, minced
1 1/2 tsp fresh ginger, minced
sesame seeds for garnish, optional
jasmine rice, for serving
Instructions
To prepare the sauce
Mix together all ingredients except the corn starch and chile paste in a small bowl or liquid measuring cup. Taste and add chile paste as desired, then add the corn starch and mix everything together. Set aside.
To make the stir fry
Preheat the oven to 400 ºF.
In a medium mixing bowl toss together the cubed tofu, corn starch, and the salt. Spread in a single layer on a lightly oiled parchment lined baking sheet. Bake for 20-25 minutes until the outside is a bit crispy. Set aside. Prep the rest of your ingredients while the tofu is baking.
Before beginning the stir fry, have all your ingredients prepped and ready to go, including the baked tofu. Then heat a wok or large cast iron skillet over medium-high heat.
Add 2 tsp of oil and toss in the broccoli when the oil is hot. Stir fry for 3-4 minutes until bright green and lightly charred. Add the bell pepper and stir fry for 1 minute. Push the broccoli and bell pepper to one side of the pan, and add the remaining 1 tsp of oil. Then immediately add the garlic and ginger. Let sizzle for 10-30 seconds then toss to distribute. Add the tofu and stir fry for about 1 minute to heat back up. Then add the sauce and let it cook down for around 2 minutes until everything is thickly coated with sauce. Then add the sesame seeds, if using. Toss and serve immediately with some rice.
Recommended Products
As an Amazon Associate and member of other affiliate programs, I earn from qualifying purchases.