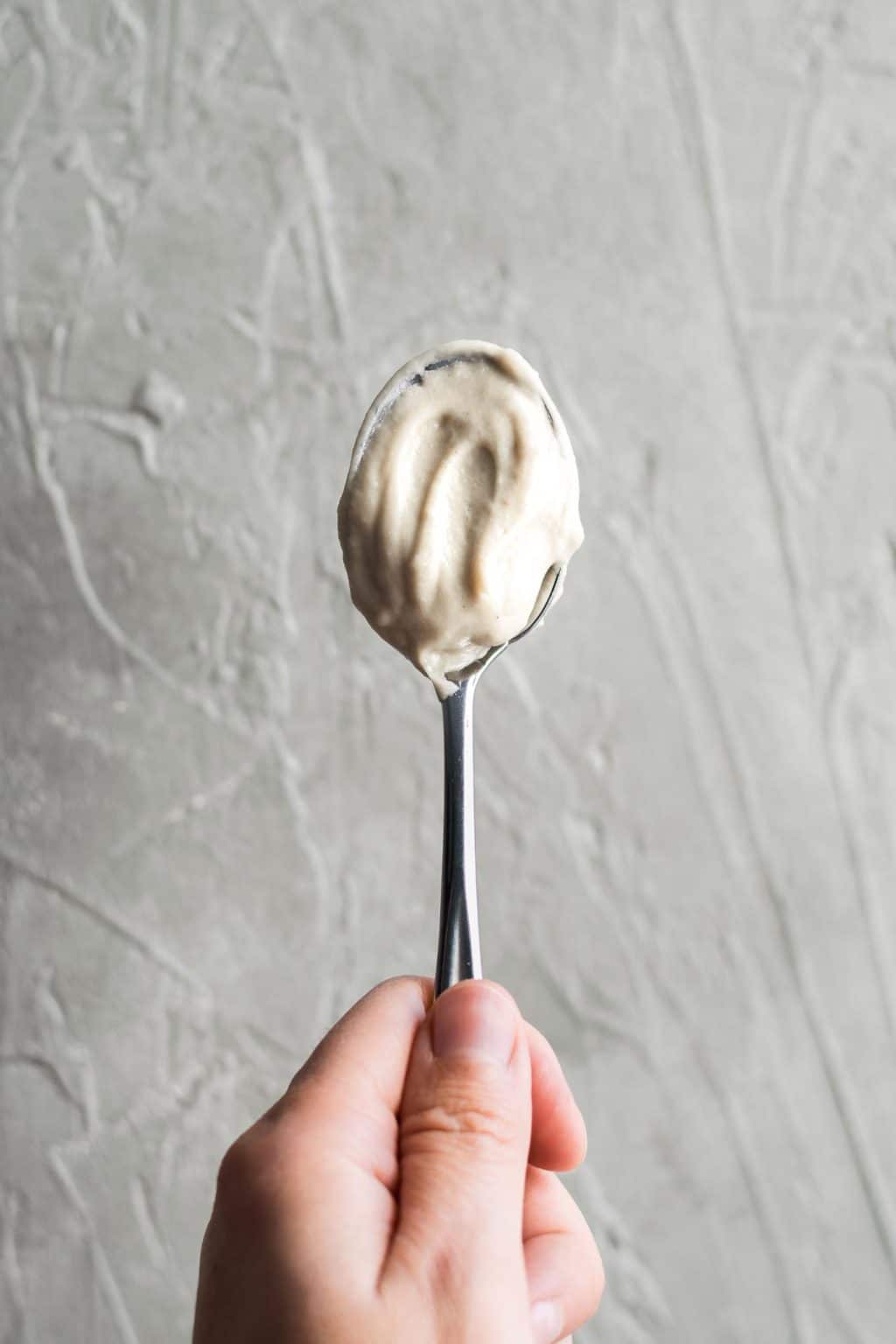 I'm completely enamored of this 8-ingredient, 15-minute vegan garlic white sauce. I first made this completely pantry friendly white sauce to use as a base for pizza. And given my love for pizza it's such a big surprise, I know 😉 . It was a welcome break from my usual red sauce and so versatile and delicious that I've kept it stocked in the fridge ever since.
Beyond being a delicious creamy base for your pizza toppings, it's perfect when tossed in pasta, slathered on bread for a sandwich, or thinned slightly and drizzled as a dressing for a bowl. Let your imagination and your taste buds run wild!
This white sauce whips up in no time! Cashews blend with a healthy shot of garlic, salt, nutritional yeast, and water for a creamy, garlicky, savory milk. The sauce is then thickened using a roux, similar to how you'd make a béchamel.
A roux is simply flour (or starch) cooked in fat (both vegan butter and oil work!) and it's used to thicken liquids. It gives the sauce a more traditional texture than just using a higher cashew:water ratio, as this is exactly how the original dairy-based versions are made.
Cashews are often the nut of choice because they blend up ultra smooth, especially when you have a high powered blender, with no need to strain the milk. If you just have an average blender soaking the cashews beforehand helps.
You can either soak the cashews in cold water for 2 hours (or up to 24h in the fridge) or 30 minutes in boiling hot water. The natural starches in nuts also thicken a bit when heated, assisting the flour in creating a thick cream.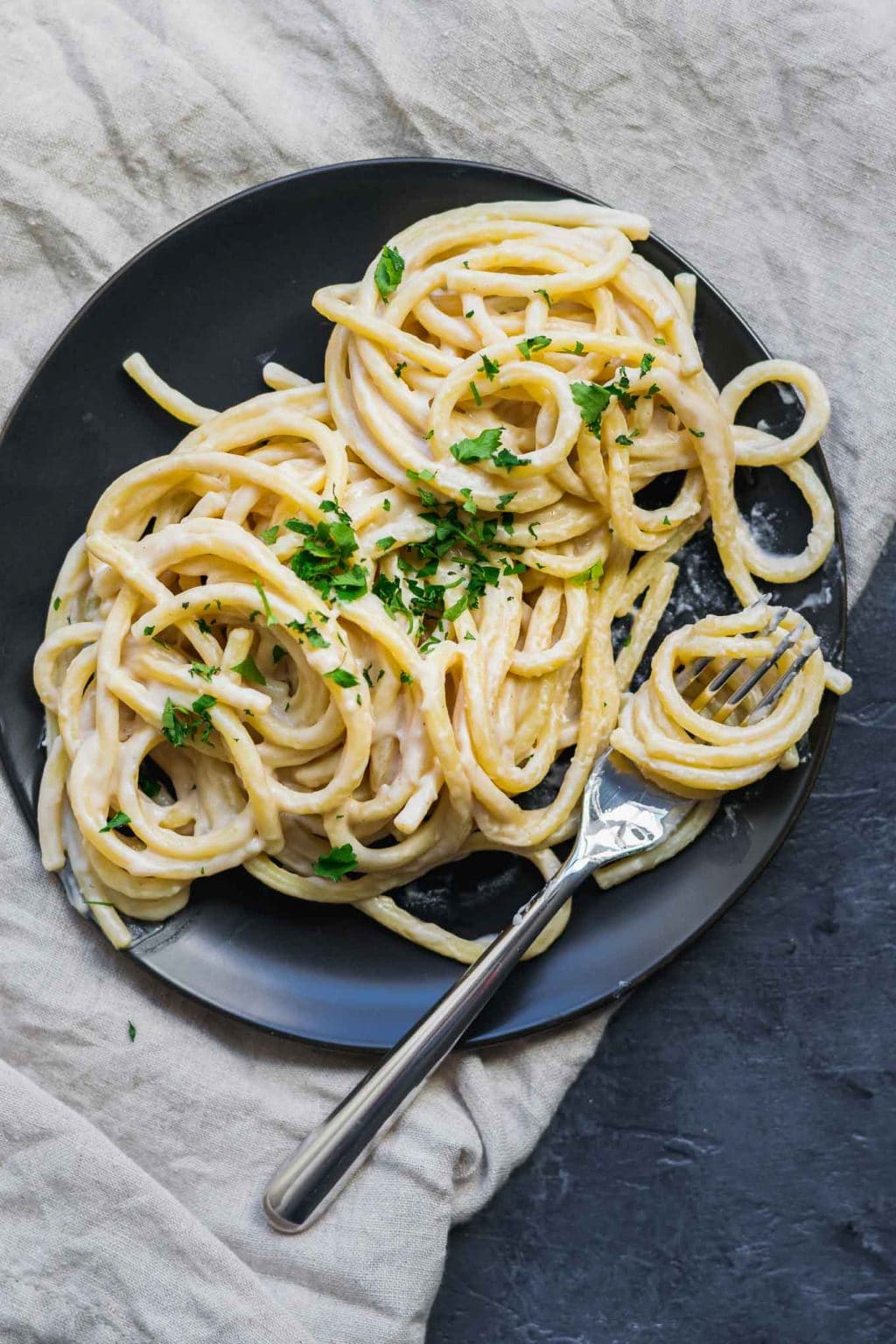 I find that 3 cloves of garlic gives this sauce a nice garlicky flavor without being too overpowering. You can always add more garlic if you're not a vampire a garlic fiend.
Nutritional yeast acts as a substitute for parmesan in traditional dairy white sauces. It has a delectably cheesy and nutty flavor. Plus you get a bonus dose of vitamins (and that all important B-12–assuming you get the B-12 enriched nutritional yeast, and you should, so double check that)! Trust me, vitamins never tasted so good.
The only other seasoning this garlic white sauce needs is salt and pepper! I love the flavor of black pepper and don't mind the flecks so often use that, but white pepper will sub beautifully (start with 1/4 tsp) and be fleck-free. [I should probably not use the word fleck when talking about food, it's a bit on the unappetizing side. Or maybe it's just me? Sometime ask me to tell you the story about eating corn flecks (corn flecks is how they pronounced it, it has the same name) in India and the 'flecks' we found in our cereal… actually don't it's gross.]
Anyway, put in your requests for pizzas involving white sauce! Because I'm ready to make them and eat them and share them with you guys! And let me know how you use this vegan garlic white sauce. It's so quick and easy to whip up so I really hope you do!
Check the notes below for substitutions for dietary restrictions (note: the coconut milk version works well for blender restrictions as well) and as always let me know if you have any questions!
As always, don't forget to tag your recreations @thecuriouschickpea and #thecuriouschickpea on Instagram, or share with me on Facebook! Happy Creating!

Notes:
To make gluten free: use arrowroot, tapioca starch, or a gluten free flour blend instead of the all purpose flour. Note: if you're using starches don't try to toast them, just cook for ~1 minute and continue.
For a speckle-free sauce use white pepper instead of black pepper.
For a nut free version: substitute 2 cups coconut milk for both the cashews and water.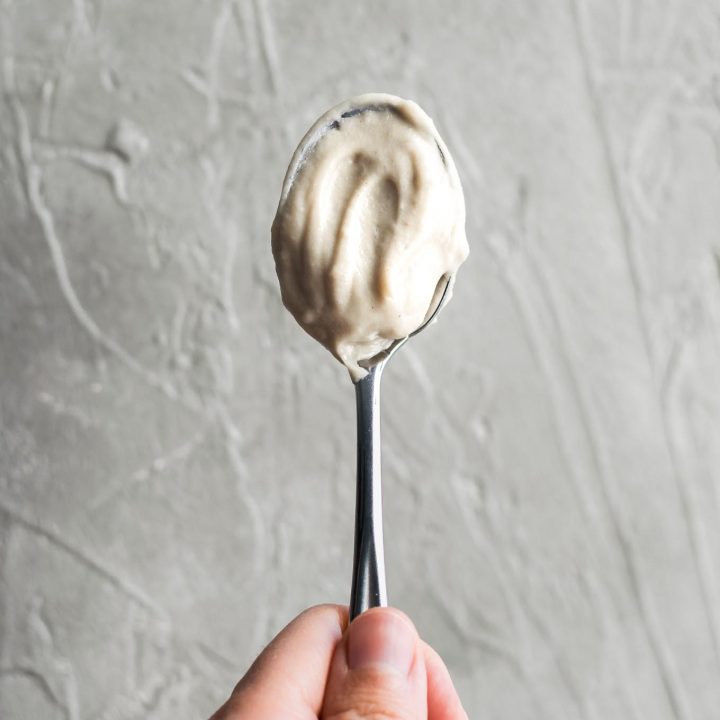 Vegan Garlic White Sauce
A creamy white sauce that's perfect as a base on pizza, as a sauce for pasta, or a dressing for a bowl-style meal, and more! A cashew cream and roux-based vegan sauce.
Ingredients
1 cup (130g) cashews, soaked in cold water for 2 hours and drained
3 cloves garlic, peeled
2 cups (480 mL) water
1/2 tsp (3g) salt
1/4 cup (26g) nutritional yeast
2 tbsp (28 g) vegan butter
3 tbsp (30g) all purpose flour
freshly ground black pepper
Instructions
Add the cashews, garlic, water, salt, and nutritional yeast to a blender. Blend until smooth and creamy, scraping down as necessary.
Heat a heavy bottomed pot over medium-low heat and add the butter. Let it melt then add the 3 tablespoons of flour. Stir to mix and let cook for 3-4 minutes until the flour is lightly toasted and a shade darker.
Slowly stream in the garlic cream, whisking as you pour so it doesn't clump up. Add the black pepper and whisk while the cream comes to a simmer. Let simmer until thickened, about 3-5 minutes, then remove from heat. If the mixture remains a little clumpy, just use an immersion blender or an upright blender and blend to smooth.
Store the garlic cream in the fridge for up to a week.