This vegan garlic white sauce is pantry friendly and easy to make. It only requires 8 ingredients and about 15 minutes and is the perfect thick and creamy texture. I like to use it as a white sauce pizza base, it's a great change of pace from the usual red sauce.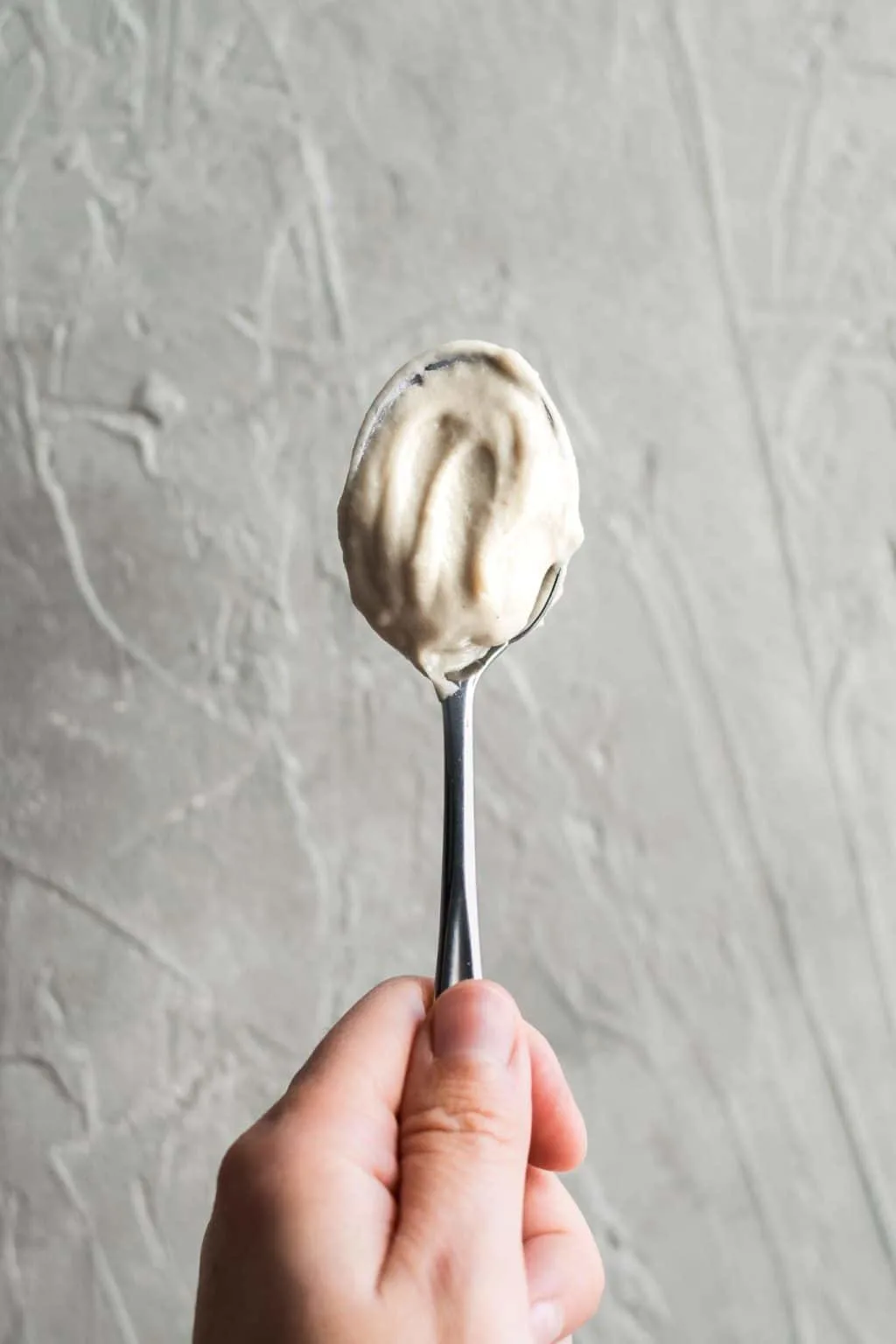 This recipe is the base of some of my favorite pizzas, including:
I also use it as a sandwich spread, or thin it to use as a dressing for a savory grain bowl. I have even adapted it to use on pasta in my vegan creamy garlic noodles.
When it come to uses of this versatile sauce, let your taste buds run wild!
How to make vegan garlic white sauce:
This white sauce whips up in no time!
You combine cashews, garlic, salt, nutritional yeast, black or white pepper, and water in a blender and blend to get a garlicky, savory cream.
Depending on my mood, sometimes I like to add granulated garlic as well for added potency. I find that 3 cloves of garlic gives this sauce a nice garlicky flavor without being too overpowering. You can always add more garlic if you're not a vampire a garlic fiend.
Nutritional yeast acts as a substitute for parmesan in traditional dairy white sauces. It has a delectably cheesy and nutty flavor.
You can also use a store bought vegan parmesan. This keeps the color of the sauce whiter, and tastes more cheesy. I love it both ways, with nutritional yeast Back when I first wrote this recipe, store bought vegan parm didn't really exist/was hard to find!
When deciding which kind of pepper to add (if any), keep in mind black pepper will give the sauce some speckling, while white sauce will be visually undetectable.
The cream is thickened using a roux, similar to how you would make a béchamel.
A roux is the method of cooking flour in butter (or olive oil) until toasted, then any liquid added is thickened by the cooked flour.
The roux gives the sauce a more traditional texture, as this is how dairy based versions of white sauce are made.
When adding the garlic cream, make sure to pour it in slowly while whisking the entire time. This will prevent lumps from forming.

Blending the cashews:
I love cashew cream sauces because the cashews blend up ultra smooth. This is especially true when you have a high powered blender like a Vitamix or Blendtec.
When using an intense blender like those, you can add raw cashews straight from the pantry and get a super creamy sauce. If you have a regular blender, you might want to help it out by soaking the cashews in water to soften them.
Using a homemade cashew milk makes for a thicker sauce than using a store bought cashew milk. Your homemade milk will have a much higher ratio of nuts to water and make for a richer sauce.
Cashew milk made at home doesn't need to be strained through a nut milk bag because it can blend up so smoothly. This means the natural starches in the cashews will be in the sauce and help it thicken even more.
How to soak cashews:
You can either:
Cover the cashews in cold water for 2 hours (or up to 24h in the fridge)
Pour boiling water over the cashews to cover and let sit for 30 minutes
Or, boil the cashews in water over the stove for 10-15 minutes.
No matter which method you choose, drain out the soaking water and add fresh cold water to the blender.
Substitute for cashew cream:
If you are allergic to cashews, try using hulled raw sunflower kernels. These have a delicious nutty flavor, and make a nice cream sauce!
If you want to skip using a blender, you can use full fat canned coconut milk (use 2 1/2 – 3 cups to sub for the cashews and water). Alternatively, there are vegan 'heavy cream' products you can buy at the store, and you can substitute that instead. Make sure it is unsweetened and appropriate for savory applications!
To make the vegan garlic white sauce gluten free:
Instead of using all purpose flour, choose a gluten free all purpose flour blend or substitute arrowroot starch or tapioca starch for the flour. Any of these options will thicken the sauce beautifully.
If you choose a starch, the roux will not toast like all purpose flour does. Instead cook for a couple of minutes so the starch isn't raw, then slowly add the liquid.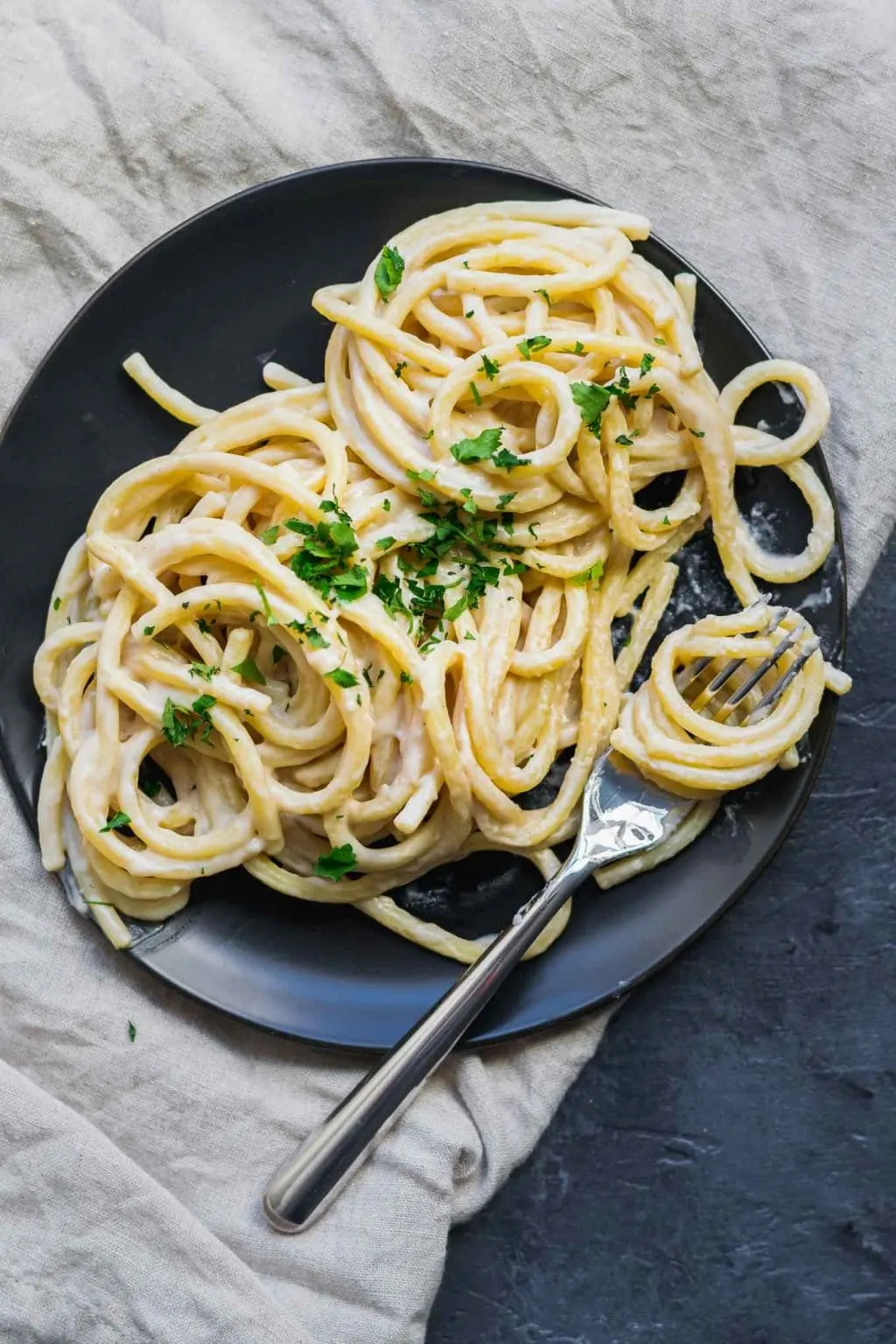 If you make this vegan garlic white sauce, leave a comment below and rate the recipe on the recipe card. And please share your photos with me on Instagram, tag @thecuriouschickpea and #thecuriouschickpea. I love seeing your recreations!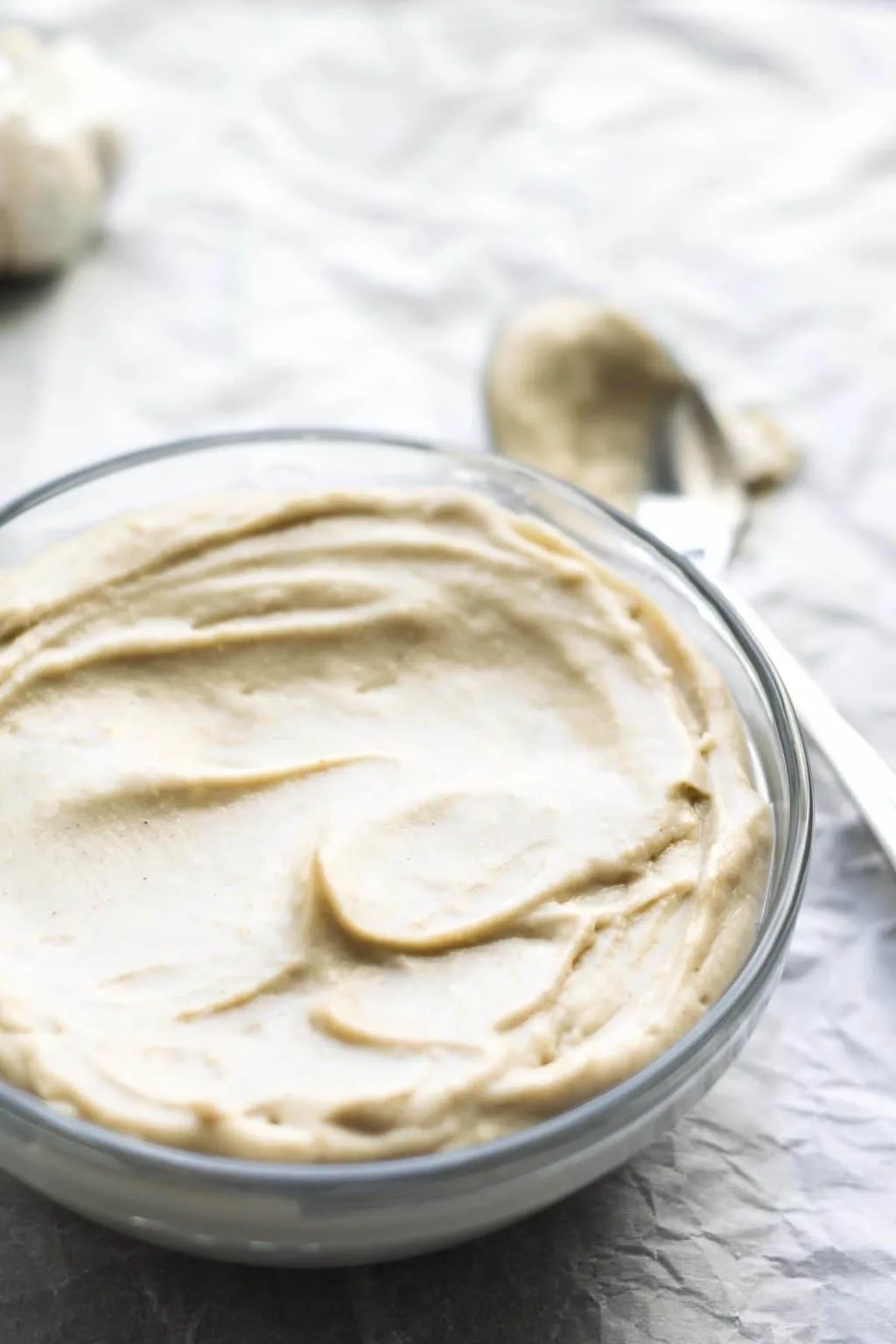 Vegan Garlic White Sauce
A creamy white sauce that's perfect as a base on pizza, as a sauce for pasta, or a dressing for a bowl-style meal, and more! A cashew cream and roux-based vegan sauce.
Ingredients
1 cup (130g) raw cashews, soaked in cold water for 2 hours and drained
3 cloves garlic, peeled
2 cups (480 mL) water
1/2 tsp granulated garlic (optional)
1/2 tsp (3g) salt
1/4 cup (26g) nutritional yeast or vegan parmesan
2 tbsp (28 g) vegan butter
3 tbsp (30g) all purpose flour
1/4 tsp white pepper or freshly ground black pepper
Instructions
Add the cashews, garlic, water, granulated garlic (if using), salt, and nutritional yeast to a blender. Blend until smooth and creamy, scraping down as necessary.
Heat a heavy bottomed pot over medium-low heat and add the butter. Let it melt then add the 3 tablespoons of flour. Stir to mix and let cook for 3-4 minutes until the flour is lightly toasted and a shade darker.
Slowly stream in the garlic cream, whisking as you pour so it doesn't clump up. Add the black pepper and whisk while the cream comes to a simmer. Let simmer until thickened, about 3-5 minutes, then remove from heat. If the mixture remains a little clumpy, just use an immersion blender or an upright blender and blend to smooth.
Store the garlic cream in the fridge for up to a week.
Notes
For details on how to substitute cashews or all purpose flour, please see blog post.
Nutrition Information:
Yield:

8
Serving Size:

1
Amount Per Serving:
Calories:

150
Total Fat:

11g
Saturated Fat:

3g
Trans Fat:

0g
Unsaturated Fat:

7g
Sodium:

283mg
Carbohydrates:

10g
Fiber:

2g
Sugar:

1g
Protein:

5g
Nutrition is calculated automatically and should be used solely as an estimate.