I think everyone needs at least 500 vegan mac and cheese recipes. This is possibly a conservative estimate, but you have to start somewhere! If you've been visiting my site for awhile, you've probably noticed that I make a lot of spicy food and have a particular love for chipotle, and so it's probably unsurprising to hear that we've been making vegan chipotle mac and cheese for years. The smokey flavor of chipotles fits perfectly into the creamy mac sauce, which is made from a homemade cashew milk and thickened with a traditional roux. The mac and cheese itself is quick to make, ready in just about 15 minutes. The spicy tempeh crumbles take a bit longer, but that's mostly hands off time in the oven where they bake into chewy flavorful bites. The smokey, spicy chipotle flavor of this dish pairs perfectly with scallion greens for this perfect vegan meal.
Let's start with the tempeh crumbles as they take longer to make. The homemade marinade is made from a pantry friendly 8-ingredients: onion, garlic, and the oil to sauté them in, canned tomatoes (fire roasted if you can), vegetable broth, chipotles and their adobo (do they even really count as 2 ingredients?), and salt. Fry up the onion and garlic, then add the rest of the ingredients and simmer until the tomatoes have broken down and are nice and juicy. Blend the marinade until a smooth sauce and then toss in crumbled tempeh.
If you're someone who finds tempeh a bit bitter, there's an easy fix. Before mixing the marinade into the tempeh, bring some water (like 1/2 cup) to a boil in a pot, add the crumbled tempeh, and just keep simmering with the lid on until the water is absorbed or the tempeh has been steaming 10 minutes. Drain out any excess water. Spread the tempeh + marinade in a single layer on a large parchment lined baking tray and bake for 30-40 minutes or until the tempeh has absorbed all the marinade and is drying out into chewy crumbles. Some blackened bits are perfect. You'll make a lot of tempeh crumbles, so you can always half the recipe if you'd like, but if you did find yourself with extra you can make some tacos, burritos, or to top a salad!
Moving on to the mac, I make this recipe in the same way I made dairy mac and cheese back in the day. The base is a roux, or a flour and fat mixture. My preference is to use vegan butter for the extra rich flavor, but refined coconut oil is an excellent substitute–unrefined would have a slight coconutty taste, and olive oil always works too! The flour is toasted in the fat for added flavor and then works to thicken the chipotle cashew milk.
Most of the flavor for our mac and cheese comes from the spiced cashew milk. Nutritional yeast adds that rich nutty, cheesy flavor, miso adds some umami funk, and apple cider vinegar adds a cheesy tang. When combined with cashews you get a creamy and flavorful cheesy tasting sauce. To make it a chipotle cheesy sauce, I add lots of canned chipotles in adobo. Chipotles are smoke-dried jalapeños, and are commonly found rehydrated in adobo, which is a spiced tomato sauce. I remove the seeds from the chipotle so I can use lots and amp up that chipotle flavor without over powering the pasta with spiciness. Of course, if you're very sensitive to heat, you'll want to decrease the number of chipotles used even as you seed them. I also add some of the adobo in the can, which adds a spiced mild-tomatoey flavor.
If you want to take this sauce next-level I'll give you a little tip: add some vegan cheddar cheese into the sauce. If it's a really easily melting vegan cheese you can add it shredded into the pot after you've added the cashew milk. If it's a bit more stubborn (like my favorite Parmela Creamery Aged Cashew Cheddar shreds) then blending into the cashew milk mixture makes melting it a breeze. Adding vegan cheddar increases the richness of the sauce and makes it taste a bit cheesier. It also thickens it a bit more so it's less cream-sauce and more cheese-sauce. I like it both ways, but usually opt for the version without added cheese as it's more pantry friendly (and just to be clear, the recipe pictured here does not have any added cheese). Another variation I enjoy at times is to substitute 1 cup of water in the sauce for beer. It adds a nice hoppy, slightly bitter flavor which pairs nicely with the chipotle.
I've been making chipotle mac for years, but the spicy tempeh crumbles are a new addition, and let me tell you, they make the recipe like SO perfect. I didn't know I could like the chipotle mac more! So I really hope you take the extra time to make them. And don't forget the scallion greens, the fresh oniony bites complement the smokey and spicy cheesy sauce perfectly. To finish the meal, add some veggies on the side (roasted veggies would be perfect as the oven is already on for the tempeh crumbles) and you're ready to tuck into this perfect vegan mac and cheese dinner!
Let me know if you make these you can leave a comment and/or rate the recipe below. I love hearing what you think! As always, don't forget to tag your recreations @thecuriouschickpea and #thecuriouschickpea on Instagram, or share with me on Facebook! Enjoy!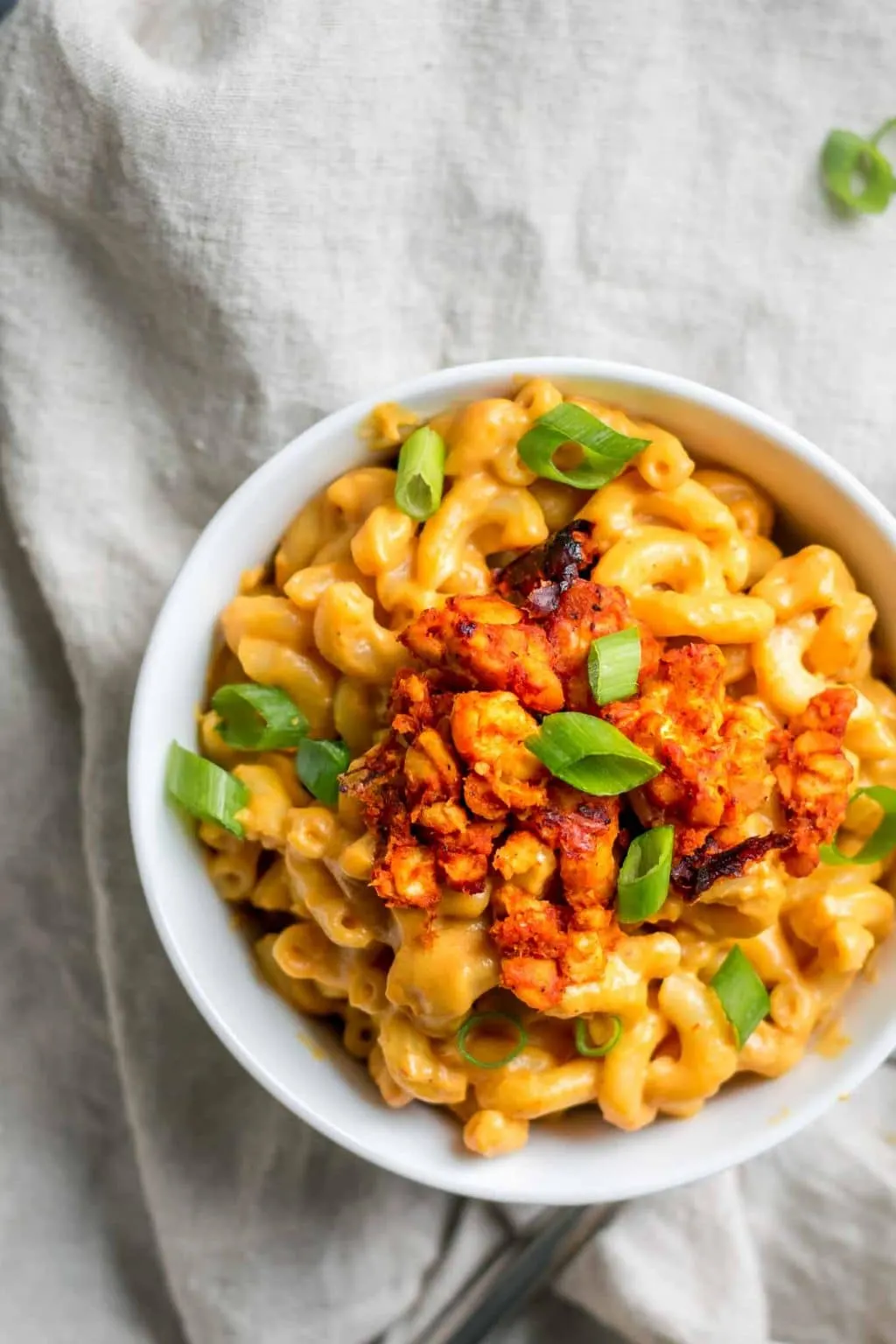 Notes:
Make gluten free by using gluten free pasta and substituting tapicoa starch, arrowroot, or gluten free oat flour for the all purpose flour.
If you typically find tempeh bitter, steam it in some boiling water for 10 minutes before adding to marinade and baking.
Replacing 1 cup of the water with beer in the mac and cheese makes for a pretty awesome sauce.
Optional: add 4 to 8oz of your favorite vegan cheddar to the blender when making the cheesy sauce (blending helps it melt right into the sauce) for an extra decadent and more traditional mac and cheese sauce.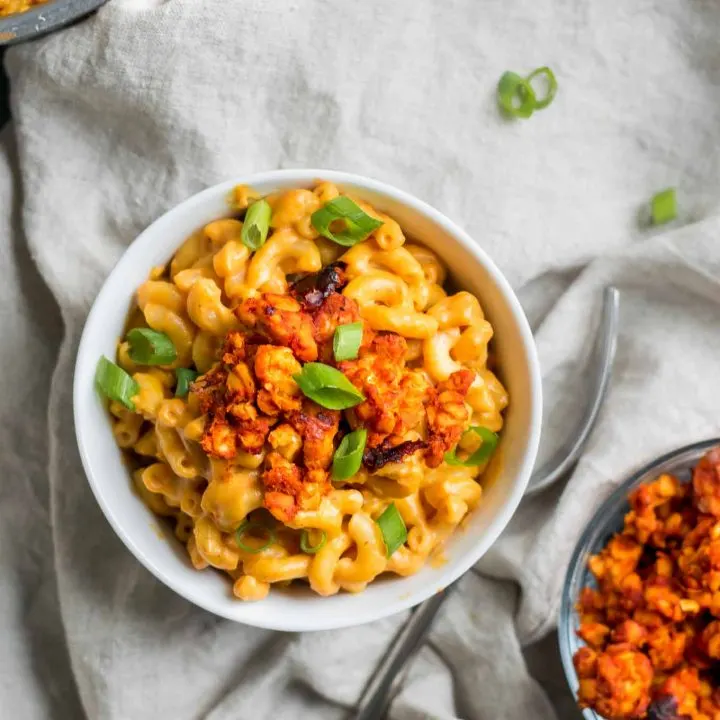 Vegan Chipotle Mac and Cheese with Spicy Tempeh Crumbles
Total Time:
1 hour
5 minutes
Creamy, smokey and spicy chipotle mac and cheese is topped with spicy chipotle marinated tempeh crumbles and scallion greens.
Ingredients
Spicy Tempeh Crumbles
1 tbsp oil
1 small onion, diced
2 cloves garlic, smashed and peeled
1 15oz can diced tomatoes, ideally fire roasted
1 cup vegetable broth
2 chipotles in adobo
1 tbsp adobo
3/4 tsp salt
1 pound tempeh, crumbled
Chipotle Mac and Cheese
1 cup cashews, soaked if not using a high powered blender
3 cups water
1/4 cup nutritional yeast
2 cloves garlic, smashed and peeled
1 tbsp red miso
6 whole chipotles in adobo, seeded (use less for a milder sauce)
1 tbsp adobo from the chipotle can
2 tsp apple cider vinegar
1 1/2 tsp salt
1/4 tsp turmeric
1/4 cup vegan butter or refined coconut oil
1/4 cup all purpose flour
1 pound elbow macaroni or small shaped pasta
sliced scallion greens, for garnish
Instructions
To make the spicy tempeh crumbles
Preheat the oven to 375 ºF and line a large rimmed baking tray with parchment paper.
In a large heavy bottomed pot, heat the oil over medium heat and add the diced onion. Cook the onion for 5 minutes until its softened and a light golden brown. Add the garlic and cook for 1-2 minutes. Add the diced tomatoes, vegetable broth chipotles, the adobo, and the salt. Bring the mixture to a simmer and let cook until the tomatoes are softened or juicy, about 10 minutes. Transfer the sauce to a blender and blend until smooth.
Stir the sauce into the crumbled tempeh in the pot, then transfer to the parchment paper lined baking tray and spread to cover in a single layer. Bake at 375 ºF for 30-40 minutes, stirring once in the middle, until the marinade has soaked into the tempeh and the tempeh has turned chewy. Serve warm.
To make the chipotle mac and cheese
Bring a large pot of water to a boil and cook the pasta according to package directions. Drain and set aside.
Meanwhile, in a blender combine the cashews, water, nutritional yeast, garlic, miso, chipotles and their adobo, apple cider vinegar, salt, and turmeric. Blend on high until the mixture is smooth and creamy and does not feel gritty if rubbed between your fingers.
Heat a large pot on the stove over medium low heat and add the vegan butter (or coconut oil). When it melts, add the flour and mix it into the melted butter. Cook, stirring frequently, over medium-low heat for 2-3 minutes or until the roux is a shade or two darker and smells a little toasty.
Slowly pour the blended cashew mixture into the roux, whisking the mixture as you pour to prevent clumps. Turn the heat up to medium and bring the cheese sauce to a simmer, stirring occasionally. Continue cooking the sauce until it has thickened, around 7-10 minutes.
Add the sauce to the pasta and stir to coat. Serve hot topped with the spicy tempeh crumbles and garnished with scallion greens.