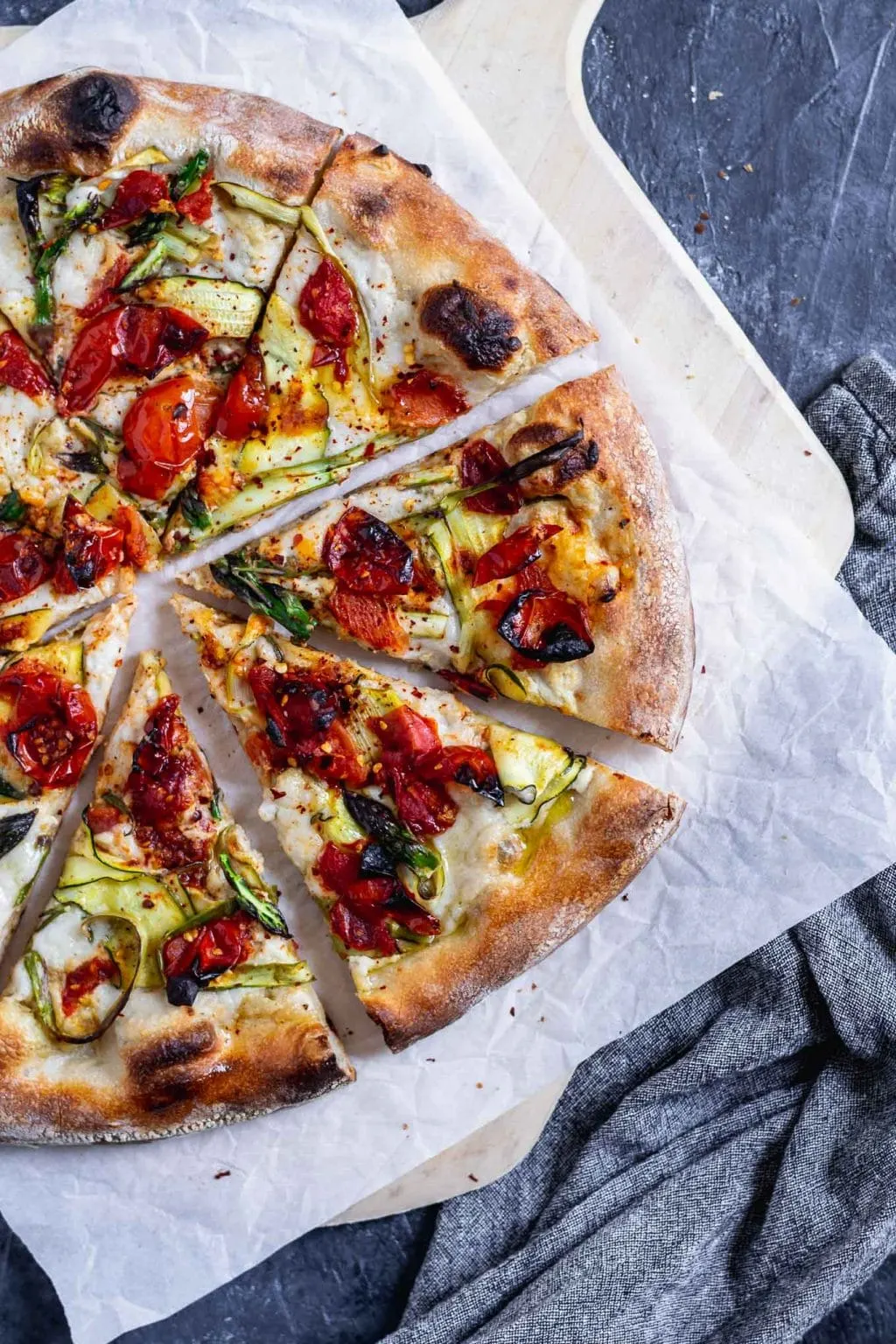 Anyone else want to welcome springtime with a pizza? I mean, there's nothing quite so enticing as a pizza party (not that spring in DC needs any encouragement), or as mouth watering and satisfying.
I love spring and the influx and variety of fresh produce that comes with it. And I don't know about you, but I just want to put all of that produce on pizza dough and bake it up. So, I did, and this delicious vegan pizza primavera was created! It's topped with some of my favorite springtime veggies. With burst cherry tomatoes and ribboned zucchini and asparagus.
This pizza is heavenly with a doughy and crisp bottomed crust, juicy vegetables, creamy vegan cheese, fragrant rosemary, and a garlicky white sauce base. It's a pizza worth turning your oven on for. Yes, even in this heat! Or save it for a rainy day if you must.
I made an asparagus pizza with a spicy chickpea sauce last spring, and once you've put asparagus on pizza there is no going back! Asparagus stays crisp on pizza if diced, but when sliced into ribbons it bakes soft and juicy, practically melting into the vegan cheese.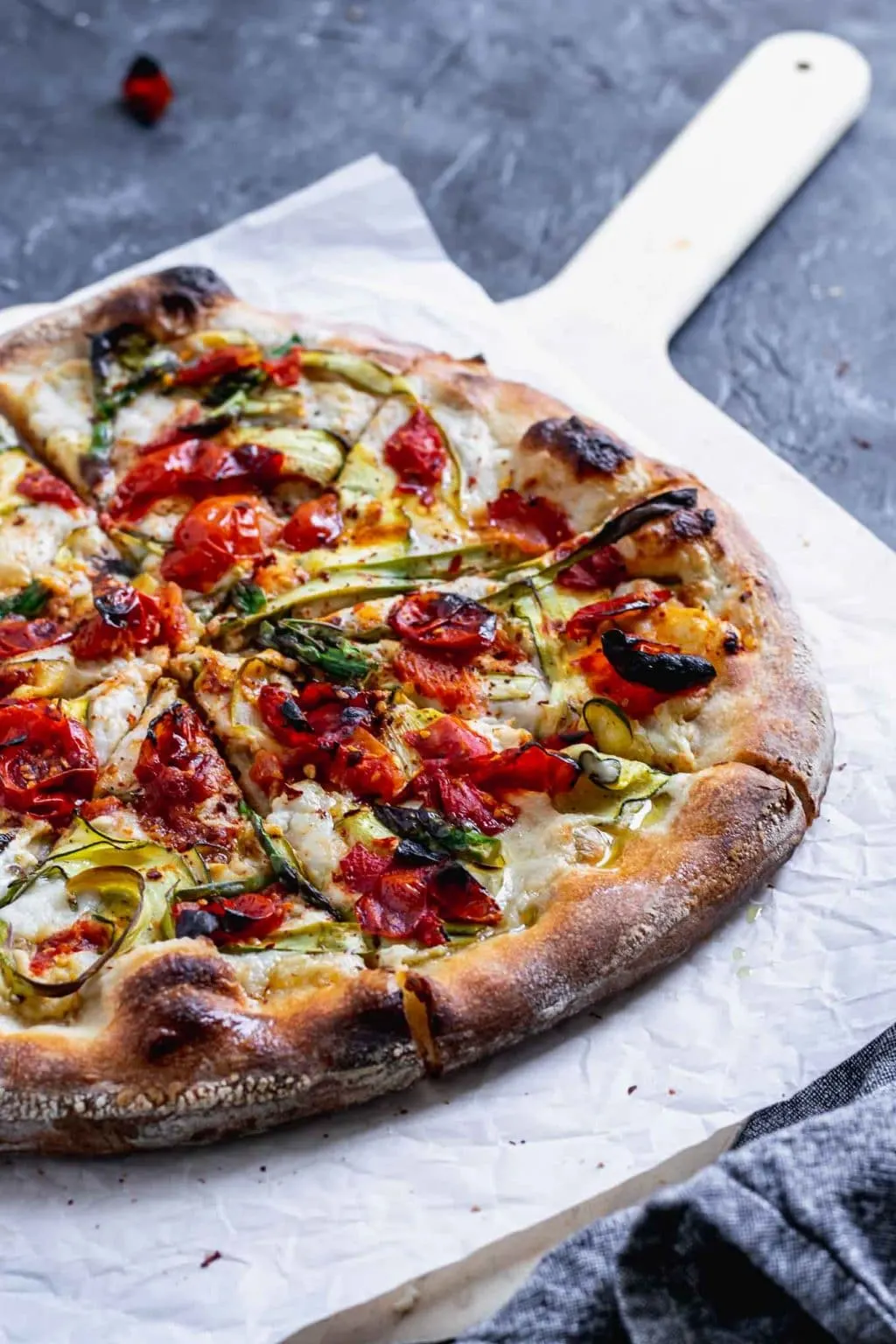 I upped the green veggie factor by adding ribbons of zucchini. Zucchini is so perfectly tender this time of year and that's enhanced when thinly sliced. It pairs well with asparagus, which is more fibrous of a vegetable.
Choose fat, fresh-looking stalks of asparagus for this pizza, and thinner, smaller zucchini. To make ribbons, all you need is a peeler! Peel down the whole length of the vegetable to create long and thin ribbons.
The ribboned vegetables are tossed in a light dressing. A drizzle of olive oil and a squeeze of fresh lemon juice, with a sprinkling of salt and freshly ground black pepper highlights the vegetal flavors. You might forget you need it for topping your pizza and munch on the veggies raw. I know. Well, you can always make a little extra 😉 .
Paired with the green ribbons are sweet and juicy cherry tomatoes. While late summer is the optimal time for cherry tomatoes, I have been enjoying those that have cropped up in this early season. Heating them in olive oil until they burst enhances the sweetness and makes them a little saucy. Generously scattered over the pizza they provide concentrated bites of sweetness, balanced with a smidgen of acidity.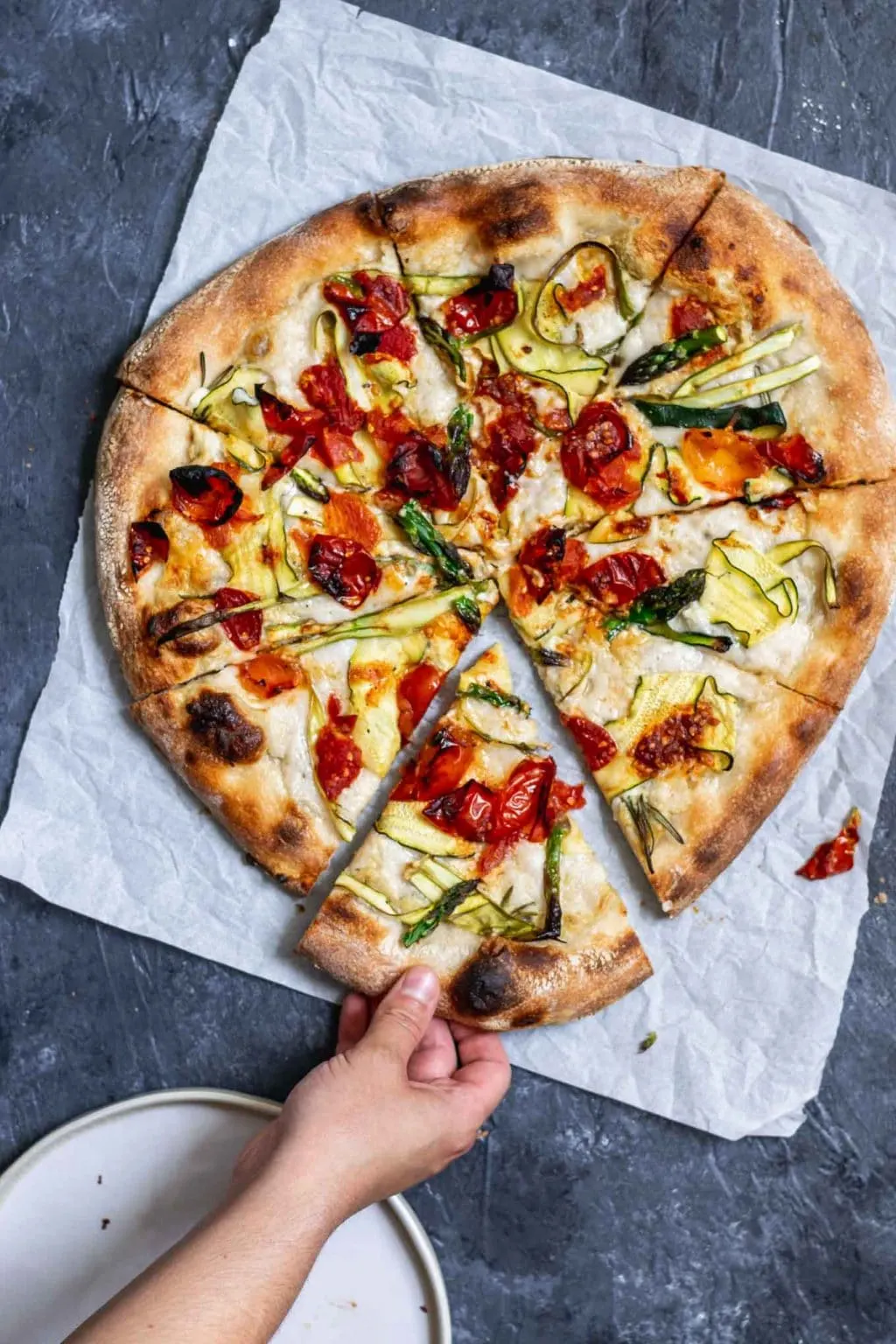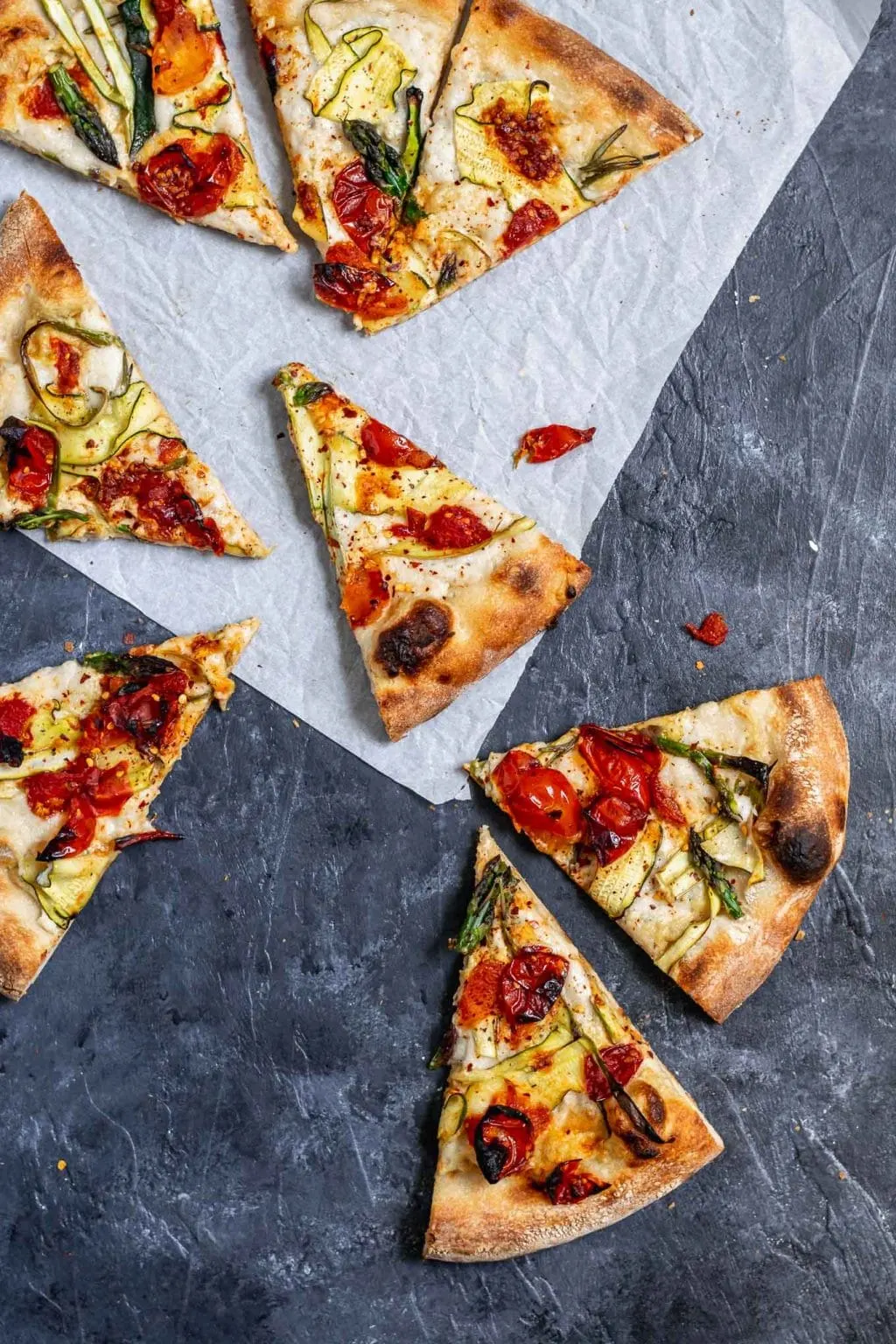 When I put tomatoes on top of a pizza I typically like to keep the base white. I'll usually either brush on some olive oil and crushed garlic or make my garlic white sauce for an extra creamy pizza. For this pizza, I wanted to up the cream factor. You could probably skip the vegan mozzarella even, especially if you're not a fan (though, if you do this, make the garlic white sauce a lot saltier).
This wouldn't be a springtime pizza (pizza primavera, if you will) without upping the fresh factor and adding some herbs. Rosemary was my first pick, with its piney aroma and flavor. The woodiness balances the sweet cherry tomatoes and picks up on the garlicky cream so well. If you haven't tried rosemary on pizza, I highly recommend it! If you're not into rosemary, then go for the usual pizza suspect–fresh basil.
So if you find yourself craving a good primavera, skip the pasta and go for pizza! Pick up some pizza dough or make your own. Invite some friends over (I think these pizzas could be shared between up to 6 people, 4 if you're very hungry)! Or not, leftovers are great too.
If you make this pizza primavera with zucchini, asparagus, and burst cherry tomatoes, leave a comment and rate the recipe below! And as always, don't forget to tag your recreations @thecuriouschickpea and #thecuriouschickpea on Instagram!
Like what you see? Follow along on Instagram, Facebook, and Pinterest!

Notes:
Check out my pizza dough recipe for tips on shaping and baking pizzas!
You can make the garlic white sauce in advance. It will thicken in the fridge, so warm it up and thin with water as necessary to a spreadable consistency.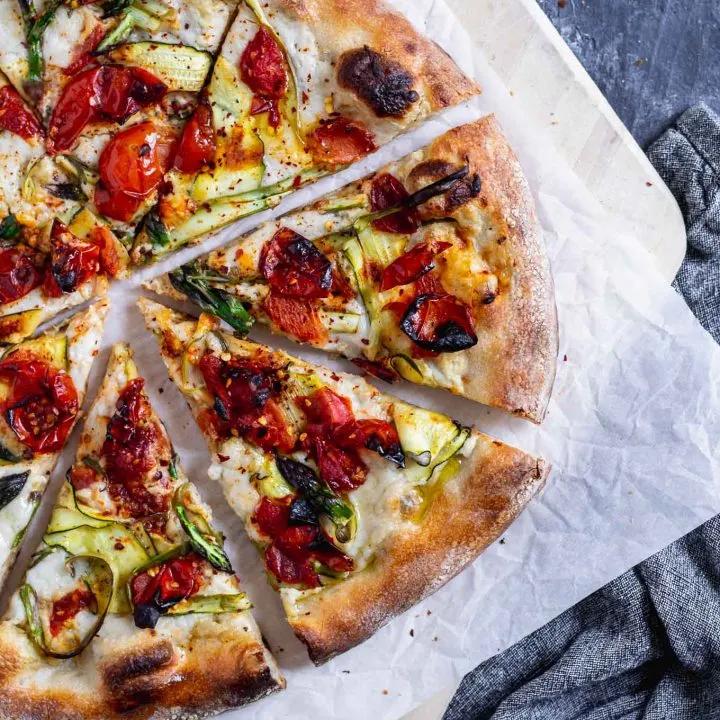 Vegan Pizza Primavera with Zucchini, Asparagus, and Burst Cherry Tomatoes
Total Time:
1 hour
20 minutes
A fresh tasting springtime pizza with a vegan garlic white sauce base and topped with lightly dressed ribbons of zucchini and asparagus, burst cherry tomatoes, and sprigs of fresh rosemary.
Ingredients
Burst Cherry Tomatoes
1 tbsp olive oil
1 pint (~10oz) cherry tomatoes
1/4 tsp salt
freshly ground black pepper
Zucchini and Asparagus Ribbons
1 medium (~5oz) zucchini
4-5 thick stalks (~5oz) asparagus
1 1/2 tsp freshly squeezed lemon juice
1 1/2 tsp olive oil
salt and freshly ground black pepper, to taste
Everything else
1-2 sprigs rosemary, needles removed from woody stem
lemon wedges to serve
crushed red pepper to serve
Instructions
One hour before you're ready to bake, preheat your oven to 550 ºF, or as hot as it will go. Place a rack one third of the way down from the top of the oven, and place a baking steel or baking stone on that rack. You want the oven to saturate with heat for 1 hour before baking pizza for best results.
At this time also remove the pizza dough from the fridge so it can come to room temperature and the gluten can relax.
Make the burst cherry tomatoes: Heat a deep heavy-bottomed pot over medium heat. Add the tablespoon of olive oil, the cherry tomatoes, and a sprinkle of salt and pepper. Cook for 7-8 minutes until the tomatoes are soft and charred in spots. Stir occasionally, and towards the end of the cooking time when they are soft enough, press them with a wooden spoon against the side of the pot until they burst open. Turn off the heat and set aside. The cherry tomatoes will splatter as they heat, so be mindful.
Wash your zucchini and leave the top intact as this will act as a handle. Using a peeler, peel down the zucchini from just below the top stem all the way to the bottom to create a ribbon. Repeat until you've turned the entire zucchini into ribbons. Place in a mixing bowl.
Next make your asparagus ribbons. Trim off the woody ends of the stalk and discard. Hold the tips of the asparagus and peel away from them to create ribbons out of each stalk and add to the zucchini ribbons. Reserve the asparagus tips and cut them in half, setting aside to top the pizza with.
Toss the zucchini and asparagus ribbons with the lemon juice, 1 1/2 tsp olive oil, and a sprinkling of salt and pepper.
When the oven is nice and hot, prepare your pizzas one at a time. Stretch (don't roll!) your dough to around 14-15" diameter and place on a lightly floured pizza peel. Spread the garlic white sauce over the dough then sprinkle on about 1/2 of the vegan mozzarella and some fresh rosemary. On top of that add about 1/2 the zucchini and asparagus ribbons as well as 1/2 of the burst cherry tomatoes.
Transfer the pizza onto the baking steel or pizza stone and bake for 8-10 minutes. Broil for an additional 1-2 minutes at the end if needed.
If baking on a baking sheet, assemble the pizza straight on the metal and place directly in the oven.
Repeat the pizza assembly and baking with the remaining dough.
Let the pizza cool for a couple minutes before cutting and serve with crushed red pepper and an extra squeeze of lemon juice (if desired). Enjoy while hot!
Notes
Prep time includes the time for preheating the oven and letting your dough warm to room temperature. The toppings can be prepared during this time.