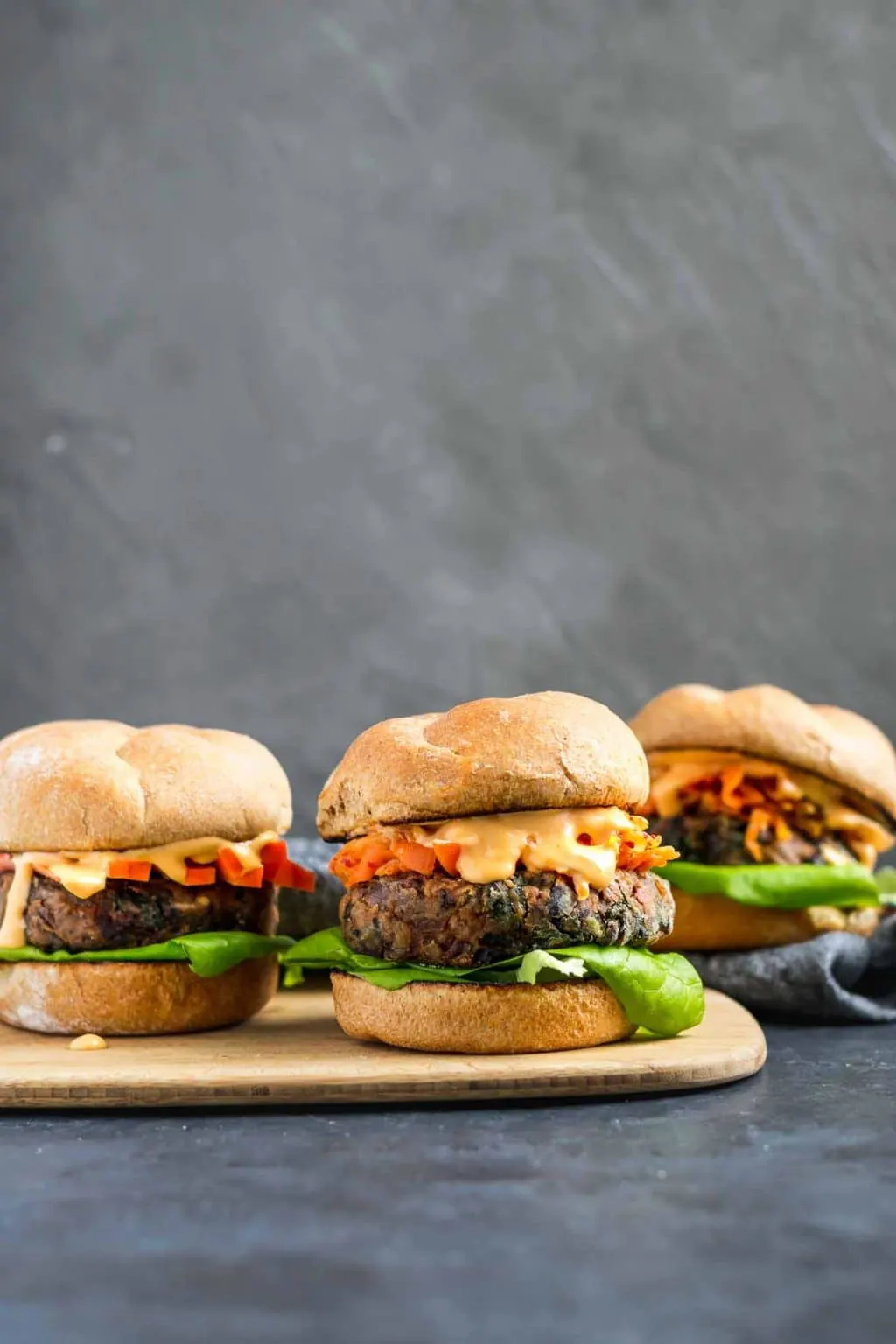 When it comes to veggie burgers, it's not all about the toppings. Don't get me wrong, the toppings are great and you can get so creative with them, but you can go in a million different directions with the patties themselves! And I love that about veggie burgers, with so many options they never get stale! Admittedly, I do have favorites that I keep coming back to (you would too, though) and having made these burgers twice in 2 days, I feel safe saying these vegan gochujang bean burgers will be joining that favorites list. These ultra flavorful, rich tasting patties are topped with kimchi (or fermented veggies of your choice), lettuce, and gochujang mayo (I mean you could just use regular mayo, but where's the fun in that?) and stuffed between soft burger buns for the ultimate gustatory treat. I'll take 3, please.
I've been craving veggie burgers ever since my blogger friend Tamsin at Cupful of Kale posted these drop dead gorgeous double decker Black Bean, Kale, and Sriracha Vegan Burgers. And then Omar saw her post on Instagram of them and put in a request. So Tamsin and I decided to do a fun recipe exchange, where we take one of each other's recipes and do a little spin on them. It wasn't a big leap to go from Thailand and sriracha to Korea and gochujang, especially not when I currently have 3 different types of gochujang in the pantry (I'm smitten, what can I say). And judging by how insanely delicious these gochujang bean burgers are, I'm going to say the OG Cupful of Kale version is surely to die for. Probably you should just make both versions.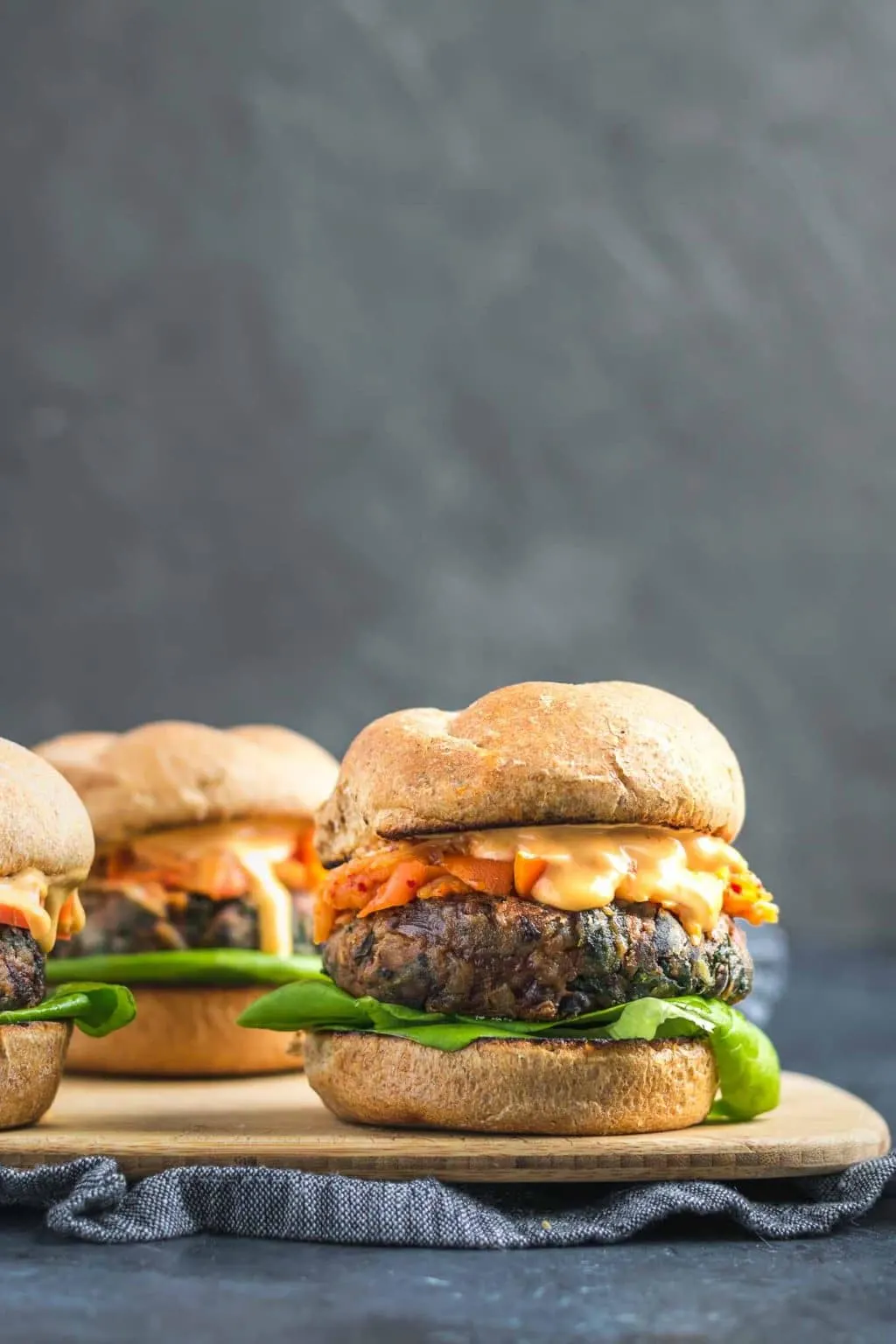 So let's talk about these burgers. Fat patties are made of a mixture of black beans and kidney beans (though if you're wanting to simplify 100% black bean works too), fried onions and kale, then spiced with gochujang, dried garlic, and crushed red pepper. Ground flaxseed is added as a binder. When flax encounters the moisture in the mixture it creates this gooey gelatinous texture which helps the patties hold together. Flour is used as a secondary binder, absorbing extra liquid for a firmer patty.
If you're not familiar with gochujang, I'll direct you to my gochujang tempeh wings recipe, it's where my love affair with gochujang began and I tell you all about it in that post. But if you're only interested in the short version: gochujang is a Korean fermented sweet and salty chili paste with generally a mild heat (which varies by brand, so your mileage may vary). It's real good and perfect in these bean burgers! If you haven't had it yet, you should change that ASAP.
These vegan burgers are quite easy to make. I pan fry the beans to dry them out somewhat which prevents a mushy patty. The onions and kale are fried up next, then added to the mashed beans. Mix in the seasoning and the flax and flour, then let the burger mixture sit for 30+ minutes in the fridge where it will firm up and then form and fry the patties! Stick them straight on a bun and then top with your favorite things. Here they're pictured with butter lettuce, kimchi and fermented carrots, and a gochujang mayo. We also have enjoyed them with mashed avocado. They'd be great with some vegan cheese, served up double-decker style like Tamsin's.
I really hope you guys enjoy these burgers! If you make them leave a rating below and don't forget to tag your recreations @thecuriouschickpea and #thecuriouschickpea on Instagram, or share with me on Facebook! And check out Tamsin's adaptation of my Buffalo Soy Curl Pizza on Cupful of Kale here! Looks so good, right???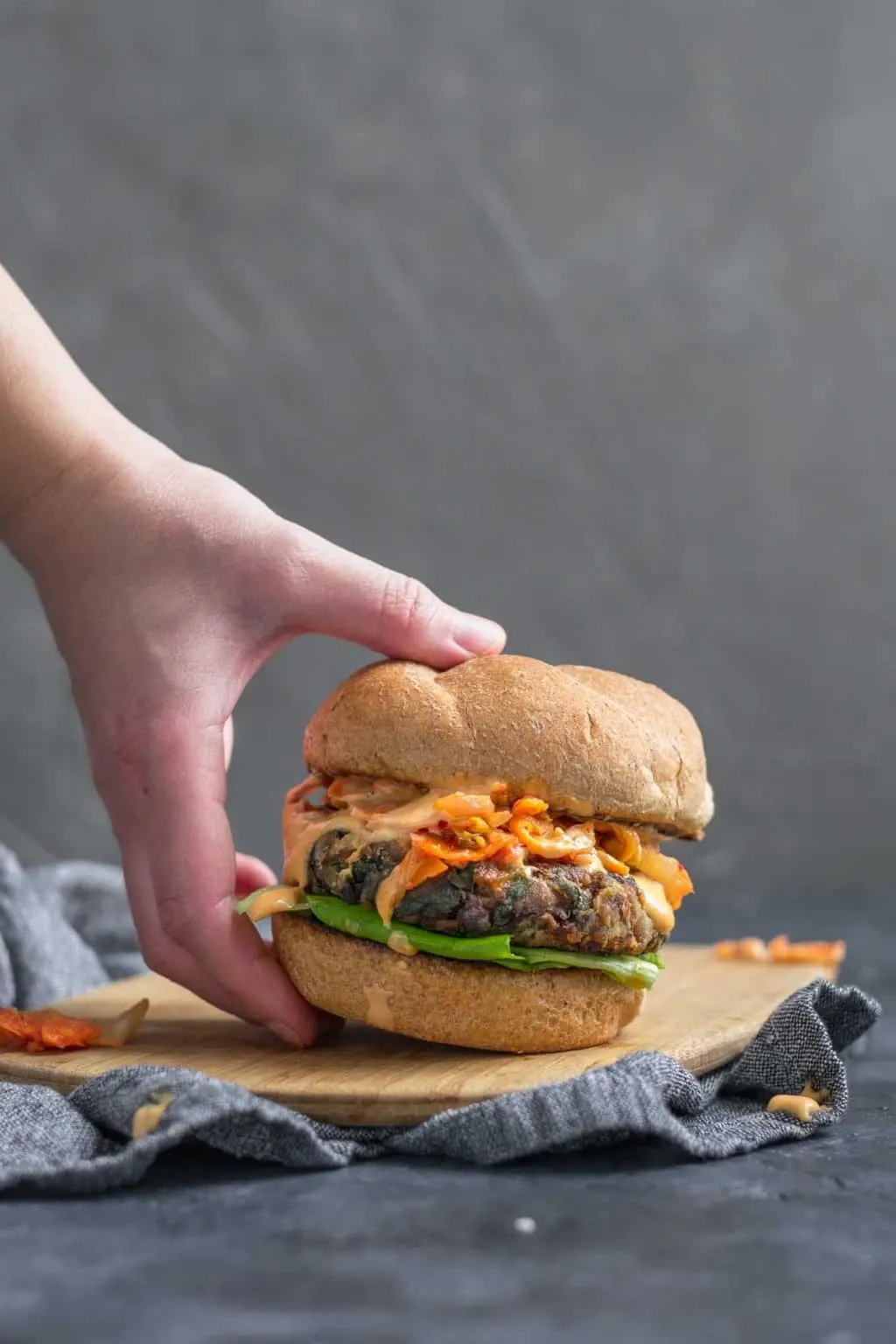 Notes:
Feel free to sub black beans for the kidney, for a total of 30 oz of black beans.
If you don't love spice, cut back on the crushed red pepper or omit completely. Most gochujang (in America & that I've come across anyway) is pretty mild, so you can start out with 2 tbsp if you like, but taste the mixture after and you'll probably find you're good with the whole 1/4 cup (4 tbsp = 1/4 cup).
To make gluten free, substitute a gluten free all purpose flour blend and use gluten free buns.
If your beans are salted, make sure to rinse very well and perhaps start with a bit less salt, say 1/2 tsp. You can add more after tasting the mixture if needed.
Make sure your kimchi is vegan, it regularly contains fish sauce or shrimp paste. Note: my Kimchi contained carrots as well so that's why it's more orange than red!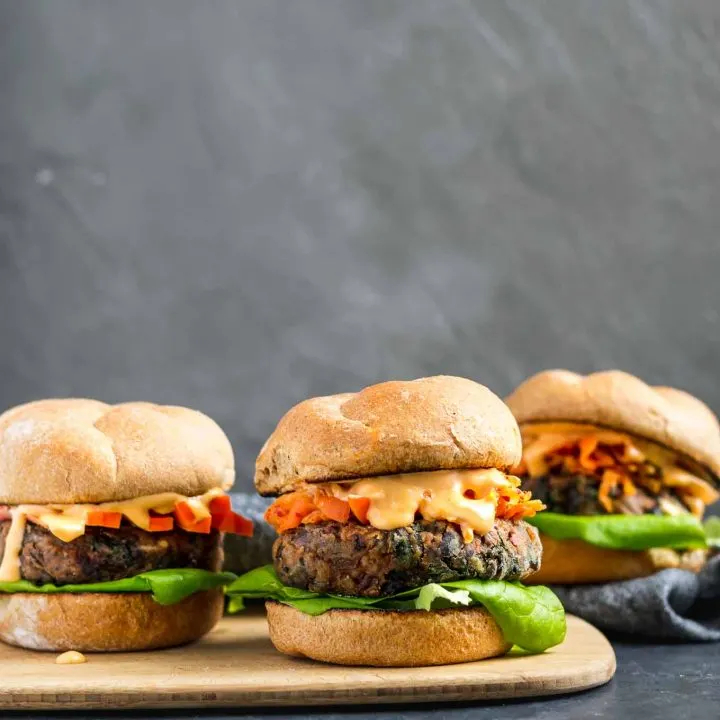 Vegan Gochujang Bean Burgers
Spicy and ultra flavorful black bean and kidney burgers are given a Korean twist using gochujang (a fermented savory and sweet Korean chili paste). Topped with kimchi or fermented vegetables and a gochujang mayo, these easy vegan burgers make the perfect meal!
Ingredients
1 tbsp oil, divided
1 15oz can black beans, drained and rinsed
1 15oz can kidney beans*, drained and rinsed
1 large (12oz) red onion, finely minced
4-6 large leaves (3oz) of kale, ribs removed and finely chopped
2-4 tbsp water, as needed
1/4 cup gochujang*
1 tbsp ground flaxseed
1 tsp granulated garlic
1-2 tsp crushed red pepper, optional
1 tsp salt, or to taste
3 tbsp flour, plus extra for coating patties
oil to cook burgers
burger buns
toppings of your choice: kimchi, fermented/pickled vegetables, avocado, lettuce, vegan cheese, mayo or gochujang mayo*, radishes, etc.
Instructions
Heat a large skillet over medium heat and add 1 tsp of oil. Add the black beans and kidney beans and cook until the beans have dried out somewhat, around 6-8 minutes, stirring minimally. It's ok if the beans get a bit mushy during this step.
When done, place beans in a large mixing bowl and mash with a large fork or a potato masher. Mash the beans until the mixture sticks together, leaving some beans whole for texture.
In the same skillet over medium heat add 2 tsp of oil and the onion. Cook the onion for 4-5 minutes until soft and translucent, stirring occasionally. Add the kale plus a couple tablespoons of water (start with 2, add more if needed) and cook the kale, stirring occasionally, until it has wilted and is tender, around 3-5 minutes.
Add the cooked onion and kale to the beans along with the gochujang, ground flaxseed, granulated garlic, crushed red pepper (if using), and salt. Stir to combine well. Taste the mixture and adjust seasoning if desired. Add the 3 tablespoons of flour and stir to combine.
Cover the burger mixture and place in the fridge for at least 30 minutes to chill and firm up. The mixture can be prepared the day before as well.
When ready to cook the burgers: shape the patties using 1/2 cup of mixture per patty. Spray the measuring cup with a little oil to prevent sticking, then use your hands to shape the mixture into round patties. Rinse your hands to prevent the mixture from sticking as needed. Coat each patty with flour by generously flouring a cutting board or plate and pressing each side into the flour then rolling the edge in the flour.
Heat a large skillet over medium-low heat and enough oil to create a thin layer. Cook the patties 5-6 minutes on each side, turn the heat down as needed to prevent burning.
Serve on toasted buns with your choice of toppings! Here we have pictured butter lettuce, kimchi, fermented carrots, and gochujang mayo.
Notes
*You can substitute a second can of black beans if desired
*If your gochujang is very spicy start with 2 tbsp
*To make gochujang mayo, mix a tablespoon of gochujang with 1/3 cup of vegan mayonnaise. Thin with a little water if desired.