These vegan creamy garlic noodles make a great side or main event. It's a quick and easy dish to throw together, and you can fill out the meal by frying up a vegan sausage for protein and adding a side veggie. My favorites are side salads or roasted vegetables (like broccoli or sweet potato).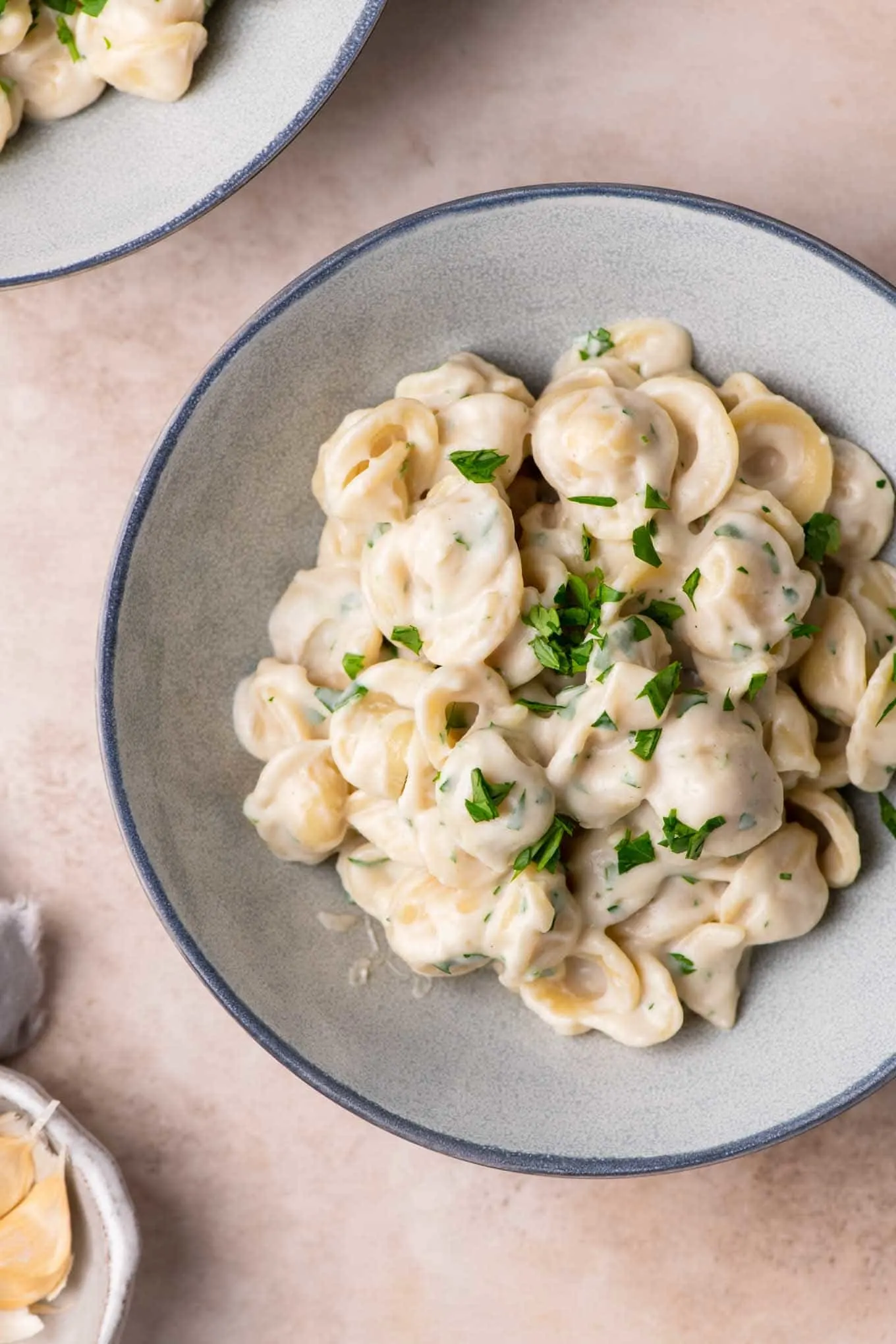 I am all about the creamy pasta sauces, and nothing says nostalgic comfort food like a bowl full of small shells in a creamy garlic sauce. It's my veganized version of a certain popular noodles sides brand (that rhymes with "ipton") that I grew up eating.
This rich creamy sauce is full of delicious garlicky flavor, and it pools into the shells making every bite pure perfection.
How to make the vegan creamy garlic sauce:
Creamy sauces usually have a few non-vegan ingredients. There's the milk or cream, butter, and sometimes cheese.
It's simple to swap those out and make this creamy garlic sauce. Instead of cow's milk, I use cashew milk. For creamy dishes I really love to make my own cashew milk by blending raw cashews in water. This is super easy to do if you have a high powered blender such as a Vitamix or Blendtec, and requires a bit of advance planning if you have a regular blender.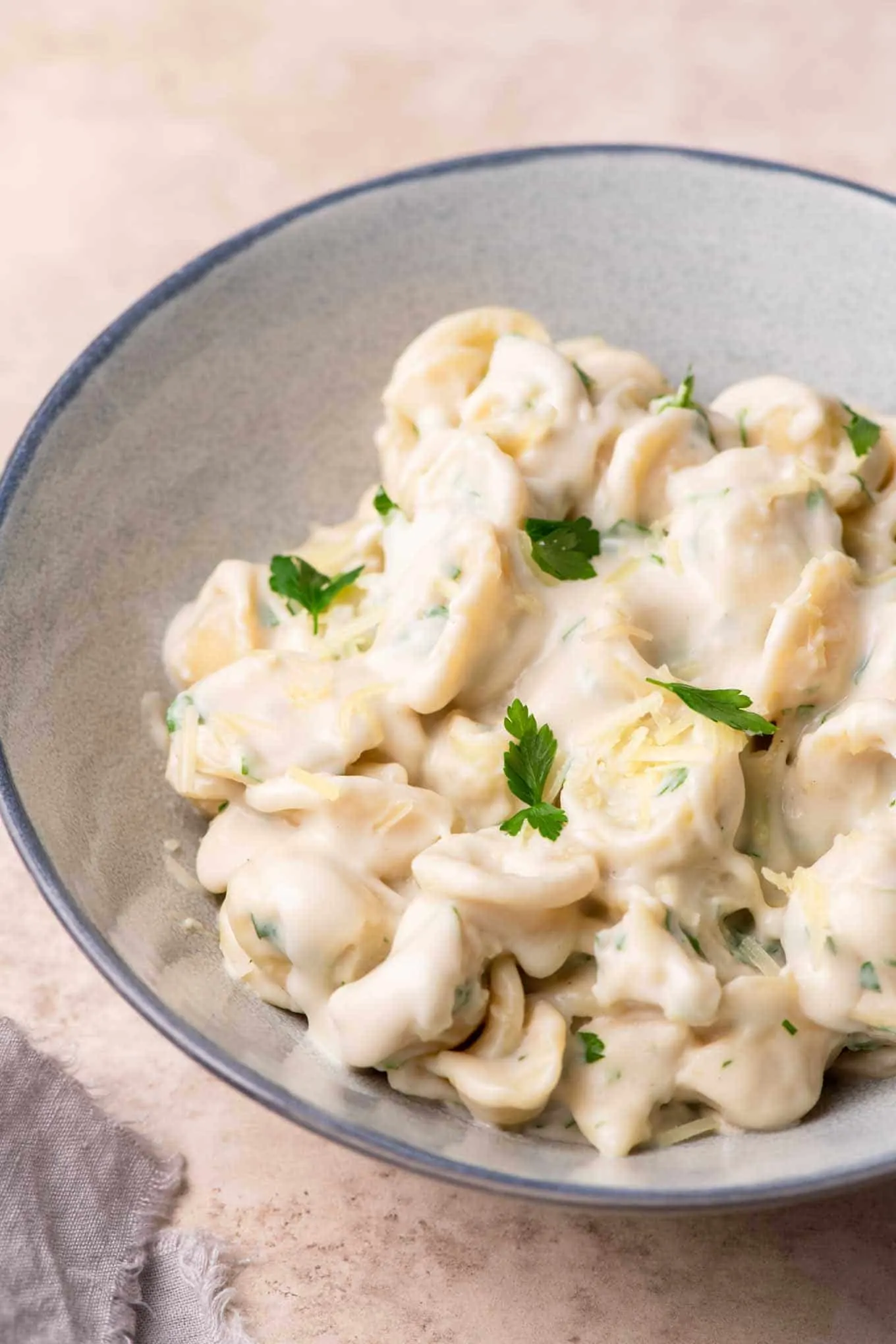 The reason I love to make my own cashew milk is that it can be a lot creamier than store-bought options. Homemade has a higher nuts to water ratio than the kind in a box.
Cashews blend up so creamy and smooth that you don't need to use a nut bag to remove the pulp. This means that there are some naturally occurring starches in the cashews that thicken and improve the texture of the cream sauce.
Once we have the cashew milk made, it's a matter of thickening it by way of a roux. A roux is when fat (usually butter) and flour are cooked together until lightly toasted. It thickens any added liquid while providing a nice toasty flavor.
For a vegan roux, I like to use vegan butter. However, if you prefer, olive oil will work as well.
TIP: pour the cashew milk into the roux very slowly while whisking. This will prevent the roux from clumping and will make for a smooth sauce.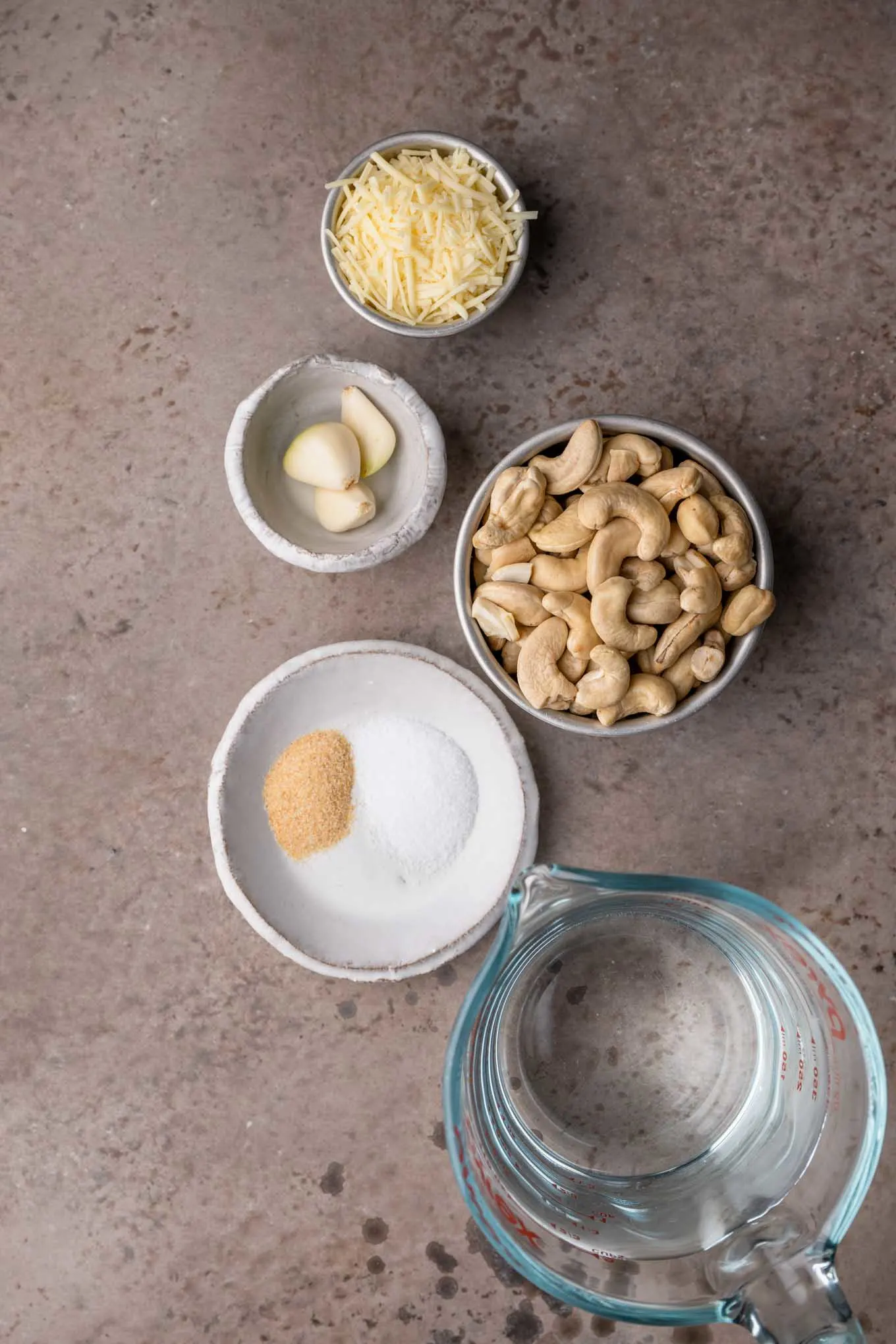 To add in some cheesiness to the sauce, you can use either store bought vegan parmesan or nutritional yeast (aka nooch). Store bought vegan cheese will taste more "cheesy" but I'm an old school vegan who also loves nooch! Honestly I make it either way, depending on what I have on hand.
If you can't find vegan parmesan, try using a vegan mozzarella.
The sauce gets a double dose of garlic, having both pungent cloves of fresh garlic and the mellowed flavors granulated garlic.
Because this sauce uses homemade cashew milk, I blend the garlic and vegan parmesan (or nutritional yeast) right into the milk! This makes it an even more effortless dish.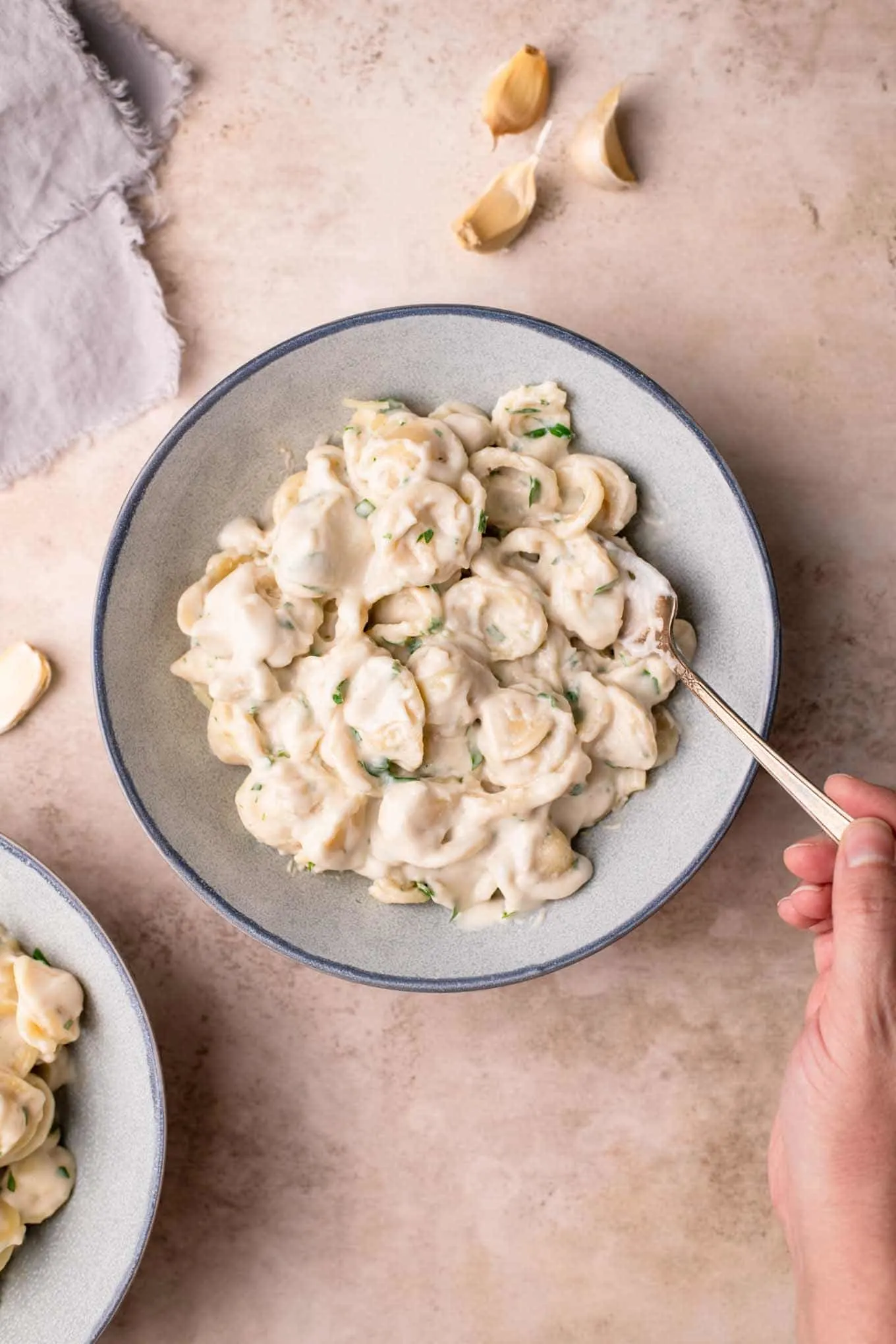 Substitute for homemade cashew milk:
While I do love using homemade cashew milk for this recipe, you can make it with store-bought milks as well. They will not be as thick or rich tasting, but work well for an easy swap.
Store bought cashew milk is a good choice, choose the unsweetened option.
If you need to avoid cashews or nuts, I recommend using either soy milk or oat milk (the "full fat" style Oatly is a good choice). Oat and soy are both naturally creamier and make great sauces. Again, be sure to use unsweetened plant milks as this is a savory dish!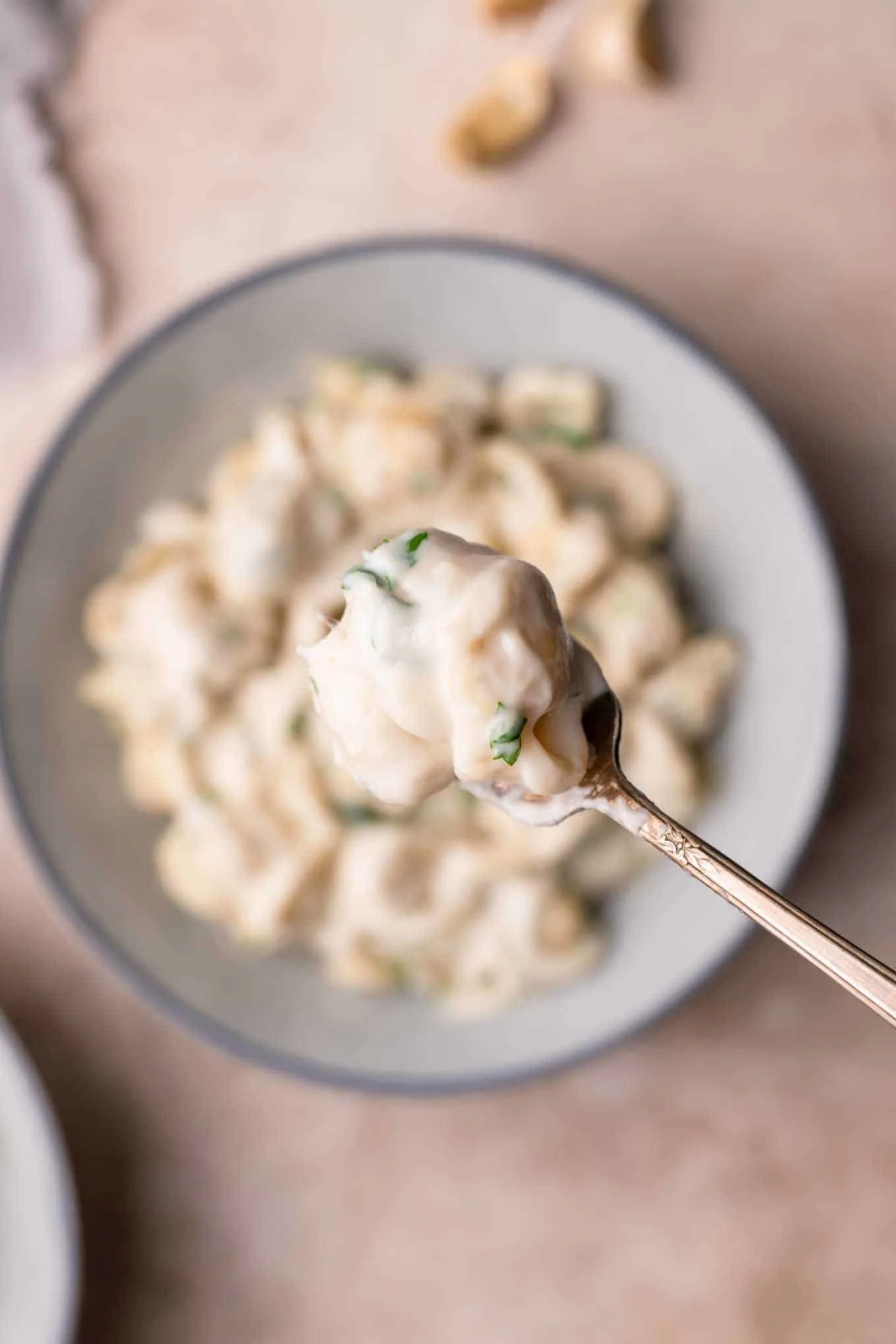 If you use a store-bought plant milk instead of making the homemade cashew milk, you'll need to make a couple of adjustments to how you prepare the dish. Use minced or crushed garlic instead of blending the garlic into the milk (which you can do but there's no need to dirty your blender if using store-bought milk). Add the minced garlic along with the flour, and let it cook for a couple of minutes along with the roux.
And since we're not blending anything, you should add the vegan parmesan (or nutritional yeast), granulated garlic, and salt when you add the milk to the pot.
Best type of pasta for creamy garlic noodles:
I love the classic mini shells shape for these noodles (shown in the photo below and the recipe video), and only in part because it's a copy cat recipe! The small shells let you have a nice sauce to noodle ratio and extra sauce pools into the shells for deliciously saucy bites.
Orecchiette pasta (which means little ears and is what I used in the rest of the photos) works similarly and is a super cute shape as well.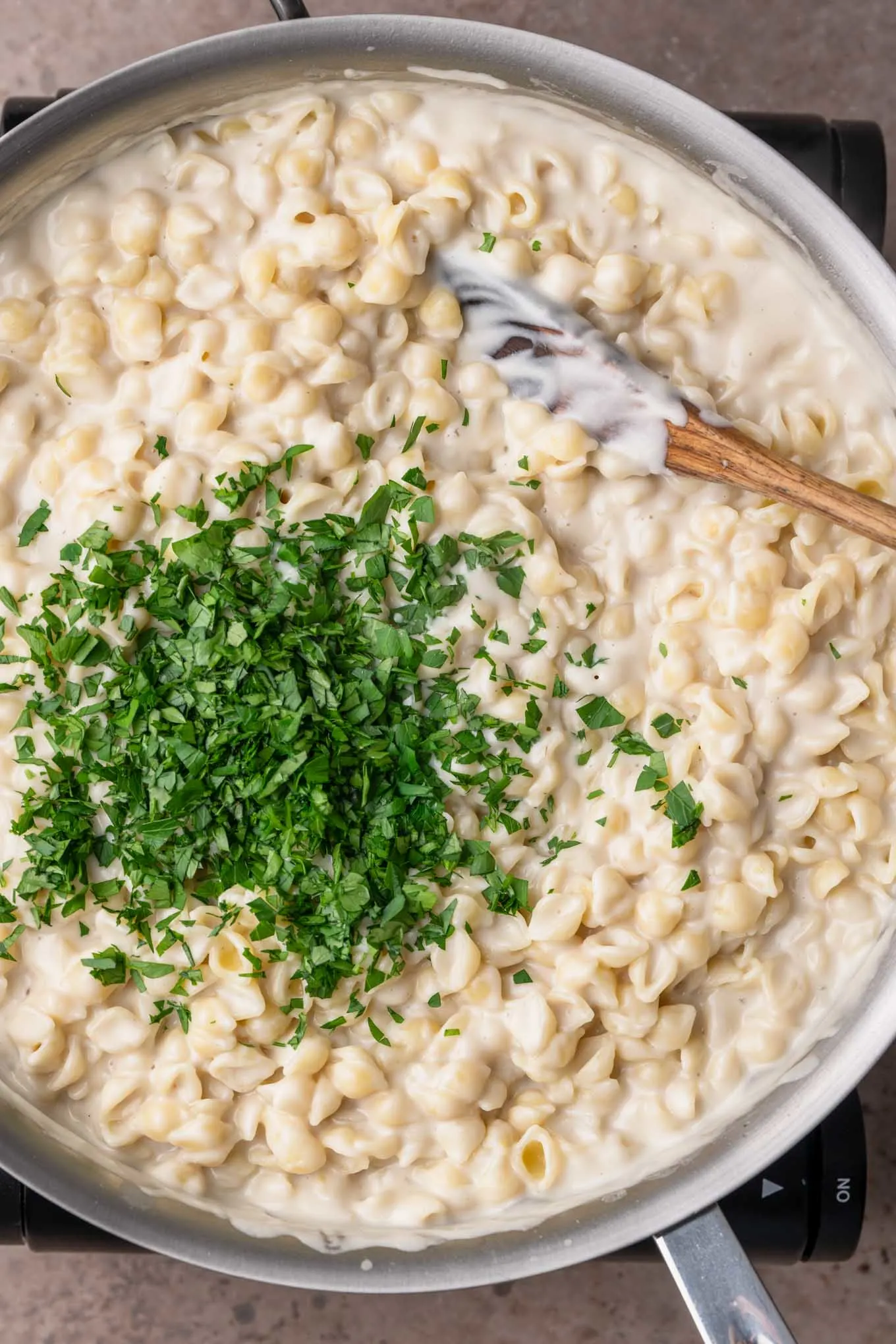 This sauce also works great with long noodles like spaghetti, linguini, or fettuccini.
If you use a larger noodle shape, such as penne or rigatoni, then I recommend you only use 8oz of pasta, or double the amount of sauce you make!
Can I make ahead or freeze the sauce?
Yes. You can make the sauce 1-2 days before the pasta to have some on hand. Store it in a sealed jar or container in the refrigerator.
For longer storage you can freeze the sauce. It may separate a bit when defrosting, but should whisk back together nicely. If a whisk doesn't do the trick, use a handheld immersion blender or throw it back into the blender.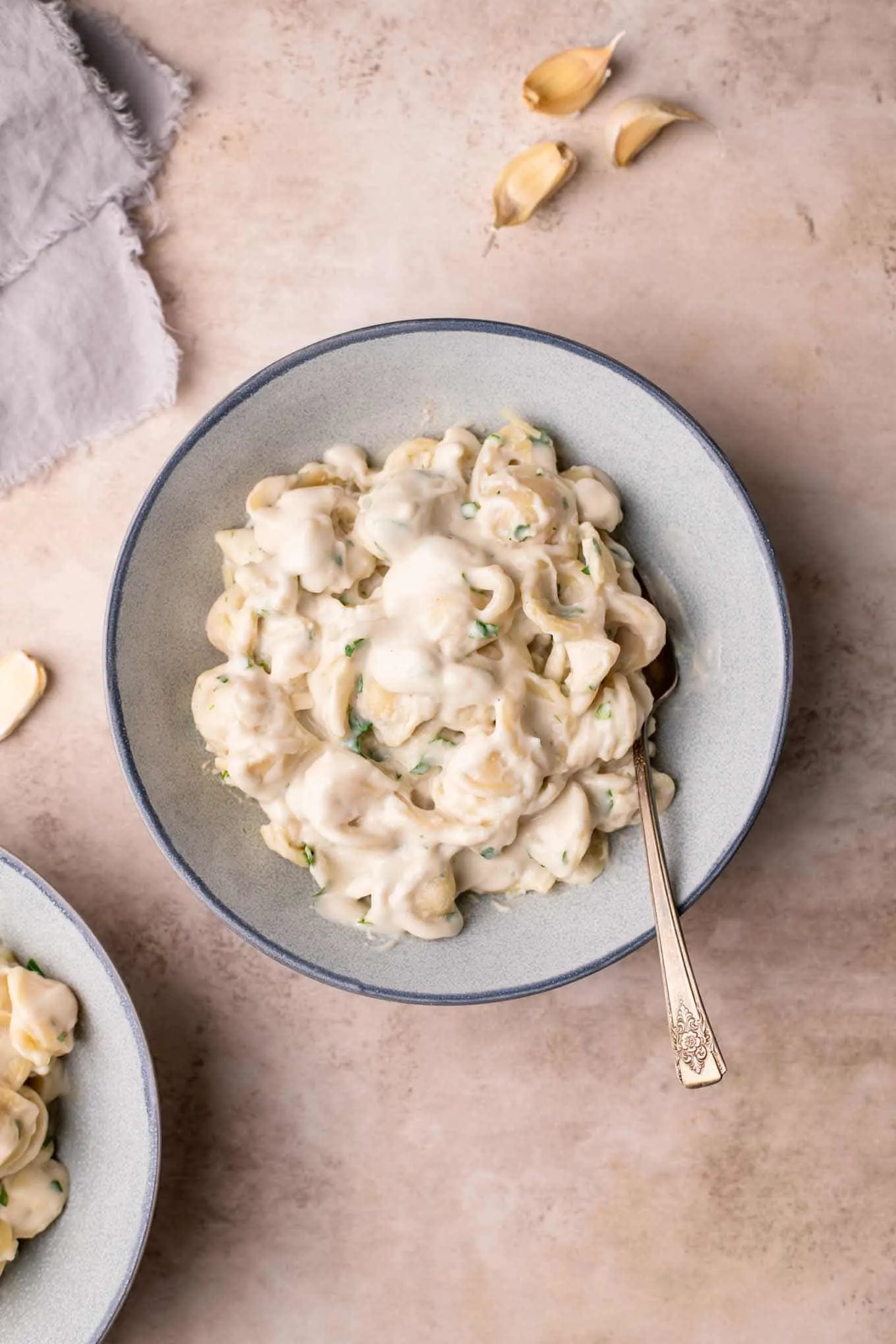 Love this sauce? Also check out my vegan garlic white sauce for pizza!
If you make these vegan creamy garlic noodles, leave a comment below and rate the recipe on the recipe card. And please share your photos with me on Instagram, tag @thecuriouschickpea and #thecuriouschickpea. I love seeing your recreations!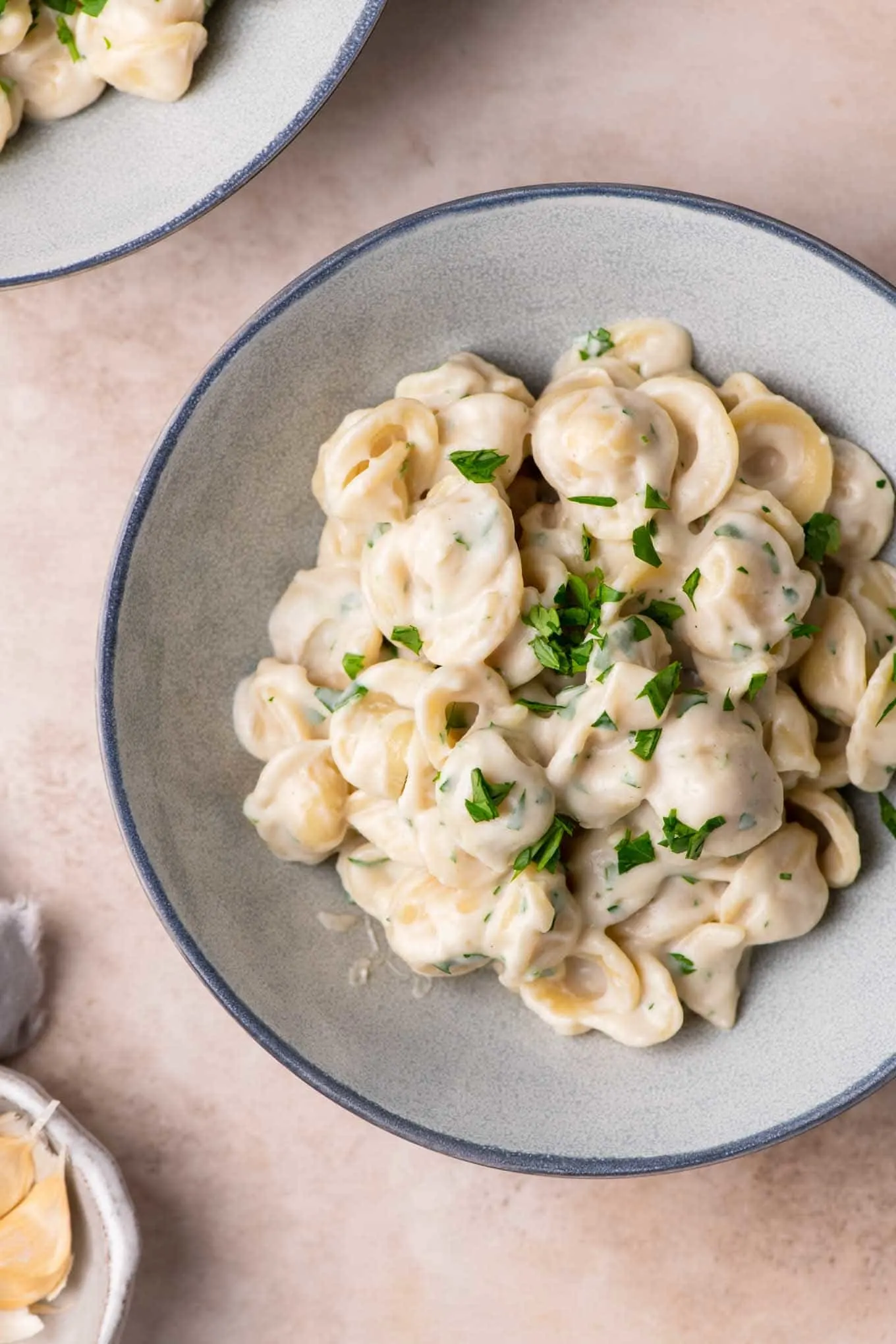 Vegan Creamy Garlic Noodles
These creamy noodles are rich and garlicky, a perfect side dish to any meal! For extra saucy noodles use a small noodle shape, or only cook 8 ounces of dried pasta if using a larger noodle.
Ingredients
1 lb small shells or noodles of choice
1 cup cashews*, soaked in water if not using a high powered blender
3 cups water
1/4 cup vegan parmesan cheese or nutritional yeast
3 garlic cloves, peeled
1/2 tsp granulated garlic
3/4 tsp salt
2 tbsp vegan butter (substitute olive oil)
3 tbsp all purpose flour (substitute gluten free if needed)
2-4 tbsp minced parsley (optional, or substitute 1-2 tsp dried)
Instructions
Cook the pasta according to package directions. Reserve 1 cup of pasta water, then drain and set aside.
In a blender combine the cashews, water, vegan parmesan or nutritional yeast, garlic cloves, granulated garlic, and salt. Blend until smooth, pausing to scrape down the sides as necessary.
Heat a large heavy bottomed pot over medium-low heat. Add the vegan butter and when melted sprinkle over the all purpose flour. Whisk the flour into the butter and stir frequently until lightly toasted, around 3-4 minutes.
Slowly pour in the cashew milk while whisking, so that the cream is remains smooth. Turn the heat up to medium, and let it come to a low simmer while stirring frequently. Once the sauce is warmed and thickened, add the pasta. If needed, add some reserved pasta water to loosen the sauce.
Stir in the minced parsley if using, and add salt to taste if needed.
Notes
*If using a high powered blender, feel free to skip the soaking step. To soak cashews cover in water and let soak at room temperature for a couple of hours. To quick soak, boil cashews in water for 15 minutes. Drain soaking water before using.
To substitute the homemade cashew milk, use 3 cups of store bought unsweetened cashew milk, soy milk, or oat milk. Crush or mince the garlic, and add it with the flour. Add the granulated garlic, salt, and vegan parmesan with the milk. See blog post for details.
Nutrition Information:
Yield:

8
Serving Size:

1
Amount Per Serving:
Calories:

245
Total Fat:

12g
Saturated Fat:

2g
Trans Fat:

0g
Unsaturated Fat:

9g
Cholesterol:

0mg
Sodium:

336mg
Carbohydrates:

28g
Fiber:

3g
Sugar:

1g
Protein:

8g
Nutrition is calculated automatically and should be used solely as an estimate.