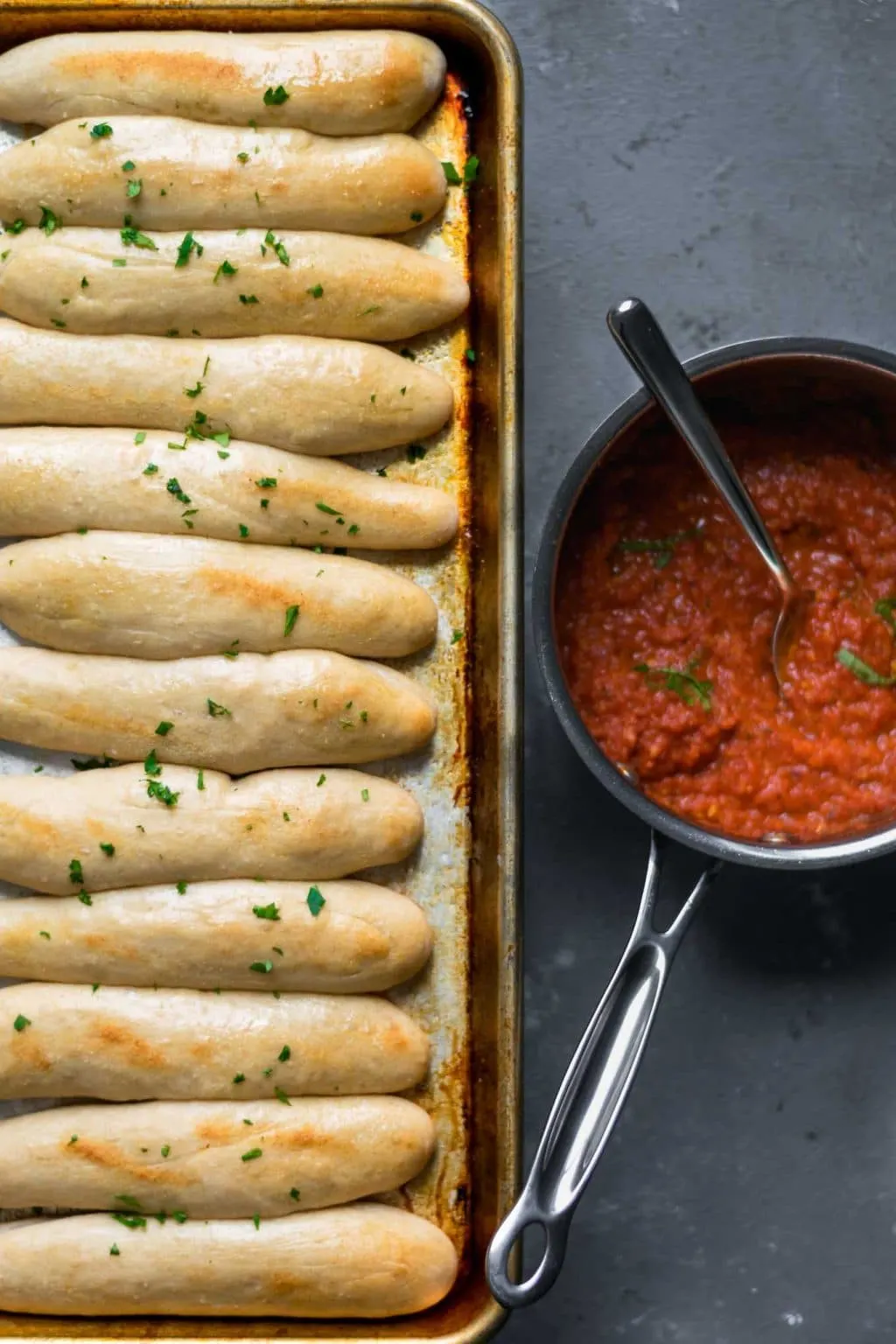 In high school I used to eat breadsticks for lunch multiple times a week. I know, I was pretty much living the dream life. These days my bread consumption had shifted to the morning, as I'm usually enjoying slices of homemade bread or a toasted bagel with a cheesy spread for breakfast. But that doesn't mean I ever stopped loving breadsticks, I just got more practical about my consumption. I'll regularly make a batch of breadsticks when I'm making pizza, my typical pizza dough recipe makes 3 balls of dough, and I'll turn one of those into breadsticks instead of pizza. When it comes to making pizza I'm pretty adamant about making slow rise dough, because the flavor, texture, everything is better. But sometimes, even I'll admit, that you shouldn't let stubbornness hold you back from enjoying last minute cravings for breadsticks.
These breadsticks are everything I want breadsticks to be. They're soft and doughy, with a delicious garlicky, salt-flecked finish. They're baked in a thin layer of olive oil so that the bottoms are as rich tasting as the tops, which are brushed with olive oil before baking. While you could use some melted vegan butter if you'd prefer, I particularly love them with the fruity, slightly bitter complex flavor of olive oil. Smart folks may even realize that an additional light layer of olive oil after baking takes them to the next level.
So, this recipe came about recently when I had a craving for breadsticks around 5pm, and instead of ignoring it, I decided to throw together a quick yeasted dough. There are only 4 ingredients in this dough: flour, water, salt, and yeast because it's all you need for a perfect dough! I chose bread flour for a chewier texture, and used a higher ratio of water to flour for a soft dough. A wetter, more slack dough helps the gluten develop and the yeast proliferate. The dough only needs a few minutes (like, 3 or 4.. at most 5) of kneading to develop the gluten. I usually just do this by hand so I can easily adjust the flour if needed, though you could use a stand mixer if you'd prefer.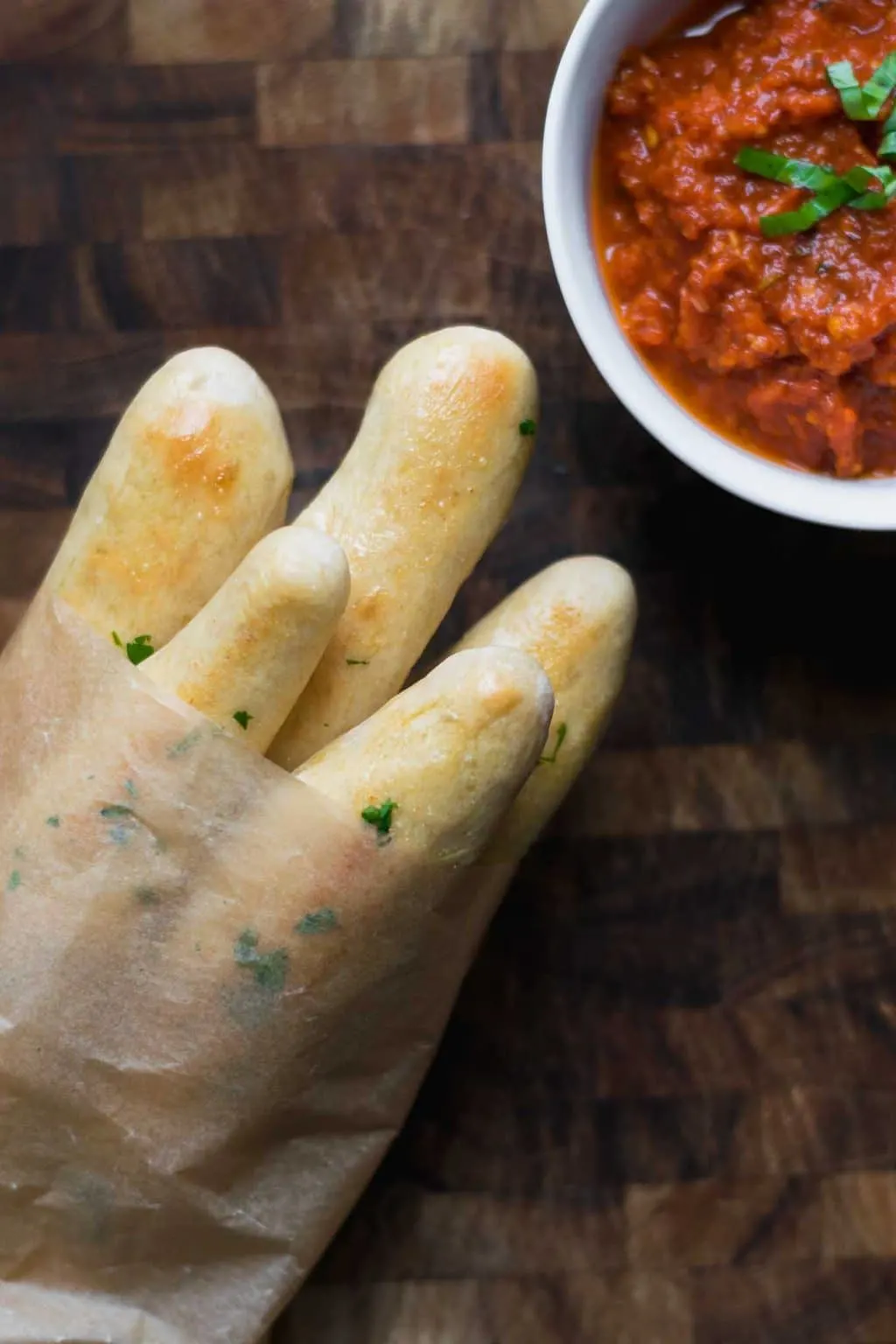 After kneading the dough gets a quick rest so the gluten can relax and the dough can be shaped into breadsticks. Once shaped, the breadsticks are placed on the prepared (read: greased with olive oil) baking tray and covered for their single rise. A few minutes into the rise I turn the oven on to preheat to 450 ºF so that it gets nice and saturated with heat. The dough rises for just 1 hour (maybe a little more or less depending on the temperature and what else you're doing) before being brushed with some olive oil and sprinkled with granulated garlic and salt (if you have garlic salt, you can probably use it here… I just don't buy the stuff). The breadsticks bake just for 8-10 minutes, or until they're lightly golden. I like to keep the breadsticks nice and soft so don't overdo the baking time. You can always lift one to check the underside for that beautiful light golden hue.
These breadsticks can be gobbled up hot from the pan, but why not finish them off with a nice spicy marinara dipping sauce? Because yeah, they're even better that way. [side note: As a teenager, I would choose that gross cheese dipping sauce for my breadsticks.. and like 10% of me wants to try and recreate a vegan version of it. Anyone want to encourage me?] The marinara is so easy to make. Fry a generous amount of garlic and crushed red pepper in olive oil, along with a bit of dried thyme and salt, then add canned tomatoes and simmer on low heat for 15 minutes. Then blitz it up a little for a smoother texture and let it sit until the breadsticks are ready. If you don't want a spicy sauce you can always decrease or leave out the crushed pepper.
I hope by now I've convinced you to add breadsticks to your next meal. They go great with pizza, pasta, or a large plate of salad. Also, they don't make a bad breakfast, if I do say so myself ;-). Let me know if you try the recipe! Leave a comment below, and tag your photos @thecuriouschickpea and #thecuriouschickpea on Instagram, or share with me on Facebook. Happy dipping friends!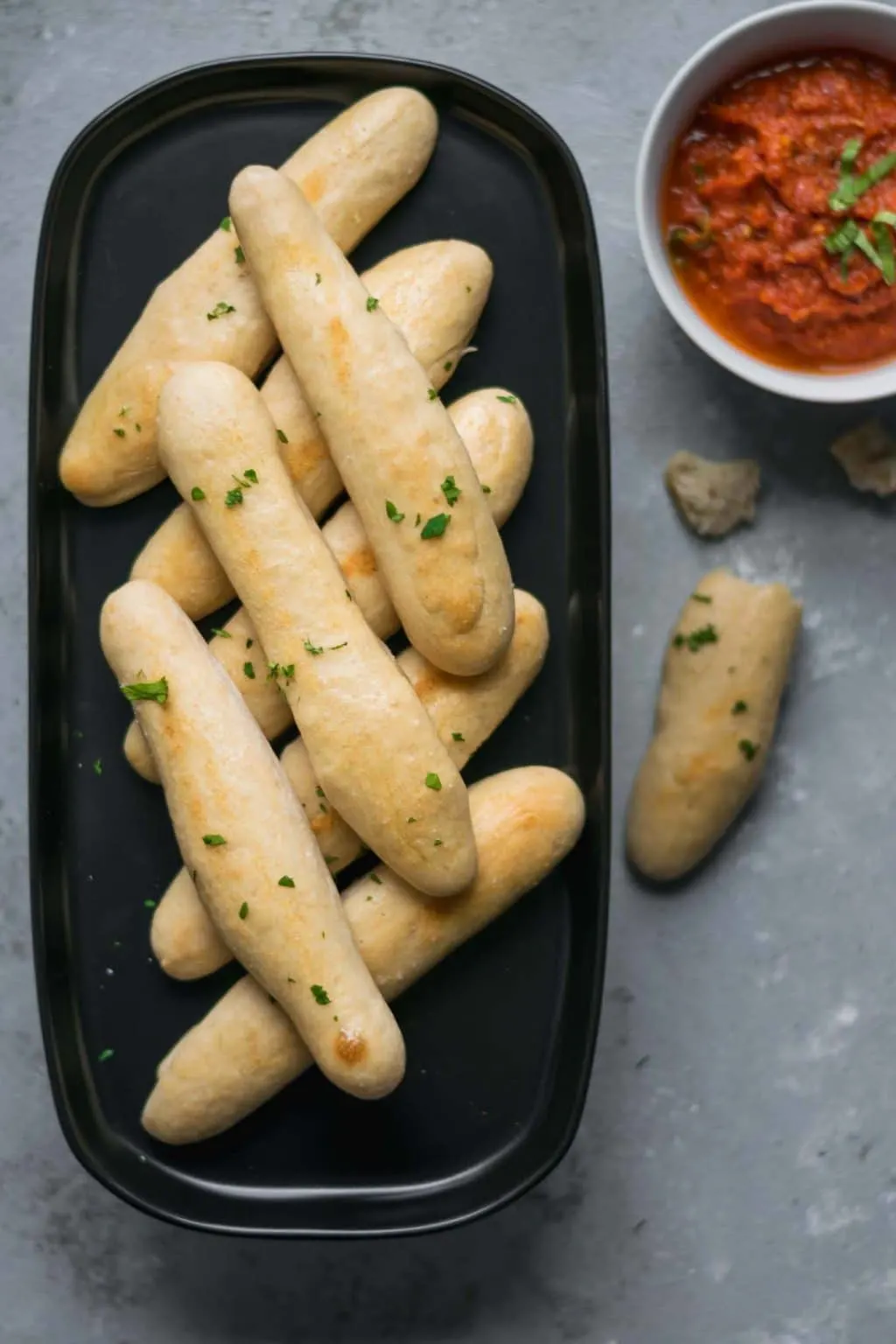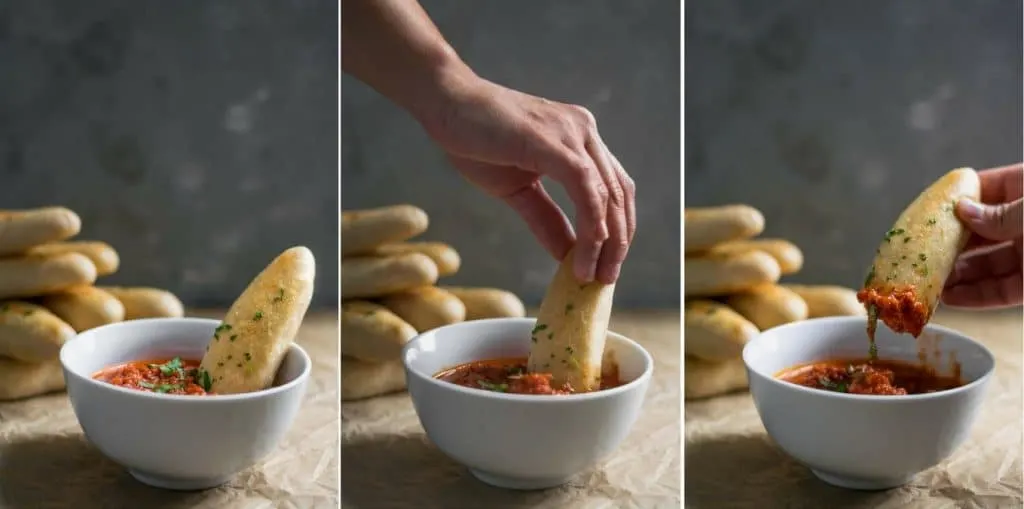 Notes:
You can easily half the recipe for 8 breadsticks, but unless you're just 2 (maaaaybe 3) people, you'll probably want the full recipe. I served them alongside a dinner with friends, and there were 4 of us, 16 breadsticks, and plenty of other food, and only 1 breadstick was left at the end. They're pretty delicious, what can I say?
Quick and Easy Homemade Breadsticks with Spicy Marinara
Prep Time:
1 hour
30 minutes
Total Time:
1 hour
40 minutes
These soft breadsticks require just 3-4 minutes of kneading and bake up in almost no time. They're brushed with olive oil and garlic for a mouth watering finish, and perfect dipped into a spicy and garlicky marinara sauce while still warm. They're the perfect accompaniment to any Italian meal.
Ingredients
Breadstick Dough
3 3/4 cups (500g) bread flour, more as needed
2 tsp (11g) salt
1 1/2 tsp (4g) instant yeast
1 1/2 cups (354g) warm (110 ºF) water
1 1/2 tbsp olive oil, divided
1/2 tsp granulated garlic
pinch of salt
minced fresh Italian parsley, for garnish (optional)
Spicy Marinara
1 tbsp olive oil
2 cloves garlic, minced
1/2 - 1 tsp crushed red pepper, to taste
1/2 tsp dried thyme
1/4 tsp salt, or to taste
1 15 oz (1 1/2 cups) can tomatoes*
basil, cut into chiffonade (optional)
Instructions
To make the breadsticks:
In a large mixing bowl combine the flour, salt, and yeast. Stir to combine, then add the water. Mix with a wooden spoon to form a shaggy dough. Turn the dough out onto a lightly floured surface then knead for 3-5 minutes until a soft and supple dough forms. Add more flour to the counter as necessary to prevent sticking and to get the correct texture. The final dough should be lightly tacky but not sticky. Set the dough back in the bowl, and cover. Let sit for 15 minutes for the gluten in the dough to relax.
While the dough rests prepare a large half sheet rimmed baking dish. Pour a generous amount of olive oil (~1 tbsp) and spread it to cover the bottom.
Divide the rested dough into 16 equal pieces, ~55g each. Roll each piece of dough out to about 7" long. If the dough resists being rolled out, leave to rest for a couple of minutes then roll again. To roll the dough, first roll back and forth under the palm of one of your hands until it's a few inches long. Then switch to using the first two to 3 fingers of each hand and roll the dough back and forth starting with your fingers spread with pointer fingers meeting at the center of the rope and moving them outwards to the end as you roll the dough under your fingers, never fully reaching the end of the dough to prevent a pointy torpedo tip. Place your fingers back in the center and continue rolling until the dough is rolled to your desired length.
Set the rolled breadsticks in the prepared baking tray, with about 1/2" between each breadstick. When all the breadsticks are shaped and placed in the baking tray cover with plastic wrap and let rise for about 1 hour until the dough is puffy and starting to run into each other.
While the dough is rising, heat the oven to 450 ºF with a rack placed in the center. Let the oven preheat for at least 45 minutes.
When the breadsticks have risen and the oven is hot, remove the plastic from the pan and brush the tops of the breadsticks generously with olive oil (~ 2 tsp olive oil). Sprinkle on the granulated garlic as well as a little salt over each breadstick. Place in center rack of oven and bake for 8-10 minutes until just turning a light golden color in spots.
Enjoy the breadsticks sprinkled with a little minced parsley (if using) alongside the easy marinara dipping sauce.
To make the spicy marinara dipping sauce:
While the breadsticks are rising, make the sauce. Add the tablespoon of olive oil to a small pot. Heat over medium-low heat and when warm add the minced garlic, crushed red pepper, dried thyme, and salt. Fry for 30-60 seconds, stirring, until the garlic is just a shade golden.
Add the can of tomatoes and turn the heat up to medium. Bring to a low boil then turn the heat down to low. Let simmer gently and uncovered for about 15 minutes, stirring every few minutes.
When done simmering, blend with an immersion blender or traditional blender for a smoother texture (optional). Taste the sauce and add salt if needed.
Add a little fresh basil if using, and set aside until the breadsticks are ready to eat!
Notes
*you can use whole tomatoes, diced tomatoes, or crushed tomatoes. If using whole tear them apart a little before adding.