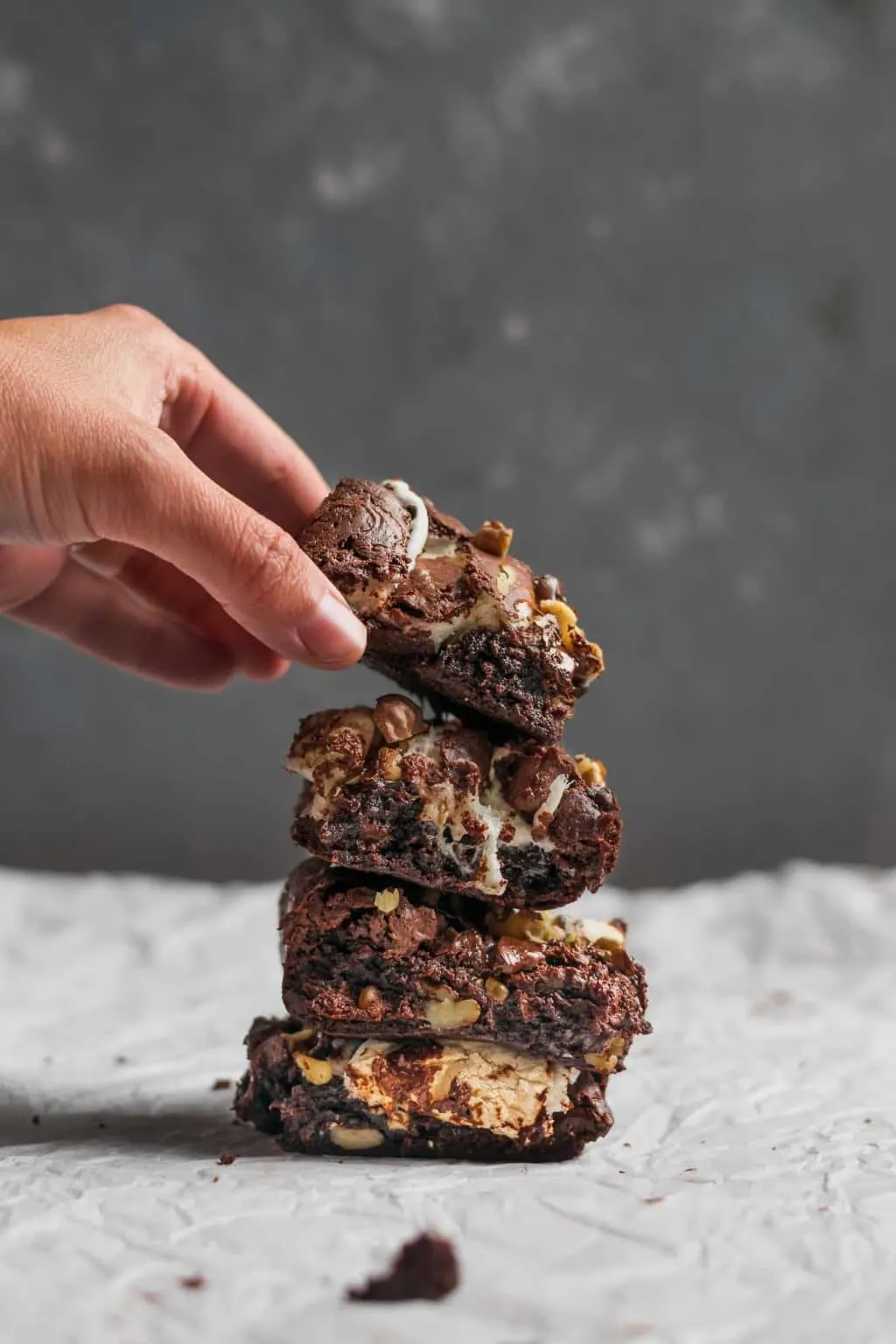 If you've been vegan for a while, chances are that you've eaten your share of disappointing brownies. Either it's cake that's masquerading itself as a brownie, or something that is closer to fudge. Brownies are tricky, and not only because there are as many ideas of what makes a perfect brownie as there are people who eat brownies. For me, the perfect brownie is chewy, richly chocolaty, has a shiny, crackly top and won't be confused for either fudge or cake. In short, it's this brownie.
Brownies are tricky to veganize. Traditional recipes depend on the specific properties of eggs, using a relatively small amount of flour and depending on the egg for both leavening and setting of the brownies. Recipes that try to directly substitute the eggs with common vegan egg replacers don't turn out with the desired results. This brownie recipe uses vegan yogurt as the egg replacer, but doesn't depend on it to do all the work of an egg. The percentage of flour used is increased as compared to traditional egg-based brownie recipes, and it's needed to get the (my) desired chewy texture and stay away from fudge territory. Some baking powder is also added as leavener to give the final brownies some height.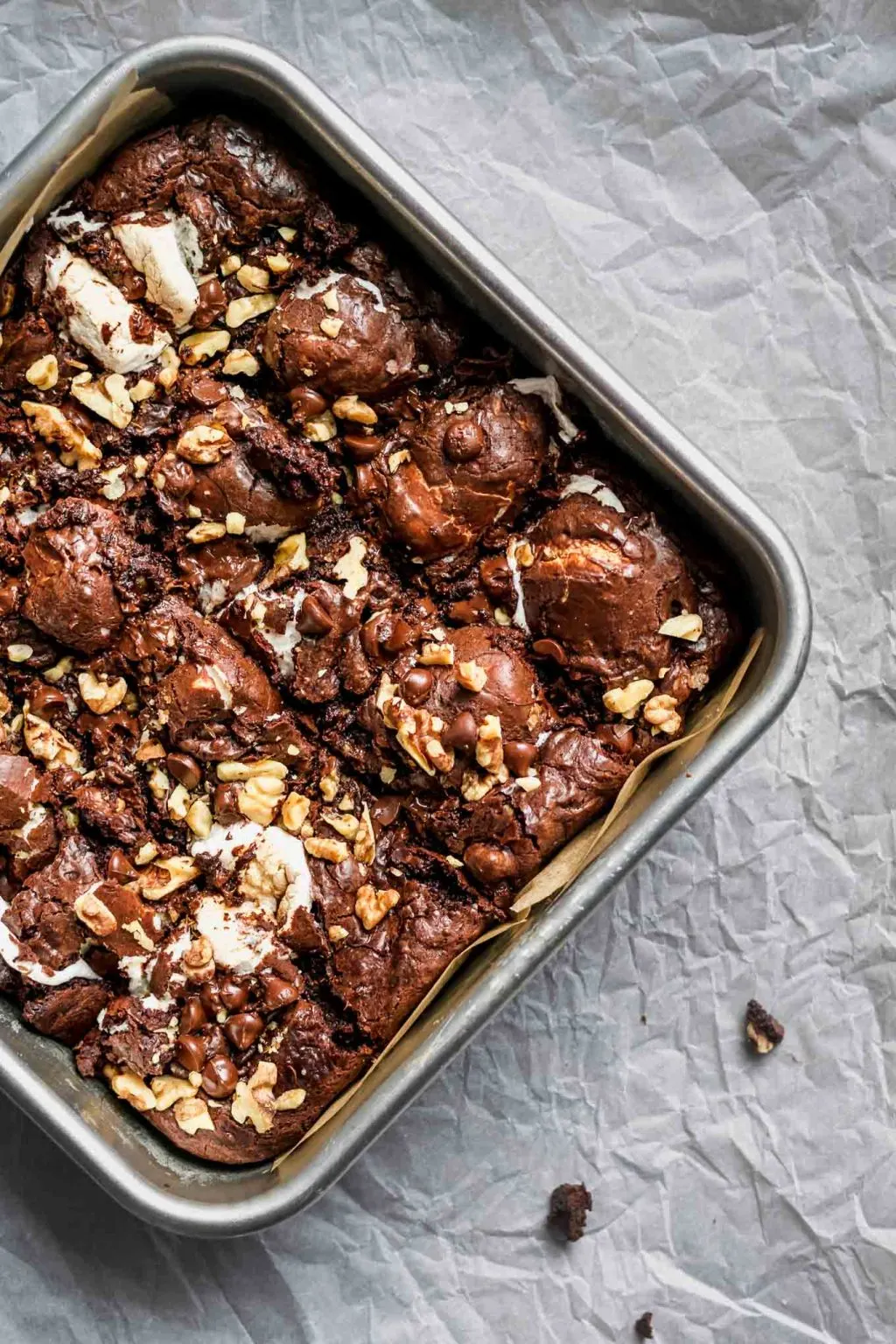 For extra chocolaty rich flavor these brownies use chocolate 2 ways (well technically 3 when rocky road-ing the batter). There's the traditional dutch-processed cocoa powder, which is cocoa powder that has been treated with alkali for a milder and less acidic flavor, as well as 70% dark chocolate melted right into the batter. The cocoa butter in the dark chocolate helps set the brownies and helps keep them from getting too cakey.
My last requirement for good brownies is that shiny, crackly top. Well luckily, it's just a misconception that you need eggs to get that top. It actually is achieved when the sugar dissolves into the liquid before baking. This is easy to do, as we're heating up our liquid (plant milk + yogurt) anyway to melt the dark chocolate. Chemistry is pretty cool, huh?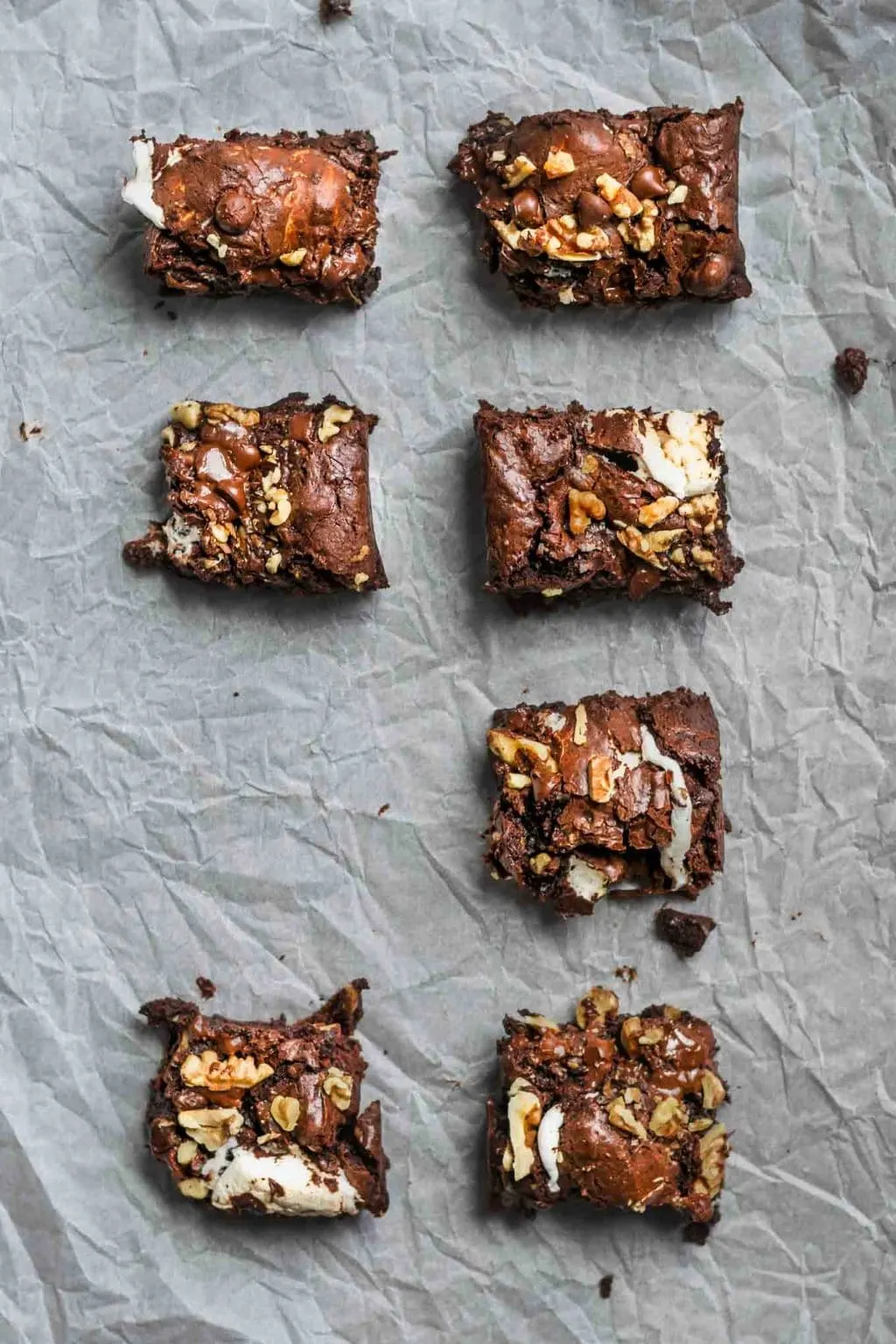 Speaking of sugar, yes, it's pretty essential for making that perfect brownie. But these brownies are so dark chocolaty rich and delicious you don't need to eat a lot, or at least you don't need to eat them that often. All the added liquid from the yogurt and milk does mean that you only add ¼ cup of oil for the full pan of brownies, so that's a fraction of the fat of traditional brownies. Treat yourself, ok?
At this point you might be saying, ok, Eva, we get it, you think you've cracked the vegan brownie code. But how can we believe you? Those brownies are stuffed so full of chocolate chips, walnuts, and vegan marshmallows, these subtleties can get lost. Well first of all, I don't believe that, having started with a subpar brownie recipe myself and ending up with rocky road brownie goo. But also just to make sure this was my perfect brownie, I also made it without any add-ins, and they bake up perfectly, just taking about 5 minutes less to bake than the rocky road version.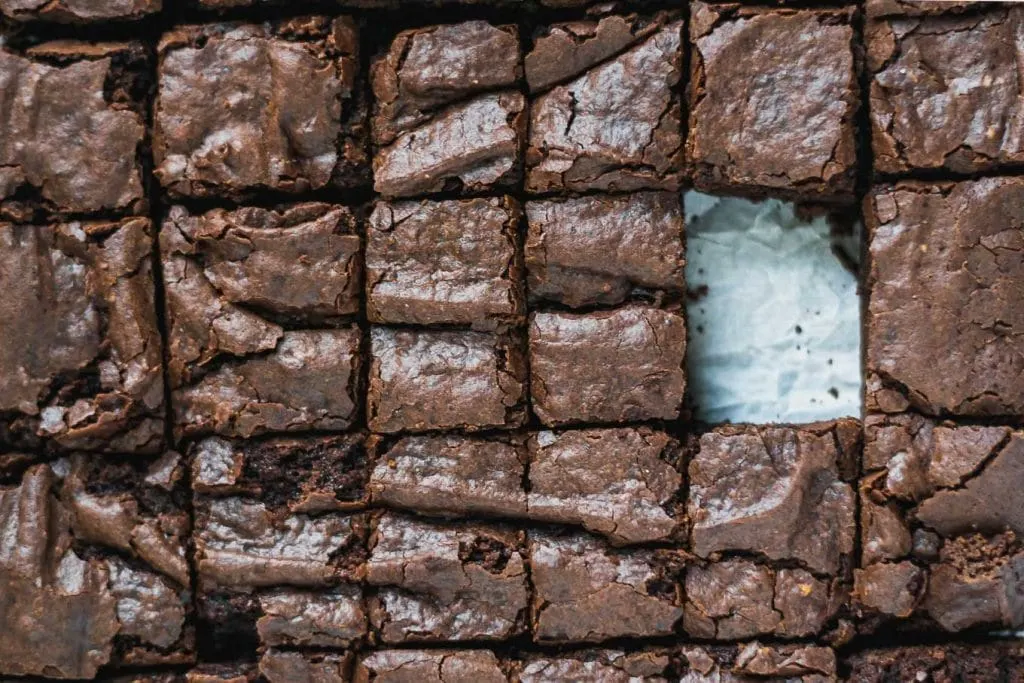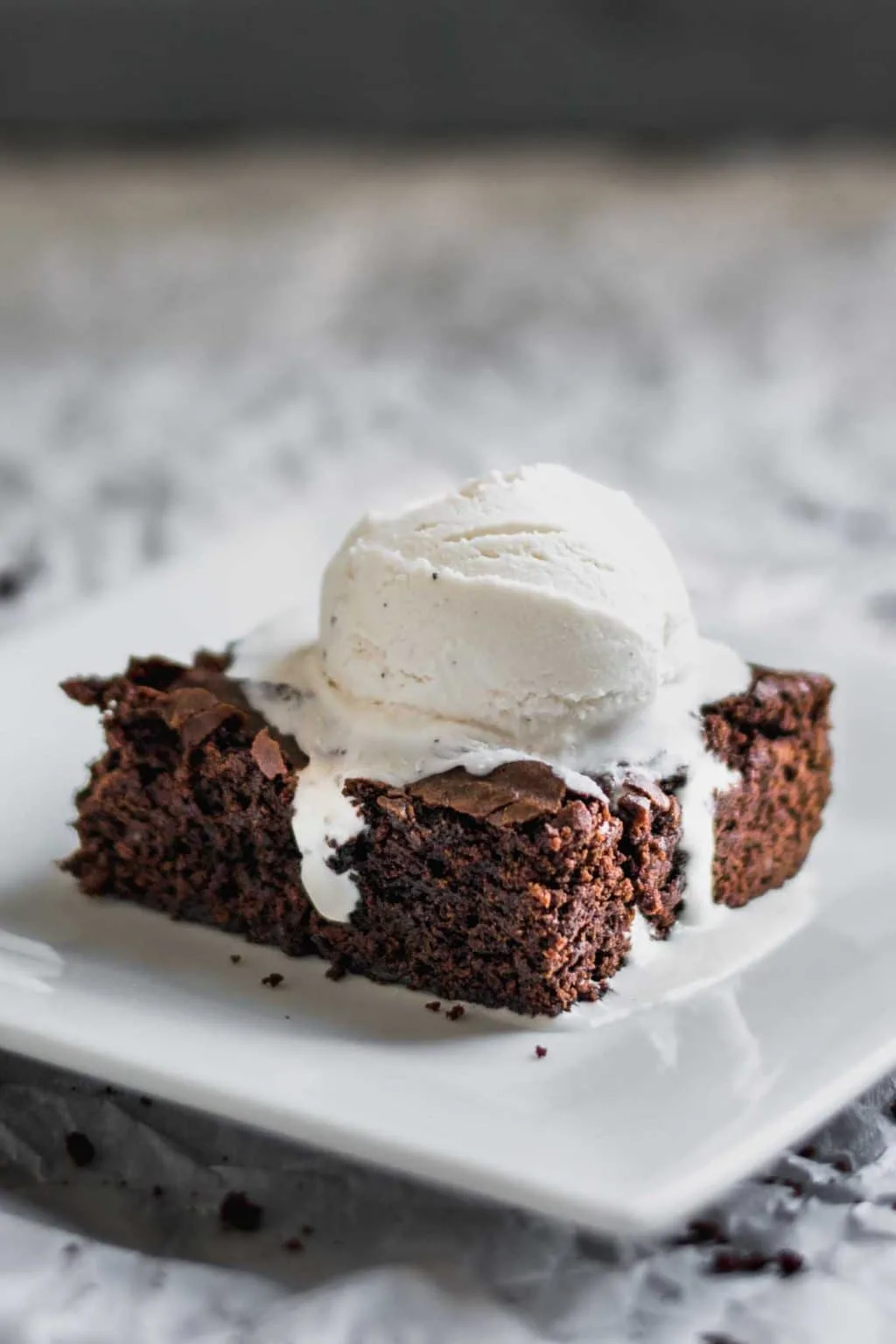 These brownies are perfect gobbled straight from the pan, but also delicious served a la mode with your favorite non-dairy vanilla ice cream. They're the brownies I'd been missing since going vegan. I tested them on some of my favorite people and they were met with a lot of enthusiasm (well first all I got the silence that all great food is first met with).
I do hope you make these brownies and enjoy them as much as we did! Make them rocky road style, or just plain. Or might I suggest both? They do freeze really well in case you don't finish them within a couple of days, or want to keep emergency brownies on hand. They also warm up in a matter of seconds in the microwave for that just baked texture, not to mention that perfect temperature for melting ice cream overtop. Let me know if you try this recipe, leave a comment below, and tag your photos @thecuriouschickpea and #thecuriouschickpea on Instagram, or share with me on Facebook. Enjoy!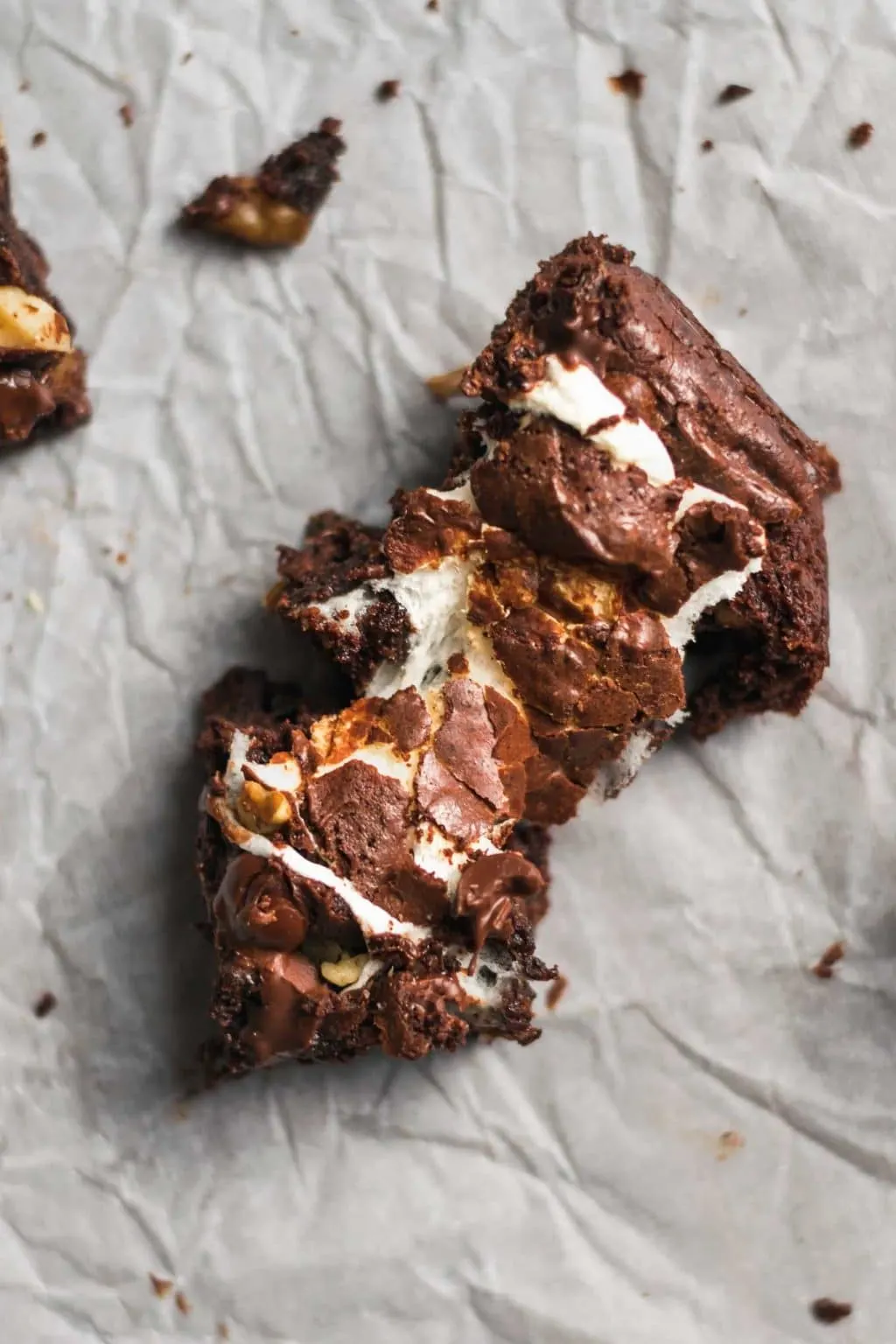 Notes:
Use a metal pan, glass or pyrex plans transfer heat differently enough that you'll often end up over baking after taking them out of the oven. If you need to use glass, remove the brownies from the pan about 10 minutes after you pull it out of the oven.
I used Dandies vegan marshmallows to make these rocky road brownies, but any vegan marshmallow should work!
If you can't find vegan yogurt, blend silken tofu up and use that instead.
Vegan Rocky Road Brownies
Yield:
16 ~2" square brownies
Total Time:
1 hour
5 minutes
The search for the perfect vegan brownie stops here. They're extra delicious and decadent when stuffed with chopped walnuts, chocolate chips, and vegan marshmallows for a rocky road rendition. And might I suggest serving a la mode with a scoop of your favorite vegan vanilla ice cream.
Ingredients
1 1/2 cups (195g) all purpose flour
1/2 cup (42g) dutch process cocoa powder
3/4 tsp (3g) baking powder
3/4 tsp (4g) salt
1/2 cup (120g) non-dairy milk
1/3 cup (80g) plain, unsweetened non-dairy yogurt
1 1/2 cups (300g) sugar
3 oz (87g) dark chocolate*, chopped finely
1/4 cup (52g) neutral flavored vegetable oil
2 tsp (10g) vanilla extract
3/4 cups (105g) chopped walnuts
3/4 cups (135g) semisweet chocolate chips
1 1/2 cups (110g) vegan marshmallows, ~12 large ones, or use minis
Instructions
Preheat the oven to 350 ºF with a rack placed in the center. Spray a 9 inch square baking dish with oil. Cut a piece of parchment to fit the bottom with a couple extra inches to climb up the sides. Place parchment over greased dish with the overhang for easy brownie removal after baking.
In a large mixing bowl sift together the flour, dutch process cocoa powder, baking powder, and salt. Set aside.
In a small pot combine the milk, yogurt and sugar. Heat over low heat, stirring regularly, until hot but not bubbling (~120 ºF, you don't need to check the temperature with a thermometer, it should be hot but not simmering). Stir until the sugar is dissolved and the mixture is a bit glossy. Turn off the heat and add the chopped chocolate. Stir until the chocolate has melted and the mixture is smooth. Add the oil and the vanilla extract and stir to combine. If mixing in chocolate chips for rocky road brownies, set aside and allow the mixture to cool for 15-20 minutes so they won't melt, otherwise, skip ahead.
Once the melted chocolate mixture is has cooled to lukewarm, add the wet ingredients into the dry and mix with a wooden spoon until just combined and no dry spots are left. If making rocky road brownies, add most of the chopped walnuts, chocolate chips, and vegan marshmallows, reserving a little of each to sprinkle on top. Gently fold them into the batter.
Spread the batter into the prepared baking dish and smooth the top with the back of the spoon. Sprinkle on the reserved nuts, chocolate chips and a marshmallow or two (placing to fill in any marshmallow gaps). Gently press these into the top of the batter.
Bake the brownies for 30-35 minutes, or until a tester comes out with some moist crumbs but no wet batter. Some melted chocolate may come out on the tester. Poke in a few places to be sure. If baking plain brownies without the add-ins bake for 5 less minutes, or 25-30 minutes.
Remove the finished brownies from the oven and allow to cool. They're delicious warm, but will be easier to cut if you allow them to cool fully and refrigerate for a few hours or overnight. Brownies can always be reheated for a few seconds (15-30s, depending on microwave strength) to warm. Enjoy!
Notes
*I use 70% dark chocolate, which works perfectly in this recipe. You can use a different percentage, but if it's much different results may vary.
To measure your flour by volume: whisk the flour to undo any settling, then scoop with the measuring cup and level.