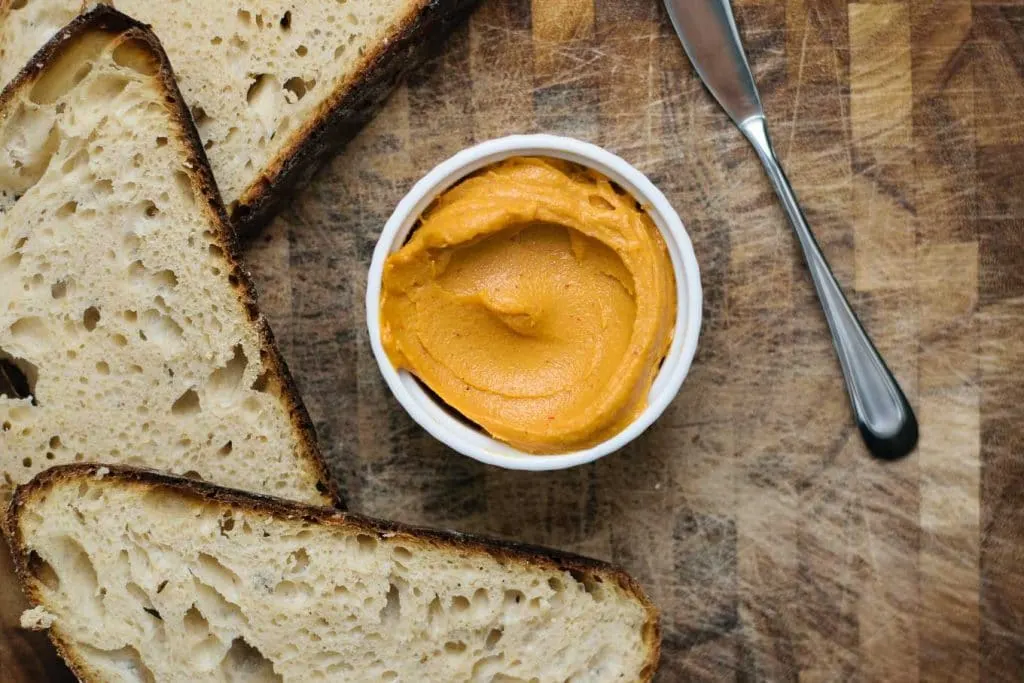 If you've been following along with me for a bit now, you know that I like my bread and I like my [vegan] cheese. But as of yet, I haven't shared a recipe for my everyday cheese-spread. While sometimes I spread creamy almond cheese on toast, I tend to gravitate towards flavored cheese spreads for my bread. I've always been a flavored cream cheese over plain type of girl, what can I say. For a long time my go-to was a cultured creamy cashew cheese. And while I tried a lot of different mix-ins over the years, I'd always gravitate back to a chipotle one. Something about the smokey flavors of chipotle makes cultured vegan cheese even cheesier tasting. This cultured version is still probably my go-to for the depth of flavor it achieves, but over the past year I've developed a non-cultured version. It's perfect for busier times, and is nice because there's no chance it will go off while culturing!
Cashews provides all the creaminess you'll need in your vegan cheese spread. Coconut oil adds richness and also helps the cheese firm up when cold. A lot of inspiration for this chipotle cheese spread was taken from the extra sharp cheddar cheese ball recipe by Somer McCowan of Vedged Out. But, while that recipe is great for holiday or party indulgences, it's a bit rich for everyday eating, even for me. I don't need a super firm cheese for spreading onto toast anyway, and swapping out water for some of the coconut oil results in a softer and more spreadable cheese. This cheesy spread has a lot of depth of flavor despite not being a cultured cheese.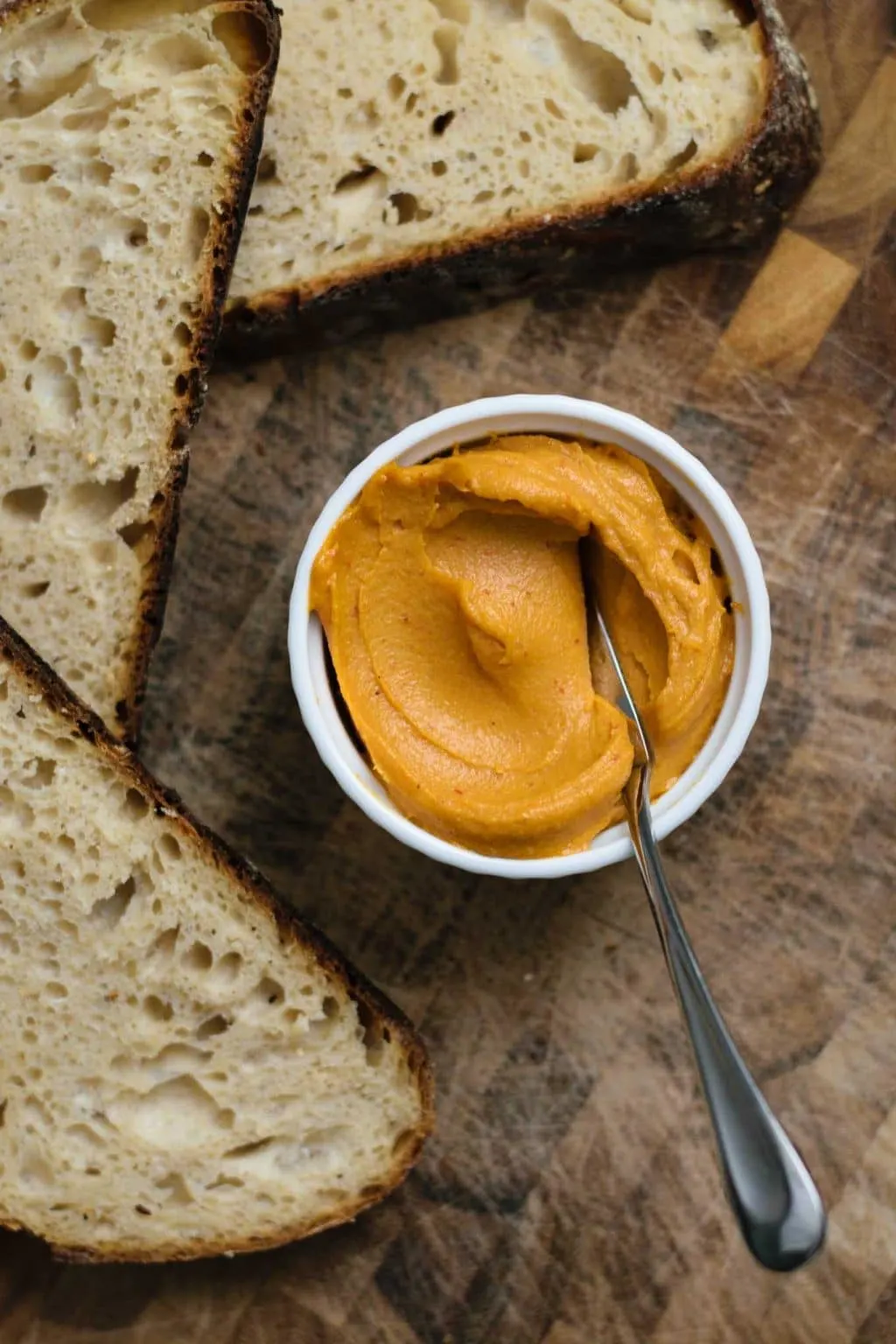 Nutritional yeast has a wonderful nutty, cheesy flavor and is easily purchased at natural foods stores, or can be found online. Miso adds salty-umami flavor and gives some of the depth of flavor from culturing, without actually having to do it yourself. White wine adds a lot of body to a dish, or it can be swapped for Coconut Vinegar
, which has a particular sourness that somehow makes everything taste cheesier. The smokiness of chipotles adds another layer of flavor to the cheese. When the peppers are deseeded, you can add quite a bit of chipotle without actually having the cheese get spicy (by my, albeit relatively high, spice standards). For extra smokiness, a little ground chipotle powder is used. You can substitute some smoked paprika if you'd like, or you can use regular paprika for extra pepper flavor. Granulated garlic adds garlic flavor without the sharp bite of fresh, and onion powder works similarly to deliver a sweet and mellow onion flavor. Turmeric is added for color.
So next time you have some fresh bread on hand, or perhaps a batch of homemade bagels hot out of the oven, whip up vegan chipotle cheese spread to slather on your bread! I hope you like this recipe as much as we do! Let me know if you make it! Leave a comment and/or rate the recipe below, tag me on Instagram (or #thecuriouschickpea), or share with me on Facebook! Happy eating!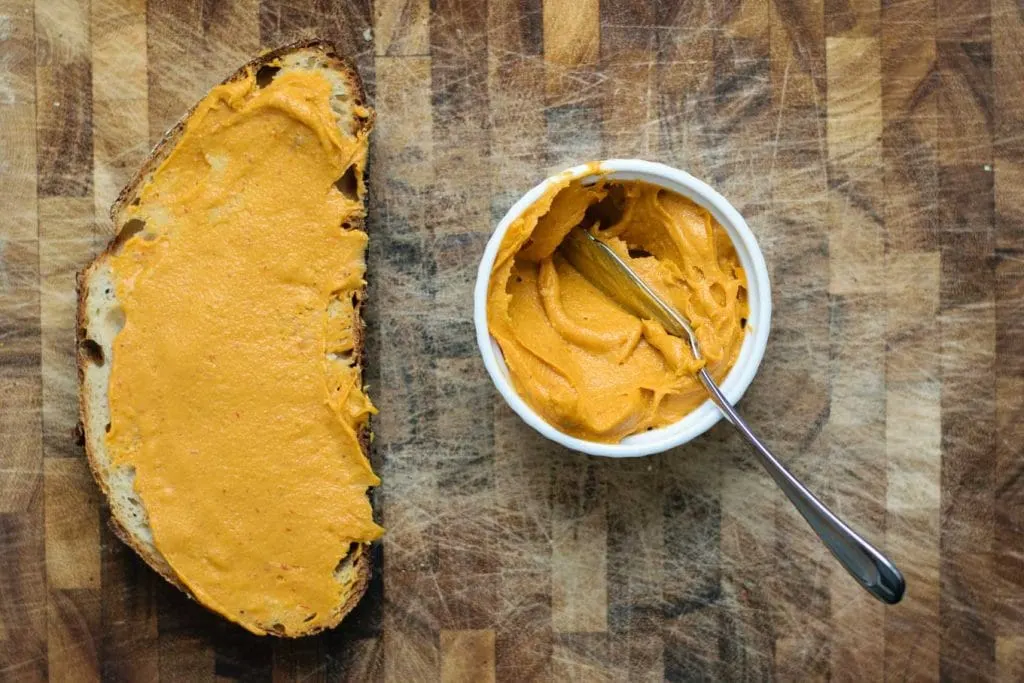 Notes:
When using chipotle in adobo, remove the peppers from the adobo (save for another use) and deseed before measuring.
If you want to learn about making cultured cheeses, check out Artisan Vegan Cheese by Miyoko Schinner.
You can use unrefined coconut oil if you'd like, but it will have some coconut flavor. It's just a matter of personal preference!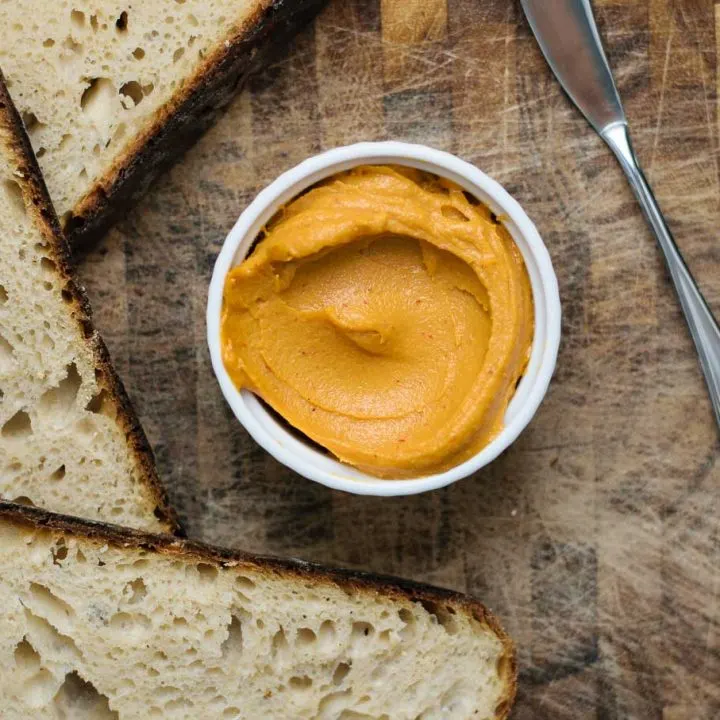 Vegan Chipotle Cheese Spread
This cashew-based cheese is smokey and delicious. It's perfect for spreading on toast!
Ingredients
2 cups cashews, soaked for 2+ hours if not using a high speed blender
1/4 cup water
1/4 cup refined coconut oil, melted & around room temperature
1/4 cup nutritional yeast
2 tbsp chipotle peppers in adobo, seeded and roughly chopped
1-2 tbsp chickpea or white miso*
1 tbsp white wine or coconut vinegar
1 1/2 tsp onion powder
1/2 tsp granulated garlic
1/2 tsp ground chipotle or hot smoked paprika
1/4 tsp turmeric
1 tsp salt
Instructions
Put everything in the blender or food processor and blend until smooth! Add more water or coconut oil if needed. Additional water will make a softer final cheese, while more oil will make it firmer.
Transfer to a container and place in the fridge. It will firm as it chills!
Notes
*start with 1 tbsp of miso, then taste and add more if desired. Depending on the brand, sometimes I can find white miso a bit sweet and prefer to use less.
Recipe adapted from Vedged Out