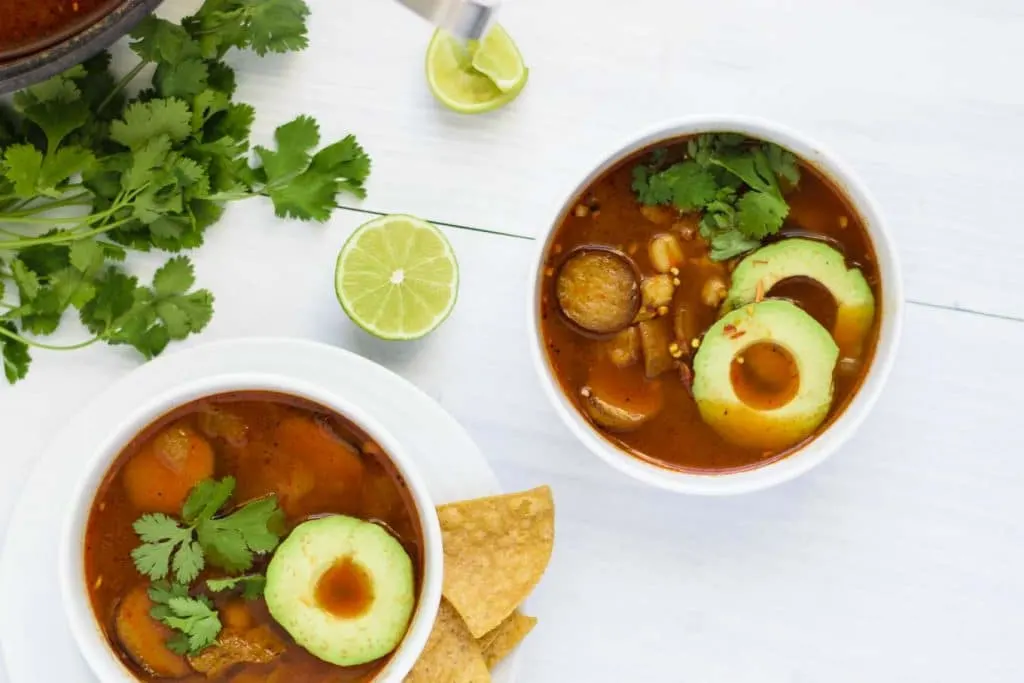 Have you ever had pozole? If not, ask yourself a few questions: Do you like Mexican food? Do you like chili flavor? Do you like hominy (dried corn kernels that have been treated with alkali and end up like little chewy dumplings)? Do you like broadening your horizons and trying new things? Do you like soup? Are you human? If you answered yes to any of those questions, you should really make this soup. I didn't try pozole until my early 20s, because, while it's a common enough dish at Mexican restaurants, it's not vegetarian friendly. Even if you're lucky enough to find a version with beans instead of meat, you have to watch out for that sneaky chicken broth. But upon your first sips of a plant based version of the soup, you may find yourself exclaiming, damn, where have you been all my life?! To be honest, many bowls of pozole later, I still say that.
There are as many different kinds of pozole as there are people it's enjoyed by. More, actually, as there are red (rojo), green (verde), and white (blanco) varieties of pozole. Anyone else picturing the Mexican flag right now? I love this red version, as it's made with a dried chili base. The color is beautiful, and the soup is peppery and throat and belly warming. This recipe uses seitan in place of the meat. Seitan is a great chewy protein, and soaks in the rich flavors of the soup so each bite is extra enjoyable. I've also added some mushrooms for their meaty texture.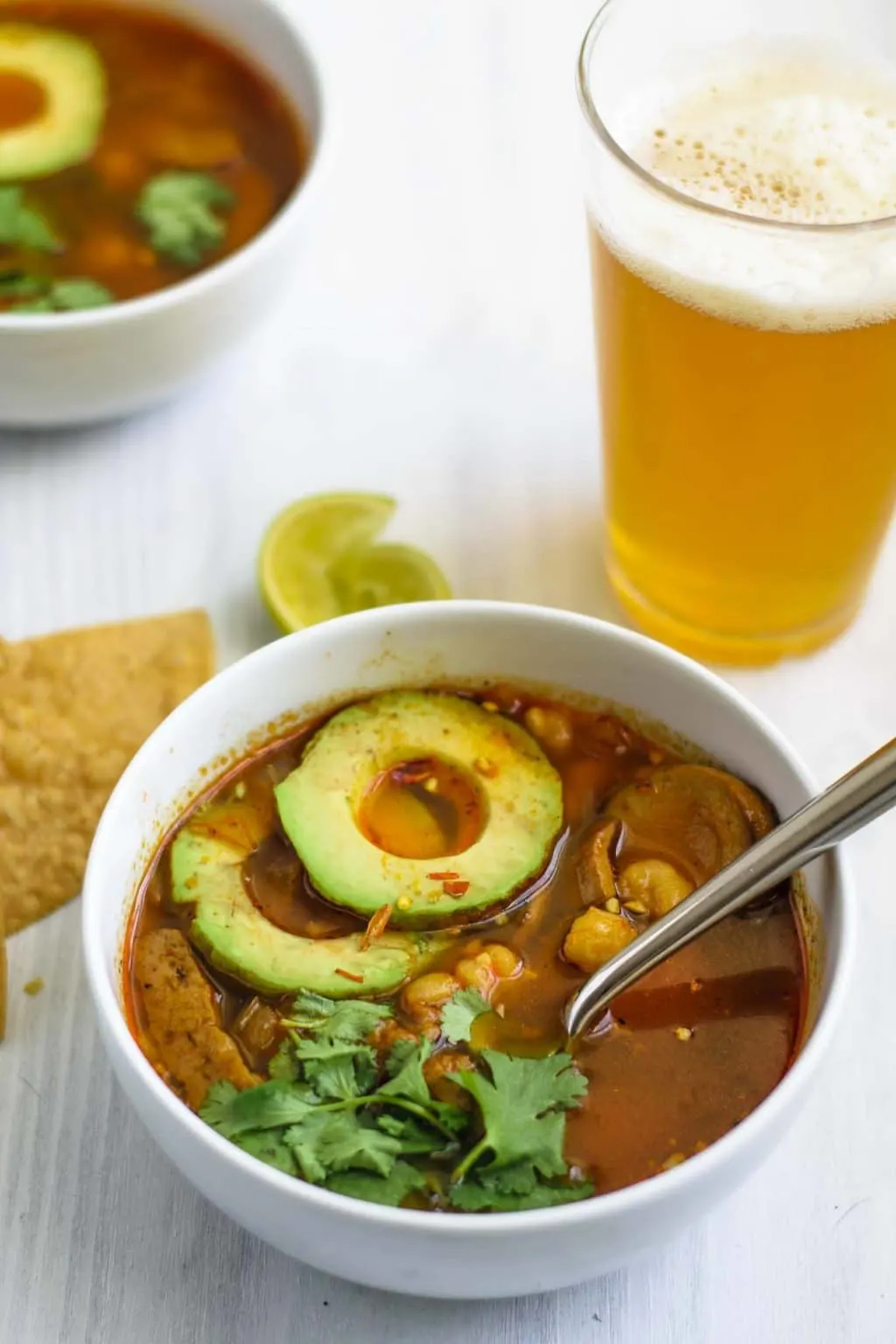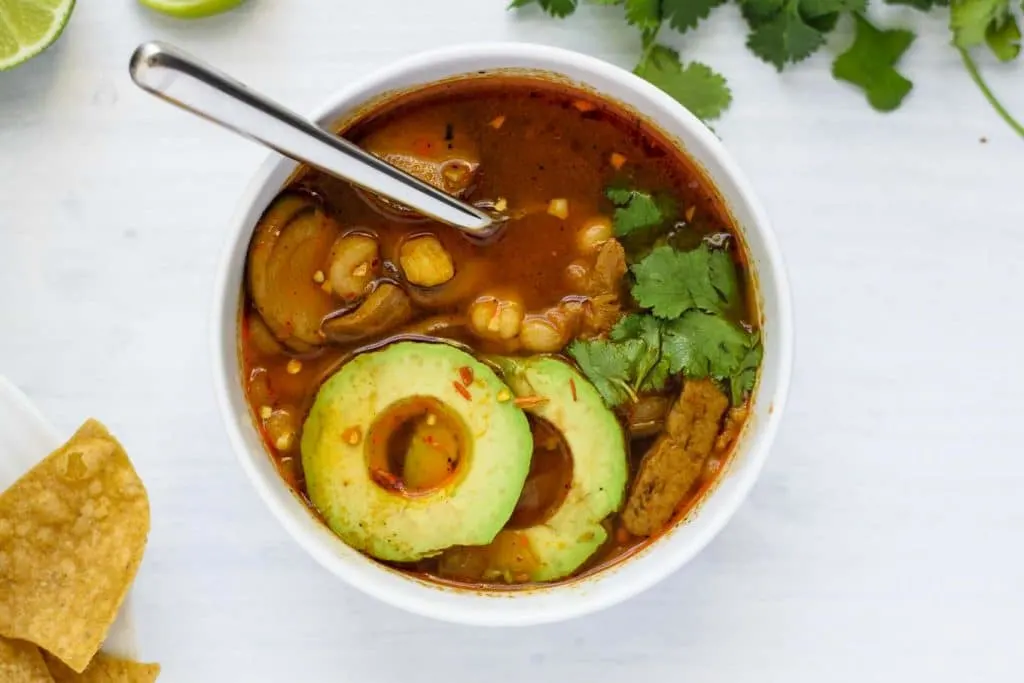 Besides the "meat," the only other ingredient always found in pozole is the hominy. It's actually the only ingredient you need to call a soup pozole, as pozolli in Náhuatl translates to hominy (a little more history here en español). So yeah, this is an ancient dish that has been around since before the Spanish conquest of Mexico. Pretty cool, but also gross if you actually read that article in Spanish I linked. Anyway, moving away from that, let's talk about how you actually make this vegan pozole rojo!
So, step 1: make a chili paste. While I'm sure the varieties of dried chiles used vary across cultures and regions, I chose a couple that I have the easiest time finding at my local grocery stores. I used a mixture of dried New Mexico chiles (you can order them online too) and chiles de arbol (which also can be purchased online).Chiles de arbol are a spicier chile, so use less or leave them out for a milder chili paste (and therefore milder soup). New Mexico chiles are a mild pepper with an earthy, mildly fruity flavor. You could use other dried Mexican chiles depending on what you have access to. It will change the flavor, but still be delicious. Guajillo chiles are a mild pepper, slightly sweet and mildly smokey and could be really good in your chili paste. Anchos are a smoky, medium spicy chile that would also be delicious as part of your chili paste (I've used these before in combination with New Mexico and arbol chiles). The most complex chili pastes will use a mixture of peppers, but I find mixing 2 gets some of that complexity while keeping things simple. To actually make the chili paste the dried peppers are first de-stemmed and de-seeded, then soaked in boiling hot water until soft and supple. They're then blended with just enough water to make a paste.
Fry the seitan and mushrooms separately before making the soup. This lets them brown and caramelize for a better texture and flavor. Then, using the same pot, soften the onion before adding the garlic and the seitan and mushrooms back in. The prepared chili paste, tomato paste, and ground cumin are fried before adding the broth to enhance their flavor. Broth and prepared hominy (you can buy and cook dried hominy, but it will take a lot longer–I use the short cut of buying canned hominy) are added and the soup is simmered for just about 15 minutes for the flavors to meld.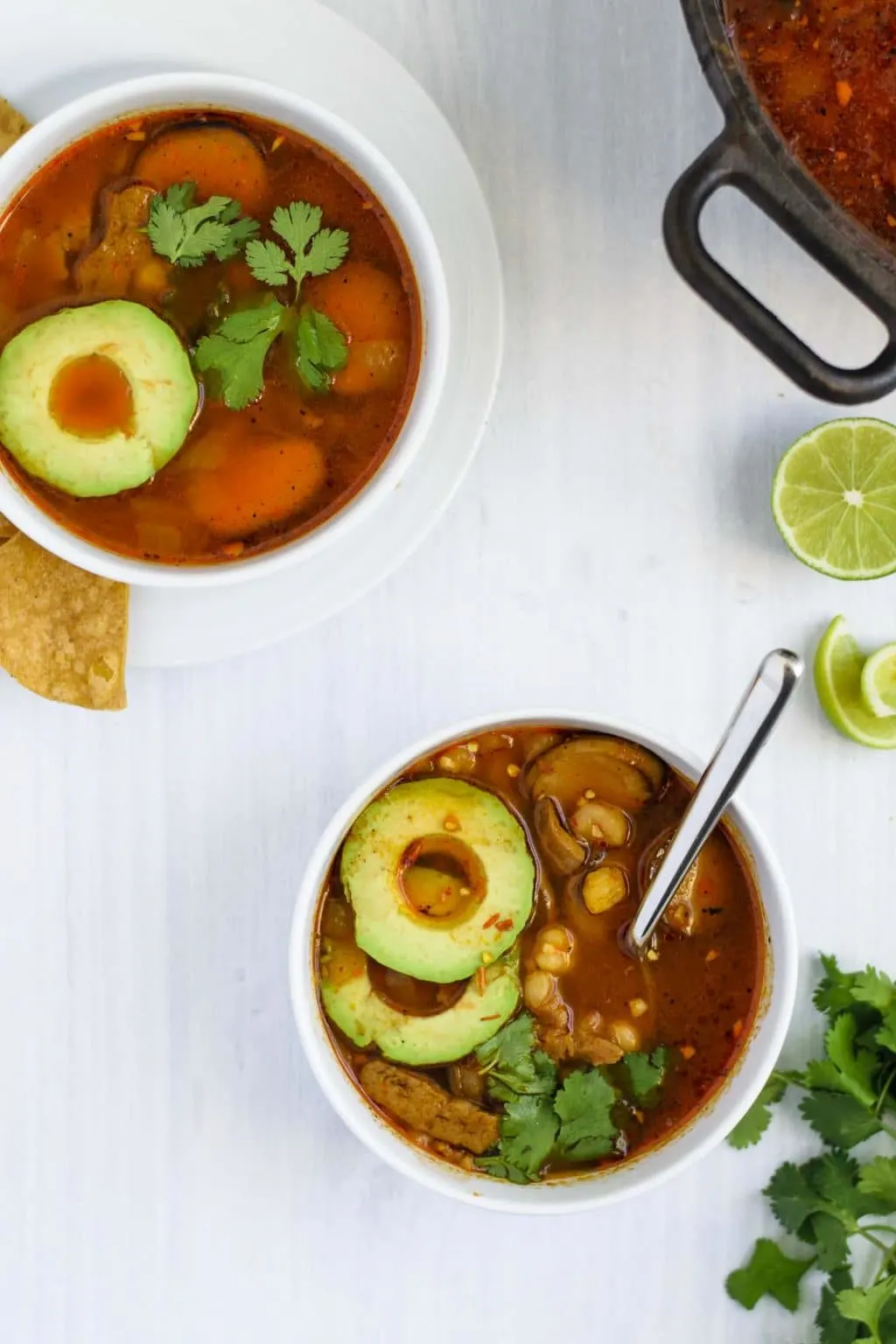 Pozole is finished off with a variety of garnishes when served, which is probably as important as to what actually went into the soup. I serve mine with avocado, the creamy coolness of the avocado contrasts perfectly with the warming soup. I also add a squeeze of lime juice for a little final tartness and brightening of the flavors. Some additional chili flakes (I save the ones from the dried chiles to use!), and some fresh cilantro complete the bowls. Other traditional garnishes include shredded cabbage or iceberg lettuce, thinly sliced radishes, and minced onion. It's also a great excuse to munch on some crispy corn tortilla chips!
So, hopefully by now I've convinced you to make some pozole ASAP. I think you'll love this seared seitan and mushroom version. I know we do! It would make a great starter for my chipotle black bean and sweet potato enchiladas, or alongside Salvadorian jalapeño cheese and refried bean pupusas for a little cross cultural meal. yum. Let me know if you make the recipe! Leave a comment below, and tag your photos @thecuriouschickpea and #thecuriouschickpea on Instagram, or share with me on Facebook. Happy supping! 🙂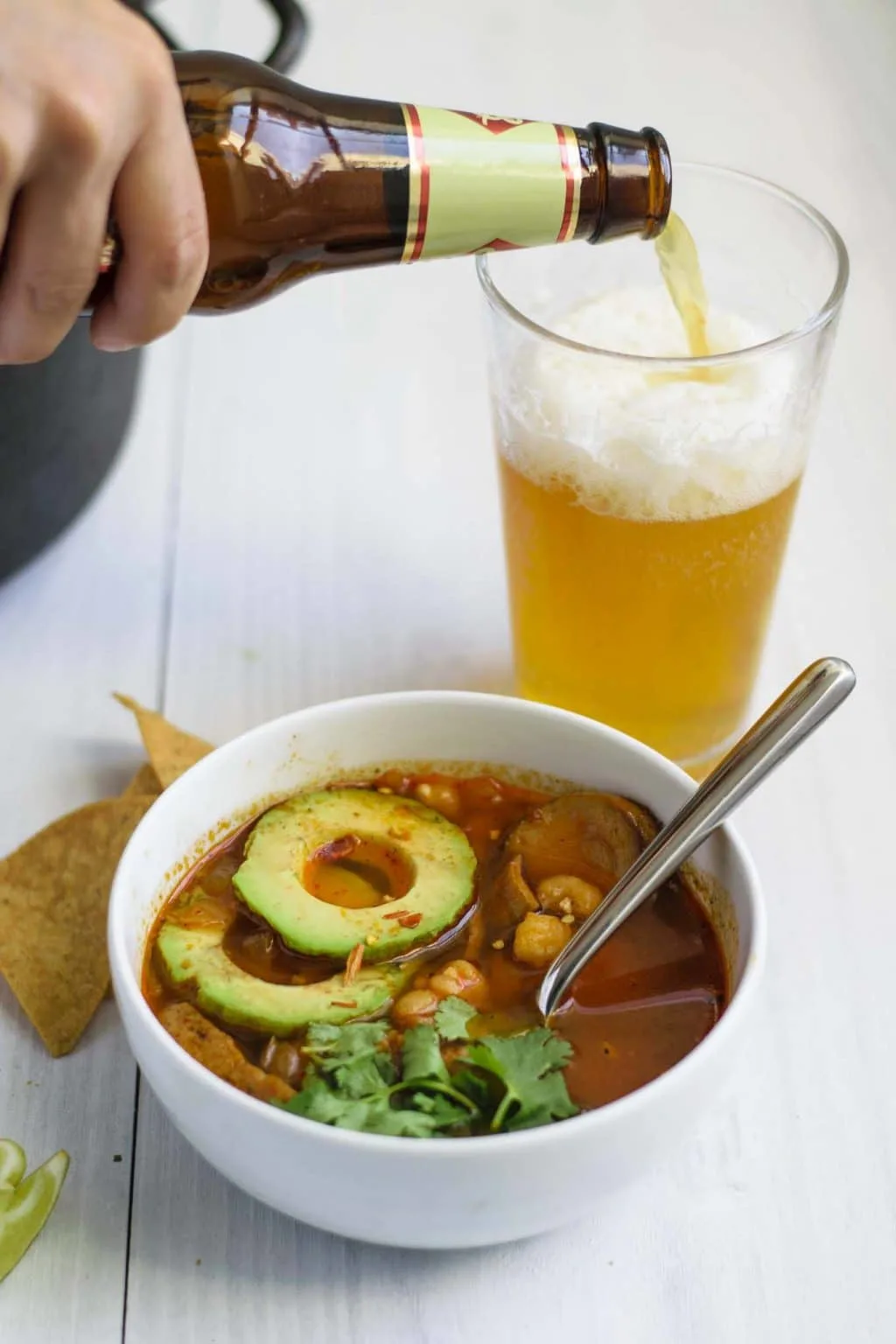 Notes:
If you can't find hominy or the dried chiles in store, you can purchase them online!
If you don't love mushrooms (hello, me), you can always leave them out, and maybe add some more seitan in.
Use soy curls, beans (navy, white, or pinto beans would be good), or a soy protein like gardein or beyond meat for a gluten free protein substitute for seitan.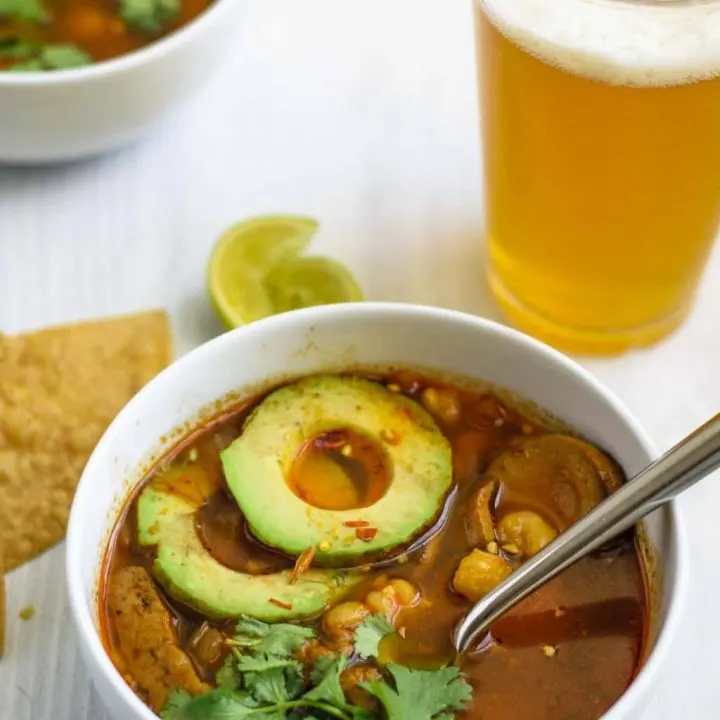 Seared Seitan and Mushroom Pozole
Total Time:
1 hour
15 minutes
Pozole is a delicious brothy soup with a red chili-base. This ultra flavorful vegan version is full of hominy, seared seitan, and fried mushrooms.
Ingredients
2 dried New Mexico chiles
4 dried chiles de arbol
boiling water
1 1/2 tsp apple cider vinegar, divided
2 tbsp oil, divided
8 oz seitan, shredded
2 (160g) king oyster mushrooms, sliced into 1/2" medallions, or your choice of mushrooms
1 small yellow onion, finely diced
6 garlic cloves, minced
1 tbsp tomato paste
1 tsp ground cumin
1/2 tsp salt, or to taste
6 cups vegetable broth, ideally no-chicken style
15 oz can hominy, drained and rinsed
avocado, to serve
cilantro, for garnish
lime wedges, to serve
Instructions
Remove the stem and seeds from the dried chiles (wear disposable gloves) and discard. Place the de-seeded chiles in a heat safe bowl and cover the chiles with boiling hot water. Cover the bowl and leave the chiles to rehydrate for about 30 minutes. Put the soaked chiles in a blender along with 1/2 tsp apple cider vinegar and enough water to help the chiles blend (about 1/4 cup, though add more if needed). Blend the chiles until a smooth paste is formed, then set aside.
Meanwhile, heat a large nonstick skillet over medium heat. Add 1 tsp of oil and the shredded seitan. Cook for about 5 minutes, stirring occasionally, until the seitan is browned. Deglaze the pan by adding 1 tsp of apple cider vinegar and using that liquid to loosen any bits stuck to the bottom. Remove the seitan from the heat and set aside.
Using the same skillet, add another 2 tsp of oil and lay the mushrooms in a single layer. Let the mushrooms cook on medium heat without stirring until the bottom side is golden, about 4-5 minutes. Flip and let the other side cook until golden, about 3-4 minutes. Press gently on the mushrooms with the back of a spatula to help release some of the liquid as they cook. Remove the mushrooms from the heat and set aside.
Heat a large heavy bottomed stock pot over medium heat and add 1 tbsp of oil. Add the diced onion and cook, stirring occasionally, until soft and translucent, about 4 minutes. Add the garlic and stir, letting it cook for 1 minute. Add the seitan and mushrooms and stir to coat. Add the chili paste (if you're sensitive to the taste of chili or spicy food, you can start with 1/2 of the paste you made, you can always add more later) as well as the tomato paste, cumin, and salt. Stir to combine, and let cook for about 3 minutes, stirring frequently.
Add the broth and the strained and rinsed hominy. Bring to a boil, then lower the heat and simmer. Taste the soup and decide if you want additional chili paste. Let the soup simmer for 15 minutes, then taste and add salt if desired.
Serve the soup hot and topped with diced avocado, fresh cilantro, and lime wedges for freshly squeezed lime juice. Other possible garnishes include sliced radishes, microgreens, or corn chips.