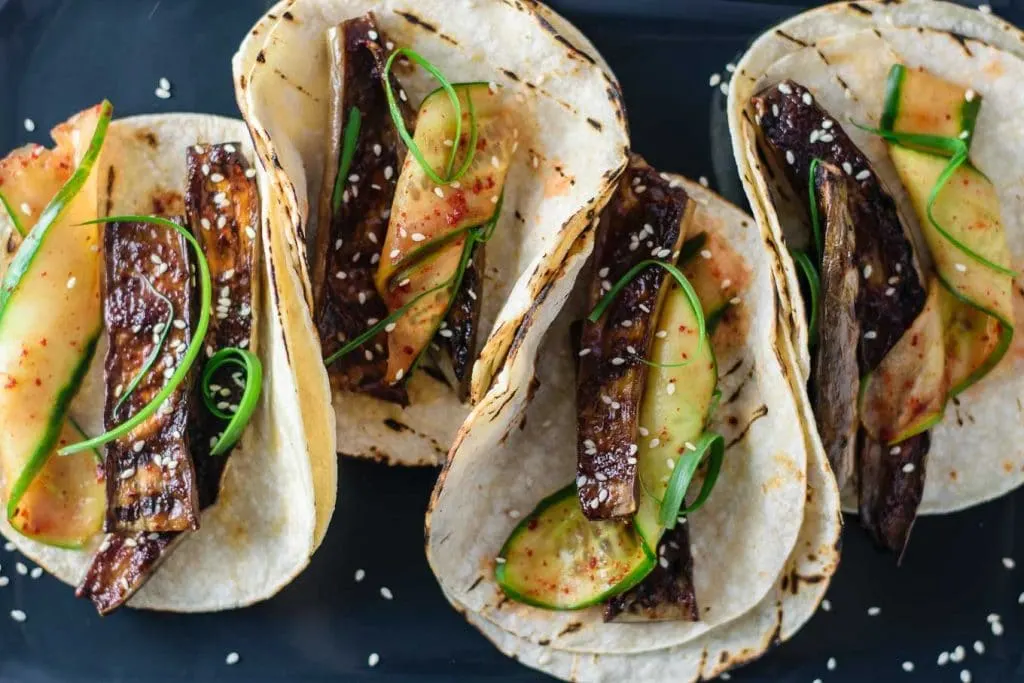 If you've never had the Japanese dish nasu dengaku (miso-glazed eggplant), you're in for a treat! The first time I ate it I had to wonder what sorcery happened to the eggplant. How is something so simple SO good? It's like, just eggplant, with a miso glaze broiled on top of it. The eggplant becomes so tender, without succumbing to mushiness, and that miso-glaze is a savory flavor bomb. Here it's paired with crisp and chili-flecked marinated cucumbers for a juicy, spicy bite, and stuffed into corn tortillas for easy handheld eating.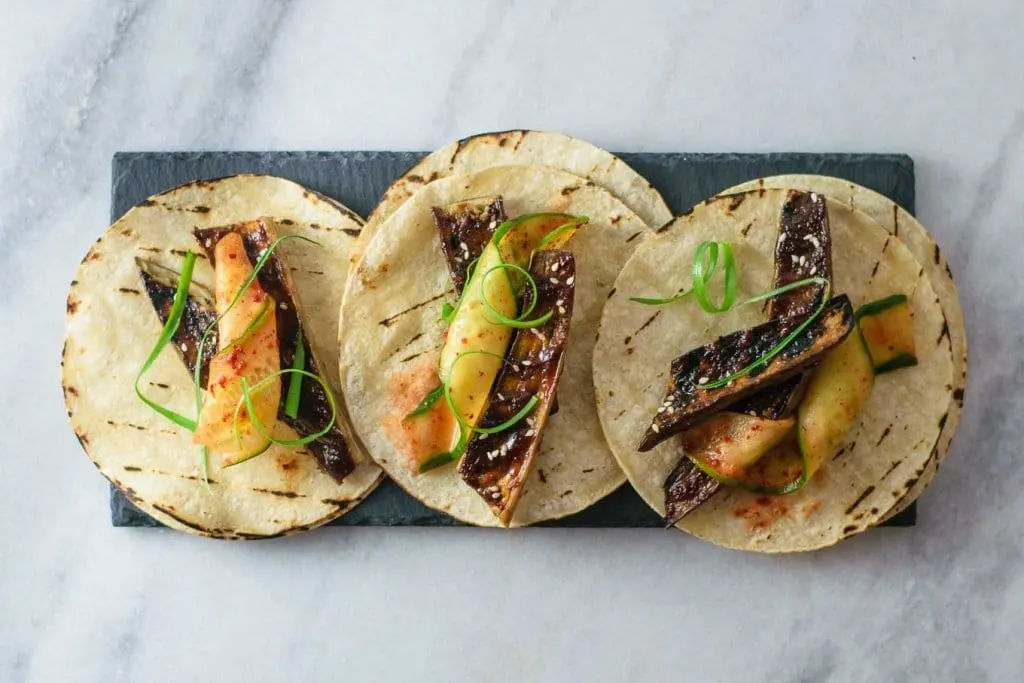 Despite the multiple components, this recipe comes together so quickly! A quick salting of the cucumber draws out moisture before tossing in an easy 3-ingredient chile-mirin marinade. The salty, spicy cucumbers are balanced with a tiny bit of sugar and chilled for ultimate cucumber cooling effect. The eggplant is grilled (or pan fried) until tender and lightly charred before being brushed with the glaze and broiled until hot and bubbly. The tortillas and the garnishes are prepped while the oven saturates with heat, so when the eggplant comes out it can be quickly cut down to tortilla size and stuffed in the soft and hot corn tortillas. The mild corn flavor of the tortillas is the perfect creamy accompaniment to the umami-rich dengaku. A little scallion green brings a oniony sharp bite, and a sprinkle of toasted sesame seeds a little crunch and an extra pop of toasty flavor.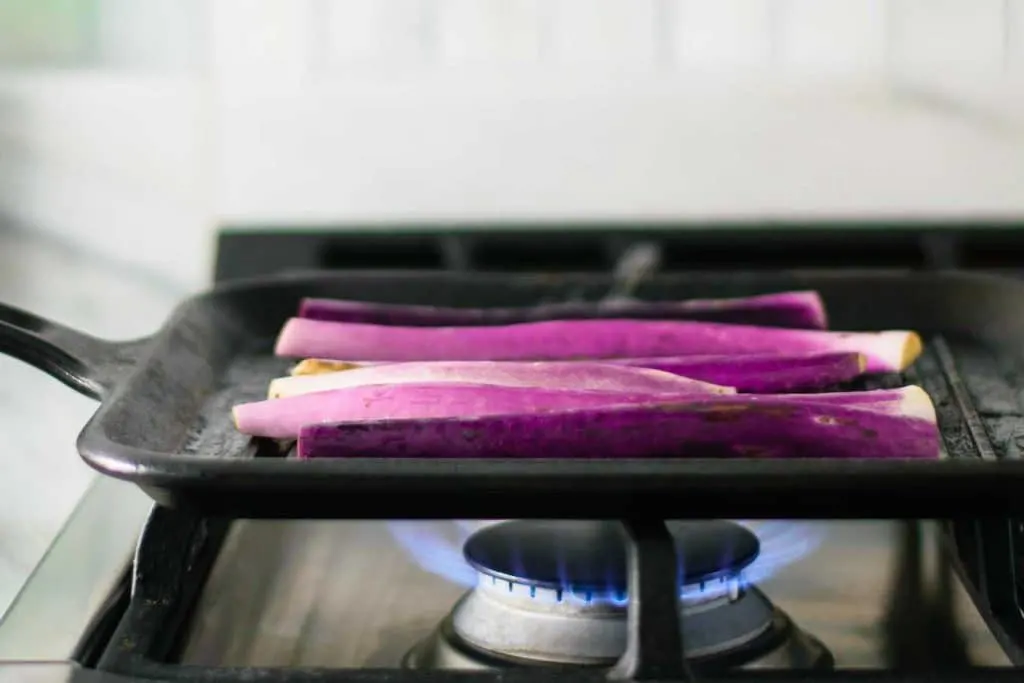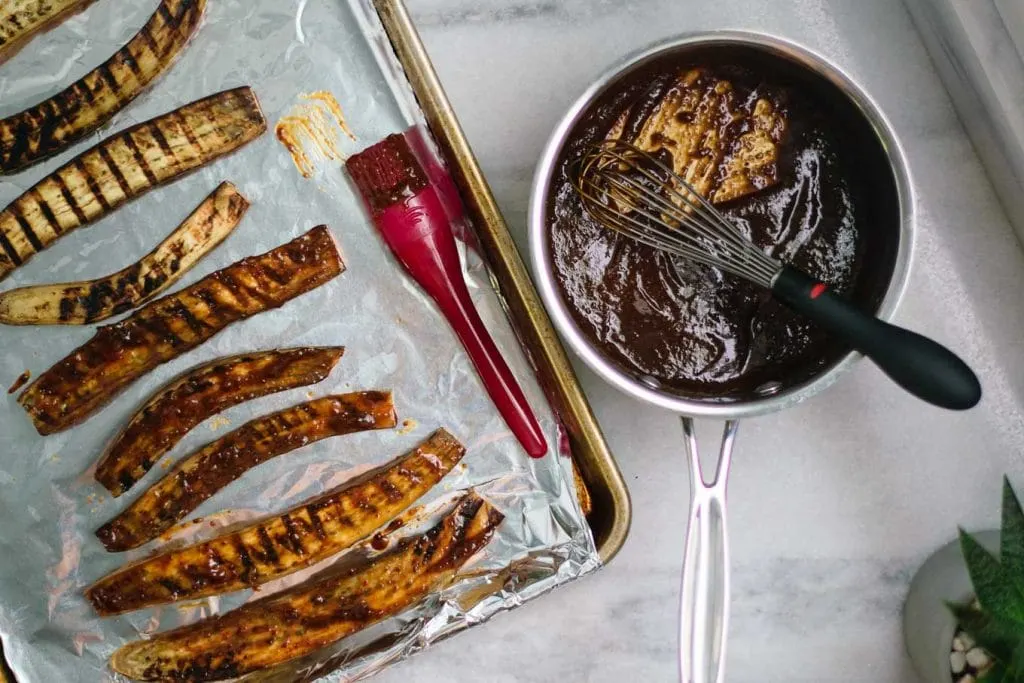 It would be unfair to these tacos not to mention that they *only* need 13 ingredients to make everything. And that dengaku, honestly, I'm not sure how something so flavor rich only has 5 ingredients–and that's if you use the optional (and slightly less authentic) crushed pepper! Yeah, that's right, I had to add some heat to mine (as well as significantly decrease the amount of sugar typically found in dengaku). If you've been following along for awhile now, you've probably noticed that I like my food to be both flavorful and spicy. But, if you don't want spicy tacos, you can leave out the crushed pepper from both the dengaku and the marinated cucumbers. Don't worry, it'll still be great!
So if you feel like you're in an eggplant rut, you should make these Japanese influenced tacos right away! They're slightly smokey from the grilling, a little sweet from the miso and sugar in the glaze, and packed with complex umami flavor, thanks to the miso, sake, and mirin. Ok, I can't look at these photos any longer (they're making me want more!) so let's get on with the recipe! If you make these tacos (or just the eggplant!) tell me! Leave a comment and/or rate the recipe below, tag me on Instagram (or #thecuriouschickpea), or share with me on Facebook! Happy eating everyone!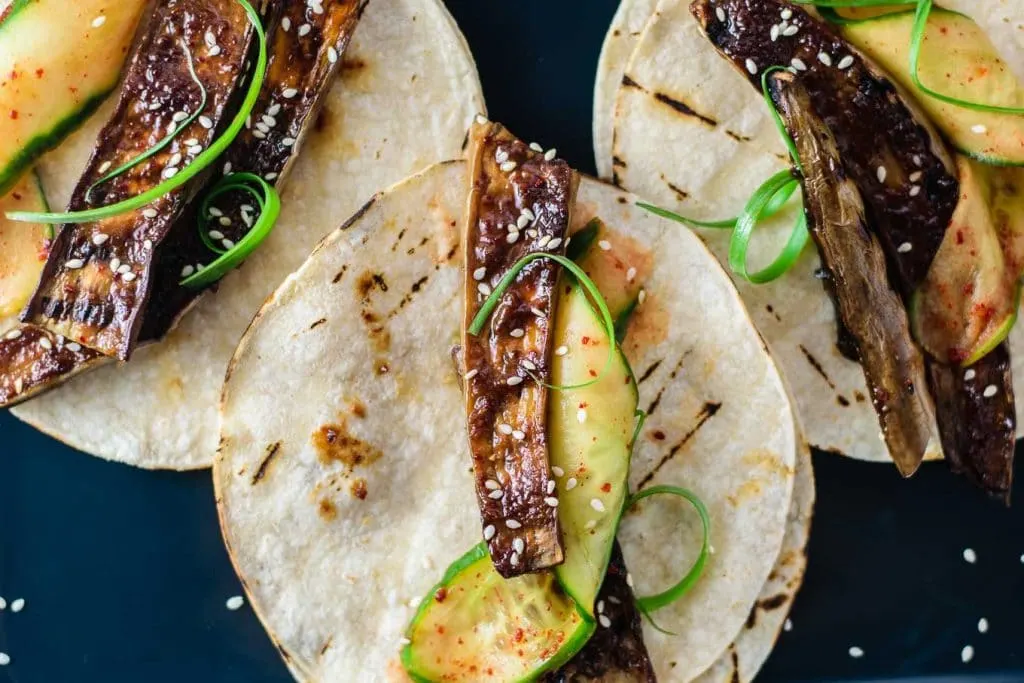 Notes:
Want some protein? Make some tofu dengaku (miso-glazed tofu) and add it to your tacos. Bake, fry, or grill the tofu first if you'd like (and if you dislike soft, fresh tofu).
If you don't have/don't want to get sake you can substitute more mirin for it in the miso-glaze.
If making gluten free, make sure that your miso is GF. Sake and mirin are rice-derived alcohol and should be GF, but can have trace amounts of gluten, so be sure to double check if that's an issue for you!
You can substitute a white/shiro miso for the red for a milder and sweeter result (you might want to add a pinch of salt, but taste first).
Miso-Glazed Eggplant Tacos (Nasu Dengaku Tacos)
Traditional Japanese miso glazed eggplant (nasu dengaku) are stuffed into corn tortillas, along with crisp chili marinated cucumber for a delicious and fun meal.
Ingredients
Marinated Cucumbers
1 english cucumber, thinly sliced or cut into small dice
1 tbsp kosher salt, or 1 1/2 tsp fine sea salt
1 tbsp mirin
1-2 tsp crushed pepper, or less to taste
1/4 tsp sugar
Miso-Glazed Eggplant (Nasu Dengaku)
2 tbsp sake
2 tbsp mirin
1 tbsp coconut sugar or brown sugar
1 tsp crushed red pepper, optional
1/4 cup red miso
1 lb Japanese eggplants (~4-5), tops and bottoms trimmed and sliced in half lengthwise
1 tbsp vegetable oil
For serving
corn tortillas, heated*
toasted sesame seeds, for garnish
thinly sliced green onions, for garnish
Instructions
To make the marinated cucumbers
Place the cut cucumbers in a mixing bowl and toss with the salt. Let sit 5 minutes, then rinse thoroughly. Pat dry. Return to a clean and dry mixing bowl and toss in the mirin, chili, and sugar. Cover and place in fridge until ready to use. Cucumbers can be made several hours in advance.
To make the miso-glazed eggplant (nasu dengaku)
First, prepare the glaze. In a small pot add the sake, mirin, sugar, and crushed pepper. Heat over medium-low, whisking regularly, until the sugar is dissolved. Turn off heat and add the miso. Whisk until smooth, then set aside until ready to use. The glaze can be made a day in advance and stored in the fridge.
To make the eggplant, heat a large skillet or grill pan to medium-high heat. Brush the eggplants with the oil and place cut side down on the hot skillet. Cook for 3-4 minutes until well browned and charred in spots. Rotate 45º halfway through if using a grill pan for those nice crosshatch marks. Flip eggplant over and grill/cook skin-side down for an additional 3-4 minutes until grill marks appear or skin is charred in places. Place cooked eggplant cut side up on a foil lined baking tray.
When ready to make the tacos, turn your oven to broil and place a rack about 6" from the top burner. Let the oven saturate with heat for about 10 minutes (this is a great time to prepare your tortillas & the garnishes). Brush or spoon plenty of miso-glaze (dengaku) over the cut sides of the eggplants. There should be some leftover glaze.
Broil the eggplants ~3-5 minutes until the dengaku glaze is hot and bubbly. Remove from oven and serve as quickly as possible.
To assemble the tacos and serve
Cut the eggplant to fit into the tortillas. Spoon a bit of extra dengaku onto a warm tortilla. Add two or three pieces of eggplant. Top with the marinated cucumber and garnish with toasted sesame seeds and green onions. Enjoy!
Notes
*heat your tortillas over a hot skillet or a gas burner on medium-high heat. Put in a tortilla warmer, or wrap in a clean dish cloth, to keep warm and soft until ready to use. You can also heat many tortillas at once in a hot oven.