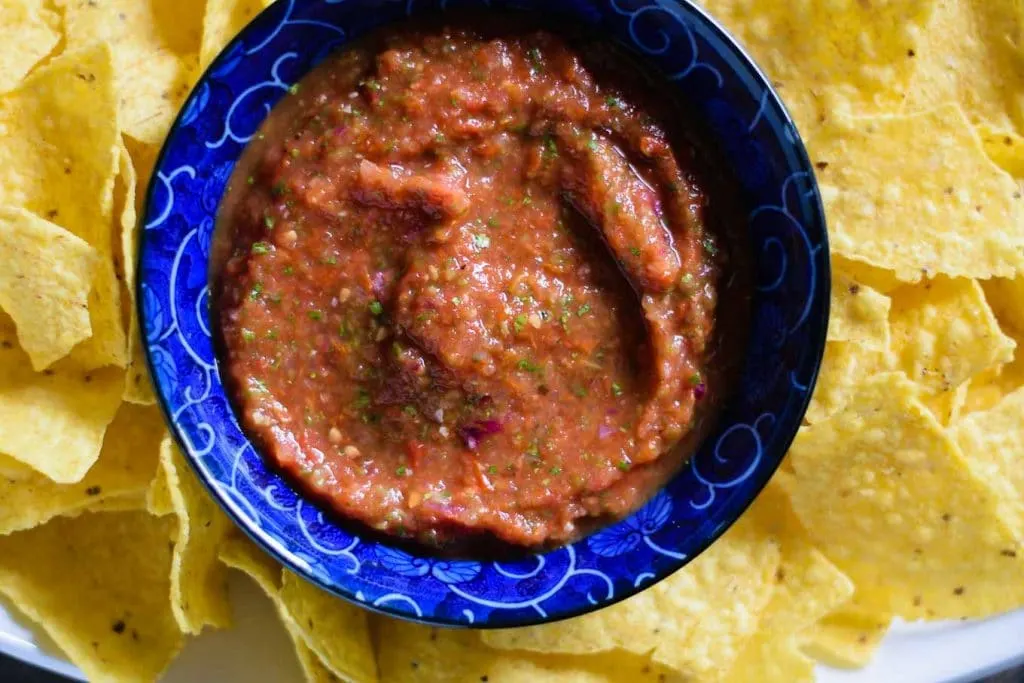 Making your own salsa is super easy to do, and the results are so incredible. It's so much more flavorful than the bottled stuff, and you can adjust it to meet your exact tastes. There's no better time to make it than at the end of summer, when tomatoes are ripe, juicy, and bursting with flavor. This salsa is made with traditional ingredients: with a thick roasted tomato base, hot peppers, a healthy dose of garlic, sweet red onion, lime juice to brighten the flavors and let them sing, and cilantro for a fragrant citrusy fresh finish.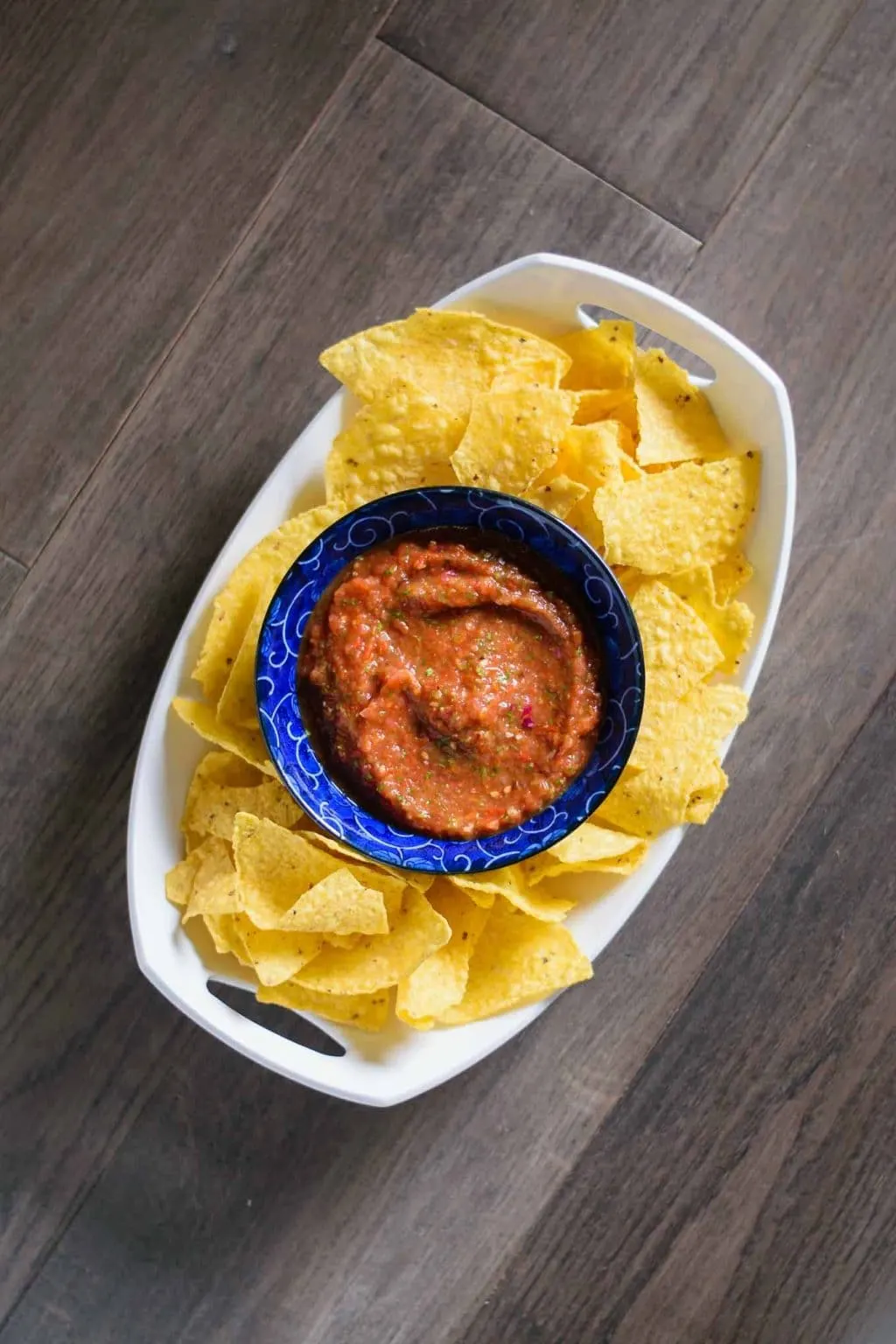 I live with a salsa fiend. Ok, it's my husband. Chips and salsa is probably his favorite snack (though I think toast with some chipotle cheese is a very close second). And while I can't get him his favorite tortilla chips (donkey chips are his fave, and much to our disappointment they aren't sold anywhere near DC), I can make him some bomb salsa. The things we do for love, am I right? Just kidding, this is like the easiest thing to do, and, um, I love it too! Considering how quickly this man can devour his salsa, it's nice to make a bunch all at once that tastes better than anything I could buy him! Plus, with tomatoes being in season right now, making your own will save you a pretty penny or two. Farmers market inspo anyone?


The broiler makes quick work of our produce. Roasting the tomatoes intensifies the tomato flavor, making the optimal salsa base. Broiling the onion and garlic caramelizes them, and softens their otherwise sharp bite while adding depth of flavor. Roasting the hot peppers sweetens them slightly without diminishing their heat. A sprinkle of salt before baking helps draw out moisture and intensify flavors, and is an integral part of seasoning the final salsa for the freshest taste. Blending the roasted produce up with lime adds just the right amount of liquid needed to thin, without diluting any of the flavor. Citrus brightens up the salsa and I tend to like the lime-y flavor to shine through, and often use the full 4 tablespoons. Since both tastes and individual limes can vary start with less and add more if desired. There is plenty of cilantro for all the cilantro lovers out there (if you hate cilantro, leave it out!). Make sure to add both the leaves and the stems, as the stems have so much flavor and you won't notice them chopped up in the salsa!
Since the level of heat from hot chili peppers can vary so much, while I call this a hot salsa, sometimes I find it spicy and sometimes I find it more medium with this amount of peppers. I used jalapeños in this batch, and I find the heat level of those to really vary. Sometimes they are so mild I get a lot of pepper flavor without any heat, while at other times they're burn my mouth off hot! Luckily I enjoy the salsa either way. I find serranos to vary less in heat pepper to pepper, and think they are more or less always a medium heat. If you want a mild salsa only use 1 pepper, while if you know you want it super spicy you could add even more hot chiles. Or if you like habaneros you could replace one of the peppers with 1/2 – 1 habanero. This recipe is really adaptable to your own taste preferences!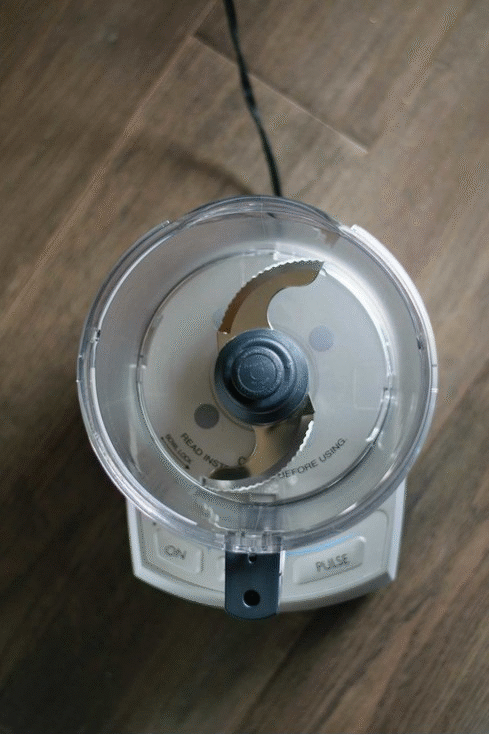 Letting the salsa chill before consuming helps the flavors meld and it's even better the next day, making homemade salsa the perfect party food to impress guests with! You should try it for your next party, or maybe make it for a loved one who enjoys salsa as much as my husband does! If you make this recipe, let me know! Leave a comment and/or rate the recipe below, tag me on Instagram (or #thecuriouschickpea), or share with me on Facebook! Happy dipping!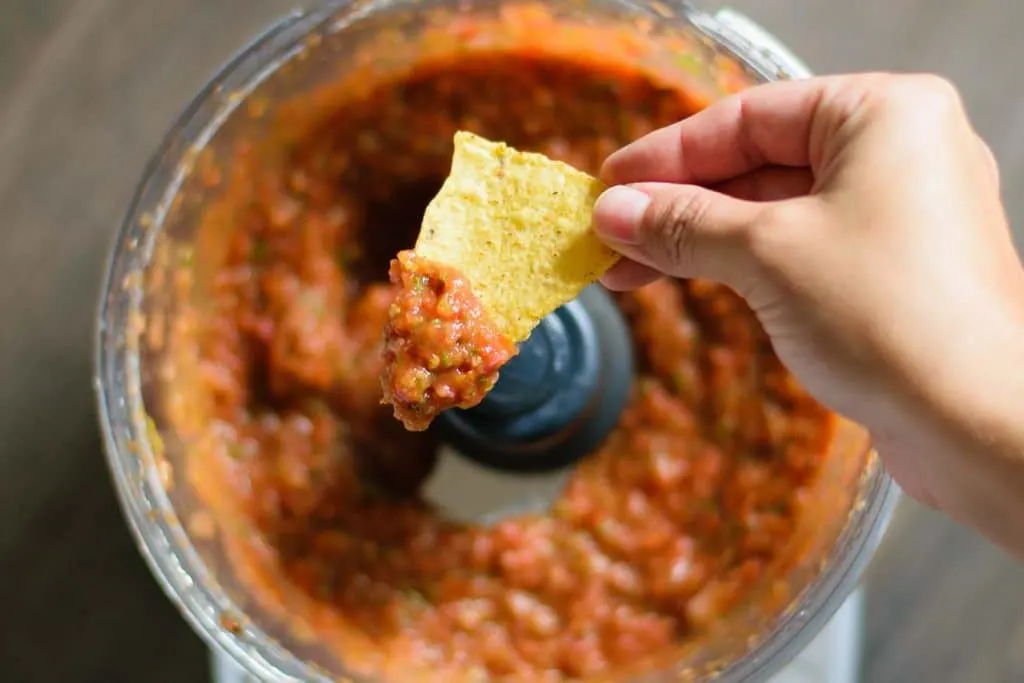 Notes:
Adapt this recipe to your own taste preferences. Like a super spicy salsa? Add more peppers and/or swap one out for an ultra hot pepper like a habanero. Like a mild salsa? Only use one pepper. Hate cilantro? Leave it out. Prefer vinegar to lime? Use it! You get the idea 🙂
Use a food processor for a chunkier salsa, a blender for a smoother salsa, or a molcajete if you have one for an extra chunky texture and extra traditional experience!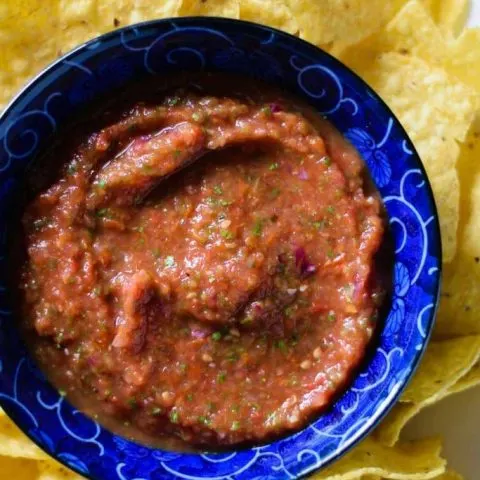 Spicy Roasted Tomato Salsa
Homemade salsa is quick and easy to make, and tastes so much better than store bought! This version is spicy and full of fresh summery flavor.
Ingredients
1 1/4 lbs ripe tomatoes
1 1/2 oz hot peppers, such as jalapeños (~5 small)
4-6 cloves garlic, unpeeled
1 small red onion, papery skins removed and cut into 8ths
1/2 tsp of salt, or to taste
drizzle of oil
2-4 tbsp lime juice
1/4 cup cilantro, leaves + stems, roughly torn
Instructions
Turn your oven to broil before prepping anything to saturate the oven with heat, placing a rack ~6 inches from the top burner. Prepare a rimmed baking sheet by lining it with aluminum foil. Do not use parchment as it would burn or silicon mats as they are typically only oven safe up to to ~450 ºF).
Wash the tomatoes and cut them in half, and place them cut side up on the prepared baking tray. You cut them in half so that they don't burst open in the oven and create a mess!
Add the whole peppers, unpeeled garlic cloves, and cut onion. Sprinkle some salt and drizzle a bit of oil over the tray.
Place the baking tray in the oven on the top rack and broil for 6-8 minutes, or until there are some brown spots on the peppers. Flip the peppers and return to the oven for another 3-5 minutes or until the other side of the peppers have some brown spots as well as the papery garlic skin. At this point, remove the garlic and peppers from the baking tray and when they are cool enough to handle trim off the tops of the peppers and remove the skin from the garlic cloves.
Return the tomatoes and onion to the oven and broil another 4-6 minutes, or until there are dark brown or slightly blackened in spots.
Transfer the tomatoes, onion, trimmed peppers, and peeled garlic to a food processor or blender. Add a couple tablespoons of freshly squeezed lime juice (~1 lime) and process until chunky and juicy. Add the cilantro leaves and process again until it's your desired consistency. Taste and add more lime juice or salt if desired.
While you can eat the salsa right away, it's best when it's had a chance for the flavors to meld. Transfer your salsa to a container and place in the fridge for a few hours before eating. Enjoy!