This kale salad with roasted jalapeño dressing and smoky chickpeas is a great hearty, belly filling salad. It can be made in advance so is great for meal planning, but also comes together quickly so is perfect for busy nights.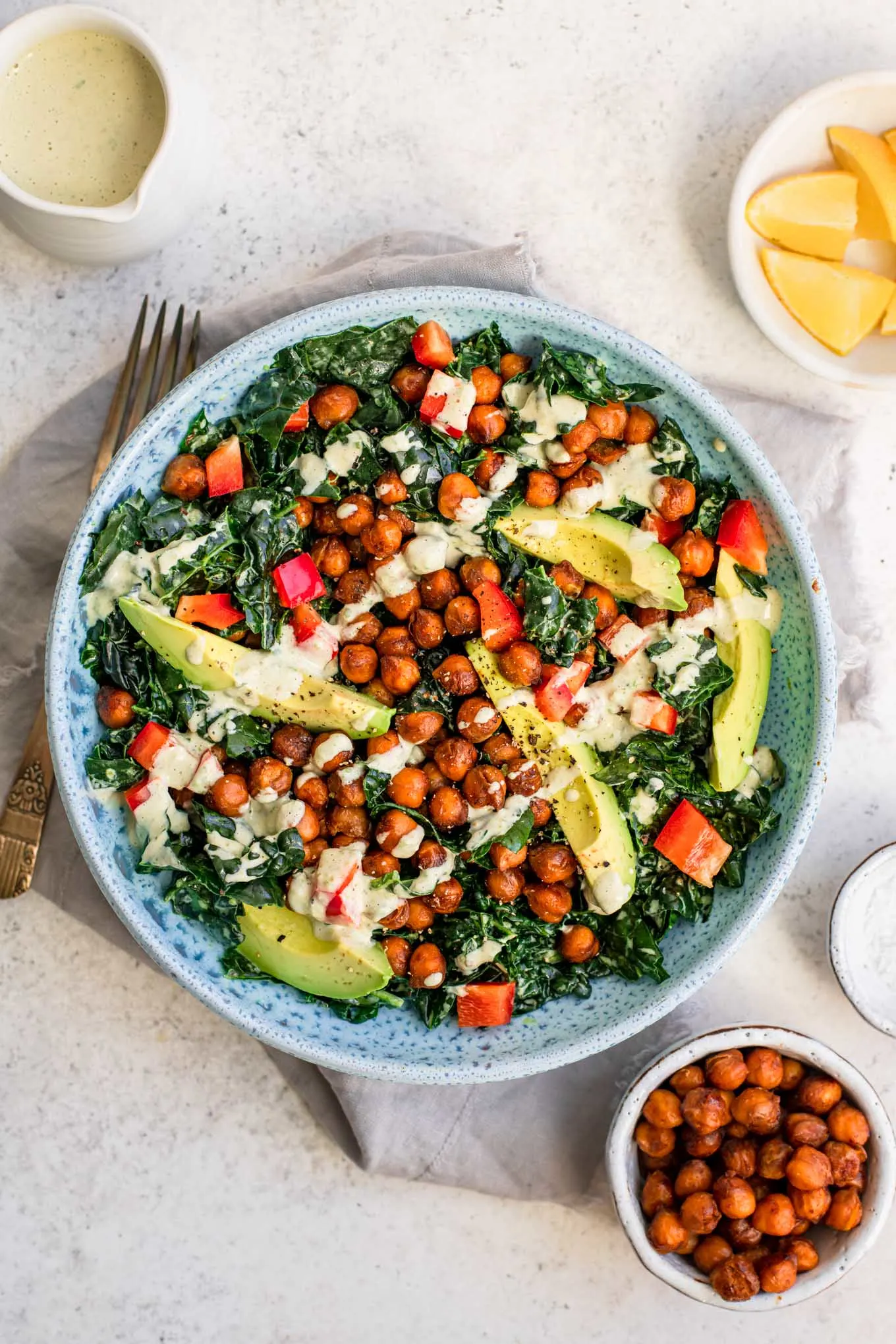 Sometimes it happens to me. The unthinkable! I crave a salad for dinner. Ideally served alongside some freshly baked bread, but even without the bread a giant bowl full of veggies is all I want.
I'm kidding, I think salads for dinner are great. At least they are on occasion, I mean, don't get carried away!
A dinner salad should ideally be a hearty kale salad, topped with a giant pile of smoky panfried chickpeas, and dressed with a creamy jalapeño and tahini dressing. Of course.
Of course you can also serve this as a side salad, but it will feed a much bigger crowd in this case! Or just you that many more times 😋.
Thanks to the kale, this is a rare salad that can be dressed ahead of time. Kale only gets better if it has a chance to sit in dressing! This makes kale salad great for meal prepping and completely not stressful if you're left with leftovers.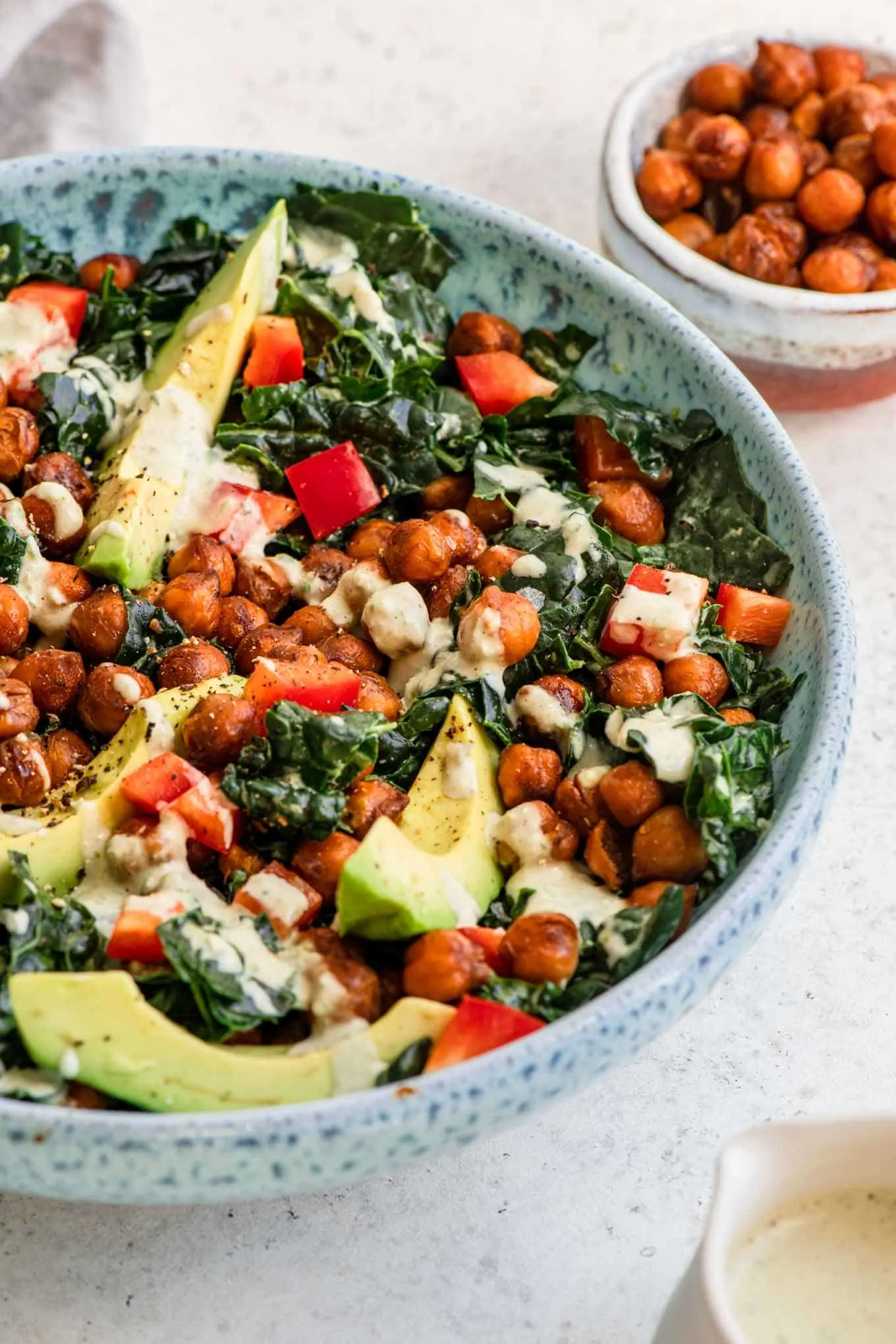 Just don't add avocado too much in advance if you can avoid it, because it will brown.
Making the creamy roasted jalapeño dressing:
I love this dressing because it is so simple and has only a few ingredients but it delivers so much flavor!
It's made of blended roasted jalapeños, scallions, tahini, and lemon juice. Add water to thin it to a dressing consistency and salt to taste.
The jalapeño flavor combines with oniony scallions, nutty tahini, and tangy lemon juice for an irresistibly delicious dressing.
The dressing isn't really spicy, at least not by my standards, as the jalapeños are seeded after roasting. This removes most of the heat. However, the spiciness of peppers can vary a lot from pepper to pepper, so there's always a chance of your dressing getting a bit hot.
For a milder dressing, use only one jalapeño. And if you want your dressing to be spicy you can leave the seeds in! And/or use more jalapeños.
Pro-tip: when de-seeding peppers used either a spoon or the backside of the knife to avoid touching the seeds with your bare hand (or just wear a glove).
The dressing can be made a day or two in advance for easy salads whenever. And if you end up with any leftover dressing, you can use it to dress any salad greens or dip fresh veggies into!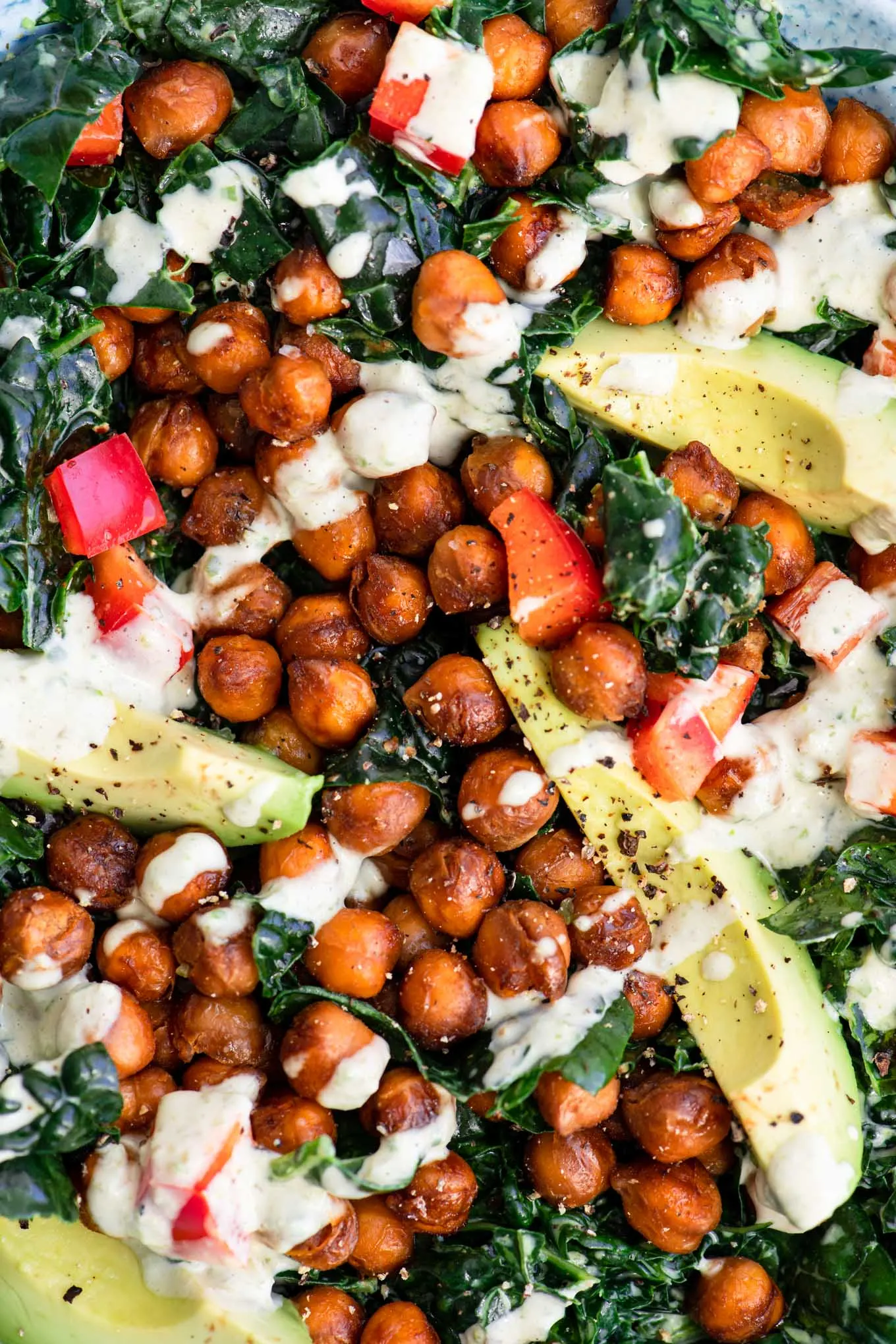 The smoky chickpeas:
These smoky chickpeas are pan fried, quick and easy, and pack a ton of flavor!
To make them, you sauté chickpeas in a bit of oil to dry them out and turn them golden in spots. Then you add the seasoning of tamari, maple syrup, and liquid smoke.
I recommend using low-sodium tamari, that way you can get the great umami flavor that soy sauce provides without making the chickpeas too salty.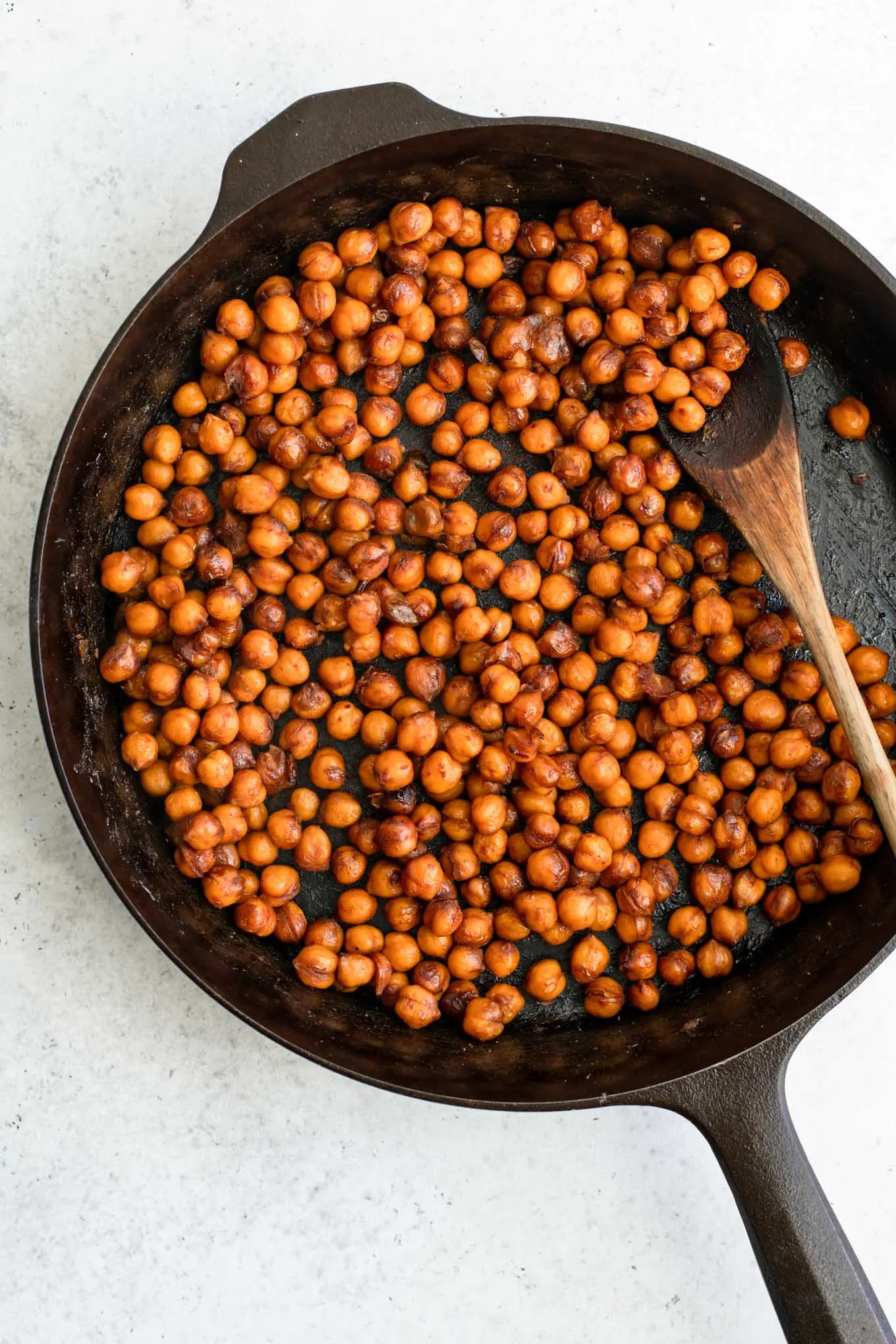 Sometimes to bring out the flavors I find the chickpeas need a pinch of salt. So if the flavor falls flat for you, try adding salt before adjusting the other seasonings.
Now these chickpeas are smoky, so if you hate smoky flavor you're going to want to dial it down with the liquid smoke or even skip it. If you like some smoky flavor but hate liquid smoke, add a teaspoon or more of smoked paprika to taste.
Because this is a kale salad, the chickpeas can be warm when you add them to the greens. But they are also so delicious when cold, so feel free to make these in advance as well.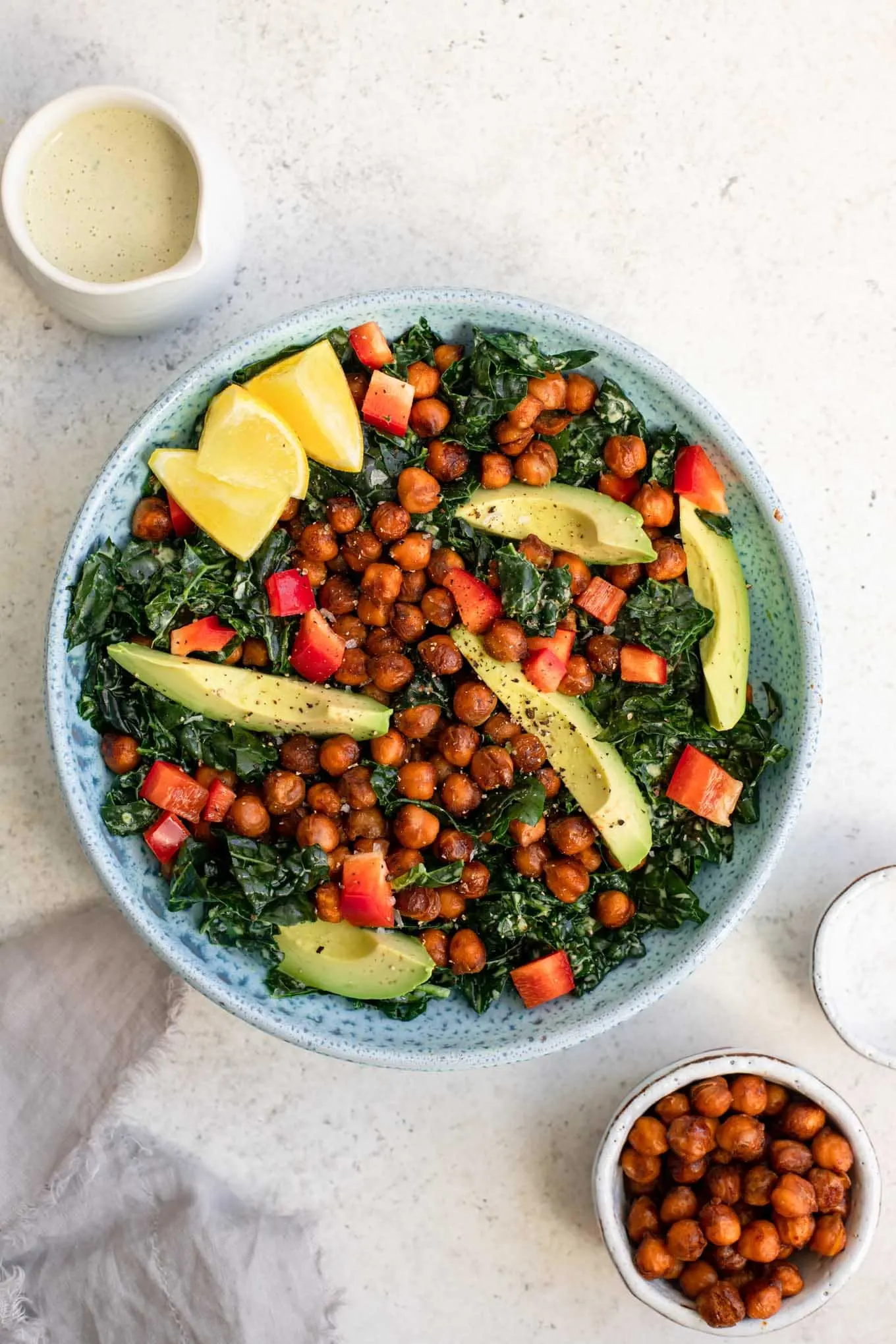 Massage your kale!
Kale eaten raw and straight can be very tough. This is why we don't eat raw kale straight!
No, instead you want to give your kale a nice massage. Yes, reach in with clean hands and a little oil to help the kale tenderize and just massage the greens in your hands.
The kale will shrink in volume significantly, change color (I think it turns both darker and more vibrant), and become tender. Go ahead and give it a try! Once you find it tender and not too tough or chewy you can be done massaging your kale.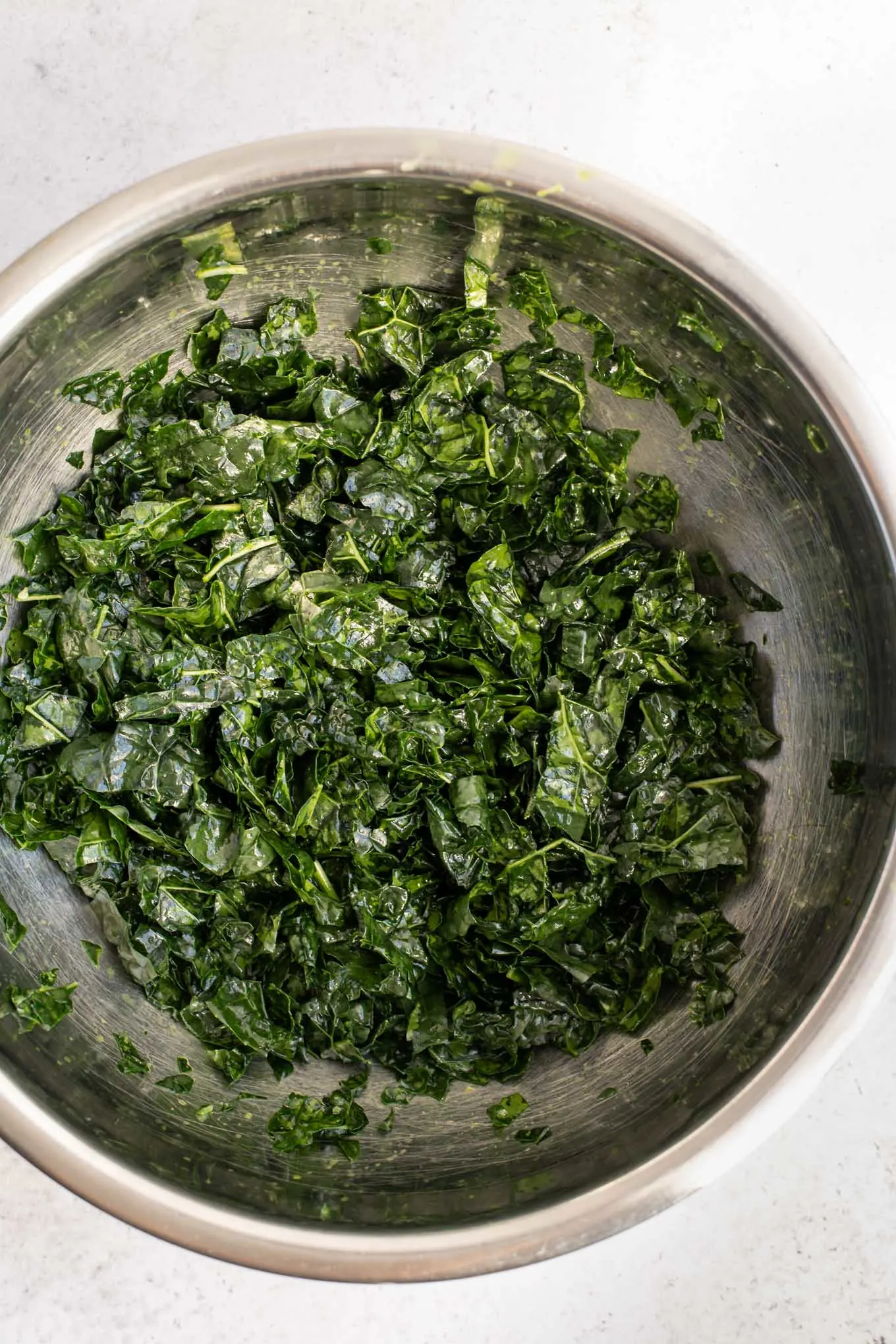 Building the kale salad with roasted jalapeño dressing:
Once you've massaged the kale, stir in dressing to taste. Then add the chickpeas, crisp and sweet red bell pepper, and avocado. Toss it again and add more dressing if needed, then serve!
You can also build the salad individually between bowls (or tupperware). Divide the kale up, then top with equal amount of the toppings you're using. If you know you won't get to all the salad right away, only add avocado as needed.
Feel free to play around with the toppings! I often add pepitas to garnish the salad, I just happened to have forgotten them for these photos! You can also use a different seed (sunflower kernels, hemp hearts, etc) or some chopped nuts for garnish.
There is so much great flavor in this dish, it's really one of my favorite salads ever!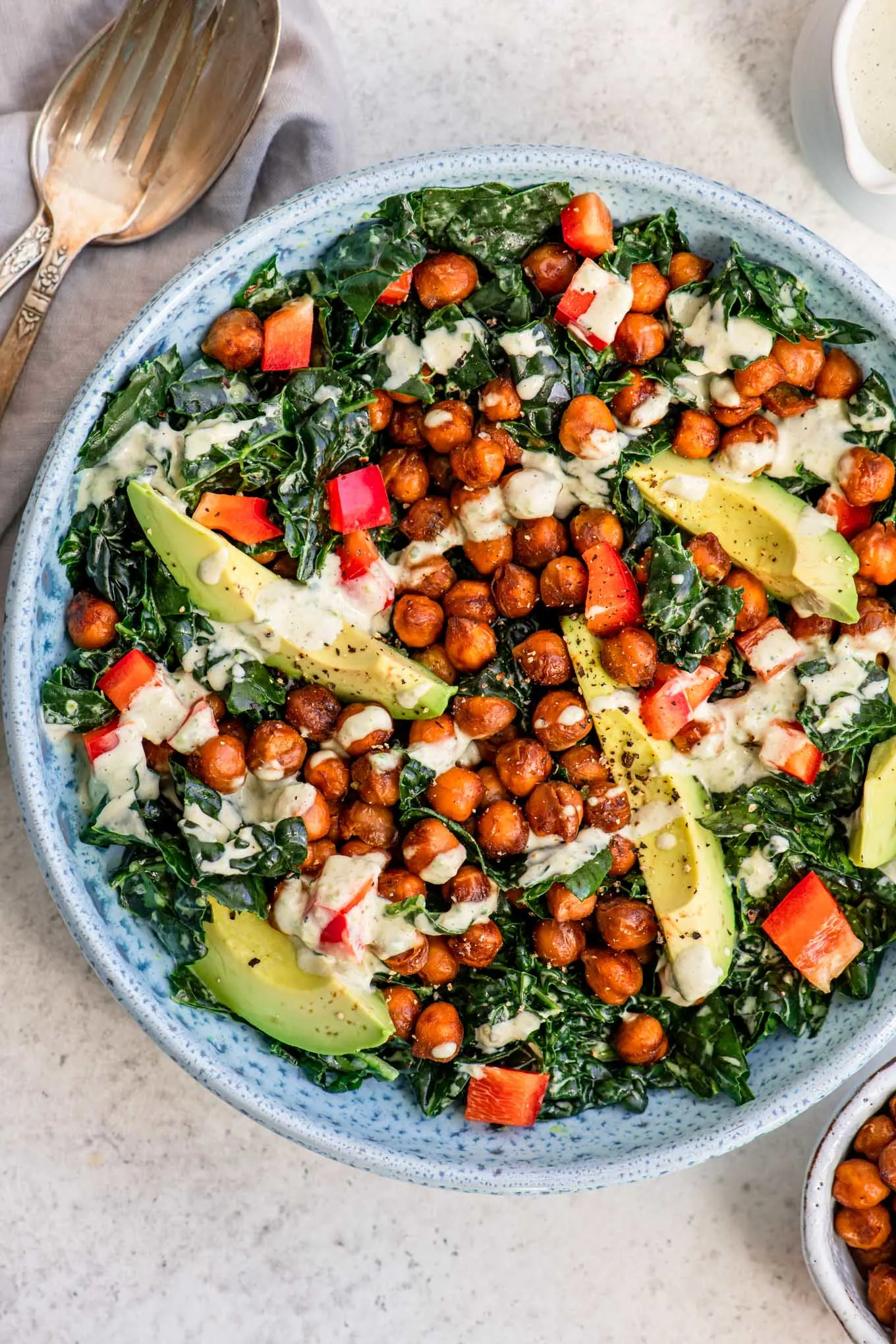 If you make this kale salad with roasted jalapeño dressing, leave a comment below and rate the recipe on the recipe card. And please share your photos with me on Instagram, tag @thecuriouschickpea and #thecuriouschickpea. I love seeing your recreations!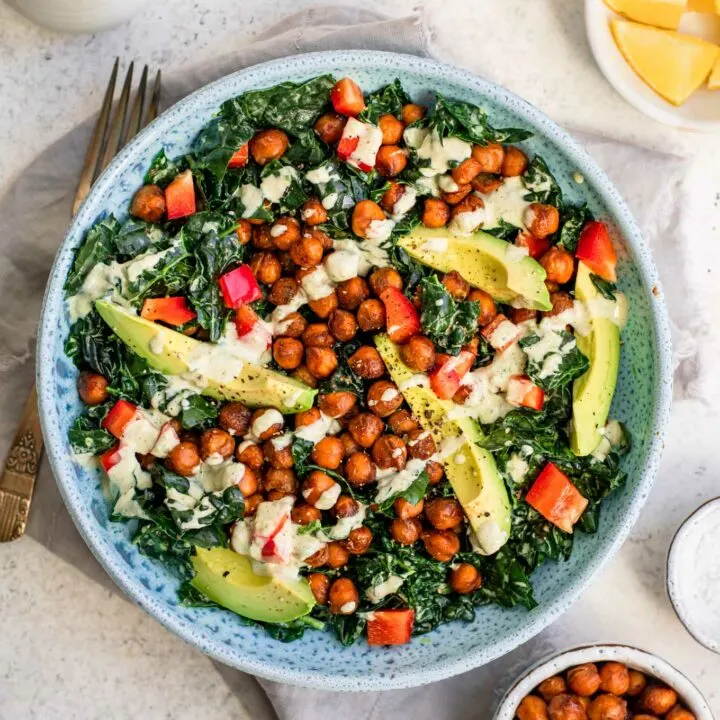 Kale Salad with Roasted Jalapeño Dressing
This kale salad is dressed with a creamy tahini-roasted jalapeño dressing and topped with smoky chickpeas, red bell pepper, and avocado. It can be made in advance and is great for meal planning!
Ingredients
Smoky Chickpeas
1 tbsp oil
1 29 oz can (3 cups cooked) chickpeas, drained and rinsed
1/4 cup low sodium tamari
2 tbsp maple syrup
1 tsp liquid smoke
salt to taste
Dressing
2 jalapeños
2 scallions, sliced
1/2 cup tahini
1/2 cup warm water
2 tbsp lemon juice
1 tsp salt
Everything else
1 large bunch flat leafed kale
1 tsp olive oil
1 red bell pepper, diced
1 avocado
pepitas, nuts, or other seeds for garnish (optional)
Instructions
Roast the jalapeños: Turn your oven on broil and place a rack on the highest position. Roast the jalapeñoso on a baking tray under the broiler until the skins are blackened (~7-10 minutes). Turn every 2-3 minutes to roast evenly. Put roasted peppers in a bowl and cover to allow the steam to loosen the skin. Set aside while you prepare the chickpeas.
Heat a large skillet over medium heat. Add the oil and the chickpeas. Sauté for 7-10 minutes, stirring occasionally, or until the chickpeas turn golden.
In a small bowl, mix together the soy sauce, maple syrup, and liquid smoke. Pour the mixture over the chickpeas and cook for an additional 1-3 minutes, stirring, until it has thickened and coats the chickpeas. Taste and add salt if desired. Remove from heat and set aside until ready to assemble the salad.
Peel the burnt skin off the jalapeños, remove seeds, and roughly chop. Add the roasted jalapeños and the rest of the dressing ingredients in a small food processor or blender. Process until relatively smooth. Taste and adjust any seasoning to taste. If necessary, add more water to thin or tahini to thicken.
Wash the kale and remove the stems. Easily do this by pinching the bottom of each stalk between two fingers then pull up, separating the leaves from the stem. Stack the de-stemmed kale leaves and roll them tightly, then slice into ~1/4 inch thick slices before chopping once or twice in the opposite direction to make bite sized pieces.
Add chopped kale to a larage mixing bowl and drizzle with olive oil and a pinch of salt. Massage the kale with clean hands for a minute or two, until the kale has shrunk in volume and become tender.
Dress the kale to taste, mix in the chickpeas, red bell pepper, and avocado. Top with pepitas or other nuts/seeds if using. Enjoy!
Recommended Products
As an Amazon Associate and member of other affiliate programs, I earn from qualifying purchases.
Nutrition Information:
Yield:

4
Serving Size:

1
Amount Per Serving:
Calories:

561
Total Fat:

31g
Saturated Fat:

4g
Trans Fat:

0g
Unsaturated Fat:

25g
Cholesterol:

0mg
Sodium:

1153mg
Carbohydrates:

58g
Fiber:

16g
Sugar:

15g
Protein:

20g
Nutrition is calculated automatically so should be used as an estimate.
This recipe was originally posted on April 11, 2017.