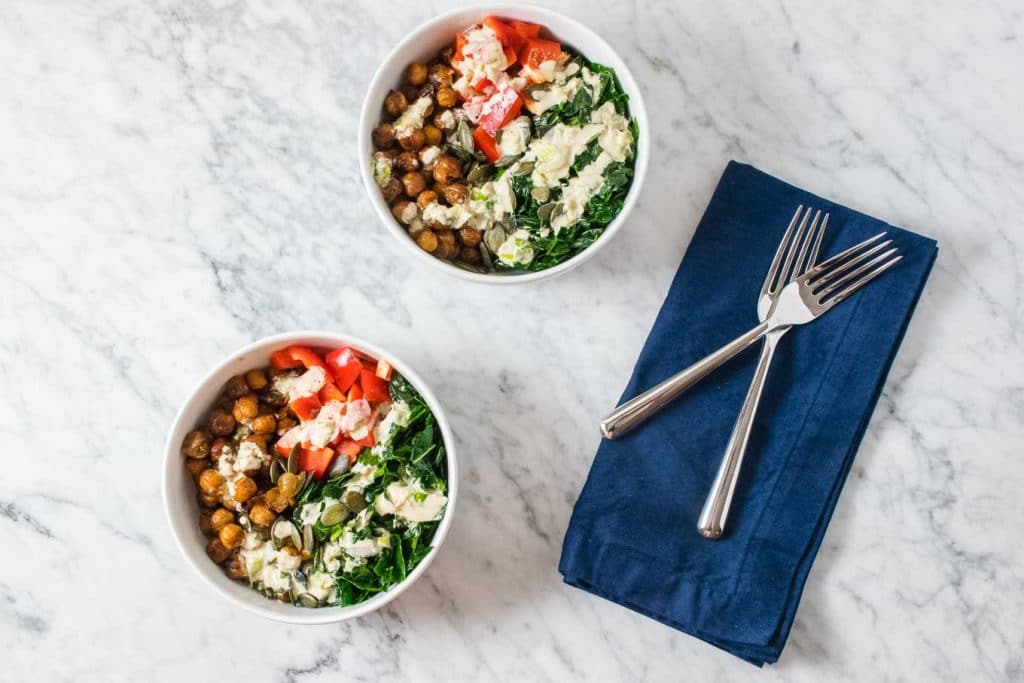 Sometimes it happens to me. The unthinkable! I crave a salad for dinner. Ideally served alongside some freshly baked bread, but even without the bread a giant bowl full of veggies is all I want. I'm kidding, I think salads for dinner are great (on occasion, don't get carried away)! Especially when they are hearty kale salads that come with a giant pile of sweet and smoky panfried chickpeas and a spicy jalapeño-tahini dressing.
I whipped this salad up on a week night when both my husband and I were going to yoga class in the evening. I knew we'd want dinner immediately upon getting home, but also didn't want to eat anything too heavy afterwards. So, before leaving I quickly blended together the dressing, sautéd the smoky chickpeas, chopped the red bell pepper, and prepped the kale. That way all we'd need to do when we got home is toss everything together and eat. Best part is, the salad made enough for 4 meals, so we had leftovers the next day! This salad makes a great and complete meal, but it could also be served as a side salad for a fancy weekend dinner.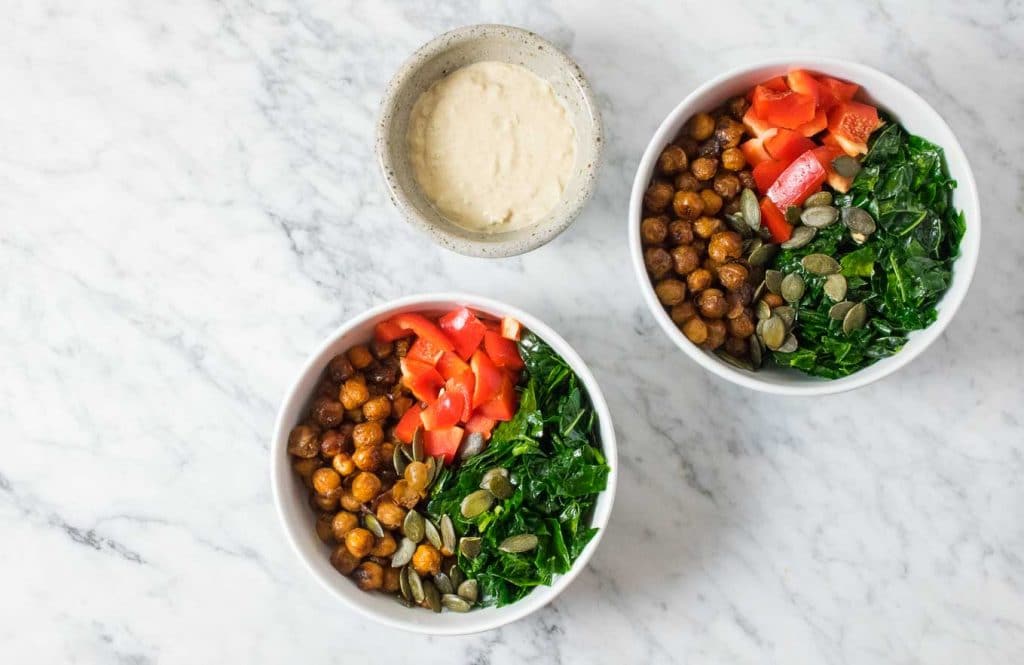 The dressing is what makes this salad really special. It is made of spicy roasted jalapeños and zesty green onions, which are blended with creamy, nutty tahini with some freshly squeezed lemon juice added for tang. My husband, who normally doesn't love tahini dressings, was obsessed with this dressing. I ended up with jalapeño hand for 24 hours, but he ended up talking about nothing but the salad for the next week, asking when we could eat it again. Pro-tip: avoid the burning sensations of jalapeño hand by using the back of a knife to help you de-seed, or by wearing disposable food-prep gloves. Note to self: don't be lazy and seed hot peppers by hand.
We love chickpeas in salads in this house, but you'll never see us throwing them in plain. Our favorite way to prepare them for use in ALL SALADS (well, probably, I haven't really tested this) is to give them a quick sauté in a hot skillet and then toss them in a mixture of soy sauce, maple syrup, and liquid smoke for a salty, sweet, and smoky flavor. The chickpeas provide a lot of protein, turning this salad into a filling meal. At this point you can stop or get as fancy with your salad as you like. Add some red bell pepper for a refreshing sweet crunch, and sprinkle with pepitas for some nutty richness. I've also made this salad with roasted sweet potato and that is good too. See what you have around and get creative! Or keep it easy for your busy weeknight. That's fine too.
Let me know in the comments if you make this dish, or tag me on Instagram!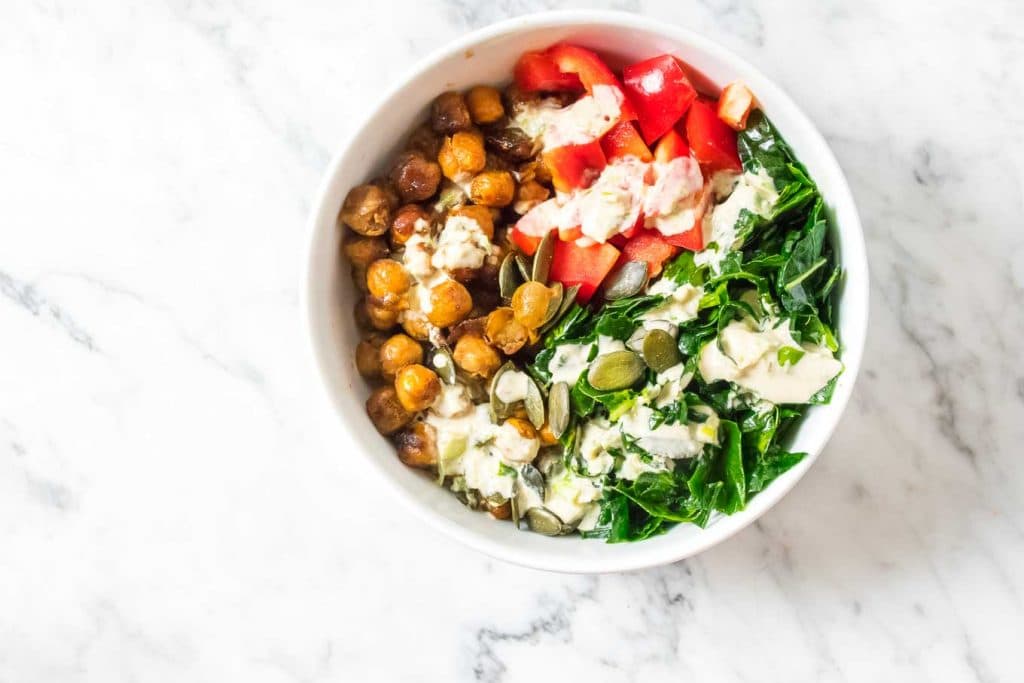 Notes:
Unlike most salad greens, kale holds up really well after being dressed and kale salad makes for great leftovers.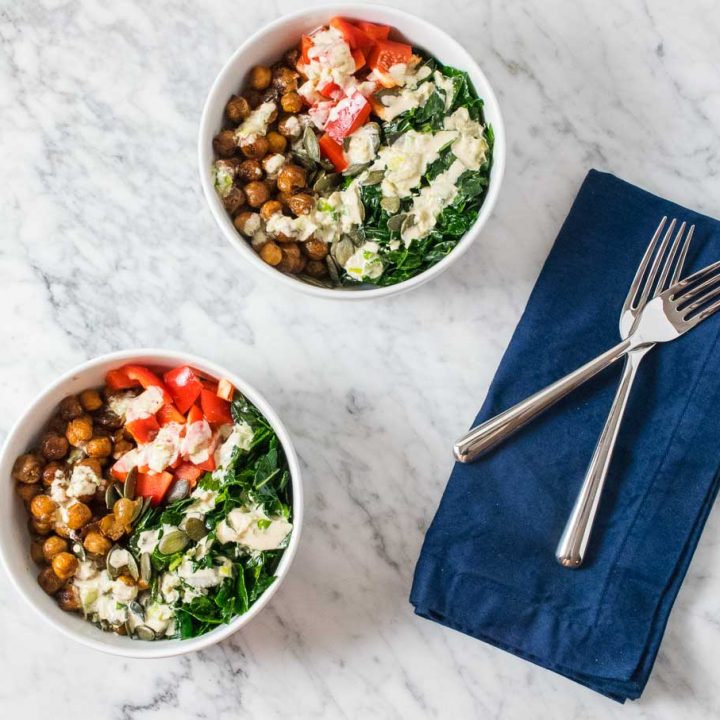 Kale Salad with Smoky Chickpeas and Creamy Roasted Jalapeño Dressing
Kale salad with smoky panfried chickpeas and a creamy roasted jalapeño dressing
Ingredients
Smoky Chickpeas
1 tbsp oil
1 29 oz can (3 cups) of chickpeas, rinsed
1/4 cup soy sauce
2 tbsp maple syrup
1 tsp liquid smoke
salt to taste
Dressing
1-2 jalapeños*
2 scallions, sliced
1/2 cup tahini
1/2 cup warm water
2 tbsp lemon juice
1 tsp salt
For the Salad
2 bunches of flat leafed kale, washed
1 tsp olive oil
1 red bell pepper, diced
pepitas
Instructions
To make the smoky chickpeas
Heat a large cast iron skillet over medium heat. Add the oil and the chickpeas. Sauté for 7-10 minutes, stirring occasionally, or until the chickpeas turn golden.
In a small bowl, mix together the soy sauce, maple syrup, and liquid smoke. Pour the mixture over the chickpeas and cook for an additional 1-3 minutes, stirring, until it has thickened and coats the chickpeas. Taste and add salt if desired. Remove from heat and set aside until ready to assemble the salad.
To make the salad dressing
First, roast the jalapeños over a gas stove or in the oven on broil, turning every 1-2 minutes until the skin is blackened (around 7-10 minutes in oven). Put in a bowl to steam for ~10 minutes to loosen the skin and allow it to cool. Once cool, peel off the skin, remove seeds, and roughly chop.
Place roasted jalapeños and the rest of the dressing ingredients in a small food processor or blender. Process until relatively smooth. Alternatively, dice the jalapeños and scallions very small and mix everything together with a fork. Add more water to thin if necessary.
Prepare the salad
Take the washed and kale and de-stem. To do so, take a piece of kale in your hand and put your pointer finger and thumb on the base of stalk, then pull up and the leaves will separate from the stem.
Take the de-stemmed kale and stack them on a cutting board, then roll them into a cigar shape, and cut the roll into slivers (of desired width). You can do this in batches.
Once your kale is cut, put it in a large mixing bowl and drizzle a little oil over the kale. Now go in with your clean hands and massage the kale for a couple of minutes, until it has shrunk a lot in volume, is bright green, and has become tender.
Now you can assemble the salad. Place massaged kale, red bell pepper, and a large scoop of chickpeas in a bowl, then sprinkle with pepitas. Drizzle dressing over the salad and toss to combine. Enjoy!
Notes
*jalapeños can vary a lot in heat level, but if you are spice sensitive use only one!