This vegan berbere mac and cheese is super creamy and so flavorful. If you love Ethiopian food then it's a must make! It's baked with a seasoned injera crumb topping, though can also be made with bread crumbs.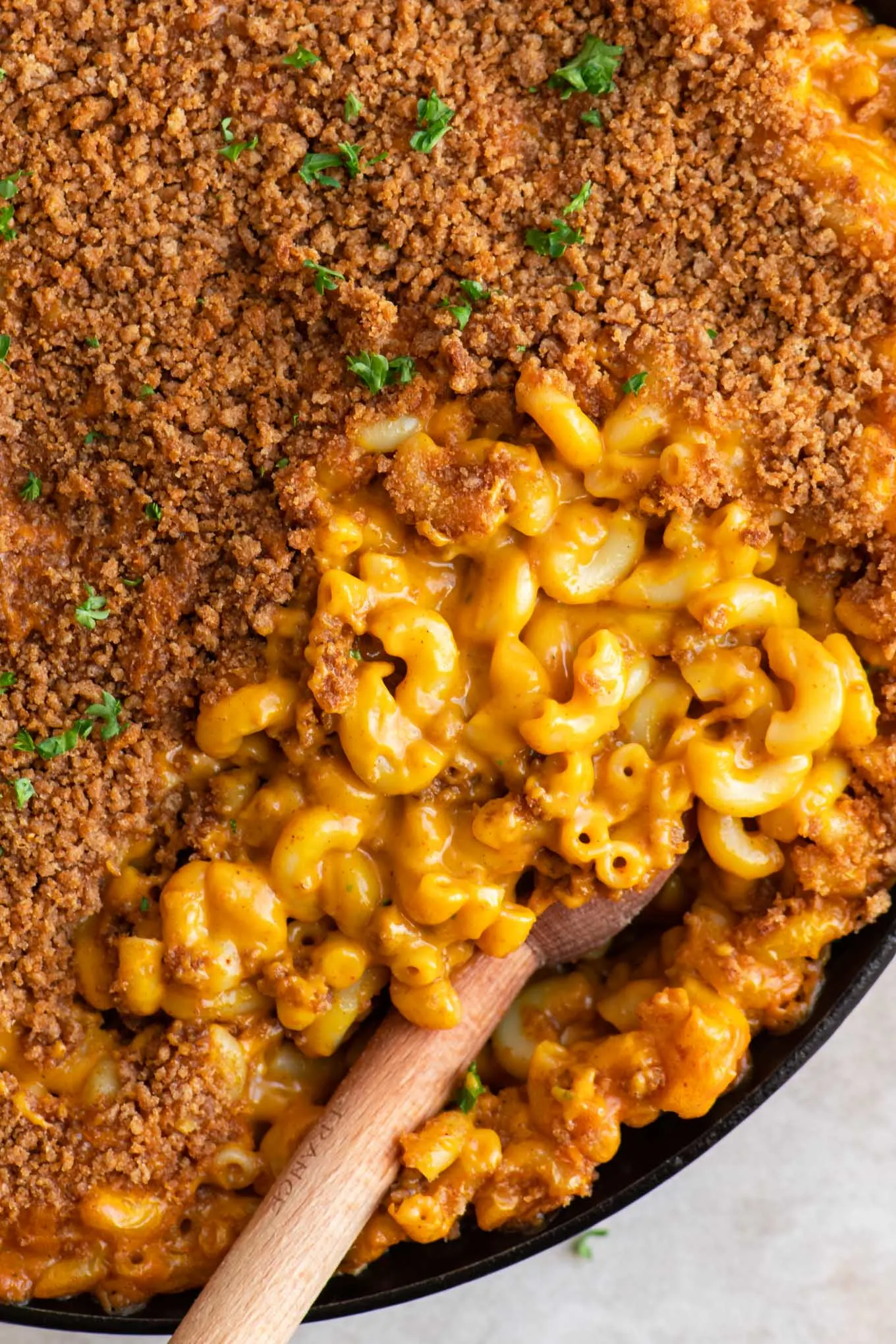 This recipe for vegan mac and cheese is inspired by Ethiopian cuisine, specifically the iconic spice blend berbere. A vibrant red spice blend that's layered and complex in flavor and makes any cheesy sauce 100x better!
I love a quick stovetop mac and cheese, but this one is next level when baked! I've topped the cheesy mac with bread crumbs made from injera crisps.
Injera is a sourdough spongey flatbread made with teff that's used in Ethiopian cuisine as both a plate and utensil. You use pieces of injera to scoop up bites of wot (sometimes spelled wat, an Ethiopian stew/curry).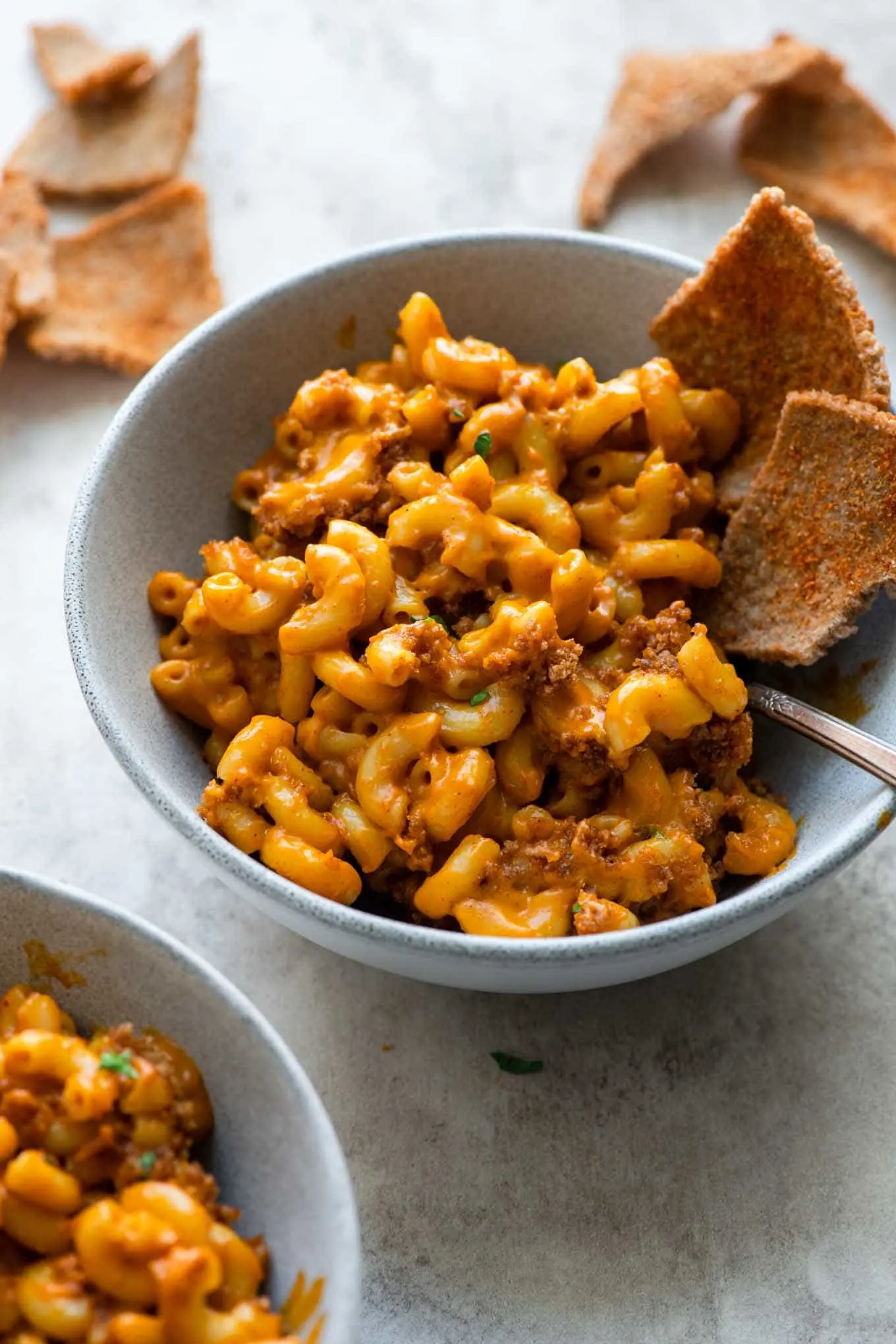 I get my berbere and injera crisps from a local Washington, DC area company, Tsiona Foods. It's a Black woman owned business and I'm a big fan of the products! If you're not local, you can order them online from their website or Amazon.
Tsiona Foods injera crisps are seasoned with mitmita (a spicy Ethiopian birds eye chili blend). You can get them mild or spicy, and are one of my favorite snacks and I can polish off a whole box just eating them plain!
Turning the crisps into breadcrumbs for my vegan baked mac and cheese was one of my more inspired moves, if I can say so myself!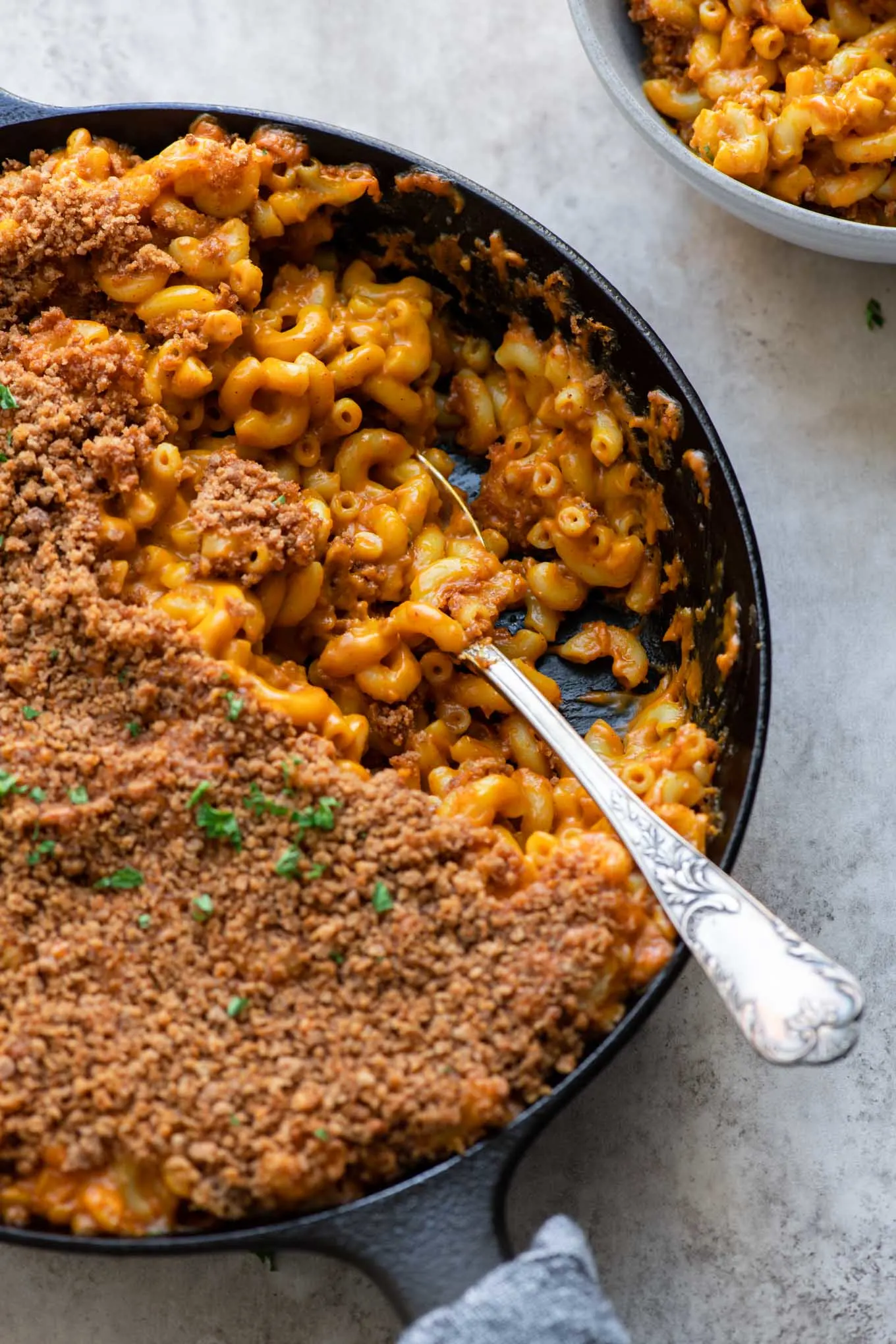 How to make the vegan berbere cheese sauce?
I might start making this easy cheese sauce to put on everything. It's just so good, I need it to be its own standalone recipe in my life. For fries and baked potatoes, nachos with an Ethiopian twist, vegan chili-cheese dogs, you name it!
The sauce is whole foods vegan cheese sauce meets traditional mac and cheese sauce made vegan.
It uses cashews, potatoes, and carrots for creaminess. The cashews get blended to a creamy cashew milk, the potatoes add a starchy stretchy quality to the sauce, and the carrots add an earthy sweetness while also providing a pop of orange color.
The seasoning is simple: the sauce should be garlicky so add plenty of garlic! Cheesy sauces should be salty, so make sure to salt generously. Then add berbere and lots of it! To finish, add a pinch of turmeric for color (and that's optional).
These ingredients get toasted, then simmered until the veggies are soft. Then blend it up until the sauce is smooth and creamy.
You now have a very tasty sauce, but it's not really cheesy yet. This is where our vegan cheese comes in! Pick your favorite brand of vegan cheddar style cheese and add it!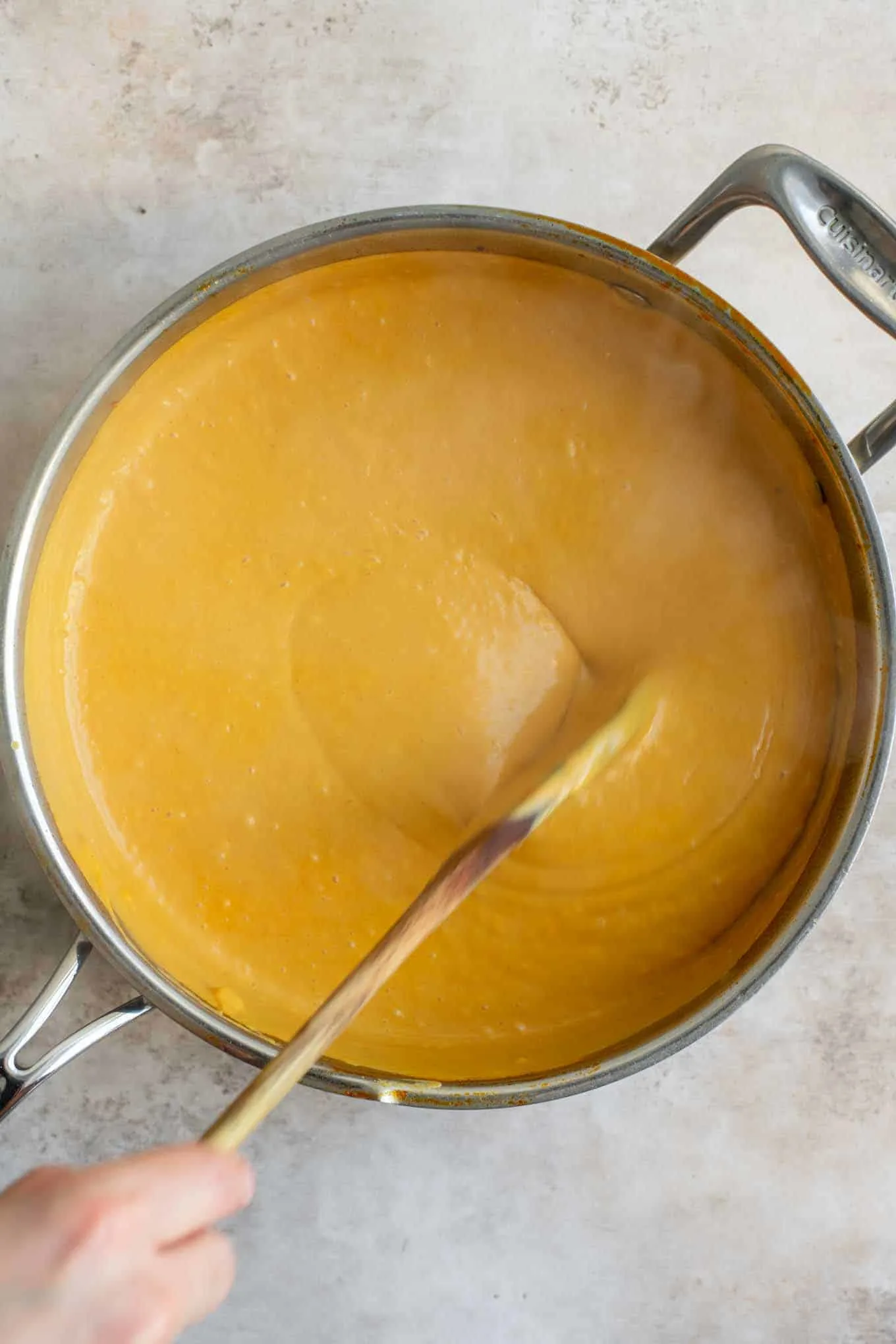 Let that melt in and you have an incredible, will blow your socks off berbere-spiced cheese sauce that just happens to be 100% vegan! And by "just happens," I mean I did purposefully make it that way lol.
Note on pasta shape & amount:
I use 1 pound of small elbow pasta in this mac and cheese, but if you like a cheesier dish then you can use 8 oz of pasta instead!
And if you are using a larger noodle shape, like fusilli or cavatappi, then use only 8 oz (usually half the box) of pasta or double the sauce.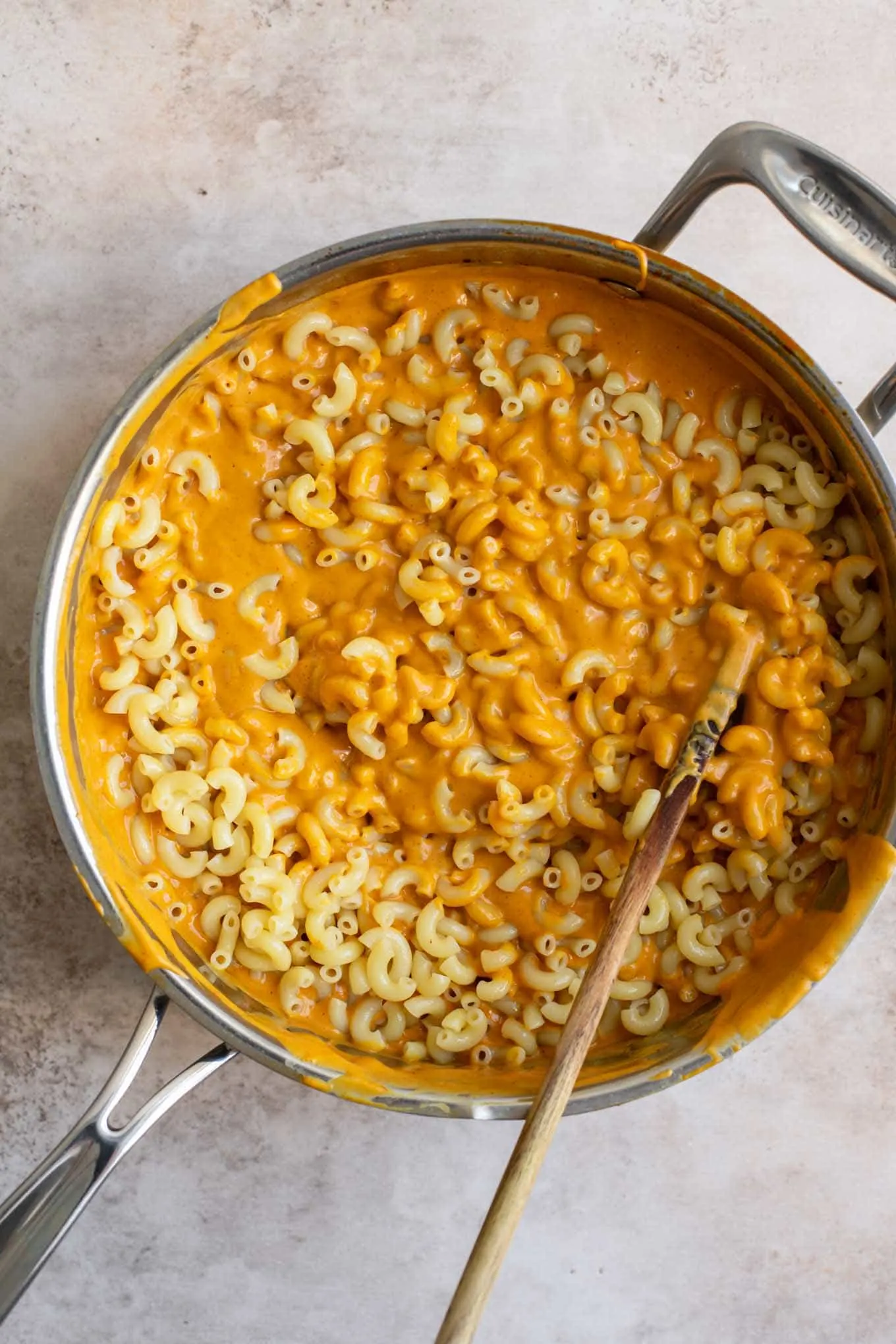 Picking a good berbere:
As this sauce leans heavily on berbere for it's seasoning, it's really important to pick a good quality berbere. As I said before, I bought mine from my local company, Tsiona Foods (and you can order it online!).
I highly highly highly highly recommend that you get your berbere from an Ethiopian-owed company or Ethiopian grocery store. Not only is it good to support those businesses, your berbere will taste better for it!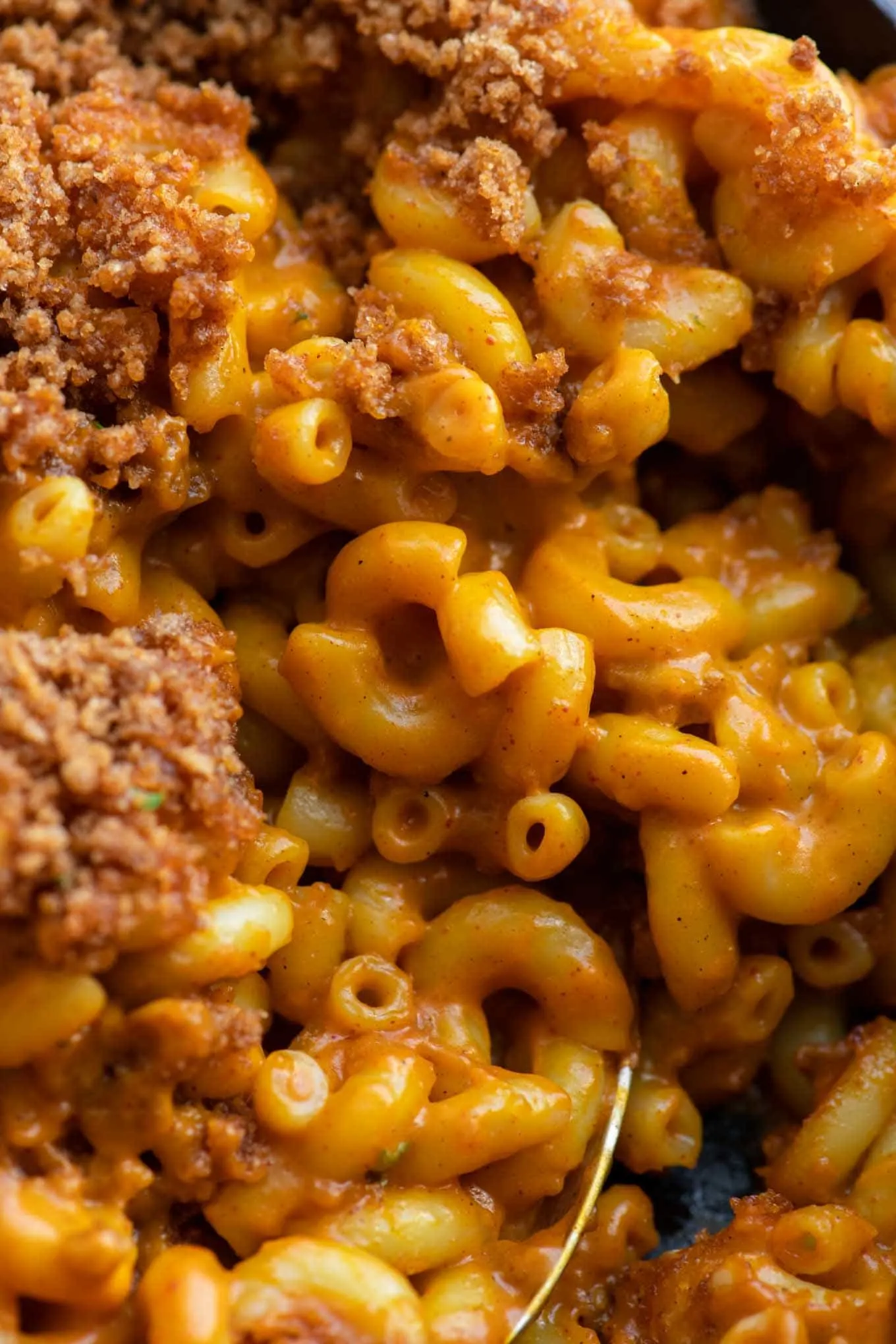 The problem with a lot of berbere spice blends that are made by American companies is that they use way too much cayenne and may skip some of the spices. If the first ingredient in your berbere is cayenne, then it's going to be way too spicy. You won't be able to use as much, and the heat will over power the nuances and complexity of the spice blend.
So check those ingredients! If cayenne is first on the ingredient list, I recommend you skip past it for this recipe.
Now, berbere is a spice blend and as such there's a million ways to make it and these variations are delicious! And Ethiopians will have spicy berbere and mild berbere, and a whole range between the two.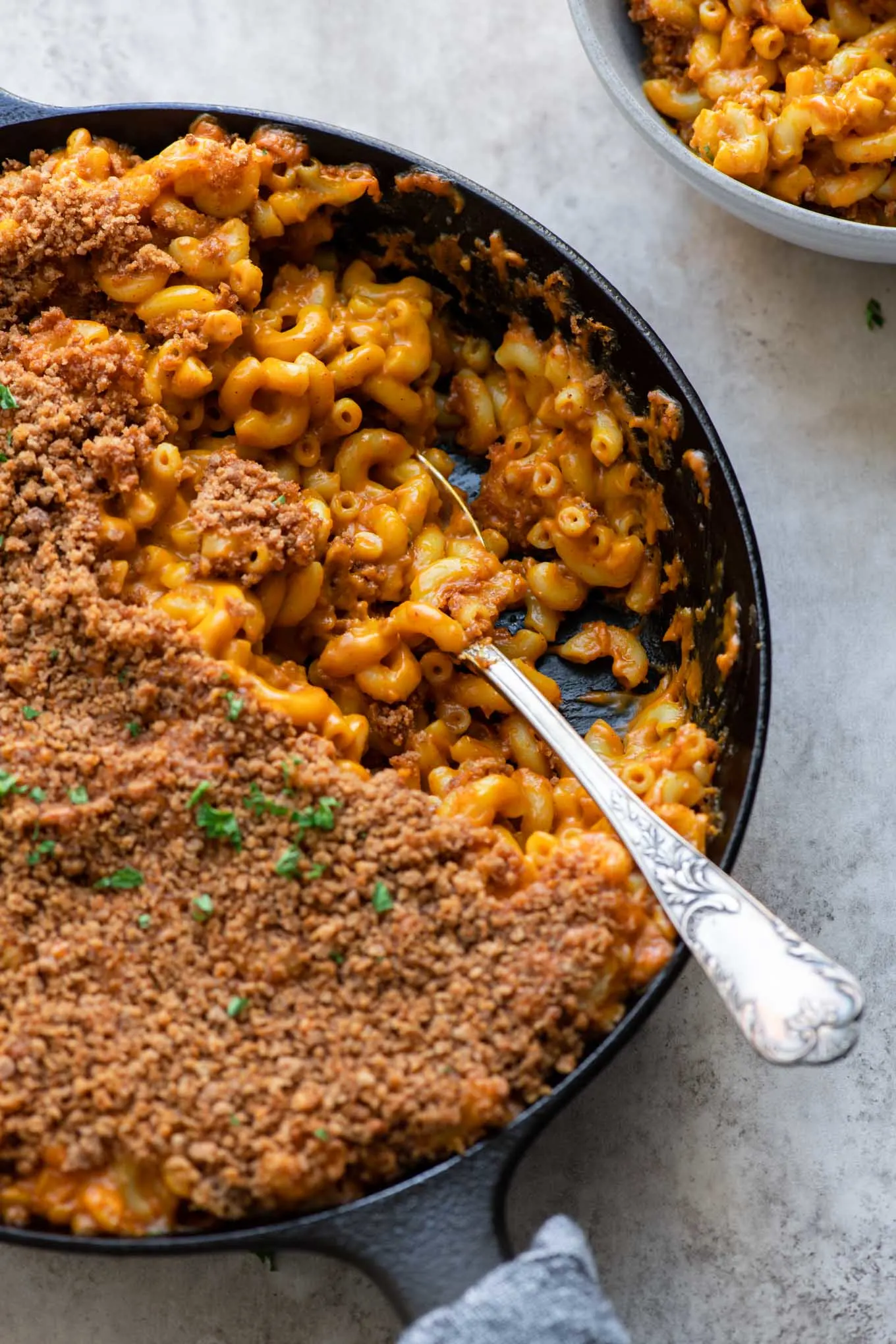 Some of this will be personal preference. If you know you love spicy and want to buy that spicy berbere–go ahead! You can also add more or less berbere to your mac and cheese to get it exactly to your liking.
Making the injera crumb topping:
Take injera crisps and pulses them in a food processor until you get 1 cup worth of crumbs!
I like the spicy injera crisps, and use those for my crumb topping. You can also use mild or even plain injera crisps.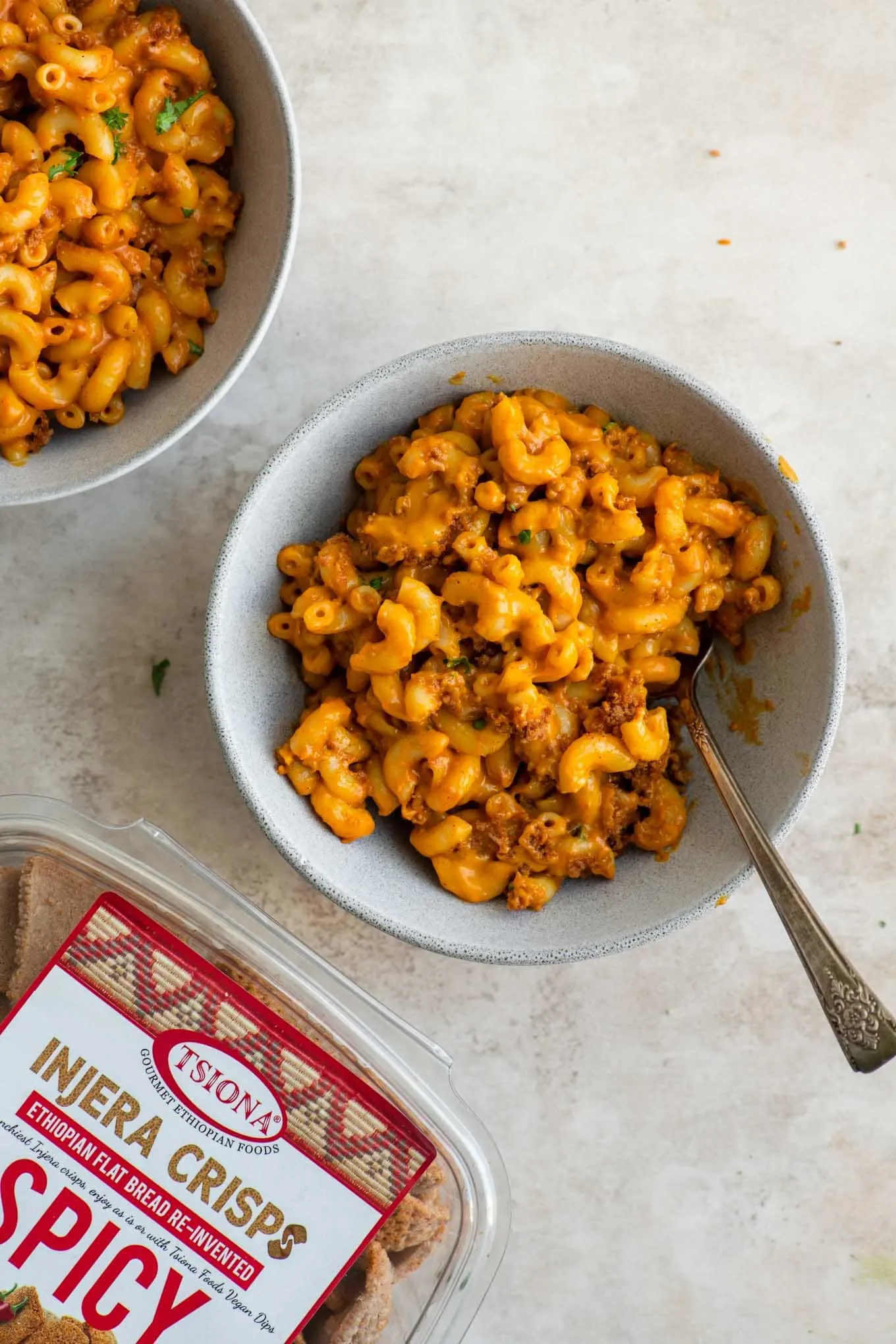 Substituting the injera crisps:
If you can't get injera crisps then you can make a crumb topping with breadcrumbs. I recommend using panko bread crumbs as these are coarser and will be more similar to the home crushed crumbs.
Mix the bread crumbs with a bit of melted vegan butter or olive oil, a bit of salt, and then berbere to taste. If you have mitmita you can use that instead of berbere.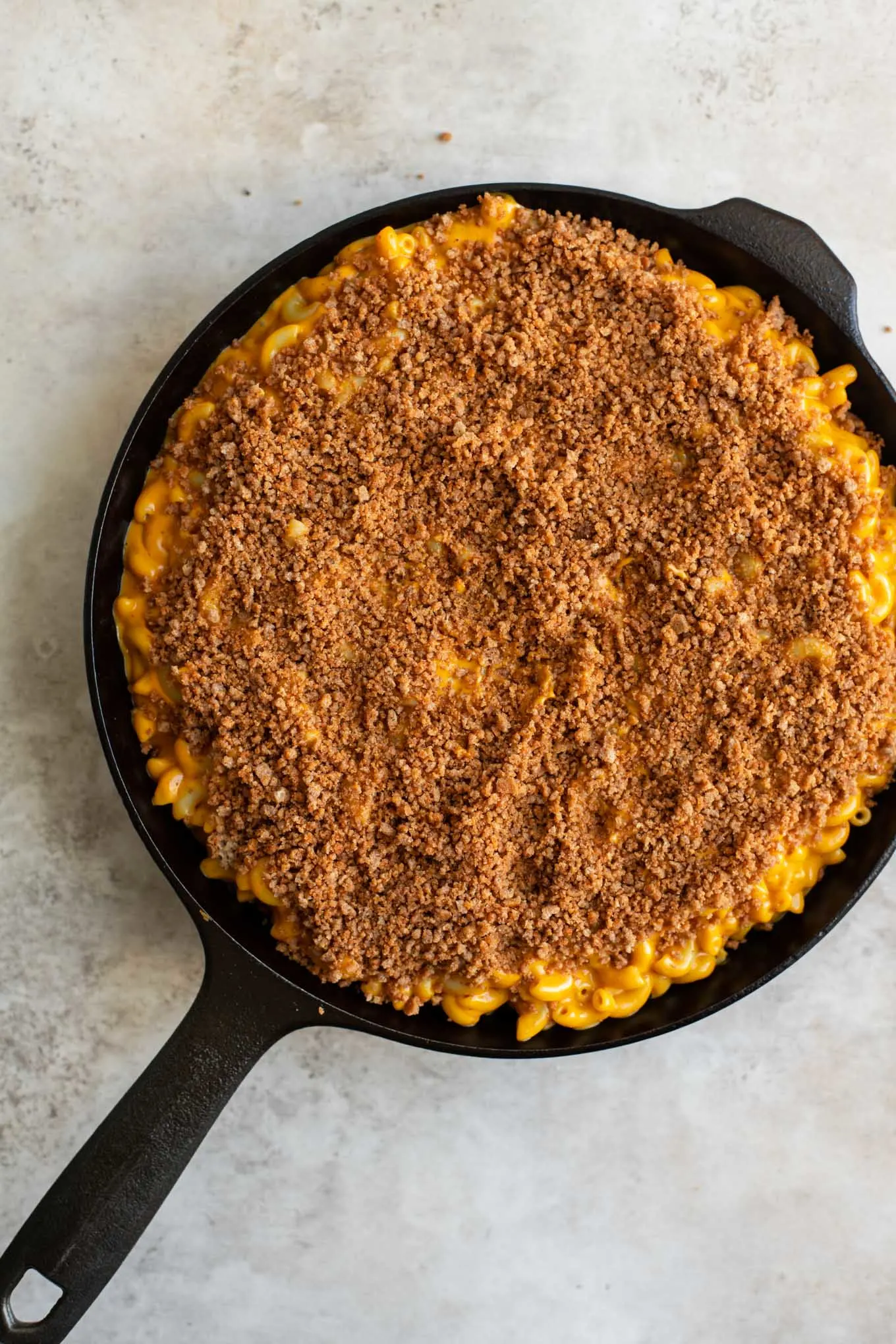 Can I make the berbere mac and cheese gluten free?
Of course you can! To make this dish gluten free you will need to use a gluten free pasta. It's ok if the box of noodles is less than 1 pound, the dish will just have a higher ratio of cheesiness, which is yummy!
You also will need to substitute a gluten free bread crumb for the crumb topping. While injera can be made with 100% teff, the injera crisps I buy are made with the more common wheat-tiff blend.
Use store bought vegan and gluten free bread crumbs, or crush plain corn or rice cereal to make a crumb topping. Season with melted vegan butter/olive oil and berbere like described in the previous section.
I hope you enjoy this fun and delicious Ethiopian-twist on mac and cheese!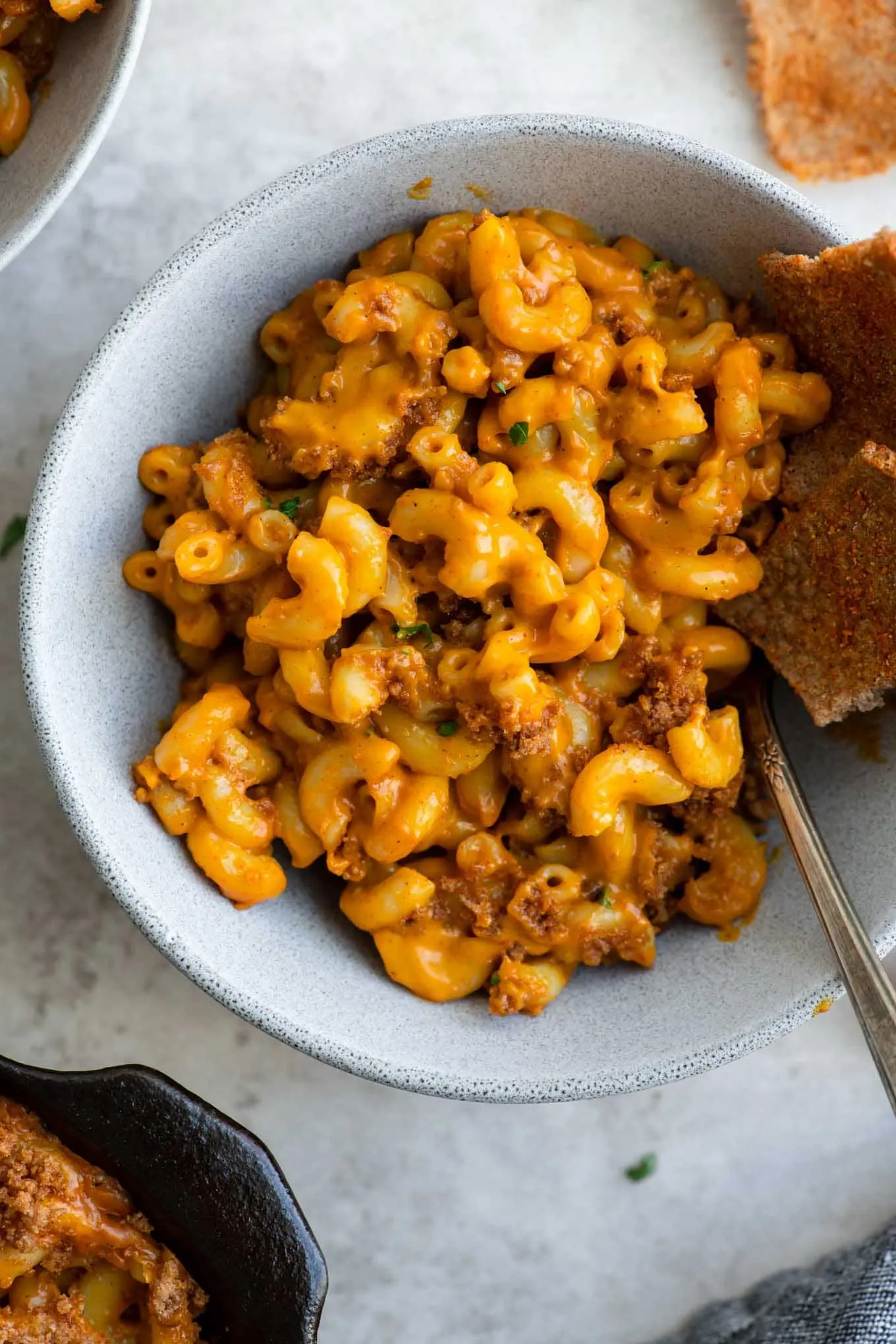 If you make this vegan berbere mac and cheese, leave a comment below and rate the recipe on the recipe card. And please share your photos with me on Instagram, tag @thecuriouschickpea and #thecuriouschickpea. I love seeing your recreations!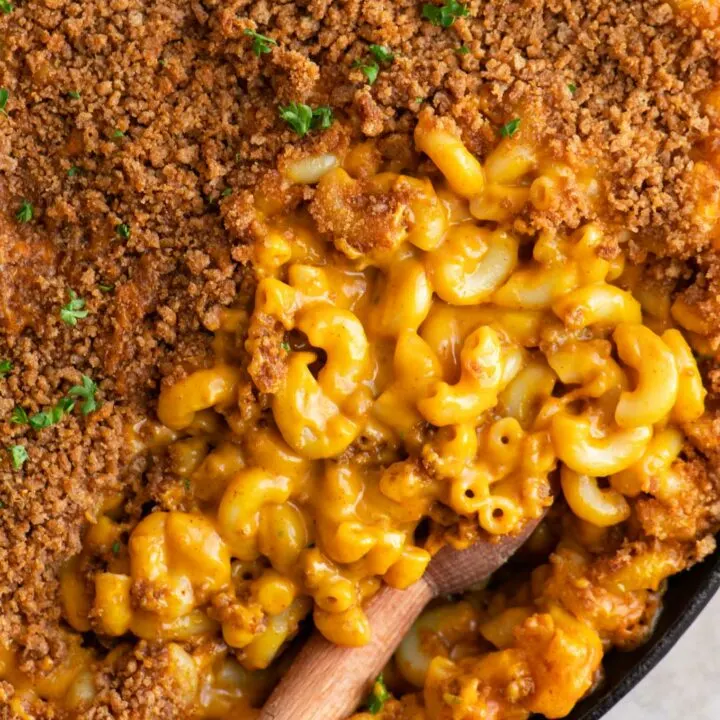 Vegan Berbere Mac and Cheese
Enjoy this baked vegan Ethiopian-inspired mac and cheese. It's made with an injera chip crumb topping, but can be made with bread crumbs. Choose a berbere spice blend where the first ingredient is not cayenne pepper for best results.
Ingredients
1 lb elbow macaroni*
1 tbsp oil
1 cup whole raw cashews
1 small potato, peeled and diced into small pieces (1 cup)
1-2 carrots, peeled and diced (1/2 cup)
4 cloves garlic, roughly chopped
3 cups water
2 tbsp berbere (see note)
1 - 1 1/2 tsp salt, to taste
1/2 tsp turmeric (for color, optional)
8 oz vegan cheddar style cheese
1 cup injera crisp crumbs*
Instructions
Preheat the oven to 375 ºF.
Cook the pasta according to package directions, undercooking by 1-2 minutes. Drain and set aside.
Heat the tablespoon of oil in a large pot over medium heat. Add the cashews, potato, carrots, and garlic and sauté until the cashews are golden in spots, about 2 minutes.
Stir in the berbere, salt, and turmeric and let toast for 30 seconds. Add the water and bring to a boil. Turn the heat down to low, cover the pot, and let simmer until the potatoes and carrots are very soft, about 10 minutes but may take longer if the vegetables are cut larger.
When soft, transfer the mixture to a blender and blend until smooth. Pour back into the pot and add the vegan cheese. Heat over low until the cheese has melted. Taste and adjust seasoning if needed.
Combine the cheese sauce and the cooked pasta and transfer to an oven safe dish such as a casserole dish or cast iron skillet (I used a 9-inch cast iron skillet).
Pulverize injera crisps (or see note below for substitution) in a food processor to make crumbs. Cover the top of the mac and cheese with the crumbs.
Bake for about 15 minutes or until the mac and cheese is hot and bubbly and top is crispy. Enjoy!
Notes
*For a cheesier dish, use only 8 oz of pasta.
*To substitute injera chip crumbs, combine 1 cup panko style bread crumbs, 2 tbsp melted vegan butter or olive oil, 1 tsp berbere, 1/4 tsp garlic powder, and 1/4 tsp salt.
Recommended Products
As an Amazon Associate and member of other affiliate programs, I earn from qualifying purchases.
Nutrition Information:
Yield:

8
Serving Size:

1
Amount Per Serving:
Calories:

299
Total Fat:

14g
Saturated Fat:

3g
Trans Fat:

0g
Unsaturated Fat:

10g
Cholesterol:

0mg
Sodium:

607mg
Carbohydrates:

36g
Fiber:

2g
Sugar:

9g
Protein:

10g
Nutrition is calculated automatically so should be used as an estimate.