The perfect vegan banana nut muffins have arrived! They're so soft and delicious and incredibly easy to make! It's the perfect way to use up overripe bananas.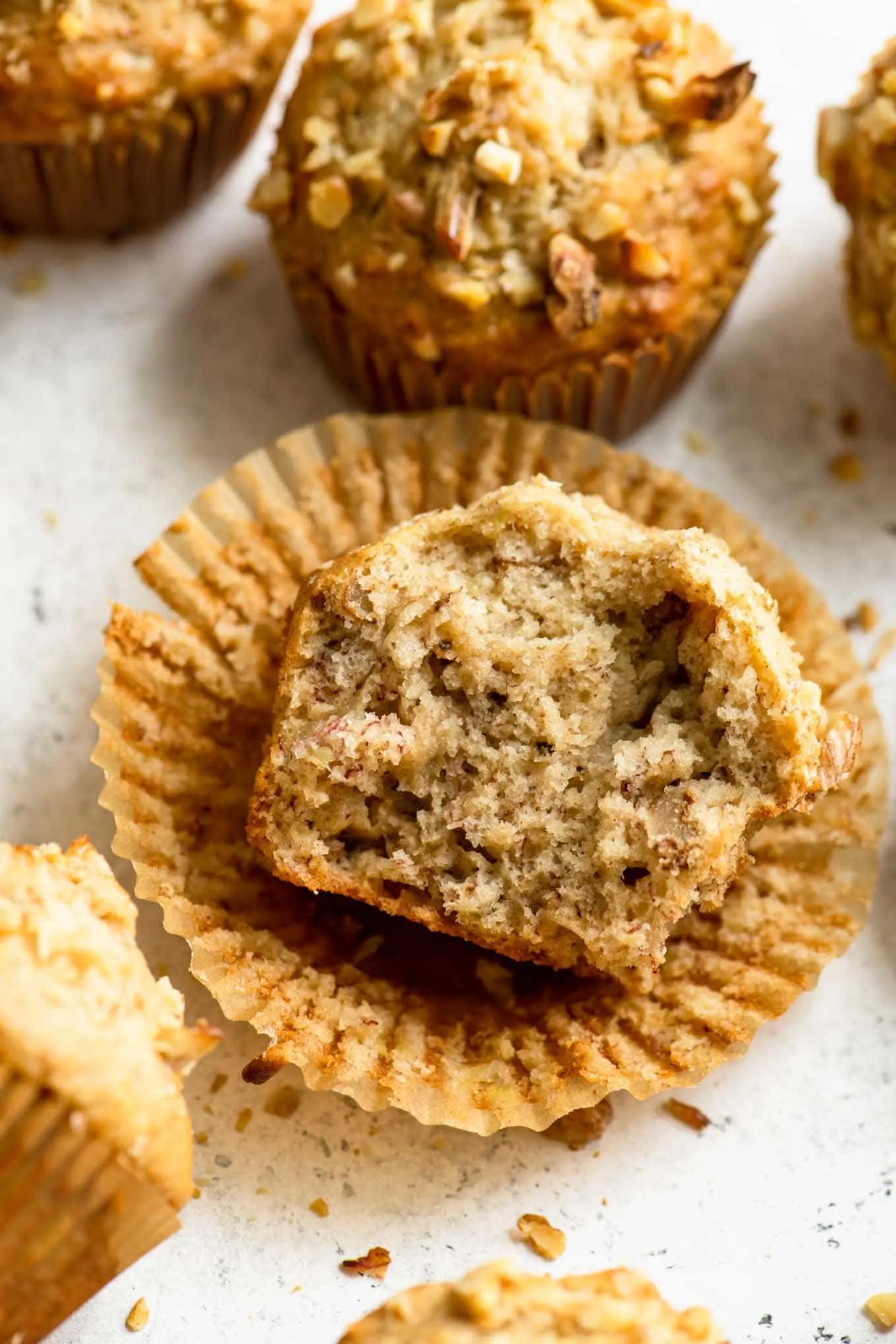 These soft bakery-style banana muffins are studded with walnuts and laced with cinnamon for a nutty, warming, and absolutely delicious treat.
They are fluffy, tender, and moist–everything you want in a banana nut muffin. And these muffins are completely vegan, cause being vegan is where it's at! And like, vegan recipes are the whole point of my site… 😜
I love the combination of sweet banana bread (but not too sweet!) and toasty walnuts. The texture of the nuts breaking up bites of soft cakey muffin is my idea of heaven.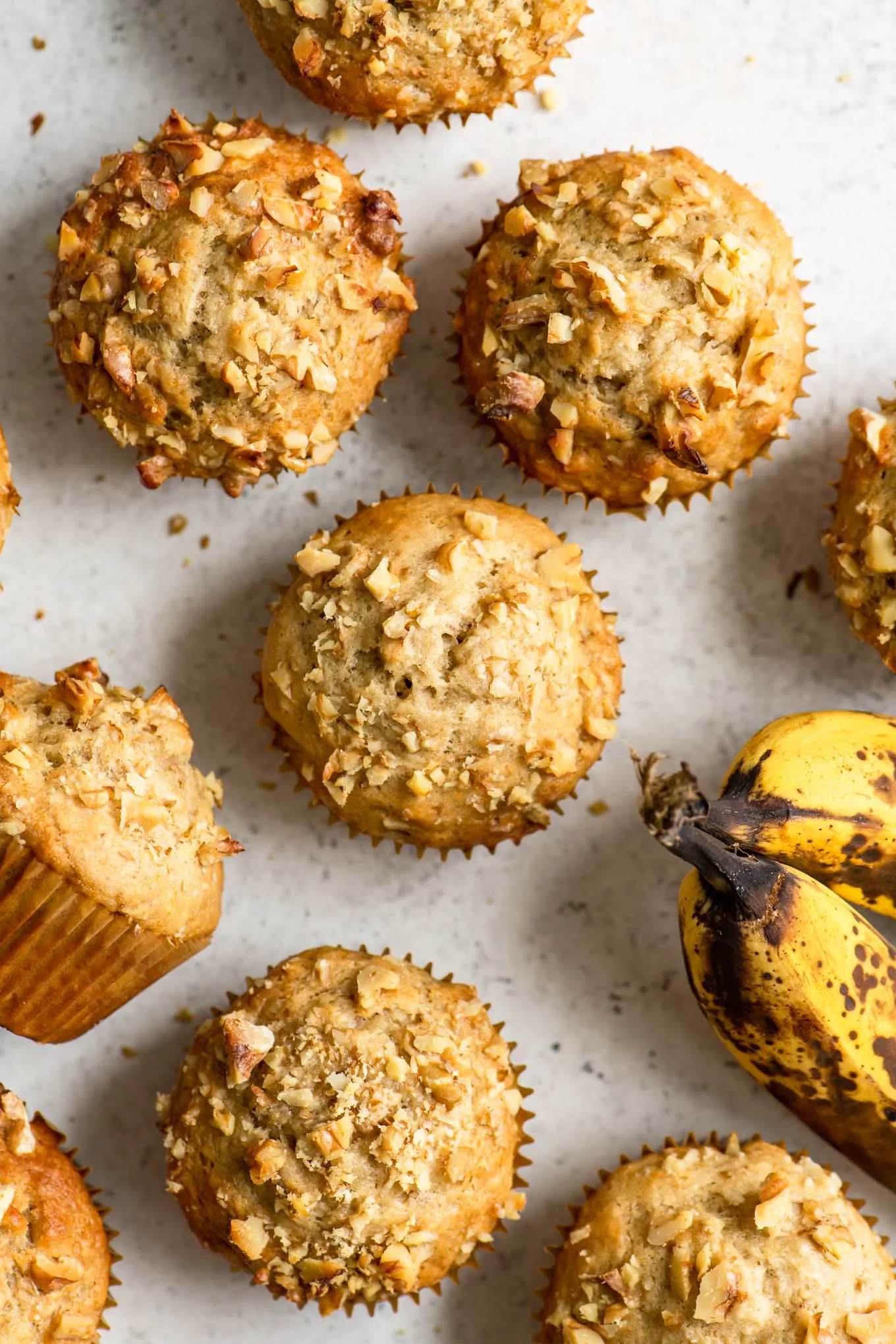 These muffins are the perfect size for a snack or light breakfast, and delicious paired with a hot steamy mug of coffee or tea.
(Side note: if you like banana bread, you should definitely check out my popular vegan double chocolate banana muffins as well!)
Banana muffins are so easy to make, and even easier than their traditional counterparts!
How to make vegan banana nut muffins:
The cool thing about vegan banana bread is that bananas can actually work in tandem with baking powder and baking soda as an egg replacer. They provide moisture to the cake and help to form a tender crumb.
And guess what, non-vegan banana bread uses chemical leaveners like baking powder as well.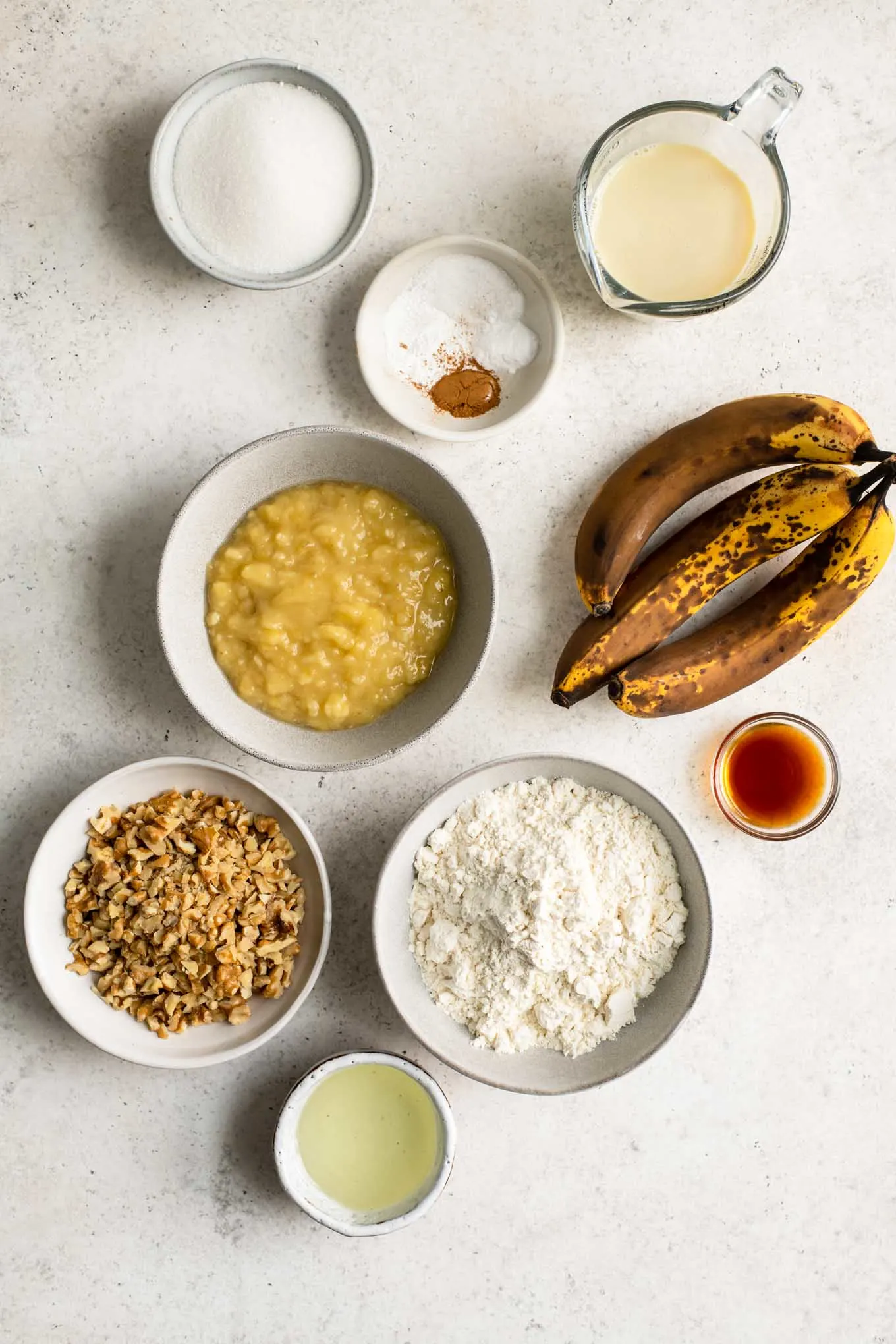 To make the muffins, first mash up the bananas and measure them out. If measuring by weight (which is how I recommend you bake–get yourself a kitchen scale!) you can weigh it out before mashing the bananas.
Then add the sugar, plant milk*, oil, apple cider vinegar, and vanilla extract and whisk it together until smooth. Minus any small banana lumps of course.
*I like to use soy milk, but any non-dairy milk will work. Use plain or unsweetened non-dairy milk for best results.
In a second bowl whisk together the dry ingredients: all purpose flour, salt, baking powder, baking soda, & cinnamon. Add the dry ingredients to the wet and mix together with a wooden spoon until mostly combined but still very lumpy and some dry spots are ok.
Add the walnuts and fold those in. This will mix in any remaining dry spots.
Muffins can be baked with or without liners. To me using a liner is more of a bakery style look, but I'll often skip them. If not using liners then spray the muffin tin with oil to grease it.
To bake the muffins: fill the muffin tray almost to the top! If you want that beautiful mounded muffin top you need to be generous with the batter for each muffin.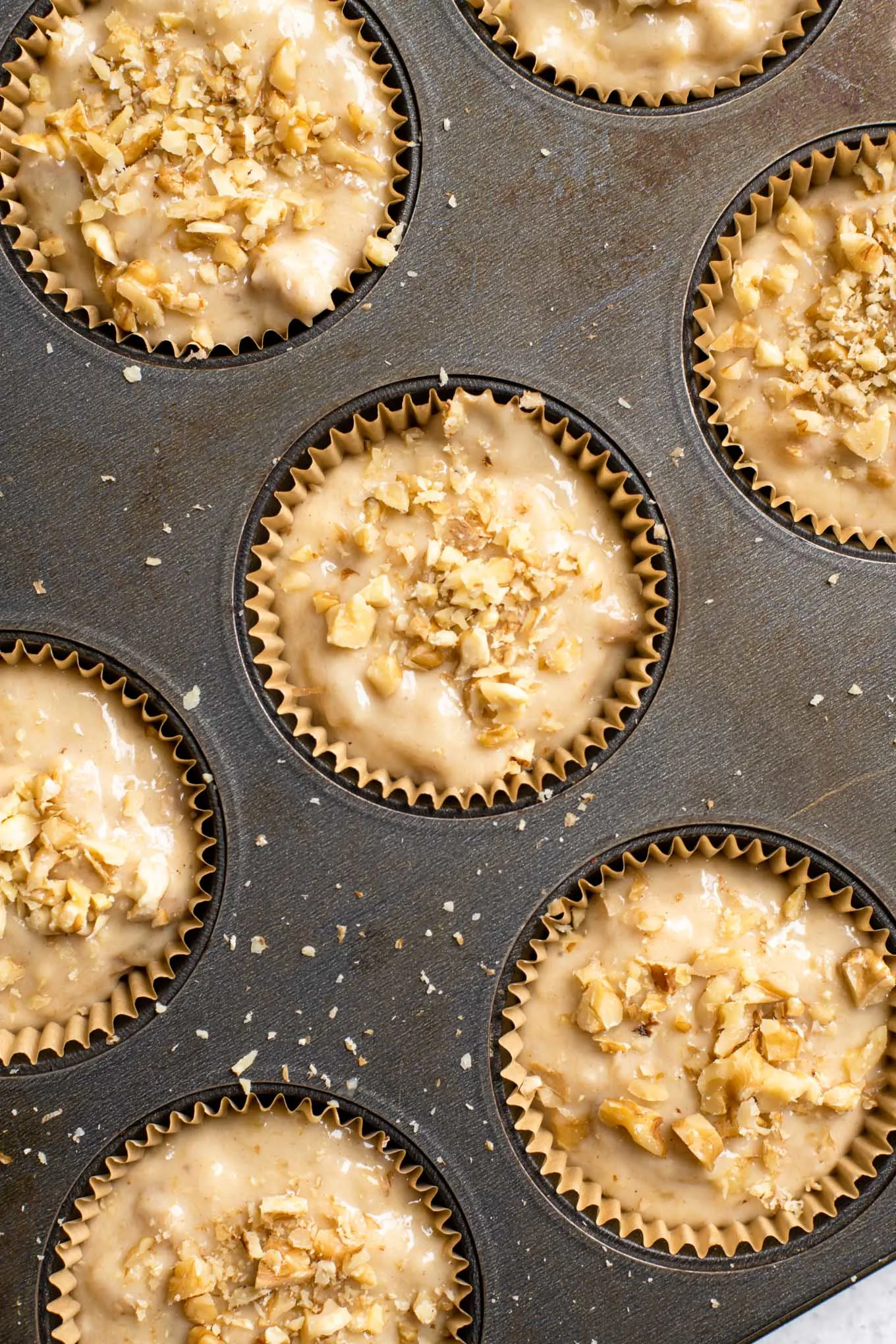 The best bananas for banana bread:
When choosing your bananas for banana bread you want them to be overly ripe. This means blackened skins and past the point where you'd want to eat them.
As bananas ripen their starches turn to sugar. The bananas sweeten and the flesh itself turns softer and eventually gets a bit mushy. A banana so ripe that it threatens to separate from the stem with the gentlest of touches. This is the ideal banana for banana bread.
So get your bananas, and let them ripen plenty before you make your banana bread!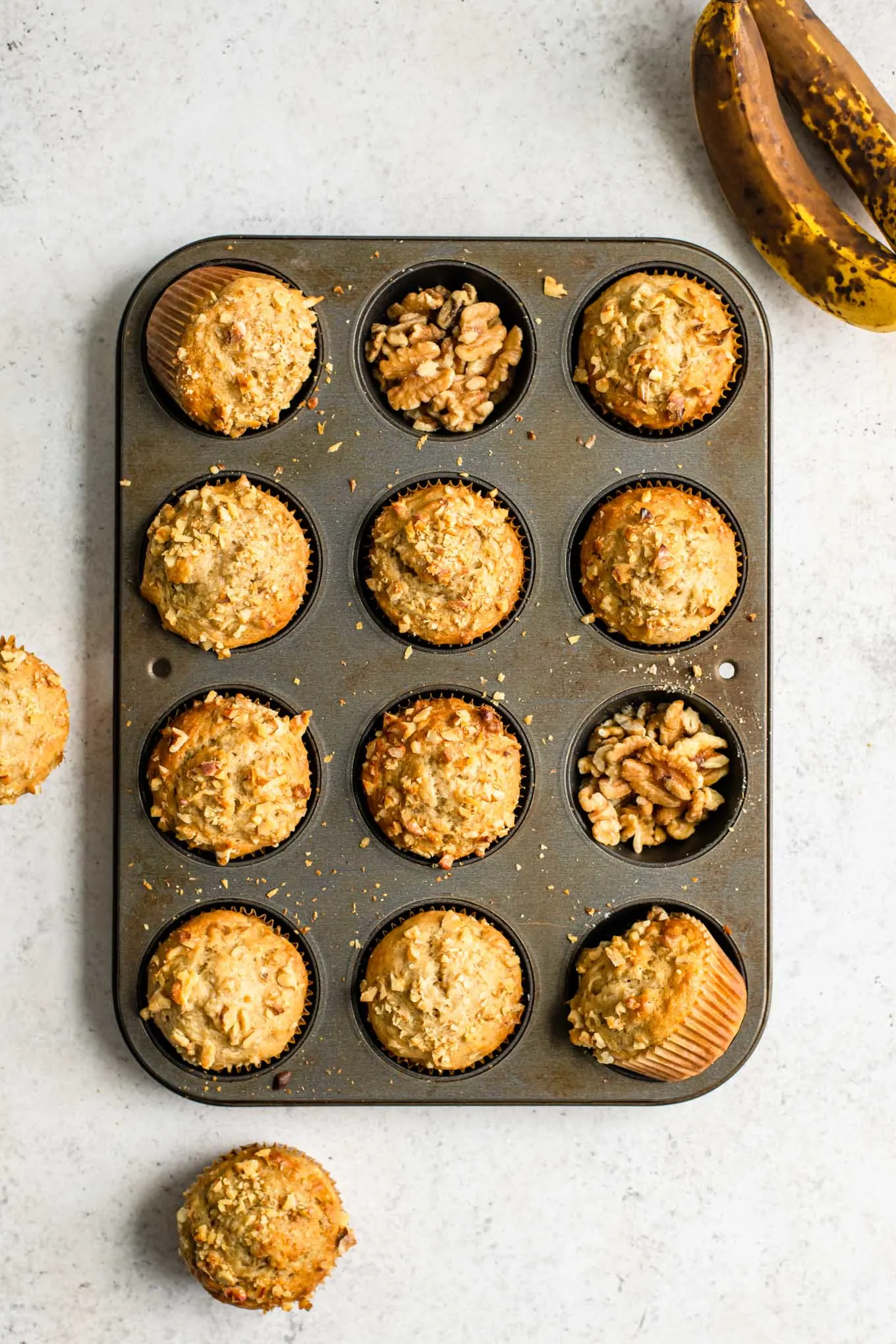 How to bake banana bread with frozen bananas:
You can store ripe bananas in the fridge for a couple days before making your bread, or if you need more time peel the bananas and stick in a freezer bag and freeze them for longer storage.
If you have frozen ripe bananas and you're ready to bake banana nut muffins then take the bananas you need for the recipe out of the freezer and leave at room temperature to defrost.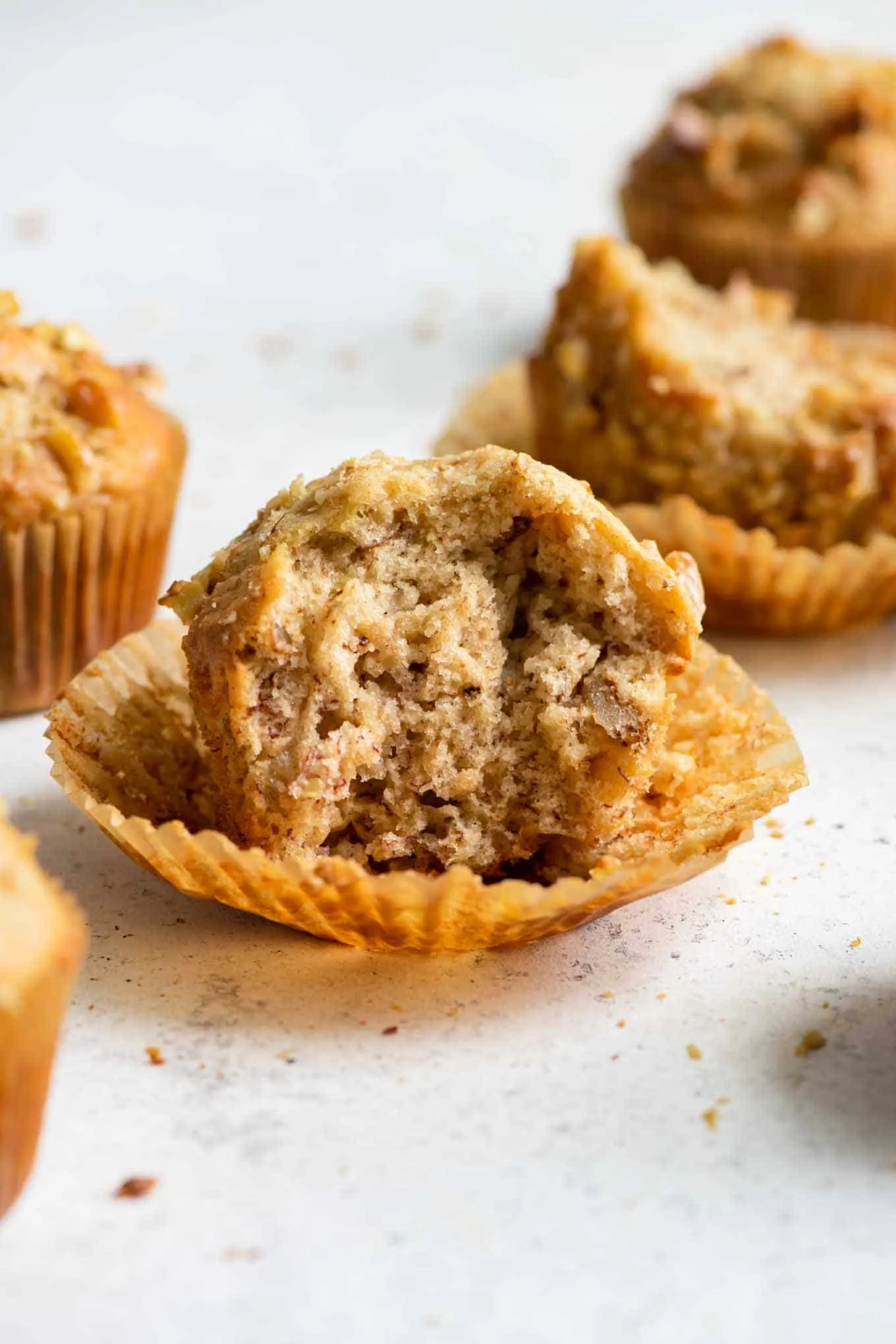 As the bananas defrost the water content of the fruit will separate from the fruit itself. It's not that pleasant to look at, but when the fruit has come to room temperature you can mash it up and it will incorporate the liquid back into the mash.
Go ahead and use this mashed banana the same way you would a fresh banana!
Can I substitute the walnuts?
Yes, you can use pecans if you want a different nut.
For nut-free you can either leave out the nuts or add some seeds instead. Pepitas or sunflower kernels could be nice but I haven't personally tried that substitution.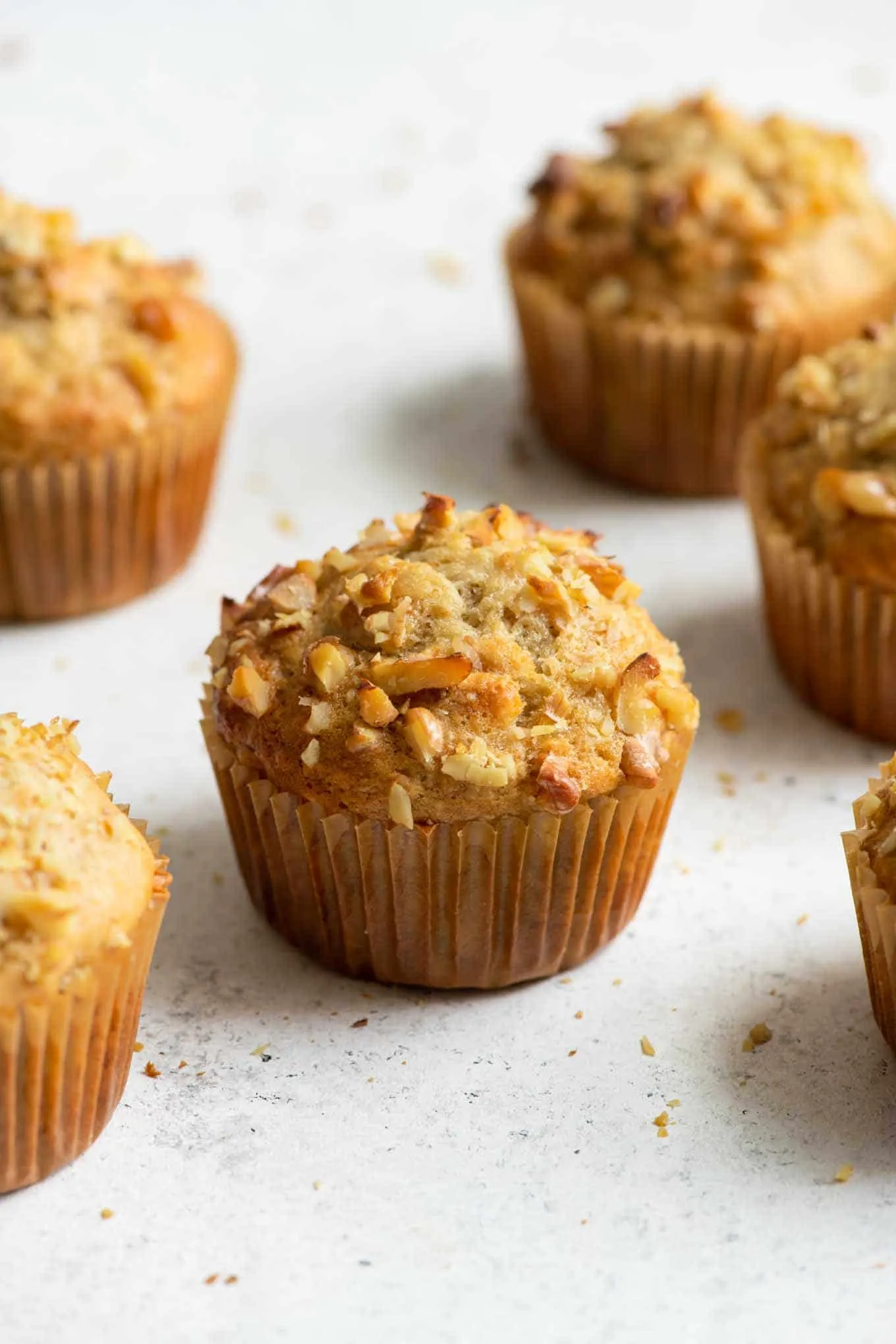 Can i cut back on the oil and/or sugar?
Sometimes I want a less sweet banana bread, a bit more "homestyle" and less "bakery-style" if you will. I have baked these with 1/2 cup of sugar and they still come out well. If you reduce the sugar more than that you may find the texture of the muffins changes.
Same with oil, you can cut it in half to just 2 tbsp, but again, it will affect the texture of the muffins.
So I recommend making them per the recipe at least the first time you make them, and then if you want yours to be a bit less sweet or whatever you can try that change.
If you make these vegan banana nut muffins, leave a comment below and rate the recipe on the recipe card. And please share your photos with me on Instagram, tag @thecuriouschickpea and #thecuriouschickpea. I love seeing your recreations!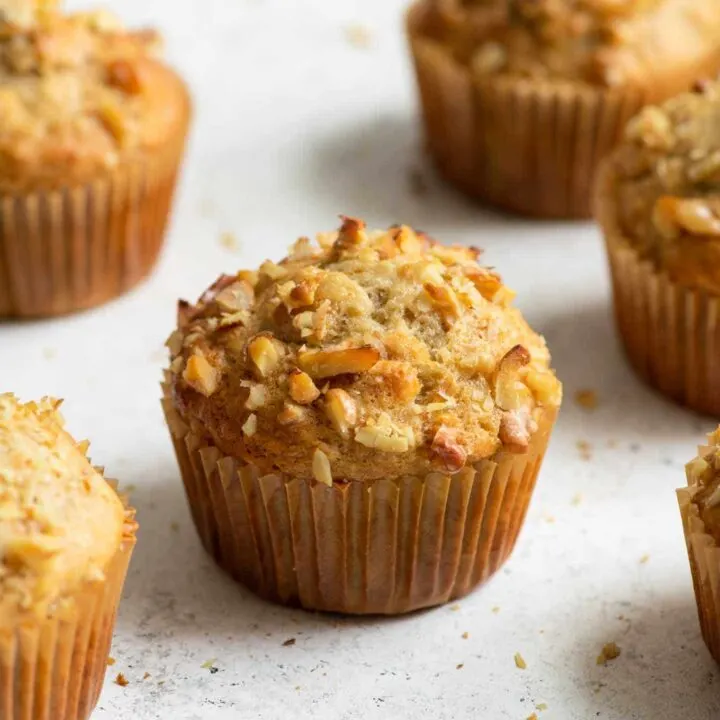 Vegan Banana Nut Muffins
These bakery style vegan banana nut muffins are soft and fluffy and so easy to make!
Ingredients
1 cup mashed (240 g) ripe bananas (~2-3 bananas)
2/3 cup (145 g) granulated sugar
2/3 cup (157 g) plant milk
1/4 cup (52 g) neutral flavored vegetable oil (e.g. canola)
1 tsp (5 mL) apple cider vinegar
1 tsp (5 mL) vanilla extract
1 3/4 cups (235 g) all purpose flour
1 tsp salt
1 tsp baking powder
1/2 tsp baking soda
1/2 tsp cinnamon
1 cup (100 g) chopped walnuts, plus extra to top muffins
Instructions
Preheat the oven to 375 ºF and line a muffin pan with paper liners or spray with oil to grease. Set aside.
In a large mixing bowl combine the mashed banana, sugar, milk, oil, apple cider vinegar, and vanilla together. Mix together until fairly smooth.
In a small mixing bowl combine flour, salt, baking powder, baking soda, and cinnamon and whisk until fluffy and combined.
Add dry ingredients to the wet and mix until mostly mixed together and lumpy (some dry spots are ok). Fold in the chopped walnuts.
Divide the batter between the 12 muffins, filling the batter almost to the top. Sprinkle some finely chopped walnuts to the top and lightly press them into the batter.
Bake at 375 ºF for 18 - 22 minutes or until a tester comes out clean. Let cool for 5 minutes, then remove the muffins from the tin and cool fully on a wire rack. The muffin liners will peel off more cleanly when the muffins have fully cooled.
Nutrition Information:
Yield:

12
Serving Size:

1
Amount Per Serving:
Calories:

240
Total Fat:

11g
Saturated Fat:

1g
Trans Fat:

0g
Unsaturated Fat:

9g
Cholesterol:

0mg
Sodium:

295mg
Carbohydrates:

34g
Fiber:

2g
Sugar:

15g
Protein:

4g
Nutrition is calculated automatically so should be used as an estimate.