This easy vegan mushroom lasagna skillet is everything you love about lasagna but 100x easier! A creamy, custardy nut-free sauce, flavorful mushroom and sausage filling, and broken lasagna noodles tossed together and baked to perfection. Protein-packed, nut free, and easily made gluten free!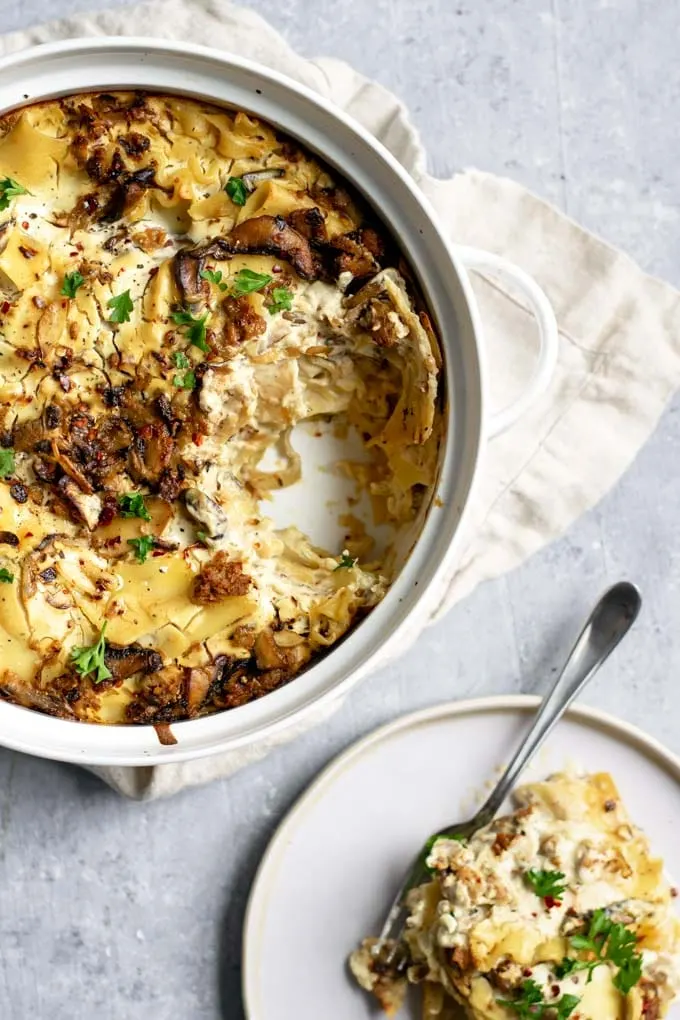 It probably comes as no surprise that I love lasagna, I mean who doesn't? You're talking layers of cheesy, creamy, saucy noodles. Crispy edges and tender centers.
But making lasagna requires making multiple components that then must be carefully layered before being baked. And I'm all about that, sometimes… and yet, usually a box of lasagna will sit untouched in my pantry for months before I decide to put in the effort.
On one sad December night, with few fresh foods gracing the fridge, I went to grab some pasta from the cupboard only to discover all I had was lasagna noodles. Never let a lack of noodles stop you from enjoying pasta!–is my motto. But neither time/desire/nor ingredients allowed me to make a layered lasagna and instead this quick lasagna skillet hack was born.
I mean, I'm not pretending to have been the first person ever to break up lasagna noodles! That'd be crazy! But it was a first for me, and the we enjoyed the resulting casserole dish so much, that I refined the recipe and had to share it with you!
So if you're looking for a healthy, protein-packed, nut-free, indulgent tasting, easy as F meal, you can just stop here! No, really, keep reading so you can know how to make it.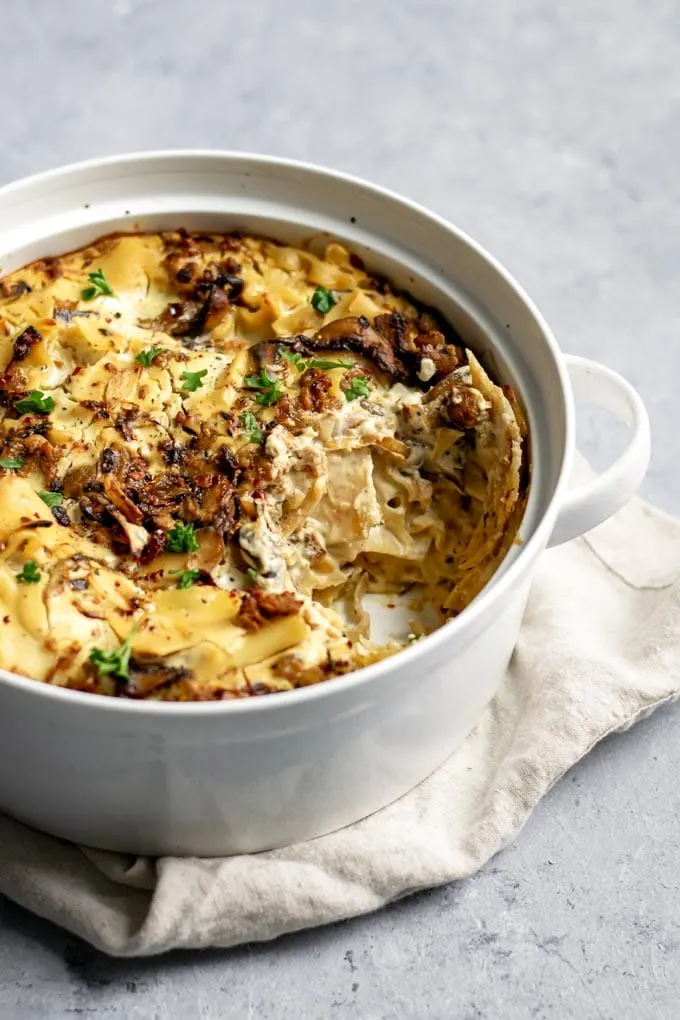 The sauce:
All good pasta requires a good sauce. This one was inspired from my Spaghetti ai Funghi… ok you caught me, this whole recipe was inspired from that one! You know what they say, when you don't have spaghetti make up a lasagna recipe!
The base of this sauce is tofu. Not cashews or almonds or a [plant] milk-based roux, but tofu. Enough tofu that it does taste a bit tofu-y, but less so once combined with the flavorful mushroom and sausage filling baked so all the flavors infuse. Just trust me on this, the way the dish comes together is just so good!
One reason I love tofu for this sauce is that it cooks up custardy, which makes for a really nice texture in the final baked dish. It's also has mild flavor that allows for other flavors to overpower it, its easy to find, and is full of protein.
No fancy blenders are requires to make this tofu-based sauce smooth. Any blender or food processor should do the trick!
In the sauce we have tofu, and I choose a medium-firm tofu. This means that less water has been pressed out of the tofu and it has a softer texture. It makes it perfect for blending into a creamy sauce! Depending on what brand you have available the amount of water and softness of the tofu will vary, so the final sauce may need a bit of extra water added to get smooth and blending.
Next I add white wine and water. If you do not use alcohol you can substitute some vegetable broth with one teaspoon of apple cider vinegar or a champagne or white wine vinegar. Wine adds a lot of depth to a creamy sauce, and with this one ingredient you can really transform the flavors of a dish.
I add nutritional yeast for its nutty, cheesy flavor. The added nutritional boost is more than welcome as well. Lemon juice adds some acidity and helps counteract the tofu-y flavor of the tofu-based sauce. Miso adds some funk and umami to the sauce, giving it a more cheesy and cultured flavor.
Tapioca starch thickens the sauce and helps it set in the oven, enhancing that custardy texture. Salt and pepper to flavor it.
The sauce is super easy to make, just add everything to a blender or food processor and your sauce is ready! Set it aside until you need it.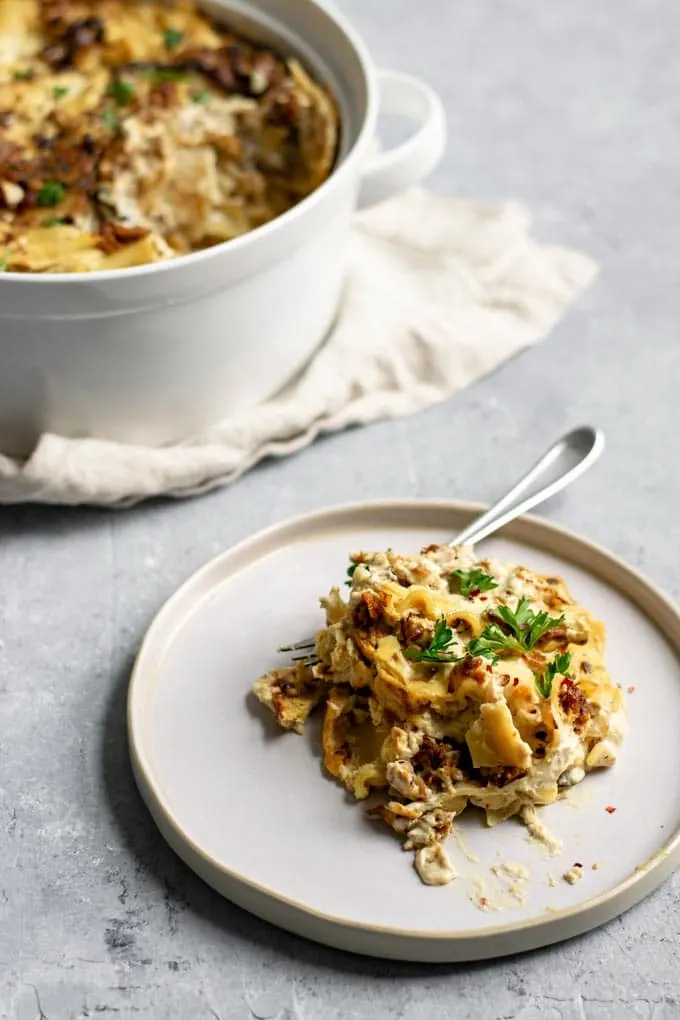 The mushroom and sausage filling:
The delicious, savory filling is almost as easy to make as the sauce. The filling is also as important as the sauce, one without the other and the dish would certainly be missing something!
It has sweet, lightly caramelized onions. Savory, chewy mushrooms. Spiced vegan sausage. Shaved and mellowed garlic. Just enough sage to amp up the savory and a sprinkling of crushed red pepper to add to the heat.
It's simple to make, cook the onions until they're about halfway to lightly caramelized. Add the mushrooms with salt to draw out moisture and let those cook until chewy and also caramelized.
Lastly I add the thinly sliced garlic along with the crumbled vegan sausage, dried sage, and crushed red pepper and let that cook until the garlic has turned golden and the sausage is starting to brown. That's it!
I use seitan sausages because I they're easily accessible and I don't have issues with gluten, but you can certainly use a different vegan sausage if you prefer. If you'd like (and have access to them) the Beyond Sausages would probably be great in here! If you substitute a non-spiced vegan meat, you'll want to add some Italian herbs, and ideally a bit of fennel for that sausage flavor.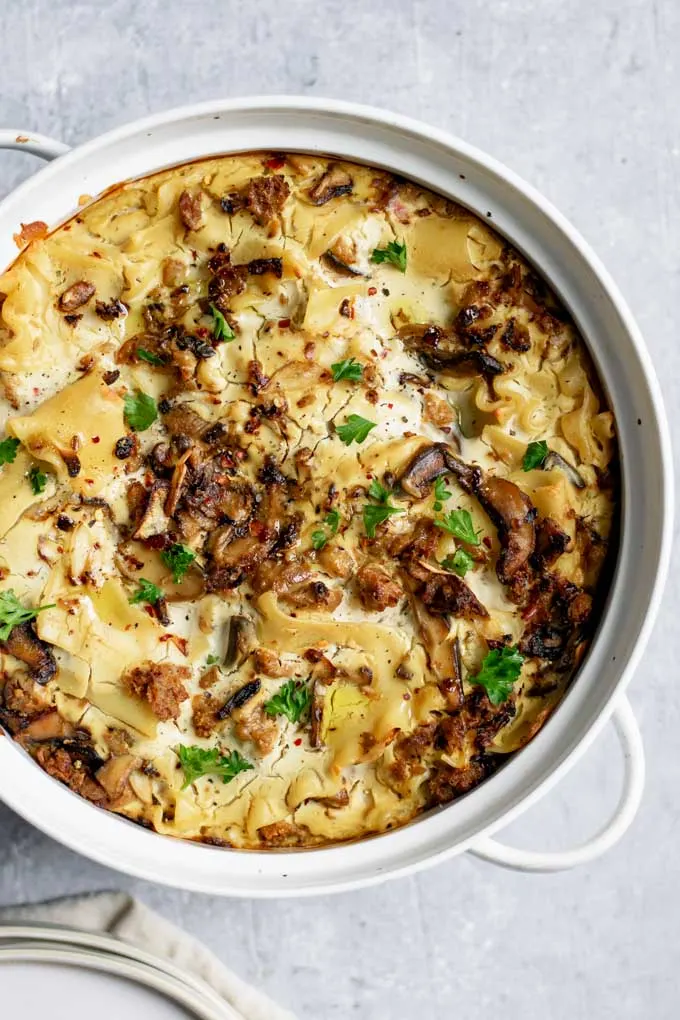 Assemble and bake:
While you're prepping the two (easy!) components of this lasagna bake, preheat your oven and get your noodles cooked. It's kind of fun to break up the lasagna noodles into pieces, I like to get a variety of sizes and shapes, but sort of in the 1.5″ – 2.5″ length range.
You'll cook the noodles until they are almost perfectly done, keeping a bit of bite to them as they will further cook and soften in the oven. I undercook them by 1-2 minutes.
Once everything is done the next part is easy! Decide what you're going to bake the dish in. A large (12″ or bigger) cast iron skillet is great, as is a 3-quart casserole dish, or a 9 x 13″ pan.
Mix the cooked noodles, sauce, and mushroom filling together, transfer to the baking dish (or mix it in there but that has the potential of being messier), and bake for 25-30 minutes to cook the starch, set the sauce, and infuse all the flavors.
Let cool just for a few minutes before digging in! Add some minced parsley or other fresh herbs for garnish and enjoy with black pepper or crushed pepper, or our favorite chez chickpea, homemade chili oil (or not homemade, that's cool too)!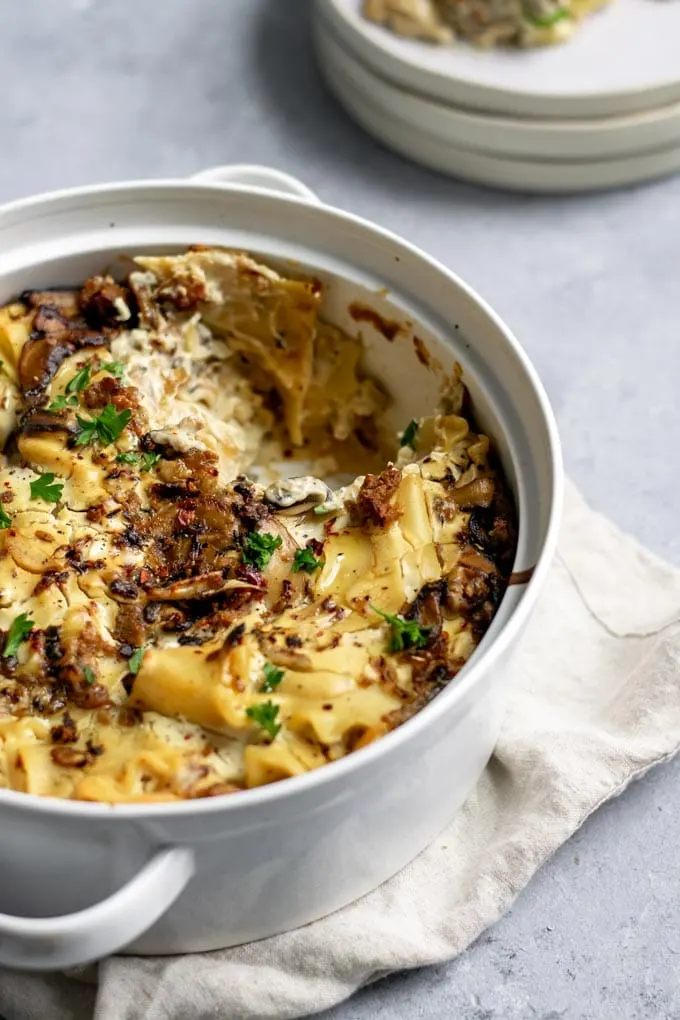 I hope you guys enjoy this easy vegan mushroom lasagna skillet! It's great whether or not prepared in a skillet 😉 . It's just what my January needed!
If you make it, leave a comment below and rate the recipe on the recipe card. And please share your photos with me on Instagram, tag @thecuriouschickpea and #thecuriouschickpea, I love seeing your creations!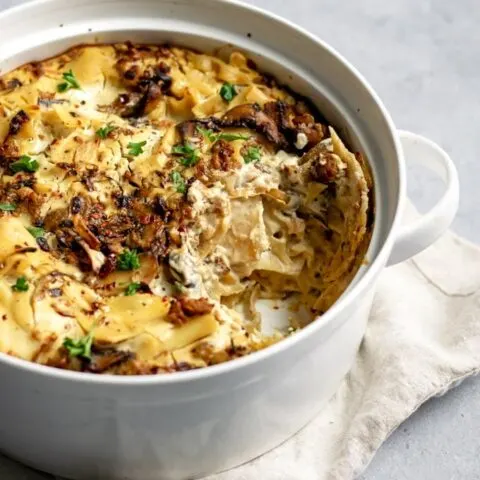 Easy Vegan Mushroom Lasagna Skillet
Everything you love about lasagna but 100x easier! A creamy, custardy nut-free sauce, flavorful mushroom and sausage filling, and broken lasagna noodles tossed together and baked to perfection. Protein-packed, nut free, and easily made gluten free!
Ingredients
1 lb lasagna noodles, broken into pieces
Sauce
2 lbs firm tofu
3/4 cups white wine
1/2 cup water, more to thin as needed
1/2 cup nutritional yeast
1/4 cup lemon juice
2 tbsp white miso
2 tbsp tapioca starch
1 tsp salt
freshly ground black pepper to taste
Mushroom and Sausage Filling
2 tbsp olive oil
1 small onion, peeled, cut into quarters and thinly sliced
4oz shiitake mushrooms or cremini mushrooms, thinly sliced
1/4 tsp salt
4 cloves garlic, peeled and thinly sliced
2 Italian seitan or vegan sausages, crumbled (~2 cups)
1 tsp crushed red pepper
1 tsp dried sage
Instructions
Preheat oven to 375 ºF. Cook pasta according to package directions until they are about 1-2 minutes under cooked and still chewy. Drain and set aside.
In a blender or food processor combine all the sauce ingredients and blend until smooth. Add more water to thin if necessary, this will depend on the tofu used as firmness varies brand to brand.
Heat a skillet over medium heat and add the oil and onion when hot. Sauté for about 5 minutes until the onions are translucent and just starting to turn golden. Add the mushrooms and the salt and cook for 5-7 minutes until their water is cooked out and they are starting to caramelize.
Add the garlic, crumbed vegan sausage, crushed red pepper flakes, and dried sage and let cook about 2 minutes until garlic has mellowed and sausage is starting to brown.
If the skillet is large enough (otherwise use a large pot or casserole dish) combine the cooked noodles, the sauce, and the mushroom and sausage filling and stir to combine. Leave in the large skillet or casserole dish to bake, or transfer to a 9 x 13" baking pan. Bake for 25-30 minutes, or until the sauce is thickening and starting to turn golden and the exposed edges of lasagna noodles are crisping up. Let cool for 5 minutes before serving.
Notes
For gluten free, substitute gluten free noodles and use a non-wheat based vegan sausage such as the Beyond Sausage.
Recommended Products
As an Amazon Associate and member of other affiliate programs, I earn from qualifying purchases.
Nutrition Information:
Yield:

8
Serving Size:

1
Amount Per Serving:
Calories:

336
Total Fat:

13g
Saturated Fat:

2g
Trans Fat:

0g
Unsaturated Fat:

9g
Cholesterol:

5mg
Sodium:

588mg
Carbohydrates:

30g
Fiber:

5g
Sugar:

3g
Protein:

26g