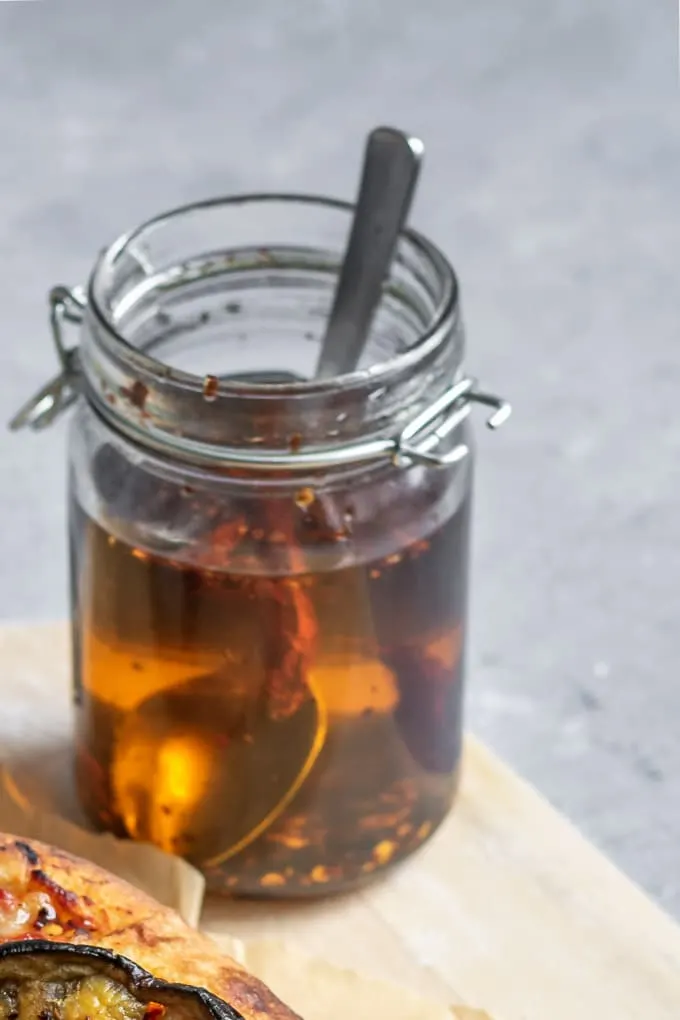 Make your own homemade chili oil. It's easy to make from dried chiles and crushed red pepper flakes. Simply heat up the spicy peppers in a small amount of oil to toast them and bring out their flavors. Then add the rest of the oil and warm it up to infuse with chili.
This recipe is adaptable, as written it's not particularly spicy by my tastes, but adds a flavorful warming heat to anything you drizzle it over. You can switch out the dried peppers for something spicier if you'd like, or add more crushed red pepper flakes to make it spicier. Alternatively you can always use less peppers for less heat!
Enjoy this chili oil drizzled over soups, pasta, pizza, bread (avocado toast anyone?), curries, I mean I could go on, but really it's great on all savory things! It takes your meals to the next level, so give it a go!
Homemade Chili Oil
Homemade chili oil is incredibly easy to make and tastes outstanding. It's great drizzled over pizza, pasta, toast, soups and more!
Ingredients
6 dried chiles, such as chiles de arbol or an Italian variety
1 tbsp crushed red pepper flakes
1 cup olive oil or a neutral flavored oil
Instructions
Bring the dried chiles and crushed red pepper flakes and 2 tablespoons of oil over medium low heat, so that the chiles start to sizzle. Let them heat sizzle for about 1 minute, keep a close eye on them so that they do not burn, but do become fragrant and turn a shade darker.
Pour in the rest of the oil and leave the heat on until the oil is warm (but not too hot). Turn off the stove and remove from heat and allow to cool fully.
Once cool, transfer the oil including the chilies to a clean container and seal. The chili oil should keep for several weeks.
Notes
There's not need to use a fancy extra virgin olive oil for this recipe as the chile flavor will mask any subtlety of the oil.