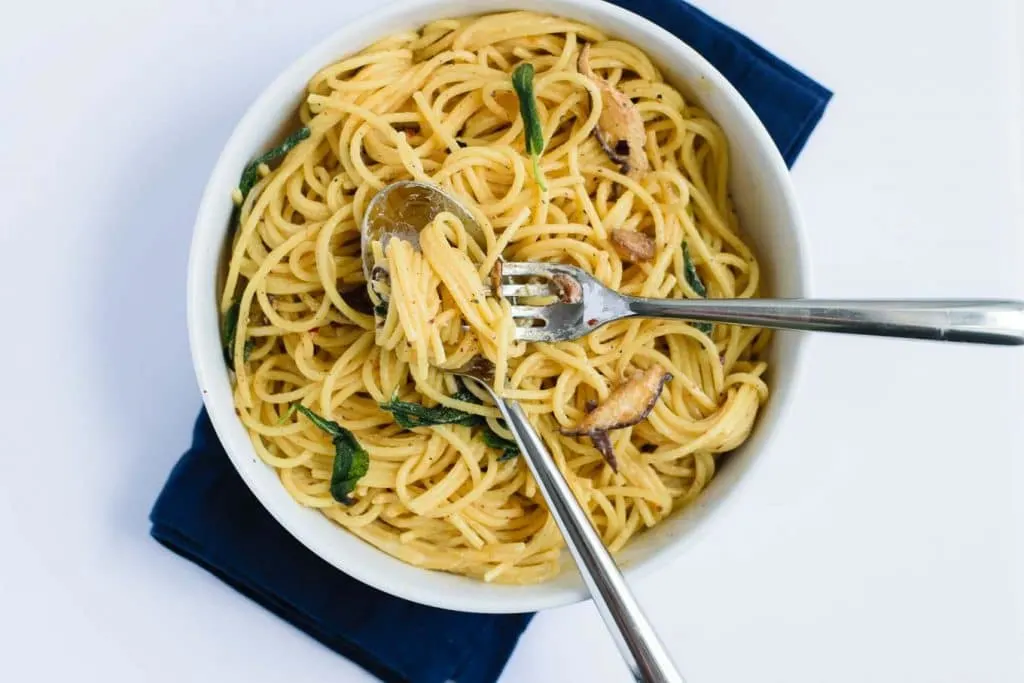 After stuffing ourselves full of cookies last week, I really started craving rich savory flavors, and strongly. Luckily I had eaten enough wishing cookies that all my wishes are bound to come true, including the ones for steaming piles of creamy pasta. The small matter that I'm the one controlling what I cook and eat clearly has nothing to do with anything. This recipe for creamy spaghetti ai funghi was exactly what I needed. The nut-free cream sauce is light and delicate, and rich in umami flavors. The mushrooms are caramelized before being tossed with pasta and sauce for a wonderfully chewy texture and concentrated mushroom flavor. The dish is finished with flavorful fried sage, and you have the perfect wintery pasta. Oh, and did I mention the whole thing is ready in under 30 minutes?
The cream sauce is easily made, as there are no nuts to soak and no fancy high speed blenders are needed. Silken tofu is used for it's mild flavor and light and creamy texture. It's blended with nutritional yeast, that magical nutty, cheesy tasting ingredient, miso for salty depth of flavor, lactic acid powder for a characteristic cheesy tang (or substitute fresh lemon juice for a tasty, but different result), salt, freshly ground black pepper, and just enough water (or white wine for extra rich flavor!) to get everything moving. On it's own, it's quite a simple cream sauce, thick and rich in texture but subtle in flavor. It provides the perfect base for the caramelized mushrooms, garlic, chile flakes, and sage-infused oil.
To get started on the rest of the dish, first fresh sage is fried in plenty of olive oil, then strained. The oil is now lightly infused with sage to lace that delicious pine-like aroma throughout the entire dish. The fried leaves work as the perfect light and crispy garnish, which I like to use generously and tuck throughout the noodles while eating. You can get a similar flavorful effect by chopping fresh sage and adding it in later, with the garlic and crushed red pepper. You'll lose out on the pretty garnish but still capture that wintery flavor.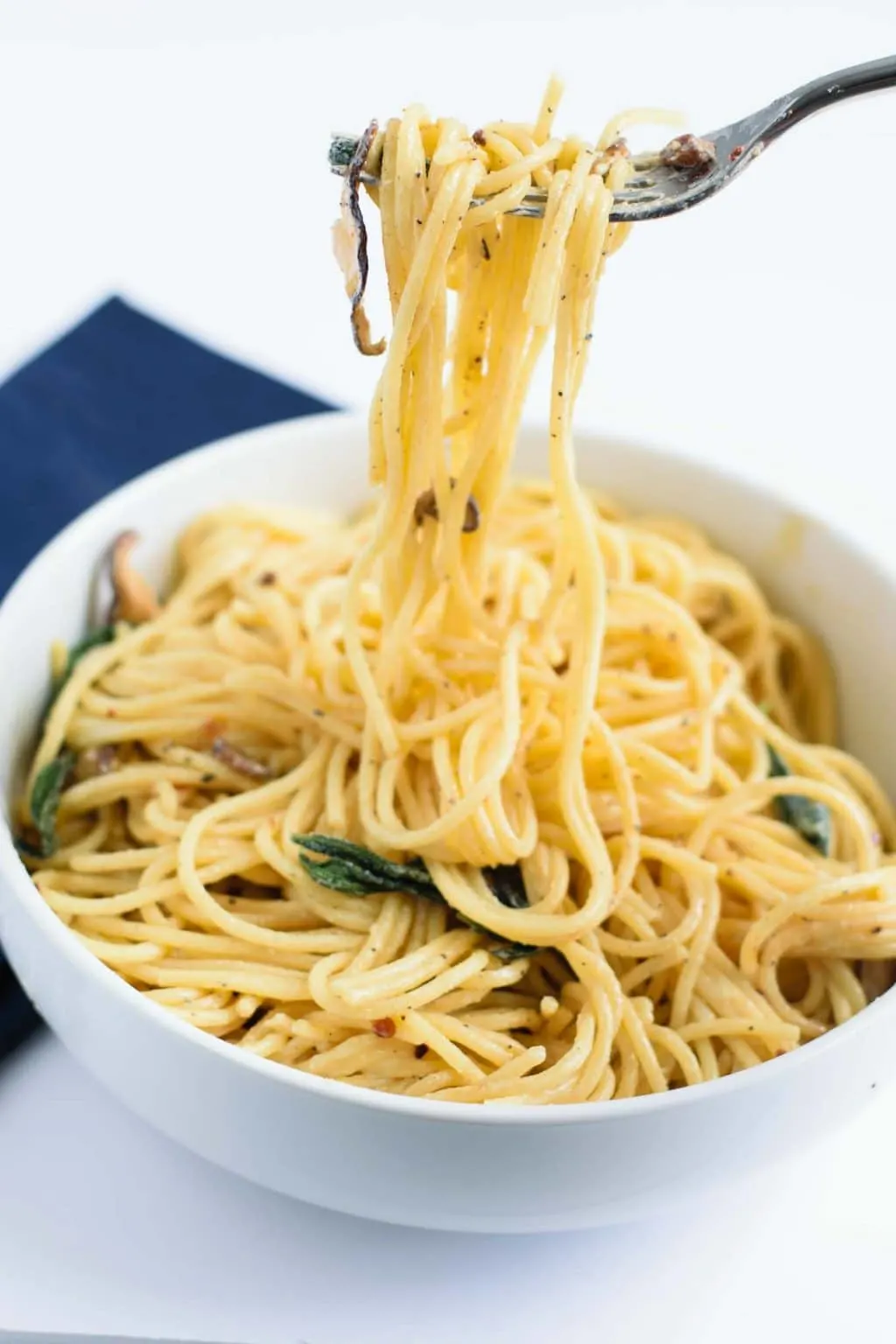 Shiitake mushrooms are extra rich in umami flavor, even for a mushroom. They're not the most traditional choice for an Italian pasta, as they hail from East Asia, but they're easy to find, not too expensive, and have a better than average mushroom texture (in my opinion, anyway). You could substitute cremini or porcini (if you can find them fresh) mushrooms if you want to be a little more traditional but still have that rich mushroom flavor. Cooked slowly with a pinch of salt in that sage-infused oil over a medium-low heat, they release their water and soak in the flavorful oil, turning a beautiful golden color as they do so. Now, I use a relatively small amount of mushroom for the amount of pasta used. As a semi-reformed mushroom hater, this is the amount I like in my food. You still get all that delicious mushroom flavor but the texture doesn't overpower the slippery spaghetti. If you're passionate about your mushrooms, you may want to increase the amount (note, this will mean more prep time, unless you're a super fast mushroom cleaning wizard).
As the mushrooms turn to deep golden, add thinly sliced garlic and crushed red pepper. It's a bit fussier to slice garlic than mince, but these paper thin slices are less likely to burn, and instead caramelize and mellow to almost a roasted garlic flavor. The crushed pepper adds a subtle spiciness and another layer of peppery flavor to the dish. It elevates the flavors of the dish without being overpowering.
The spaghetti is finished in the pan, with freshly cooked noodles being turned directly from strainer (don't forget to save some of that pasta cooking water before dumping!) into the pan with the mushrooms. The sauce is added to the mix along with some more freshly ground pepper and everything is tossed and over a medium heat for about 2 minutes, adding with just enough cooking water to thin and keep everything saucy while it cooks, until the noodles are nicely coated and perfectly cooked.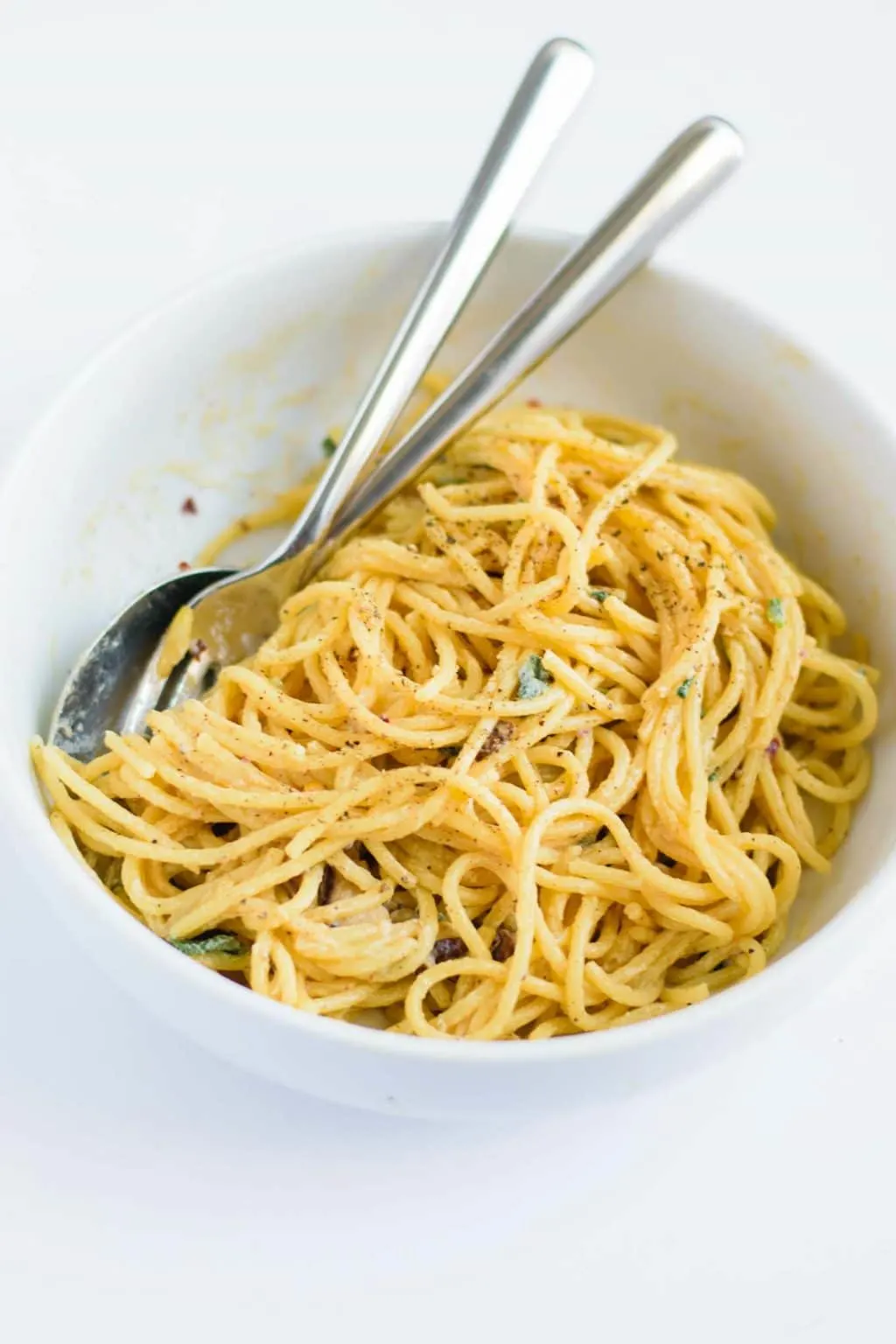 You'll notice that freshly ground black pepper is laced throughout the dish, adding layers of flavor alongside the salt. For me, this is the real star of the dish, which would fall a bit flat without it. Freshly ground black pepper has a wonderful warming effect which differs from that of hot chiles. Black pepper's spice comes from the chemical compound piperine, while chiles heat comes from capsaicin. The cream in the recipe tempers both sources of heat, so the end dish is not spicy but perfect for warming you up on a cold winter day.
This recipe is a perfect choice for those with nut allergies, and can easily be made gluten free with a gluten free pasta and a gluten free miso paste. It's loaded up with protein and nutrients, mostly thanks to the nutritional yeast and tofu, and is delicious when served with some roasted vegetables (Brussels sprouts or broccoli come to mind!).
I do hope you guys enjoy this quick and easy pasta dish. Let me know if you try it! Leave a comment below, and tag your photos @thecuriouschickpea and #thecuriouschickpea on Instagram, or share with me on Facebook. Happy holidays!

Notes:
For a gluten free dish, make sure to source gluten free miso and use a gluten free pasta.
Mushroom lovers may want to double or increase the amount of mushrooms used in the recipe.
Vegan lactic acid powder can be purchased online, and provides some of that sour cheesy tang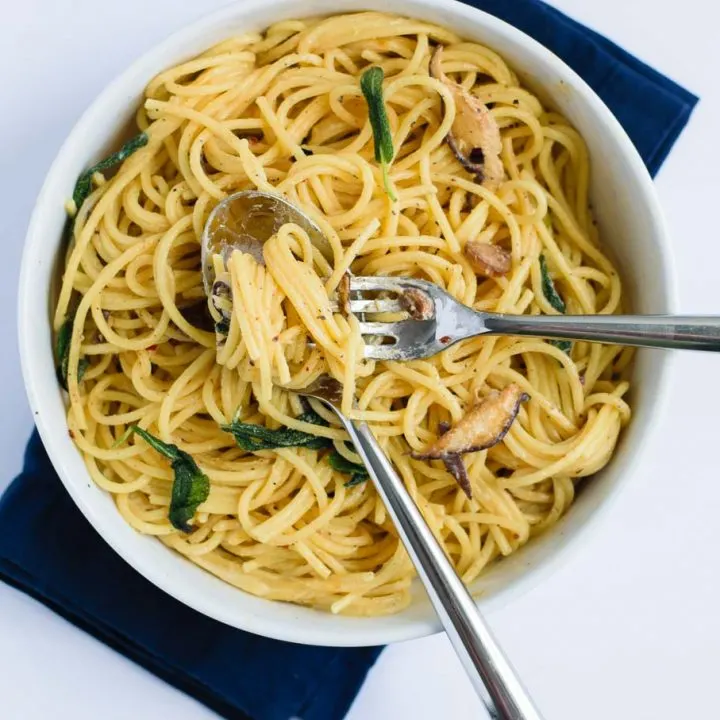 Vegan Spaghetti ai Funghi (Spaghetti and Mushrooms in Vegan Cream Sauce)
Spaghetti in a light vegan cream sauce with crispy sage, caramelized mushrooms, and lots of freshly ground black pepper.
Ingredients
1 lb spaghetti, gluten free if desired
~1 cup reserved pasta cooking water
Cream Sauce:
8 oz (~1 cup) silken tofu
1/4 cup nutritional yeast
1/3 cup water or white wine
1 tbsp miso
1/2 tsp lactic acid powder -OR- 1 tbsp lemon juice
1/2 tsp salt
freshly ground black pepper
Fried Sage and Mushrooms
1/4 cup olive oil
small bunch (5/8 oz / 100 g) fresh sage leaves, washed and dried*
3 1/2 oz (100g) shiitake mushrooms, or your choice*, cleaned and thinly sliced
1/4 tsp salt, or to taste
1 tsp crushed red pepper
4 cloves garlic, thinly sliced
Instructions
Bring a large pot of water to a boil and cook the pasta in salted water according to package directions, within one minute of being perfectly cooked, as you'll finish cooking it in the sauce. Before draining the pasta, reserve about 1 cup of the cooking water.
Place all cream sauce ingredients into a blender and blend until smooth and creamy. Set aside.
In a large skillet or heavy bottomed pot, heat the olive oil over medium-high heat. Prepare a plate by lining with paper towels and set next to the pan. Fry the dried sage leaves in the oil for about 15 seconds (you want to take them out before they start to turn black in spots), then remove them with a slotted spoon and place on the paper towel lined tray and sprinkle with a pinch of salt, then set aside until ready to serve. The sage leaves will splutter a little when they hit the hot oil, so be careful. If you don't want to deal with making crispy sage, just chop up the fresh sage and add it alongside the garlic and crushed red pepper.
Turn the heat down to medium-low and using the same oil for frying the sage, add the sliced mushrooms with a pinch of salt. Cook for 5-7 minutes, or until the mushrooms have released their water, and are turning golden. Add the garlic, crushed red pepper, and the 1/4 tsp of salt (and sage if not making crispy sage), and cook for 1-2 minutes until the garlic turns golden. If needed add a teaspoon of olive oil. Turn off the heat until the pasta is done cooking.
Add the cooked pasta to the skillet along with the sauce and a splash of pasta water and more freshly ground black pepper. Turn the heat on to medium and stir to coat the pasta and mushrooms in sauce. Stirring constantly, allow the pasta to cook in the sauce or about 2 minutes, or until the sauce thickly coats the noodles and the spaghetti reaches its perfect finish. Add more pasta water if needed, I used about 1/2 cup in total. Turn off the heat and serve immediately.
Serve topped with crispy sage, and more black pepper (if desired).
Notes
*To dry the washed sage, spread them on a paper towel and gently roll the paper towel over the sage to absorb any excess moisture.
*Mushroom lovers may want to double the amount of mushrooms
Sauce adapted from my Chickpeas and Couscous Stuffed Red Bell Peppers