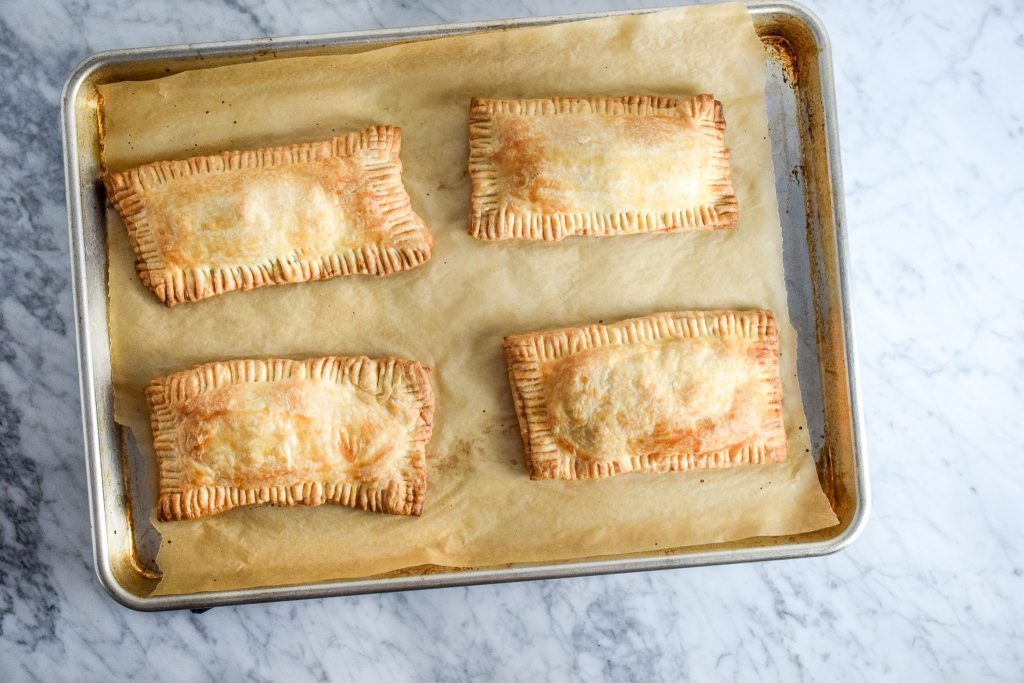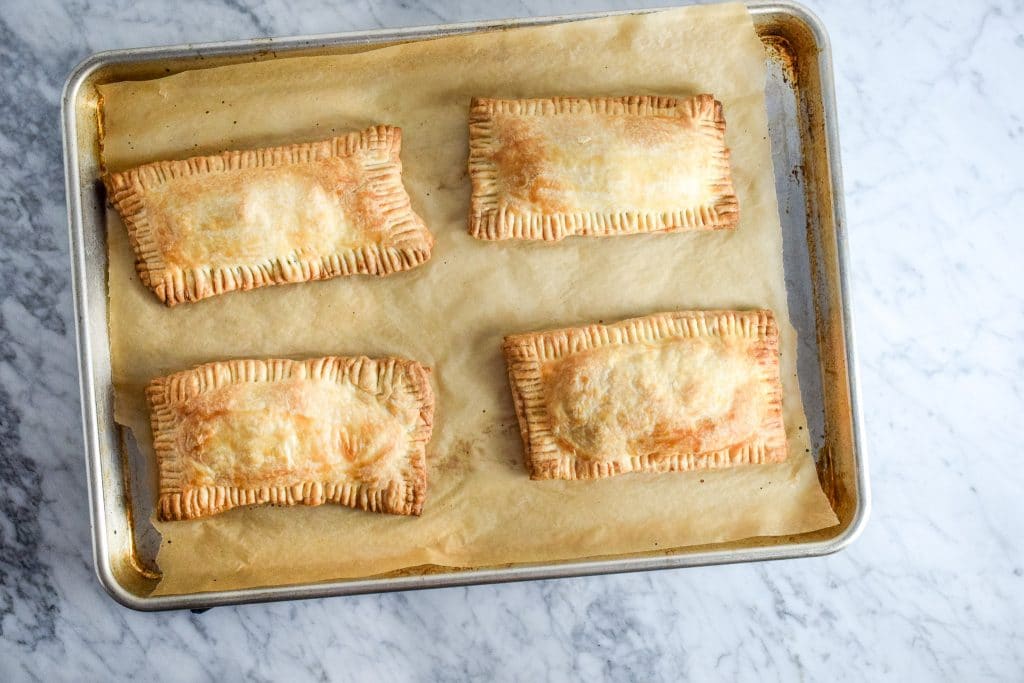 You want a pasty? I want a pasty. Corned tempeh pasties! Flakey layered pastry dough filled with a zesty corned tempeh and mashed potato filling that is peppered with scallions, which provide an oniony bite. A riff on your typical meat and potatoes pasty, but with healthy tempeh, which provides a great meaty texture without all the heaviness.
To make this, I used rough puff pastry dough, which is a version of laminated pastry dough that is much simpler and quicker to make than puff pastry while still having a nice flakey result. By making your own laminated dough, you can use your vegan butter of choice and guarantee a short ingredient list, free of high fructose corn syrup and other undesirable ingredients.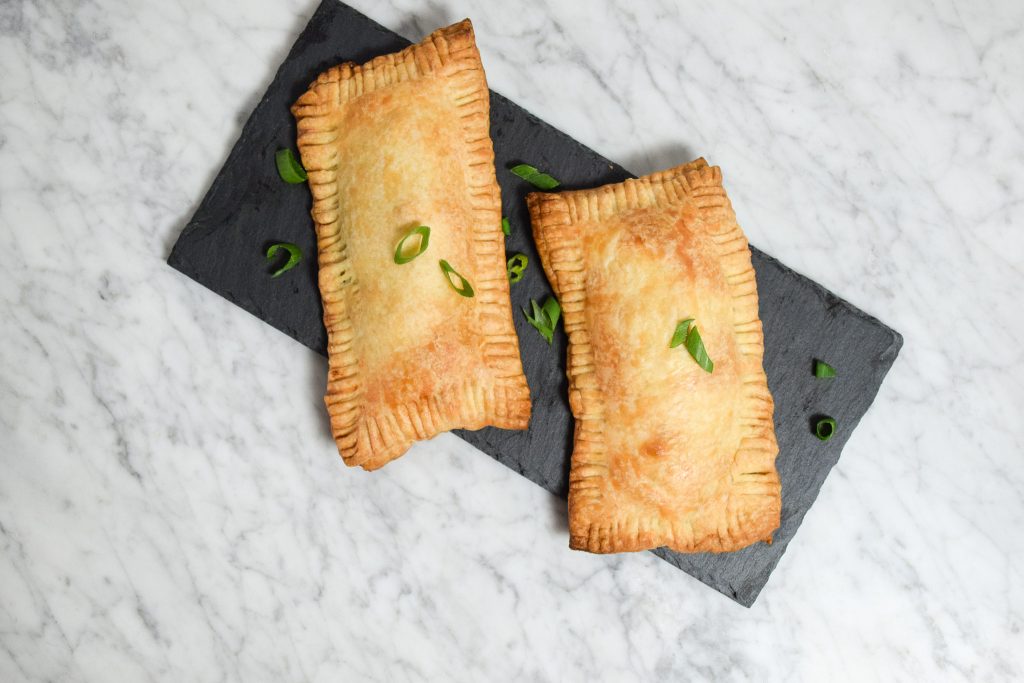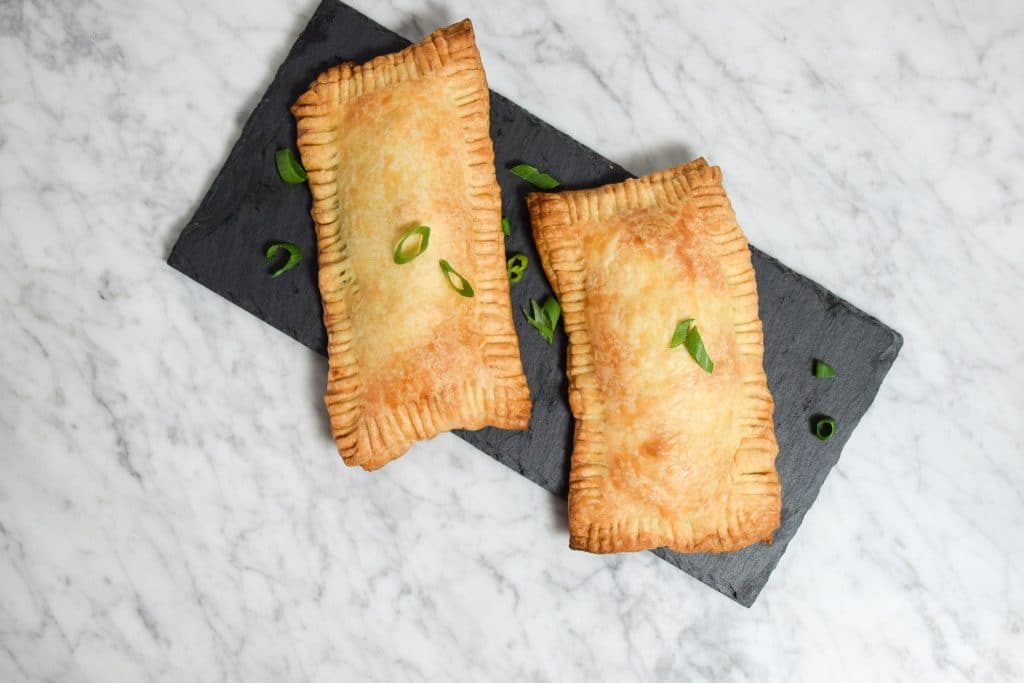 I have a small confession to make. These were supposed to be for a St Patrick's day themed post, but that didn't happen (another case of too much to eat, not enough time). I actually had made the first version of them awhile back, and they were good, but it was a fussy recipe and I knew I could do better, and then, before I knew it, a couple of weeks had passed (oops). But I finally did revisit them, and came up with a more streamlined recipe, and oh boy, they were so good! I had to share them immediately and not wait for another Irish or UK themed holiday (are there others?).
These steamy pockets, (or pasties, pastries, turnovers, hand pies, whatever you want to call them) are an easy and mostly complete meal (you might want to think of adding some green veggies. maybe. if you want. laziness can win out, I won't judge). They make a great lunch (even if you are not a miner), or a filling dinner. The pasties would also make a great party hors d'oeuvre , or an afternoon snack, if you make them half sized.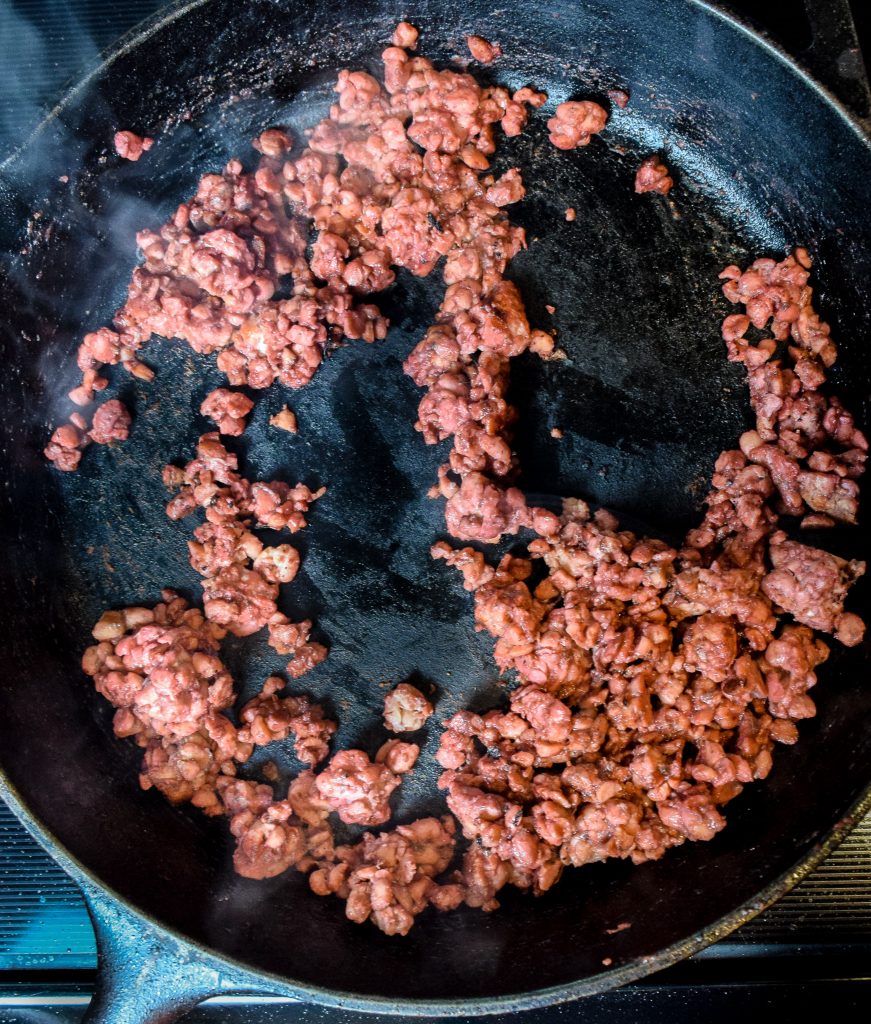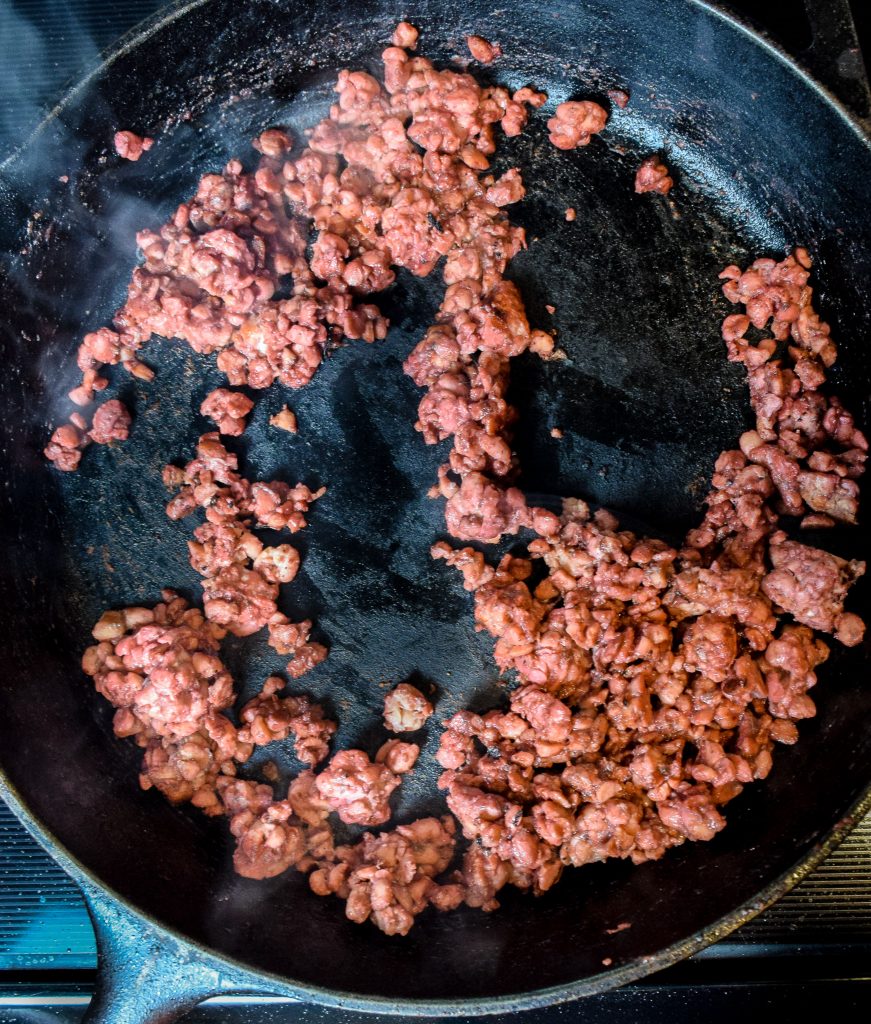 To make the corned tempeh, a marinade is quickly whipped together in the blender, then poured over the tempeh to soak in the flavor for at least a half and hour. Beets provide the red color, and a blend of pickling spices and splash of red wine vinegar bring the corned flavor. The tempeh is crumbled and given a quick sauté in a skillet, soaking in extra marinade and browning a little. Then mashed potatoes and a handful of green onions are folded into the mixture.
The rough puff pastry is made somewhat similarly to biscuits but without any rising agent. You just add some salt to flour, then grate super cold vegan butter (ideally a bit frozen, if you plan ahead or happen to store extra buttery sticks in the freezer) into the dry mixture, and mix it in with a wooden spoon until it looks nice and pebbly. Then you splash in some ice cold water and work the dough only until it's clumping (it doesn't need to be one unified mass at this point, that will happen as you continue). Then turn out the dough on a clean lightly floured surface. Roll the dough with a floured rolling pin into a large rectangle, then fold it into thirds like an letter (with the assistance of a bench scraper, if needed). Repeat this rolling and folding steps 3 more times for a total of four folds. Pat the final folded shape into a nice even cube(ish) shape and wrap in plastic. Let it sit in the fridge for at least 1 hour before using it. Similar to pie dough, you want to give the gluten a chance to relax and the dough a chance to fully hydrate with water before the next step.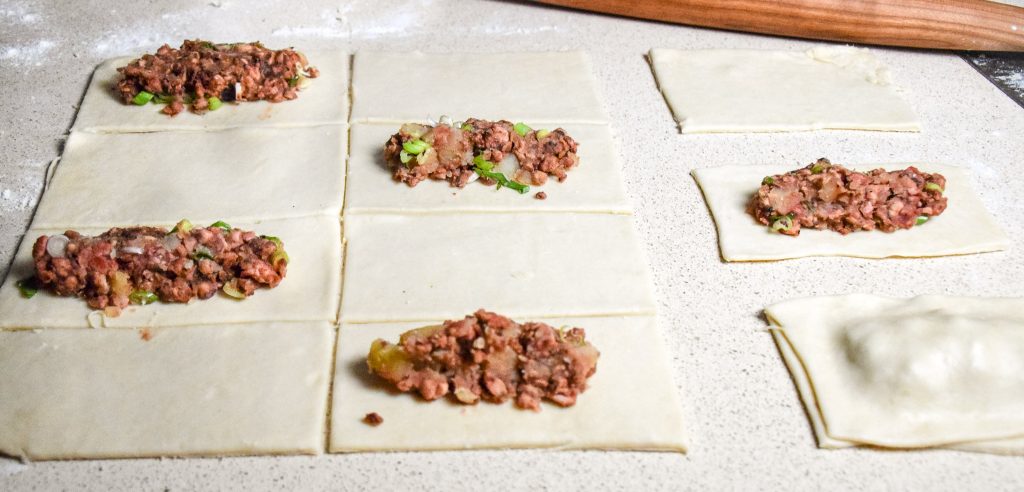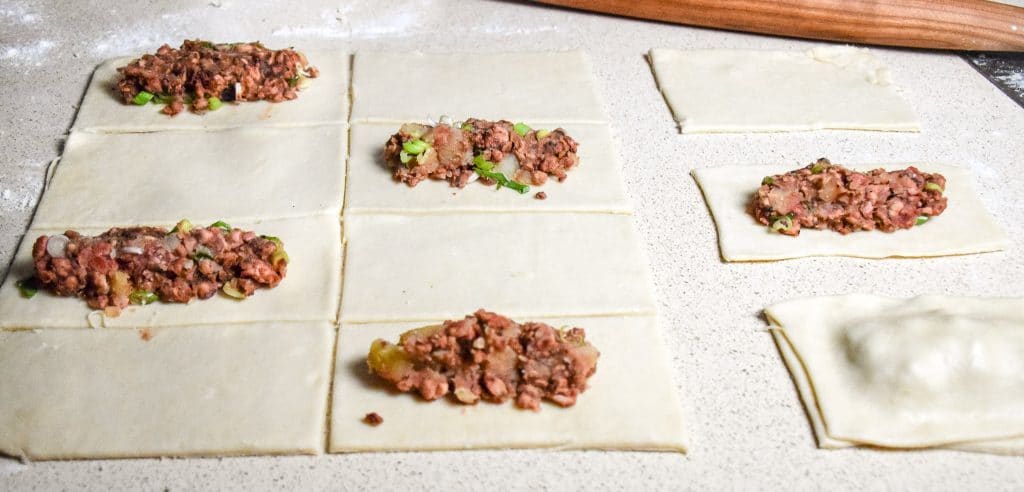 To make the pasties, roll out a large, thin rectangle of dough and trim the edges (resulting rectangle is ~14 x 20″). Divide and cut the dough in a 3 x 4 grid. This will make 6 pasties, and if you roll out the extra dough scraps into a square & cut it in half this is your 7th pasty. Place a good 1/4 cup of filling on every other piece of dough, shaping to leave about 1/4-1/2″ around the edges. Set a second piece of dough on top of the corned tempeh filling and press to seal it together with your fingers, using a little water if necessary. Then crimp it tight with a fork. Place your sealed pasties on a parchment covered baking sheet and brush with a little soy milk before baking. This helps it brown! Bake the pasties in a pre-heated 425 ºF oven for 25 – 30 minutes or until golden.
The corned tempeh pasties are great dipped in a grainy mustard or with some thousand island dressing (see note below recipe) and served with an ice cold beer.
Let me know in the comments if you make this dish, or tag me on Instagram!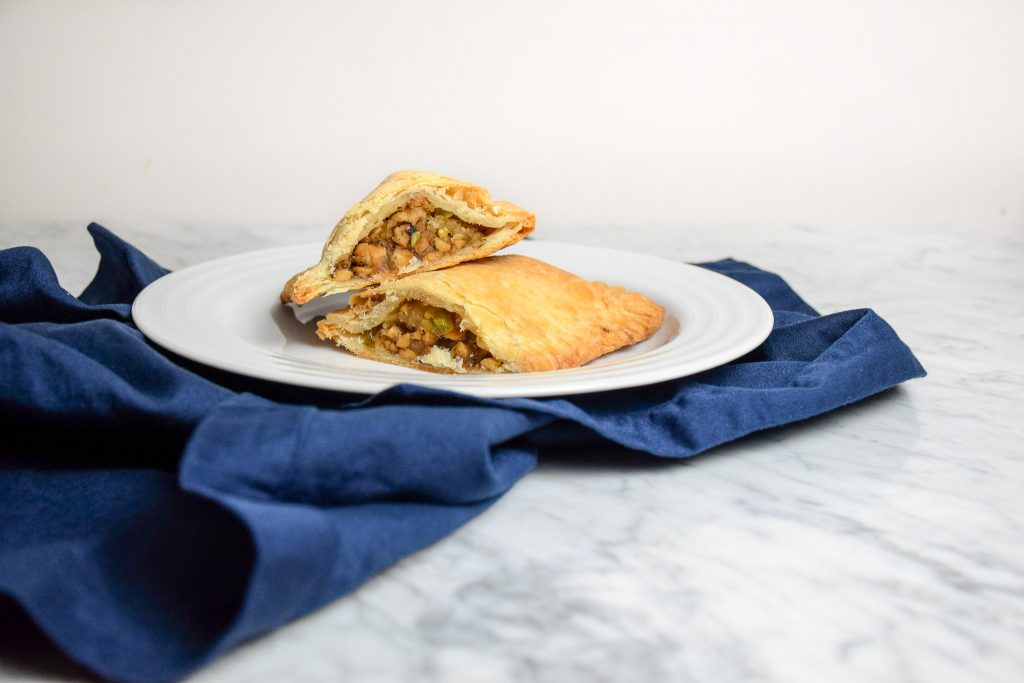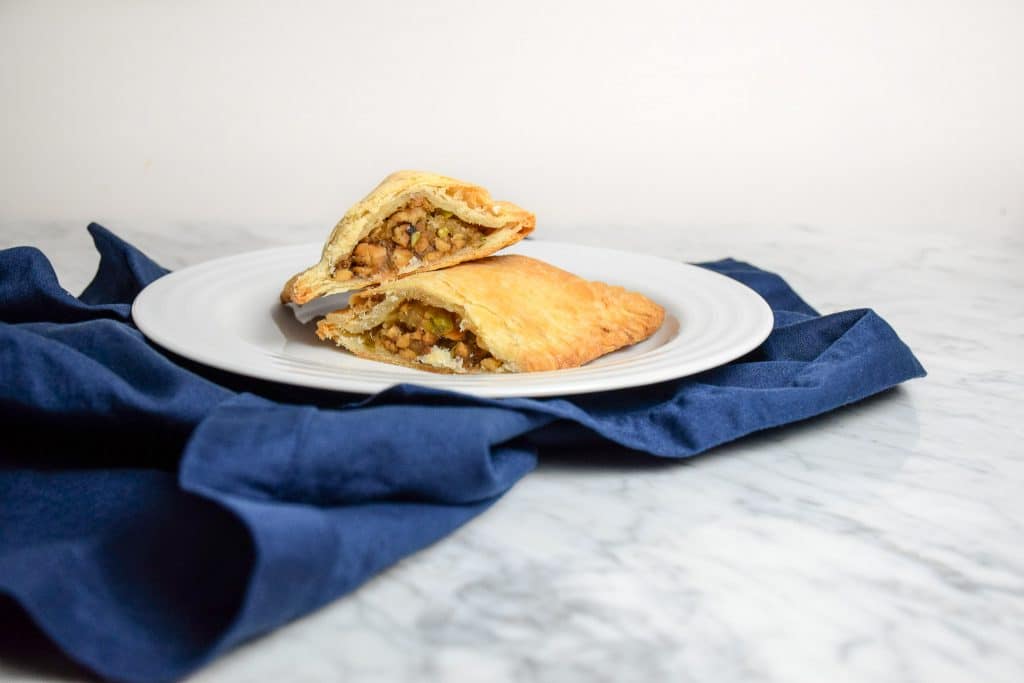 Notes:
If you don't want to make your own pastry dough, you could purchase vegan puff pastry at the grocery store, or use prepared pie dough for a slightly different effect.
For the marinade, if you are missing a spice or two don't sweat it. But if you are missing mustard seed (and don't have ground mustard to substitute), add a little squeeze of prepared mustard instead.
The corned tempeh and potato mixture also makes a great sandwich filling, and I imagine would make a great wrap.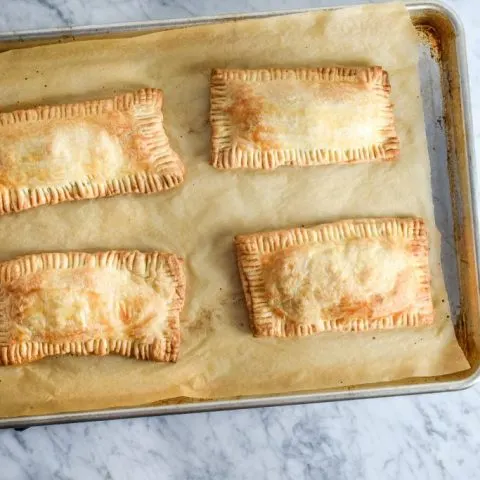 Corned Tempeh Pasties
Inactive Time:
40 minutes
Total Time:
1 hour
55 minutes
Break into these tasty flakey layered pasties. Rough puff pastry dough is filled with a zesty corned tempeh and mashed potato filling, that is peppered with scallions for an oniony bite.
Ingredients
Rough Puff Pastry
3 cups (450g) all purpose flour
1/2 tsp salt
1 cup (225g) COLD vegan butter*
3/4 - 1 cup ice cold water
Marinade
1 cup cooked beets (~2-3 small beets)
1 cup water
1 tbsp soy sauce
1 tbsp red wine vinegar
1 garlic clove
1/2 tsp mustard seed
1/2 tsp ground coriander
1/2 tsp crushed red pepper
1/4 tsp ground ginger
1/8 tsp allspice
1/8 tsp cinnamon
1/8 tsp ground clove
Corned Tempeh Filling
1/2 lb yukon gold potatoes (~2 medium), cut into 1/2" pieces
1 8oz package tempeh*
1 tsp oil
1/2 tsp salt, or to taste
1 tsp red wine vinegar
freshly ground black pepper
1 tsp melted butter or olive oil
2 scallions, thinly sliced (both green and white parts)
soy milk, for brushing pastry
Instructions
To make the rough puff pastry
Mix together the flour and salt in a large mixing bowl.
Grate the cold butter over the flour using the large holes on a box grater. Mix the butter into the flour with a wooden spoon. There should be small, pea-sized, crumbles. (Alternatively, dice the butter then use a pastry cutter to cut the butter into the flour until it is pea-sized.)
Add the 3/4 cup of the water and shake the mixing bowl gently to distribute it evenly. Then mix with the wooden spoon until it starts to come together, adding more water as necessary by the tablespoon.
Turn out the dough onto a clean, lightly floured work surface. It can be crumbly and not cohesive, it will come together as you work with it.
Roll the dough into a large rectangle. Using a bench scraper to assist, fold the top third of the dough into the middle, then fold bottom third on top of that.
Roll the dough out again into a rectangle, and repeat the folding process (this is fold number 2). Repeat this folding and rolling 2 additional times, for a total of 4 rolls and folds.
After the last fold, press the sides of the dough together to form a rough cube. Place this on a plate and cover with plastic wrap. Put it in the fridge to rest for at least one hour. **If at any point your dough gets too warm and the butter starts to melt, place it in the fridge and allow it to chill for several minutes before continuing the process**
To make the marinade
Place all marinade ingredients into a blender and blend until smooth.
Place the tempeh into a container and pour the marinade over it to cover.
Let sit at least 30 minutes at room temperature, or up to 24 hours in the fridge.
Cook the potatoes
Place the cut potatoes into a small pot, fill with water to cover, then bring to a boil.
Lower the heat to simmer and cook for around 10 minutes, or until potatoes are soft when pierced with a fork.
Drain and mash a bit. Set aside.
Make the Corned Tempeh
Meanwhile, heat a large skillet over medium heat. Add the oil and crumble the marinated tempeh into the pan. Pour 1/4 cup of the marinade into the pan and add the salt.
Cook for 8-10 minutes, stirring occasionally, adding an additional 1/4 cup of marinade half way through.
Remove from heat, and deglaze with the red wine vinegar. Stir in freshly ground black pepper, then taste and adjust seasoning if desired.
At this point your potatoes should be cooked. Add the mashed potatoes into the pan, and sprinkle on the sliced scallions. Mix everything together and leave to cool slightly before filling the pastry dough.
Prepare the hot pockets
Preheat oven to 425 ºF
Take the rough puff pastry dough out of the fridge and roll it into a large rectangle, until it is around 1/8 - 1/4" thick, approximately 14 x 20". Trim off the edges to make an even rectangle, setting aside the trimmings, then divide it into 3 sections long-wise and 4 short-wise. Making approximately 3 1/2 x 6" rectangles.
Place around 1/4 cup of the corned tempeh and potato filling into every other rectangle, spreading it out to fill the middle, leaving 1/4" around the edges.
Put another rectangle of dough on top, and press to seal the edges. Then crimp them with a fork.
Place prepared hot pockets onto a parchment lined baking sheet.
Roll out the scraps of the dough for one final hot pocket!
When all are prepared, put in fridge while the oven finishes preheating.
Once the oven is hot, brush a little soy milk on top of each pasty, then bake for 25-30 minutes, or until golden brown. Turn the baking sheets half way through for even baking.
Serve with some thousand island dressing* and/or prepared mustard.
Notes
*If you plan ahead, stick your vegan butter in the freezer for at least a half and hour before using
*If you tend to find tempeh bitter, try steaming it for 10 minutes before marinating[
*Thousand Island dressing: mix together 1/2 cup mayo, 2 tbsp ketchup, and 1/4 cup diced dill pickles