Homemade enchilada sauce is quick and easy to make and elevates any enchilada dish! It tastes a million times better than store bought, and is inexpensive to make.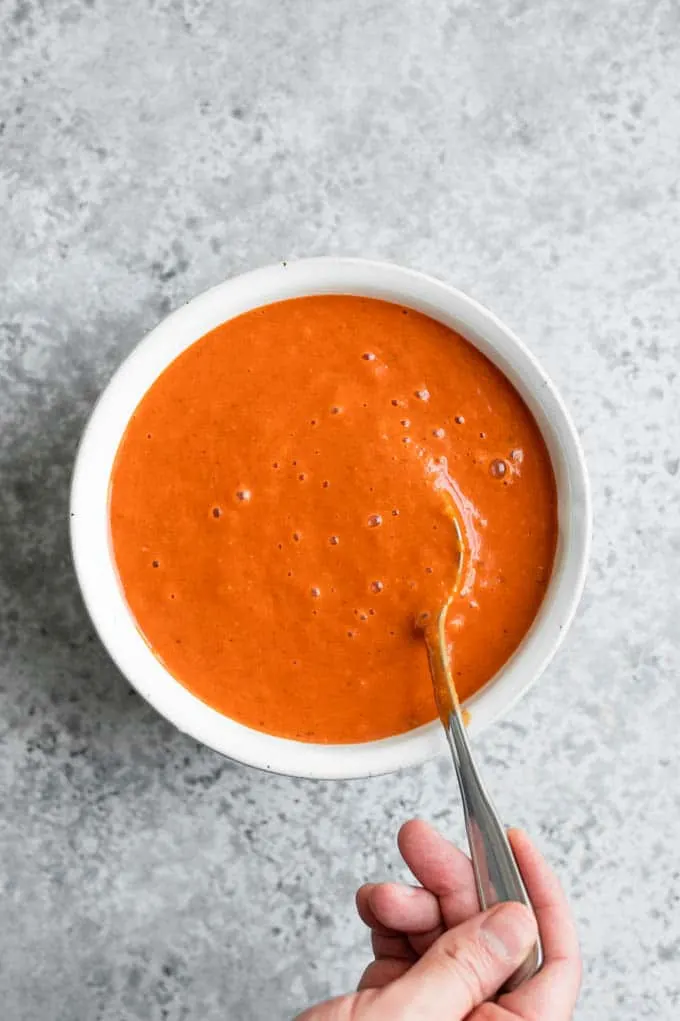 Like any sane, rational person, I love enchiladas. Because who wouldn't love tortillas stuffed with a savory filling, doused in a vibrant reddish-orange sauce, topped with cheese and baked to melty, steamy perfection.
You don't have to get fancy to have good enchiladas, but a good red sauce ensures a mouthwatering result.
Luckily making enchilada sauce couldn't be easier! A little sautéing, some simmering, a quick blend and voila! Your homemade enchilada sauce is ready to go!
What do you need to make it?
Enchilada sauce is incredibly pantry friendly. Onion, garlic, oil, commonly used spices, a bit of broth, flour, canned tomatoes, and tomato paste.
When buying enchilada sauce or getting enchiladas at a restaurant you need to be careful that it's made with a vegetable broth or water base. It's common and traditional to use chicken broth, and one benefit to homemade is you can ensure a vegetable broth base for full flavor.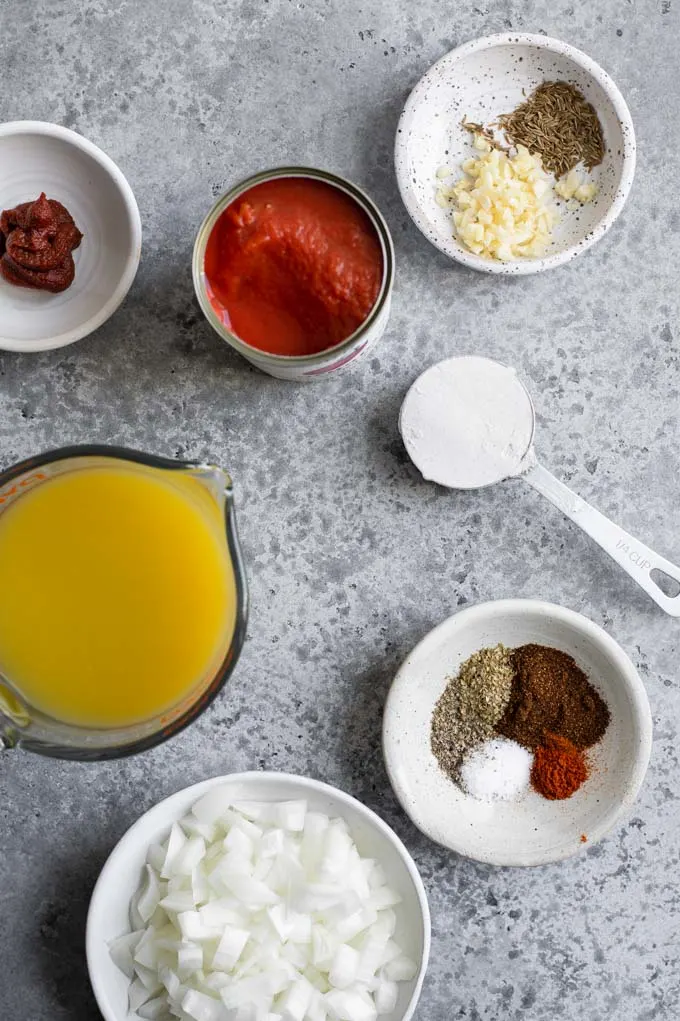 I keep jars of Better Than Bouillon in the fridge for purposes just as these. I like to use the "no-chicken style" but regular vegetable broth is great here too. Boxed or homemade broth are both also great options.
The flavor of the sauce is built with sautéing onion and frying garlic and cumin seed–which releases the spice's fat soluble flavor compounds.
If you don't have whole cumin seed you can use ground cumin, but add it with the rest of the spices so it doesn't burn.
The other spices are chili powder, oregano, and cayenne.
For chili powder you can use either ground ancho chili powder or a chili powder blend (in the US this is labeled chili powder and includes mild ground chilis mixed with other spices including cumin).
You can use either Mexican oregano or regular (Mediterranean) oregano. Obviously Mexican oregano is the preferred choice if you can find it, but for me that's only half the time and honestly this is great either way.
I add just a pinch of cayenne pepper for a bit of heat. You can do away with this or add more for a spicy sauce. As is I'd call it mild but not without any heat.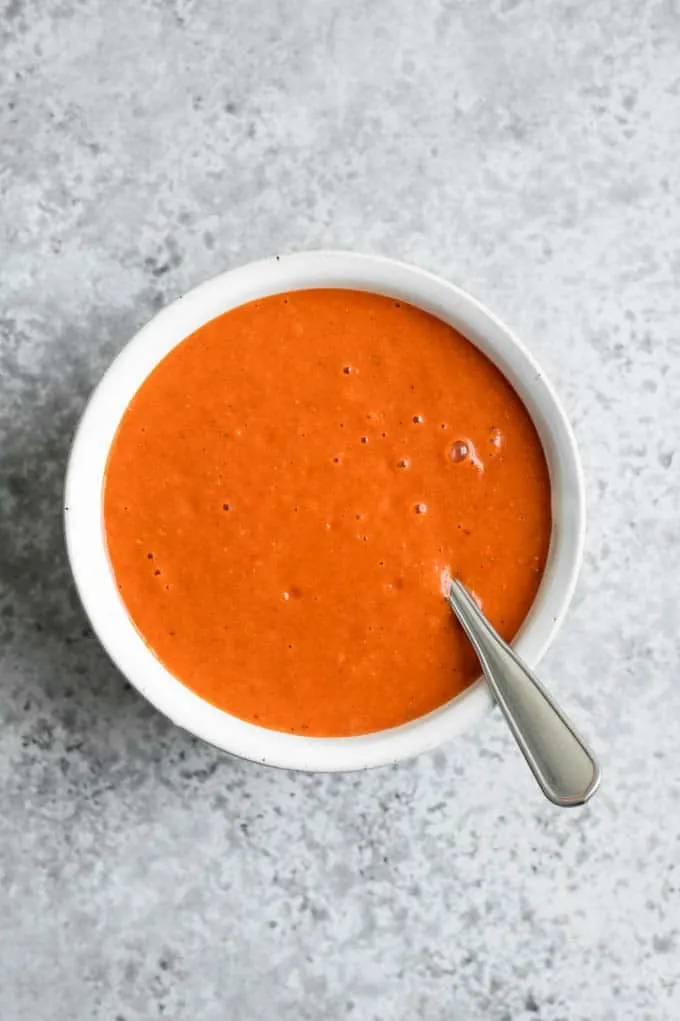 For the flour, you can use either all purpose flour or a gluten free all purpose blend. You can use cornstarch to thicken it, but I think using the all purpose (gluten free or regular) turns out a nicer sauce.
Lastly, I use canned tomatoes because it's easy and I always have some on hand in the fridge. You can use whole peeled tomatoes, diced tomatoes, fire roasted tomatoes, tomatoes with green chili… you get the idea!
If using whole tomatoes you'll need to break these apart a bit. You can do this with a spatula or spoon after adding it to the sauce. It doesn't need to be fancy, just break them in approximate halves or quarters.
Lastly to up the tomatoey flavor I add some tomato paste. I always keep a tube of tomato paste in the fridge. They don't go moldy quickly like an open can of tomato paste and are perfect when you just need a tablespoon or two at a time.
Tip: If you do open a can of tomato paste for this recipe, portion out 1 tablespoon scoops and freeze them on a parchment lined plate before putting them in a freezer bag. Then you don't need to stress about using it right away!
How do you make the sauce?
Choose a big heavy bottomed pot (i.e. something you can sauté in!) and heat some oil over medium low heat. Add the onion and cook to soften it and get a bit of color.
Next move the onion over to one side, add a bit more oil and add the onion and cumin seed to the oil. Let it sizzle for a few seconds, then stir into the onion.
Add the rest of the spices and the salt and pepper. Stir it in and add the flour. Mix to coat everything in flour (hey, no clumps!) and let toast for a minute before slowly stirring in the broth.
Add tomatoes and tomato paste. And let cook for awhile to soften the tomatoes.
Then all you need to do is blend and your enchilada sauce is ready to go!
How to use the enchilada sauce:
You can use this sauce in any enchilada recipe!
I've used it in my chipotle black bean and sweet potato enchiladas, and my vegan lentil enchiladas.
You can even use it to smother burritos! It'll make the most out of any Mexican meal!
If you make this homemade enchilada sauce, leave a comment below and rate the recipe on the recipe card. And please share your photos with me on Instagram, tag @thecuriouschickpea and #thecuriouschickpea. I love seeing your recreations!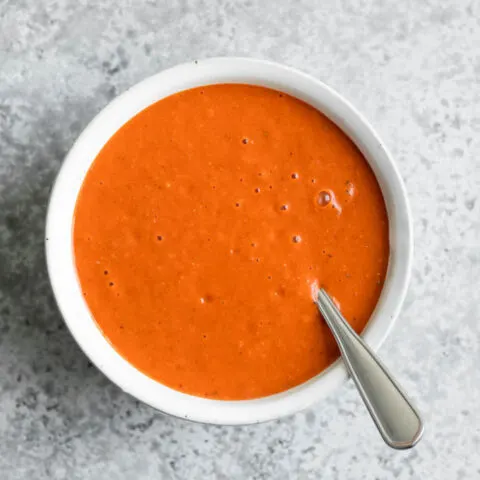 Homemade Enchilada Sauce
Making your own enchilada sauce is super easy and tastes better than any store bought version! It's vegan and can be made gluten free if desired. Make in advance, and store in the fridge for a week, or freeze for longer storage.
Ingredients
3 tbsp oil, divided
1/2 medium yellow onion, diced
2 cloves garlic, minced
1/2 tsp cumin seed
2 tsp chili powder
1/2 tsp dried oregano (Mexican oregano if possible)
1/4 tsp cayenne
1/2 tsp salt, or to taste
freshly ground black pepper, to taste
1/4 cup flour, can be gluten free if desired
2 cups vegetable broth, or water
15 oz can tomatoes
1 tbsp tomato paste
Instructions
Heat 1 tablespoon of oil in a large pot over medium-low heat. Add the onions and cook, stirring occasionally, for about 5 minutes until the onions have softened and lightly browned.
Move the onions to one side of the pot, then add the additional 2 tablespoons of oil in the empty space. Add the garlic and cumin seed to the oil and let fry for about 30 seconds.
Stir in the chili powder, oregano, cayenne, salt, and pepper, then add the flour and mix to coat. Cook for about 1 minute, then slowly pour in the broth while stirring.
Add the tomatoes and tomato paste, breaking apart the tomatoes if using whole. Turn heat up to bring to a simmer, then lower heat and cook , partially covered, about 10 minutes or until the tomatoes are breaking down and sauce is thickened.
Transfer the sauce to a blender or use an immersion blender in the pot and process until smooth. Be careful as sauce is very hot! Vent the heat as needed if using an upright blender.
Notes
For the chili powder use either ancho chili powder or a chili powder blend (labeled chili powder, contains mild ground chilis and spices). Use more or less cayenne pepper to taste. As is it's a mild sauce but not without any heat.
Nutrition Information:
Yield:

32
Serving Size:

1
Amount Per Serving:
Calories:

23
Total Fat:

1g
Sodium:

99mg
Carbohydrates:

2g
Sugar:

1g
Nutrition is calculated automatically so should be used as an estimate.