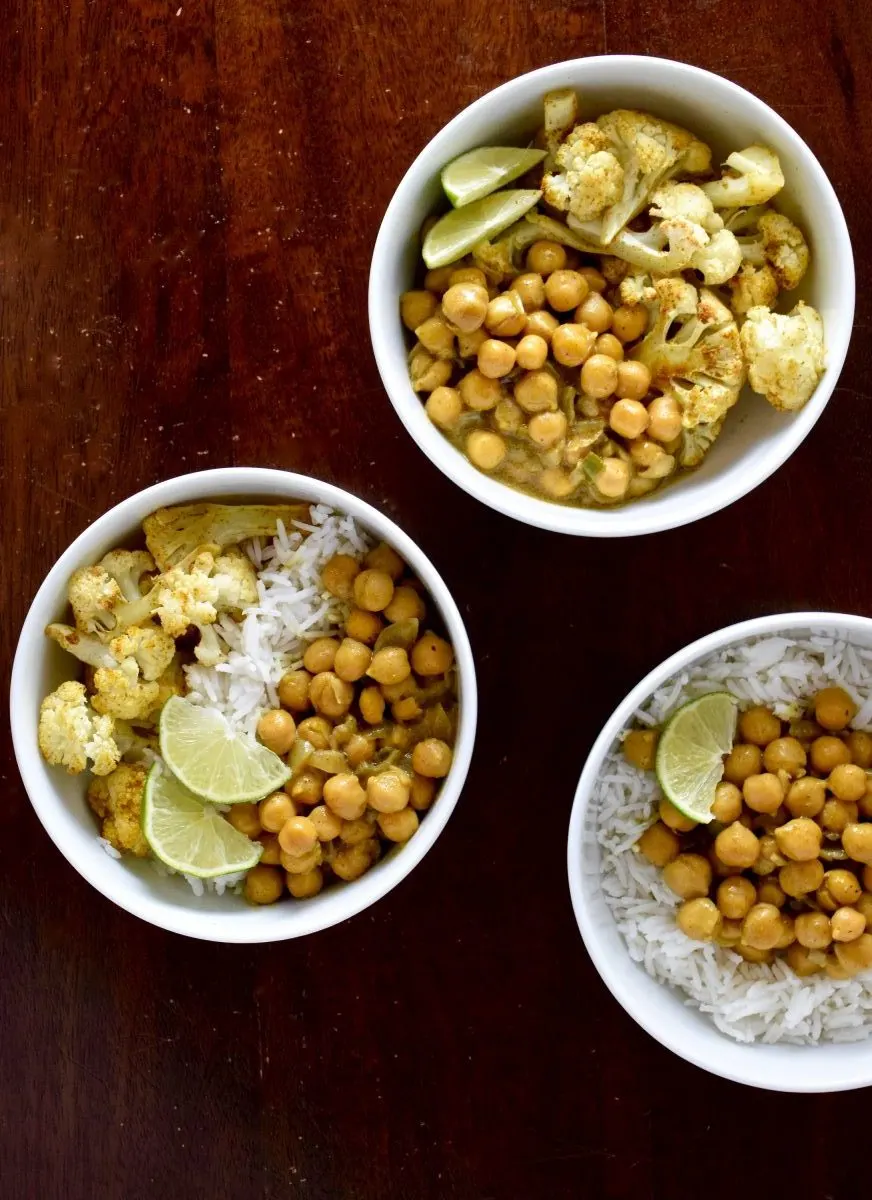 Skip the Indian takeout and try this super easy recipe for golden chickpeas and curried cauliflower. This recipe not only packs in the restaurant quality flavor, but, with plenty of inflammation reducing turmeric, it comes with a side of health benefits. With lots of fiber and protein, and some natural fats from the coconut milk, this meal will leave you feeling satiated for hours.
My favorite way to eat cauliflower is to roast it (I don't really understand why people eat raw cauliflower). Putting cauliflower in the oven brings out the best flavor and texture from the vegetable. It certainly changed my cauliflower-suspicious husband's opinion, as it went from being one of his least favorite vegetables to a top choice after I prepared it with this method. Roasted cauliflower gets nice and chewy on the outside, crispy on some of the thin edges, with buttery soft insides that almost seem to melt in your mouth. Tossing the cauliflower in a simple combination of salt and curry powder, with a little oil (which can be reduced, if you're watching your oil intake), gives all the flavor you need. To be honest, sometimes I'll just eat a bowl of curry roasted cauliflower and call it dinner. It's so good.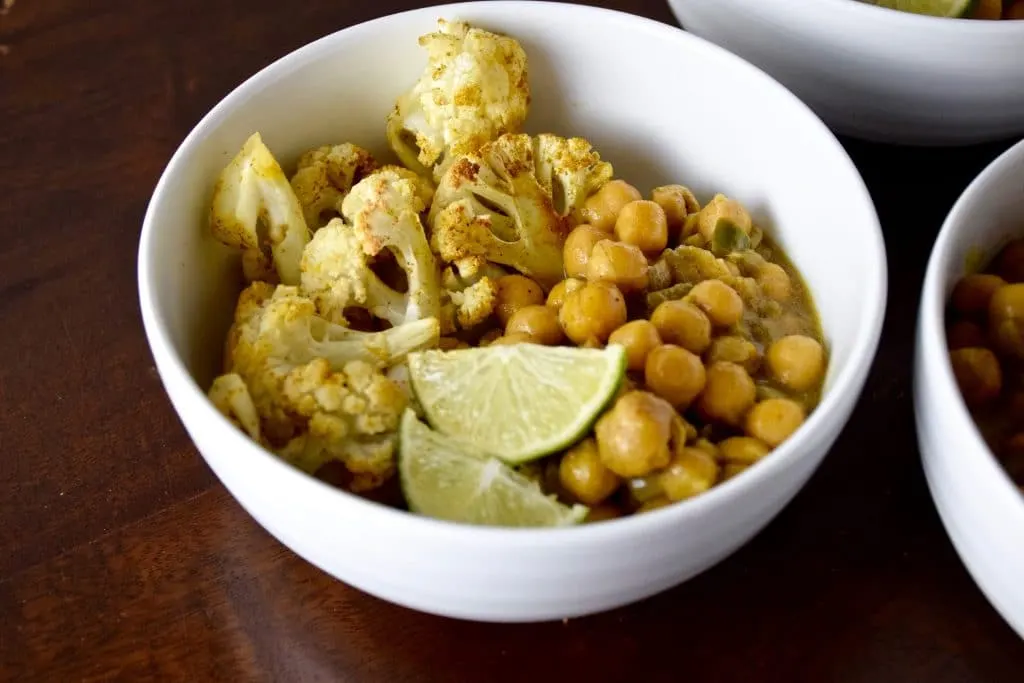 The golden chickpeas are deceptively simple to make, given how great the finished product tastes. It can easily be made a day in advance, not only does this add to it's convenience, but like most curries, it tastes even better the next day. Onion, garlic, and chili provides the flavor base for the dish. I like to think of those (and sometimes ginger is included) as the Indian version of a mirepoix.
Using a pre-made curry powder keeps the spice list nice and short, with only a little extra turmeric added for enhancing that beautiful golden color and for an extra pop of savory flavor to balance the sweetness of the coconut milk. A bit of paprika and adds some chili flavor without the heat. That pinch of cinnamon adds some subtle sweet heat to the dish, and a little je ne sais quoi that rounds out the flavor of the dish. Coconut milk adds a lot of body to the dish. The creaminess it provides brings that restaurant quality richness without adding a ton of oil. Adding citrus brightens the flavors of the chickpeas and makes everything pop. This dish is guaranteed to satisfy.
Serve with some basmati rice or Indian flat bread to make it a complete meal.
Let me know how it comes out if you try it! Enjoy!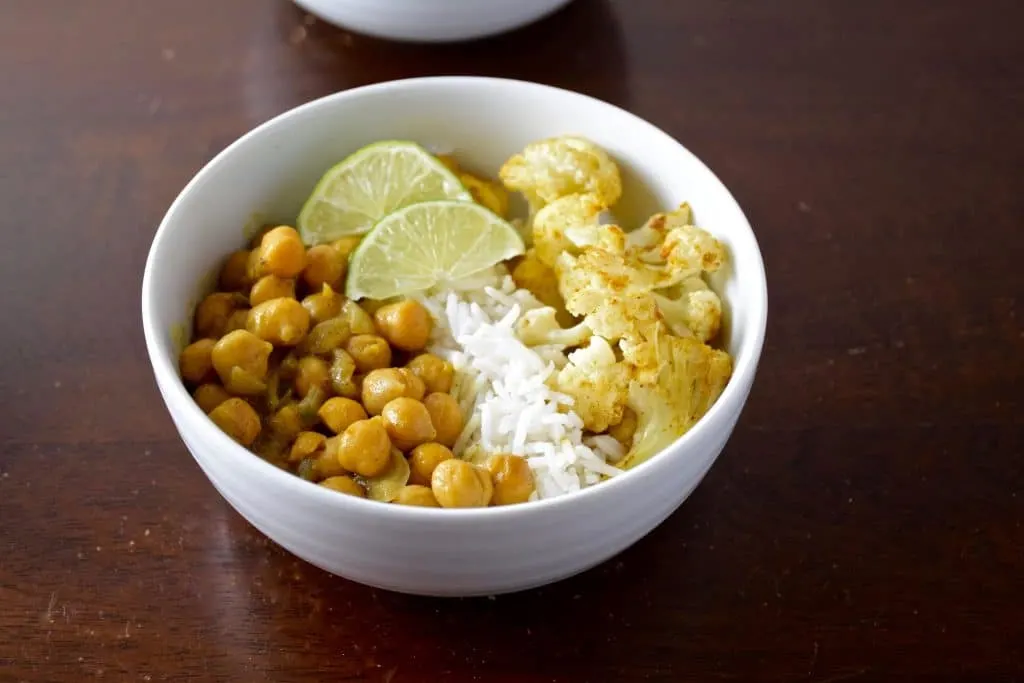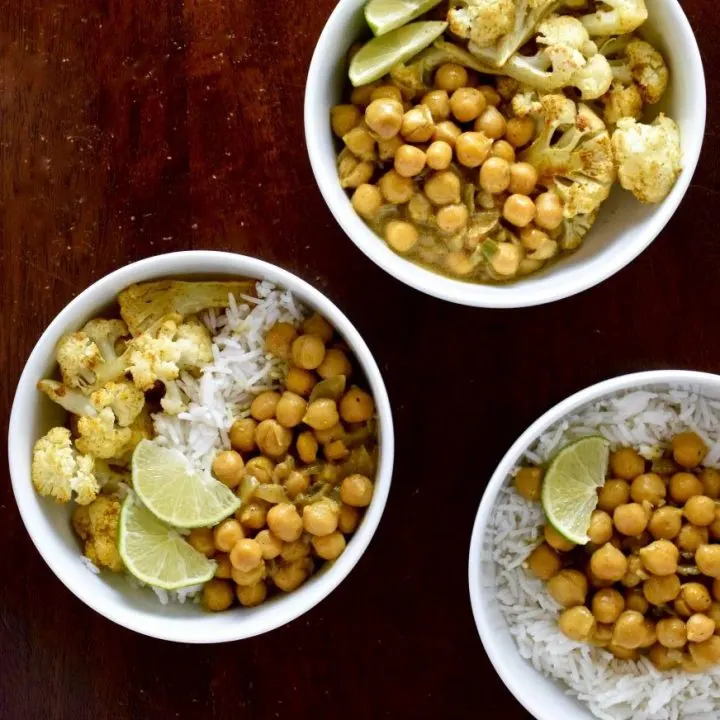 Golden Chickpeas and Curried Cauliflower
Curried chickpeas and roasted cauliflower and served over basmati rice in this delicious, healthy vegan meal.
Ingredients
Curried Cauliflower
1 large cauliflower*, cut into florets
1 tbsp oil
2 tsp curry powder*
1/2 tsp salt
Golden Chickpea Curry
1 tsp coconut oil
1/2 large onion, diced (~1/2 cup)
2 cloves garlic, minced
1 serrano pepper, seeded for less heat, minced
2 tsp curry powder*
1/2 tsp turmeric
1/4 tsp paprika
1/8 tsp cinnamon
3 cups (28 oz can) chickpeas, rinsed
1 1/2 cups (15 oz can) coconut milk
1 tsp salt, or to taste
freshly ground black pepper
2 tbsp freshly squeezed lemon or lime juice, or to taste*
basmati rice, for serving
Instructions
To make the cauliflower
Preheat the oven to 425 ºF and line a large rimmed baking sheet with parchment.
Toss cauliflower with oil, curry powder, and salt. Spread out in an even layer in the baking sheet.
Bake for 15 minutes, stir, then bake an additional 10-15 minutes until cauliflower is tender and lightly browned in spots.Set aside.
To make the curry
Heat a heavy bottomed pot over medium heat. Melt the coconut oil, then add the onion. Cook for about 5 minutes until softened and lightly browned.
Add the garlic and chili to the pot, and let cook for about 30 seconds. Add the spices and chickpeas, then stir to coat.
Pour in the coconut milk, stirring, and bring it to a simmer. Simmer partially covered for 12-15 minutes, stirring occasionally, until thickened and chickpeas have softened. Turn off the heat, add the lemon or lime juice, then taste and adjust for seasoning.
Serve the chickpeas and cauliflower with some basmati rice and extra citrus.
Notes
*my cauliflower was cut into 10 cups of florets, if yours is very different, adjust the spices (especially the salt!) to match
*use any brand curry powder, but note that they vary in flavor, and some of them contain salt, so always taste your food before adjusting seasoning!
*This is approximately the juice from 1 whole lime, or 1/2 a lemon