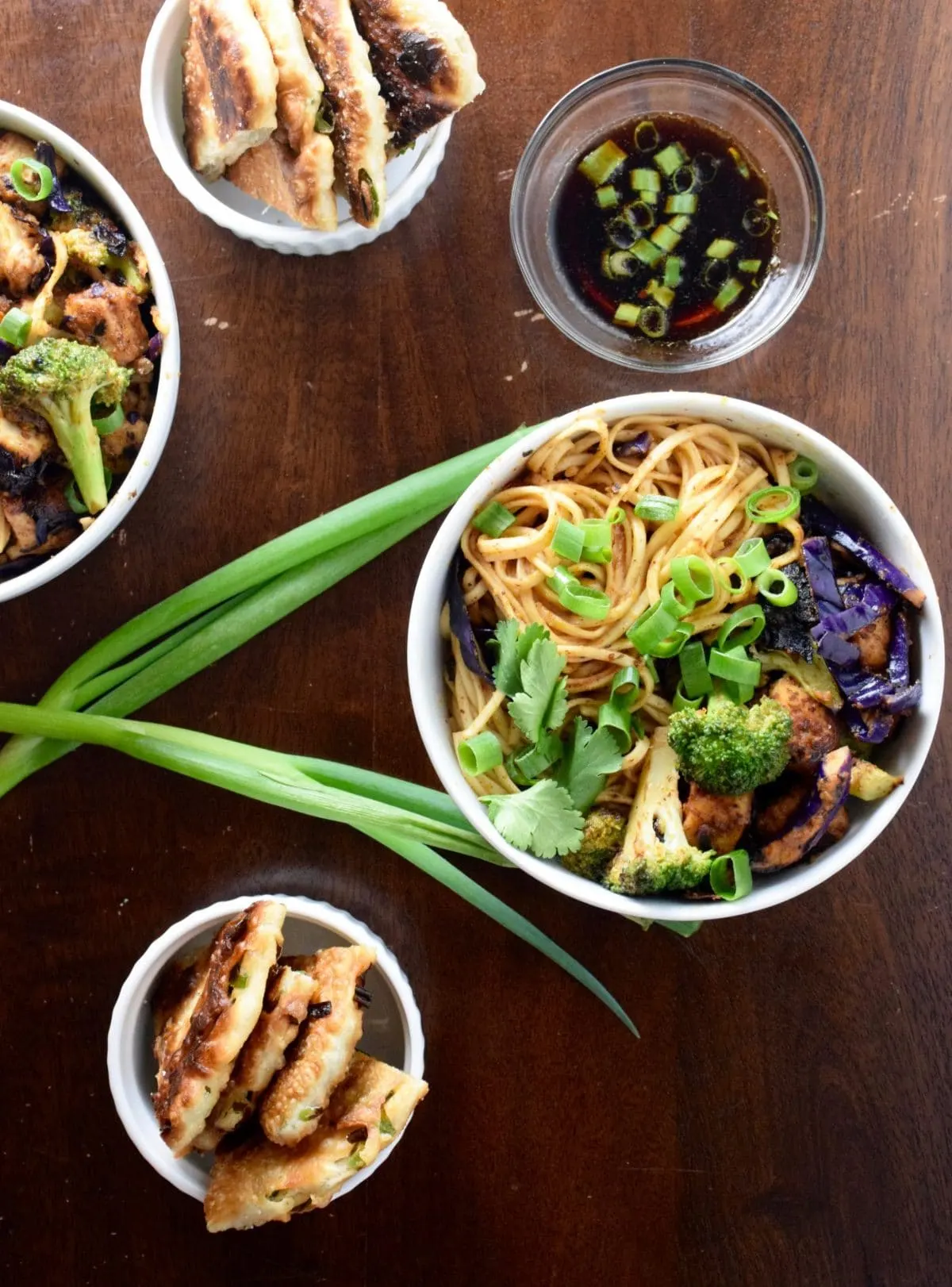 My husband doesn't love peanut butter (crazy, I know). He's alright with peanut stir fry sauces but they're not his first choice. So, I figured I'd try something different at dinner one night. We had some almond butter in the pantry left over from a delicious chocolate ganache tart, so I figured I'd swap out the peanut butter in my usual satay sauce. The results were phenomenal, we both were pretty obsessed with the way it came out.
Almond butter has a less pronounced, milder flavor than peanut butter, and is the perfect background for this savory asian inspired dish. Toothsome udon noodles and charred broccoli. Chewy tofu and flash fried cabbage. All tossed in a nutty, salty, garlicky, umami powered sauce.
This recipe is super easy to whip up for a last minute dinner. It's great with the vegetables I used, but those could totally be substituted for what you have in the fridge. I use a super easy method to prepare tofu, that results in a wonderfully textured tofu. A quick toss of cubed tofu in some starch, and then a trip in the hot oven while you prep the sauce and rest of your ingredients, and dinner will be on your table before you know it.
Heat up water to cook your noodles while the tofu cooks in the oven, and start your stir frying in the last few minutes of baking. At a high heat, the hot skillet will cook the broccoli in no time, while the udon noodles cook. After a few minutes you toss in the cabbage and tofu for a quick heating through and slight softening of the cabbage. Add some sauce, stirring to coat everything while the almond butter stir fry sauce soaks into the vegetables and tofu. Throw in the noodles and add the rest of the sauce, and the dish is ready to serve!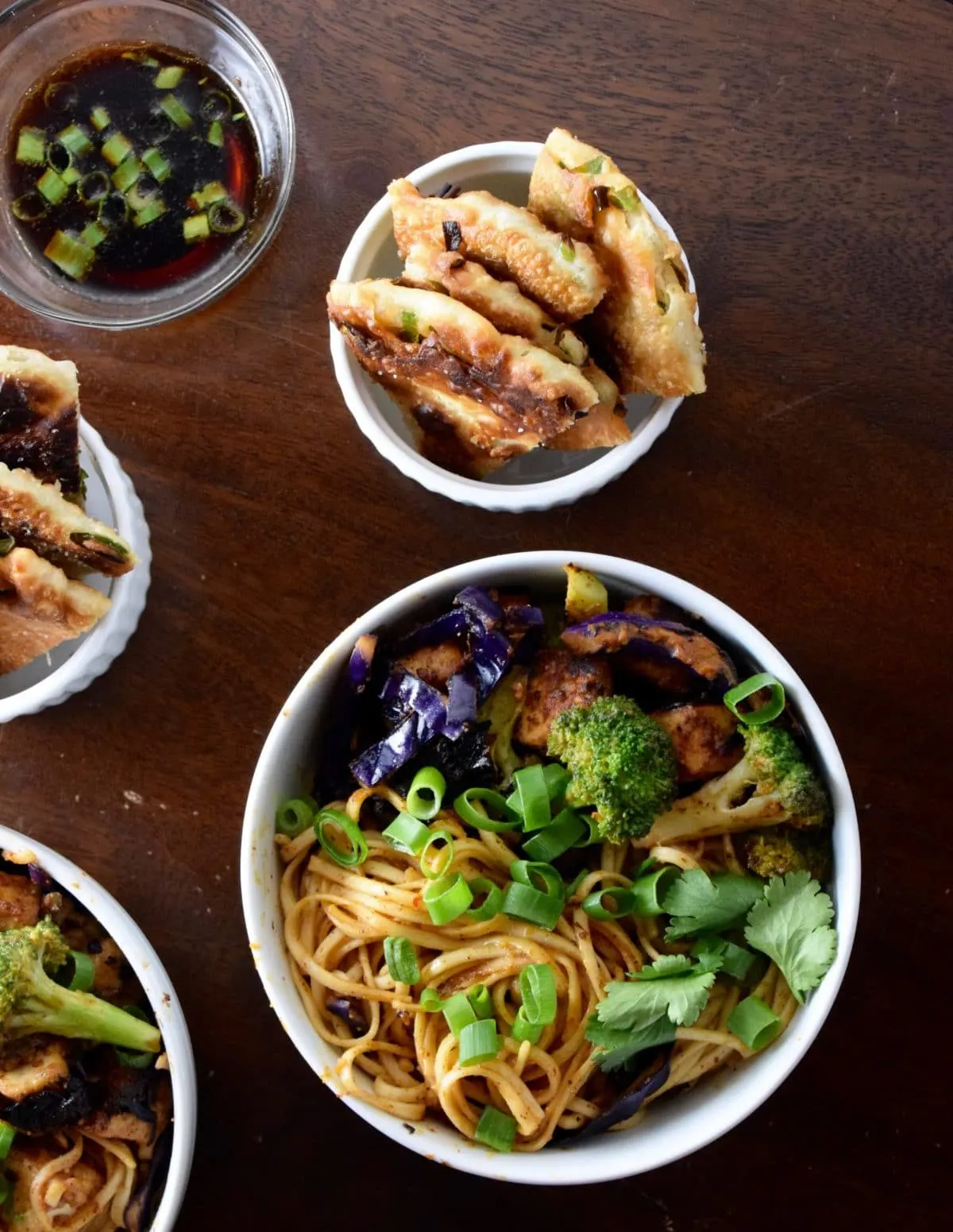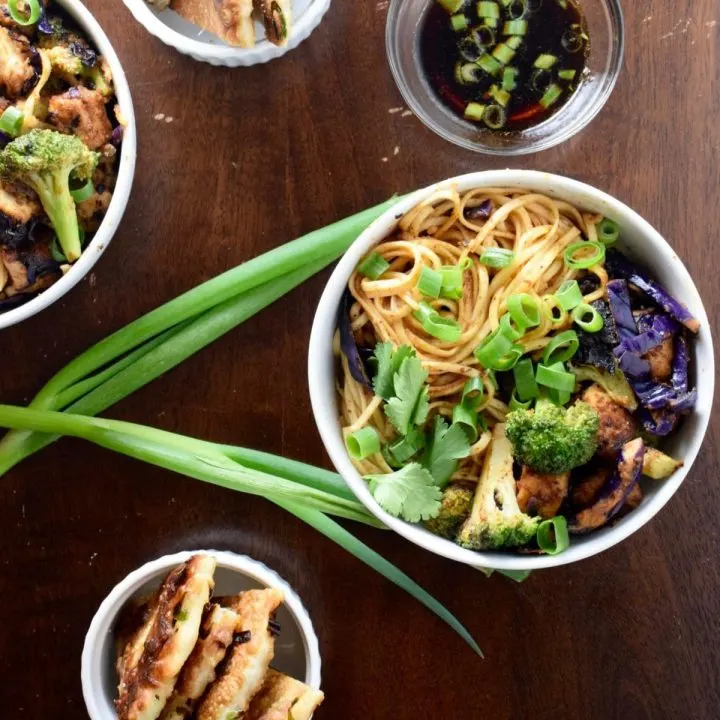 Tofu and Udon Noodle Almond Butter Stir Fry
Udon noodles and chewy tofu with broccoli and cabbage are tossed in an almond butter based stir fry sauce. A spin on your typical peanut butter stir fry sauce, almond butter blends in perfectly to this asian inspired stir fry.
Ingredients
Chewy Tofu
14 oz extra firm tofu, cut into 1/2" cubes
1/4 cup potato starch or cornstarch
1/2 tsp salt
Almond Butter Sauce
1/2 cup almond butter
1/2 cup hot water
2 cloves garlic, pressed or minced
2 tbsp chili sauce or sriracha
2 tbsp soy sauce
1 tbsp rice vinegar
1 tbsp sesame oil
Stir Fry Ingredients
1 tbsp vegetable oil
10 oz udon noodles
4 cups broccoli florets and stems
1/4 head small purple cabbage, thinly sliced
salt, to taste
cilantro or scallions to garnish
Instructions
Prepare the tofu
Preheat oven to 400 ºF.
Toss tofu cubes in starch and salt.
Line a large baking sheet with parchment and spray or drizzle some oil down. Spread the tofu out over the baking sheet and drizzle or spray on a little more oil.
Bake for 20 minutes, stir, then bake an additional 10 minutes.
Prepare the sauce
Mix all ingredients together, set aside.
Make the stir fry
Heat a large pot of water and cook the noodles according to package directions. Set aside.
Heat a large non-stick skillet or wok over medium-high heat.
Add the oil, then the broccoli. Sauté the broccoli for 4-5 minutes, until bright green and charred in a few places.
Add the cabbage and baked tofu, cook 2-3 minutes, then stir in about half of the sauce. Cook an additional 1-2 minutes until sauce is absorbed.
Mix in the noodles and add the remainder of the sauce. Toss everything together to evenly coat sauce in everything. Taste and adjust seasoning, adding salt if desired.
Serve with cilantro or scallions to garnish.