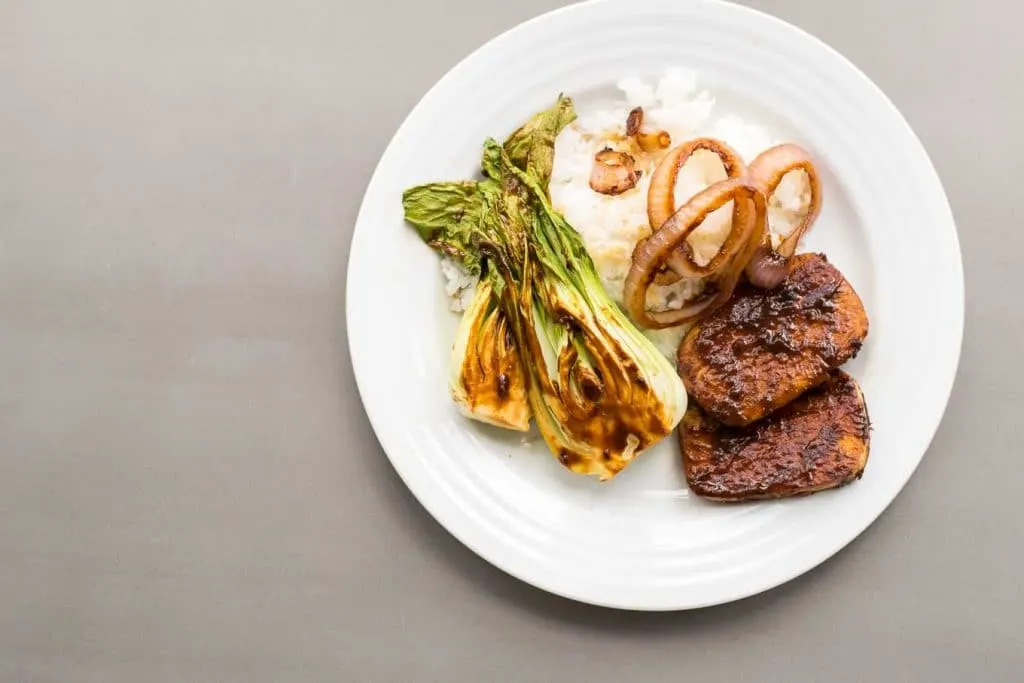 I'm not sure how something with such a short ingredient list can be so insanely good. Well actually, I do get it, because every ingredient in the sauce has such a complex flavor (not including the water, of course!). This was one of those dishes that I couldn't stop talking about. During dinner I not-so-humbly proclaimed I was a genius, the next day I had to text my husband about how much I liked it while eating it for lunch. This recipe is really easy to make. Everything is baked in the oven for hands off cooking, while bringing out the best flavor and texture from the vegetables and tofu. The sauce is as simple as it gets, combine a few ingredients then mix it up with a fork. As an added bonus, clean up is minimal, especially if you use parchment paper. This recipe is really worth trying. You might find that it sneaks its way into your regular rotation!
Sweet and tangy hoisin, salty and savory miso, umami rich soy sauce, and funky spicy chili paste are all you need to have the tastiest sauce that packs a punch of flavor. For me, all of these ingredients are pantry staples. I always have at least 2 kinds of miso in the fridge, a mellow light colored miso and a darker, sweeter, earthier miso. For this sauce I chose to use the stronger flavored red miso. Hoisin, which I consider to be the barbecue sauce of China, is fairly easy to find these days, either in well stocked international aisles of your regular grocery store, or at Asian grocery stores. Our local Thai grocery store carries multiple brands, which is good, because I like to avoid ones with high fructose corn syrup and preservatives. This is the one in my fridge (note: this one is not gluten free). Soy sauce (I always use tamari) rounds out the flavor of the sauce and balances the sweetness of the hoisin and miso perfectly. You can use whatever chili sauce you have stocked, I used some fried chili paste sparingly as it packs a crazy amount of heat. Sriracha would also be delicious, though you may be able to add more as it isn't as spicy.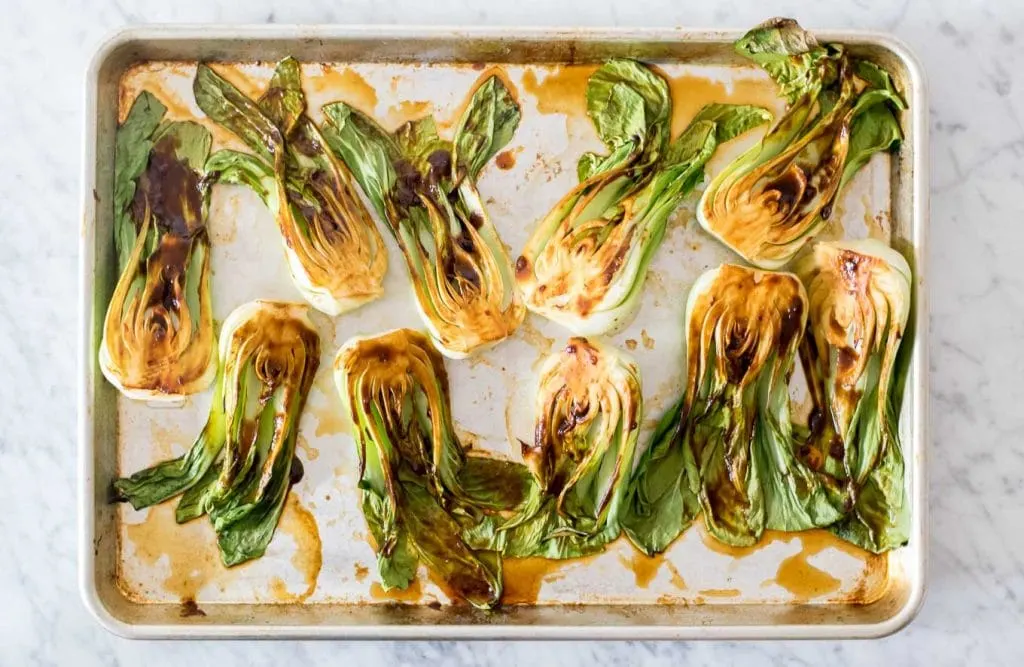 Tofu, red onion, and baby bok choy are sliced up and dipped in a soy sauce and toasted sesame oil mixture. Tofu and red onion are baked without glaze first. When baked, tofu becomes perfectly chewy and dense. The soy sauce and sesame oil dip bake their way into the tofu, infusing it with flavor. Red onion caramelizes under the heat, becoming soft and sweet. After 20 minutes they are ready for a quick glaze and second trip through the oven. At this time, the baby bok choy, dipped in the soy sauce-sesame oil mixture then brushed with glaze, join for a quick 10 minutes. The leaves wilt quickly in the hot oven, and the the edges start to caramelize. The stem becomes ultra juicy while remaining crunchy. The miso-hoisin glaze bakes into the crevices of the stem and leaves for the most flavorful baby bok choy of your life. Make sure you use a rimmed baking sheet to catch any juice released during baking.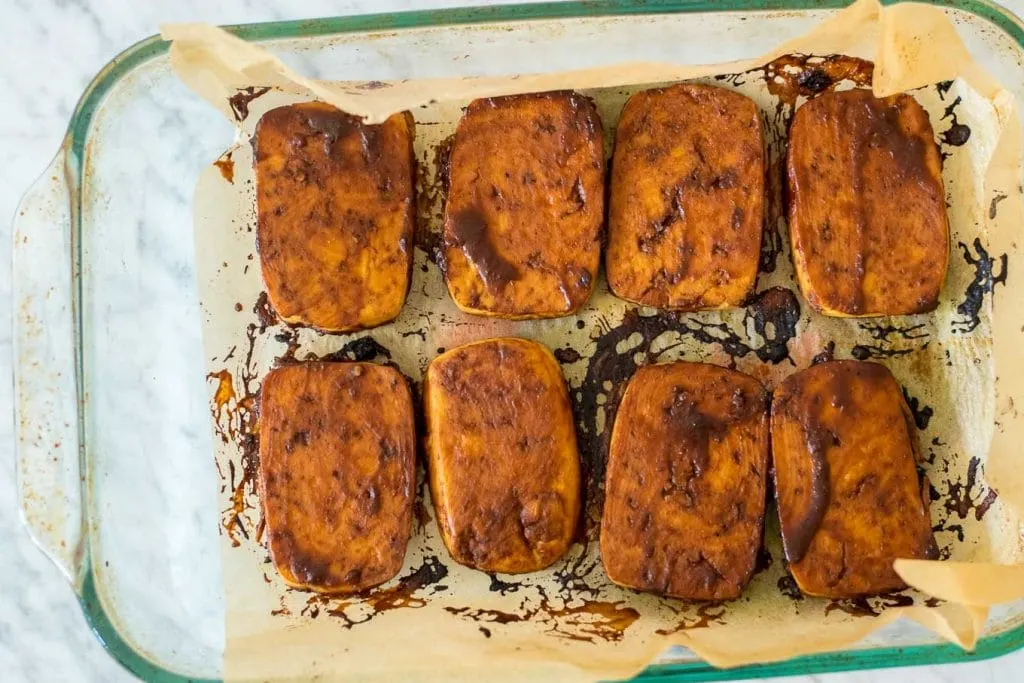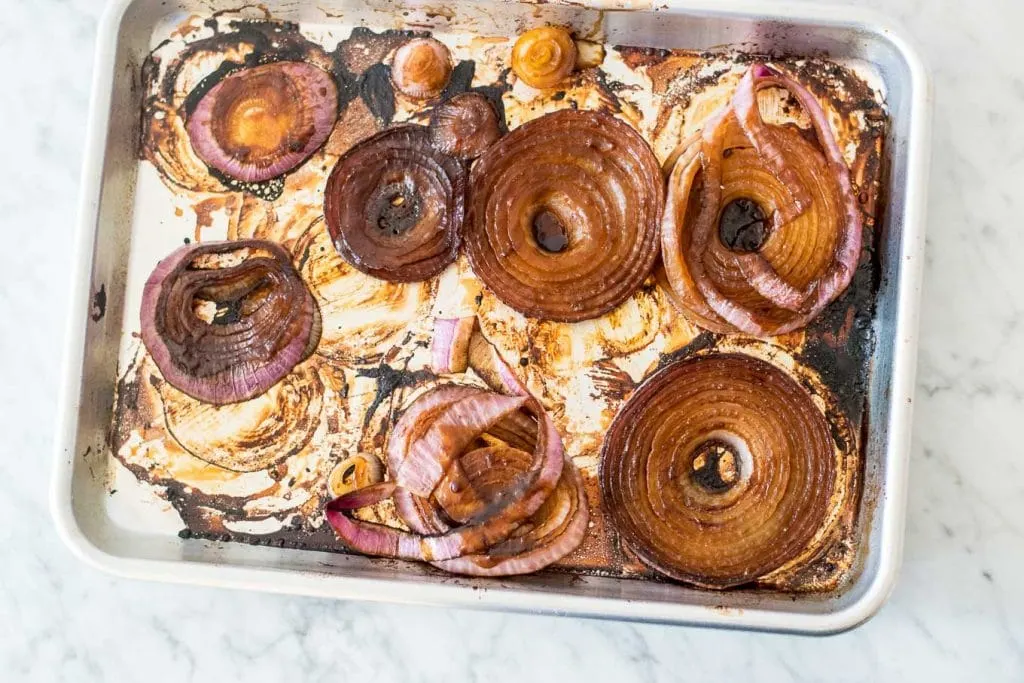 We really loved this miso-hoisin glazed tofu and baby bok choy. It will certainly be entering regular rotation, and we will probably start slathering that glaze on many things. Tempeh, seitan, cabbage, potatoes, eggplant. My mind is racing with the possibilities. I hope you enjoy it!
If you make this dish, let me know in the comments, rate it, and/or tag me on Instagram!

Notes:
If you already have a white or chickpea miso and don't want to add red miso to your pantry, don't let that stop you from making this dish. Use the milder, lighter colored miso.
Not all hoisin sauces are gluten free, so check the ingredients closely if you avoid gluten.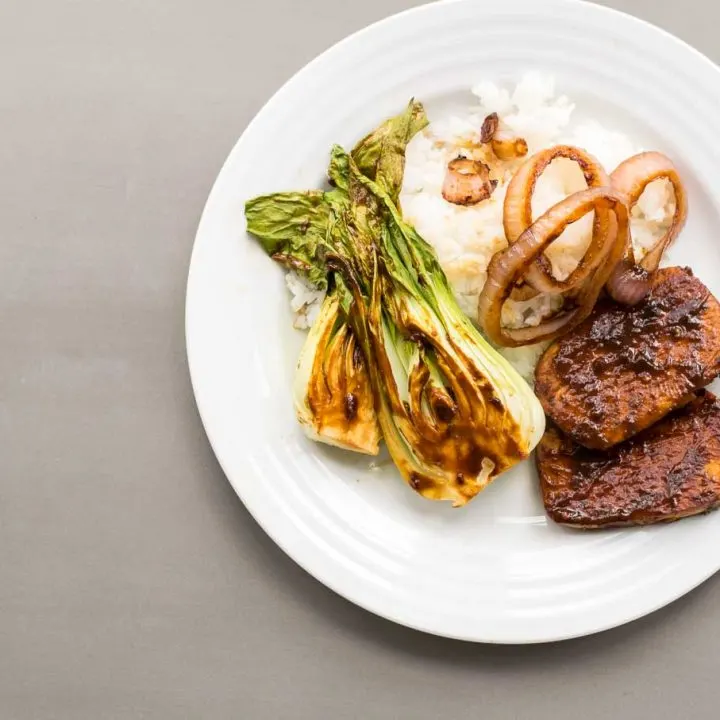 Miso-Hoisin Glazed Tofu and Baby Bok Choy
Sweet and tangy, savory, and umami rich, this spicy miso-hoisin glazed tofu and baby bok choy is a flavor packed recipe, that makes for a complete meal.
Ingredients
1 lb extra firm tofu
1 large red onion, cut into 1/2" thick rings
1 1/2 lbs (~5-6) baby bok choy, washed thoroughly and cut in half lengthwise
3 tbsp soy sauce
1 tbsp toasted sesame oil
jasmine rice for serving
Miso Hoisin Sauce
1/2 cup hoisin
2 tbsp red miso
2 tbsp soy sauce
1 tsp chili paste or sriracha, or to taste
1/4 cup warm water
Instructions
Preheat the oven to 425 ºF.
Slice the block of tofu into 8 slices, widthwise. Pat the slices with paper towels, pressing gently to remove excess water.
In a dinner plate add the 3 tablespoons of soy sauce and 1 tablespoon of toasted sesame oil. Dip each side of the tofu in the soy sauce-sesame oil mixture and place onto a large rimmed baking sheet (use parchment for easy clean up if desired). Then take the rings of red onion (not separated) and dip both sides in the soy sauce mixture and place next to the tofu.
Bake the onions and tofu for 10 minutes, then remove from oven and flip. Bake an additional 10 minutes.
Meanwhile make the miso-hoisin sauce by simply adding all ingredients to a bowl and mixing together with a fork until smooth. Set aside.
Prepare the baby bok choy in the same method as the tofu. Take the cut halves of bok choy and dip both sides in the soy sauce mixture. Place cut side up on a second large rimmed baking sheet, or in a 9 x 13" size baking dish. Brush the cut side generously with the miso-hoisin sauce.
When the tofu and onions have finished baking, remove from oven and flip once more so the original side is facing up. Brush with miso-hoisin sauce.
Place both the bok choy and tofu baking sheets in the oven, on separate racks is fine. Bake the bok choy for 9-11 minutes or until the stems can be pierced with a fork but still retain a crunch and the leaves are wilted and some are beginning to caramelize. Bake the tofu and onions for 5 minutes, then remove from oven, flip, brush the second side with miso-hoisin sauce and return to the oven for an additional 5 minutes.
Serve with jasmine rice and extra miso-hoisin sauce.
Nutrition Information:
Yield:

4
Serving Size:

1
Amount Per Serving:
Calories:

307
Total Fat:

11g
Saturated Fat:

2g
Trans Fat:

0g
Unsaturated Fat:

9g
Cholesterol:

0mg
Sodium:

2086mg
Carbohydrates:

36g
Fiber:

4g
Sugar:

14g
Protein:

18g