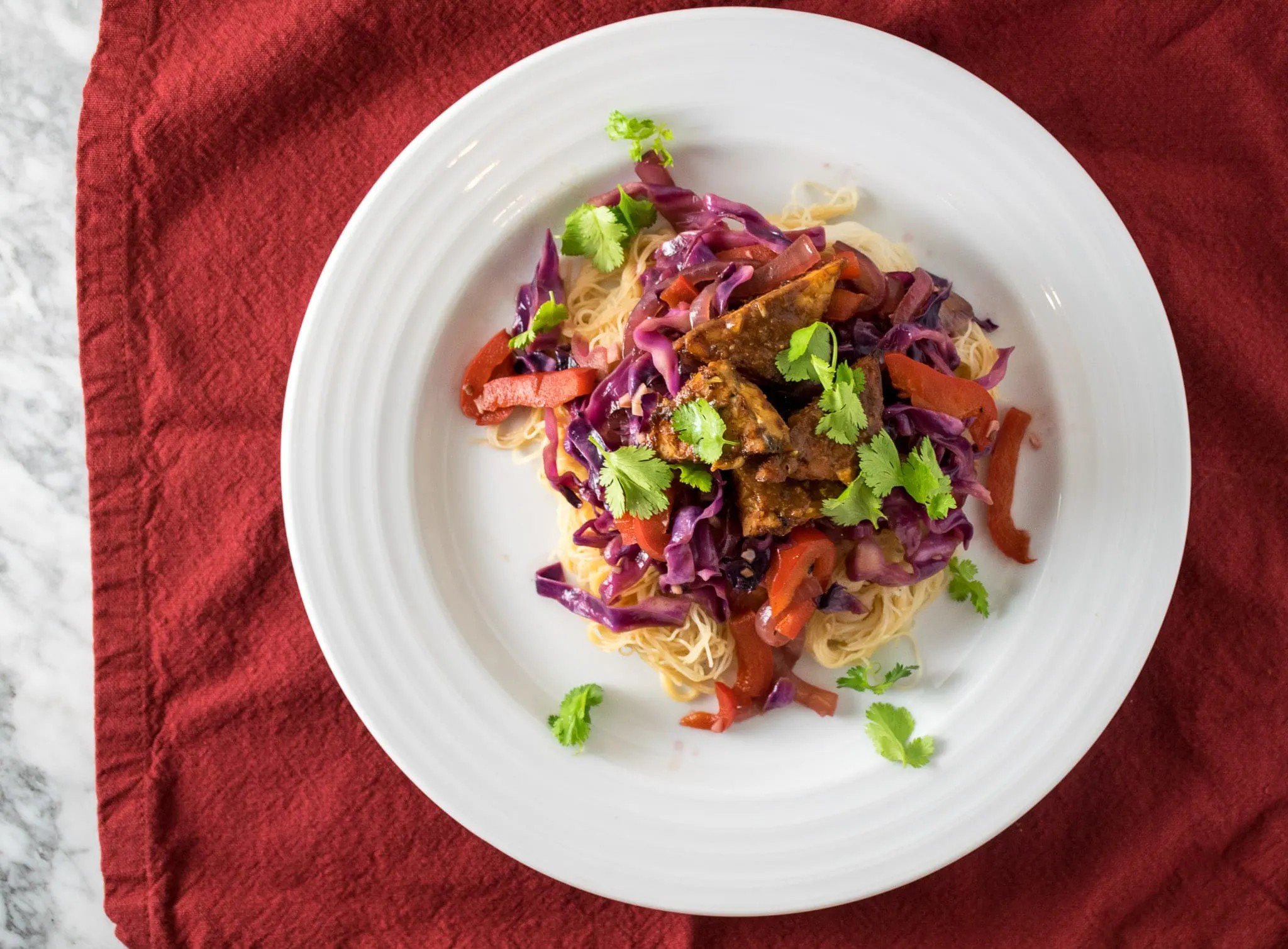 I love the fresh and vibrant flavors in this tamarind flavored dish. Tangy, sweet and sour tamarind is the perfect accompaniment to the nutty flavor of tempeh, which is enhanced with a spoonful of delicious almond butter. The tangy glaze is balanced with some sweet agave nectar, and a healthy dose of spicy heat. The best thing is you only need SIX ingredients to make this crazy flavorful glaze!
The vegetables are stir fried with a similar sauce to the glaze, requiring only eight ingredients! Tamarind ties the two components together, with extra tang brought to you by a bit of rice vinegar and freshly squeezed lime juice. Agave once again balances the any tartness and toasted sesame oil brings some toasty nutty goodness. Soy sauce has that perfect umami rich saltiness, garlic adds a sharp bite, and a small scoop of fiery hot fried chili paste (a version of this is certainly available at your local East Asian grocery store) for that spicy kick. The sauce is tossed over some red onion, red cabbage, and red bell pepper for the most beautifully colorful dish, which I believe makes it even more fun to eat! And the spicy, tangy, ultra-flavorful sauce is balanced by the sweetness of the onion and veggies.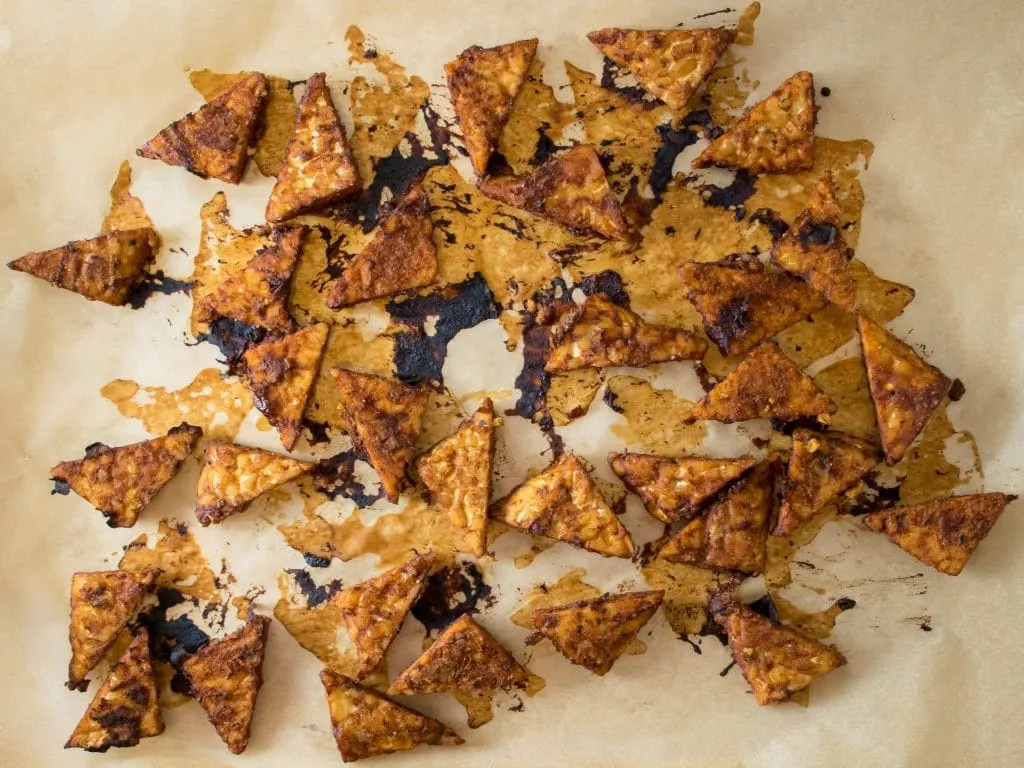 To serve, top a serving of rice noodles with juicy, saucy veggies and tamarind glazed tempeh. Chewy tempeh texturally contrasts the crunchy, juicy veggies perfectly and the extra sauce from the vegetables soaks into the rice noodles so each bite is flavor packed. We really loved eating this dish, and I hope you do too! It's fresh flavors are perfect for these gorgeous early summer days.
I think we should all be eating tempeh regularly because it is very healthy! Tempeh is very high in protein, and because it is fermented, the protein is more bioavailable than that of tofu. I'll admit I didn't like tempeh much growing up, but my opinion changed when I first made hot sauce glazed tempeh from Veganomicon. That dish is seriously good, and taught me to steam tempeh to minimize its bitterness. Since then I've grown to love it in so many preparations. I love tempeh in coconut curries, it was wonderful in these corned tempeh pasties, it makes a great sausage crumble to top pasta with, as well as a great sandwich filling.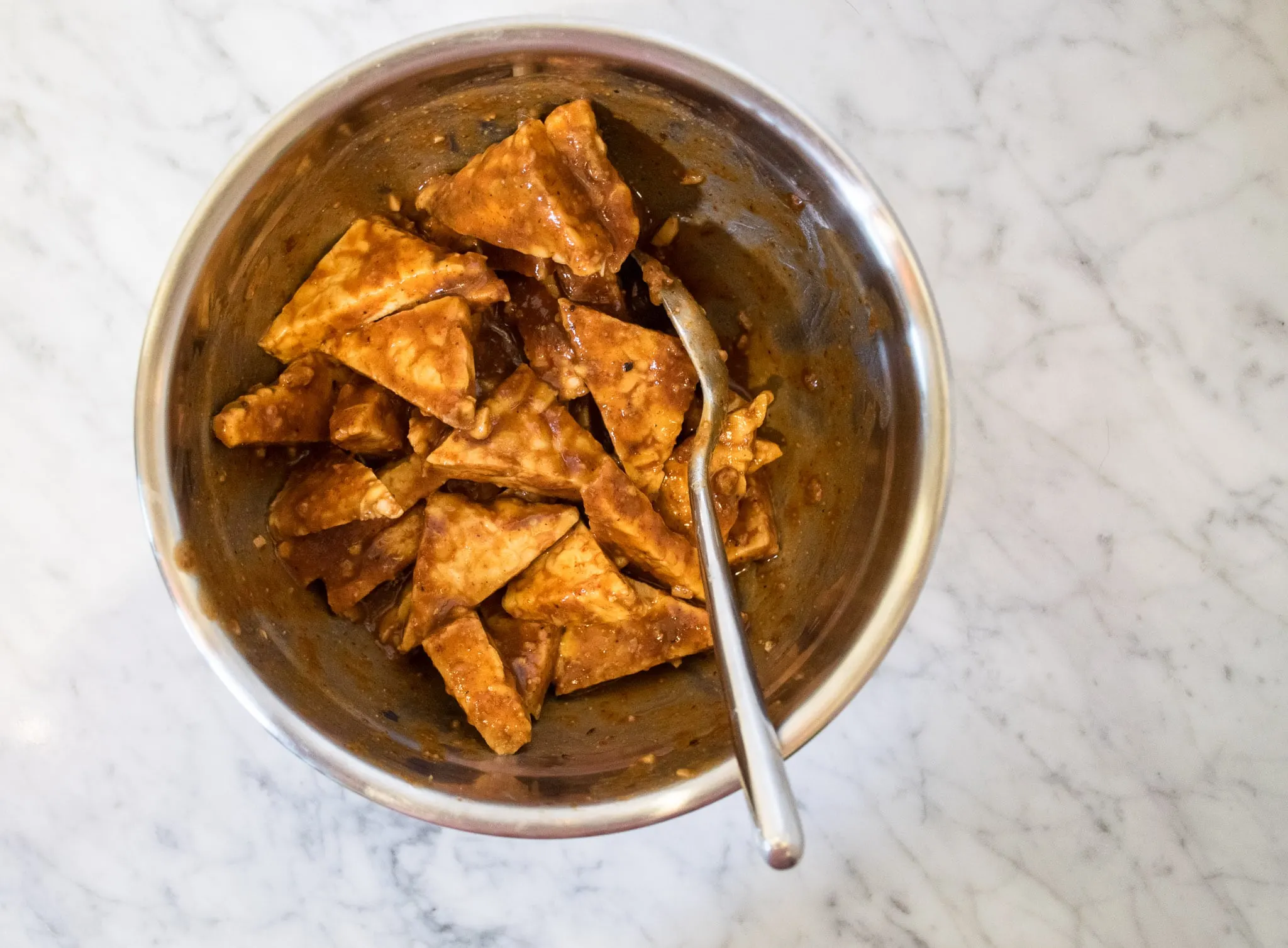 I do hope you make this dish. And if you do please let me know, I love seeing & hearing about it when you guys make my recipes! Leave a comment and/or rate the recipe below, tag me on Instagram, or let me know on Facebook!
And if you need another idea for using tamarind, try my husband's favorite tamarind red lentil soup!

Notes:
If you would like, you can substitute tofu for the tempeh. Don't steam the tofu but instead press out the extra water, then marinate then bake the same way. It will possibly need extra baking time as tofu contains more water.
Substitute other veggies for what you have available in the fridge. Add longer cooking veggies earlier on in the stir fry, and quick cooking veggies towards the end. There isn't one right way to make the stir fry!
try substituting tahini for almond butter and use a different vegetable oil suitable for high heat to make a nut free version.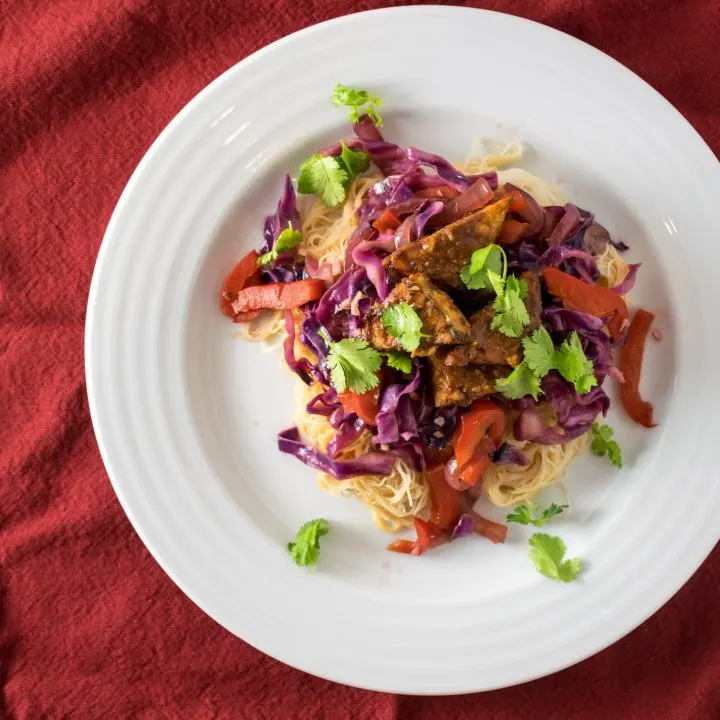 Tamarind Glazed Tempeh with Stir Fried Vegetables and Rice Noodles
Sweet and sour baked tempeh tops a tangy, tamarind-based vegetable stir fry and served on a bed of rice noodles for a delicious and ultra-flavorful meal.
Ingredients
Tamarind Glazed Tempeh
8 oz tempeh
1/4 cup tamarind concentrate
2 tbsp soy sauce
2 tbsp sriracha hot sauce or 1 tsp chili paste
1 tbsp almond butter
1 tbsp agave
1 clove garlic, minced
Tamarind Stir Fry Sauce
3 tbsp tamarind concentrate
2 tbsp soy sauce
1 tbsp rice vinegar
1 tbsp agave
2 tsp toasted sesame oil
1/2 tsp chili paste, or to taste
1 tbsp lime juice (~1/2 lime)
2 garlic cloves, minced
For the Stir Fry
1 tbsp peanut oil
1 red onion, cut into thin half moons
1 red bell pepper, thinly sliced and cut into bite sized pieces
1/2 small head red cabbage, cut in half and thinly sliced
rice noodles, or jasmine rice to serve
cilantro to serve (optional)
Instructions
To make the tempeh
Preheat oven to 375 ºF
Bring a small amount of water to boil in a small pot or skillet. Steam tempeh ~10 minutes, flipping half way through. Remove from the water and cut into bite sized pieces. To cut the triangles, cut the tempeh in half widthwise, then take each half and cut into two thin slabs. Then cut those into four squares, then each square in half to make 8 triangles.
Mix together the marinade in a small bowl, then toss the tempeh in the marinade. Let marinate for 30 minutes while the oven preheats, or marinate up to 24 hours in the fridge.
Place tempeh on a parchment lined baking sheet. Bake for 20 minutes, flip and bake an additional 5 minutes. Spread any remaining glaze on top of the tempeh after baking. Set aside.
To make the stir fry
While the tempeh is baking, make your rice noodles or rice according to package directions. Set aside and cover to keep warm. If using noodles toss with some toasted sesame oil to prevent sticking.
Begin the stir fry. Combine all sauce ingredients and set aside.
Heat a wok or large nonstick skillet over medium high heat. Add the oil, and then the onion. Cook for 2-4 minutes until the onions are seared and softened. Then add the cabbage and bell pepper and sauté for 2-3 minutes until lightly charred and the cabbage is wilted. Add the stir fry sauce, and cook 1-2 minutes.
To serve
Layer noodles or rice under stir fried veggies and top with tempeh. Add cilantro if desired.