This mustard green pesto potato salad deserves a spot at your next summer cookout or potluck. It's also great paired with a casual weeknight burger dinner! It's so easy to make, nutritious, and flavorful. The creamy pesto is made with mustard greens, basil, and white beans.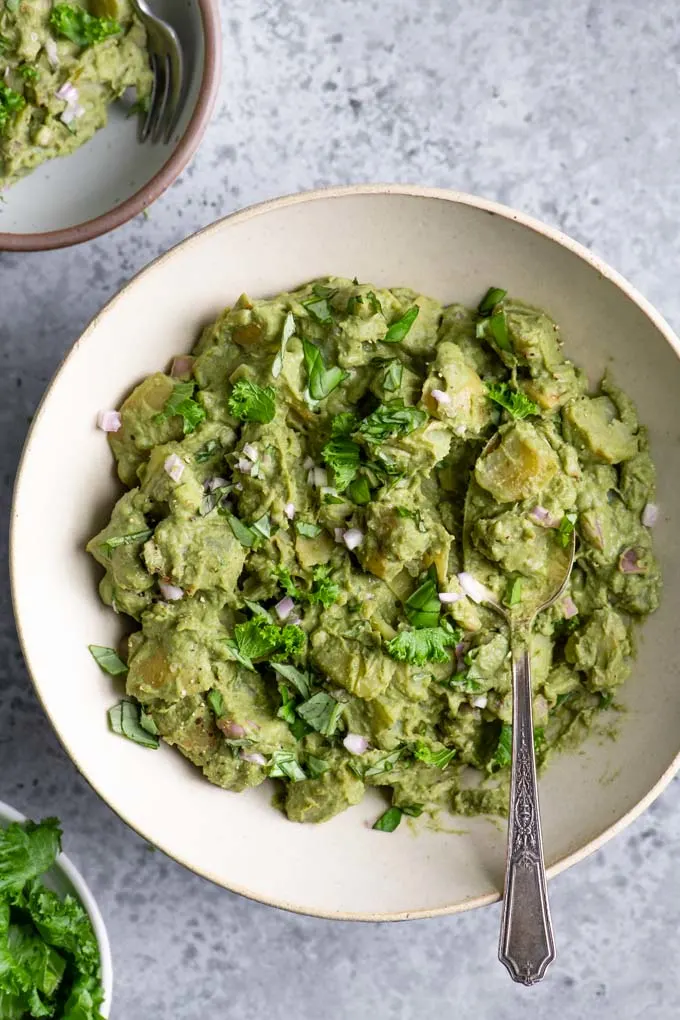 This recipe was sponsored by Nature's Greens.
---
If you're on the market for a new potato salad recipe, you're going to want to stop right here! The humble potato salad gets a makeover with a delicious creamy white bean and mustard green pesto and let me tell you–potato salad looks good in green!
This is not your typical mayo-laden potato salad. Nothing against those of course! I've got my favorite vegan classic potato salad recipe after all, but it's always fun to try new things and this pesto potato salad blew my socks right off! Not that I was wearing any of course, it's potato salad weather.
The pesto is peppery thanks to the tender mustard greens, a flavor that pairs beautifully with creamy mild potatoes. We amp up that creamy factor by adding white beans to the pesto. White beans and mustard greens are an incredible pairing!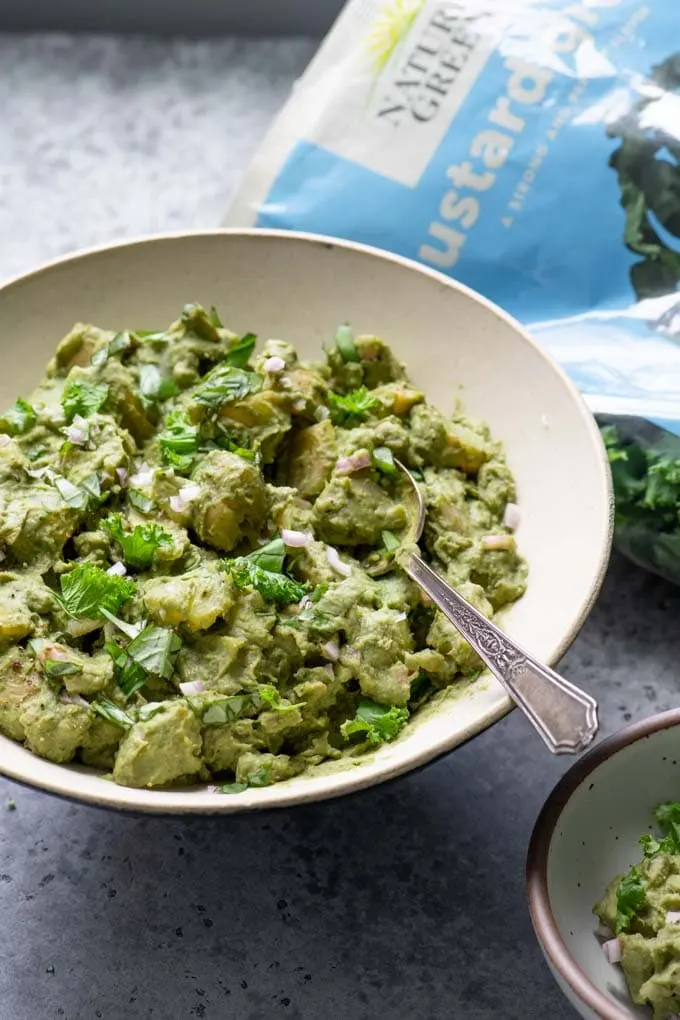 Making this mustard greens potato salad is easy! All you need is the pesto, which comes together in minutes, potatoes, and a little minced shallot or sweet onion.
It's an elevated potato salad, and your taste buds are ready for it!
What are mustard greens like?
If you've never tried mustard greens, you're in for a treat! They are tender like chard or spinach, with a bold peppery flavor. Mustardy, if you will ?. They can be a touch bitter, but this is tempered with adding naturally sweet ingredients like vinegar.
I used Nature's Greens pre-washed, pre-chopped, bagged Mustard Greens which I've always found to be the most delicious and least bitter mustard greens I've ever had.
The fact that you can buy them already prepped makes this recipe a breeze! They also sell bunched mustard greens, if you prefer to wash and chop your own.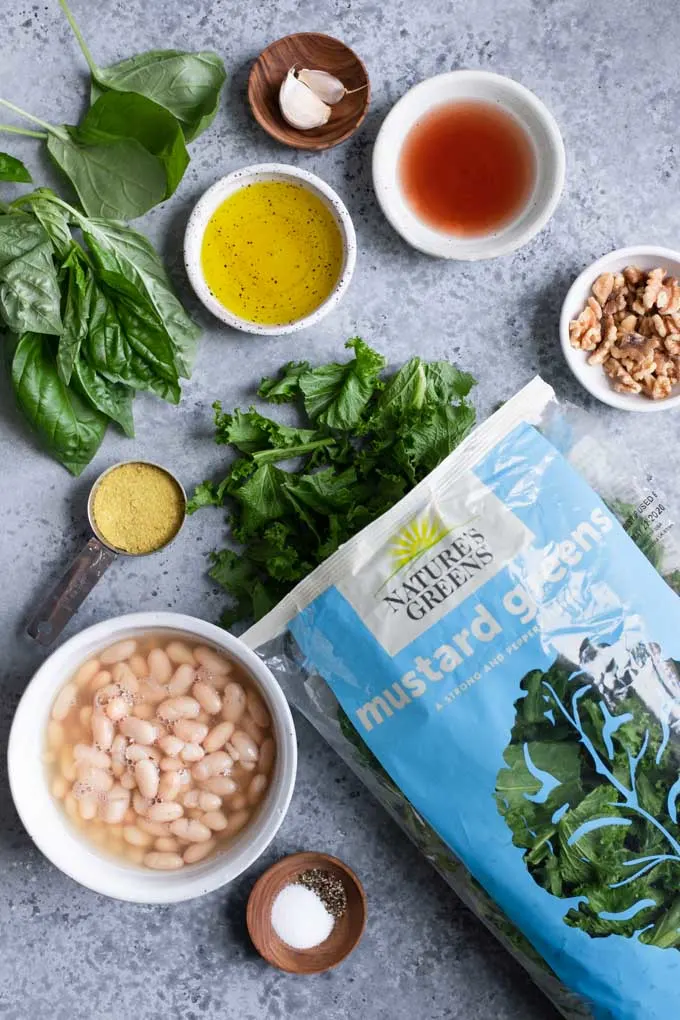 The mustard green pesto:
This recipe isn't that different from your typical pesto, but most of the basil is swapped out for mustard greens. It then gets a creamy kick from blending in white beans.
The base starts with walnuts and garlic. We then load in the greens–both mustard greens and basil. The mustard greens are raw, just like you'd expect with the fresh herby condiment.
A drizzle of extra virgin olive oil is all you need, and a generous glug of red wine vinegar adds the acidity and sweetness which balanced out the flavors. It also helps preserve the brightness of the green color.
For seasoning add in some nutritional yeast (a golden-hued, deactivated yeast that has a nutty almost cheesy flavor and is loaded with vitamins and minerals) or substitute vegan parmesan.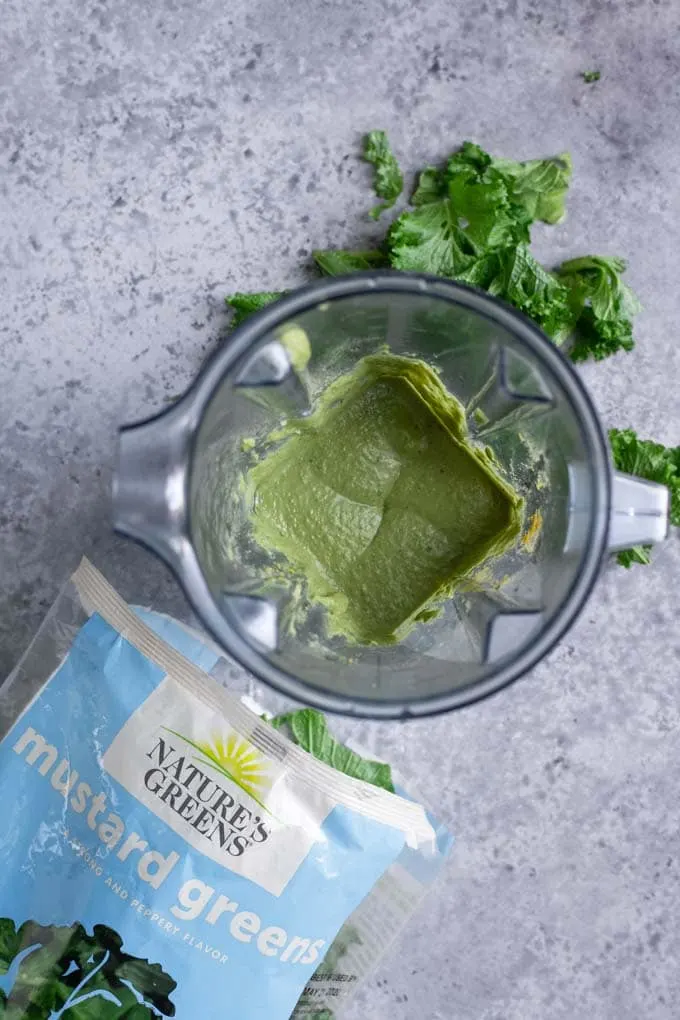 Salt and pepper are a must, of course!
And then we add in the white beans. Any white beans will do, I used cannellini because they are always so perfectly creamy.
Now typically pesto would include a lot more olive oil than mine, but instead of upping the oil I use some of the liquid from the can of beans (called aquafaba) to thin and create a lush texture.
You can always substitute with water, or increase the olive oil if you prefer the richness of the oil.
To actually make the pesto, all you do is stick the nuts and garlic in a blender or food processor. Pulse to finely chop them, then add the rest of the ingredients and blend until creamy smooth.
Can I substitute the walnuts?
Sure! You can use a different nut, like pine nuts or even pecans. Or if working around a nut allergy try using seeds instead. Hulled sunflower seeds or pepitas are great choices.
The flavor will change with different nuts or seeds, but still be delicious!
What kind of potato to use?
My favorite potatoes for potato salad are creamy, buttery potatoes low in starch. This means yellow potatoes like yukon gold, red skinned potatoes, or fingerling/baby potatoes.
Skip the starchy ones like russets or purple potatoes. Though I'll admit the color of purple potatoes alone might sway me to make a potato salad with them!
The potatoes get steamed until they are soft, so we want the kind that turn buttery, not fall apart in a starchy mess.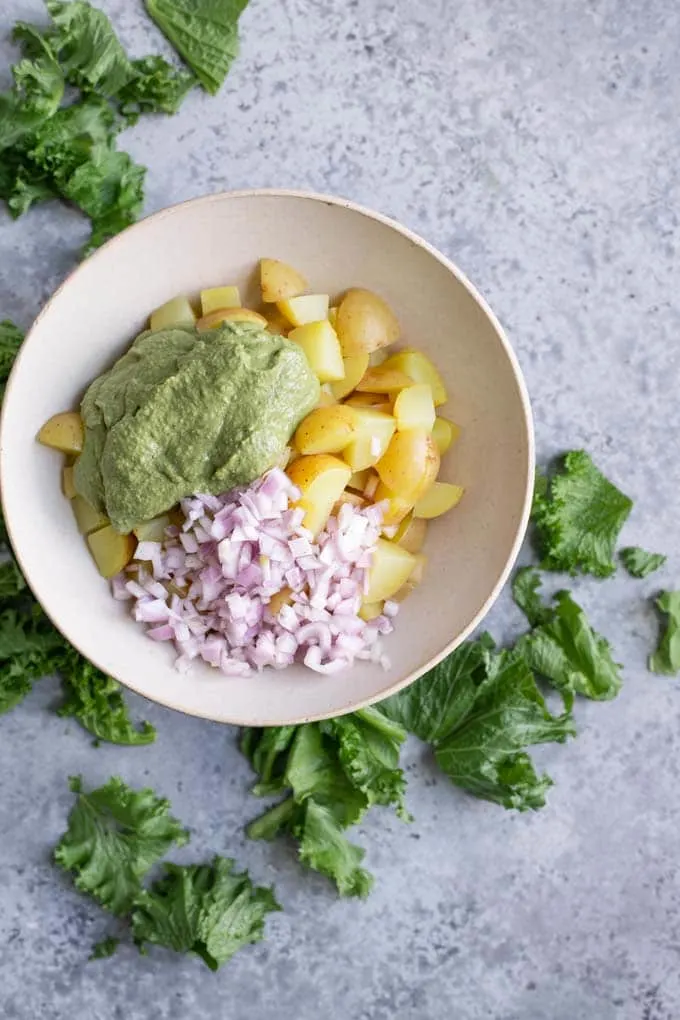 The shallot or sweet onion:
Every potato salad needs a crunch, and my favorite way to do this is to add some finely minced onion to the dish.
Shallots, sweet onions, or even red onions are my onions of choice. They tend to be sweeter, with the sharp bite tempered.
You can further temper the bite of the onions by soaking them in an ice water bath for 10 minutes or so before draining and using in the recipe.
To me, onion is a quintessential flavor and experience in potato salad. I love what it brings to the dish!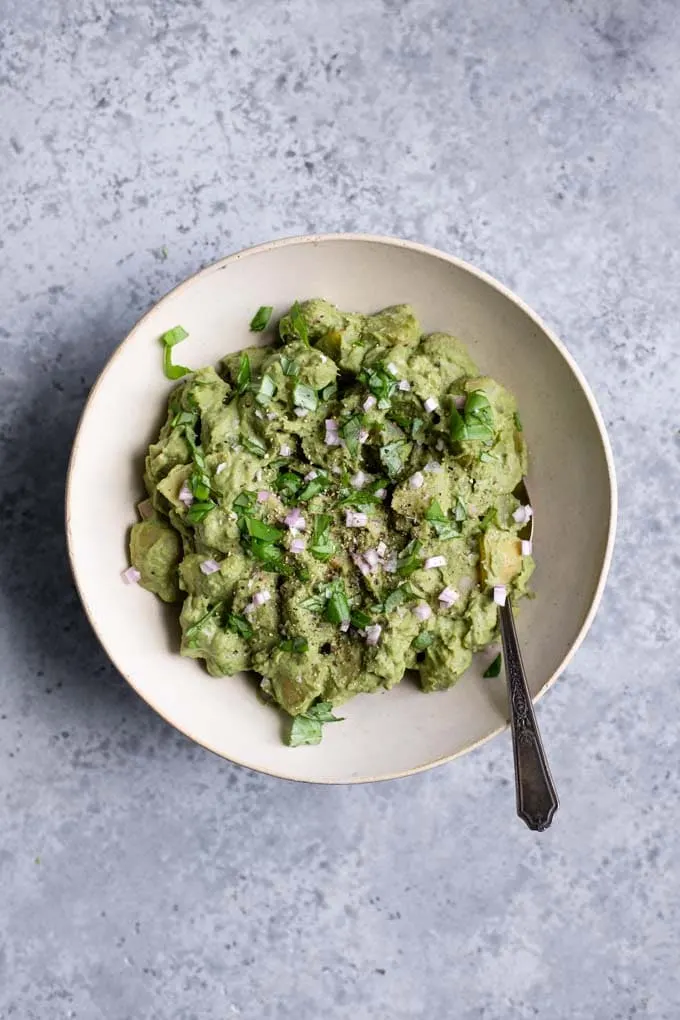 Substitute for onion:
If you don't like raw onion for whatever reason, then I recommend dicing up some celery for that crunch. You could also try cutting up some pickles.
You definitely want some ingredient in there for crunch though! It makes the potato salad that much better.
Storing the potato salad:
As with any potato salad, this stuff is great cold! Room temperature is also fine. And while it benefits from a rest in the fridge for flavors to develop, if you do have to eat it immediately after mixing together (I get it), it's pretty great that way too.
The mustard green pesto potato salad will stay great for about a week in the fridge!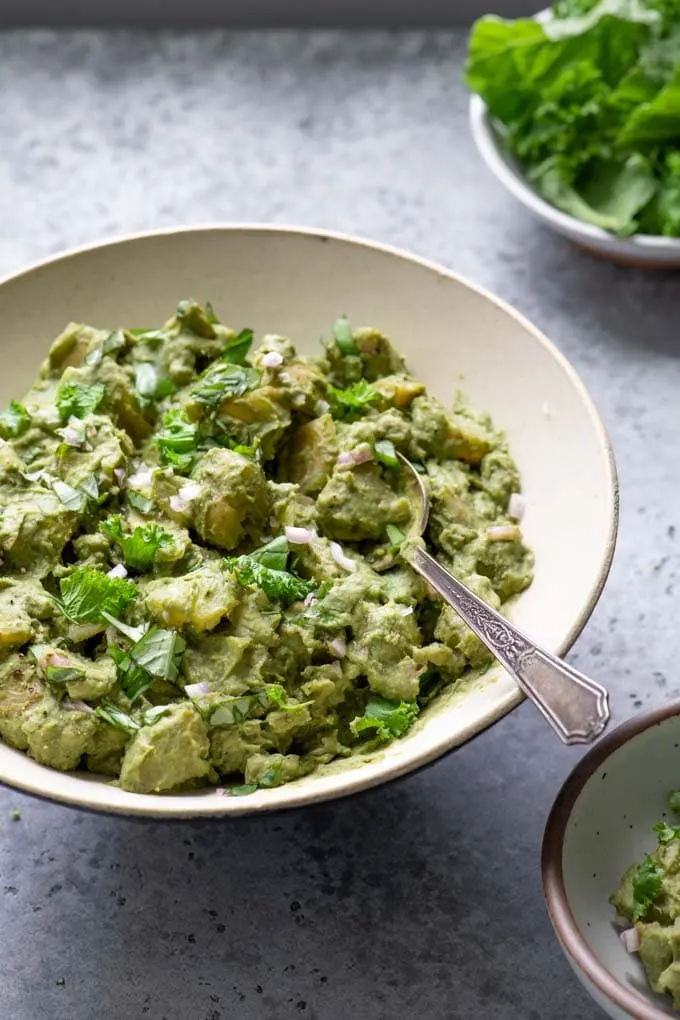 You can also make the mustard green pesto in advance, and keep it in the fridge before mixing into the potatoes or freeze for longer storage.
Honestly you should make this white bean and mustard green pesto whether or not you're in the mood for potato salad. It's great on pasta, smeared on toast or a sandwich, or atop pizzas too!
A special thanks to Nature's Greens for sponsoring this wonderful recipe and growing some great greens!
If you make this mustard green pesto potato salad, leave a comment below and rate the recipe on the recipe card. And please share your photos with me on Instagram, tag @thecuriouschickpea and #thecuriouschickpea. I love seeing your recreations!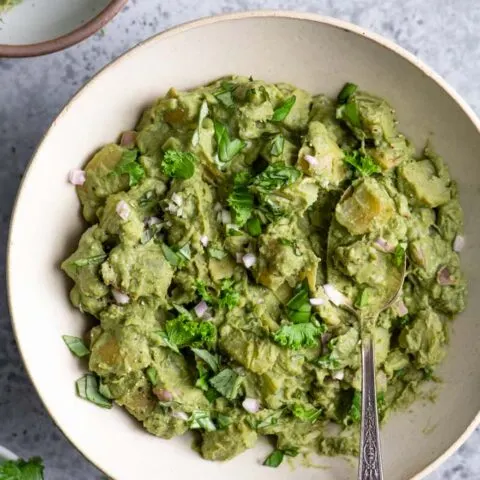 Mustard Green Pesto Potato Salad
Chilling Time:
30 minutes
This creamy potato salad is made with a white bean and mustard green pesto. It's naturally vegan and gluten free, and perfect for your next cookout or potluck!
Ingredients
1 1/2 lbs yellow potatoes, red potatoes, or fingerling potatoes
1/2 cup minced shallot, sweet onion, or red onion
Mustard Green Pesto
1/4 cup walnuts
2 cloves garlic
1/2 cup basil, washed and dried
15oz can white beans (1 1/2 cups cooked), liquid reserved
2 tbsp nutritional yeast, substitute vegan parmesan
2 tbsp extra virgin olive oil
2 tbsp red wine vinegar
1 tsp salt, or to taste
black pepper to taste
1/4-1/2 cup aquafaba (liquid reserved from white beans), substitute water or more olive oil
Instructions
Wash and scrub the potatoes clean, then cut into 1/2 - 3/4 inch cubes (peeling optional). Set up a pot with a steamer insert, fill with a couple inches of water and bring to a boil. Add the potatoes to the steamer basket and steam until tender, about 10-15 minutes. Remove from heat and let cool to room temperature.
Add the walnuts and garlic to a blender or food processor. Pulse to chop up. Add the remaining pesto ingredients with 1/4 cup of the liquid from the beans. Blend or process until smooth. Add more liquid if needed.
Combine the potatoes, mustard green pesto, and shallots in a mixing bowl. Chill until ready to eat, at least 30 minutes.
Notes
Optional: soak onion in ice water for 10 minutes to lessen their bite. You can substitute minced celery or even pickles for the onion.
If using a bunch of mustard greens instead, wash and dry the greens then coarsely chop.
Nutrition Information:
Yield:

12
Serving Size:

1
Amount Per Serving:
Calories:

139
Total Fat:

4g
Saturated Fat:

1g
Unsaturated Fat:

3g
Sodium:

323mg
Carbohydrates:

22g
Fiber:

4g
Sugar:

1g
Protein:

5g
Nutrition is calculated automatically so should be used as an estimate.