This beautiful green kale soda bread is quick and easy to make. It's perfect for St Patrick's Day or year round enjoyment! It makes for a great breakfast bread and is delicious served alongside meals. It can even be made gluten free!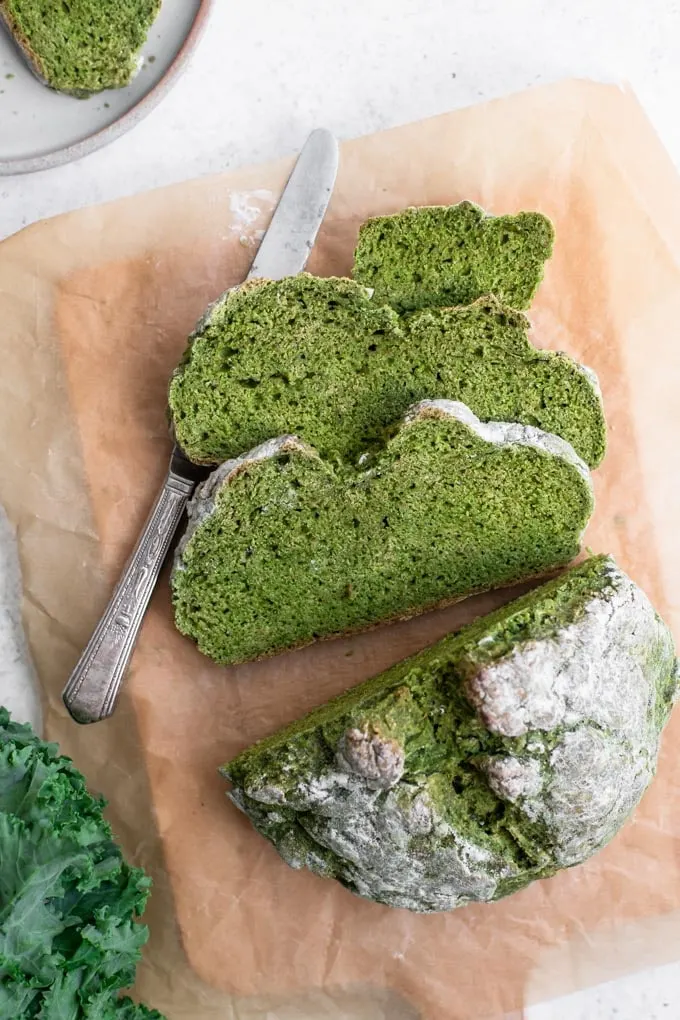 This recipe was sponsored by Nature's Greens.
---
This homemade kale soda bread is soft and tender on the inside with a beautiful green hue that's 100% natural and from the kale!
It's super simple to make, and a great first foray into bread baking as it's really hard to mess up! It's also really quick as far as bread making goes, hence the designation of "quick bread," haha.
And while this savory bread uses enough kale to dye the dough a vibrant green, it doesn't have a strong flavor in the final loaf. The soda bread is buttery and rich tasting, with lemony undertones and just a hint of earthiness.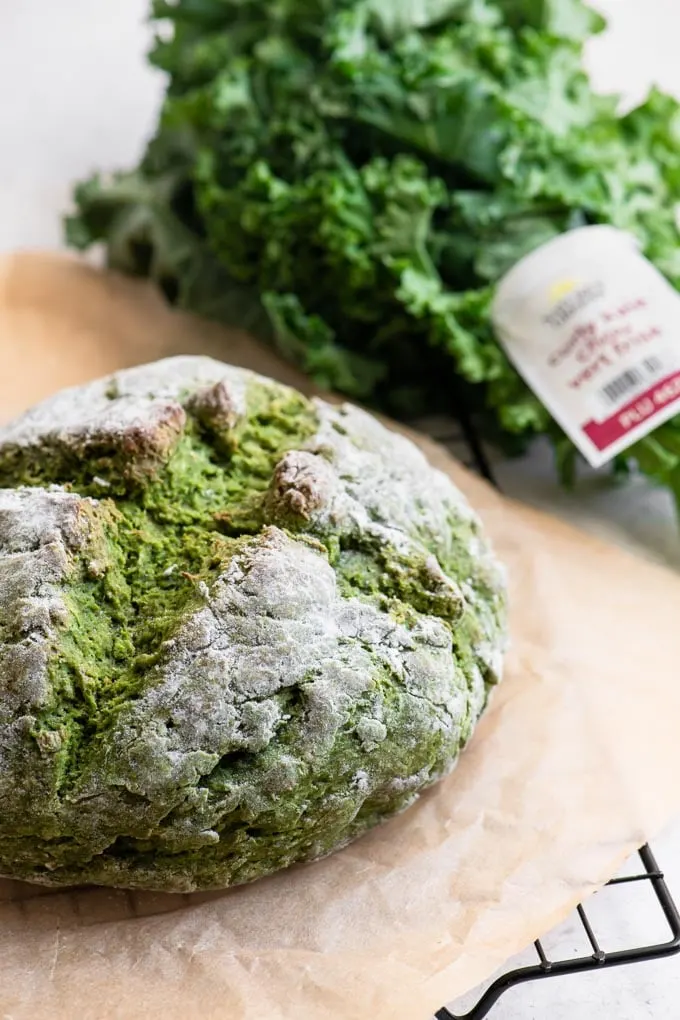 This bread is made with a mixture of whole wheat and white flour, and uses a lot of fresh Nature's Greens kale which adds additional fiber and nutrition to the bread.
It's perfect for celebrating St Patrick's Day thanks to both the verdant color and the history of soda bread. Enjoy it alongside stew, for breakfast with a thick slab of vegan butter or cheese, or for snacking on!
A little history on Irish Soda Bread:
When it comes to the world of non-yeasted breads (known as quick-breads), Irish soda bread is the most well known.
We actually have Native American Indians to thank for the creation of soda bread! Historical records tell us they created leavened breads using potash (aka pearl ash, a natural soda made from the ashes of wood) and taught this method to early European settlers.
Thankfully today all we need for making delicious quick-leavened breads is baking soda!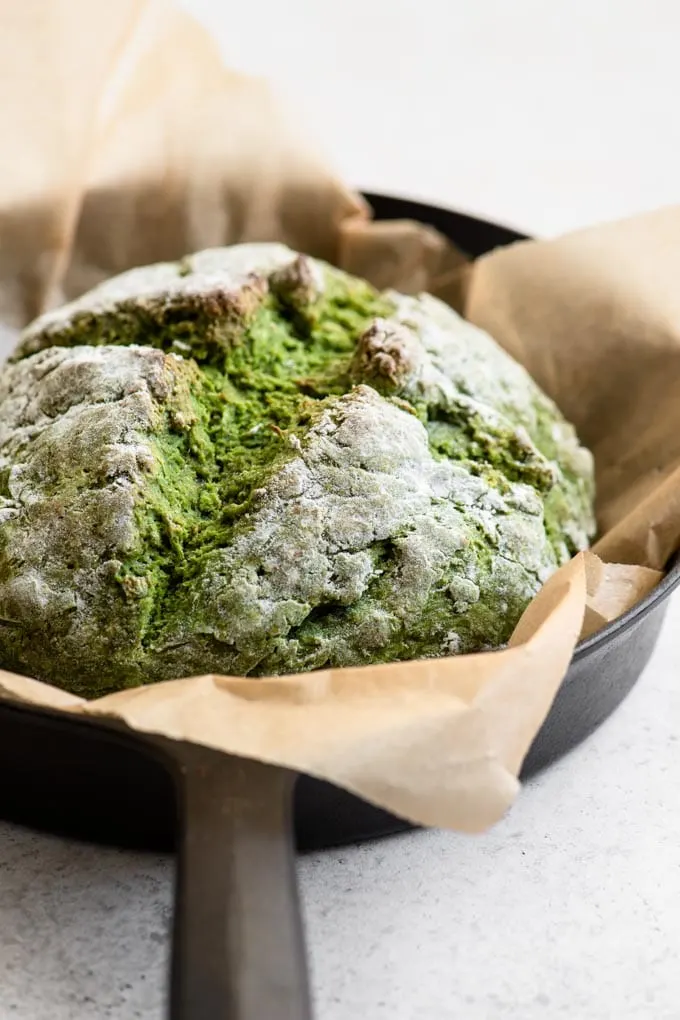 Soda bread became popular in Ireland because of the variety of soft wheat that grows in the harsher climate there is low in gluten and did not lend itself well to the traditional yeasted breads of Europe.
Gluten, the protein in wheat, is responsible for the softness and rise of yeast-leavened bread. These breads get their rise from the capture of gas by the protein network of the dough.
The good news is that soda bread is quite quick and easy to make. It also lends itself well to gluten-free baking or low-gluten baking, unlike yeasted bread.
What do you need to make kale soda bread?
Well, kale of course! I used Nature's Greens kale to make this recipe. Their kale is so tender and sweet tasting, and never too bitter! It makes for delicious bread. You can find their products using their store locator.
You'll want to use kale in a bunch versus the bagged kale in this situation, as we don't want the tough stems in our bread. If you do buy bagged kale, then remove any tough stems before measuring.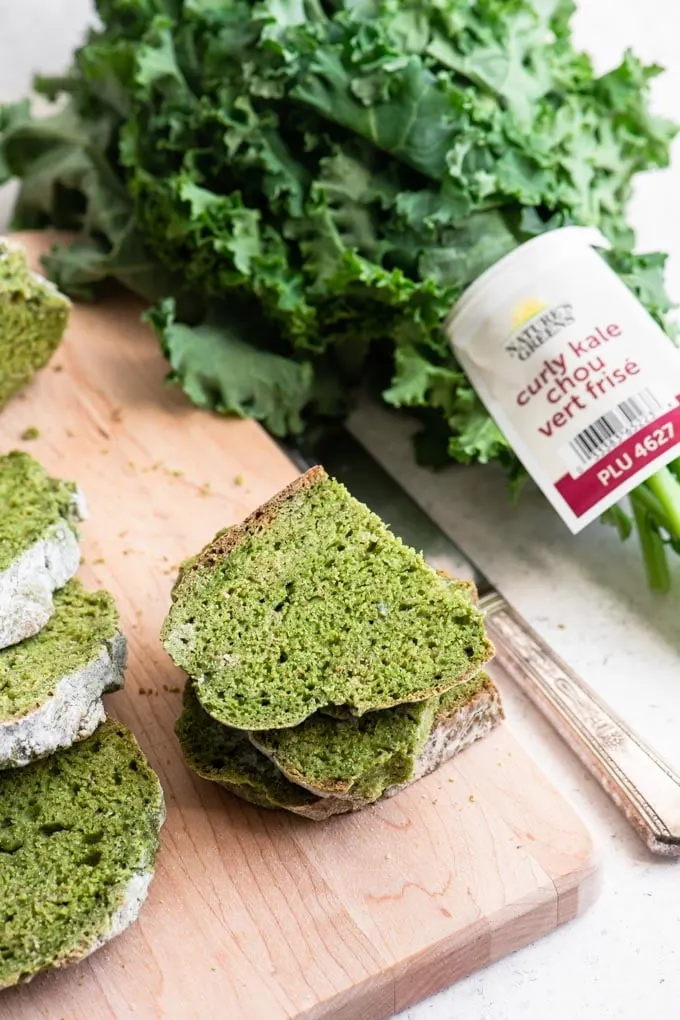 Because soda bread is a more rustic style of bread, I love leaning into this and using a mixture of whole wheat flour and white flour.
Not only does the whole wheat flour add extra fiber, protein, and nutrition to our bread, but I love the nuttiness and sweetness the whole grain brings.
That being said, using all whole wheat flour leads to dense and heavy loaves, so it's best to keep it at around 1/3 to 1/2 whole wheat and use white flour for the rest.
Soda bread is an enriched bread, which means it is made with fat containing ingredients like milk and butter.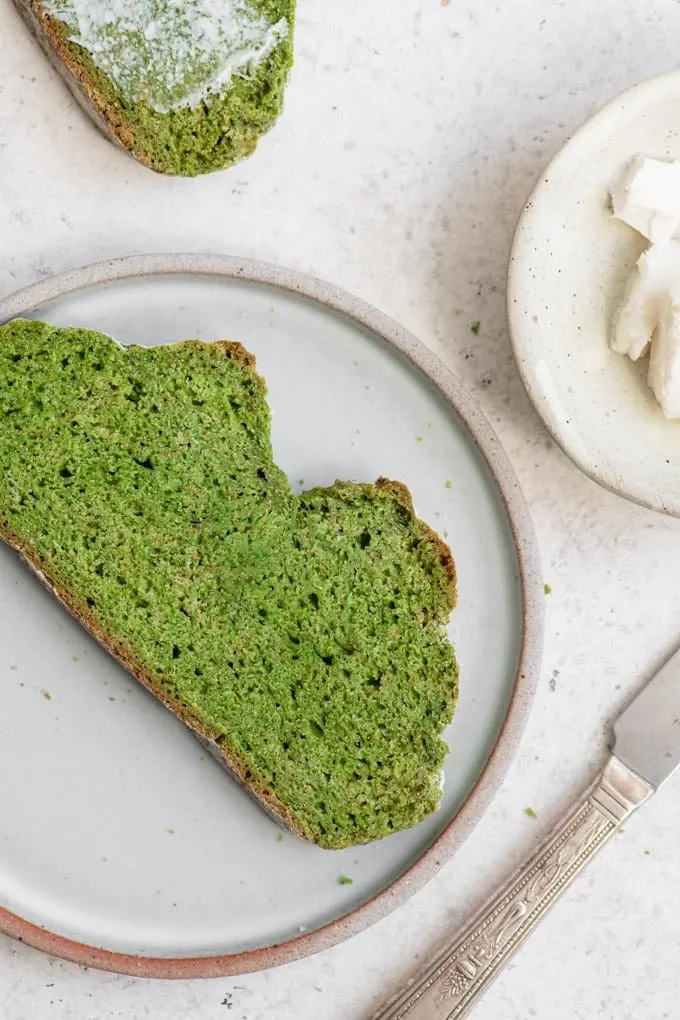 Milk is an essential ingredient in soda bread, specifically buttermilk or soured milk.
Luckily it is really easy to substitute non-dairy milks for the same results! You just add a bit of acid, lemon juice in this case, to make homemade buttermilk.
I like to add a small amount of vegan butter to the dough. It helps the bread stay fresh for longer and shortens the gluten development for a more tender bread.
Lastly we need salt, baking soda, and a bit of sugar. The sugar improves the flavor and the softness and shelf life of the soda bread.
Making our kale soda bread:
First we're going to preheat the oven, and if you want to bake the loaf it in a dutch oven, then stick that in to preheat as well.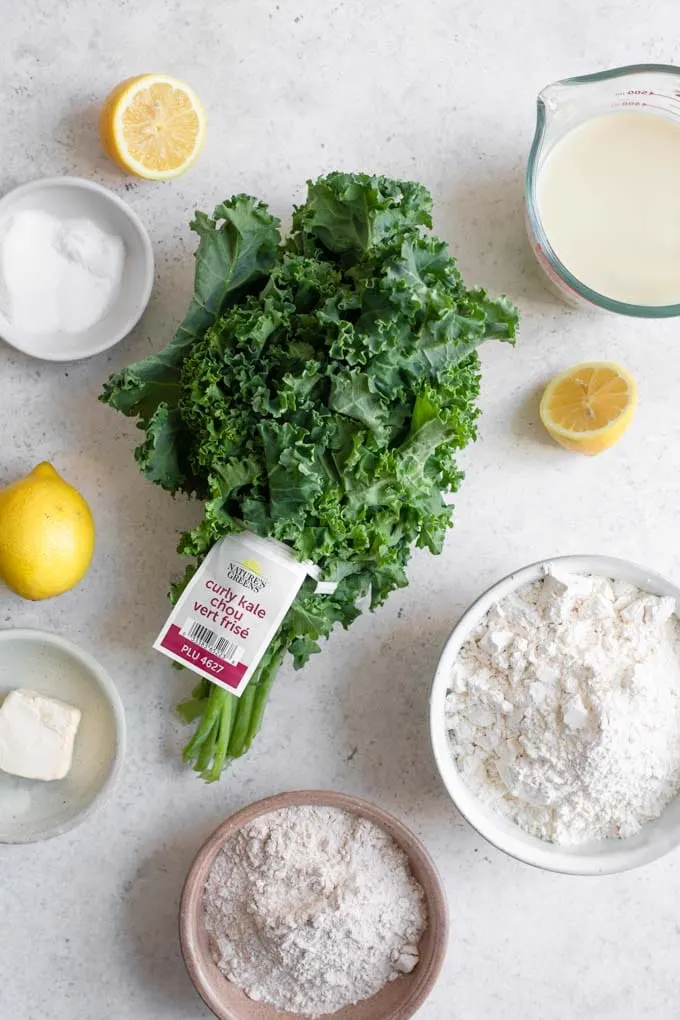 Next, make the buttermilk. The acidity of buttermilk is what reacts with the baking soda in the dough and creates the rise.
To create an at home buttermilk, we add fresh lemon juice to a non dairy milk and let it sit for 5 to 10 minutes to clabber. Use soy milk, oat milk, or almond milk for best results.
While you can use a mild tasting vinegar such as apple cider vinegar, I use lemon juice in this recipe for the fresh citrus flavor it brings. It pairs better with the kale and enhances the flavor of the bread.
As the homemade buttermilk sits, let's cook the kale. The kale gets blanched in salted boiling water for a few minutes to tenderize, then drained and shocked with ice water to quickly cool off.
Then squeeze out all the water and blend it with some or all of the homemade buttermilk until its smooth or just about. Some small pieces of kale are just fine!
Next, mix together the dry ingredients: whole wheat and all purpose flour, salt, baking powder, baking soda, and sugar.
Add the vegan butter, and use your hands to rub it into the dry ingredients. It will make the flour a bit crumbly in texture.
When the oven has preheated, add your kale and buttermilk to the dry ingredients and mix together with a wooden spoon.
Once it comes together, turn out onto a floured counter and knead just enough to bring the dough together. Add flour if necessary so it is not too sticky.
The less you handle and knead the dough, the better the soda bread will come out!
Shape the bread into a round shape (or loaf pan shape if baking in a loaf pan), then slice an X over the top with either a bread lame or a sharp serrated knife. If shaping into a loaf pan, you can skip the scoring or make a single slit down the center.
How to bake the bread:
You can bake the bread straight on a baking stone, on a cookie sheet, in a cast iron skillet, in a loaf pan, in a cake pan (8 or 9″) or in a dutch oven.
Baking the bread in a closed container like a dutch oven can help make a crustier bread. If you're doing this you'll want to preheat the dutch oven for at least 30 minutes while your oven preheats.
When removing it from the oven and placing the soda bread into the baking dish, handle with care and use proper oven mitts for protection!
I tested this recipe in a cast iron skillet, a cast iron 4-quart dutch oven, and in a loaf pan. All produced good bread!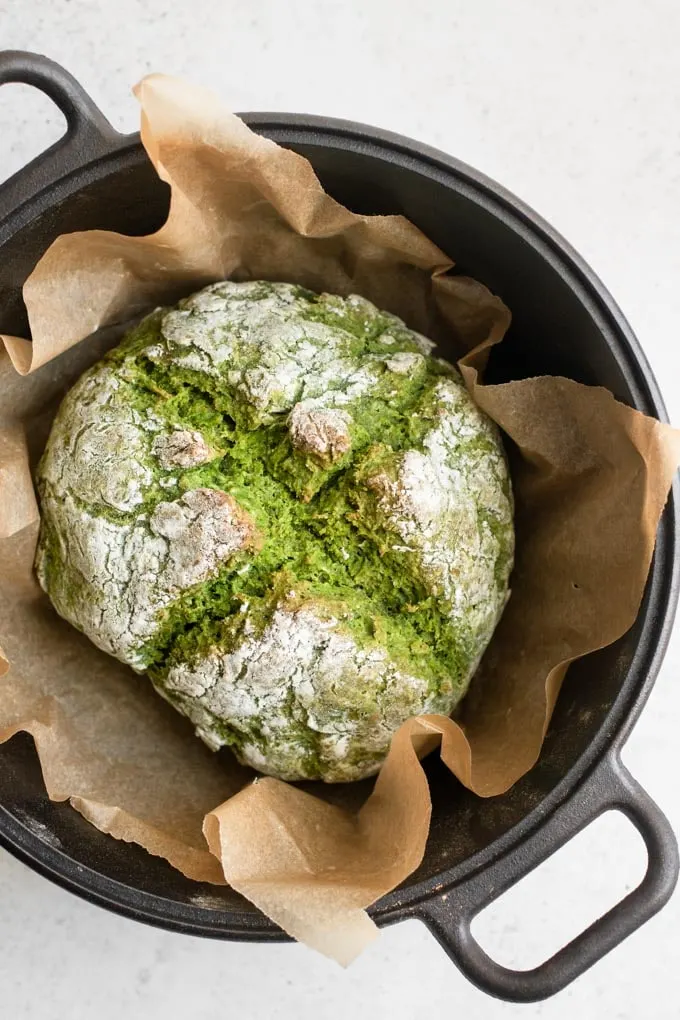 Using a baking dish (such as cast iron skillet, dutch oven, or cake pan) helps guide the shape, but the dough is stiff enough to bake freeform if you prefer.
I hope you enjoy this delicious kale soda bread! Thanks to Nature's Greens for sponsoring this tasty recipe!
If you make this beautiful green homemade kale soda bread, leave a comment below and rate the recipe on the recipe card. And please share your photos with me on Instagram, tag @thecuriouschickpea and #thecuriouschickpea. I love seeing your recreations!
If you love baking bread, check out some of my other bread recipes!
Homemade Kale Soda Bread
This homemade kale soda bread is soft and tender on the inside with a beautiful green hue that's 100% natural and from the kale!
Ingredients
1 1/2 cups (352g) soy milk
1 1/2 tbsp (23g) fresh squeezed lemon juice
2 cups (66g) packed torn kale, tough stems removed (~4-6 stalks)
2 1/2 cups (335g) all purpose flour
1 cup (140g) whole wheat flour
1 tbsp (12g) sugar
1 1/4 tsp (7g) baking soda
1 tsp (6g) salt
2 tbsp (28g) vegan butter
Instructions
Preheat the oven to 375 ºF. If baking in a dutch oven and/or on a baking stone, put that in the oven to preheat.
Measure out the soy milk and pour in the lemon juice. Set aside for 5-10 minutes to clabber and make homemade buttermilk.
Wash your kale thoroughly, then add it to a pot and just barely cover with water. Add 1/2 teaspoon of salt to the water. Bring to a boil and let boil for about 5 minutes, or until the kale is tender. Drain and cover with ice and cold water.
When the kale is cool enough to handle, drain the ice water and squeeze the kale dry. Add to a blender along with about half of the buttermilk and blend until fairly smooth. Some pieces of kale are ok.
In a large mixing bowl combine the all purpose and whole wheat flour, sugar, baking soda, and salt. Add the vegan butter and with your hands rub it into the dry mixture until crumbly.
Add the kale buttermilk mixture and any remaining buttermilk and mix the dough together with a wooden spoon. Once shaggy and combined, turn onto a clean and floured surface and knead a couple of times to bring together. Add more flour if the dough is too sticky. Shape into a round dough ball, about 2" tall.
Place the shaped dough onto a piece of parchment paper for easy transfer (optional), and cut an X into the top of the dough with a serrated knife or bread lame. Then move the dough into the warmed dutch oven, a cast iron skillet, or directly onto a baking stone or baking sheet.
Bake for 35-40 minutes, or until the outside is lightly browned and the internal temperature reaches 190 ºF (test temperature from bottom of loaf). If baking in a preheated dutch oven, cover for the first 25 minutes of baking time, then uncover for the next 10-15 minutes.
Let cool on a cooling rack for at least 20 minutes before slicing into!
Notes
To properly measure your flour by volume: whisk the flour in its container to undo any settling, then scoop and level with the backside of a butter knife.
You can substitute gluten free flour for the wheat flour if you'd like. I tested this recipe with a store bought gluten free all purpose blend containing xanthan gum. Results may vary with differing gluten free blends. Measure by volume or weight for a total of 3 1/2 cups flour (~475g).
Nutrition Information:
Yield:

12
Serving Size:

1
Amount Per Serving:
Calories:

164
Total Fat:

3g
Sodium:

357mg
Carbohydrates:

30g
Fiber:

2g
Sugar:

2g
Protein:

5g
Nutrition is calculated automatically so should be used as an estimate.