These vegan Mexican chocolate brownies are the perfect combination of chewy and fudgy, with a cinnamon and cayenne kick that lingers on the tongue. They are even better than your average brownies, but pair just as well with a big scoop of vanilla ice cream!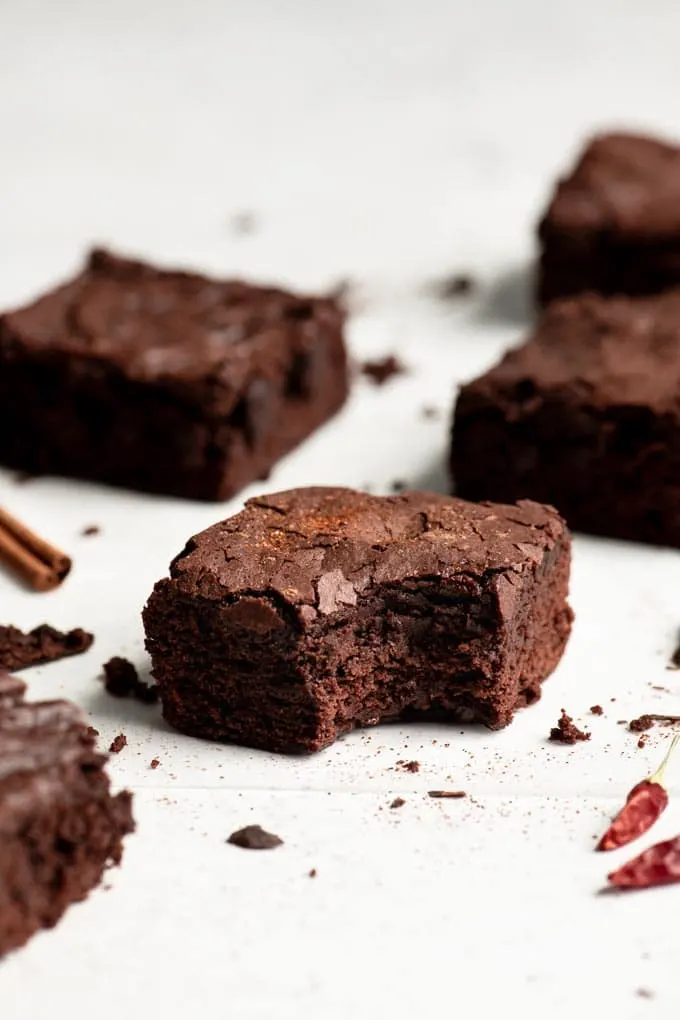 These are my perfect brownies. Crackly topped and richly flavored with a double dose of chocolate, both cocoa powder and dark chocolate. They straddle the line between cakey and fudgy for a deliciously chewy brownie. And finally, they're brownies with a spicy twist!
Cinnamon and cayenne are mixed right into the batter to enhance that chocolatey goodness and leave a lingering tingle on your tongue. It keeps you coming back for bite after bite!
I love them cold when they are just so darn chewy. Room temperature when the cinnamon turns more pronounced. And when warmed, as they turn fudgy and soft and beg for a big old scoop of creamy vanilla ice cream (vegan, of course)!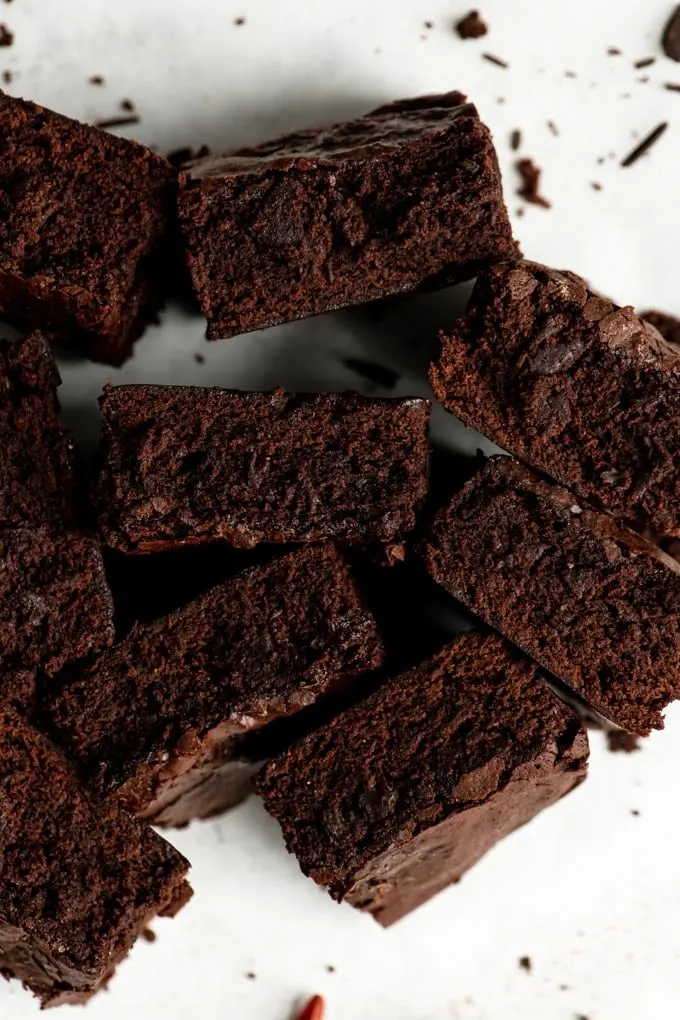 The tl;dr version of this post is: brownies are great, Mexican chocolate brownies are probably even better, go ahead and bake yourself a batch!
I adapted this from my very popular very good vegan rocky road brownies, so I totally get it and support you if you want to have a brownie party and make both recipes.
What is Mexican chocolate?
Cinnamon and cayenne pair with chocolate to create what we often refer to as Mexican chocolate. And that is what I mean when I named these Mexican chocolate brownies.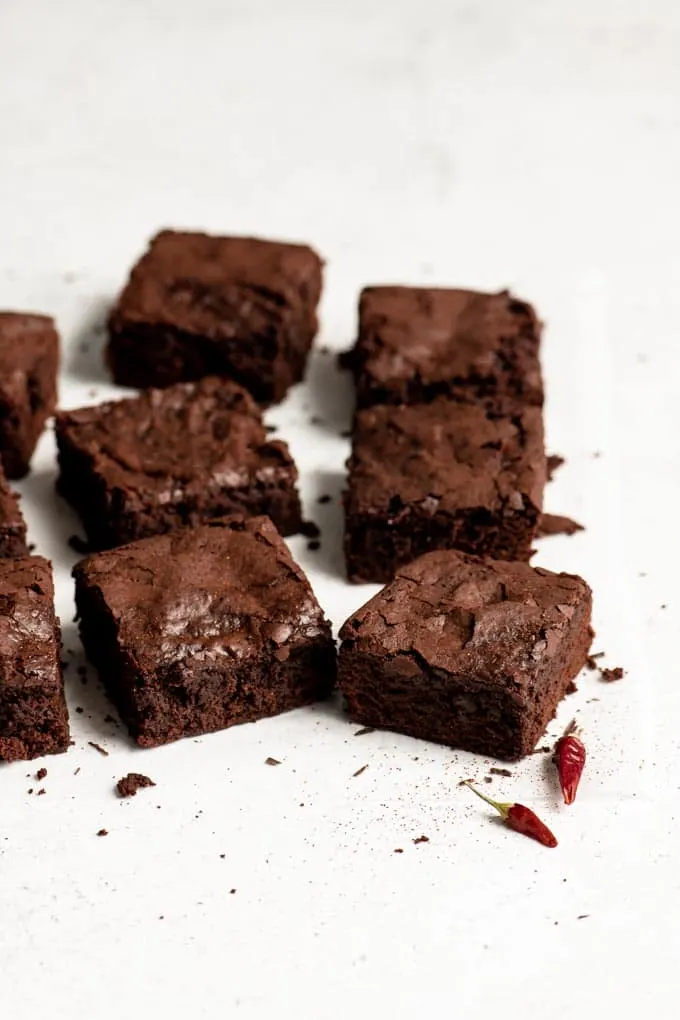 In reality Mexican chocolate refers to a specific method of preparing chocolate wherein the cacao nibs are stone ground with sugar–with or without add ins–to create a rich and slightly gritty in texture chocolate bar.
It's truly a delightful chocolate to eat, often dark and slightly bitter. How bitter depends on how much sugar is added, and that's reflected in the percent chocolate.
For example, a 65% dark chocolate is 65% cacao and 35% sugar, where cacao is a combination of cocoa solids and cocoa butter.
Higher ratios of cocoa butter lead to creamier mouth feel, and higher ratios of cocoa solids (the non-fat portion of the bean) mean richer flavors.
Choosing a dark chocolate for these brownies:
There is no right and wrong when it comes to choosing a dark chocolate, and not everyones taste preferences will be the same.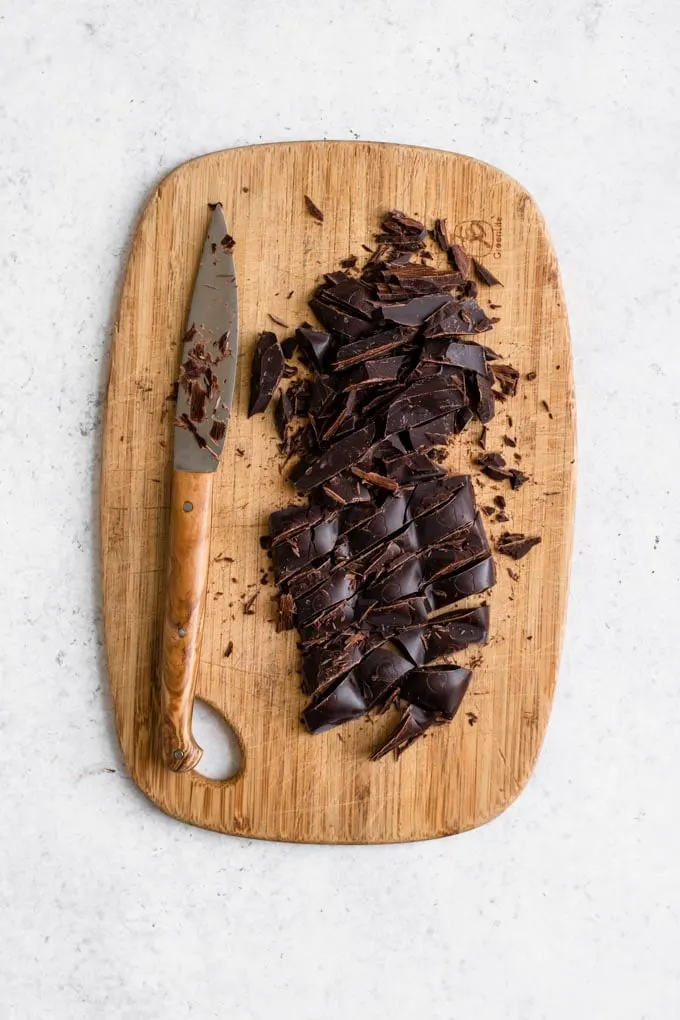 I recommend using a dark chocolate that is between 65-75% chocolate as I find this has a nice balance of sweet and rich without being too bitter.
You can use a Mexican style chocolate if you would like. Taza Chocolate is readily available in the US and a great choice, but unfortunately was out of stock at my local stores when I was shopping for this recipe!
Making vegan brownies:
When I first went vegan many years ago, I thought my days of good brownies were over! I had so. many. mediocre to bad brownies. Luckily for me, and for you, I became a recipe developer and food blogger and made it my job to tackle the recipe.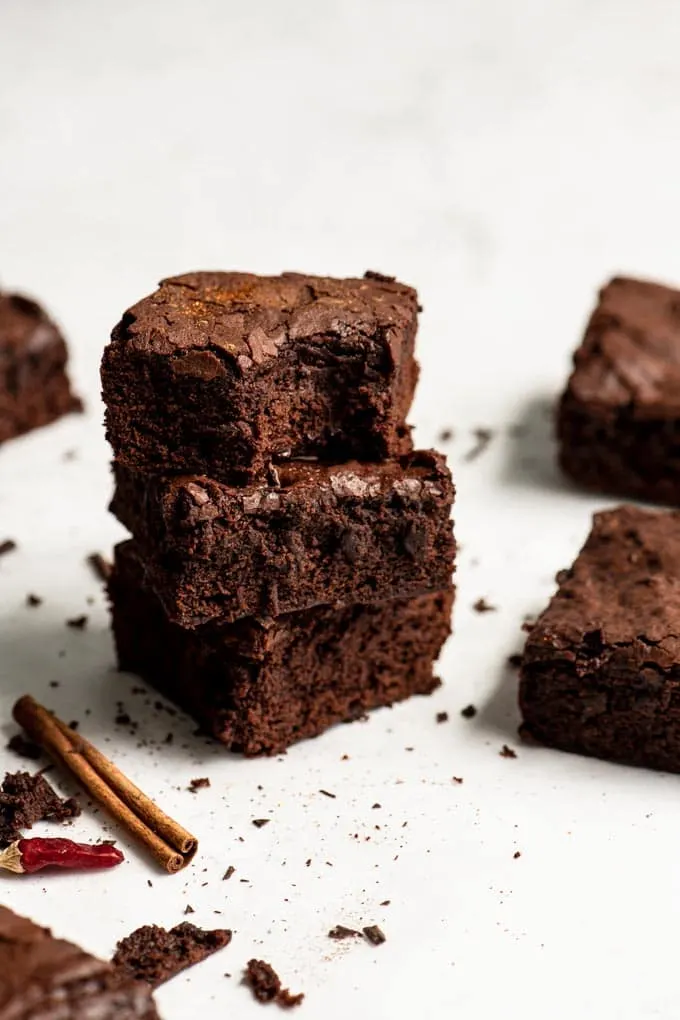 Breaking it down to understand the science of why traditionally egg and dairy laden brownies work helped me replace those ingredients and bake the ideal brownie that just so happens to be vegan!
I know the word ideal when it comes to brownies is a bit controversial as everyone has their own idea of what a brownie should be. But I'd like to think my brownies will be the *it* vegan brownie for most of you out there!
So how does one make the perfect vegan brownie?
Well, you use plenty of sugar, just enough flour, a combination of dark chocolate and dutch-processed cocoa powder, and plant based yogurt as an egg replacer.
Yogurt as an egg replacer, and substitutions:
Yogurt helps you get that texture that's somehow both fudgy and chewy and is one of the secrets of my brownies.
Use a plain or unsweetened plain non-dairy yogurt, though vanilla yogurt can work in a pinch. I've had success with coconut yogurts, almond yogurts, soy yogurts, cashew yogurts–you get the idea!
That being said, sometimes I want to make these brownies and have everything but yogurt at home so I do have some tried and true substitution suggestions!
First up: sour cream. If you have a vegan sour cream in the fridge you can use it to make your brownies. I mainly buy Tofutti brand sour cream and it's not too sour tasting so doesn't change the flavor of the brownies.
Since chocolate is a strong flavor, I'd imagine most store bought vegan sour cream brands would work. If you make a homemade cashew sour cream or something, I'm not positive that give the same results as I haven't tested it.
Second suggestion: blend up silken tofu with some non-dairy milk to get the consistency of a thick yogurt and use that.
The secret to a crackly topped brownie:
So, this is as important as finding the best egg replacer! You must dissolve your sugar before baking to get the crackly top!
You can do this stove top or in the microwave in 30 second increments. Combine the milk (soy, almond, cashew, oat, etc.), yogurt, sugar, and oil (or vegan butter), and warm it until the sugar is completely dissolved.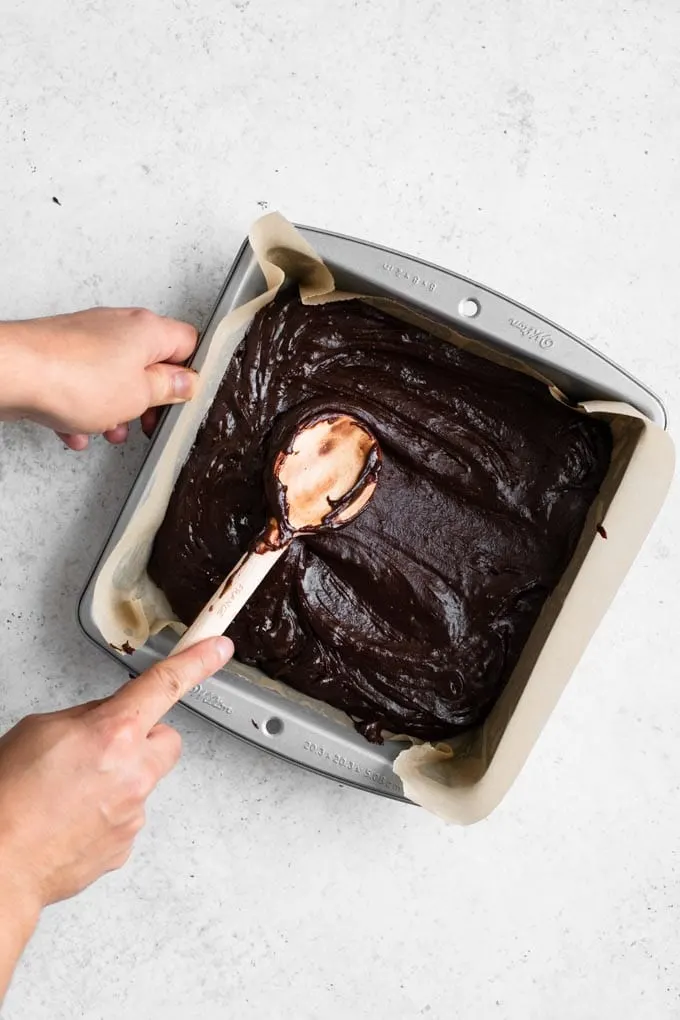 If you have a cooking thermometer you can check that it reaches about 120-130 ºF. But if your sugar has melted then the liquid should be at least that warm!
You then add the chopped chocolate and vanilla extract and stir them in until the chocolate has melted.
Vegan butter or oil?
You can use either in this recipe. I often use oil because its cheap and easy and makes good brownies. Oil also produces a shinier top in my experience.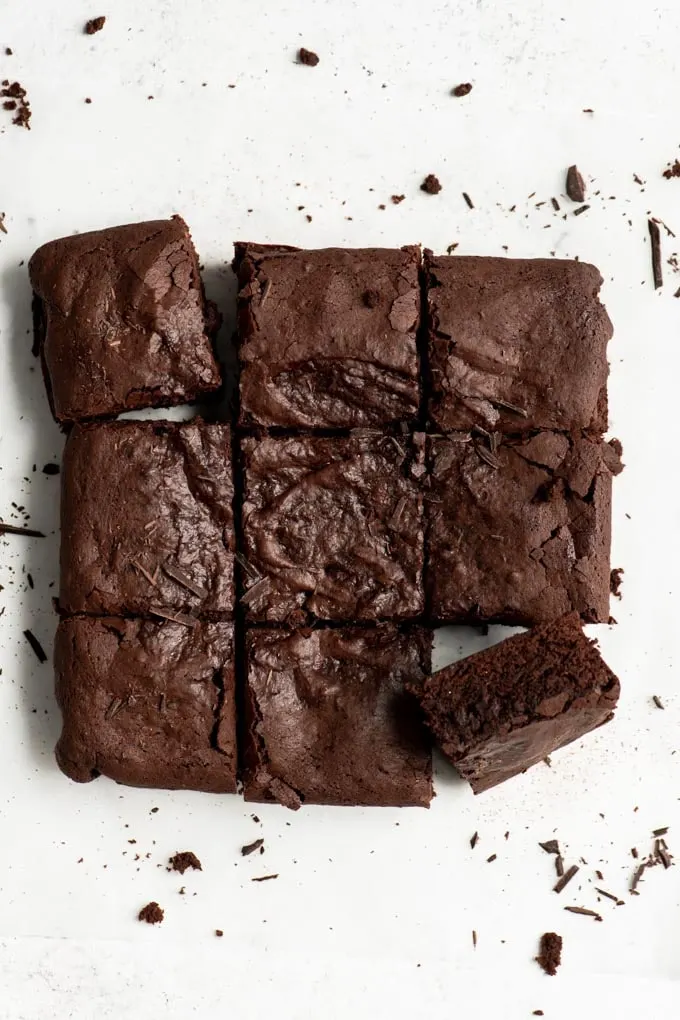 Vegan butter adds a buttery flavor and does up the chewy factor a smidge. Especially tasty if you use one of the fancier, better tasting vegan butters out there.
Bottom line, it's up to you! From the photos you can tell that I used vegan butter this time, but I'll use either!
Tips for baking your Mexican chocolate brownies:
This is true of all my baking recipes, but I recommend using a kitchen scale instead of measuring cups! Measuring by weight is much more accurate than measuring by volume.
If you do not use a kitchen scale then whisk your flour to undo any settling before scooping with your measuring cup and leveling with the backside of a butterknife. This is how I measure by volume and if you do it differently you may not get the desired results.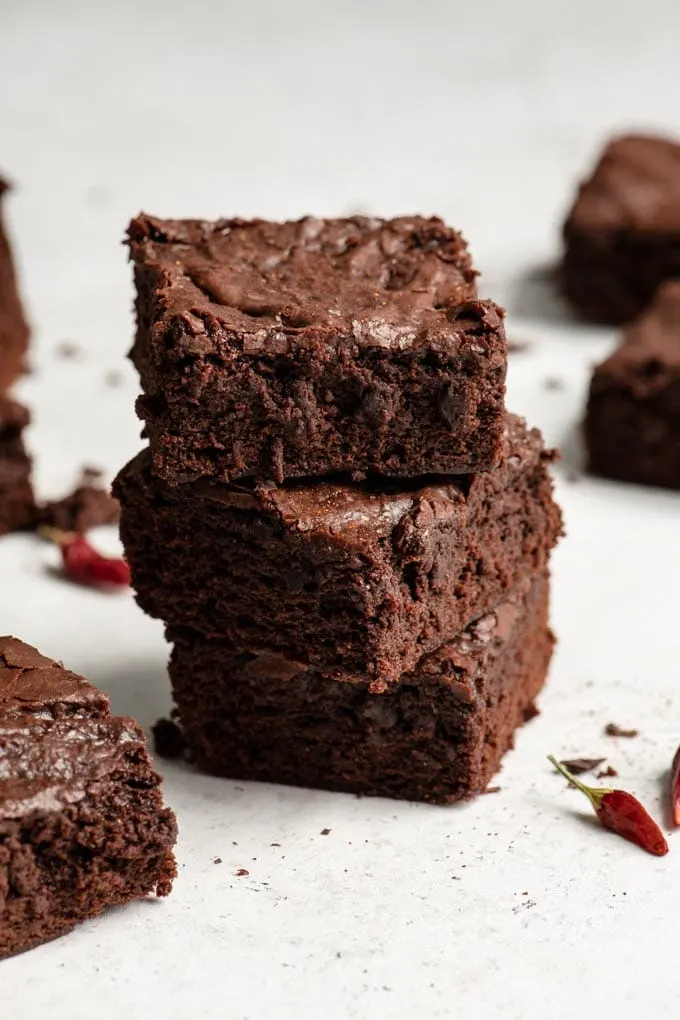 But just get a kitchen scale! They are inexpensive and small (easy to store!) and mean you will do a lot less dishes. And then you can tackle all my baking recipes confidently!
You can bake this recipe in an 8-inch or 9-inch square pan depending on how thick you want your brownies. I used an 8-inch pan in these photos so the brownies are extra tall. Other times I want a skinnier brownie and will use my 9-inch pan. The brownies will take about 5 minutes longer less time to bake in the 9-inch pan.
If you want to remove your brownies from the pan after baking, then use parchment paper! Spray a bit of oil on the pan so the parchment sticks to it and any brownie that rises above the parchment doesn't stick to the pan. Then fit in a piece of parchment paper so that the ends rise above the height of the pan. You'll use this overhang as leverage to get those brownies out.
To keep my brownies from being too fudgy, I bake until a tester comes out without any batter. Some crumbs are well and good, but I let the brownie cook through and then cool fully in the pan. Some people like a slightly undercooked brownie, and I'm guessing you already know who you are!
I hope you become as obsessed with these brownies as we are!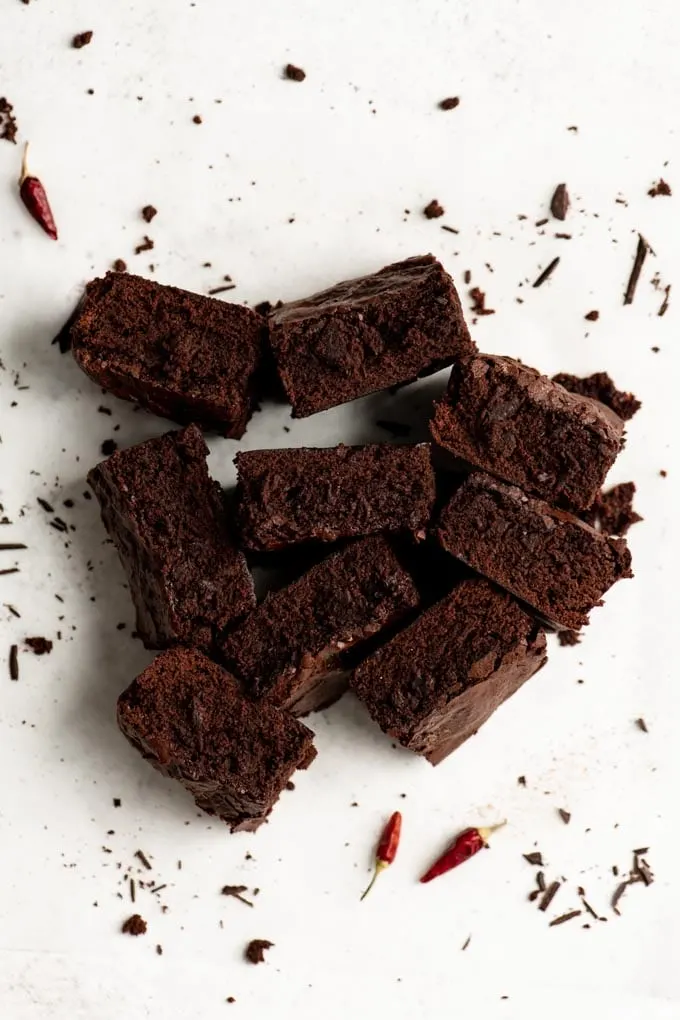 If you make these vegan Mexican chocolate brownies, leave a comment below and rate the recipe on the recipe card. And please share your photos with me on Instagram, tag @thecuriouschickpea and #thecuriouschickpea. I love seeing your recreations!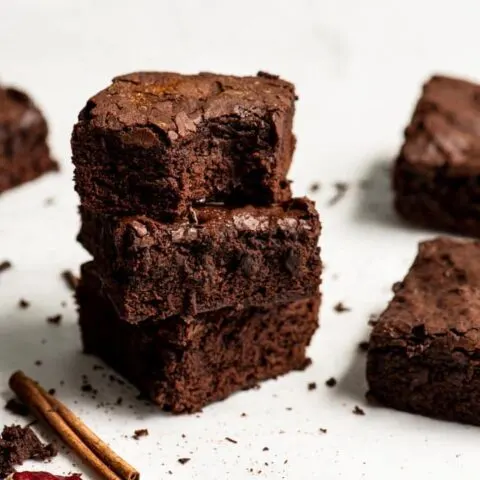 Vegan Mexican Chocolate Brownies
These vegan Mexican chocolate brownies so perfectly chewy and fudgy with a crackly top and infused with cinnamon and cayenne for a mild kick.
Ingredients
1 1/2 cups (200g) all purpose flour
1/2 cup (42g) dutch-processed cocoa powder
3/4 tsp baking powder
3/4 tsp salt
1 tsp cinnamon
1/4 tsp cayenne
1/2 cup (118mL) non-dairy milk
1/3 cup (80g) plain unsweetened non-dairy yogurt
1 1/2 cups (300g) sugar
1/4 cup (52g) oil or vegan butter
3oz (87g) 65-75% dark chocolate
2 tsp vanilla extract
Instructions
Preheat the oven to 350 ºF with a rack placed in the center. Spray an 8 or 9-inch square baking dish with oil and line with parchment paper, leaving two sides with overhang.
In a large mixing bowl sift together the flour, dutch-processed cocoa powder, baking powder, salt, cinnamon, and cayenne. Set aside.
In a small pot combine the milk, yogurt, oil or vegan butter, and sugar. Heat over low heat, stirring regularly, until the sugar has dissolved (mixture will reach ~120 ºF). Turn off the heat and add the chopped chocolate and vanilla extract. Stir until the chocolate has melted and the mixture is smooth.
Pour the wet ingredients into the dry and mix with a wooden spoon until just combined and no dry spots are left.
Spread the batter into the prepared baking dish and smooth the top with the back of the spoon.
Bake the brownies for 28-32 minutes in an 8-inch pan, or until a tester comes out with some moist crumbs but no wet batter. If using a 9-inch pan brownies will bake in 25-30 minutes
Let the brownies cool completely on a wire rack before removing from pan. They are delicious warm, but will be easier to cut if you allow them to cool fully and refrigerate for a few hours. Brownies can be warmed in the microwave in about 15-30 seconds.
Notes
To measure your flour by volume: whisk the flour to undo any settling, then scoop with the measuring cup and level.
Adapted from Vegan Rocky Road Brownies.
Nutrition Information:
Yield:

9
Serving Size:

1
Amount Per Serving:
Calories:

347
Total Fat:

10g
Sodium:

245mg
Carbohydrates:

60g
Fiber:

2g
Sugar:

39g
Protein:

4g
Nutrition is calculated automatically so should be used as an estimate.