Homemade vegan baked potato skins are the perfect easy appetizer that are also gluten free! A salty and addictively crispy potatoey base piled with vegan cheddar, creamy mashed potatoes, green onions and sour cream.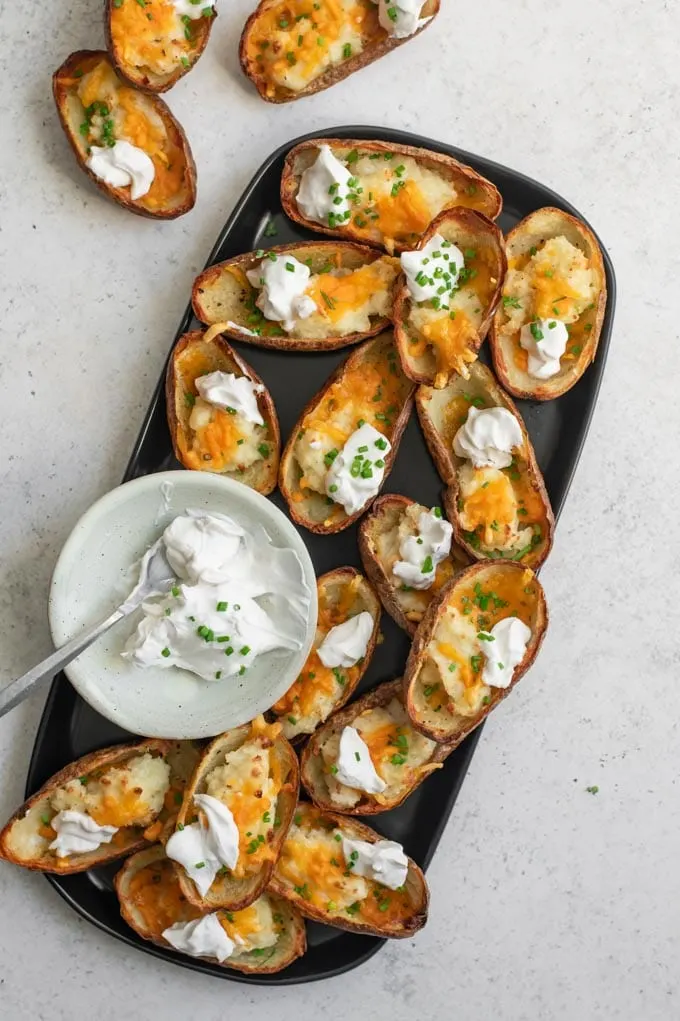 These vegan baked potato skins are the 100% indulgent tasting but also 100% better for you version of their classic counterpart. With crispy, buttery tasting skins. Loaded up with melty vegan cheese. Piled high with fluffy creamy potato mash. And topped with chives and [vegan] sour cream.
All the delicious flavor, but baked, and of course cruelty and cholesterol free! Well the only cruelty here would be to not make this and share it with everyone you know immediately.
Potato skins are such a silly sounding food, but man are they good! They make for perfect appetizers, game day food, snacks for friends or kids. They even make an acceptable dinner for two, if you're feeling a bit potatoey. Just maybe don't call home and tell your mom about it (or add some black beans and veggies before calling at least)!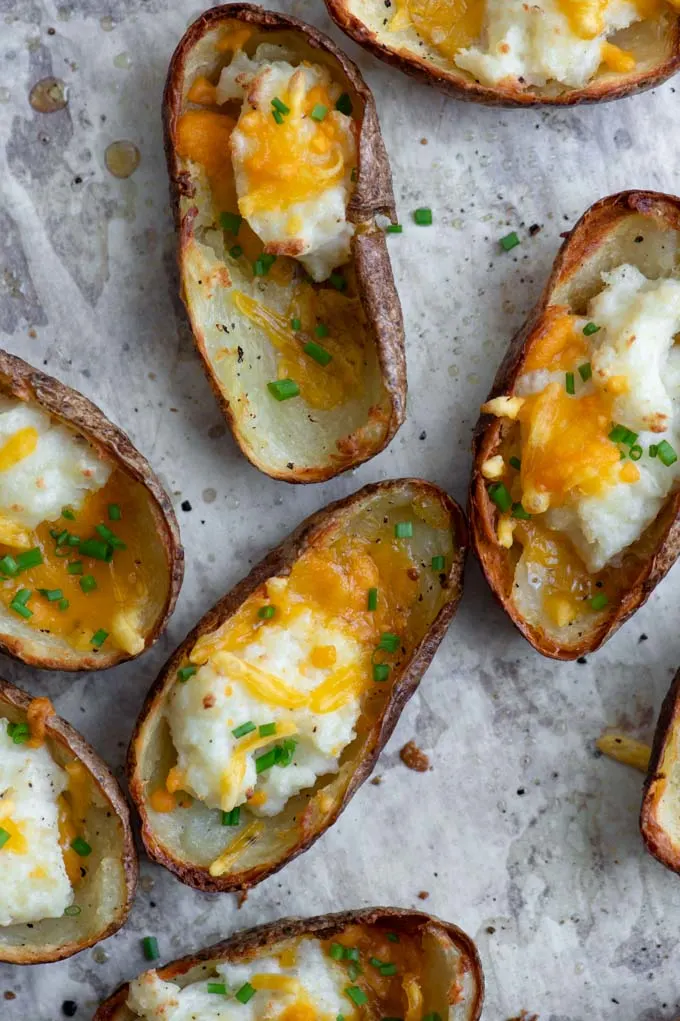 The first time I had heard of potato skins was at a diner in my small town, the kind with hand dipped milkshakes and a salad bar you paid for by weight. I was out to dinner with my high school boyfriend and wanted to branch out from my typical salad, fries, and a milkshake meal there (lol that sounds so much more ridiculous when typed out).
I spied the potato skins on the menu and immediately knew they'd be the type of thing I'd love to eat, and was quite put out when my boyfriend informed me they'd likely not be vegetarian (who would dare add meat to perfectly good cheesy potatoes!).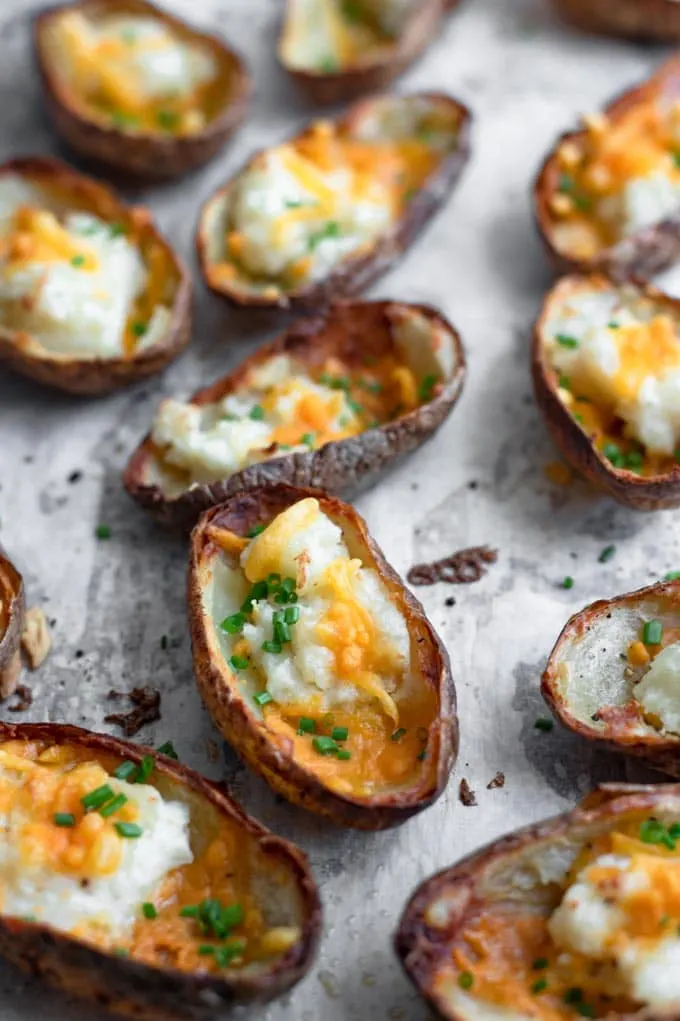 Alas, there would be no potato skins for me, not then and not for years after. When they did eventually creep into my life a decade or so later, I had gone from vegetarian to vegan and made them in my own kitchen. It was love at first bite!
Then a couple of months ago on a family trip to Ireland, we enjoyed some vegan potato skins at this pub in a small village. [Which, as an aside, had a vegan owner and a very vegan friendly menu.]
They were so cozy and delicious on a drizzly and dreary day, it had my family battling over who got to eat how much (my dad won, and then we ordered a second round ?). I knew I needed to recreate the recipe for you to enjoy as well!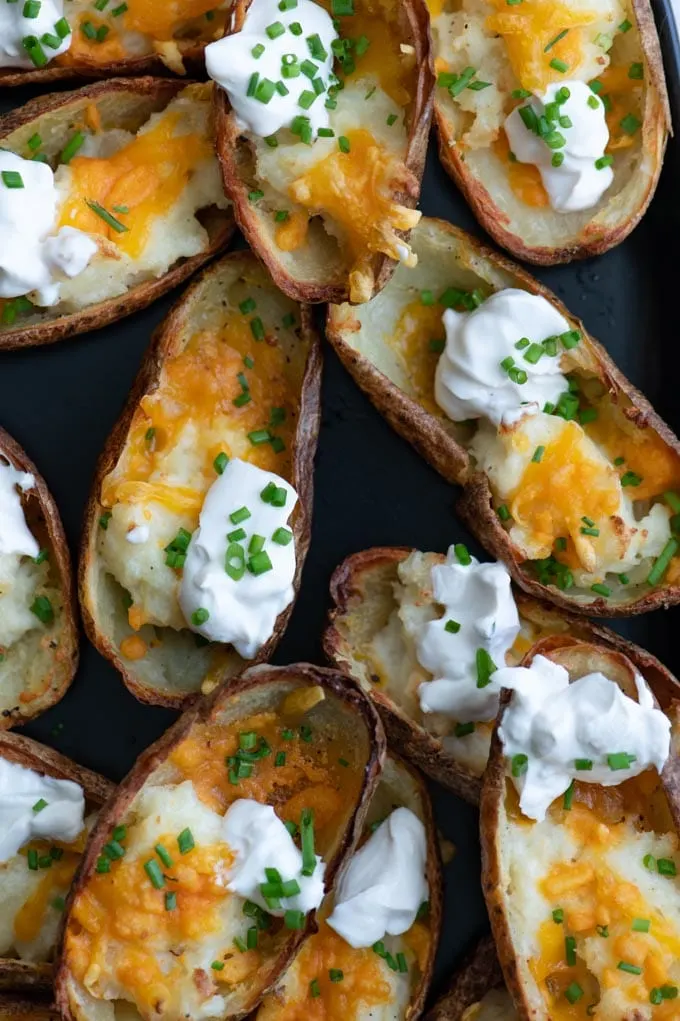 The first step to making potato skins, is to choose your potatoes.
You want starchy potatoes like russets. Baking potatoes have thicker skins and keep their shape, making them perfect for potato skins!
When choosing them out at the store, make an attempt to buy petite ones, the smaller the better for potato skins! I have better luck finding small ones in those prepackaged 5-pound bags. You'll also ideally buy organic because ya know, potatoes grow in the dirt and we are eating the skins!
Then wash those potatoes really well! I let mine soak in water for a few minutes to loosen the dirt before rinsing and scrubbing the rest off. Finally pat dry.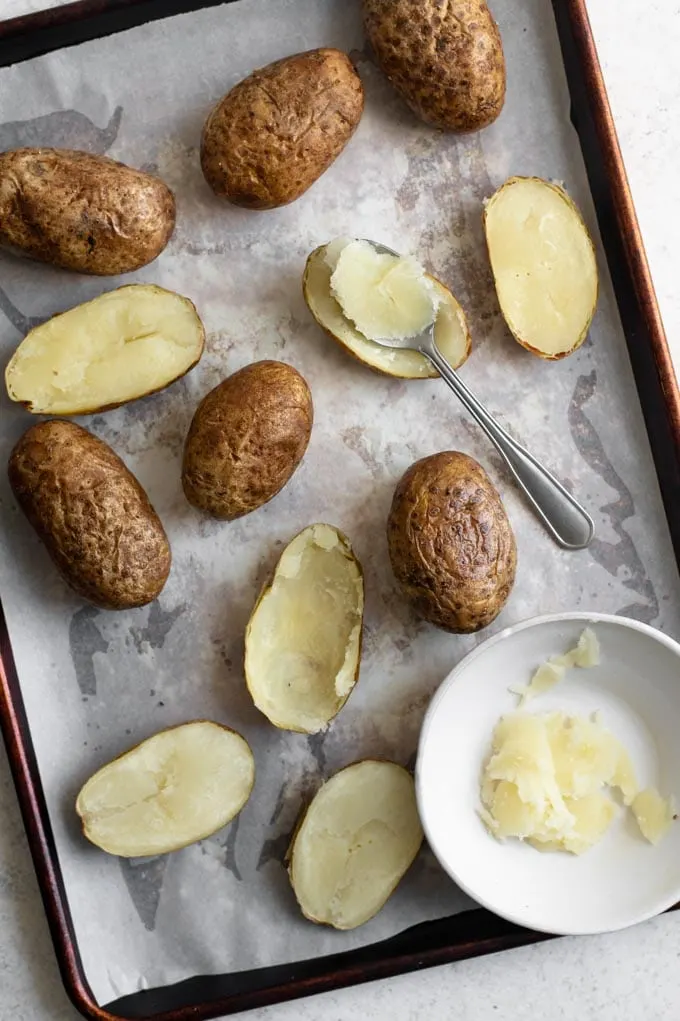 Next, bake the potatoes.
Pierce the potatoes a couple of times with a fork or small knife, and then rub them with some olive oil, salt, and pepper.
Stick them on a baking tray so that they don't slide all over in the oven and bake them until they're really tender when pierced with a fork.
Let them cool down for about 15 minutes, or until they're cool enough to handle, and then cut them in half and scoop out the insides with a spoon, leaving a thin layer of potato behind with the skins.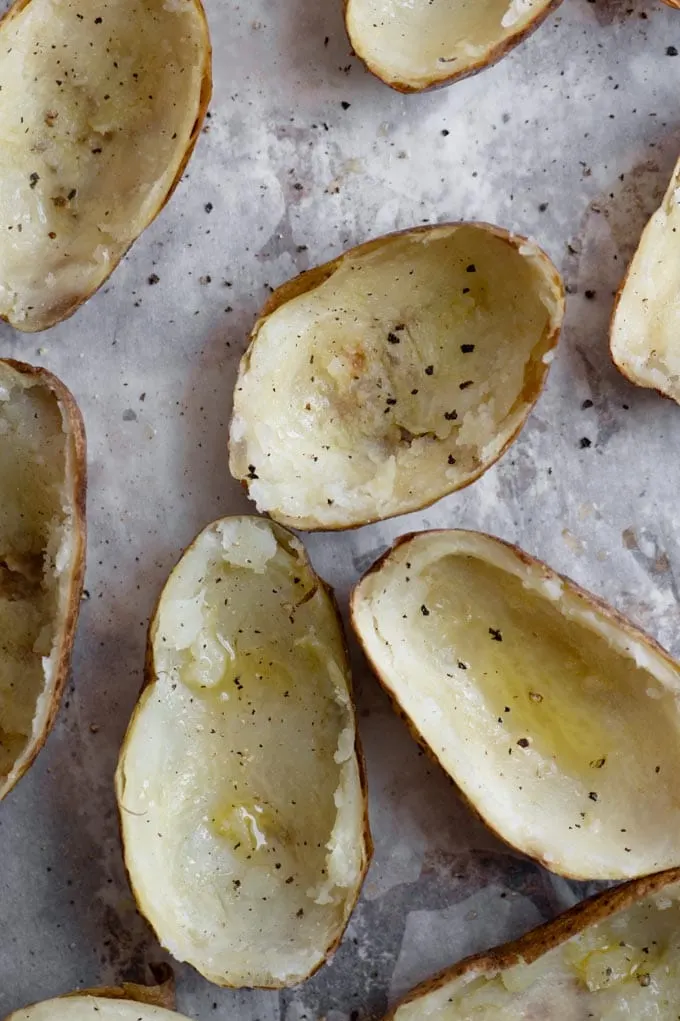 Now, bake them a second time!
Oil the skins again, particularly brushing some olive oil on the insides, but if you want to hit the outer skins a second time I won't stop you! Then sprinkle some salt and pepper on the inside.
We bake them at a higher temperature this time so that the skins get crispier faster than they dry out, and once they've gotten golden in spots (not too crisp because we're not done baking) take them out of the oven again to fill them up.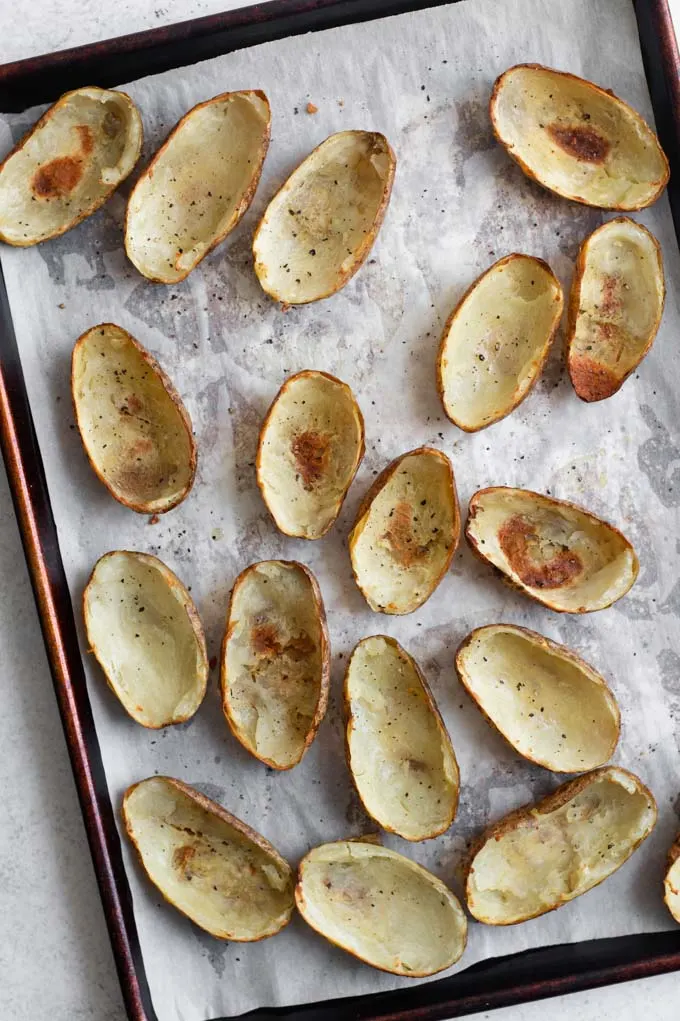 While the potato skins are baking that second time, go ahead and make up the mashed potato filling. We want a rich potato filling this time so mix a cup of the potato flesh we've scooped out with vegan sour cream, a splash of plant milk, and salt and pepper.
I like to put a little scoop of mashed potato filling in my potato skin boats, but if you want to fill them then go ahead and mash up all the potatoes (increasing the sour cream and plant milk as necessary to make for creamy taters).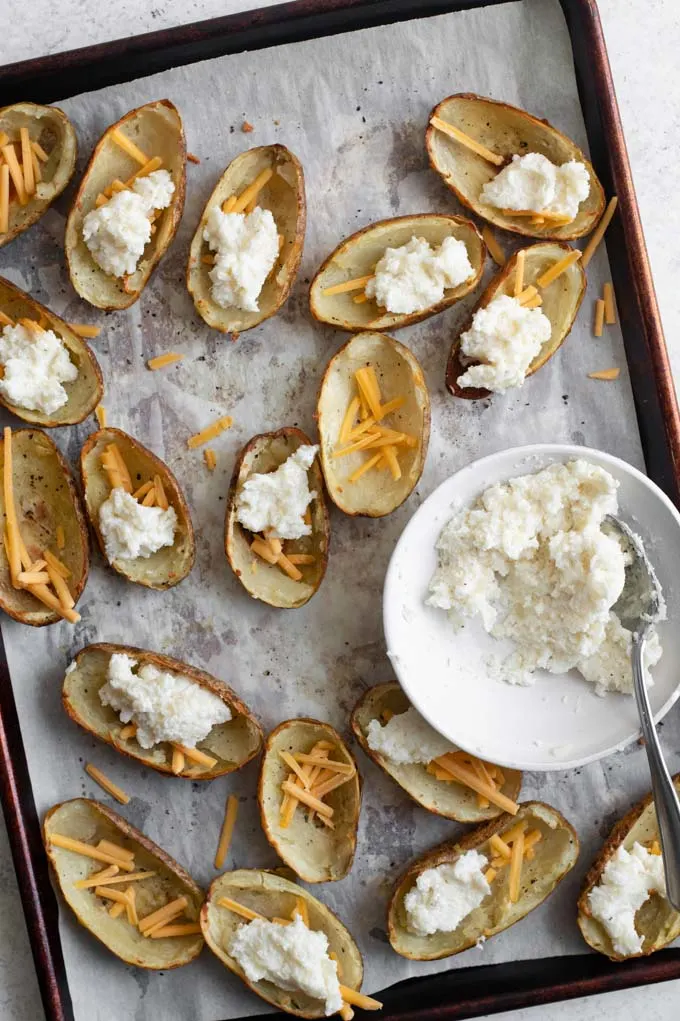 Bake the potato skins for a third and final time.
I know, it's a lot of in and out of the oven, but you know what they say–the third time's the charm!
Sprinkle some vegan cheddar in the potato skins, then top with a spoonful or more of the creamy mashed potatoes, and finish with another sprinkling of vegan cheddar shreds.
If you want it cheesier add more shreds, or if you like just a hint of cheese go lighter. Just keep in mind potato skins are typically drowning in the cheese!
Now bake them one last time until the cheese has melted.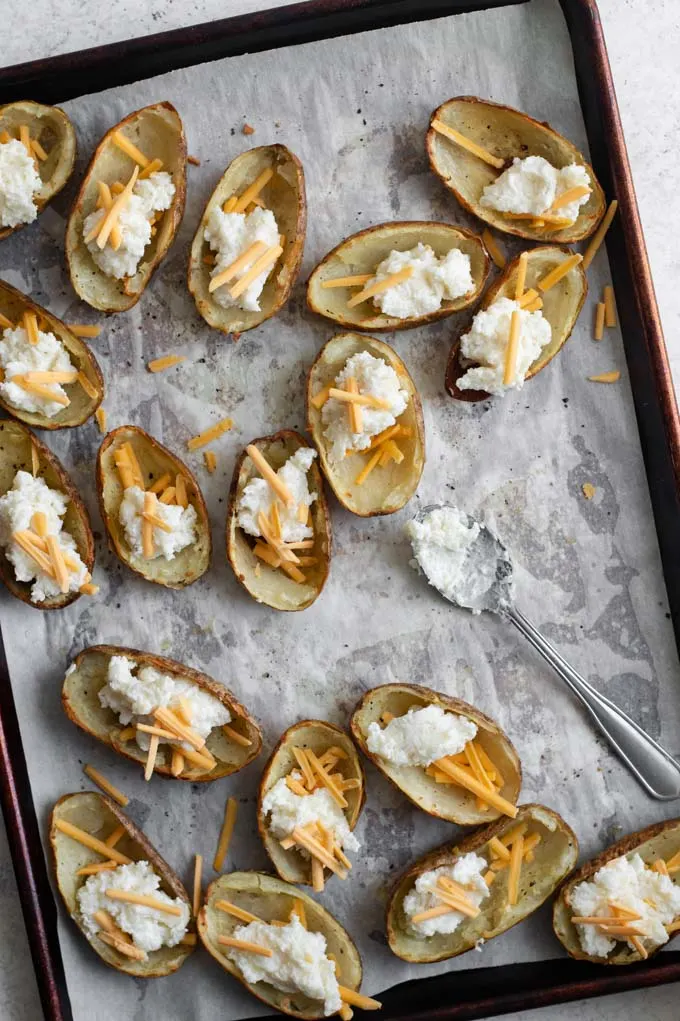 Finish the potato skins with garnish!
Serve the vegan baked potato skins hot garnished with lots of minced chives and a dollop of vegan sour cream!
You can of course always use these as a base for chili or black beans, seasoned vegan ground mince, or vegan sausage. You could load it up with some vegan bacon if you'd like, though I'll admit I don't miss it! Try crumbling up my tempeh bacon to keep it gluten free!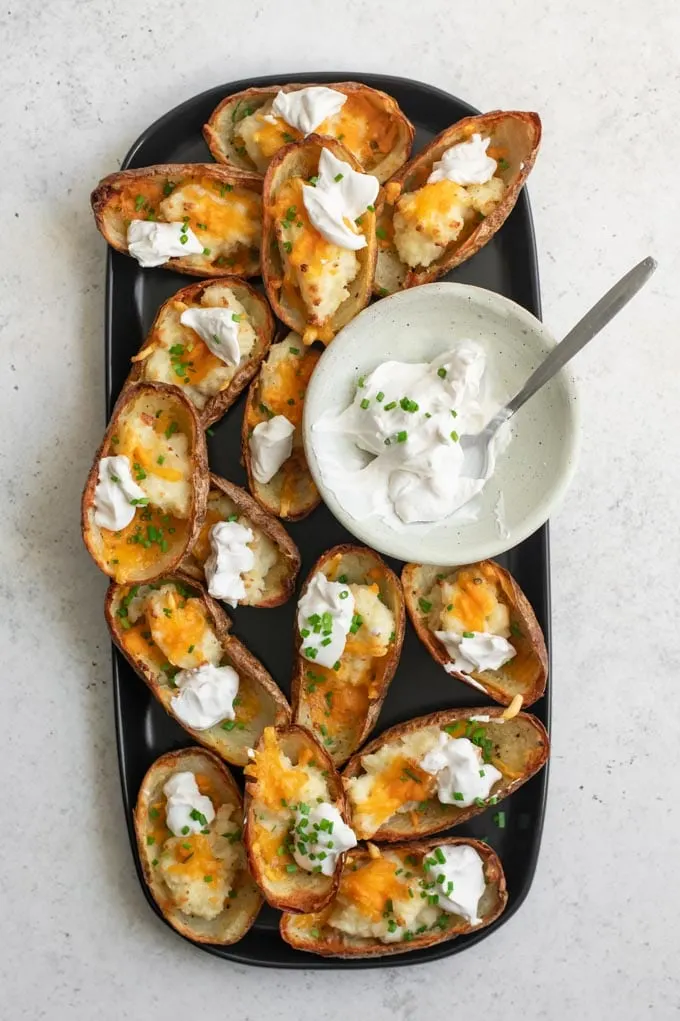 ---
If you make these vegan baked potato skins, leave a comment below and rate the recipe on the recipe card. And please share your photos with me on Instagram, tag @thecuriouschickpea and #thecuriouschickpea. I love seeing your recreations!
---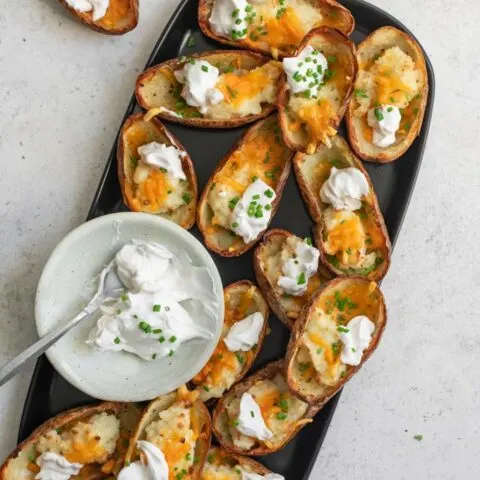 Vegan Baked Potato Skins
Cook Time:
1 hour
25 minutes
Total Time:
1 hour
35 minutes
These crispy vegan baked potato skins are the perfect easy appetizer! They're naturally gluten free and even better than their dairy laden counterpart!
Ingredients
8-10 small russet potatoes (~2 1/2 lbs)
olive oil
salt
pepper
1/2 cup vegan sour cream, more to finish
3-4 tbsp plant milk
vegan cheddar shreds
minced chives
Instructions
Preheat your oven to 400ºF. Wash and scrub your potatoes and pat them dry. them with a fork 2-3 times. Pierce Rub them with a drizzle of olive oil and sprinkle of salt and pepper. Bake the potatoes for about 1 hour (depends on size of potato), or until the potatoes are very tender.
Turn up the oven to 450 ºF and let the potatoes cool for about 15 minutes or until cool enough to handle, then cut in half and scoop out the inside leaving a thin layer of potato on the skins.
Brush the potatoes with olive oil and add salt and pepper to taste. Bake them for about 10 minutes, or until they are browning in spots and turning crispy. This may take longer if your potato skins are thicker.
While the potatoes bake, take 1 1/2 cups of the scooped out baked potato and mash with the 1/2 cup sour cream and plant milk until creamy. Add salt and pepper to taste.
Fill your potato skins: sprinkle with vegan cheddar (more or less to taste), top with some of the mashed potatoes, and finish with more cheddar shreds. Return to the oven and bake another 10-15 minutes or until the cheese has melted and the skins are perfectly crisp.
Top the potato skins with minced chives for garnish and serve hot with extra sour cream to serve.
Notes
You can substitute some vegan mayo or cream cheese for the sour cream mixed into the mashed potatoes if you'd prefer.
Nutrition Information:
Yield:

18
Serving Size:

1
Amount Per Serving:
Calories:

104
Total Fat:

4g
Saturated Fat:

2g
Unsaturated Fat:

2g
Sodium:

139mg
Carbohydrates:

15g
Fiber:

2g
Sugar:

2g
Protein:

2g
Nutrition is calculated automatically so should be used as an estimate.