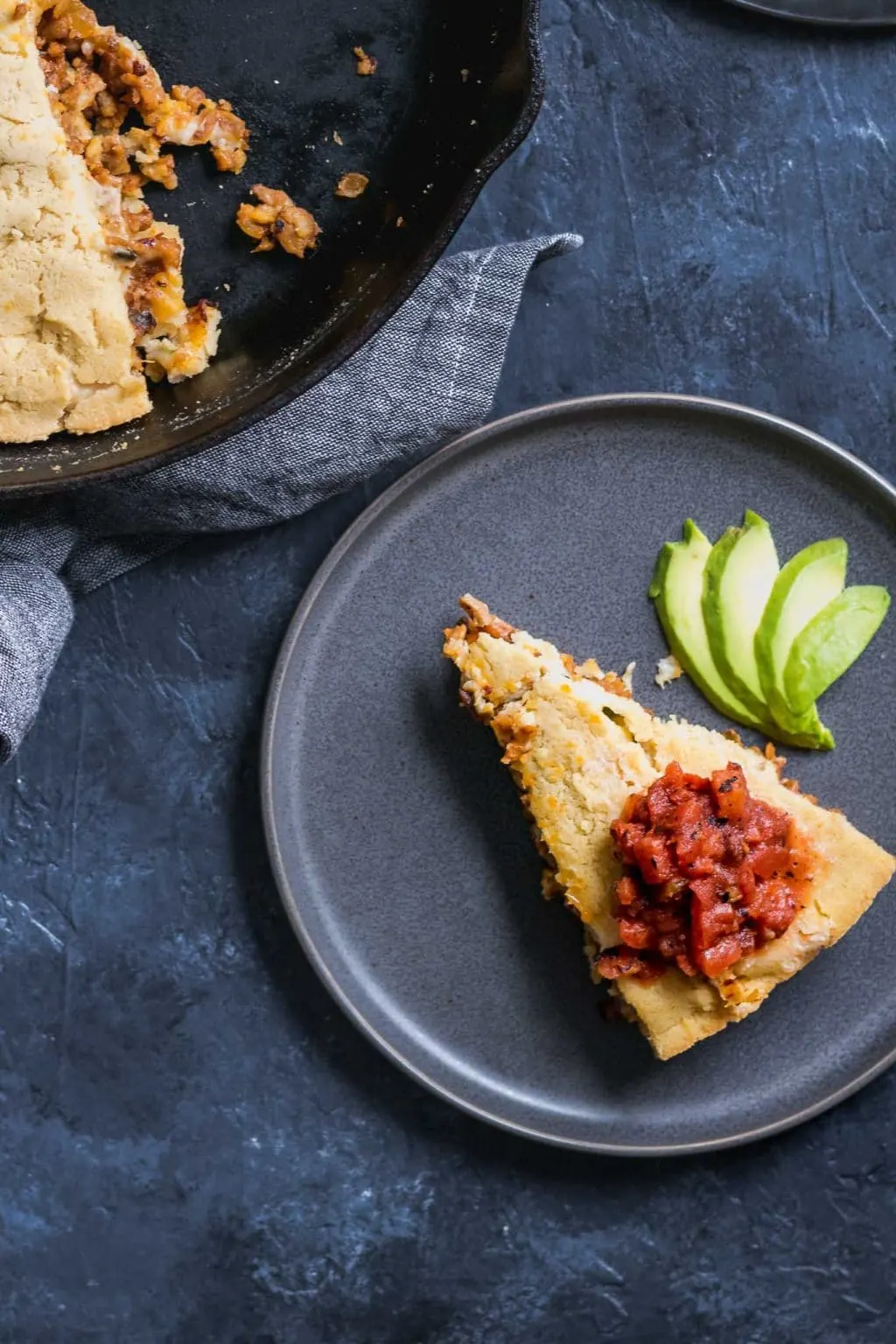 If you love tamales like 100000000% but also don't love the effort of making them even 10%, this recipe is for you. You guys know I love a good cooking project, I mean I'll sit around for an afternoon shaping ganache and tempering chocolate for homemade truffles (and I highly recommend you do the same, even if you dip in regular melted chocolate) and I love making bread, but sometimes you want to enjoy a food regularly and just don't have the patience to form a bunch of tamales then steam them for an hour–and did I mention in batches because your steamer basket is only so big? I mean, they're worth it, but it's certainly a labor of love. Now, this tamale skillet pie has everything a person could want. Rich and tender masa on the outside, spicy, flavorful chipotle seitan and melty gooey cheese on the inside. And it's all ready to serve within a couple of (mostly hands off) hours.
When I first had the idea to make a tamale pie and searched the internet for recipes, most of the ones I found had the filling covered with cornbread. Yeah, cornbread. Which I'm sure is good! But not exactly tamale-esque. Tamales are made with a dough called masa, which is made from masa harina. Masa harina is made from corn that has been treated with alkali, specifically lime (not the fruit, but calcium hydroxide – Ca(OH)2), which turns it into hominy (which we enjoyed so much in this pozole rojo, btw), which is ground into masa, and dried into masa harina. Just a note, when buying masa harina (sometimes labeled masa harina para tamales), be careful not to buy masarepa (sometimes called masa al instante or harina precocida), which is a different kind of flour used for making arepas. Masa harina is also what you would use to make homemade corn tortillas (yum), and is also used to make pupusas (another favorite of mine!) so I like to keep some on hand.
That was probably sufficiently confusing, but the take away is cornmeal, which is used to make cornbread, does not behave similarly to masa in the slightest. Masa dough is quite simple to make, though requires a bit of time to get the best texture out of it. First we hydrate the masa harina in broth for at least an hour. Sometimes I'll mix together the flour and broth the night before or earlier in the day, then stick it in the fridge well sealed until I'm ready to make the tamale skillet pie. Once the masa has hydrated, we whip the fat into it.
Traditionally masa dough is made with lard, which is why tamales are often not vegetarian or vegan, even if you do find one with a black bean or vegetable filling. Here we use a combination of vegan butter and vegetable shortening for the fat. While you can use all shortening, it doesn't have as nice of a flavor, so my preference is to use a combination. The butter and shortening are whipped together with the salt and some baking powder. Incorporating air into the fat helps make a lighter masa texture, as does the baking powder, which provides some lift when exposed to heat. Once the butter and shortening are nice and fluffy, the hydrated masa harina is added in batches until a smooth dough forms, somewhere between the texture of hummus and playdough (yum, right? haha). At this point you're ready to use the masa, but you could also stick it (wrapped in plastic or well sealed, of course!) in the fridge until you're ready to go, but if it's been a few hours you'll want to whip it back up again before spreading for a fluffier final texture.
Now the filling you can get creative with, but this is a simple one I really enjoy: chipotle seitan and cheese. The chipotle seitan couldn't be any easier, it takes maybe 15 minutes and just 7 ingredients to make, and that includes salt, water, and the bit of oil for sautéing. All you do, is fry up some finely diced onion, add the seitan and let it brown, then add some seeded and minced chipotle peppers, and the adobo sauce that they come in, a little bit of salt and a splash of water to keep everything nice and juicy. Then you're done!
I love seitan in this tamale skillet pie. It has such a wonderful chewy texture that contrasts nicely with the soft masa. Seitan is made from the protein in wheat (gluten), and is available in stores ready-to-eat. Sometimes you can find it already ground, but otherwise it's easy to do so with a quick blitz in the food processor or it can be chopped to any desired size. Seitan is, of course, not gluten free and otherwise this dish would be, so if gluten free is your goal, you can easily substitute the seitan for a wheat free ground beef-style product. I do love seitan though, and it soaks up the chipotle flavor so nicely.
Now we're ready to assemble the skillet pie. I love baking this tamale pie in a large cast iron skillet, it gets a crispy edge that's maybe not as traditional as the small steamed version, but so fun to eat! A 9 x 13″ baking dish works as well though (ideally metal). Lightly grease whatever pan you're using, then spread a bit more than 1/2 of the masa dough over the bottom and 1 inch up the sides. Add the chipotle seitan, then top it off with with some vegan cheese. I like to use my homemade roasted jalapeño cheese because it's PERFECT in this skillet pie. I mean, did you see my photos?? But I'm sure whatever vegan cheese you'd like to use would work beautifully. Then you cover the whole thing with the rest of the masa dough and bake the whole pie at 375 ºF for about an hour. See? That was only like maybe 25 minutes of hands on time total, and you just made a party worthy dish.
Speaking of parties, I served up a similar tamale pie to this (used a red chile paste instead of chipotles) to a mixed diet and mixed-age crowd, and was told by a non-veg 9 year old that they liked this tamale pie better than their meat and cheese dishes. So, just putting that out there–this is pretty damn good.
I hope you guys enjoy this recipe! As always, let me know if you have any questions and if you try this recipe, please comment and rate the recipe. I'd love to know what you think! As always, don't forget to tag your recreations @thecuriouschickpea and #thecuriouschickpea on Instagram, or share with me on Facebook!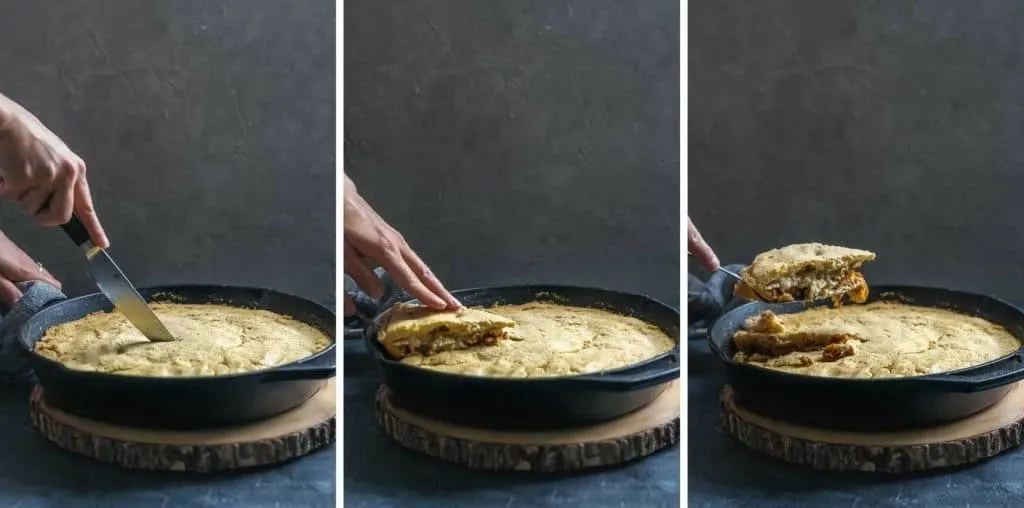 Notes:
The masa dough can be made a day in advance, covered tightly, and stored in the fridge. Rewhip before using for best results.
I used Sweet Earth Foods Ground Seitan for this pie and it's excellent. I received the product for free, but it is one I buy regularly!
For a gluten free filling use a wheat free ground meat substitute, like the ones sold by Beyond Meat or Gardein.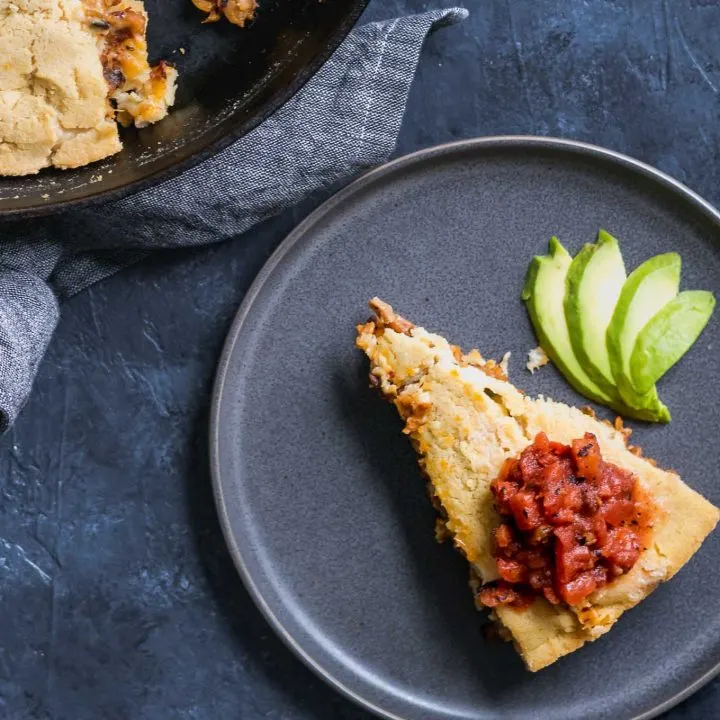 Vegan Chipotle Seitan and Cheese Tamale Skillet Pie
This vegan chipotle seitan and cheese tamale skillet pie has all my favorite aspects of tamales in a much easier, weeknight friendly package. Soft, rich masa is filled with chipotle seitan and vegan pepper jack style cheese for this delicious Mexican entree.
Ingredients
Masa Dough
3 1/2 cups (450g) masa harina para tamales
3 cups (695g) vegetable broth
1/4 cup (56g) vegan butter
1/4 cup (48g) vegetable shortening
1 1/2 tsp (7g) salt
2 tsp (8g) baking powder
Filling
1 tbsp oil
1 medium yellow onion, finely diced
16 oz seitan, ground*
2 tbsp (~3-4) chipotles in adobo, seeded and minced
3 tbsp adobo sauce (from the can of chipotles)
1/2 tsp salt
1/4 cup water
Instructions
Prepare the masa dough
Mix the masa and broth together with a wooden spoon. Cover and set aside to hydrate for 1 hour, or longer in the fridge.
In a stand mixer fitted with the beater attachment or with handheld beaters, whip the butter, shortening, salt, and baking powder together until fluffy.
Add the hydrated masa in 3 batches, whipping each batch into the fat until smooth and soft. The final texture of the masa dough will be smooth and have an almost play dough or hummus texture. Cover the masa and set aside until ready to use.
The masa can be prepared a day in advance, but for best results rewhip before using.
To make the filling
Heat the oil in a large skillet over medium heat. Add the onions when hot and cook for 5-7 minutes, stirring frequently, until soft and lightly golden.
Add the ground seitan, and cook an additional 5 minutes, until lightly browned. Add the minced chipotles and their adobo, salt, and water. Stir to coat and cook 1-2 minutes until juicy. If using a cast iron, remove the seitan filling into a bowl and clean out the cast iron skillet.
Cook the tamale skillet pie
Preheat the oven to 375 ºF. Lightly oil a large 12" cast iron, or a 9 x 13" baking dish. Take about 2/3 (~800g) of the masa and press it into the bottom of the dish and about 1 inch up the sides. Fill with the seitan mixture, then top with shredded or crumbled vegan cheese.
Use the remaining masa dough to top the pie. Take small handfuls at a time and form into patties between your palms. Then place over the dough and continue to cover the top in this manner until you have used up your masa. Spread the dough with your fingers to fully cover the filling and smooth the top, and connect it to the sides.
Bake the pie for 45-60 minutes, or until the masa is a nice golden color and firm to the touch.
Notes
*You can purchase already ground seitan or buy seitan and grind it in a food processor into a ground texture