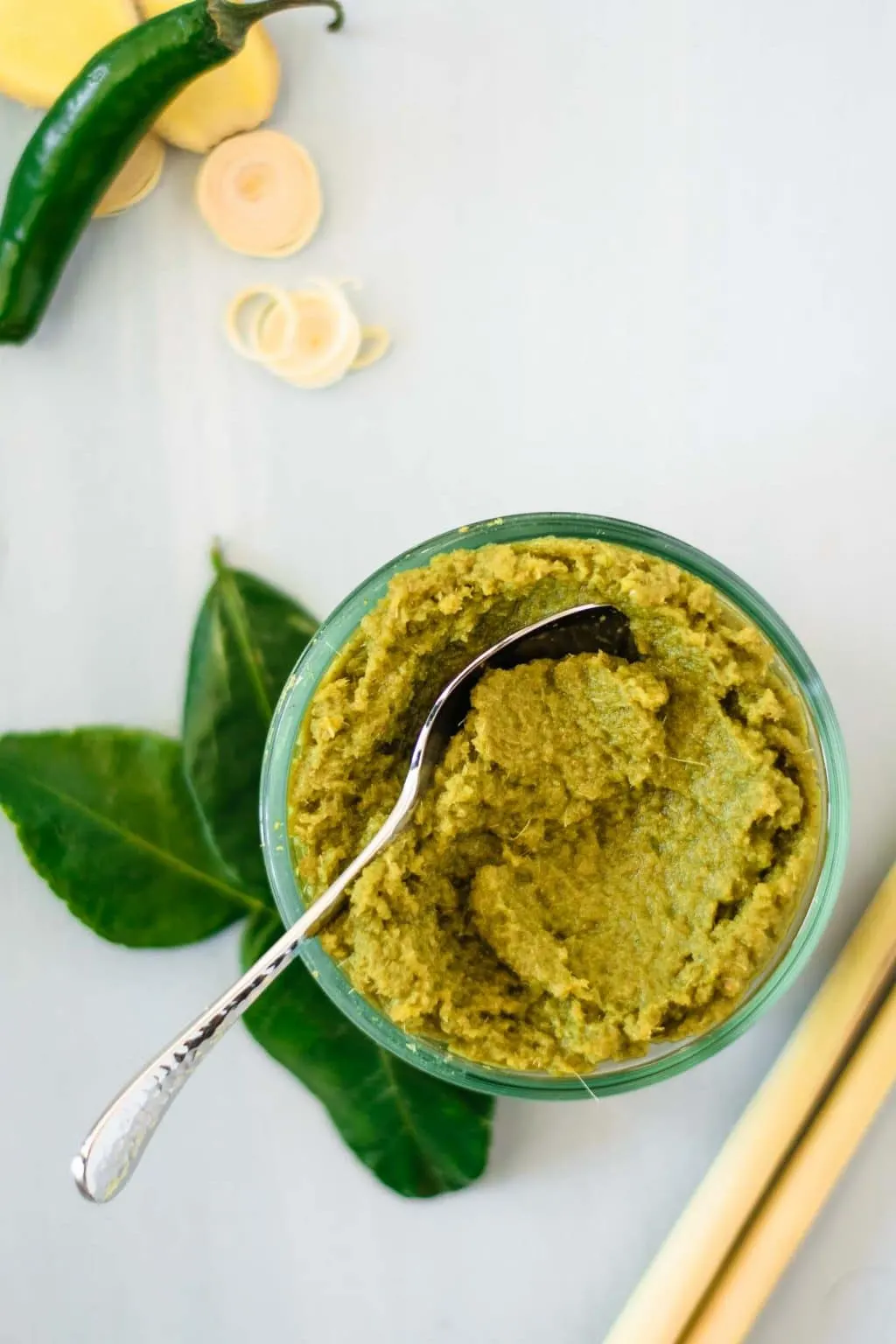 I love curry, and judging by how popular my curry recipes are, you guys really like curry too. And I have to say, my curry loving friends, homemade is SO MUCH better and fresher tasting! You really should try it! Now, I completely understand how it's easy to just buy those little jars of prepared curry paste. But, with homemade, you get to control the level of spice you want, so you can add a TON of curry flavor without all the heat. It's also pretty inexpensive to make, and you get 2-3x the amount you would from those little jars! Plus you can always double the recipe and freeze excess curry paste for future curries! Just trust me on this one guys, and try making your own homemade curry paste!
It's a little surprising that the first curry paste recipe I share on the blog is for green curry, as I have a strong preference for red curry whenever ordering out. But, when a specific craving hits, you just gotta go with it. This curry paste is perfect to use in your favorite Thai coconut curries, you could try it in my Thai Curry Cauliflower Lentil Soup instead of store bought red curry, or you can get it ready to use in the recipe I'll be sharing early next week (<— highly recommended)! The curry paste is best prepared at least a day in advance. It gives the flavors a chance to meld and mellow. This works great for keeping prep easy when you're ready to make curry! You can freeze the paste in 1 or 2 tbsp portions for easy pre-measured defrosting too.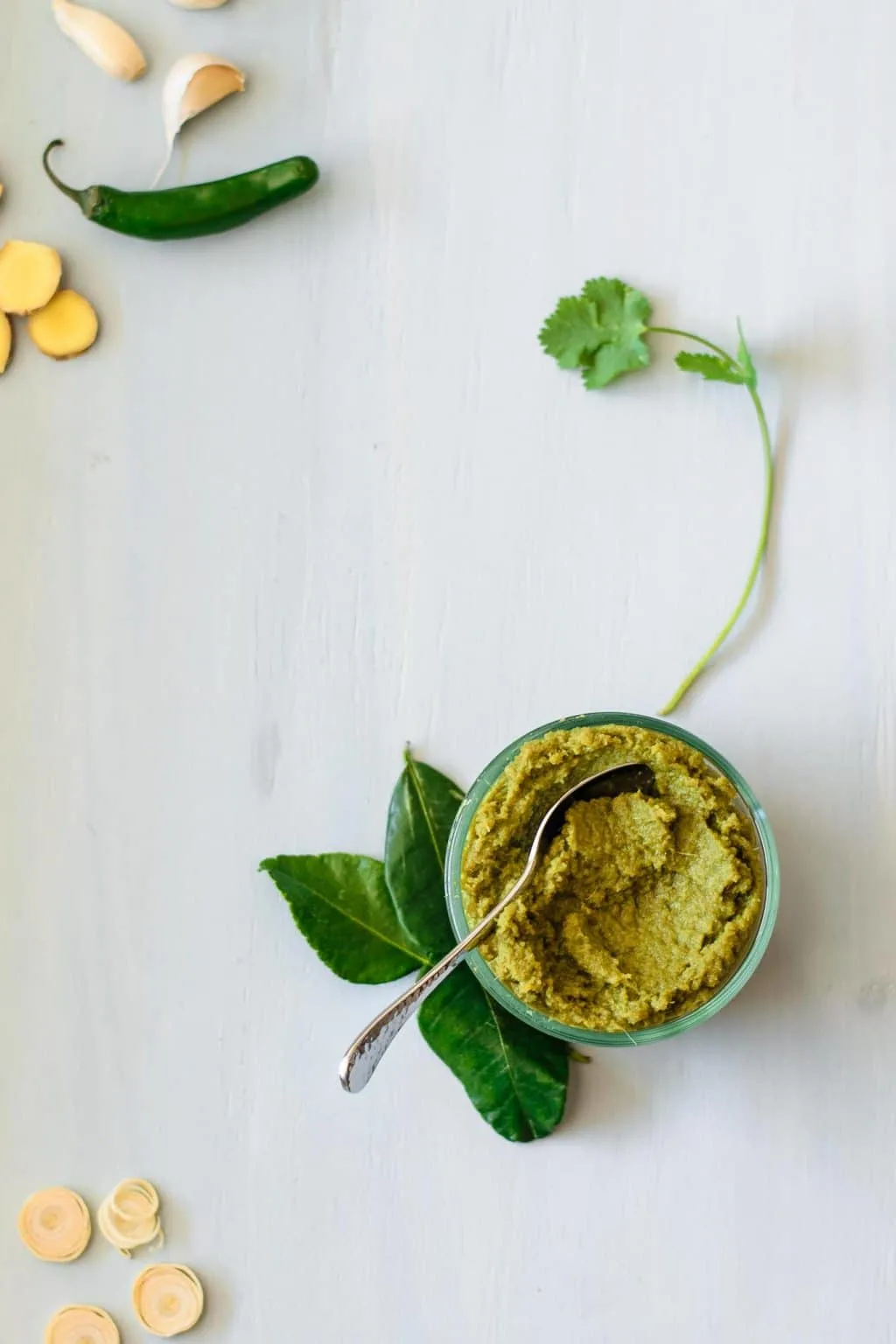 Prepared curry paste often has shrimp paste or fish sauce in it. (Yes, in restaurants too, always ask!) I add a little soy sauce (technically I always buy tamari) to replace it for some salty and fermented umami flavor. I don't like seafood-y flavors so don't miss the shrimp paste/fish sauce, but you can always use a homemade vegan fish sauce instead of the soy sauce (they're all over but here's one from The Kitchn).
Lemongrass is a key flavor in green curry. You can find fresh lemongrass at some well stocked natural foods grocery stores and at Asian, particularly Thai or Vietnamese, grocery stores. Sometimes you can find frozen lemongrass when fresh isn't available at Asian grocery stores. There's also prepared lemongrass paste, and apparently you can buy fresh lemongrass on Amazon, so there's always that. Lemongrass adds a lemony aroma and subtle citrus flavor to the dish. This is further emphasized with kaffir lime leaf, which again you can find at some natural foods grocery stores or Asian grocery stores, or fresh online from Amazon (seriously, do they have everything?). If you can't find kaffir lime leaves and don't want to source them, you can leave it out and replace it with a little lime zest.
[Store extra kaffir lime leaves in the freezer, just wash and dry them first and seal them up in a freezer safe bag. Also prepare all your fresh lemongrass by finely chopping it–easy to do in a small food processor or blender– and freezing it as well. Don't forget to label and date them!]
Onion, garlic, and ginger make up the flavor base for the curry paste. Shallots are used for a sweeter and milder onion flavor, and ginger makes a good stand in for traditional galangal (though if you can source it, go ahead and make the swap!). Hot chili peppers are used to your desired heat level. A lot of store bought curry pastes are overwhelming with the amount spice to the point that you can't taste all the other layers of flavor. With homemade, you get to adjust this to your preference. I've listed serrano peppers in the ingredients, because they are easy to find, have a mild flavor, and tend not to vary much in spice level. However, I like to use Thai birds eye chiles when possible for more authentic flavor, and usually I will use more chiles than I listed in the recipe, but you guys know I like spicy food.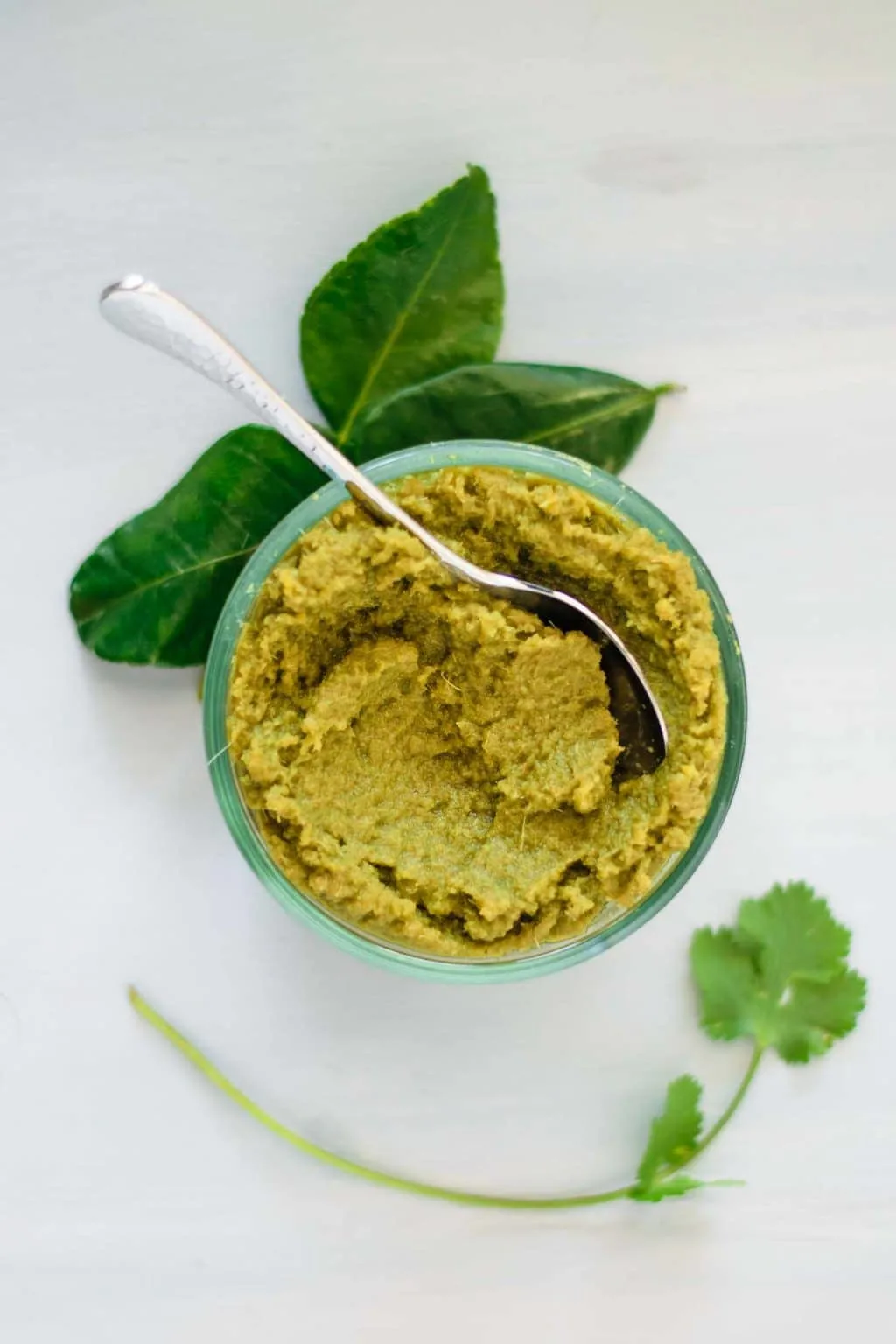 Cilantro roots are a traditional ingredient in green curry paste. However they're a little hard to find, and I tend to have fresh cilantro in the fridge. I make sure to use the whole stem in my curry pastes, as the stem has a lot of flavor. If you hate cilantro, you can always leave this out, there are plenty of other flavors going on!
Lastly I've spiced the curry paste with coriander, which has such a wonderful floral smell, cumin, a warming, nutty tasting spice, and white pepper, which adds a mild-tasting peppery heat. Whole cumin and coriander seeds are toasted and ground for a fresher and more flavorful paste.
This curry paste is so good (well, don't eat it on it's own, it's not very good that way) and makes delicious coconut curries! I hope that you give homemade curry paste a try! You'll have trouble going back to store bought. Let me know if you try this recipe! Leave a comment below, and tag your photos @thecuriouschickpea and #thecuriouschickpea on Instagram, or share with me on Facebook. And seriously, I highly recommend having it on hand for next week! xx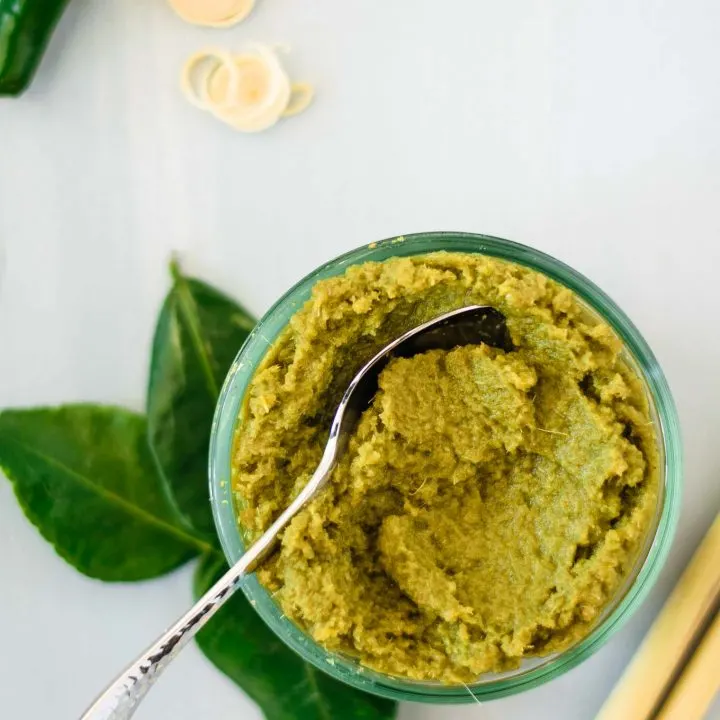 Homemade Thai Green Curry Paste
Homemade curry paste is incredibly easy to make and tastes so much fresher and bolder than store bought versions. Try it for yourself!
Ingredients
1 tsp (2g) whole cumin seed
2 tsp (3g) whole coriander seed
1/4 cup (35g) lemongrass, thinly sliced*, ~2 stalks
1/2 cup (11g) loosely packed cilantro stems and leaves, ~12 stems
4 serrano chiles*, coarsely chopped
1 cup (125g) shallot, coarsely chopped
3 tbsp (25g) garlic, coarsely chopped, ~8 cloves
2 tbsp (14g) ginger -OR- galangal, coarsely chopped
1 small double sided kaffir lime leaf*, finely chopped
1 tbsp soy sauce
1 tsp white pepper
Instructions
On a nonstick skillet over low heat toast the whole coriander seed and whole cumin seed until they are a shade darker and smell fragrant, about 2-4 minutes. Grind the seeds into a powder using a spice grinder, mortar and pestle, or inside of a ziplock bag with a rolling pin.
In a blender with a narrow base or a small food processor add the sliced lemongrass and pulse to finely chop it. Add the toasted and ground spices along with the remaining ingredients and blend or process until you have a relatively smooth paste. Scrape the sides as necessary, and add a little water if needed to help the ingredients move.
Place in the fridge, the paste tastes even better once it's had a chance to meld flavors overnight. The paste will be good for about a week in the fridge, but freezes beautifully for longer storage.
Notes
*use only the more tender, bulbous portion of the lemongrass, it gets more fibrous as you get into the tough upper part of the stalk.
*Use more or less chiles to taste, as written it's not very spicy when used in a curry, assuming that you have mild to average serranos. If you can find Thai birds eye chiles, use those instead.
*If you can't find kaffir lime leaves substitute a little lime juice and/or zest, or simply leave out and add a little extra lime to your final dish
Recipe adapted from Thai Table