Enjoy Salvadoran curtido as a condiment to any Central or South American meal. It's a delicious refreshing, crispy, salty cabbage relish and super simple to make at home!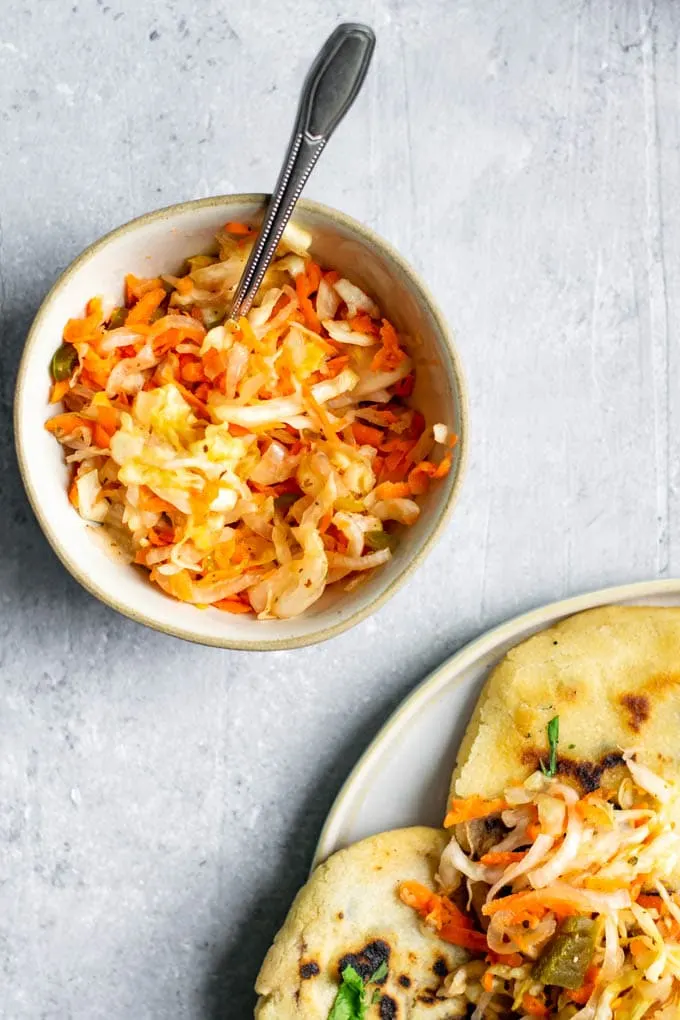 Curtido is a Salvadoran condiment made of cabbage, onion, carrot, pepper, and oregano. It's lightly fermented, salty, a bit tangy, and perfect for liberally topping tacos, bowls, and pupusas (a traditional Salvadoran stuffed masa pancake).
It's easily made at home, and can be adapted to your tastes–mild or spicy, more or less sour.
The cabbage is lacto-fermented, which means that we take advantage of the naturally occurring good bacteria that's present on the surface of all fruits and vegetables. It's how sauerkraut and kimchi are made, as well as other pickled vegetables.
The sour flavor comes from lactobacillus and other healthy bacteria, not from vinegar or citrus (though some recipes do add a bit of lime juice for extra tang and that's delicious too). How sour it is depends on how long it's fermented.
Curtido is crisp and refreshing, and absolutely delicious! It stays good for at least a month in the fridge, but you'll find yourself putting it on everything so I doubt it will last that long!
I promise you, making curtido is easy, and while the process takes 2-5 days to ferment, it requires very little hands on active time. You just need a little space on your counter, and then a bit of space in your fridge!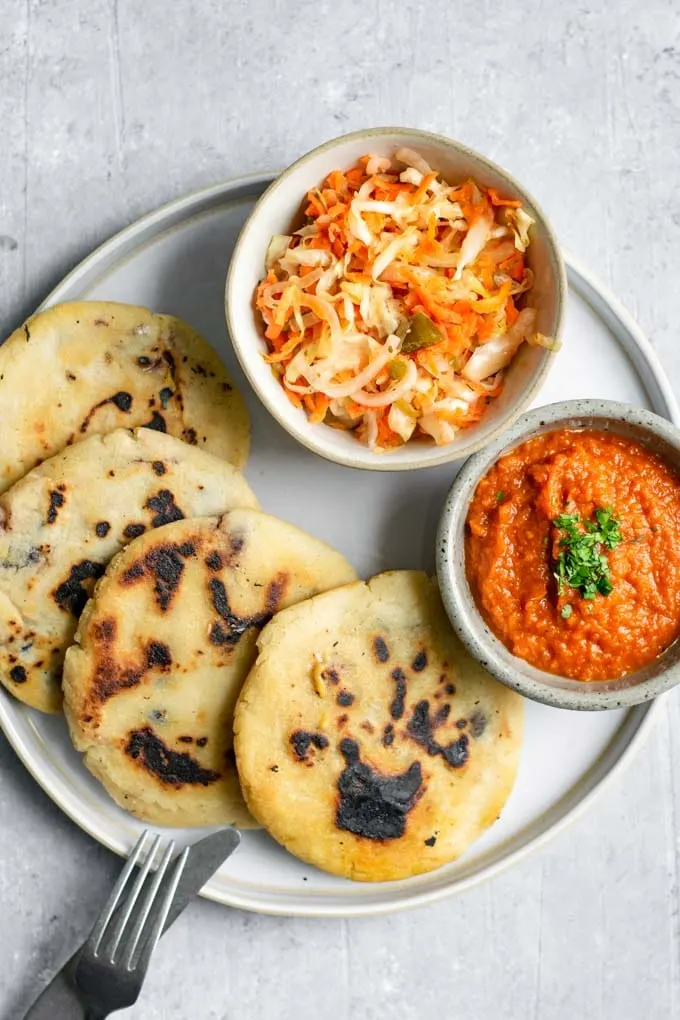 First, mix everything together.
Take about half a head of green cabbage and shred it. You can do this with a food processor or just thinly slice it with a knife.
Next, shred a couple of carrots. You can use a box grater, or your food processor. Then, thinly slice about half a white onion (or, you guessed it, shred it with your food processor).
Dice or slice up a jalapeño or serrano, or two. You can seed for less heat, use less chiles for less heat, or add more chiles for a spicier condiment.
As you probably already know, the level of spice varies a lot from individual pepper to pepper. A lot of this has to do with the temperature and humidity of the growing conditions, age of the plant, when it was harvested, and so on.
So even if you use the same amount of pepper, sometimes your food is spicier and sometimes milder. It's part of the excitement of spicy food! I suppose anyway, haha.
Mix all these shredded vegetables in a large mixing bowl and toss with dried oregano (if you can use Mexican oregano, even better!) and lots of coarse ground kosher salt.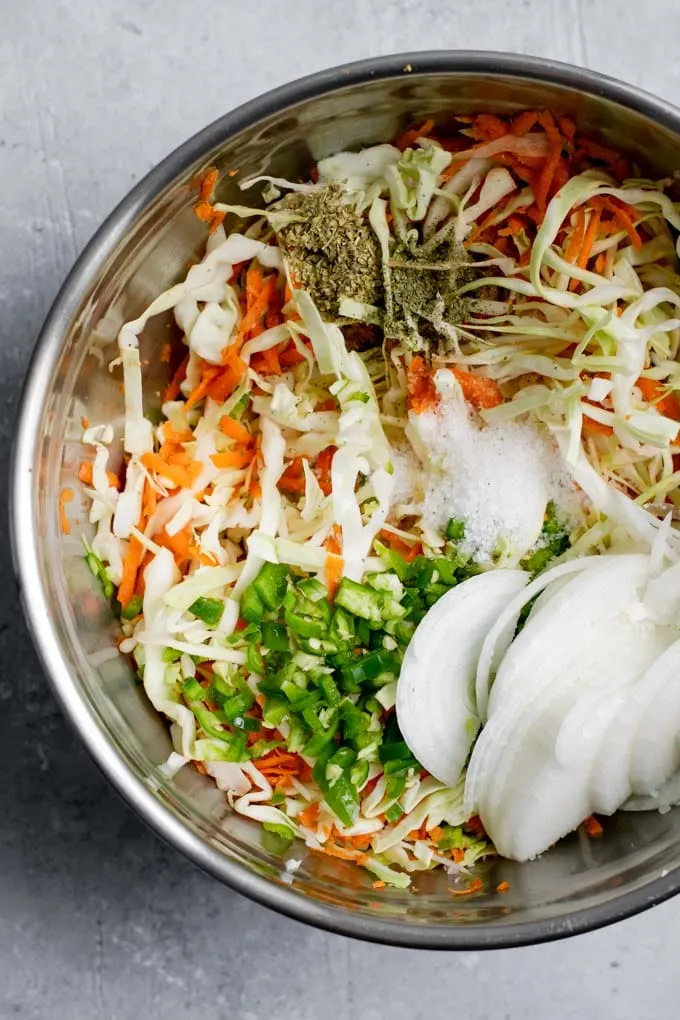 Let the mixture rest for about 30 minutes.
Once salted, you'll let everything sit for about half an hour. During this time the cabbage and onions release a lot of their water and start to wilt as the salt draws out the moisture from the vegetable cells.
Salt also helps inhibit any bad bacteria from proliferating.
Give it a half an hour to rest, though it doesn't need to be precise so if you come back in 45 minutes or even an hour don't stress it. Then stuff it into sterilized mason jars.
We sterilize the mason jars to help discourage any unwanted bacteria.
While hot soapy water is usually enough, I like to rinse the jars and lids with boiling hot water. I do this with my cultured cashew cream cheese and haven't had issues with mold since starting that practice.
You can also run the jars (the glass only) through a sanitize cycle on the top rack of your dishwasher (no soap).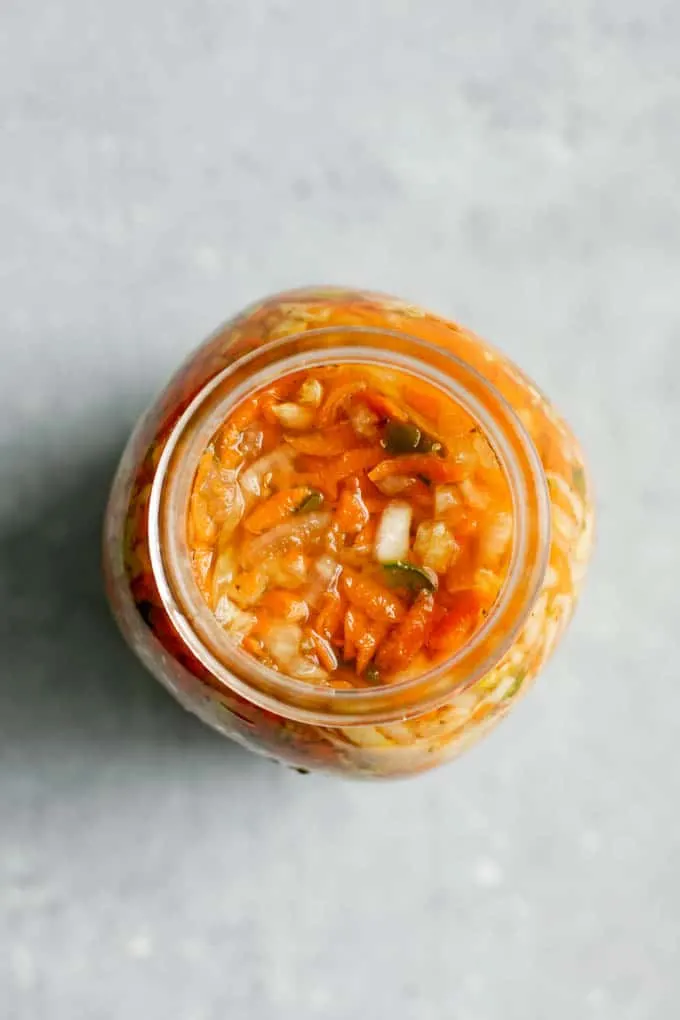 Then, transfer the cabbage slaw into the clean jars.
Depending on the size of your cabbage, carrots, and onion, you will likely find that everything will somehow magically be able to squeeze into one quart (4 cup) sized mason jar.
Add the veggies to the jar and press them down, packing them in tightly. Like, really press it in there! As you do this they'll release water, enough to be submerged in it.
If you need a lot more than 1 quart sized mason jar (i.e. you had a massive cabbage), then you'll want to add another teaspoon of salt to the whole mixture. But you'll be surprised by just how much fits into one of those jars! Like I said, it's practically magic.
If you pack the jar(s) with the slaw and press out the juices and they don't quite cover, you can add just a little bit of distilled water to the top.
You want the vegetables to be submerged in liquid, as this seals them off from bacteria in the air. As the cabbage sits in the jars it will release a bit more liquid, so you can also just come back to it in another 30 minutes or an hour and press it down a bit more to make sure it's fully covered.
If you get into fermentation, they sell these cool glass weights that are perfect for keeping your vegetables fully submerged. If you pack the vegetables well enough, this shouldn't be necessary for this particular recipe–at least I haven't needed them! Remember if you do use them, also sterilize them before use!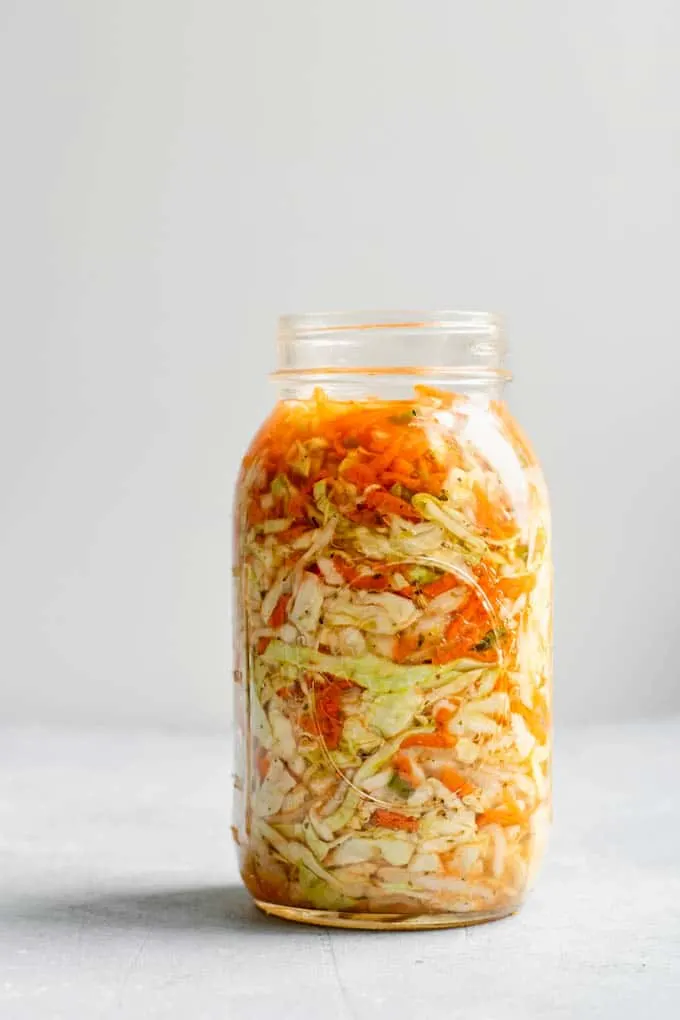 Next, let the cabbage ferment at room temperature for a minimum of 24 hours, but ideally 2-4 days.
Cover the jars, but do not screw on the lid. I just put the top of the lid down but don't screw on the lid shut. As it ferments it will start to bubble and build up gasses in the liquid. An airtight lid screwed on will cause a dangerous amount of pressure to build up in the jar.
If you enjoy pickling things, you can get special fermentation lids for mason jars. These will release the gas so you don't have to worry about it.
After the first 24 hours, you'll start to see some bubbling in the relish. This means the fermentation has just begun! If you taste the cabbage at this point it will not be very sour (if at all) and also will taste very salty. Perhaps unpleasantly so.
Ideally you can keep fermenting it at least another day, but if you must serve the curtido, then you'll want to add some vinegar or lime juice as well as possibly dilute it with a bit of distilled water to taste. Start with a couple tablespoons of vinegar and then keep tasting until it's to your liking.
After the second day there should be more bubbles in the jar, and when agitated you can watch them get released to the surface. At this point the curtido starts to taste sour and the saltiness starts to mellow out.
For my own personal tastes, I like the culture to go on for about 3 days, but this will also depend on ambient temperatures. Cultures happen more quickly in hot environments and slower in colder ones.
Once the curtido has reached your desired level of sourness, you can seal the lid on and stick it in the fridge!
Then, enjoy the curtido over the course of 4-6 weeks, if it lasts that long!
Next up we have recipes for Salvadoran salsa roja (a mild tomato sauce) and pupusas coming for you, so you'll want to get started on the curtido so it's ready by the time those recipes reach you!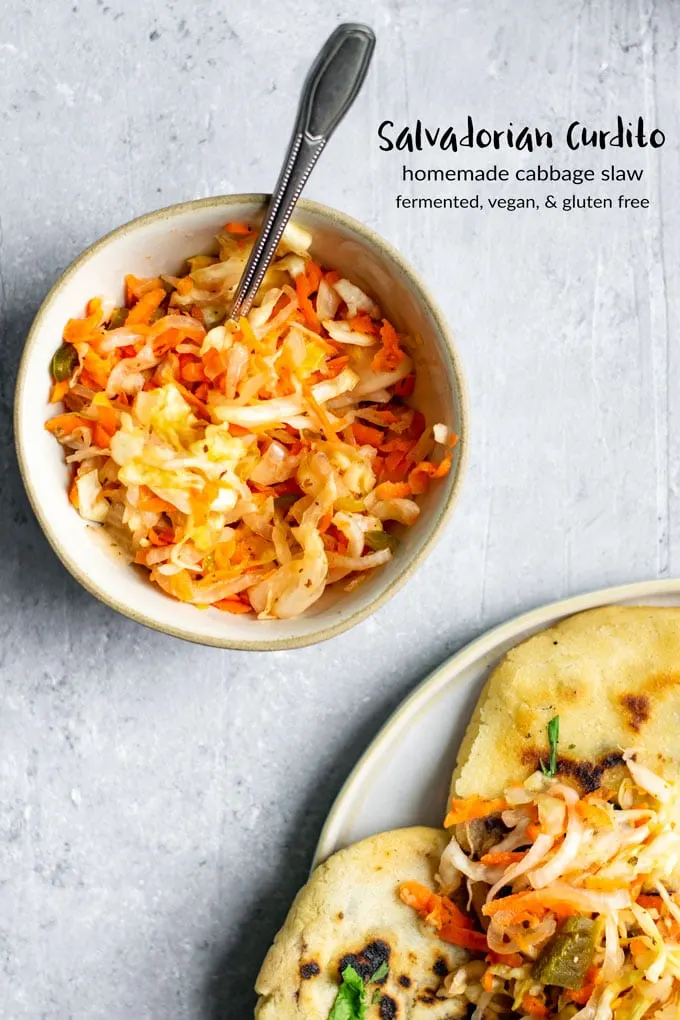 ---
If you make this Salvadoran curtido, leave a comment below and rate the recipe on the recipe card. And please share your photos with me on Instagram, tag @thecuriouschickpea and #thecuriouschickpea. I love seeing your recreations!
---
Note:
It should go without saying, but make sure you wash your hands before handling the curtido at any point. You don't want to introduce undesirable bacteria from your hands to the cabbage!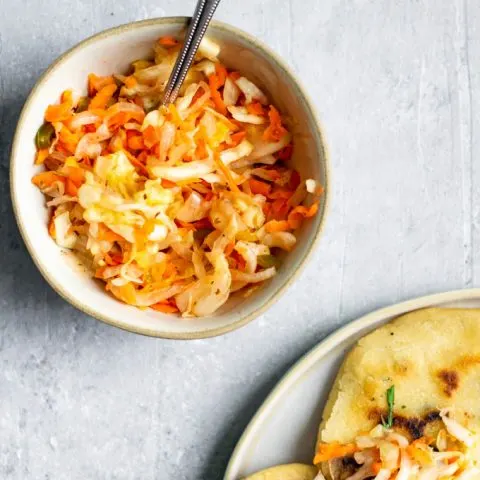 Salvadorian Curtido (Fermented Cabbage Relish)
Fermentation Time:
2 days
Total Time:
2 days
40 minutes
Salvadoran curtido is a lightly fermented cabbage relish. It's a salty, tangy, refreshing and delicious condiment and can be served with pupusas, tacos, bowls or more!
Ingredients
1/2 head cabbage, shredded
2 carrots, shredded
1/2 white onion, sliced in half moons
2 serrano or jalapeño peppers, diced or sliced
2 tsp dried oregano (preferably Mexican)
5 tsp coarse kosher salt
Instructions
Mix the cabbage, carrots, onion, peppers, oregano, and salt in a large mixing bowl. Let rest for 30 minutes to begin releasing moisture.
Sanitize a quart size (4 cup) mason jar including lid with boiling hot water. Be careful to not burn yourself.
Pack the shredded vegetables into the mason jar, pressing down to tightly pack and release water. If the vegetables aren't covered with water, add a little bit of distilled water so they are covered. Optional: add sanitized glass weight to keep the vegetables submerged.
Put a lid over the jar but do not screw it on to tightly seal as gas will build up the pressure in the jars if it can't be released. Alternatively use a specialty fermentation lid.
Leave the jars out at room temperature for a minimum of 24 hours and up to 5 days. Taste after the first 24 hours and let continue to ferment until you reach your desired level of tanginess. Typically 48-96 hours is ideal.
Once fermented to taste, screw the lids on and place in the fridge. It will stay good for at least 1 month.
Notes
After 24 hours if you need to eat it but it isn't very sour, add lime juice or vinegar to taste and possibly dilute the saltiness (which dissipates as it ferments) with distilled water.
You may find it easier to pack into a 2 quart mason jar, or two 1 quart mason jars, depending on how large your cabbage is and how intense your packing is.
Recommended Products
As an Amazon Associate and member of other affiliate programs, I earn from qualifying purchases.
Nutrition Information:
Yield:

20
Serving Size:

1
Amount Per Serving:
Calories:

11
Total Fat:

0g
Sodium:

587mg
Carbohydrates:

3g
Fiber:

1g
Sugar:

1g
Protein:

1g