Satisfy your cravings for cheesy pasta and flavorful Indian curry with this masala curry mac and cheese! It's easy to make and the creamy sauce even has hidden vegetable for a nutritious meal!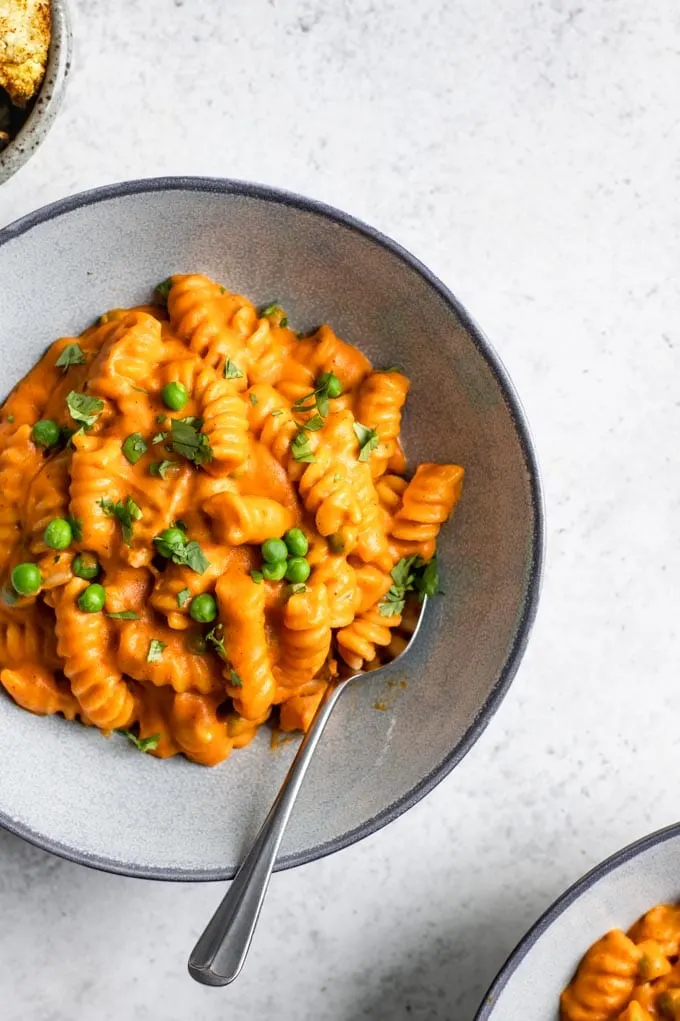 This masala curry mac and cheese takes the best of Indian and Western cuisines and combines them in one epic dish!
We start with a typical creamy curry base, add some vegan cheddar cheese and pasta and BAM! You've got yourself the most mouth watering masala mac there is.
There are a lot of ways you could go about making curry mac and cheese. It could be a cheesy affair with some added curry spices. You could even take a more whole foods approach (like those vegan macs made from potato and carrot) and add some curry powder.
But what's the need for those when Indian cuisine itself has the most luscious, velvety sauces that are rich in flavor and texture. With the right balance of flavors, adding vegan cheddar builds on those rich savory notes, enhancing the entire dish.
So let's take advantage of those bold flavors and the creamy texture of North Indian style curry and make some mac and cheese!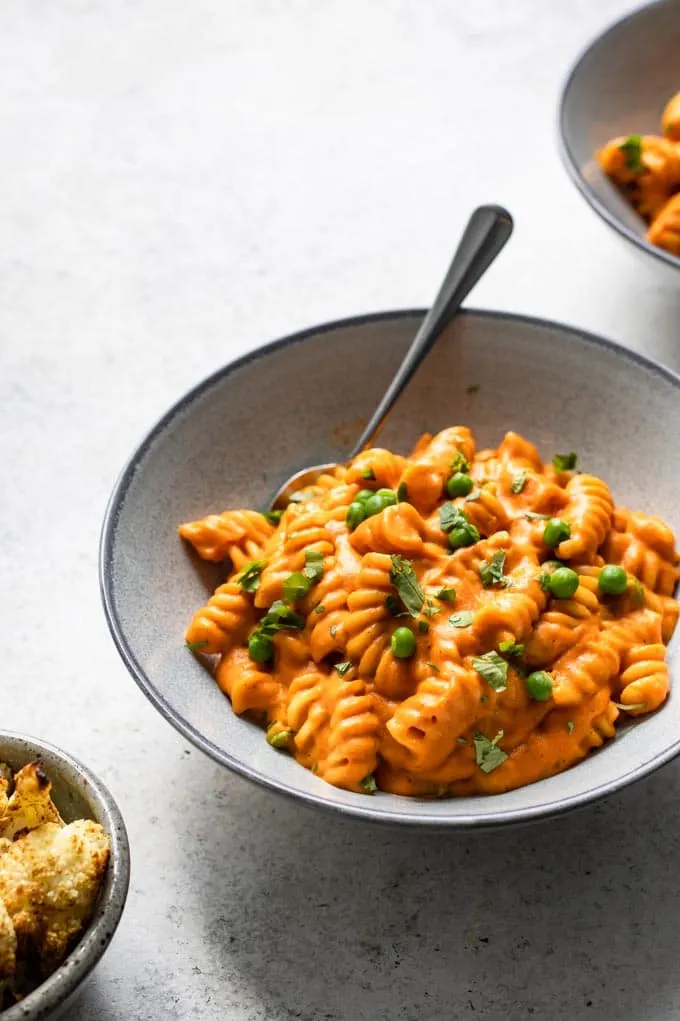 The curry sauce:
We start this recipe in a slightly simplified but traditional Indian curry preparation. Sauté onions and garlic until they're soft and lightly caramelized. Add the spices and give them 30 seconds or so to toast, which releases extra flavor, before adding coconut milk and tomatoes.
We're keeping things simple with the spices in this recipe by using a curry powder blend. I use a Madras curry blend in most recipes that call for curry powder, but using a different one is totally ok! Each curry powder (by region and by brand) will have a different blend of spices but will turn out a delicious curry!
Note that some curry powders have added salt. I would try to avoid buying those if possible as they aren't going to be the highest quality spice mix, but if you do use it, taste the dish before adding salt and only add what you need.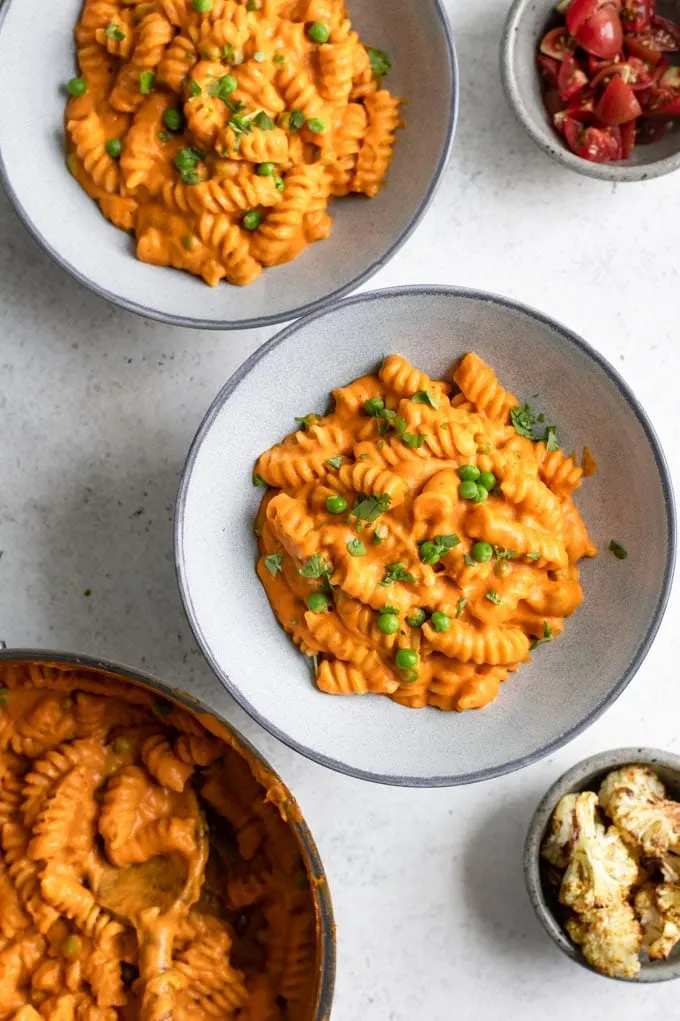 Add some cauliflower:
I wanted my curry to be veggie filled, because 1) vegetables and curry go hand-in-hand and 2) it's healthy. But I didn't want my curry to have a lot of vegetables in it to compete with the pasta.
So, I turned to my trusty friend the cauliflower, blending half a head into the curry sauce. Cauliflower helps up the creamy factor of the sauce and adds volume for an extra saucy pasta!
Cut up the cauliflower and add it along with the coconut milk and tomatoes and let everything simmer until the cauliflower is soft.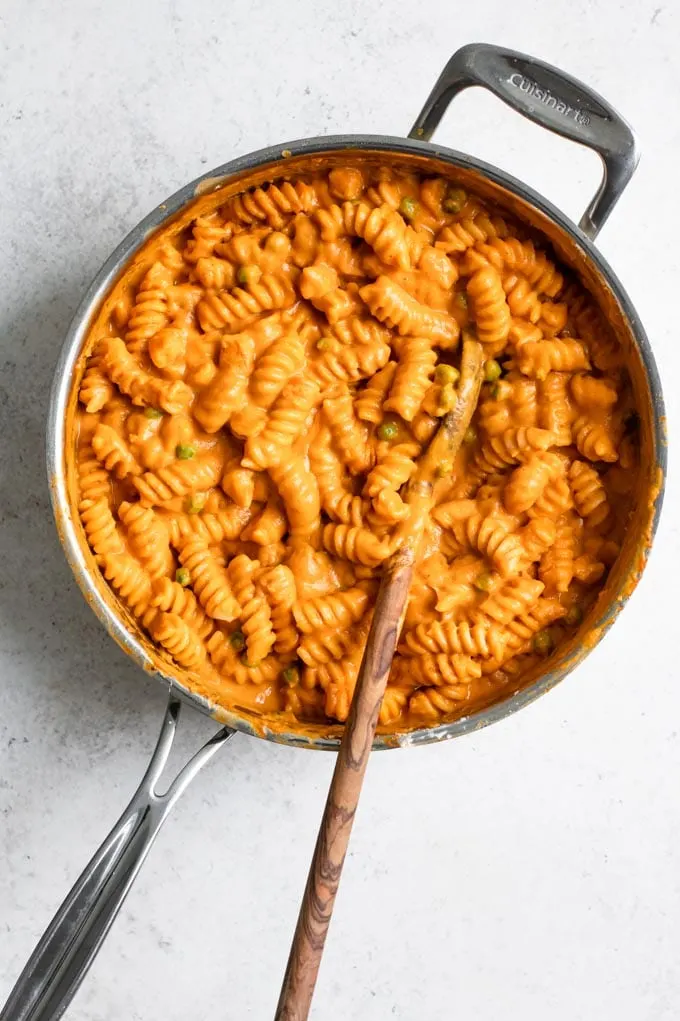 Don't forget the cheese!
It wouldn't be a mac and cheese without some cheese, but since we're vegan here at The Curious Chickpea we use a store bought vegan cheddar. You can use any brand, just make sure it's one you like!
I like Follow Your Heart and Violife as well as Parmela Creamery, but any of them work ?.
Add the vegan cheddar when you add the cauliflower. It will have plenty of time to melt into the sauce, but if you are using a cheese that resists melting a bit more don't worry because it'll get blended up!
There's one last ingredient you need, and that is some tapioca starch (you can sub arrowroot or even use flour, but tapioca starch gives a stretchy quality to the thickening). Tapioca starch turns the sauce from a curry to something that can envelope pasta. I add it along with the spices.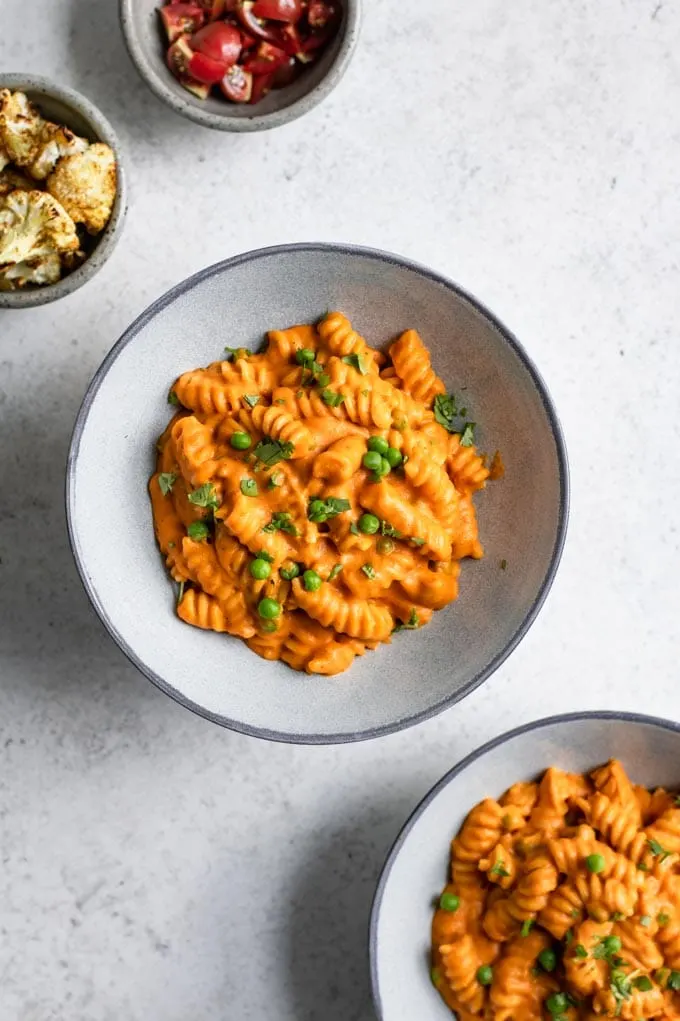 Now, blend up the sauce!
Once the cauliflower is softened, then all you have to do is blend the sauce until it's smooth! You can use an immersion blender or an upright blender, but be careful as it will be very hot!
Add the sauce back to the pot (if using a standing blender) and at this point you can taste it and adjust any salt or spices as you'd like. Now add the frozen green peas to the sauce, and they'll defrost as you finish off the pasta.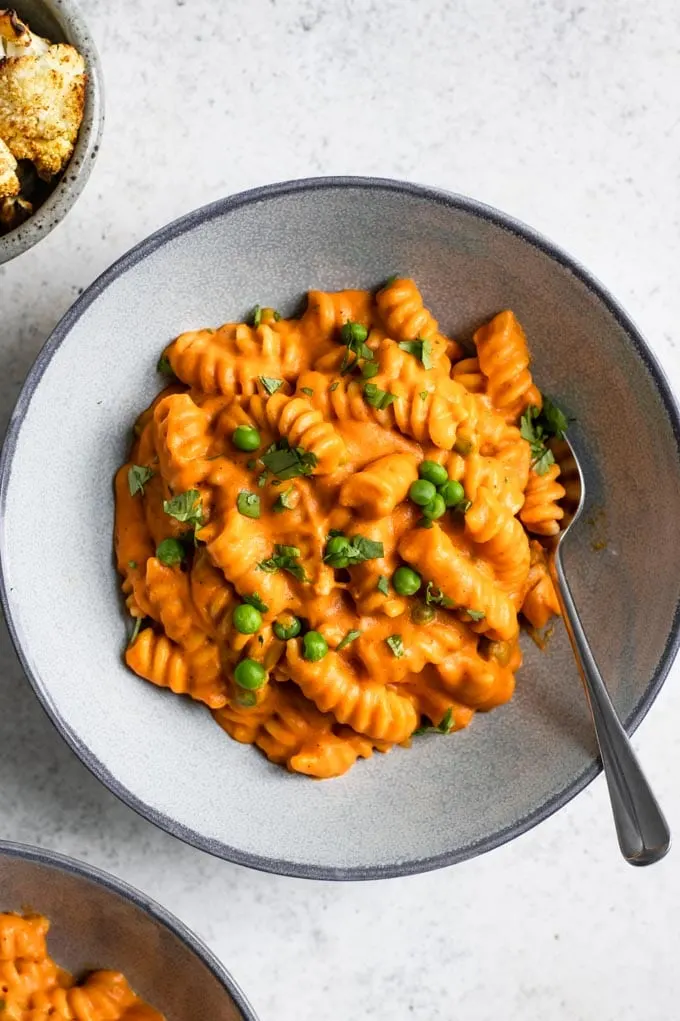 Meanwhile, you've been cooking pasta right??
Well, yes, because I've told you to in the recipe!
For this masala curry mac and cheese you'll want to choose a larger curly noodle shape such as fusilli or cavatappi or chiocciole. There's a lot of sauce for the pasta and it will drown out smaller pastas like elbow macaroni.
Basically, you want a pasta that can handle it's sauce!
Cook the pasta 1-2 minutes shy of al dente before draining. Then add it to the curry sauce.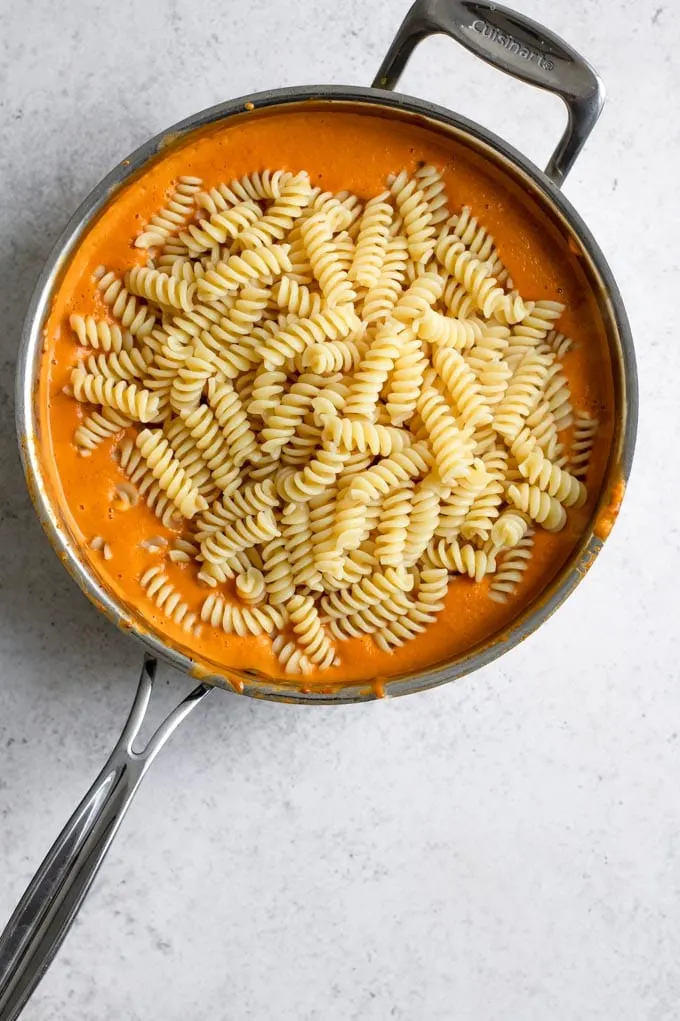 Finish the pasta in the cheesy curry mac sauce.
Turn the heat on low and warm the pasta in the sauce until the sauce is perfectly thick and clinging to the pasta. This also warms up the green peas!
Since this is a curry mac and cheese, I like to finish it off with a sprinkling of cilantro. This is up to you!
Options for serving:
This pasta is excellent served straight from the stove, but there's plenty of sauce and it would make a great baked mac and cheese if you prefer. Try 375 ºF for 15 minutes, and turn the broiler on at the end for a crispy top.
I like to serve this with some extra roasted curry cauliflower. I just cut up the second half of the cauliflower into florets and tossed them in a drizzle of oil, a good amount of curry powder, and some salt and roasted it at 425 ºF for about 30 minutes (stirring halfway through).
And there you have it! Delicious vegan masala curry mac and cheese!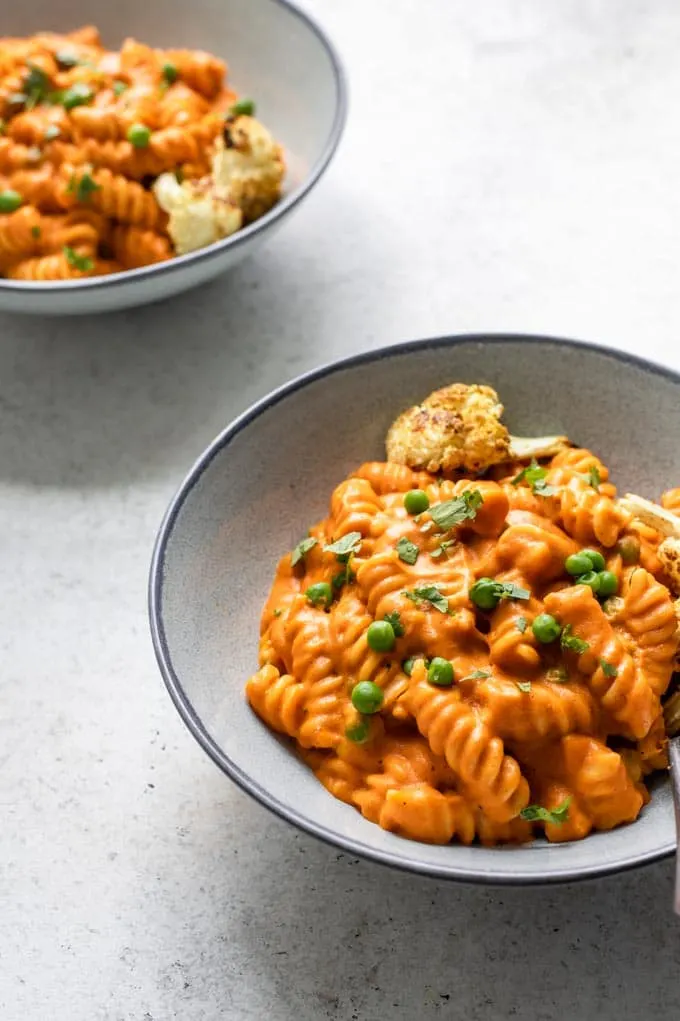 ---
If you make this curry mac and cheese, leave a comment below and rate the recipe on the recipe card. And please share your photos with me on Instagram, tag @thecuriouschickpea and #thecuriouschickpea. I love seeing your recreations!
---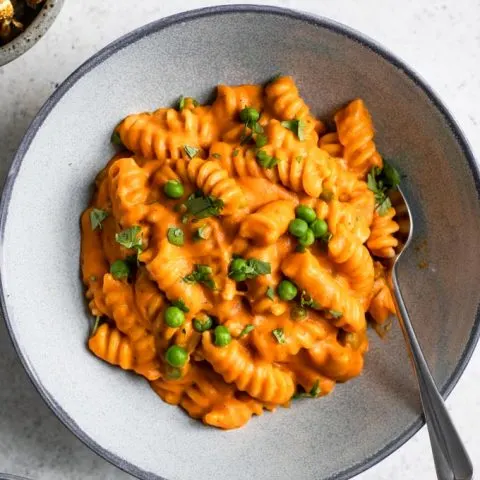 Vegan Masala Curry Mac and Cheese
This masala curry mac and cheese takes the best of Indian and Western cuisines to make one deliciously epic dish! The cheesy, velvety sauce even has hidden cauliflower for an extra nutritious meal.
Ingredients
16oz pasta, such as fusilli, gluten free optional
1 tsp oil
1 yellow onion, diced
4 cloves garlic, minced
2 tsp curry powder
1/2 tsp cayenne pepper, more or less to taste
1/2 tsp salt
2 tbsp tapioca starch
15oz can tomatoes, diced or whole
15oz can coconut milk (full fat)
1/2 medium head cauliflower, cut into florets
8oz vegan cheddar shreds or slices
1 cup frozen green peas
cilantro for garnish (optional)
Instructions
Cook pasta in salted water according to package directions, until it is 1-2 minutes away from being done. Drain and set aside.
Meanwhile, in a large pot heat 1 teaspoon of oil over medium heat. Add the onion and garlic and sauté until soft, about 5-7 minutes.
Add the curry powder, cayenne, salt, and tapioca starch and stir to coat the onion. Let cook about 30-60 seconds.
Pour in the tomatoes and coconut milk. Breaking apart the tomatoes if whole with the spatula. Add the cauliflower and vegan cheddar. Bring to a simmer, then lower the heat to medium low. Let simmer for about 15 minutes or until cauliflower is soft.
Blend the sauce with an immersion blender or upright blender (for a smoother sauce), be careful as the sauce is very hot. Return to the pot and add the green peas.
Add the pasta to the sauce and turn the heat on low. Cook for 1-2 minutes or until the pasta is perfectly cooked and the sauce has thickened around the noodles. Enjoy hot, garnish with cilantro if desired.
Notes
I don't give an exact amount of cauliflower because the recipe is flexible. You should expect about 3-4 cups of cauliflower florets.
Recommended Products
As an Amazon Associate and member of other affiliate programs, I earn from qualifying purchases.
Nutrition Information:
Yield:

8
Serving Size:

1
Amount Per Serving:
Calories:

388
Total Fat:

22g
Sodium:

406mg
Carbohydrates:

35g
Fiber:

5g
Sugar:

5g
Protein:

14g
Nutrition is calculated automatically so should be used as an estimate.