This no-boil vegan mac and cheese is the cheesiest, most indulgent tasting, most delicious mac and cheese! It's an easy one dish meal and your oven does all of the work!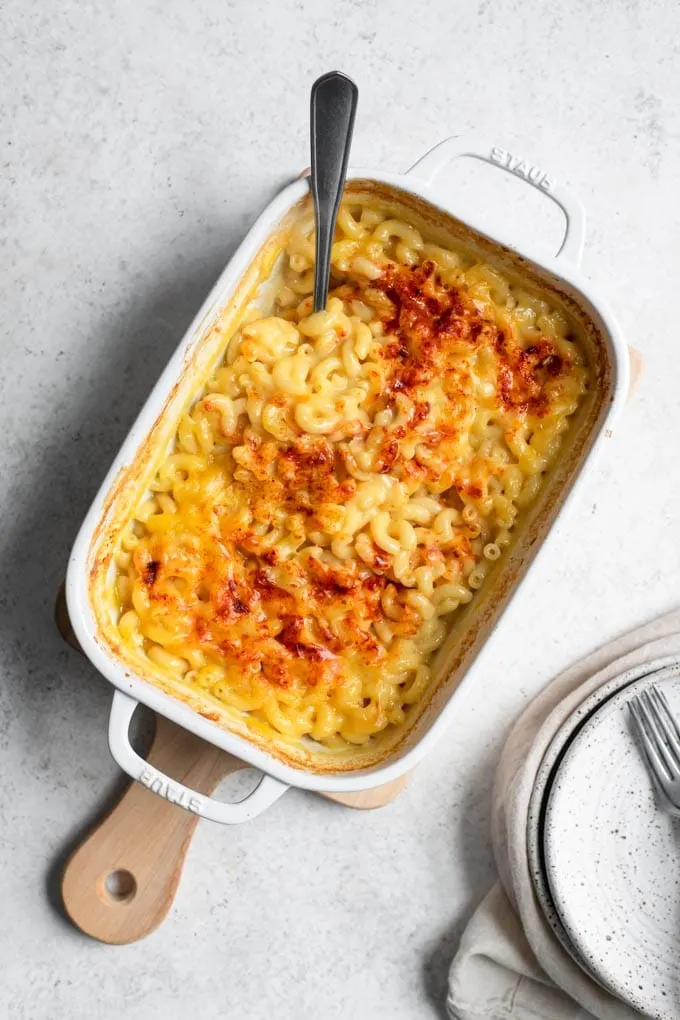 I love baked mac and cheese–the gooey sauce, the crispy top, the tender noodles. Simple and delectable, and loved by everyone!
I didn't become vegan because I didn't love of mac and cheese, but cutting dairy out of my life opened the doors to the wonders of plant based creamy pastas!
There are so many ways to make vegan mac and cheese, and a quick search on my site shows you some of the many ways I love to make it!
It also illuminates you on how important I think it is to use macaroni noodles when making mac and cheese (pretty important, but only necessary 80% of the time ?).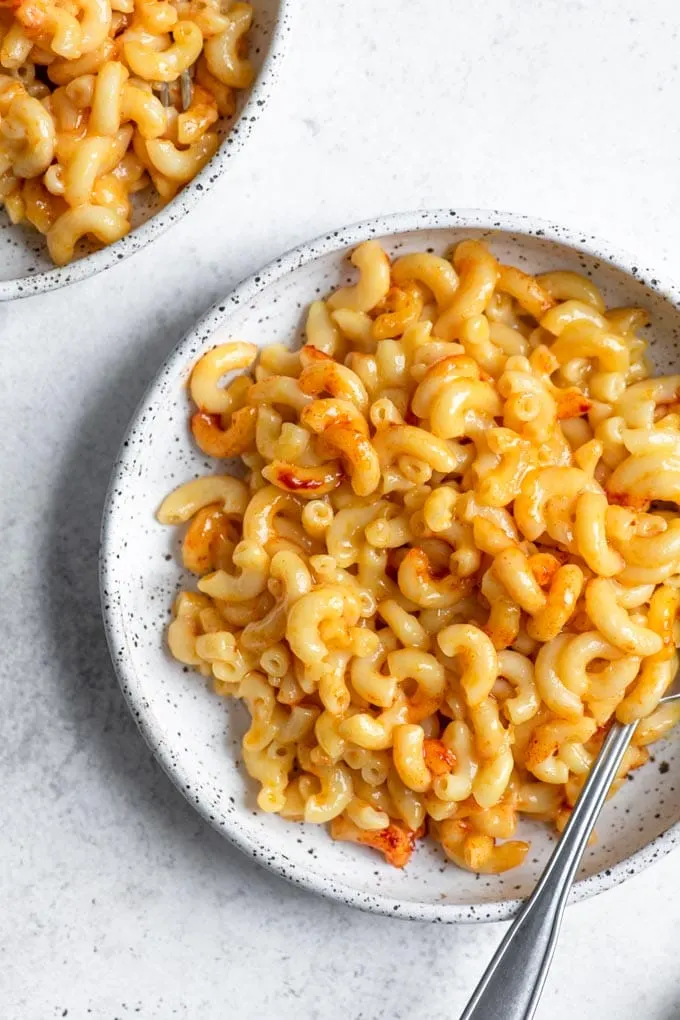 Recently I had some big cravings for mac and cheese, but did not want to go to the effort of cleaning up the multi-dish endeavor. I wondered if I could make mac and cheese in the oven–you can do it with lasagna so why not another cheesy pasta?!
I went ahead and gave it a shot, mixing uncooked ingredients together and crossing my fingers that something edible would turn out.
Spoiler alert: not only was it edible, but omg it was so good! A creamy sauce clung to perfectly cooked noodles, with a crispy and cheesy top.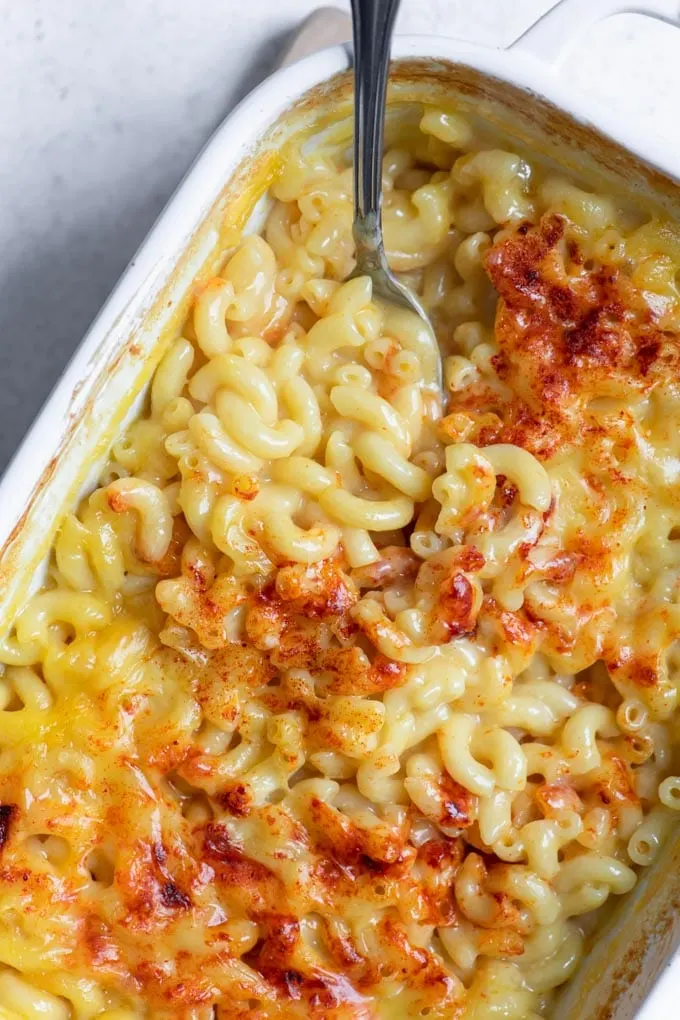 I ran through a few more batches of no-boil mac in the coming weeks in the name of recipe testing, and ahem, my stomach. I tried changing a couple of variables to make sure I had the best of the best, and now feel confident in sharing this crazy easy crazy good vegan mac and cheese with you!
So how do you make no boil pasta?
Typically you cook pasta by boiling it in an excess of water until its absorbed enough moisture into the noodles to soften and turn a chewy yet tender texture.
But you don't need to do it this way! The key is to getting enough liquid into the dish to cook the noodles and create a luscious sauce. The oven does the rest for you!
You cook the pasta covered at first so the noodles can absorb the liquid, then once the noodles are just tender uncover and let the top crisp!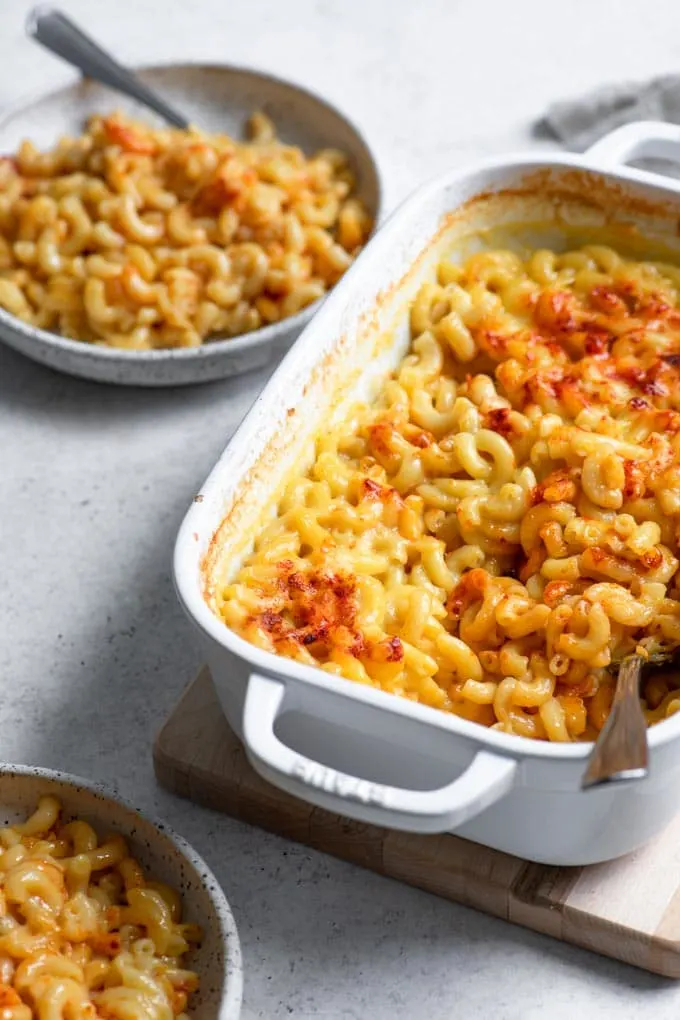 In my testing, I found that smaller noodles are ideal for this cooking method. Penne took a lot longer to cook and remained chewier. You'll want to use small macaroni, shells, or a generally faster cooking noodle.
I have yet to test the method with gluten free noodles. I suspect they would work, but generally know gluten free pasta benefits from a rinse after cooking so I'm not positive if it will be the best recipe to use with gluten free pasta.
The cheese:
This is quite a pantry friendly recipe, and is made in the same way you'd make a non vegan mac and cheese.
I do use store bought vegan cheese to make this dish. If you prefer to have mac and cheeses without vegan cheese, I recommend you look to my roasted garlic sweet potato mac and cheese, vegan buffalo wing mac and cheese, or my vegan fried bacon mac and cheese. All of these are more whole foods vegan macs.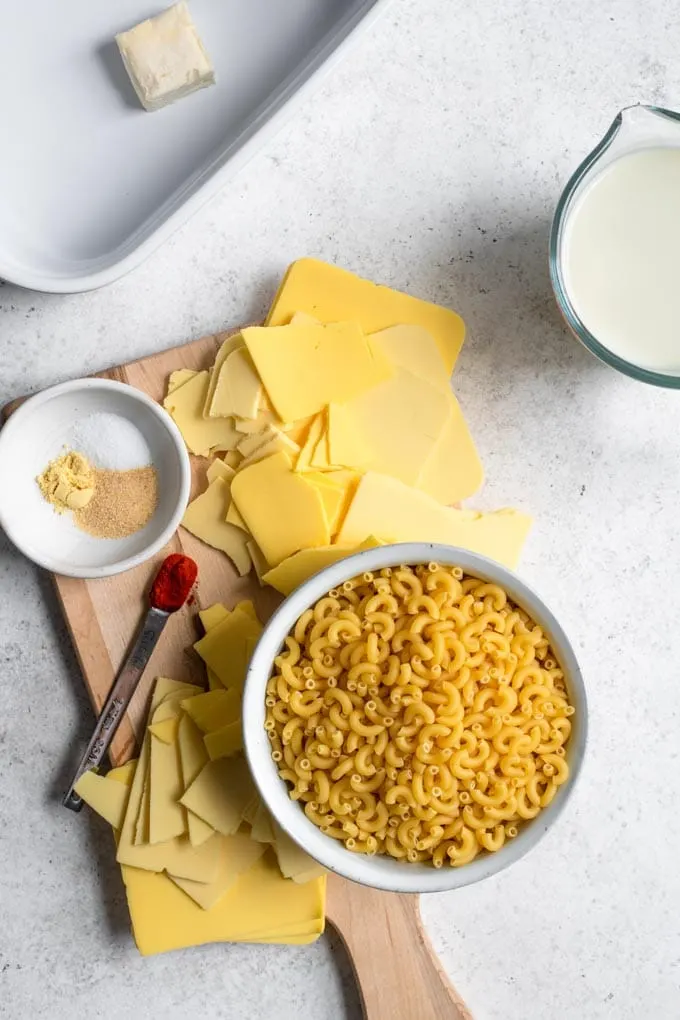 For this no-boil mac, I use two flavors of cheese: cheddar style and smoked gouda or smoked provolone style (different brands offer different smoked creamy cheeses).
Cheddar is necessary to make mac and cheese, and I find that having a second kind of cheese adds to the depth of flavor to the dish.
You can use shredded cheese or slices, both work really well in this recipe. If using slices, chop or tear them up into smaller pieces so they have an easier time melting.
The brand also doesn't matter, as long as you like it! You can even mix and match brands.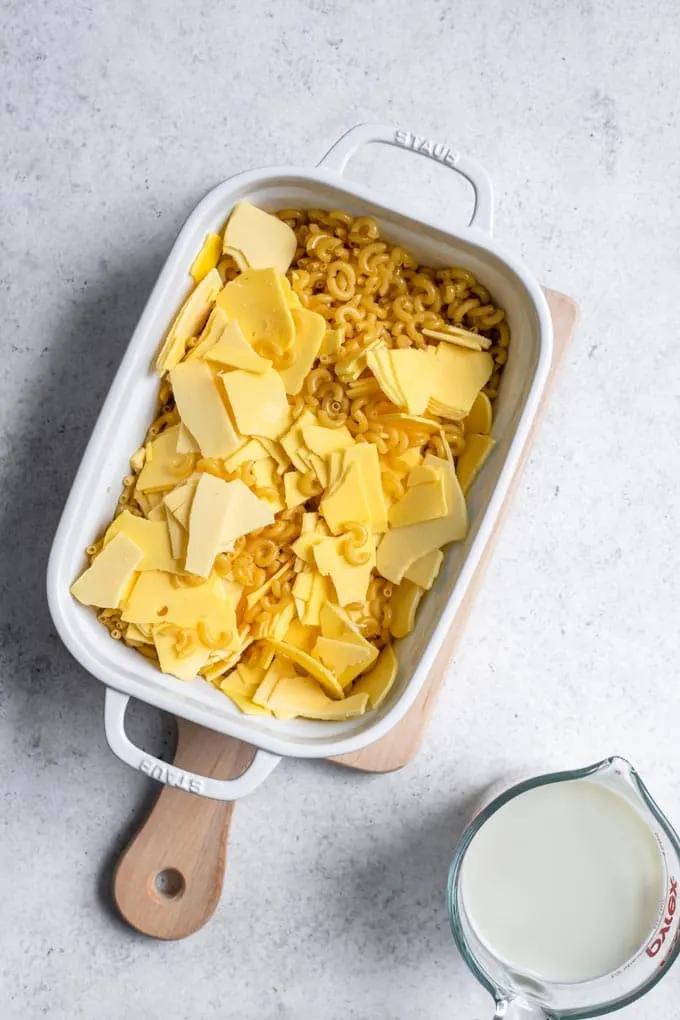 The vegan milk:
You have two main options when it comes to your choice of milk for this recipe.
My favorite way is to make my own cashew milk and use that in the recipe. Homemade cashew milk is made by blending raw cashews with water. It doesn't need to be strained because it's able to be blended until very smooth.
You are at an advantage if you have a high powered blender like a Vitamix or Blendtec, because in this case you do not need to soak the cashews to soften them.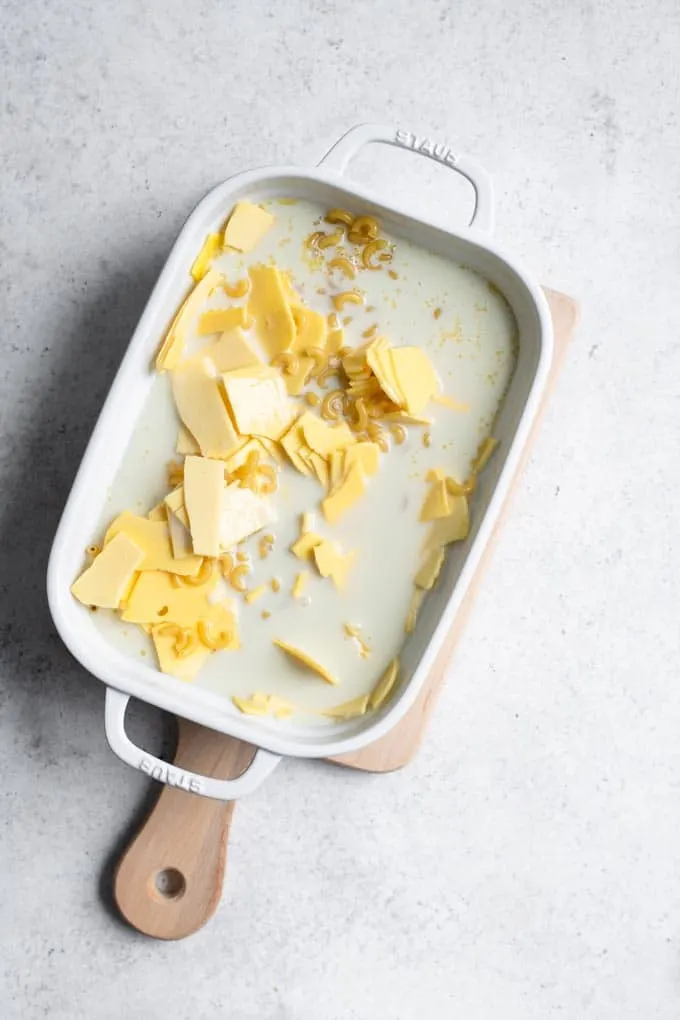 If your blender is more average power, you'll likely benefit from soaking the cashews to soften them before blending. Simply put the cashews in cold water and let sit for a couple of hours at room temperature before draining, rinsing, and using. You can speed up the soaking time by boiling the cashews for 15-20 minutes.
Cashews naturally have starches in them which thicken when heated and create a creamier no-boil mac and cheese. I find the texture of the final sauce is extra luxurious and because of this it's my favorite.
I always keep raw cashews in my fridge so this is easier for me than using a large amount of store bought plant milk. But store bought milks can be used instead, and this is your second main option for making this mac and cheese!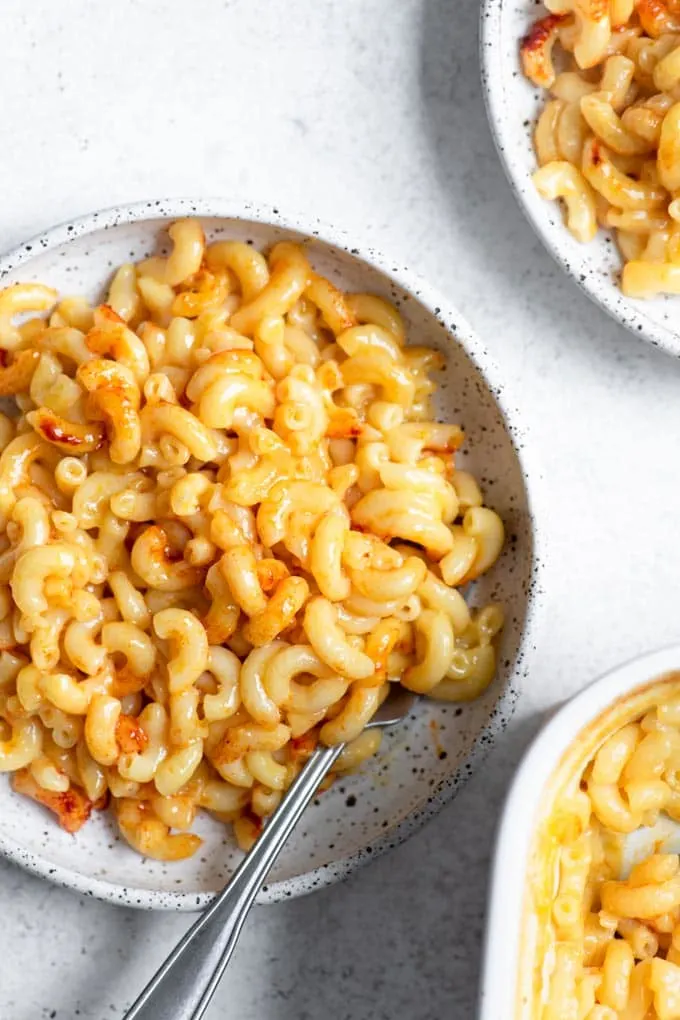 If using purchased milk, make sure it's plain and either unsweetened or low in added sugar. Oat milk, soy milk, and cashew milk are my top choices. The mac and cheese I took photos of in this post were made with a store bought oat milk.
You can also use other homemade plant milks if that's your thing! They key is you want a mild tasting and not sweet milk.
The rest of the ingredients:
A little bit of vegan butter is melted in the oven in the name of making the recipe more non-stick, but really it's just because it's good. Butter is an essential ingredient in traditional mac and cheese!
For seasoning add garlic powder, mustard powder, salt, and smoked paprika.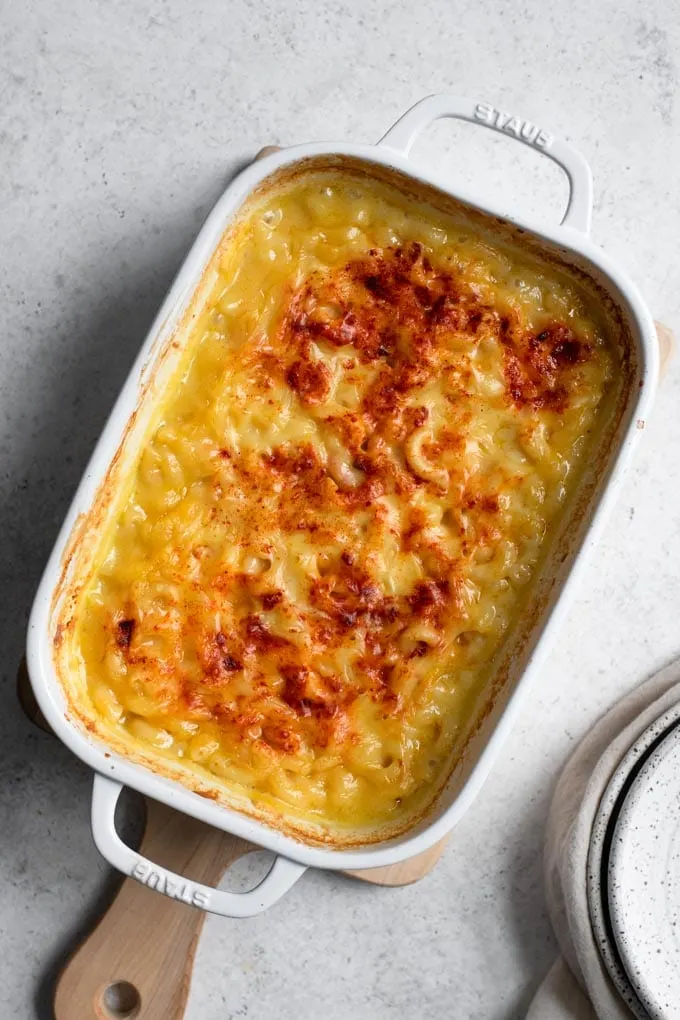 I have a toasted garlic powder which I loooove in this recipe, but as it's less common I also tested the mac and cheese with regular ol' garlic powder and it's also excellent.
I like to wait to add the smoked paprika at the end, sprinkling it over the top of the pasta right before it has the uncovered portion of its bake. Because what's better than a crispy top? A smoky, paprika-laced crispy top!
If all you have is regular non-smoked paprika, that works as well.
And that's all you need to make delicious no-boil vegan mac and cheese! I hope this becomes the staple in your home that it has quickly become in ours. It might not be the fastest way to make mac and cheese, but it sure is the easiest!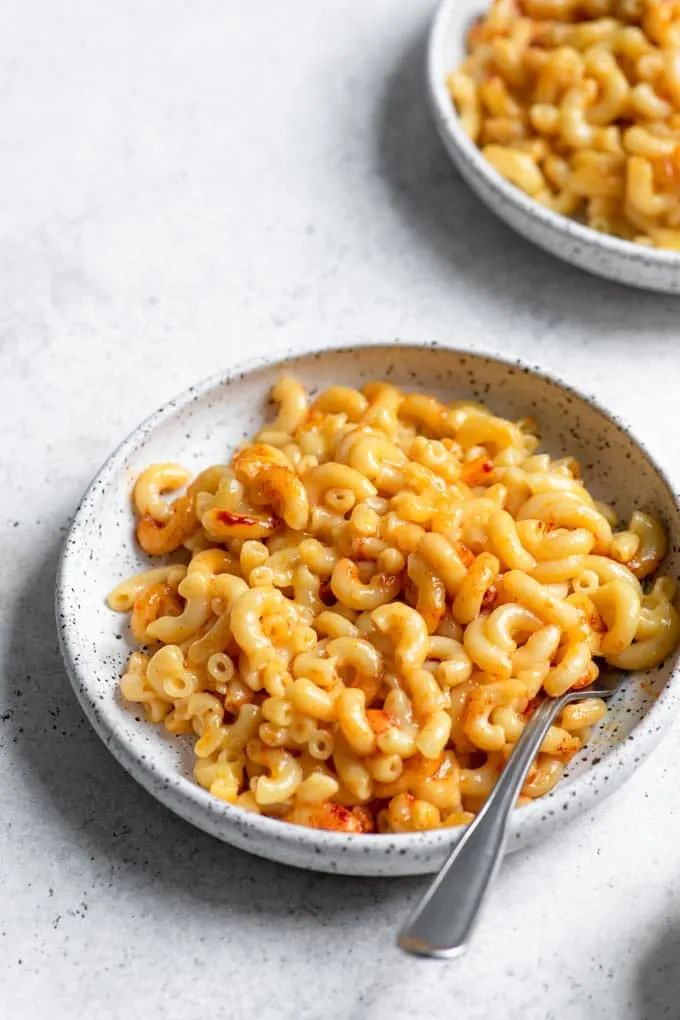 If you make this no-boil vegan mac and cheese, leave a comment below and rate the recipe on the recipe card. And please share your photos with me on Instagram, tag @thecuriouschickpea and #thecuriouschickpea. I love seeing your recreations!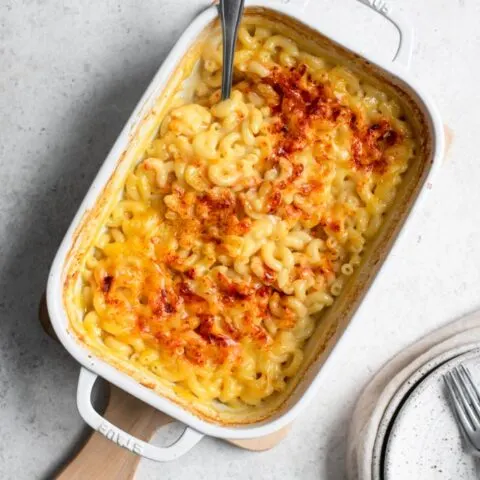 No-Boil Vegan Mac and Cheese
Total Time:
1 hour
5 minutes
This no-boil vegan mac and cheese is a 1-dish recipe and makes a deliciously creamy and cheesy pasta with a tasty crisp top. It's never been easier to make baked mac and cheese!
Ingredients
2 tbsp vegan butter
1 lb uncooked pasta (macaroni or other small shape)
1 1/2 cups cashews + 5 cups water (substitute 4 1/2 cups store bought plant milk + 1 1/2 cups water)*
7oz vegan cheddar, shreds or slices
7oz vegan smoked gouda or smoked provolone (or additional cheddar), shreds or slices
1 tsp salt
1 tsp garlic powder
1/2 tsp mustard powder
1/2 tsp smoked paprika, or to taste
Instructions
Preheat the oven to 375 ºF. Add the vegan butter to a 3 to 4 quart baking dish or 9x13-inch baking dish and place in the oven to melt. Remove once melted and spread the melted butter to coat the pan.
Put the uncooked macaroni into the dish and mix in the cheese, salt, garlic powder, and mustard powder to evenly distribute. If using slices of cheese tear or chop before adding.
If making homemade cashew milk, blend the cashews and 5 cups of water until smooth (see note). Pour in the homemade cashew milk (or store bought plant milk and water) and gently stir to combine.
Cover the pan with a lid, aluminum foil, or an overturned baking sheet that's large enough to cover the dish and trap the steam. Bake for 40 minutes, stirring halfway through. Check a noodle for doneness, it should be tender at this point, if not continue to cook until it is tender.
Uncover the baking dish, sprinkle smoked paprika over top, and bake an additional 5-20 minutes until the top gets crispy to your liking. Let cool for a few minutes before serving!
Notes
You can use a homemade cashew milk or store bought plant milk to make this. Cashew milk makes for an even creamier pasta.
If using homemade cashew milk: blend 1.5 cups raw cashews with 5 cups of water. If not using a high powered blender, soften the cashews in water before blending. Soak cashews in cold water for 2 hours, or boil for 15 minutes, then drain, rinse, and use cashews.
If using store bought milk, my preferences are oat milk or soy milk (cashew milk also works but it isn't the same as using homemade cashew milk). Choose a plain and unsweetened or low in added sugar milk. Use 4 1/2 cup of store bought milk and 1 1/2 cups of water. You can use all milk but it is more expensive.
Nutrition Information:
Yield:

8
Serving Size:

1
Amount Per Serving:
Calories:

388
Total Fat:

21g
Saturated Fat:

5g
Trans Fat:

1g
Unsaturated Fat:

16g
Cholesterol:

0mg
Sodium:

802mg
Carbohydrates:

38g
Fiber:

2g
Sugar:

13g
Protein:

13g
Nutrition is calculated automatically so should be used as an estimate. This calculation assumes you use homemade cashew milk in the recipe.