This vegan buffalo wing mac and cheese is made with an easy coconut milk cheese sauce and crispy buffalo tofu wings for an epic and mouth-watering meal!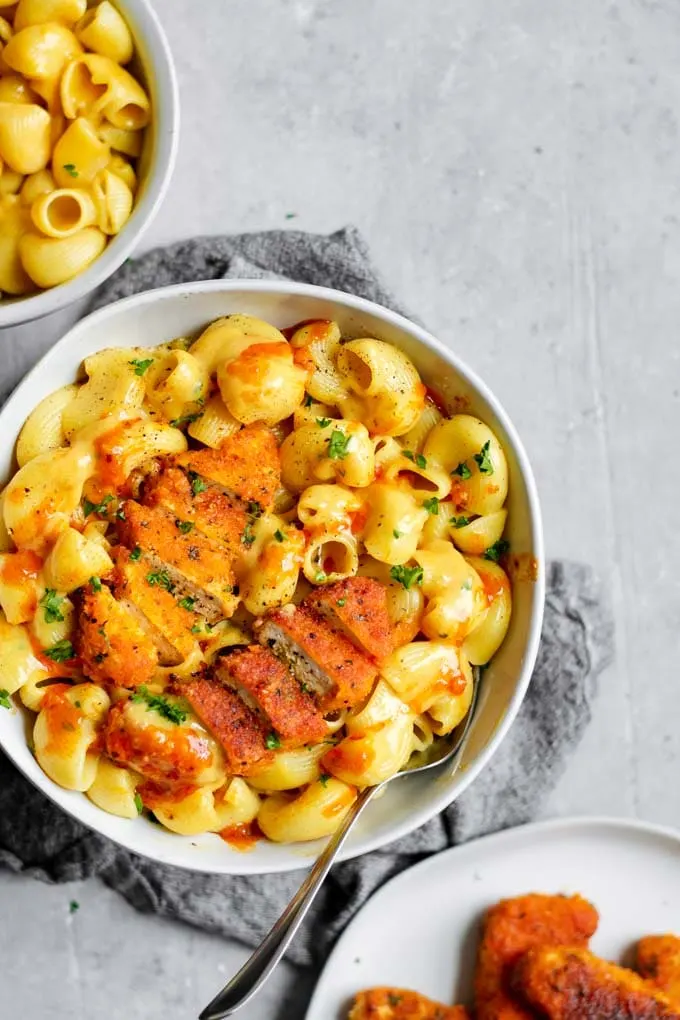 This recipe was sponsored by Edward & Sons.
---
Cold weather calls for a few things: cozy clothes, fireplaces, and vegan buffalo wing mac and cheese. To be fair, I would argue that warm weather calls for my tofu buffalo wing mac and cheese too. Some foods are too delicious to save for just one season! I think you'll understand once you try this recipe for yourself 😉 .
I have a minor (major) obsession with all things buffalo sauce and all things creamy, cheesy noodles. So it was only a matter of time until I combined the two foodie loves of my life into one epic entree! And before I knew it, we ate the dish 3 times over the course of one month. It's that good.
The crispy breaded tofu soaks up tasty spicy buffalo sauce, while the easy homemade cheese sauce spills into the noodles' crooks and centers for the gooiest of bites. With an extra drizzle of buffalo hot sauce to serve, it's everything your belly has been craving!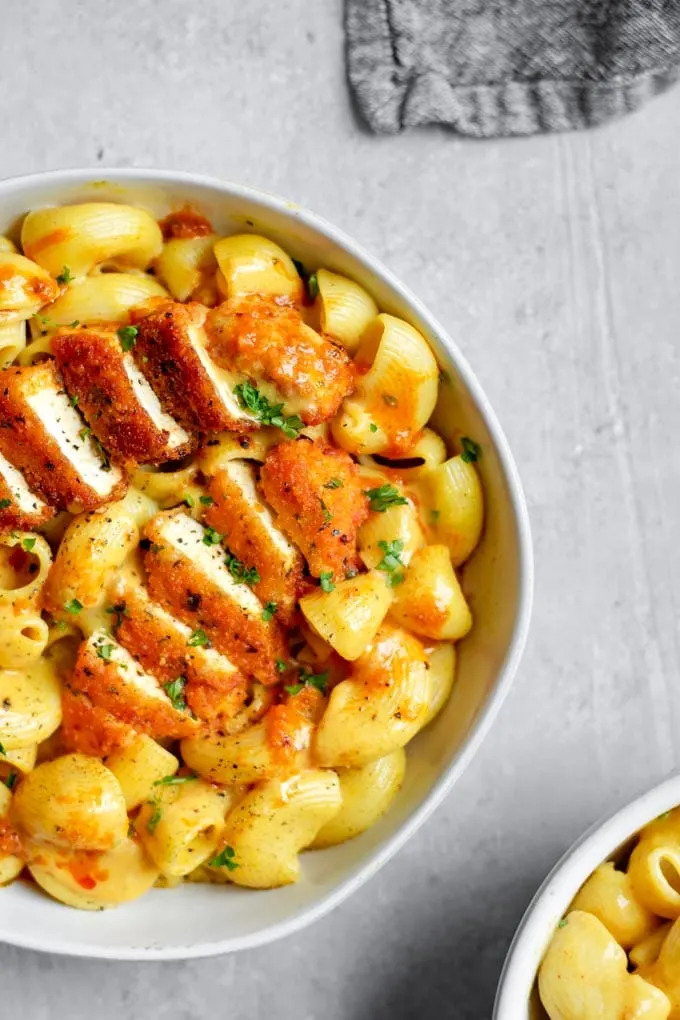 Making the tofu wings and cheese sauce couldn't be simpler, and it makes enough to serve a crowd! It's the perfect game day recipe, and ideal for showing your family that you do eat more things than salad. I'll admit, sharing such mouth-watering food can be hard, even with loved ones, so you'll be happy to hear that leftovers reheat well! The wings crisp back up on a hot, dry skillet or in the oven/toaster oven.
When it comes to making your recipes the best they can be, ingredients matter. I'm a big fan of Edward & Son's and keep a lot of their products stocked in my pantry at all times! It's easy to make delicious recipes with organic, good for you ingredients with their expansive line of vegan friendly foods. I was really excited to partner with them to bring this recipe to you.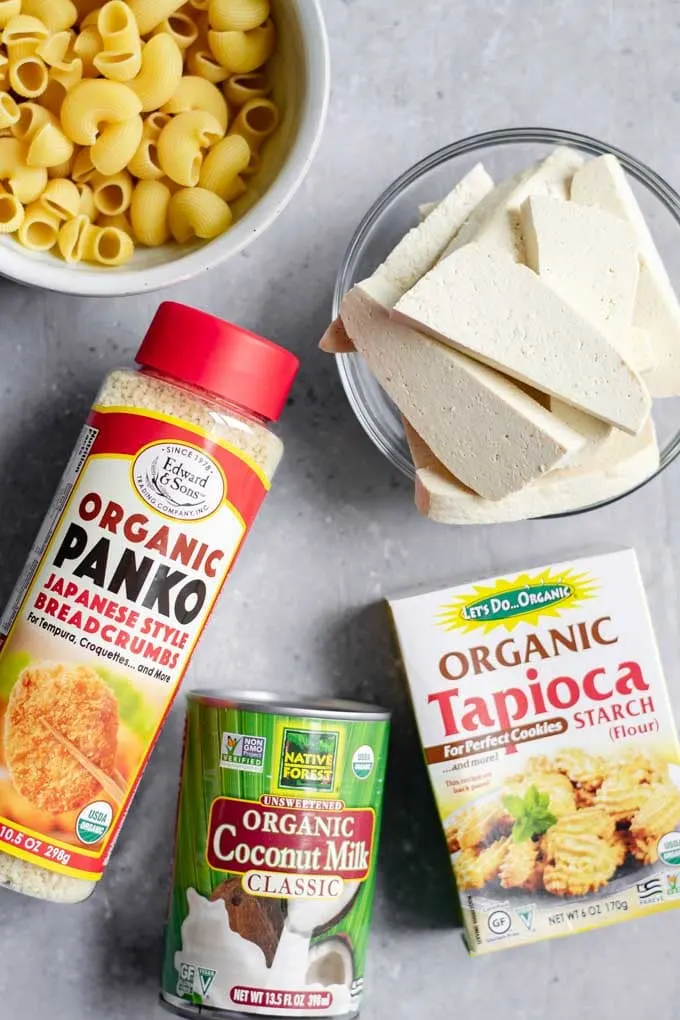 Making the buffalo tofu wings:
I look for every excuse to eat my vegan buffalo tofu wings, and judging by the fact that is one of my most popular recipes on the blog I think you guys feel the same way! And while they make a great appetizer or snack, I must admit I love them that much more atop mac and cheese.
To make them, first choose extra firm or super firm tofu. If you choose extra firm tofu, squeeze out some of the excess water to make the tofu less wet and delicate to handle. Slice the tofu into 6 slabs, wrap in a lint-free towel or paper towel, then set something heavy over the tofu for about 20 minutes before cutting them into their final "wing" shape. This step can be skipped with super firm tofu.
Next get together a workstation with three bowls/plates. In the first, put Let's Do Organic Tapioca Starch, then a splash of plant milk in the next, and the breadcrumb mixture in the last.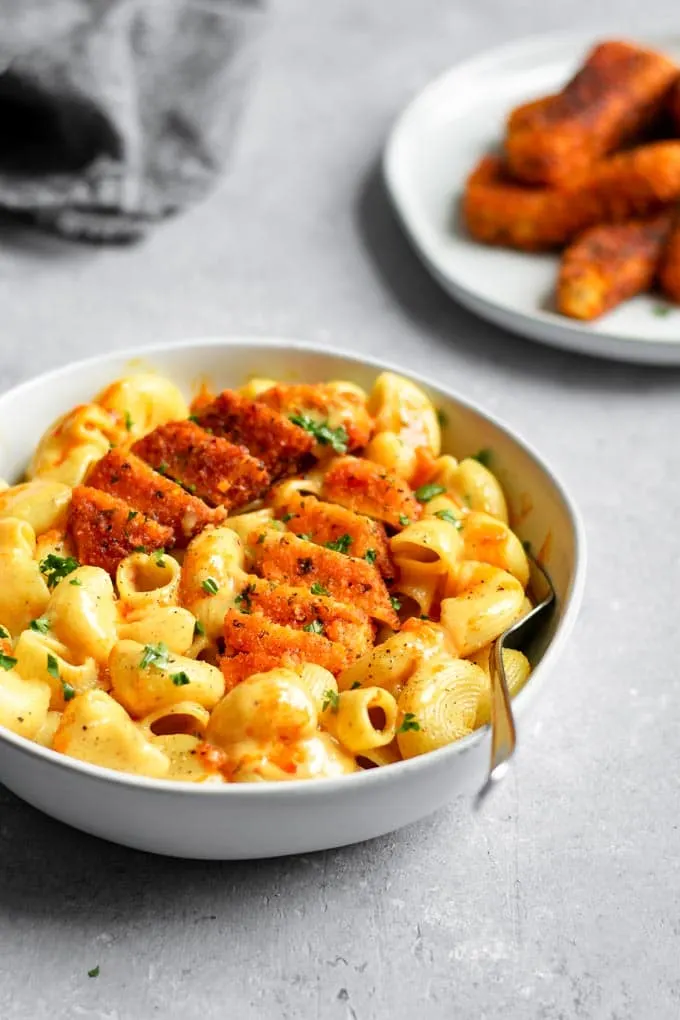 For the breadcrumb coating I love to use Edward & Son's Organic Panko Breadcrumbs. Compared to regular breadcrumbs, panko makes for an extra crispy vegan wing and is my preferred choice. The panko is mixed with paprika for a peppery flavor, fresh minced parsley for slightly bitter and bright notes, and salt and pepper for seasoning.
Dip the tofu first in the tapioca starch to coat; the starch will naturally stick to the damp tofu, even after pressing. Next dip it in the plant milk, which will absorb into the starch to create a sticky coating. Lastly dip the tofu into the panko mixture. Set onto a baking tray, drizzle or spray with a little oil, then bake until nice and crispy!
Toss in an easy 4 ingredient buffalo sauce (hot sauce, vegan butter, plus a pinch each of salt and garlic powder) right before serving.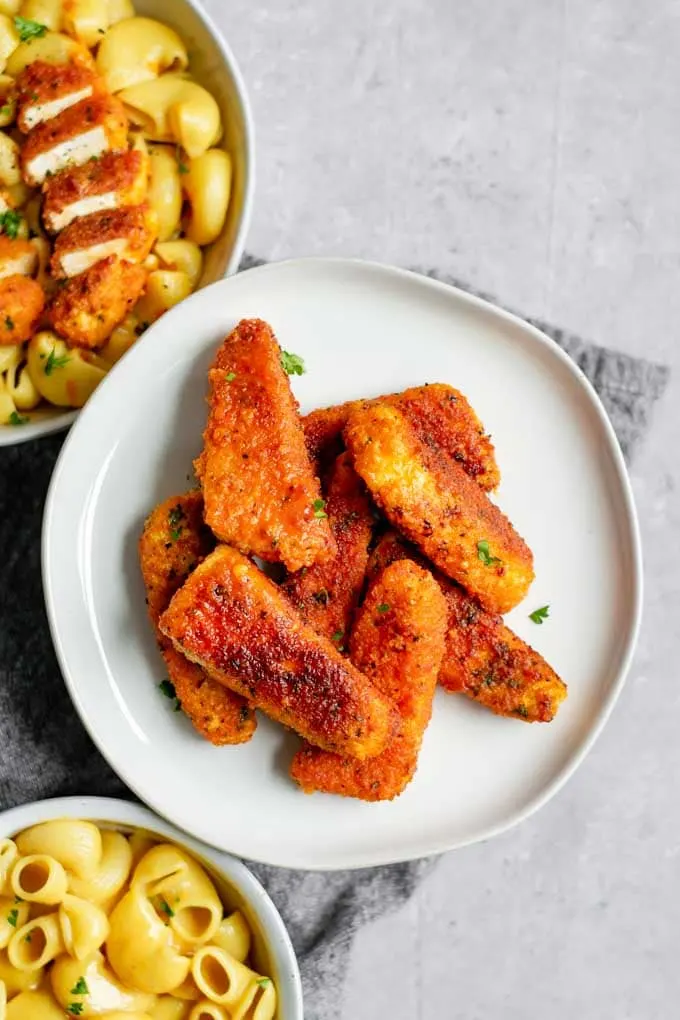 Making the coconut milk mac and cheese:
While the buffalo wings are baking, make your cheese sauce and noodles! I am obsessed with how easy the sauce is. No blender or fancy equipment needed, its pantry friendly, and comes together in a matter of minutes.
Native Forest Organic Coconut Milk is the base for this cheesy sauce. It's rich and velvety smooth, and turns into a mouth-watering mac and cheese. To make the cheese sauce, first mix with your choice of plain unsweetened plant milk, or if you'd like, a second can of coconut milk for a more decadent sauce. Either way it's amazing!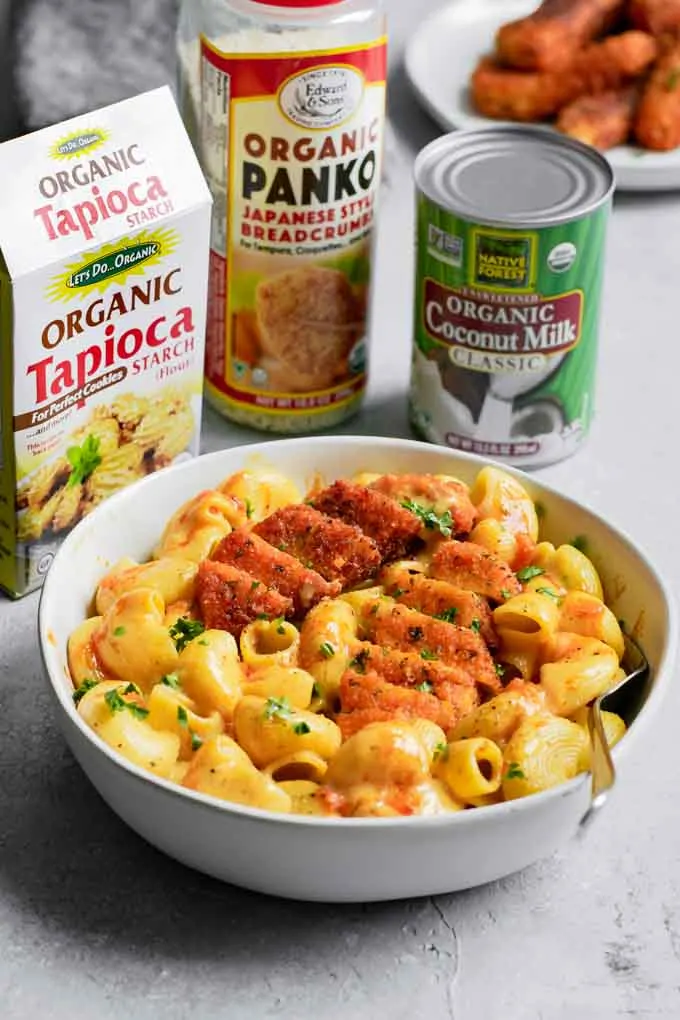 Whisked into the creamy base we have: nutritional yeast for cheesy, nutty flavor, smoked paprika to complement the smoky spicy buffalo tofu wings, onion and garlic powder to enhance the rich flavors, a bit of turmeric for its yellow color, and plenty of salt to counteract the natural sweetness of coconut milk and because cheese is salty.
Next we have a somewhat odd sounding ingredient, but bear with me. Coconut vinegar (you can also substitute apple cider vinegar) cuts down on the coconutty flavor and gives some of the sharpness and acidity that cheese has. A splash of vinegar is my favorite hack for making vegan cheese and cheesy sauces.
Lastly mix in Let's Do Organic Tapioca Starch, which thickens the sauce and gives it the unique stretchy quality. Tapioca starch isn't as fussy as say cornstarch, so usually will whisk in without clumping, but to be safe you can first mix it into a quarter cup of the milk before adding it into the pot.
To finish the sauce all you do is bring it to a simmer and let is bubble away for a few minutes until the starch activates and cooks and the sauce is thickened. Mix with cooked pasta and you've got your mac and cheese! So, so good.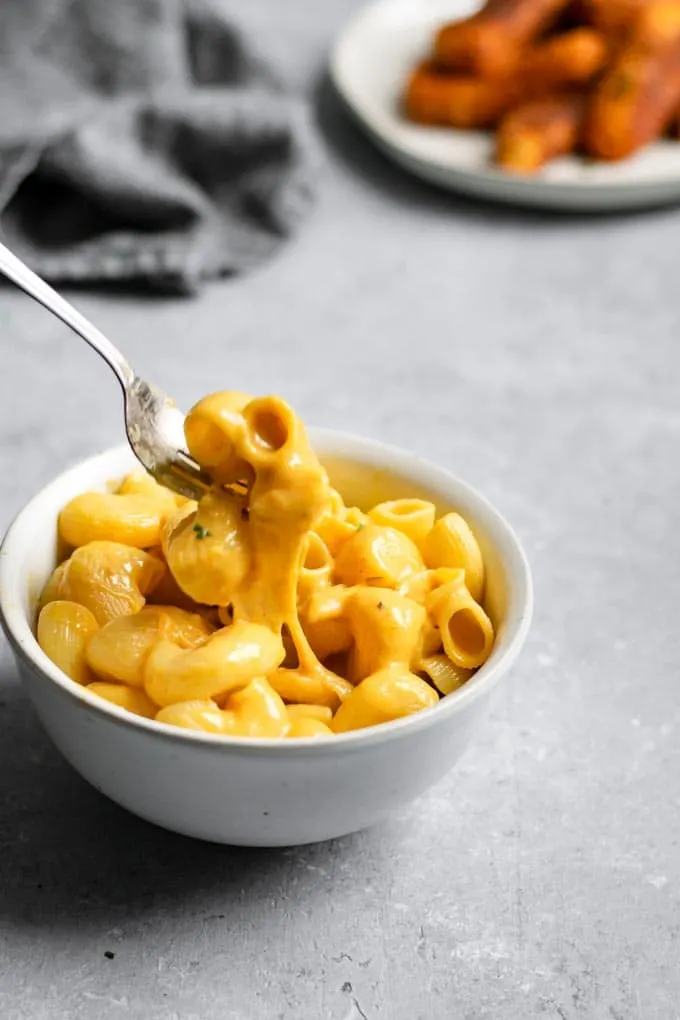 Enjoy your vegan buffalo wing mac and cheese:
Last comes the best part! Serve your coconut milk mac and cheese, place a buffalo tofu wing or two over your serving of cheesy noodles, drizzle on a little extra buffalo sauce or hot sauce and enjoy! Make sure to repeat as often as possible 😛 . You can take the recipe next level by adding a little vegan ranch or bleu cheese dressing over the wings. No one will complain, trust me.
Thank you to Edward & Son's for sponsoring this recipe!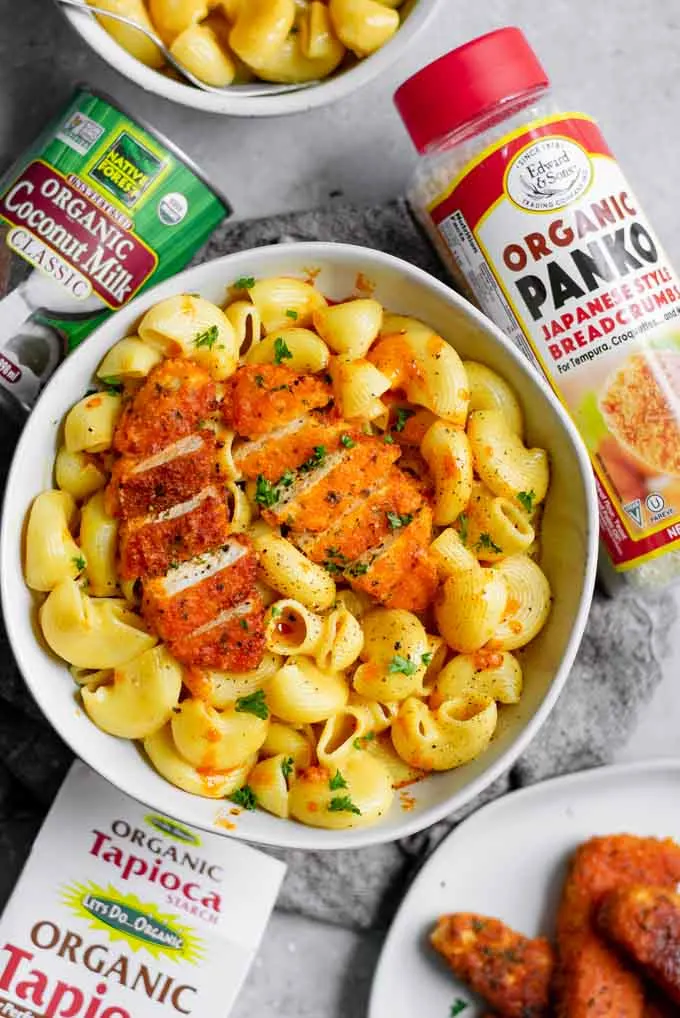 If you make this vegan buffalo wing mac and cheese, leave a comment below and rate the recipe on the recipe card. And please share your photos with me on Instagram, tag @thecuriouschickpea and #thecuriouschickpea, I love seeing your creations!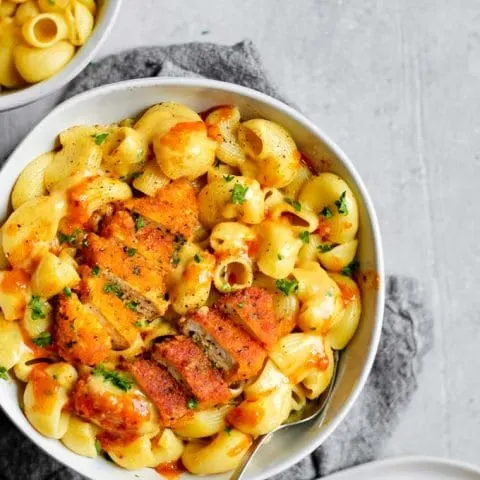 Vegan Buffalo Wing Mac and Cheese
Tofu Pressing Time:
20 minutes
Total Time:
1 hour
20 minutes
This vegan buffalo wing mac and cheese is made with an easy coconut milk cheese sauce and crispy buffalo tofu wings for an epic and mouth-watering meal!
Ingredients
Buffalo Tofu Wings
1 lb extra firm or super firm tofu
1/4 cup plant milk
1/2 tsp paprika
1/2 tsp salt
freshly ground black pepper
1 tbsp fresh minced parsley
1 tbsp oil
6 tbsp hot sauce
3 tbsp vegan butter, melted
1/8 tsp garlic powder
1/8 tsp salt
Coconut Milk Mac and Cheese
1 lb pasta
1 1/2 cups plant milk, or a second can of coconut milk
2 tsp coconut vinegar or apple cider vinegar
1/4 cup nutritional yeast
1 1/2 - 2 tsp salt, to taste
1 1/2 tsp smoked paprika
1 tsp onion powder
1/2 tsp garlic powder
1/8 tsp turmeric powder
Instructions
Buffalo Tofu Wings:
Preheat the oven to 425 ºF.
Cut the tofu into 6 width-wise slices. If using extra firm tofu wrap the tofu in a lint free towel or in paper towels and press with something heavy for 20-30 minutes. Cut each slab in half on a diagonal.
Make a work station with 3 bowls, fill one with the 1/4 cup tapioca starch, the second with 1/4 cup plant milk, and in the third mix together the panko, paprika, 1/2 teaspoon of salt, black pepper, and parsley. Dip each piece of tofu first into the starch, then the milk, and lastly the breadcrumb mixture to coat. Repeat until all tofu wings are breaded.
Drizzle 1/2 tablespoon of oil onto a small quarter sheet pan, or spray with oil. Place tofu wings on top then drizzle the remaining 1/2 tablespoon of oil over top (or spray with oil). Bake for 35-45 minutes or until the tofu wings are very crispy. Flip halfway through for more even baking (optional).
Immediately before serving, whisk together the hot sauce, vegan butter, 1/8 teaspoon of garlic powder and salt. In a large bowl, toss the tofu wings in the hot sauce.
Coconut Milk Mac & Cheese:
While the buffalo tofu wings are baking, cook the pasta according to package directions. Drain and set aside.
In a second pot whisk together the coconut milk, plant milk (or second can of coconut milk), coconut or apple cider vinegar, nutritional yeast, 1 1/2 teaspoons of salt, smoked paprika, onion powder, garlic powder, and turmeric powder. Mix the tapioca starch with 1/4 cup of the liquid in a separate bowl, then add back to the pot and combine.
Bring the sauce to a boil over medium high heat, then lower heat to simmer until the sauce has thickened and turned stretchy, about 3-5 minutes. Whisk frequently to prevent clumps.
Mix the sauce and pasta together, taste and add salt if desired. Serve with the buffalo tofu wings plus extra hot sauce to taste and fresh parsley for garnish.
Notes
The tofu wings can be pan fried for 3-4 minutes each side over medium heat in a thin layer of oil. If you fry them, decrease the vegan butter in the buffalo wing sauce to 1 tablespoon. They do not get as crispy when pan fried, but it is faster!
Recommended Products
As an Amazon Associate and member of other affiliate programs, I earn from qualifying purchases.
Nutrition Information:
Yield:

8
Serving Size:

1
Amount Per Serving:
Calories:

543
Total Fat:

23g
Saturated Fat:

15g
Trans Fat:

0g
Unsaturated Fat:

7g
Sodium:

1521mg
Carbohydrates:

70g
Fiber:

4g
Sugar:

5g
Protein:

16g