Next time you're looking for a vegan wing, try these gochujang tempeh wings! They're crispy and flavorful, and so good dipped into a gochujang mayo. You can bake them or fry them for an extra crispy treat!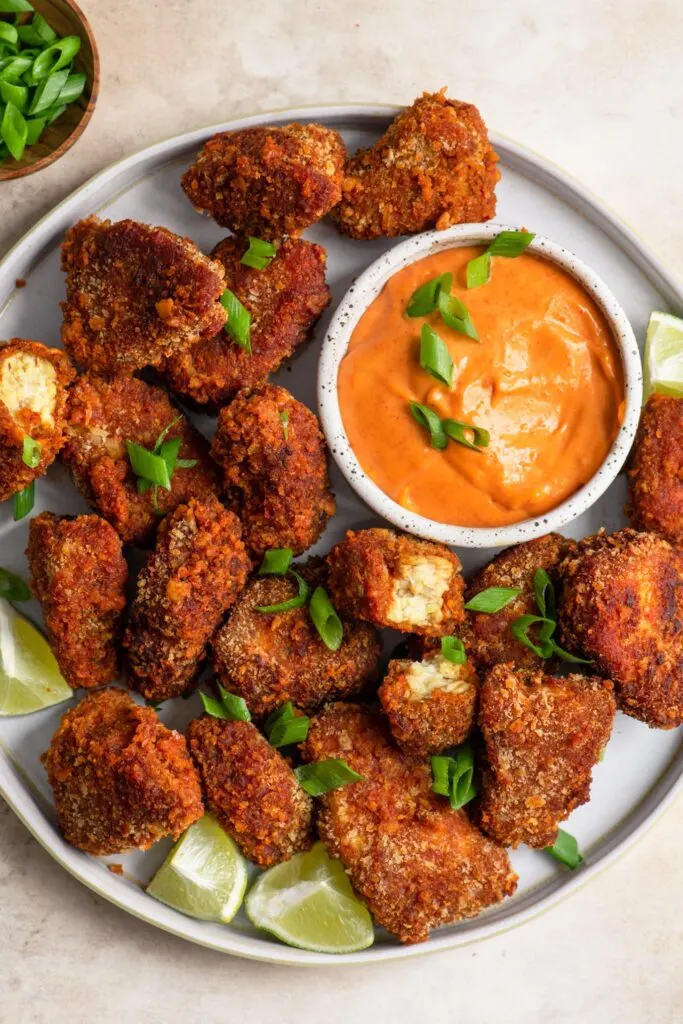 Next time you get a hankering for some vegan wings, take a little Korean tastebud adventure and make some of these gochujang tempeh wings!
They're marinated in a super savory and delicious gochujang marinade and breaded with a starch + panko breadcrumbs combo which soaks up extra marinade for even more yum!
You can bake them for every day enjoyment, or fry them up for special occasions and to impress guests. Or, I mean, do you–I give both options to cook them!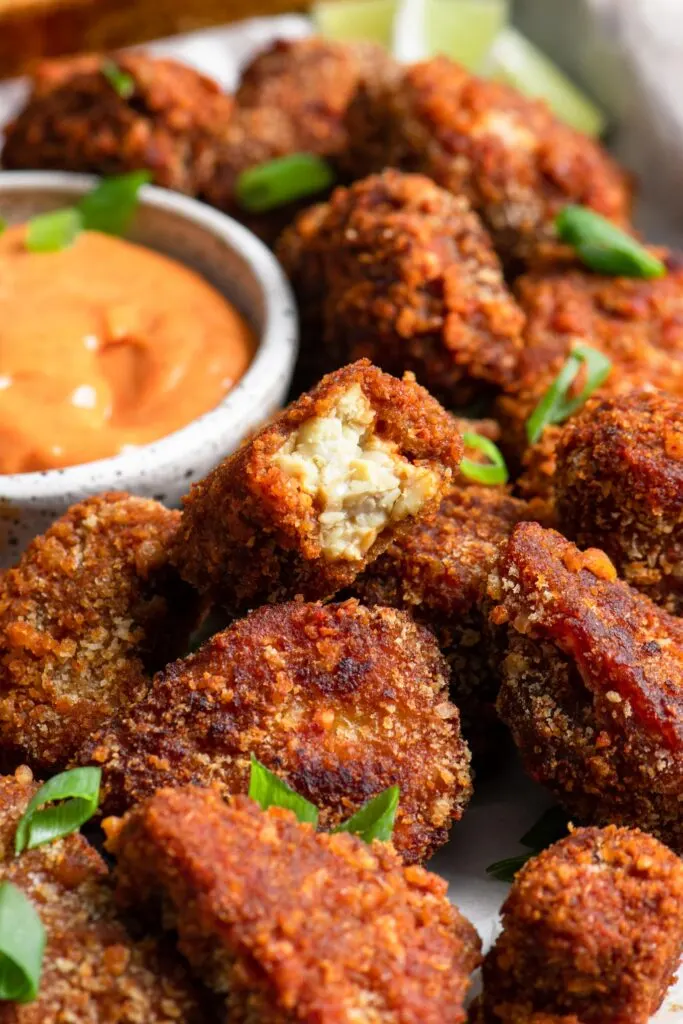 The gochujang marinade gives the wings a beautiful reddish orange color, and dyes the vegan mayo orange making this as much a feast for the eyes as it is the belly!
Serve these tempeh wings next time you need some snacks for game day or game night. Or enjoy them on your dinner plate with a side of rice and veggie of your choice, drizzling the gochujang mayo and a squeeze of lime overtop!
What is Gochujang?
If you're like me (i.e. your dad is an immigrant from Sindh, your mom Mayflower/old New England white, and raised vegetarian in a small college town in the Midwest), you may be newer to Korean food.
It's not traditionally the most veggie friendly cuisine, even a lot of the veggie sounding dishes are hiding fish and shrimp sauce. But when you make it yourself, you can stick to vegan sauces and ingredients. And oh boy are the flavors incredible!
I love the bolder flavored dishes, and these often include plenty of gochujang in them. So what is it?
Gochujang is a red chile paste made of fermented soy beans, glutinous rice, sugar, and gochugaru (a Korean red chili pepper powder).
Due to the fermented nature of the ingredients, it has a lot more depth of flavor than your average chili sauce. It lends itself nicely to recipes where it's thinned out, and sometimes diluted.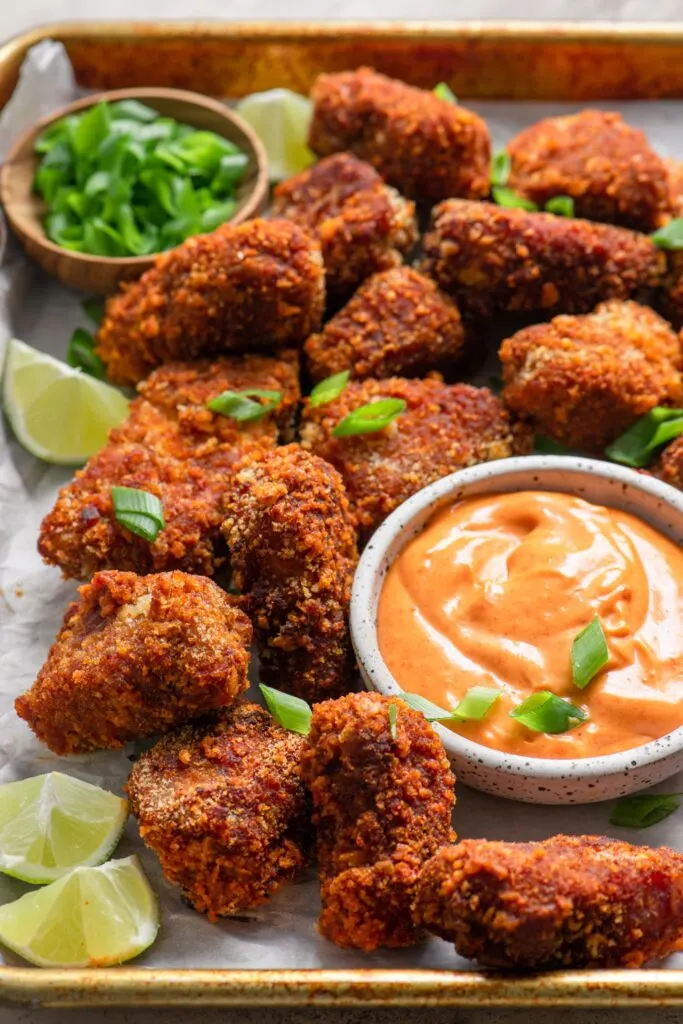 Gochujang has a delicious lingering heat that builds slowly in your mouth, and can be bought in mild or hot variations. The heat varies a lot by brand, so check labels and taste before you use it.
I personally find most gochujang to be pretty mild in heat, so I tend to use a lot. If yours is spicy you may need to use less, so just taste it and trust your taste buds!
If you've never had gochujang but like bold, umami rich flavors, I think you'll be in for a treat!
The Tempeh:
Why use tempeh? Well I personally think it makes a great "wing." It has a great chewy texture and savory flavor. It holds up well for baking and frying. Plus it marinated really nicely, soaking up all the delicious flavor!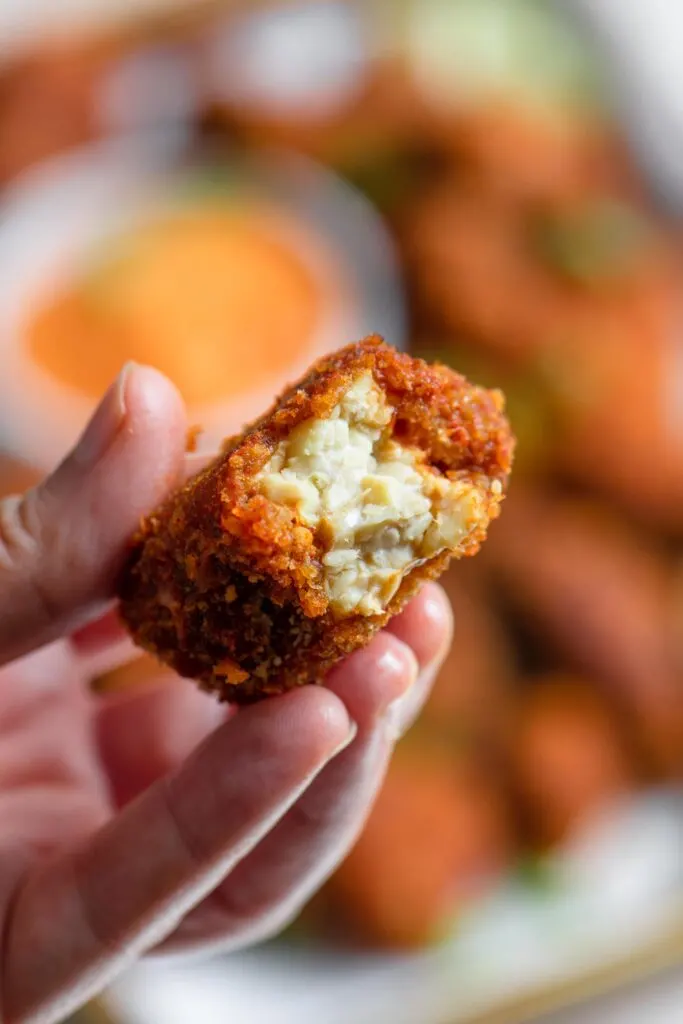 Tempeh is high in protein, and as it's fermented, the protein is more bio-available. It's also a less processed protein, if that's of interest to you. It's literally just whole soy beans that have been fermented into a cake. It doesn't get simpler!
If you're not sure if you like tempeh, well, then this is the recipe to try! It's doused in a super flavorful sauce and cooked until crispy. I mean, that's your best chance of liking anything, right?
One tip: if you kinda like tempeh but find it can be a bit bitter, you can steam it for 5-10 minutes before marinating. I don't think it's necessary for this recipe, but it's an option.
I like to tear up the tempeh into chunks as I find it gives a nice rustic misshapen look. Er.. I mean, "wing" look. If you like even shapes then you can go ahead and cut it into rectangles about 1 inches by 2 inches.
The gochujang marinade:
It's garlicky, gingery, peppery, and salty. And so simple.
It's pretty pantry friendly for me, and if you enjoy cooking from Asian cuisines it will probably be for you as well.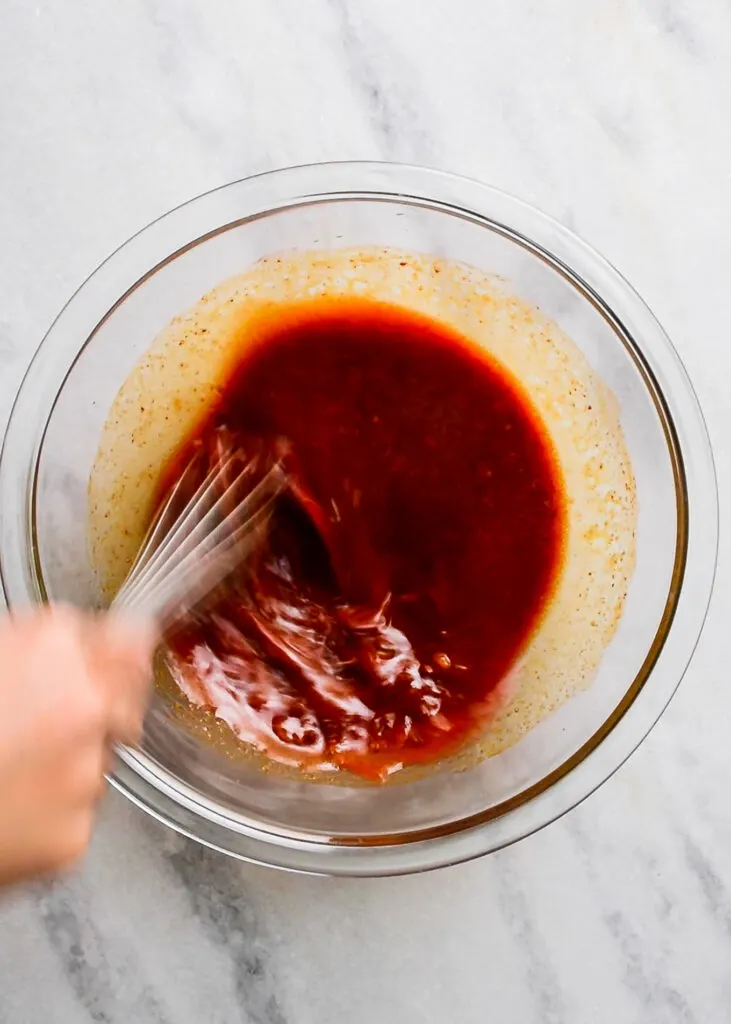 Garlic and ginger as aromatics and for their pungent flavor. Gochujang, soy sauce, mirin, and toasted sesame oil as the "specialty" ingredients.
Any soy sauce will do, if you need gluten free use Tamari. Mirin is a rice cooking wine, so it can be substituted with cooking sherry, Chinese cooking wine, or even white wine. For alcohol free, just leave it out.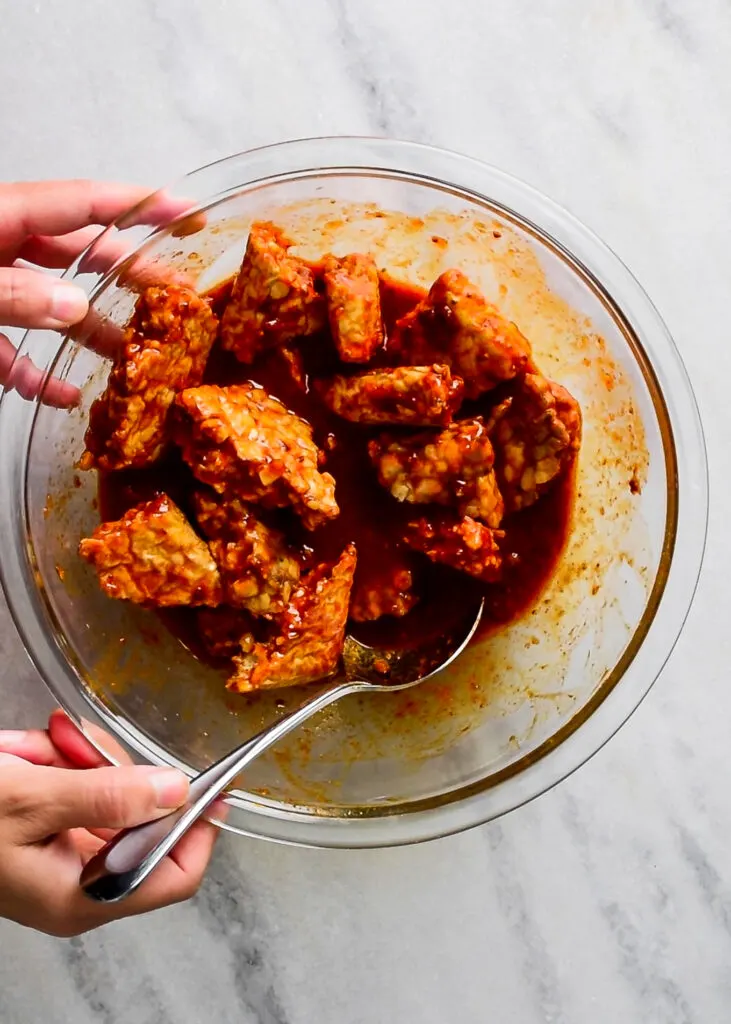 Last some sugar to balance out the heat and enhance the savory flavors and vegetable broth (or water) to thin the marinade.
Making the gochujang tempeh wings:
Let the tempeh marinade for at least 30 minutes, but ideally a couple of hours or overnight. The more time you give it, the more the marinade has a chance to soak into the tempeh.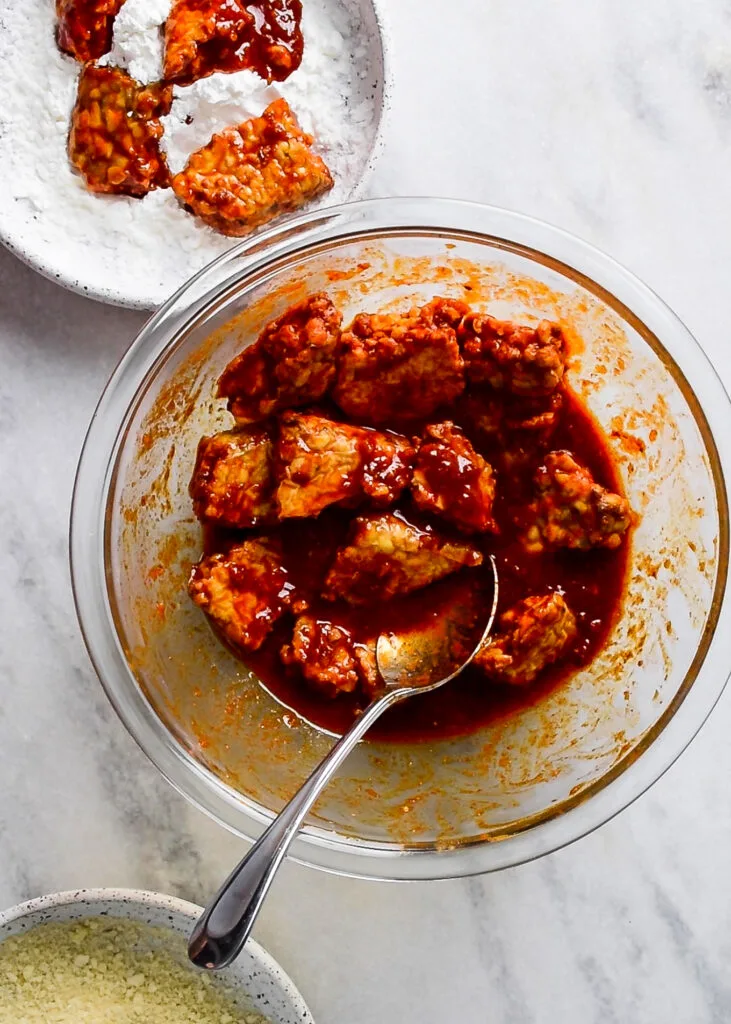 Once marinated set up your dipping stations: the tempeh in the marinade, a plate of cornstarch (or arrowroot starch) and a plate of panko bread crumbs.
Dip each wing into the cornstarch, tapping off excess. Then dip it back into marinade to wet the starch before dipping it into the panko bread crumbs to coat.
Once all tempeh wings are breaded, bake or fry them!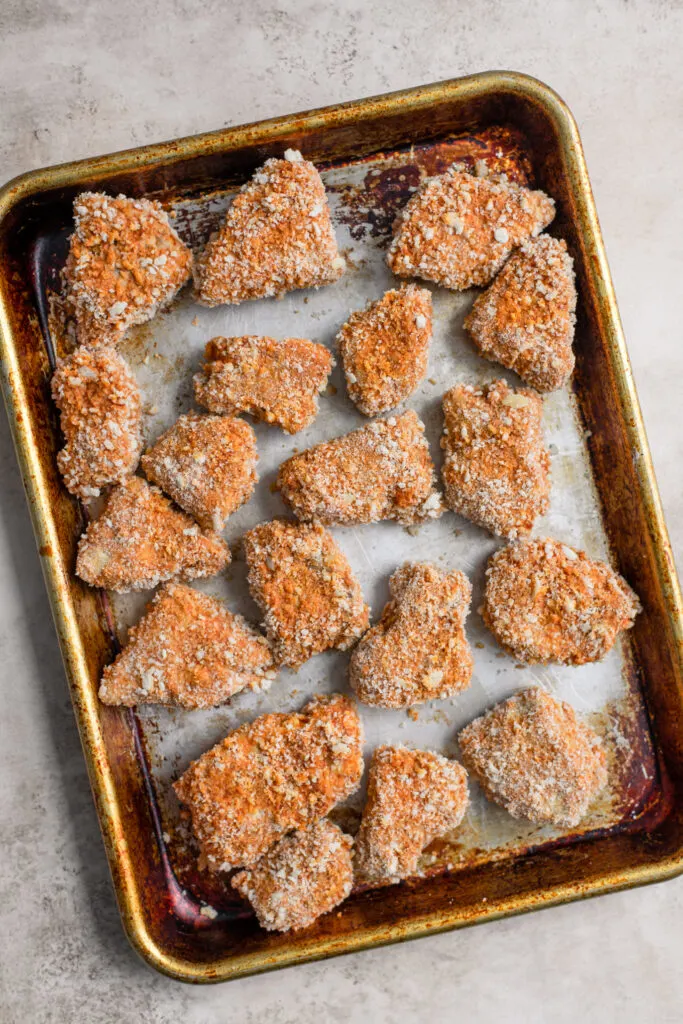 If you have any marinade left and it didn't get too much of the starch in it, you can thin it with some lime juice and drizzle it over the fried or baked wings to make them even more flavorful. This does make them lose some of the crispness, so it's definitely a trade off.
Definitely stir together the two ingredient dip for dipping or drizzling! All you need is vegan mayo and some more gochujang.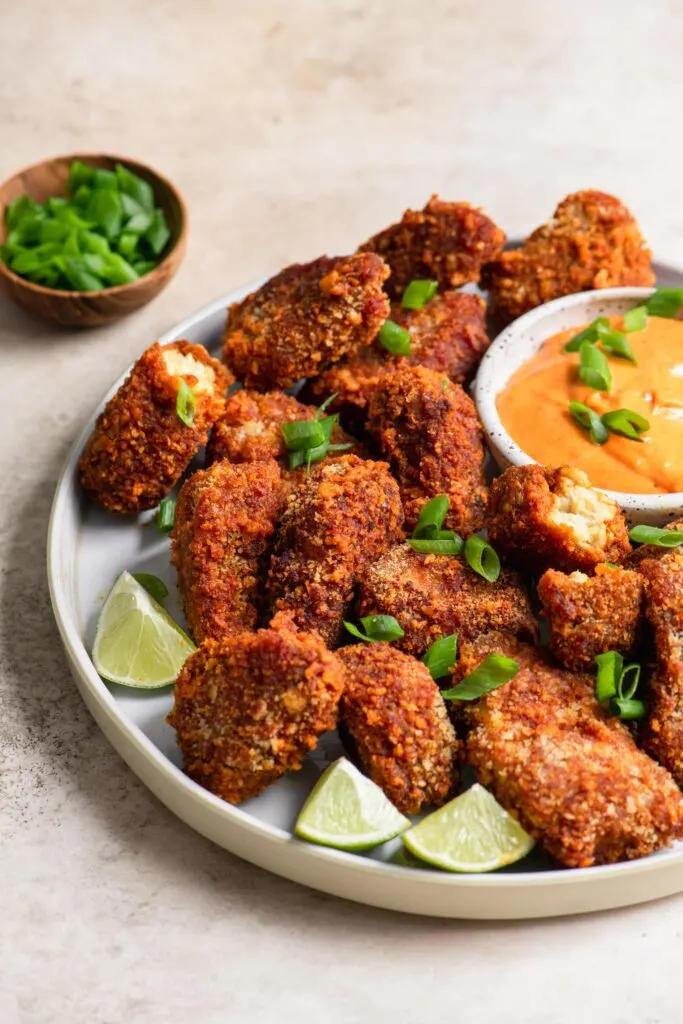 These vegan wings are an umami-bomb of a treat that demand to be shoveled into your mouth! And maybe shared with some friends and family? That's totally optional though.
For gluten free tempeh wings:
Use a gluten free gochujang, most do contain gluten so definitely check labels. Also use a gluten free soy sauce like tamari. Mirin is rice wine so should be gluten free, but check your labels. ?
And of course, the breadcrumbs! Use a store-bought vegan and gluten free breadcrumb (for example the chickpea based ones), or a crushed rice or corn cereal.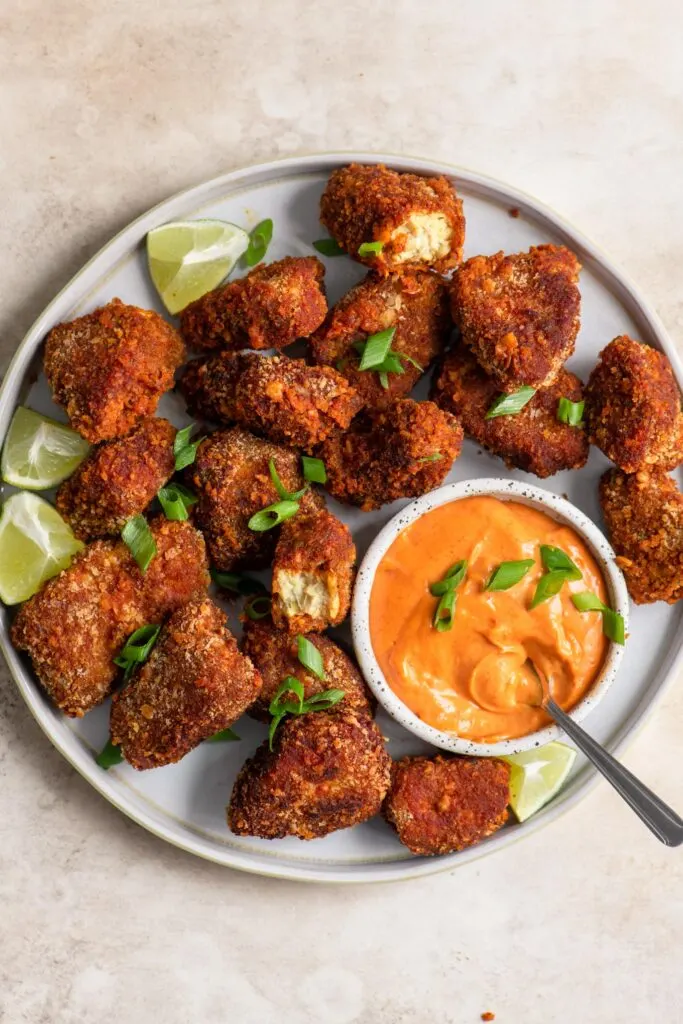 If you make these vegan gochujang tempeh wings, leave a comment below and rate the recipe on the recipe card. And please share your photos with me on Instagram, tag @thecuriouschickpea and #thecuriouschickpea. I love seeing your recreations!
If you want more vegan wings, check out my tofu buffalo wings!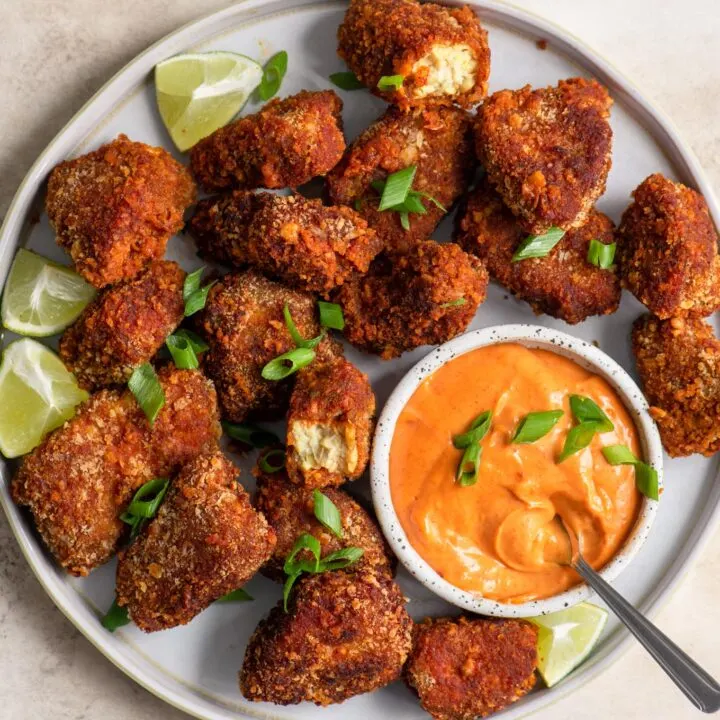 Gochujang Tempeh Wings
Marinating Time:
10 minutes
These gochujang tempeh wings make use of the bold and umami-rich flavors of Korean cuisine in a protein packed vegan wing. They're easy to make and can be either baked or deep fried. They're sure to be a hit at your next party!
Ingredients
1 lb tempeh
4 cloves garlic, minced or pressed
1 tbsp minced or grated ginger (~1" piece)
1/4 cup gochujang
2 tbsp soy sauce
2 tbsp mirin
1 tbsp toasted sesame oil
1 tsp coconut sugar or brown sugar
1/2 cup vegetable broth or water
1/2-3/4 cups cornstarch or arrowroot powder
1/2-1 cup panko style bread crumbs, gluten free if desired
1 tbsp fresh lime juice, or wedges of lime to serve
green onions for garnish
oil for baking or frying
Gochujang Mayo
1/2 cup mayonnaise
2-4 tbsp gochujang
Instructions
In a mixing bowl stir together the garlic, ginger, gochujang, soy sauce, mirin, toasted sesame oil, coconut sugar, and broth (or water).
Tear up tempeh into around 16 chunks (each 8oz block of tempeh into 8 pieces) and place them into the marinade, stirring to coat. Let marinate for 10-30 minutes, flipping occasionally, or place in the fridge to marinate up to overnight.
When ready to make the wings, either preheat your oven to 425 ºF if baking, or slowly heat about 1" of oil in a heavy bottomed pot or skillet over medium-low heat to deep fry.
Make your dipping stations: add cornstarch to one bowl and bread crumbs to a second bowl. Dip each tempeh wing by removing it from the marinade, tossing it in cornstarch then tapping off excess starch, coating the tempeh in marinade once more, then dipping it in the bread crumbs to coat. Repeat with the remaining pieces.
To bake: Place the prepared tempeh wings on a parchment or silicon mat lined baking tray and spray or drizzle with oil. Bake for 10 minutes, then flip and bake an additional 6-10 minutes until golden and cripsy on each side.
To fry: test that the oil is hot, it should be 350 ºF if checking with a thermometer, or you can test with a small piece of tempeh: the oil should bubble/boil vigorously around it and the piece of tempeh should float to the surface fairly quickly after being dropped in. When the oil is heated, fry in batches, 1-2 minutes on each side, until the wings are a rich golden brown. Remove from oil and place on a paper towel lined plate.
Optional: add the fresh lime juice to the remaining marinade and drizzle over tempeh wings once they have cooked. This will make them less crispy but extra flavorful.
Serve the tempeh wings hot, garnished with green onions and wedges of lime and with gochujang mayo for dipping.
Gochujang mayo
In a small bowl mix together the mayonnaise and 2 tbsp of the gochujang. Taste and add more gochujang if desired. This can be made in advance.
Notes
*gochujang can vary in heat levels between brands. Mine is very mild so even with this much gochujang the wings were not spicy. Check yours for heat before using the full amount if you're heat adverse, you may find you want to use less if it is too spicy, or add chili flakes or cayenne for extra heat if too mild.
Recommended Products
As an Amazon Associate and member of other affiliate programs, I earn from qualifying purchases.
Nutrition Information:
Yield:

8
Serving Size:

1
Amount Per Serving:
Calories:

404
Total Fat:

23g
Sodium:

1074mg
Carbohydrates:

37g
Fiber:

1g
Sugar:

10g
Protein:

15g
Nutrition is calculated automatically so should be used as an estimate.
This recipe was originally posted on September 14, 2017.