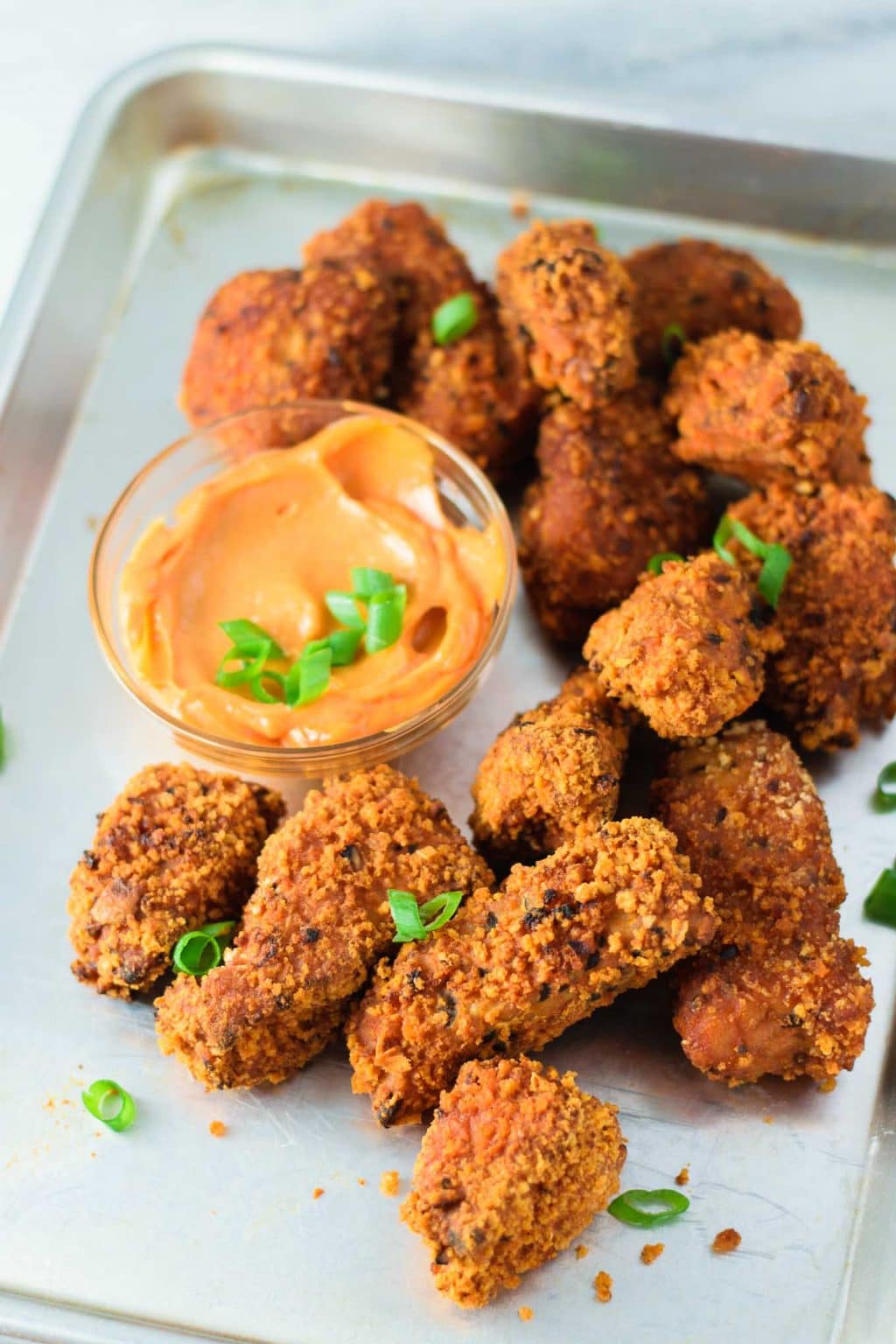 I've been making way too many recipes with chipotle peppers lately (not that this is actually a problem), and I reallly needed to do something about that. So I decided to take a little culinary trip across the ocean to Korea and have a little affair with gochujang. It's super trendy in the US right now, so there's a good chance it's crossed your path, but in case it hasn't, gochujang is a red chile paste made of fermented soy beans, glutinous rice, sugar, and of course, red chili powder–specifically gochugaru, Korean red chili powder. Due to the fermented nature of the ingredients, it has a lot more depth of flavor than your average chili sauce. Because of this, it's used differently than most chili sauces, and is combined with other ingredients to thin it out and sometimes dilute. Gochujang has a delicious lingering heat that builds slowly in your mouth, but despite that it's actually a rather mild spice. Though, it can also vary a lot in heat level by brand, so check your labels and taste before using. My gochujang is pretty mild, so I use a lot. If yours is spicy you may need to use less (dependent on your spice tolerance). 
If you're anything like me–dad an immigrant from Sindh, mom Mayflower/old New England white, and raised vegetarian in a college town in the Midwest–you might not have had much experience with Korean cuisine growing up. Korean food is not the most vegetarian friendly cuisine, a lot of the cuisine is meat-heavy and in the veggie-sounding dishes there's often hidden fish & shrimp sauce. So until more recently, most of my experience with Korean food has been bibimbap and jap chae, as those are both less likely to have invisible non-veg ingredients. And they are delicious, so that's certainly not a bad thing! But as I've branched out a bit with Korean cuisine, I've come to really enjoy and appreciate its bold flavors. So, I'm by no means an expert, but wanted to share my newer found love of Korean flavors with you all with this recipe for gochujang tempeh wings!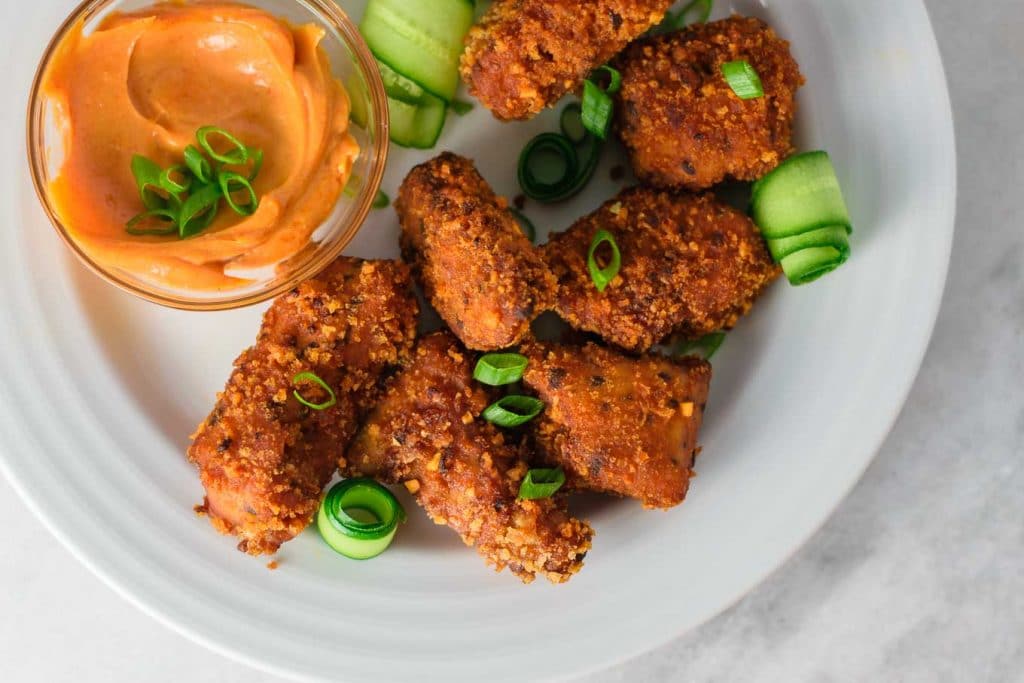 Tempeh makes a great vegan 'wing.' It has a great chewy texture, holds up easily to baking and frying. It marinates beautifully, soaking in delicious flavor. It's high in protein, and as it's fermented, the protein is more bio-available. It's also a less processed protein, for people concerned about that. And if you're not sure if you like tempeh, well, when it's doused in a super flavorful sauce and deep fried (or baked if you'd rather), I mean, that's your best chance of liking anything, right? It's also my preferred option if I need a gluten free wing. Everything that goes into these gochujang tempeh wings is gluten free, or has a gluten free version!
The tempeh is hand torn for that rustic misshapen look, er, I mean, 'wing' look. Bathed in a flavorful gochujang and soy sauce marinade. Double battered with starch and bread crumbs for a light and crispy breading. Baked or fried, depending on your mood. Then doused once more in a lime juiced up version of the marinade. When dipped in a gochujang mayo, this indulgent umami-bomb of a treat is ready to be shoveled into your mouth. And maybe shared with some friends and family?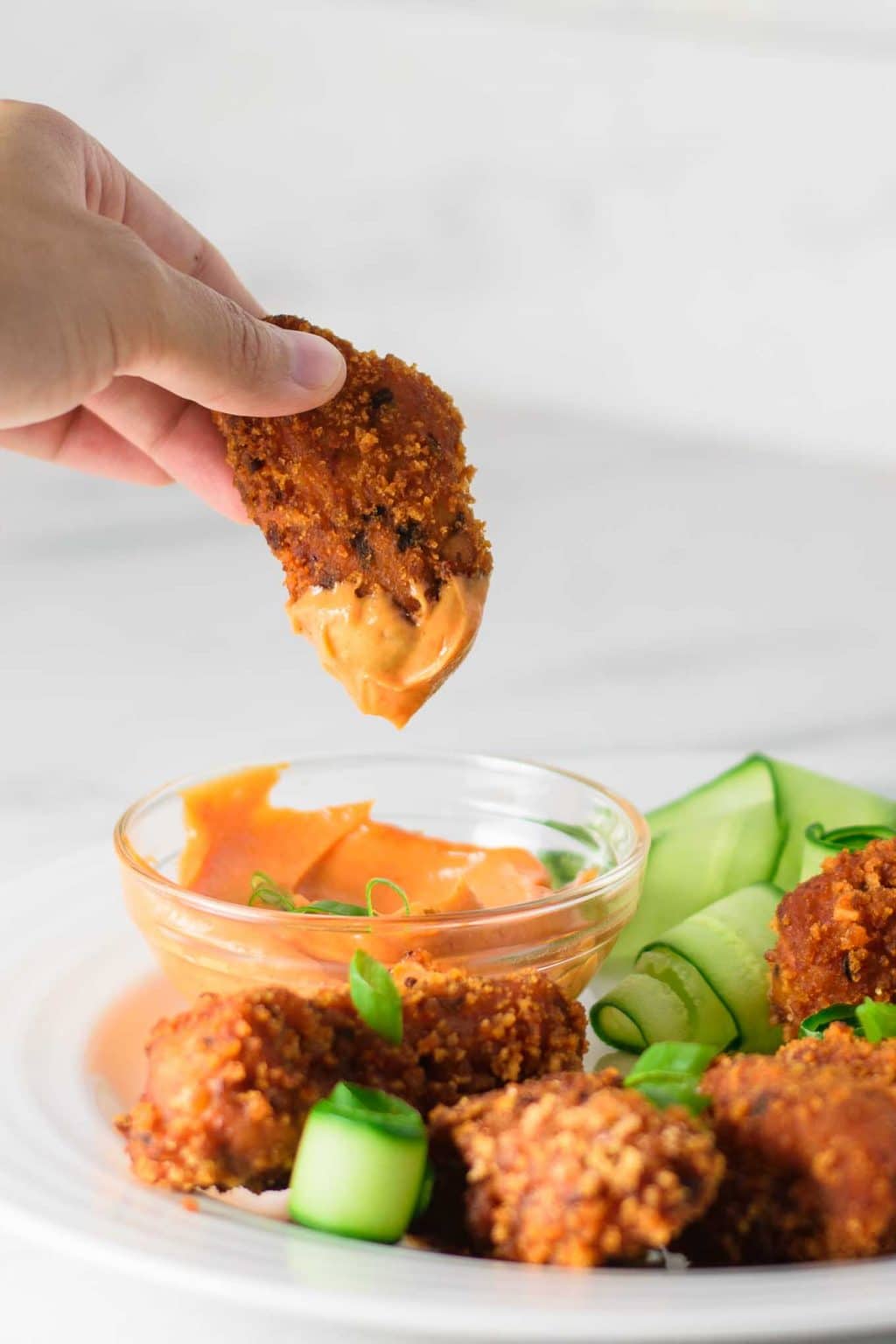 These wings are pretty easy to make, and since they are great both fried and baked (something I find rather unique to tempeh wings), they're perfect for a weeknight meal or a party appetizer. Enjoy them dipped in mayo, or stuffed in a corn tortilla for tacos. Enjoy them with some cooling cucumber on the side! If you've never had gochujang but like bold, umami rich flavors, I think you'll be in for a treat!
If you make these gochujang tempeh wings, let me know! Leave a comment and/or rate the recipe below, tag me on Instagram (or #thecuriouschickpea), or share with me on Facebook! Happy eating!

Notes:
Gochujang is getting easier to find in the international section of well stocked grocery stores & natural food stores, can be found at a local Asian market, or purchased online (that's the brand I've used in this recipe, it's not gluten free).
Check your gochujang for spiciness before using, mine is mild so even in that quantity these aren't very spicy. Yours might be spicier (and that could be a good thing!). Make to your own heat-loving (or not) taste!
For a fully gluten free wing, make sure you use a GF tamari, and check that your gochujang/mirin/starch/etc are labeled gluten free. And use gluten free bread crumbs (or try a crushed corn cereal). Here's a popular brand of gochujang that's GF and vegan.
You can bread the wings up to a day ahead of time and fry or bake just before serving. The gochujang mayo can also be made in advance.
P.S. I'm using a flax seed studded tempeh, which is why there are some black flecks in mine! 🙂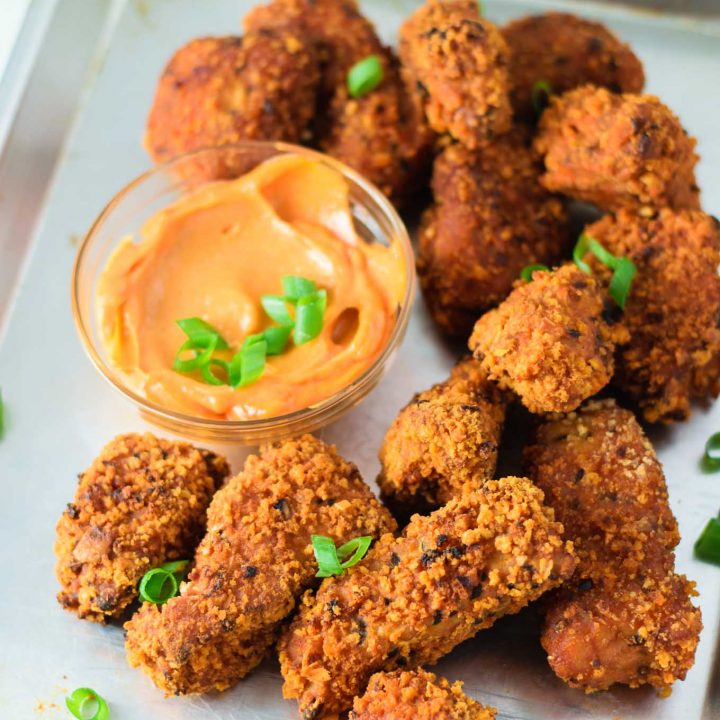 Gochujang Tempeh Wings
These gochujang tempeh wings make use of the bold and umami-rich flavors of Korean cuisine in a protein packed vegan wing. They're easy to make and can be either baked or deep fried. They're sure to be a hit at your next party!
Ingredients
1 lb tempeh
4 cloves garlic, minced or pressed
1 tbsp minced or grated ginger (~1" piece)
1/4 cup gochujang* (Korean pepper paste)
2 tbsp soy sauce
2 tbsp mirin
1 tbsp toasted sesame oil
1 tsp coconut sugar or brown sugar
1/2 cup vegetable broth or water
1/2-3/4 cups cornstarch or arrowroot powder
1/2-1 cup panko style bread crumbs, gluten free if desired
1 tbsp fresh lime juice
green onions for garnish
oil for baking or frying
Gochujang Mayo
1/2 cup mayonnaise
2-4 tbsp gochujang
Instructions
Tear up tempeh into chunks and place them into a large bowl or baking dish. I tear each 8oz package of tempeh into 8 "wings," for a total of 16 wings.
In a bowl or a large liquid measuring cup stir together the garlic, ginger, gochujang, soy sauce, mirin, toasted sesame oil, coconut sugar, and broth. Pour it over the tempeh and marinade for 10-30 minutes, flipping occasionally, or place in the fridge to marinate up to overnight.
When ready to make the wings, either preheat your oven to 425 ºF if baking, or slowly heat about 1" of oil in a heavy bottomed pot over medium-low heat to deep fry.
Place the cornstarch in one bowl and the bread crumbs in a second bowl. Prepare your tempeh wings by removing each piece of tempeh from the marinade, tossing it in the cornstarch, tapping off any excess starch then putting it back into the marinade, making sure to coat the entire piece, before dipping it into the bread crumbs to coat. Set aside and repeat with the remaining pieces.
Add 1 tablespoon of fresh lime juice to the remaining marinade and set aside.
To bake: Place the prepared tempeh wings on a parchment or silicon mat lined baking tray and spray or drizzle with oil. Bake for 10 minutes, then flip and bake an additional 6-10 minutes until golden and cripsy on each side.
To fry: test that the oil is hot, it should be 350 ºF if checking with a thermometer, or you can test with a small piece of tempeh: the oil should bubble/boil vigorously around it and the piece of tempeh should float to the surface fairly quickly after being dropped in. When the oil is heated, fry in batches, 1-2 minutes on each side, until the wings are a rich golden brown. Remove from oil and place on a paper towel lined plate.
When the wings are done baking or frying, transfer them back into the bowl with the marinade and toss them to coat in the remaining juice. Remove quickly once coated so they don't get soggy.
Top with some green onions and serve right away with gochujang mayo for dipping, if desired.
Gochujang mayo
In a small bowl mix together the mayonnaise and 2 tbsp of the gochujang. Taste and add more gochujang if desired. This can be made in advance.
Notes
*gochujang can vary in heat levels between brands. Mine is very mild so even with this much gochujang the wings were not spicy. Check yours for heat before using the full amount if you're heat adverse, you may find you want to use less (or add some chili flakes or cayenne for extra heat)